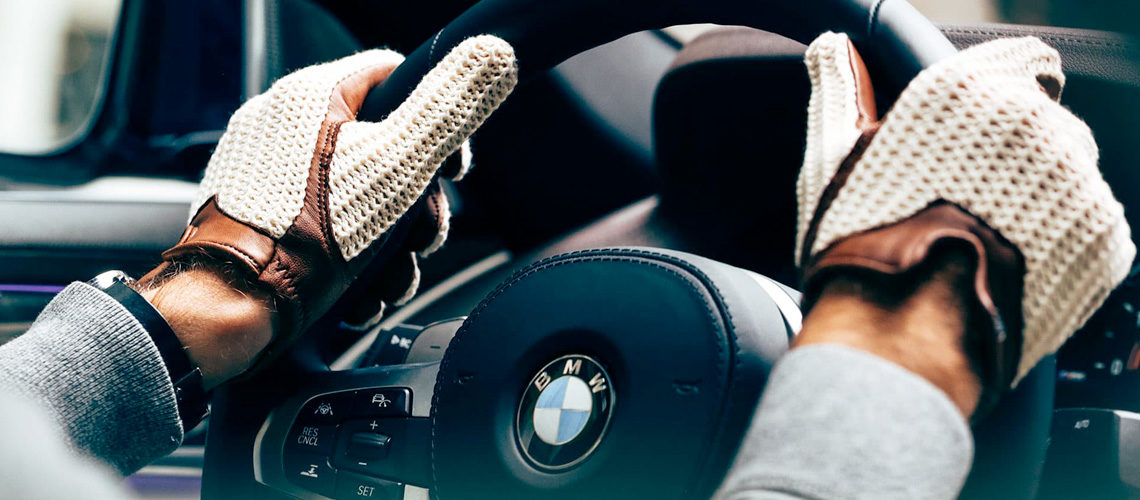 How seriously do you take your time in the car?
Some people drive a few minutes to work and back each day, but don't really take pleasure or indulgence in their time on the road. 
Other people don't really feel alive unless they're making speed down the highway, with the wind in their hair, and their favorite songs blaring on the radio. 
Most of us land somewhere in the middle, and understand that accessories can take your driving experience to the next level.
You don't have to be a race car driver to appreciate the stronger grip and control you'll feel with a great pair of driving gloves on your hands. 
From the tactile sensation, to helping you feel more in control of your vehicle, and even helping to keep your hands warm on colder days, gloves are an amazing accessory to have when you're driving.
Finally, the best driving gloves aren't just practical and useful, they're also stylish and can really complete a look. 
We've curated the following reviews to help you choose between the very best options out there, so you can spend more time on the road and less time having to dig through unsuitable gloves. 
Here's the Best Driving Gloves of 2023:
1) Corsa Miglia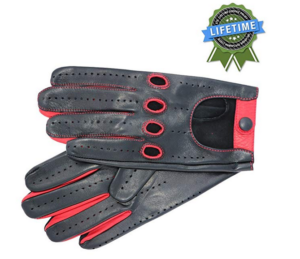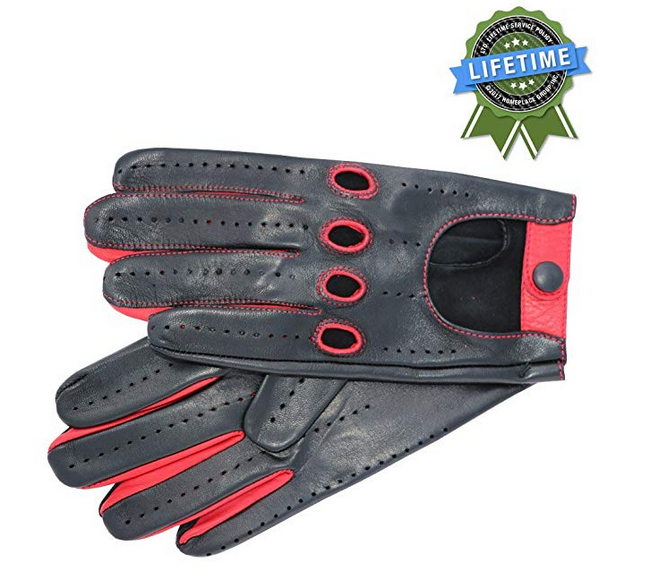 Our pick for the best driving gloves have got to be these Italian lambskin leather gloves by Corsa Miglia.
They might not be the best choice for every single person reading this, but we're confident that they'll be the best choice for the majority of people for a number of reasons.
For starters, they're handmade using exceptional quality leather.
When you start with good materials, you're on the right track. When those materials are made carefully, by skilled craftspeople, it's hard to beat.
What's even better is the fact that there are a number of different color combinations to choose from, so you'll have no problem finding a pair that suits you.
They come in four different sizes so that you can find a perfect snug fit that'll hug your hands and the steering wheel the same way the tires hug the road in a fine imported automobile.
One of the key reasons these gloves earned our coveted top spot is because of their price point.
They're absolutely a high-end luxury driving glove, but they're still in a price point that makes them accessible.
Granted, not everyone can drop this kind of cash on gloves, but if a nice pair of gloves for driving really matters to the consumer, it's within a price point where they can make it happen.
PROS
Made with soft and luxurious lambskin leather

They fit snug and secure (pay mind to the sizing chart)

High-end feel and quality at a more affordable price point

They buckle securely at the wrist

Breathable to keep your hands cooler on hot days
CONS
The sizing is a bit unique, but as long as you consult the chart you're good to go

They fit a bit short compared to some of the other gloves, it's a style thing, so if you find that uncomfortable they won't be the best option for you

Someone looking for an ultra-high end glove may want to opt for something pricier
Buy Here
2) Ben Sherman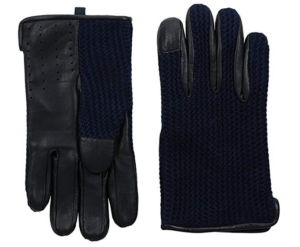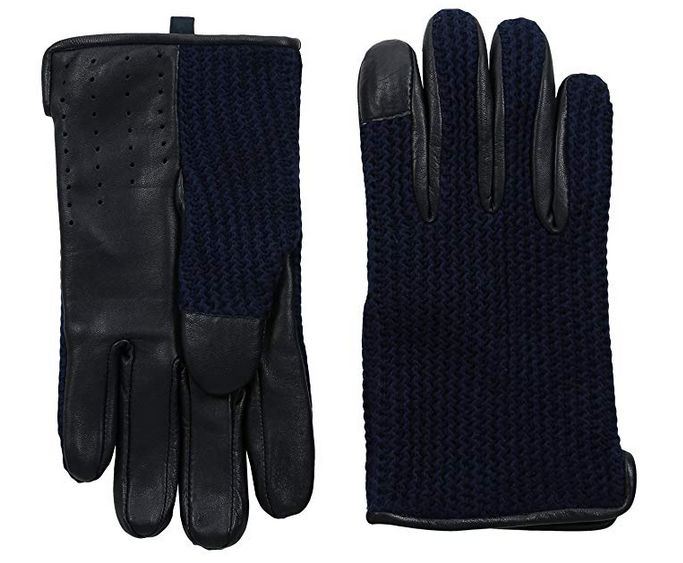 Here's a pair of warmer gloves for our friends in colder climates. It's hard to rank gloves and compare different styles sometimes, it can be like trying to compare apples and oranges, so we need to point out that part of the reason these earned the second spot is simply because we wanted people who need warmer gloves to find these.
That doesn't necessarily mean they're better or worse than the #3 or #4 gloves, but they do get a few bonus points for being different and specialized. 
A lot of these rankings could go either way, so focus more on the features, the description, and the pros and cons than the number itself – the numbers give you a rough idea, but it varies from person to person and there isn't a single glove on this list that isn't exceptional. 
With that out of the way, there are plenty of reasons these Ben Sherman gloves deserve the runner-up spot on this list.
They're nice and warm, once again, so if you're living somewhere that has chilly autumns or cold winters, you'll be happy to have these in your glove box. 
The back of these gloves, opposite the palm, is made from a nice, warm wool fabric which is perfect for keeping in your body heat when it's colder out.
Getting into a cold car and having to hold a freezing steering wheel is nobody's idea of fun, so these come in very useful. They're also not too hot to wear on warmer days.
The palm is made with a high-quality leather so you're still getting an excellent grip on the wheel and that feeling that we're all chasing when behind the wheel.
They're a little bulkier than most driving gloves that are made strictly from leather, but that's with the clearly defined purpose of keeping you warm.
They also fit a bit more loosely, which makes them easier to take on and off when you're scrambling in the winter, but isn't what everyone is looking for. 
PROS
Nice and warm for driving during the colder months of the year

Priced very reasonably, we recommend having these on hand as a second pair for winter

They're still not nearly as bulky as regular winter gloves, so you don't have to worry about the lack of feel and feedback when you're on the road
CONS
Looser fit than some people want from their driving gloves

They don't look as slick or stylish as many of the gloves we're featuring, but it's because they serve a secondary purpose of warmth
Buy Here
3) Hungant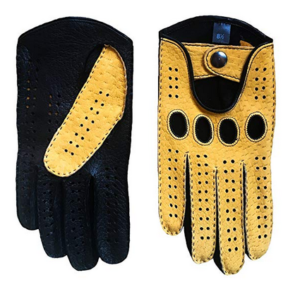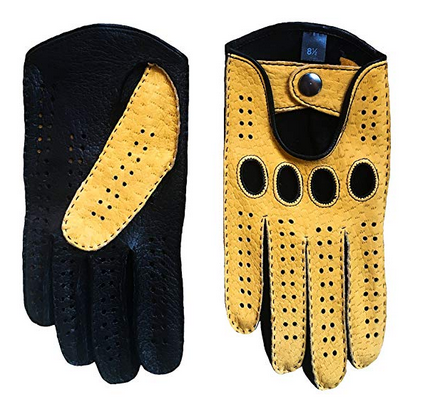 If you're looking for gloves that are very unique, these fit the bill. They're made from a rare leather, from an animal called the Peccary, with is a mammal that resembles a hog.
They come from South Africa. 
The Peccary leather in these gloves has a delicate feel that you won't find in every pair, but it also means that you've got to be a little bit more careful with them, too.
That's not to say that they're delicate, but these gloves are meant to be stored safely in your glove box when not in use, and worn when you step into your car, and removed before you leave the vehicle.
They're very high quality, don't get the wrong idea, but there's just something about these gloves that demands they spend every moment of their service to you in a luxury vehicle.
Most of the gloves on this list would feel perfectly natural to hop out of the car and use them as biking gloves, or just to wear out and about, but these ones are just… different. 
PROS
The breath-ability makes them great for warmer days

Incredible design and sewing, the craftsmanship is on point

They offer an excellent grip

Light and thin feeling, making them very comfortable

You can customize the look and style of them to suit you
CONS
The breathable design makes them poorly suited for colder climates

The button can be a bit fidgety, it takes a decent amount of force to close it

It's a lot to pay if you're looking for something that's just practical, because these are definitely a luxury item
Buy Here
4) Fratelli Orsini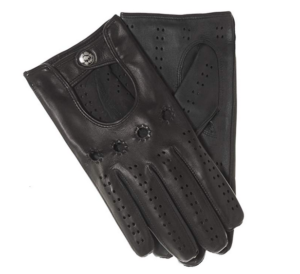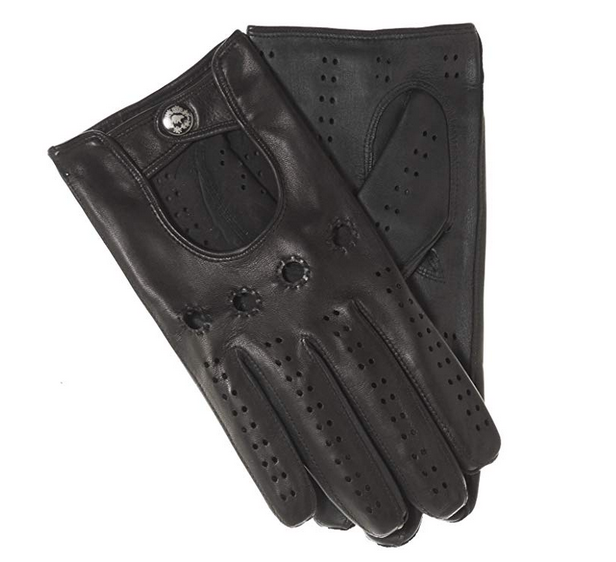 These borderline-legendary gloves connect your body to your vehicle, and connect your soul to the road. If you're looking for an all-out spectacular pair of gloves, you don't need to look any further. The value that you get for the price with these gloves is outstanding.
If you're looking at something a bit less expensive, it's 100% worth the step up to these if you can afford it, you won't be disappointed. Let's take a closer look at what makes these gloves so special…
The soft lambskin needs to be felt to be fully appreciated. A lot of gloves claim to have quality leather, but at the end of the day, you've just got to feel it for yourself and these Fratellis feel exceptional.
They can be used to interact with your touchscreen phone, too.
You'll have varying degrees of success controlling your phone with other gloves, it depends largely on what the gloves are made out of, and what type of cell phone you've got, but these ones were designed for controlling phones specifically, so that gives you a big head start either way. 
PROS
The leather is so soft

Very well-made gloves

A classic Italian sensibility

Compatible with most touch screens on phones, tablets, etc
CONS
If you don't care about touchscreen control, you may find a more suitable option elsewhere on this list

They're a bit short in the palm of the hand, so your movement will be slightly more limited compared to other gloves, but this also depends on the size of your hands and the size of gloves you choose

There's no inner-lining in between the leather and your hands (This isn't a huge deal since the leather itself is so soft, and if means the gloves are thinner and lighter which some people are looking for) 
Buy Here
5. Dents Spectre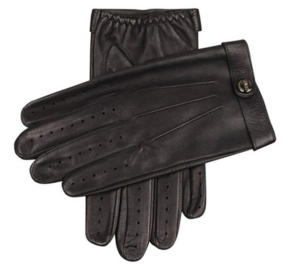 If these gloves look familiar, we'll explain why in just a moment, but first: an introduction.
The Dents Spectre gloves are wildly stylish, incredibly well-made, and fit snugly like an extra layer of skin. You'll feel good, look good, and be in total control of your automobile while doing so. Made from sheep's hide, the leather in these gloves is soft, but also strong and durable.
These gloves are only available in black, because no other color would be suitable for a secret agent.
You read that right. If these gloves look familiar to you, it's because they made an appearance in the James Bond film Spectre.
Dents is an iconic British brand, so it makes sense that you would find these on the hands on 007.
They fit snugly, just make sure you choose the right size (measure your hands!). They fasten securely, but effortlessly, so you know they'll be staying in place when you want them to, but not impossible to remove when you're done cruising.
They aren't perfect for colder climates, as they're unlined. If it's summer, or you're just in a warmer place, they're perfect.
The fact that they are unlined means they won't be as hot, and your hands won't sweat as much or get clammy when wearing them, so all of this is good news unless you're living somewhere cold, because these gloves won't do a whole lot to keep you warm in the winter. It's a trade-off. 
These gloves come in Dents packaging, making them great to give as a gift or keep for yourself.
They're modestly priced, somewhere in the mid-range without being wildly expensive, but still among the higher-tier of gloves when it comes to overall quality and value.
PROS
If they're good enough for a secret agent…

But in all seriousness, these are superb gloves 

Soft hair sheep leather sewn with an inseam

No liner makes them great for the summertime
CONS
No liner makes them a poor choice for winter weather

They're only available in black, which is a sharp look but you're out of look if you had a different color in mind
Buy Here
6. Downholme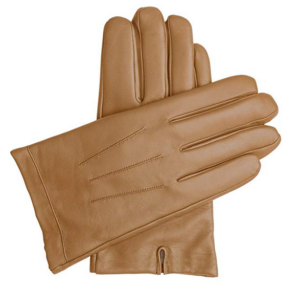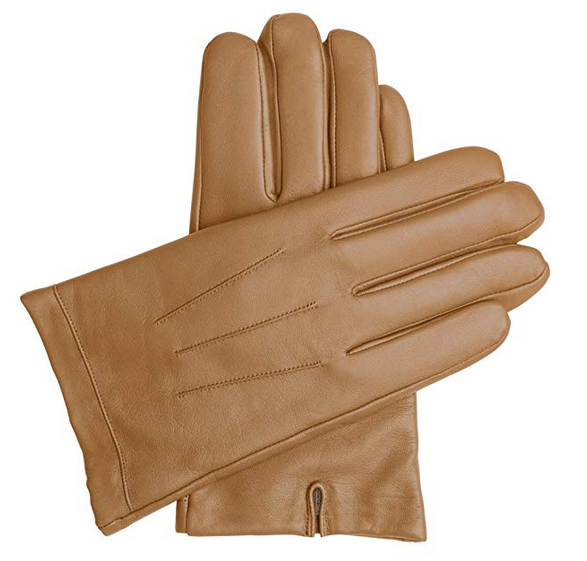 Let's take a step back, now, from the hand-made, high-end luxury driving gloves we've been looking at thus far.
We completely understand that not everybody is looking to buy driving gloves for $100, or $150, or for anything close to that.
The fact is that most people won't be wearing their driving gloves all that often in the grand scheme of things, so a nice pair of shoes or a new outfit is more of a priority, or just paying the bills.
That's real life, but that doesn't mean you can't still have a super nice pair of gloves…
These gloves look a lot more formal than the typical Italian style we've seen a lot of thus far.
They don't have holes near the knuckles, nor perforations for breathing, thus they'll land on the warmer end of the spectrum, making them perfect for winter or just colder climates. 
The interior of these gloves is made from 100% cashmere, so you know they're going to be so amazingly soft to the touch, but still responsive when you're gripping the wheel. 
PROS
The 100% cashmere interior is divinely comfortable and makes these worthwhile on its own

You can choose from 5 different colors, so there's bound to be something that suits your style

They'll change shape slightly over time to better fit the contours of your hand

They come in a nice gift box

Made with smooth, soft sheepskin leather of very high quality
CONS
While these are great for day to day use in the car, we don't recommend them as all-purpose winter gloves, so don't use these for shoveling snow, playing sports, etc – they aren't durable enough for that

They're bulkier than any of the non-lined gloves, they fit a bit more loosely 
Buy Here
7. Riparo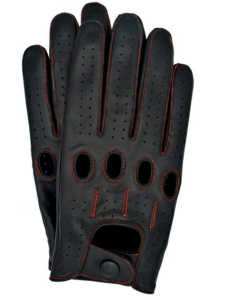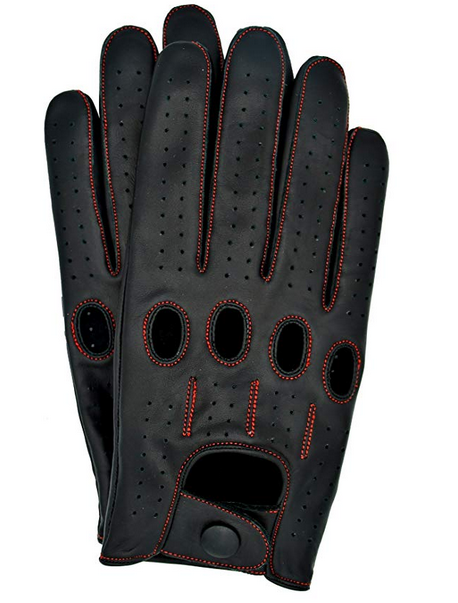 As we make our way down this list, we're getting into more and more accessible gloves, the type of stuff that just about anybody can afford.
The trade off is that we're leaving behind certain traits of the luxury gloves, you won't find hand-made gloves with lifetime service guarantees in this price range, but you can still get an exceptional pair that will last you for years to come.
And these gloves by Riparo are no exception. They're much more modestly priced than any that we've featured thus far, but they're still a great middle ground.
They look like any of the other high-end driving gloves at first glance, with similar stitch patterns and overall aesthetic.
The knuckle holes are handmade, however that's still a far-cry from gloves that are stitched by hand. Does it make a big difference?
At the end of the day, not really. The leather is still nice quality, and these come in a dozen different colors.
The sizing is a bit different than others, so make sure you measure your hand carefully. Some people have complained that the fingers are a bit long, so it's the type of thing that will be uncomfortable for some people, but exactly what someone else is looking for.
Looking for an authentic pair of gloves to wear when you're driving your vehicle, but don't want to invest too much in them?
These are probably the best option you'll find in terms of price to quality. 
PROS
Amazing value

Decent quality and stitching, nice leather

Partly hand-made

Plenty of colorways to choose from

Simply a classic driving glove
CONS
Fingers can be a bit long for some people

You need to size down a little bit since these are known to stretch out more than most gloves will over time
Buy Here
8. Harssidanzar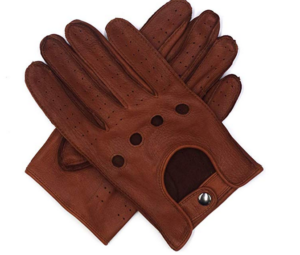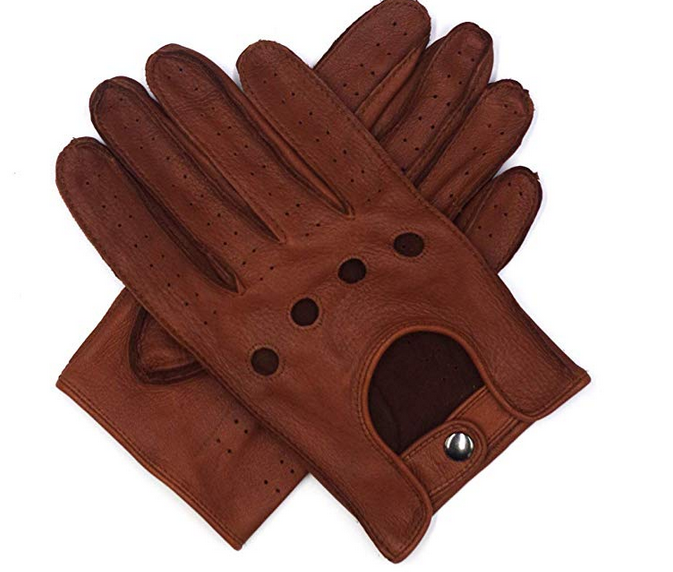 These Harssidanzar gloves are showing up near the bottom of our rankings, but don't take that the wrong way.
If we were making a list of the "best value" or "best affordable driving gloves", these would be scratching and clawing their way to the top, or they'd at least be in the top 3.
You can't expect them to hit the top of the list when t hey're being compared to gloves that cost 10x as much, though, right?
So, as far as value picks go, Harssidanzar managed to hit a sweet spot.
They're the most affordable gloves we've looked at thus far, but if you were to do a blind test, they wouldn't feel 10x as cheap as some of the other ones we've looked at already.
Side by side, you can tell they're cheaper, but it's not a huge drop-off or anything like that. If this is still a bit more than you'd like to spend, check out our 10th pick at the bottom of the list for a great budget pair.
But let's put finances aside for a moment and take these gloves at face value. You're getting a really nice pair of gloves, available in a number of different colors and types of leather.
They're more on the mass-produced side of things, rather than a bespoke pair that has been stitched by hand, but that's okay.
Not to beat a dead horse, but we recognize that people put different priorities on their gloves, and not everyone needs a super fancy pair.
They may need a day or two out of the packaging to degas a bit, they have a minor odor that some customers have reported.
It's not a big deal, just something to keep in mind, it'll go away shortly. 
They have a pretty standard design, so they look exactly like you'd expect driving gloves to look.
They're not as tight of a fit as some others, with a bit of extra room in the fingers that can go either way, depending on the size of your hands. More mass-produced gloves often seem to give a bit more breathing room for whatever reason. 
PROS
These gloves bring what was formerly upscale style to the masses

They're well-cut, breathable, and sensibly designed

They look like they're inspired by the movie Drive
CONS
These gloves aren't "touch screen friendly", it's hard to control your phone while wearing them

They don't have a "true fit" that you would expect from the best driving gloves
Buy Here
9. Pratt and Hart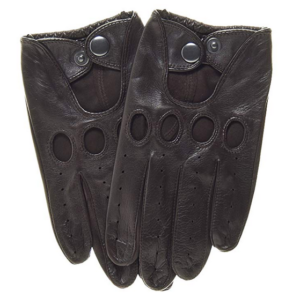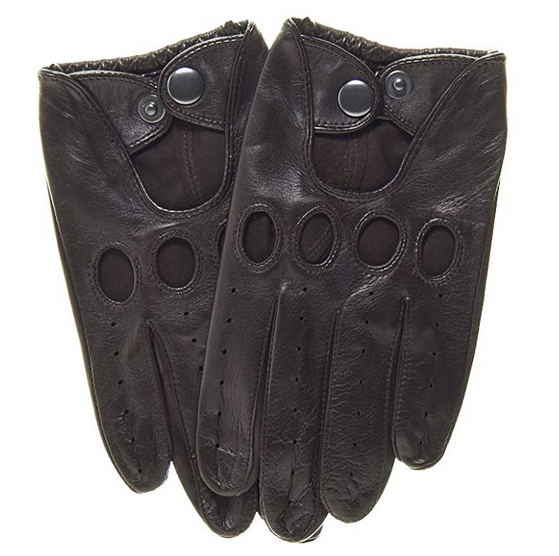 If the lack of touchscreen control from the previous pair is a deal-breaker for you, but you still want an affordable pair of gloves that look great, these are going to be the ones you buy.
Priced very competitively, Pratt and Hart have hit this one out of the park.
These gloves were designed to work effortlessly with your smartphone, so you don't have to take your gloves off when you need to answer a message or change songs. 
The fine-grained leather isn't on the same level as some of the top gloves on this list, but that's to be expected when you're paying a fifth or the price.
Nonetheless, they're well-made, they feel durable enough to handle their job, and they have a great look to them. They're a bit more ruggedly styled than other gloves, and they're worn a bit shorter on the wrist, just a couple things to keep in mind.
Some people have had issues with the dye from the leather seeping into their hands if they wear these on really hot days (sweat) for extended periods of time, which is never ideal.
If you get these, give them a couple of trial runs first, so you don't show up at a function with black dye on your hands unexpectedly.
PROS
Despite being a lower quality than others, the leather is still very nice, and very comfortable – it was the biggest surprise with these gloves

They offer up the classic look and style of gloves of driving

They use elastics in the design, giving you a bit more movement – which some purists might not appreciate but it's necessary with cheaper gloves that aren't as likely to give you a perfect tight fit otherwise
CONS
Some people won't like the elastic in the palm area, instead preferring to find a pair that is perfectly sized instead of relying on stretchiness to achieve that

They're well made, but you can still start to recognize the quality drop off as you get into this tier of gloves
Buy Here
10. Isotoner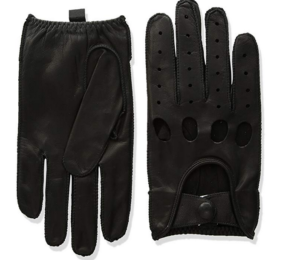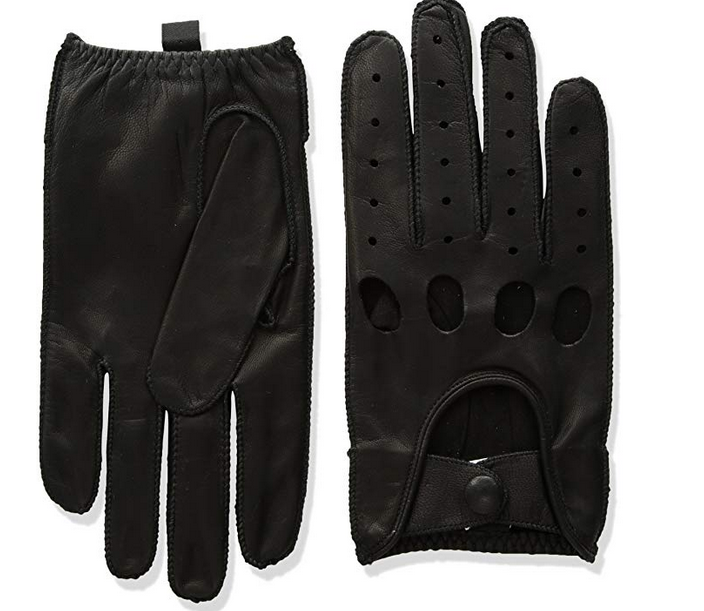 Last and also least are these Isotoner gloves. They're our choice if you've got a very limited budget.
They look nice, but you can feel a clear distinction between these and a high-end pair, that's for sure.
That's not to say these are awful by any stretch of the imagination, these are nice gloves that are certainly capable of getting the job done. These are for people who care more about function than style, or knowing it was hand-made, or having the finest leathers, etc.
These gloves still look great and they get the job done, but the stitching isn't as precise and the cut seems too accommodating.
That is to say: They're cut in a way that means they'll fit the widest range of people possible – but the problem with that is the fact that while they can fit more people, they won't fit as many people perfectly. If you're looking for that perfect, second-skin feel that many drivers want, you won't find it here.
A quick warning, as well: Some re-sellers and 3rd parties have taken it upon themselves to drastically boost the price, but only on certain sizes of these gloves.
So, some sizes may cost the same price as lunch from a fast food place, whereas other sizes will randomly cost as much as a nice dinner out. The correct price for these is on the cheaper side, so make sure you don't get fleeced! 
PROS
These gloves are the reason that anybody can afford a nice pair of driving gloves

They're easy to take on and off, and to fasten up for security 

If you just want something cheap and easy and don't really care, it's these

The micro-terry lining helps deal with moisture much better than unlined gloves can
CONS
Secondary market sellers have inflated the price of certain sizes

They don't fit amazingly by design, but they'll fit just about anybody

They use elastics to achieve a mainstream fit 

The knuckle holes aren't stitched for reinforcement
Buy Here
Driving Glove Buying Guide
If you're still undecided about which pair to get, or aren't really sure which traits and features will even matter to you, here's a quick rundown of a lot of the metrics we've used to compare gloves today.
This will help you imagine them on your hands, and which pair will feel the way you want them to, based on your needs and uses.
There are four main categories to keep in mind when you want to buy driving gloves online, since you won't be able to try them on first:
Sizing:

This is the tricky part, but most glove manufacturers will have a helpful sizing chart (Often it's right in their Amazon listings). Some gloves will stretch more than others, we mention this in our reviews where it's relevant. Most people want their driving gloves to fit snugly, but still give them the ability to move their hands, so a great fit won't hinder your dexterity, it'll feel like a second skin on top of your existing skin. 

Style and Design:

The most common style has holes for the knuckles, and perforations for breathing. Most of these gloves have a similar aesthetic to them, the difference comes down to the colors of the leather and minor details. 

Materials/Lining:

This category also includes quality (the quality of the materials, the quality of the stitching), which is not something to overlook. They don't need to be durable like a baseball glove or anything like that, but they absolutely need to be strong enough to hold up to basic usage. Don't use your car gloves for working, or doing chores, or anything like that, and any of the gloves on this list will hold up just fine. Then there's linings, some will have a silky lining, some will have cashmere, or a warmer lining for cold days. Some gloves will have no lining at all, so it's just skin on leather. It comes down to your preference and your needs.

Merchant:

Where are you buying it from, is it a reputable site that you can trust? How do they handle returns or customer support? We recommend Amazon, who have an incredible selection to choose from, and are great with returns if you ever need to send something back for whatever reason.