In an effort to give you the best-heated insoles for cold weather, we've done painstaking research to help you choose the one that's going to serve your needs.
If you've been using one that feels lacking in terms of performance and the heat it provides, it is time to try something different and hopefully find the perfect one.
Keeping the feet warm is a challenge but in today's modern world, there are plenty of high-tech devices that are going to make this task a lot easier to accomplish.
The heated insoles we've listed below are the best of the best and they're arranged in no particular order.
All of them are designed to slide quickly into any boot or shoe and provide you with 3 to 18 hours of warmth while working, skiing, walking, or while you're driving your motorcycle.
Here's the Best Heated Insoles of 2023:
1. Warmawear Wireless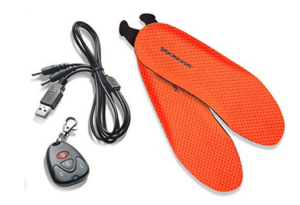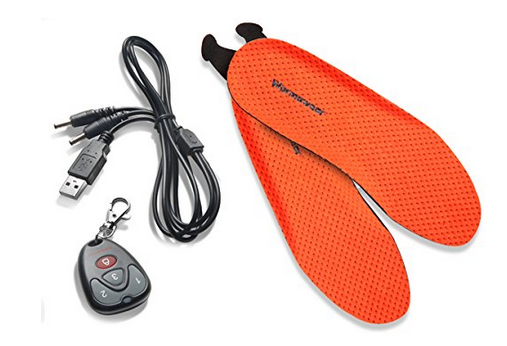 If you're looking for a sleek pair of warming insoles for your favorite boots, Warmawear Wireless is going to be a perfect choice.
It comes in different sizes and is waterproof to protect that battery system that is enclosed in it which is responsible for keeping your feet warm.
This system does a great job without requiring you to keep track of several parts.
Features:
Can be charged using a micro USB cable
Designed to evenly distribute the on both feet
Must be removed from footwear when charging
Specifications:
Rating: 3.9/5.0
Ship Weight: Pending
Brand: WarmaWear
Model: Pending
Buy Here
2. Hot Hands Warmers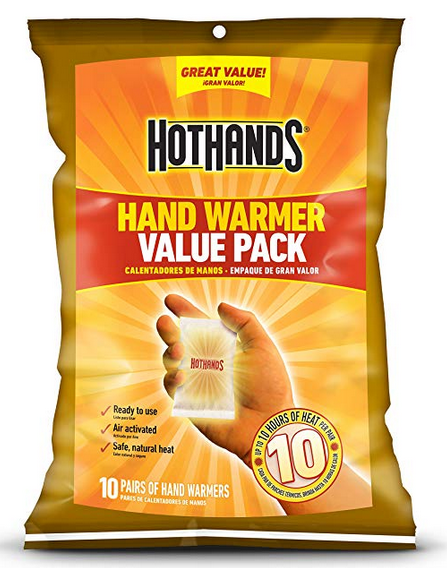 The name may speak a different story but this product is actually for the feet. If you're looking for something that can keep you warm without having to deal with any batteries or wires then the Hot Hands Warmers would be a perfect option.
They're disposable, safe, and activates like magic when shaken.
They're perfect for different activities that are done outdoors and it can provide the much-needed warmth for up to 4 hours.
Now that's a long time for a disposable heated insole.
Features:
Shelf life that lasts for 3 to 4 years
16 pairs are contained in every box
Designed so it's not bulky on any footwear
Specifications:
Rating: 4.7/5.0
Ship Weight: 1.9 lbs
Brand: HotHands
Model: HFINSPDQ-AMZ
Buy Here
3. Tourmaster Synergy 2.0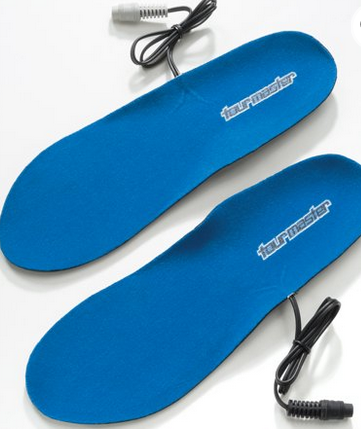 Joining a line of motorcyclist apparel is this awesome electric insoles that ire designed to keep your feet warm in the bitter cold of winter.
Actually, it's designed to work in different weather conditions and the awesome technology that's been implemented in it is going to provide the comfort you need while riding.
It will never feel bulky at all!
Features:
Temperature is monitored and regulated by sensors
Heating elements are made of carbon fiber
Designed to be powered by the motorcycle's battery
Specifications:
Rating: 4.8/5.0
Ship Weight: 8 oz
Brand: TourMaster
Model: Pending
Buy Here
4. Hotronic Footwarmer S4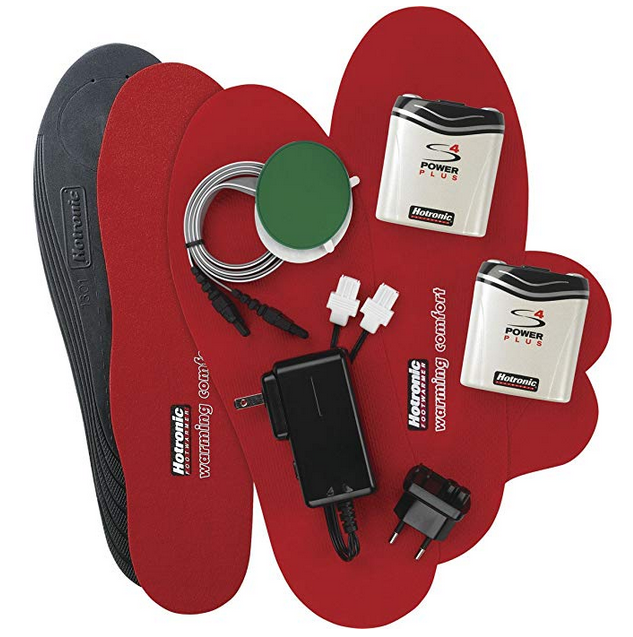 The batteries on this heated insole are designed to last longer compared to its previous version. Yes! the Hotronic Footwarmer S4 is a redesigned version and it works better than its predecessors.
After it is fully charged with the charger that comes with it, the four-cell battery packs that are seated within it is going to provide up to 10 hours of continuous warmth that is much needed in the bitter cold of winter.
The length of time that it's going to last will depend on your heat setting.
Features:
Provides help for
Designed ruggedly to last many winters of use
One size fits all design
Specifications:
Rating: 4.8/5.0
Ship Weight: 2.3 lbs
Brand: Hotronic
Model: FBA_1031
Buy Here
5. Sweet Mall WarmSpace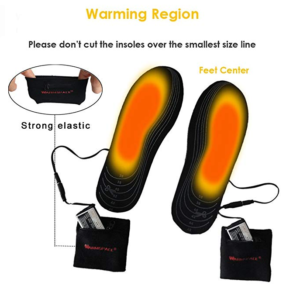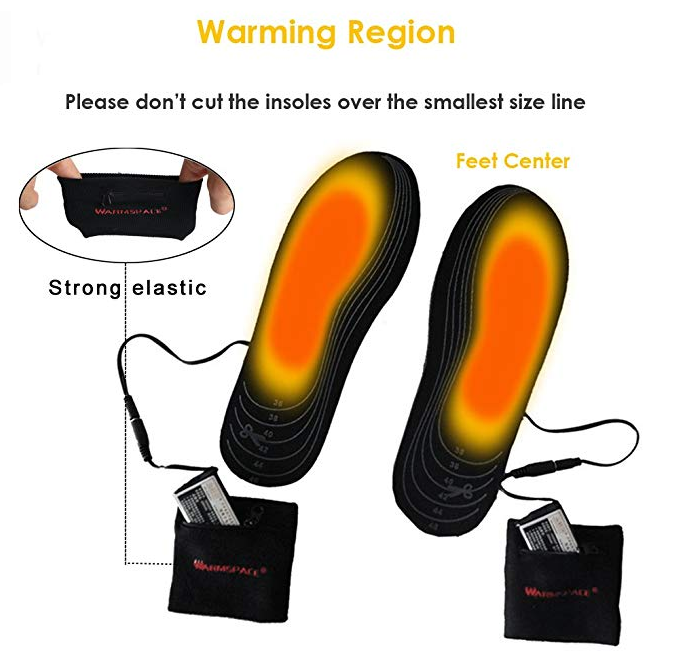 This time, we present to you this heated insole that is designed to take a one-size-fits-all system.
The Sweet Mall WarmSpace Insoles are made to be cut to size bu the user.
Warming modules are found in each one which occupies the front and the heel part.
These modules are connected to a sleek shaped battery which can be stored inside your socks so it can be properly concealed.
Features:
Designed for easy cleaning and maintenance
Flexible body and sturdy construction

Made of elastic eva foam material
Specifications:
Rating: 5.0/5.0
Ship Weight: 13.4 oz
Brand: Sweet Mall
Model: Pending
Buy Here
6. Venture Heat MC-50 XLG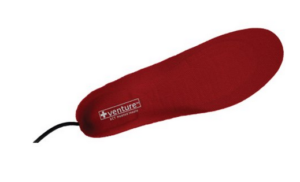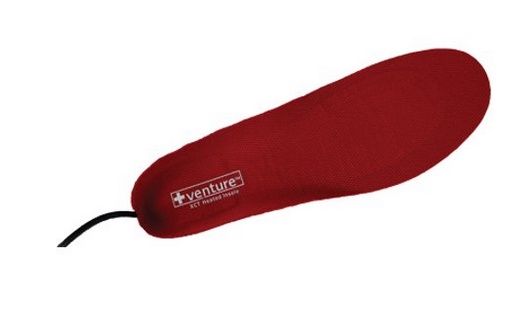 For motorcycles who still go out and travel in cold weather, the Venture Heat MC-50 XLG is the perfect feet warmers that are going to provide comfort every time!
It works by getting its power supply from the bike's battery which means that it will no longer provide heat once you're off from your motorcycle.
Features:
Designed to warm the entirety of the foot
Four heat settings to choose from
Detaching is required when dismounting
Specifications:
Rating: 3.9/5.0
Ship Weight: 1.1 lbs
Brand: Venture Heated Clothing
Model: MC-50 XLG
Buy Here
7. Hotronic 1220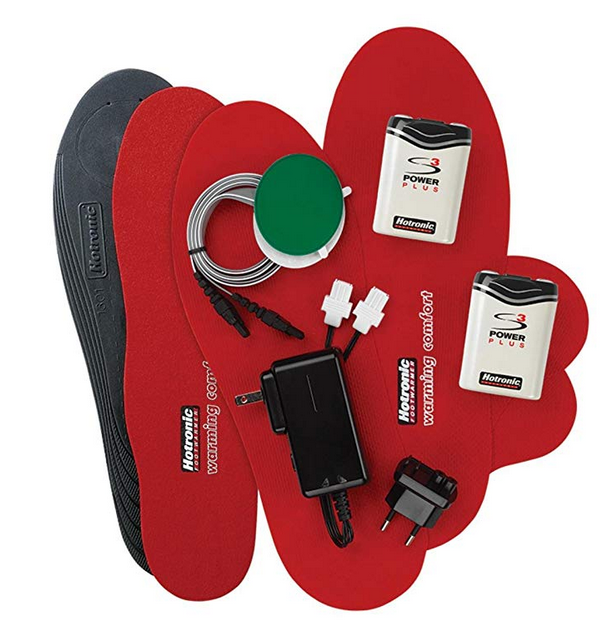 This awesome heated insole is going to work readily with the heat-ready soles that come with the package or with any other insole models and types including those orthopedic ones that you might be using.
The Hotronic 1220 is designed to provide the heating that you need with its large heating elements that take the shape of an oval so your feet are covered completely with the much-needed warmth.
Features:
Provides a consistent warmth
Attachment is self-adhesive
Designed for skiing
Specifications:
Rating: 4.5/5.0
Ship Weight: 3.2 oz
Brand: Hotronic
Model: Pending
Buy Here
8. ThermaCell ProFlex Heavy Duty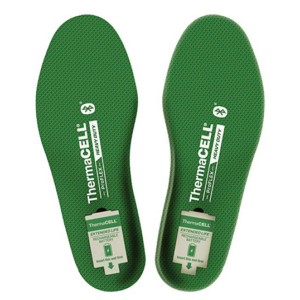 Next, we come to another battery-operated heating insole that has a proprietary app which can be connected to your smartphone via Bluetooth.
The ThermaCell ProFlex Heavy Duty is built for those who want to monitor their feet's comfort and warmth provider in real-time especially its battery level.
You can even choose the heat level that you want from the app and there are four distinct ones which can be activated whenever needed.
Features:
Can be recharged via USB
Equipped with Bluetooth technology\
Water-resistant design
Specifications:
Rating: 4.8/5.0
Ship Weight: 1.3 lbs
Brand: Thermacell
Model: PFHD-L
Buy Here
Why Should You Wear Heated Insoles?
A stiff, sore, and cold feet is a sure cause of a ruined day.
If your work requires you to be out in the freezing cold then you know that you're going to need one of the heated insoles that we've listed above.
They're also perfect for those crazy daredevils who want to go out and fish, hunt, ski, or do other kinds of adventure in the bitter cold of winter!
If your inner person really insists to go out and venture in the cold then you'll need to at least wear something that will warm the part of your body which is most exposed to the cold and that is your feet.
Heated insoles provide a great way of giving your feet some warmth so you won't need to worry about frostbite especially when you're out there for a long time.
Of course, a sweating foot is just as dangerous as a freezing one that is why heated insoles are designed to provide a stable temperature for both.
Science has also started to discover that our moms were actually right.
Having cold feet can actually lead to different illnesses which include colds and flu for instance because of cold blood that gets redirected to the nose.
This reduces the ability of the blood to stop pathogens from ever entering the bloodstream.
You are also more susceptible to trench foot which may sound a bit sexy but it actually refers to the constriction of the blood vessels in your foot because of repeated exposure to freezing and damp conditions.
This results in warmth being conserved but also results in your feet getting starved from oxygen and nutrients which it also needs.
Trench foot can cause death so it's something that you need to be of great concern all the time.
Problems in the foot can result in other health issues or even affect the other parts of the body.
It also causes pain in the knees, shoulders, back, and almost any other body part.
Your posture is also directly affected by your feet since it all starts there in the first place and if they're feeling cold, you will not be able to stand up properly.
It can then affect some other aspects of your overall frame.
And above all, life becomes a lot easier to live when your feet are in good condition and are getting the comfort it deserves.
You'll be able to get more things done since it will help you to work longer and you end the day not feeling ruined or miserable.
So if you can make any purchase that can make your feet as happy as it can be then don't hesitate to spend!
How Do Heated Insoles Work?
There's a lot of different types of heated insoles in the market at present and a lot of them actually work in varied ways.
But the basic principle that governs each one is mostly the same and it is keeping your feet warm by providing an artificial source of heat.
Many of the heated insoles out there are powered by batteries and they also come with remote controls so you can turn them on or off in an effort to conserve battery power and just get your feet heated when needed.
It's a great way for keeping your feet comfortable by providing warmth when it's starting to get cold then turning it off when the heat becomes overwhelming.
But in this case, you will also need to be changing batteries but there are insoles that come with rechargeable battery options which are more comfortable to use though it means that you'll also have a limited time of enjoying warmed feet especially when the time for recharging is reached.
There are also those that are made especially for motorcycle riders. These insoles are designed to get power from the bike's battery.
It is great for those who love to ride their motorized horses in the cold and it also means that you'll never run out of batteries as long as you're riding your vehicle.
They only work while you are on your bike so they would work great only for those who work indoors or those who have jobs that require them to travel around on a motorcycle.
There are also models that bring some other benefits aside from just keeping your feet warm.
There are heated insoles that are also designed to help you maintain balance which is perfect for those who are roofers.
The high-end brands and models are also equipped with infrared which radiates into your foot and is said to reduce fatigue by keeping muscle contractions at low levels.
Other Ways for Keeping Your Toesies Comfortable
Proper care of your feet isn't just about keeping them warm. It's just part of the whole equation.
Experiencing pain on your foot can lead to major problems since it can inhibit you from engaging in other activities and maintaining an active lifestyle.
Below are other ways which we suggest for you to do to keep your feet in great condition especially when you're experiencing agonizing pain in every step.
1. Ensure That You Have Sufficient Arch Support
One of the most important detail in caring for your foot but is mostly ignored is giving it the right arch support.
The arch on both your feet provide braces that carry body weight whenever you take a step.
If this area doesn't have proper grounding beneath it, it can be strained or worst, torn!
This results in conditions like plantar fasciitis which actually causes one to experience extreme pain in the heel section.
That is why it is very important to provide your feet with the right arch support.
2. Exercise Your Feet on a Regular Basis
Foot exercise is a great way of keeping it in perfect shape. It ensures that your feet are both in working order.
You can do things like scrunching up a towel using your toes, picking up marbles with them, or doing whatever things that you can do using your toes will help exercise the ligaments, muscles, and joints to make your feet stronger.
This results in better performance and you'll be surprised that you will be able to stand for long hours each day.
It may look weird or ridiculous but doing these exercises can help and you can do them in the privacy of your bedroom so there's no reason that you can't perform foot exercise at all!
Another thing that you can try is Yoga. It strengthens your feet and provides solid grounding and good balance.
Yoga helps stretch out the muscles to eliminate inflammation on the different muscles of the foot.
Doing this can also lessen the chance of developing other problems while keeping you in great shape.
Doing Yoga has also been linked to better looks and you can think more clearly every single day.
This results in overall well-being and of course long life but the biggest benefit is what it actually does to your feet!
Once you take good care of your feet, you will soon notice an overall improvement in the overall outlook that you have in life.
The feeling of exhaustion and stress at the end of each day will also be reduced greatly so you will have extra energy to do some other chores or even work out!
Feel free to use the information in this guide and be sure to share them with your friends who are trying to find comfort for their feet.