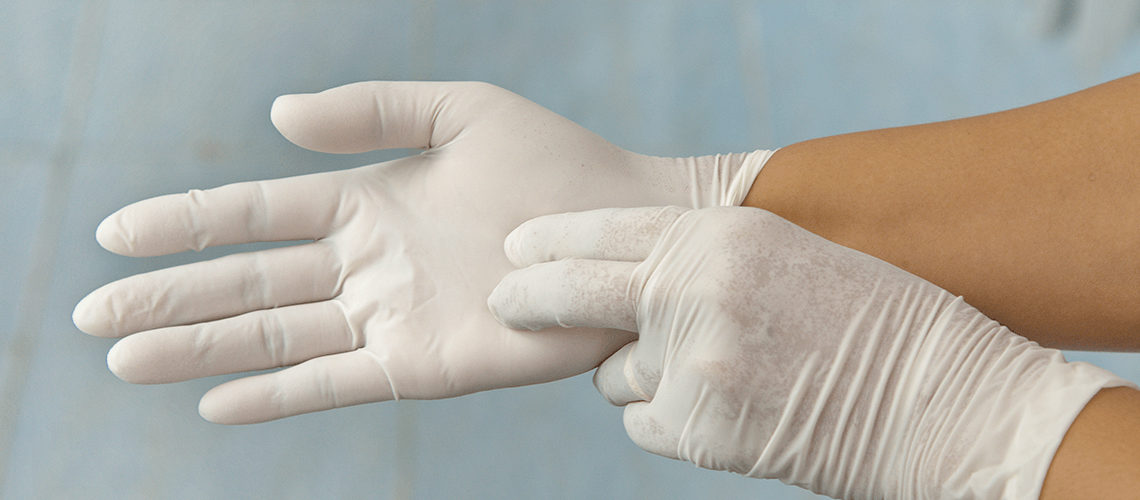 If you work near contaminants, viruses, dirt, or oil you probably already know the importance of protecting your hands.
Choosing a suitable glove to do the job can be tricky, especially if you suffer from skin sensitivities or allergies, a common issue found with latex gloves. 
Bulky work gloves interfere with hand movement and tactile sensitivity, making important detail-oriented jobs like automotive repair or laboratory work incredibly difficult.
A practical solution to this problem is finding a high-quality set of disposable nitrile gloves. Unlike latex gloves, nitrile gloves are virtually allergen-free and more durable than latex or vinyl disposable gloves. 
If you're not convinced yet, look at our picks for best nitrile gloves followed by a helpful buyer's guide for a more in depth look at nitrile gloves.
We typically look at 5 or so gloves at a time, but with nitrile gloves that's not really necessary, you're able to get a perfect picture of what's available just by looking at the following three, and any other pairs besdies these ones aren't really worthwhile, so stick to any of the ones features on this page and you'll be in good shape.
Here are the Best Nitrile Gloves on the Market in 2023:
1. Venom Steel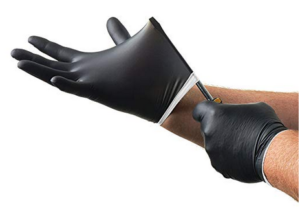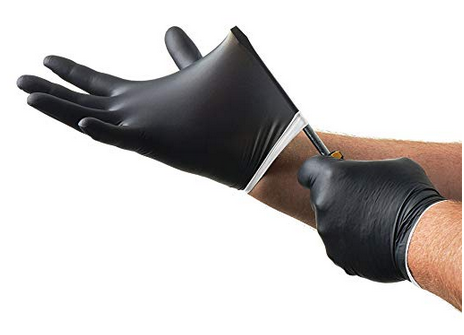 Venom Steel nitrile gloves are latex and powder-free and offer two layers of nitrile rubber for increased protection and tear-resistance.
At six-millimeter-thick, these gloves are advertised as being 70% thicker than standard disposable examination gloves, making them the ideal choice for heavy-duty work like automotive repair and medical examinations.
The extra layer of nitrile rubber also helps with protecting your hands against fuels, grease, dirt, and minor nicks or scrapes.
They are textured for improved grip, so you won't have to worry about hand control while wearing them. 
There are a few standard sizes available, including a "one size fits most" option.
This size isn't offered in most brands of nitrile gloves and could help you save some money if the gloves will be used by multiple people.  
Key Features
Two layers of nitrile rubber for added protection and tear-resistance

70% thicker than standard disposable examination gloves

Latex-free

Powder-free

Textured for improved grip 

Available in different sizes including "one size fits most"
Buy Here
2. Microflex MidKnight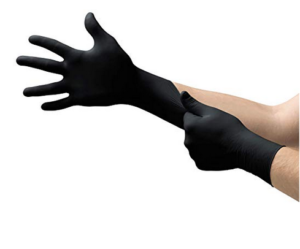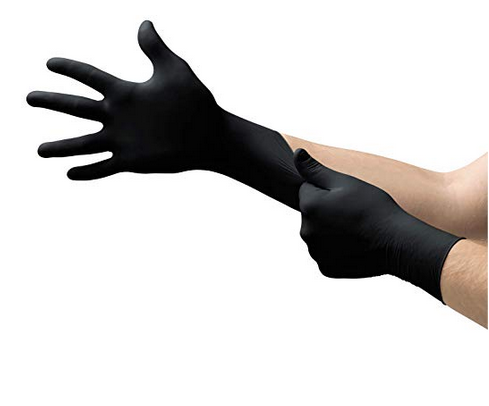 Microflex MidKnight nitrile gloves are FDA approved for contact with food and certified medical examination grade, making them a good choice for medical professionals, barbers, or tattooists.
They are latex-free, eliminating the risk of an allergic reaction in people with an allergy to latex Type 1. Additionally, they are fully textured with non-foaming properties, so you can be sure the gloves maintain their traction during both wet and dry conditions. 
Microflex has a line of nitrile gloves available, offering different colors and features.
The MidKnight version is marketed towards the automotive industry as the distinctive black color helps hide dirt, stains, and oil. 
There is a large selection of sizes available, from x-small to xx-large, so you should have no trouble finding a good fit.
The company recommends measuring the circumference of your palm (inches) and compare the result to the size guidelines found in the listing's FAQ section. 
Key Features
Latex-free

Fully textured and non-foaming 

Certified medical examination grade

Available in a wide range of sizes: x-small to xx-large

FDA approved for contact with food

Suitable for wet and dry conditions
Buy Here
3. Infi-Touch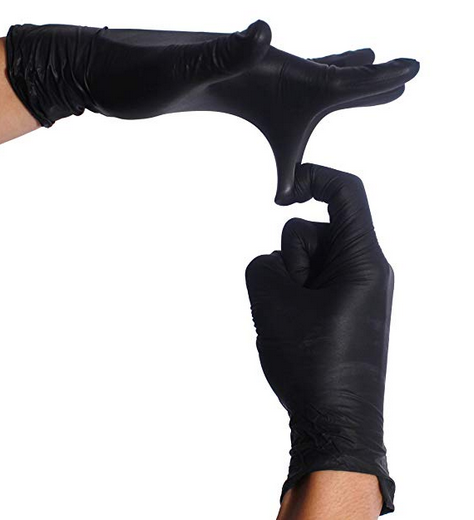 Unlike most types of nitrile gloves, Infi-Touch offers a unique combination of latex and nitrile rubber.
While this isn't favorable for people with an allergy to latex, the inclusion of latex adds flexibility and tensile strength not seen in other brands of nitrile gloves.
The gloves are powder-free but offer a smooth interior texture for easy application and removal. 
The fingertips are micro-textured for improved grip and they offer high chemical and oil resistance even during wet conditions where traction can be an issue.
You can rest assured knowing that these gloves offer superior barrier protection while handling hazardous materials without compromising on dexterity. 
They are non-sterile and resistant to most punctures, tears, and abrasions, so they can handle a variety of tasks including hair styling, food preparation, medical tasks, cleaning, and automotive work. 
Although they are considered disposable, you may get more than one use out of a pair of these gloves (if you aren't using them to handle food and/or hazardous materials) thanks to their unique durability. 
Key Features
Contain latex for added flexibility

High chemical and oil resistance

Micro-textured for grip strength

Resistant to punctures, tears, and abrasions 

Possible multi-use 
Buy Here
Best Nitrile Gloves Buyer's Guide
What are nitrile gloves used for?
Nitrile gloves offer chemical resistance not seen in latex or vinyl gloves.
They are also incredibly durable, making them a popular choice for automotive workers, medical personnel, food handlers, building inspectors, and furniture refinishers.
Nitrile gloves can also be worn to complete household tasks like food preparation and cleaning. 
Are nitrile gloves food safe? 
Nitrile gloves are usually food safe if they are high-quality (free from chemicals used during the manufacturing process) and powder-free.
But for added comfort, you should look for an FDA-Approved accreditation mentioned in the product description or packaging. 
What is the difference between nitrile and latex gloves?
Latex gloves are made using natural rubber, so they can be a concern for people with an allergy or sensitivity to latex.
Nitrile gloves are made using synthetic rubber, so they don't cause the same reaction in people with an allergy to latex. Additionally, nitrile gloves are stronger and more resistant to punctures than latex. 
What is the difference between nitrile and vinyl gloves?
The main differences between nitrile and vinyl are cost and durability.
Vinyl is thinner making it a good choice for the food industry where protection against contaminants and durability are less of a concern.
Vinyl gloves are less expensive than nitrile gloves, so they are a good budget-friendly option if you intend to use them to complete low-risk tasks. 
Are nitrile gloves suitable for handling all chemicals?
Nitrile gloves are chemical resistant and provide protection against fuel, oils, weak acids and caustics, and some organic solvents.
However, they have poor resistance against alcohols, ketones, and concentrated acids. You should not wear nitrile gloves while handling these materials as they will quickly disintegrate. 
Can nitrile cause an allergic reaction? 
An allergic reaction to nitrile is less common than a reaction to latex.
However, you may experience contact urticaria, a mild skin irritation caused by excess perspiration and poor ventilation.