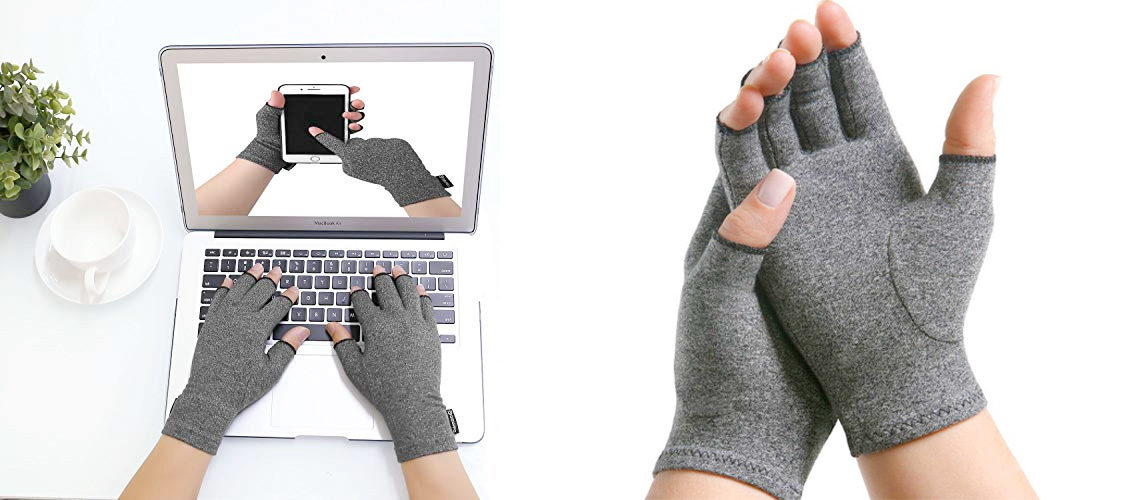 If you suffer from arthritis or a related condition, you probably understand the impact it can have on one's quality of life.
Luckily, the best arthritis gloves were designed to help reduce pain and swelling, common symptoms associated with the disease, bringing life back to arthritis sufferers. 
Choosing the right pair of arthritis gloves can be a challenge, with different brands and features available.
Fortunately, there are many effective options out there and we've taken the time to narrow down the top three choices currently available.
We also have a review of the Best Compression Gloves for Carpal Tunnel and Rheumatoid Arthritis for more options!
Typically, we would look at 5 or so products in a rundown, but in this case, three is enough to give you a perfect option.
Let's look at them now.
Here are the Best Arthritis Gloves on the Market in 2023:
1. Thermoskin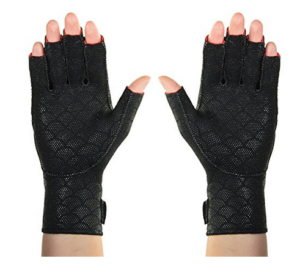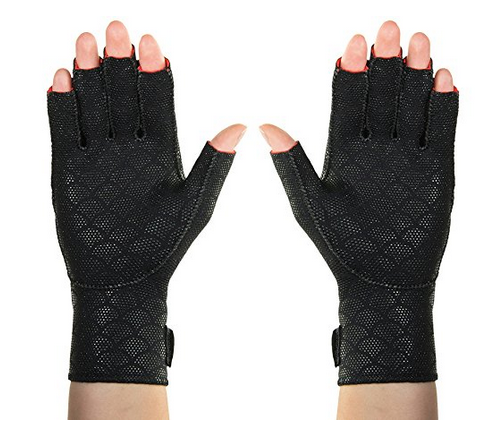 These anatomically-shaped arthritis gloves have been designed using a combination of nylon, rubber foam, and polyester (latex-free) to ensure full breathability and comfort during use. The outer-layer is textured for improved grip when you need it most and the gloves are secured using Velcro to ensure a comfortable fit. 
They provide effective arthritic relief by applying gentle compression to the hands and fingers. Heat therapy is also utilized by retaining heat to reduce swelling and ease pain from sore joints. 
A unique feature to Thermoskin is the addition of Trioxon Advantage, the rubber foam lining found in each pair of gloves. This special lining helps improve elasticity and reactivity of muscles while relieving painful arthritic symptoms. 
There is a large range of sizes available from x-small to xx-large. 
Key Features
Effective heat retention for gentle pain relief

Anatomically-shaped for comfortable fit

Textured outer-layer for improved grip

Improves elasticity and reactivity of muscles

Breathable
Buy Here
2. Comfy Brace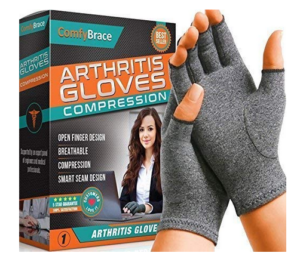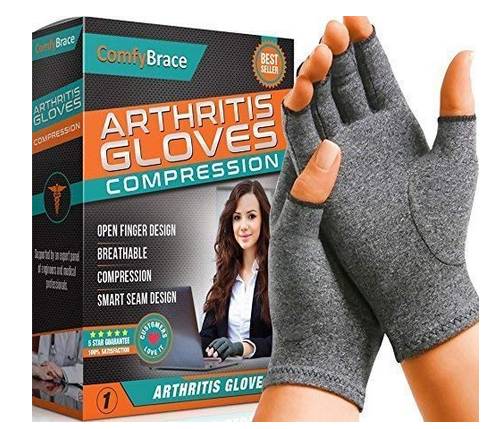 Made using a blend of high-quality cotton spandex, Comfy Brace arthritic gloves promote breathability while providing continuous compression so you can live your life pain free. The fingerless design is perfect for completing tasks like cleaning, running errands, working, or using the phone without compromising on the benefits of arthritis gloves. 
They were designed to be virtually seamless to ensure a comfortable, snug fit and they are effective for reducing swelling and pain caused by arthritis. Along with treating different forms of arthritis, these gloves can be worn to treat hand inflammation and muscle stiffness making them a good multi use option. 
Unlike other brands of arthritis gloves, the company offers a 100% satisfaction guarantee with lifetime warranty. This is an amazing feature that is not always seen in similar products. Available in sizes x-small to large. 
Key Features
Made using high-quality cotton and spandex 

Moisture wicking fabric promotes breathability

Continuous compression promotes blood circulation and hand dexterity

Seamless design for comfortable fit

Reduces swelling and arthritic pain

Useful for a variety of conditions

100% satisfaction guarantee with a lifetime warranty 
Buy Here
3. Arthritis Gloves by Vive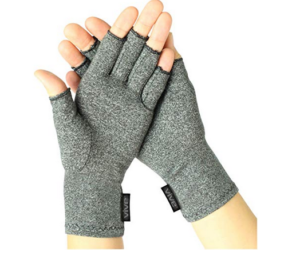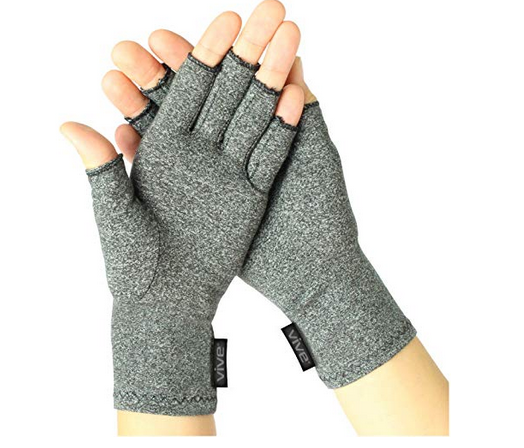 Vive arthritis gloves are a budget-friendly option that hasn't compromised on quality. They offer superior compression therapy by targeting specific pressure points found in the hand to reduce stress. 
Made using a breathable blend of cotton-spandex, they can be worn all day without causing uncomfortable, sweaty hands from excess heat retention. Minimal seam stitching has been used to reduce irritation and ensure a pleasant fit. 
The fingerless design provides the same benefit of full-length compression gloves without impeding necessary movement. Vive took this one step further by measuring the openings for optimal-length to ensure complete compression and finger mobility. 
For the best fit, the company recommends measuring the width of your hand below your lowest knuckles (inches) and comparing it to the size chart. These gloves are available in sizes small to large. 
If you aren't happy with your purchase of Vive arthritis gloves, the company offers a 60-day warranty. 
Key Features
Compression support

Made using breathable cotton-spandex blend fabric

Smart seam stitching 

Heat retention 

60-day warranty 
Buy Here
Arthritis Glove Buyer's Guide and FAQ
What are the best gloves for arthritis? 
Any of the above choices would be a great start but it ultimately depends on the type of features you're looking for. You can find arthritis gloves that provide different strengths of compression, heat therapy, or include copper as a key feature. Fingerless arthritis gloves are more common to encourage mobility, but you can find full-length arthritis gloves too. Some arthritis gloves are sold in fashionable styles or you can choose a neutral pair if you prefer. 
Arthritis gloves are intended to provide relief, so choose features that will benefit you the most without sacrificing on quality. 
What material is best for arthritis gloves?
For arthritis gloves, you usually want to choose a fabric that is breathable and non-irritating. A common choice is cotton-spandex because it is soft, breathable, and doesn't get too hot. Some people may be irritated by wool or neoprene, so that is something to consider too.  
If you intend to wear arthritis gloves outside or colder environments, you can find thicker arthritis gloves to provide additional warmth. 
How do I know what size of arthritis gloves to buy? 
The size of your arthritis gloves is very important. Gloves that are too small will be uncomfortable and could easily interfere with hand circulation. On the other hand, gloves that are too large will not offer the same benefits as a well-fitting pair and could make completing regular tasks difficult. We recommend measuring your hands based on the company's own measuring guide as measurements could vary between brands. 
How do I take care of my arthritis gloves? 
Pay close attention to the care instructions included with your arthritis gloves. Some brands can withstand being washed in the machine with your regular laundry, but others will require special care. You may need to devote some time to hand washing and air drying, which could be an important consideration if you have severe arthritis. 
How do I know if I'm buying high-quality arthritis gloves?  
If you're buying online, look for arthritis gloves that have a significant amount of positive reviews. If you can look at arthritis gloves in-person, observe for signs of low-quality like loose stitching. Finally, ask your family doctor for suggestions if they are experienced with forms of arthritis. They are a great source of information as they are familiar with symptoms and how to treat them effectively. 
Do arthritis gloves work? 
Most customers report positive effects from wearing arthritis gloves regularly to manage their arthritic symptoms. Arthritis gloves work in a few ways, including thermal regulation, compression, and improving blood circulation. To get the most out of your arthritis gloves, it's important to ensure you are wearing the correct size and choose the right features to suit your needs.