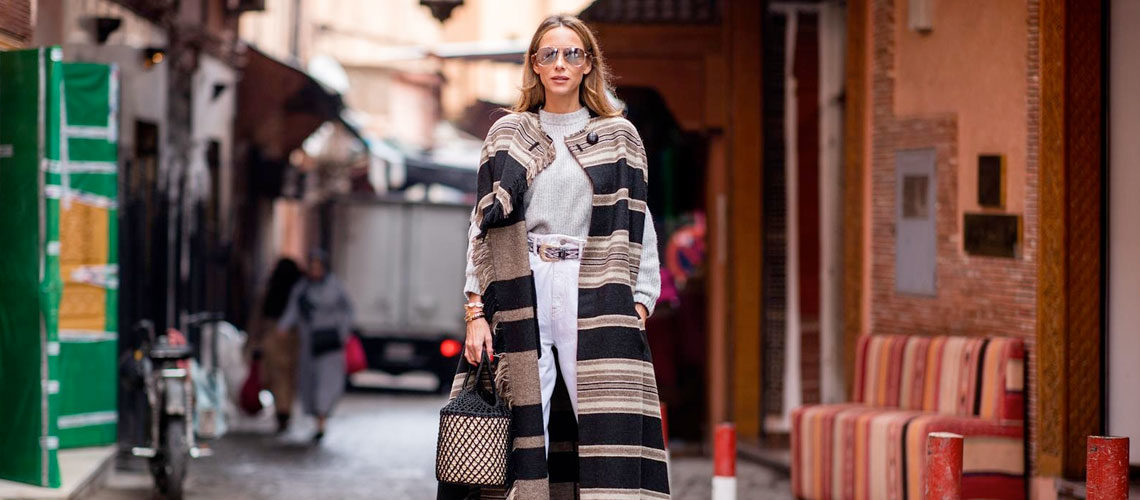 When the bitter cold of winter starts along with its frigidness, ponchos become a very valuable piece of garment to have around.
And the best ones that will keep you warm and comfortable are those that are made of wool!
 So without much ado, let us take a tour of the 5 best 100% wool ponchos.
Here's the Best Woolen Ponchos of 2023 for Style and Warmth:
Our team of experts and researchers have gathered information on the top 5 best wool ponchos available out there so let's go over each of them one by one.
1. Vrikke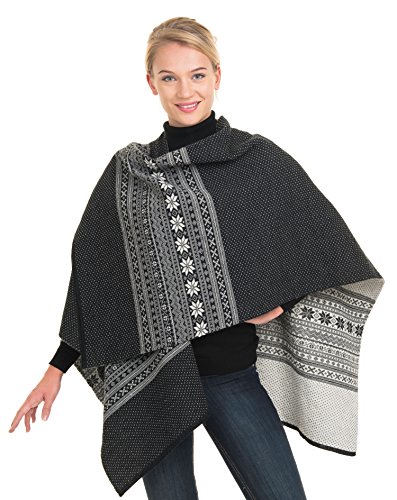 The first one on this list is a sweater coat by a Norwegian designer. Anna Kristina Loven has crafted this 100% merino wool from Norway which offers comfort and soft feel to whoever wears it.
It's perfect to wear against bitter cold winter nights and aside from the warmth that it provides, it will also keep you looking stylish every single time.
It is 49 inches long and 47 inches wide with an opening of 24 inches.
This means that it's the perfect size for every woman who's looking for the perfect fit.
This poncho is highly revered by users due to its high-quality workmanship.
It serves its purpose well which is why you will only read the best reviews out there.
We didn't find any negative comments about it except for a few who complain about the price being a bit high but that is something that is understandable.
Vrikke is on the top of this list because of some good reasons.
Aside from the high-quality materials used the poncho's classic colors makes it a favorite for those who want to mix-and-match their everyday winter style.
Another thing that makes this poncho standout is its Setesdals pattern – a combination if rose star shapes with Selburose pattern.
This wool poncho is a piece of garment that every woman will surely love. It is a perfect fabric for the bitter cold of winter.
Still, it is a wonderful gift that you can present to the woman whom you dearly love. We like its quality, the materials used and how fair it is priced. Its got no blemish so it will get a perfect 10 from us!
Pros
Top quality material and build
Lightweight, warm, and comfortable
Stylish and great for every winter fashion
Cons
Buy Here
2. Novica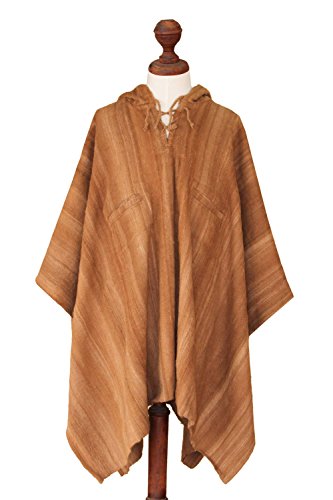 Designed by the master craftsman Faustino Maldonado himself, NOVICA which is developed along with National Geographic is going to take poncho to the next level.
With its appealing looks and cozied design, its a piece of garment that is going to deliver best during the bitter cold of winter.
It is purely made of Alpaca wool making it water repellent and hypoallergenic at the same time. It's truly a luxurious piece of garment to have.
Just like the first one in this list, there is hardly any complaint about NOVICA'S performance being a wool poncho.
It may be a bit too pricey to others but it is something that can't just be placed in the 'backwaters'.
It's got the quality that is on par with the top brand with ample features that make it a perfect choice. The positive feedbacks it has are based on hard facts.
The poncho has two pockets that can take care of your valuables. It also has buttons that are made using dried gourds securing each side.
A hood is sewn to it making it a perfect all-around protection when the weather gets colder.
The size of the poncho is at 100 centimeters in length and 140 centimeters wide. It is also lightweight which means that you will never feel like carrying a burden when you have it on.
By tapping with the talents and skills of the Maldonado family to make such an awesome piece, NOVICA has shown the commitment that it is ready to offer the best to its customers.
Just like any manufacturer who wants to show great credibility, NOVICA has included the story behind the poncho in its packaging.
There's also a card that serves as a seal to prove that the poncho is original. It is truly an outstanding piece of garment that is worth every penny on its price tag.
Pros
Soft, lightweight and functional
Durable, warm, and stylish
Does what it is supposed to do
Secure fit and style
Cons
Buy Here
3. Invisible World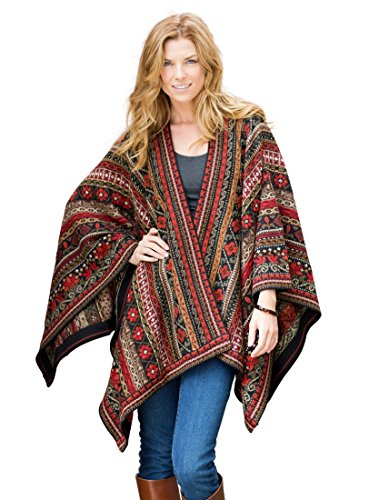 A garment that is made to be a ruana –  meaning a covering that works better than conventional ponchos.
Invisible World is a company that is based in Alaska but that garment itself is created by hand in Bolivia. With it, the company is showcasing its experience in crafting rare clothing that works really well both in functionality and style.
There are users who complain that the poncho is a bit heavy but it's because of the fact that it is made as a ruana.
Ruana's are known for being thick and aside from that aspect, there is no other reason to worry about this garment. Quality and usability are top-notch and has gathered plenty of satisfactory remarks from those who have tried putting it on. It definitely is one of the best ponchos available in the market at present.
Because of Invisible World's design, the poncho has an opening at the center and it is also sleeveless.
It has an awesome color scheme with patterns that really catches the eye.
It is definitely going to be a stylish addition to your winter wardrobe. And before we forget, this poncho is made out of 100% Alpaca wool gathered from sustainable sources; this gives the garment its durability. Invisible World can be hand washed or dry cleaned.
Having something from a trusted brand such as Invisible World which is sourcing its products from the finest natural materials like Silk, Cashmere, Alpaca, and others, it's impossible to take your eyes from enjoying the craftsmanship.
But rising above its looks is its functionality which will never fail to deliver especially in the coldest days of winter.
Pros
Made of 100% wool obtained from sustainable sources
Durable but soft
Warm and comfortable to wear
Fashionable and never gets you out of style
Cons
Buy Here
4. Icewear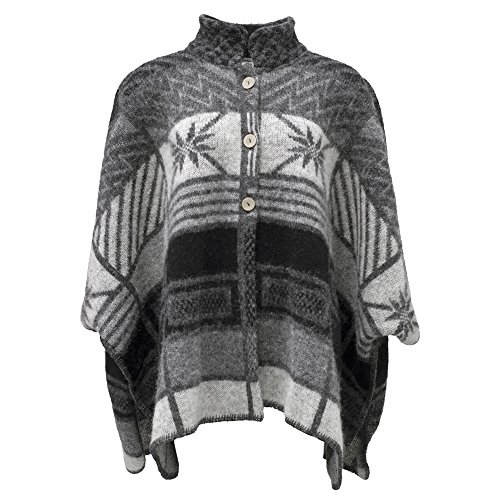 Taken from the country that is cold even on its name, Iceland, is this garment that is going to keep the cold of winter at bay.
Icewear is crafted using 100% wool from Iceland which also shows traditional Icelandic pattern that is fashionable and just awesome!
The wool is crafted by hand by one of the oldest wool production companies in Iceland called Víkurprjón. The material is both water-repellent and breathable making it perfect for ponchos like Icewear.
The garment is designed to impress with the expertise that produces only the best winter clothing out there.
That's the reason why it is hard to find any hole on its overall design, build, and functionality. Icewear is stylish and is of good quality with features that are truly worth its price.
It is perfect for winter and remains as one of the best in this list!
With three (3) wooden buttons, Icewear gives the feel of nature even in the barren conditions of winter.
It has 3/4 sleeves design and is designed to be opened in front. The collar takes inspiration from the mandarin style and the poncho itself is a loose fit.
There are three available colors that are available and all have beautiful patterns that spread all over. Moreover, it can be worn as a cape, sweater, or a wrap making it a multipurpose piece of apparel that is sure to fit your style.
If you are looking for something that will keep you protected from the cold then this Icelandic poncho is going to be a perfect garment that will do the trick.
And it will also help you look fashionable every time. Its beautiful colors and patterns are truly eye-catching which is why it is one of the ponchos that we recommend especially for those who have a limited budget. 
Pros
Breathable and soft wool material
Made from 100% Icelandic wool
Stylish and eco-friendly
Attractive colors and patterns
Loose fit
Cons
Buy Here
5. Straight Line Clint Eastwood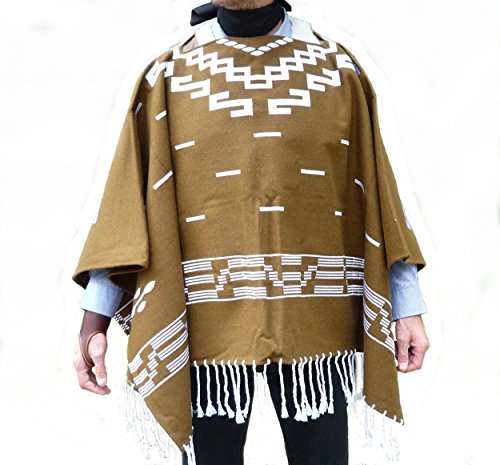 Are you looking to add cowboy fashion to your winter? If that is so then you need this poncho!
This Straight Line Clint Eastwood poncho is made out of 100% high-quality wool. It is 57 inches in length and 28 inches in width bearing resemblance to the outfit of popular Hollywood celebrity, Clint Eastwood.
He sported such outfit in movies like "The Good, The Bad, and The Ugly", "A Fistful of Dollars", and "For a Few More Dollars". That is the reason why you find his name on the poncho itself
The poncho stands above shoulder compared to other poncho replicas of Clint Eastwood. Complaints revolve around these replicas not living up to the standard because they are either too long or too narrow but that is not a problem in this Straight Line Poncho.
It's the perfect replica and it gives justice to its name and users really love it!
The awesome design of the poncho gives it a great appeal.
The garment also features embroidered stitching that is raised to give it a unique look. Fringes of threads are also hanging down its edges. It's a one size fits all garment which means that finding the perfect fit won't be a problem but it's a loose fit though.
Brown is the only color that is available for this poncho.
You don't need to be in the Wild West to look like a cowboy.
This poncho is going to be a perfect inspiration paired with a felt wool hat just like Clint Eastwood.
Talking about fashion, this Straight Line Clint Eastwood poncho is good protective wear for the winter which you can put on in camping adventures and other outdoor activities.
Pros
Comfortable and soft
Fashionable and stylish
Made of premium quality 100% wool
Durable and warm
Multi-functional design
Cons
Buy Here
Choosing the Perfect Poncho
Just like any fashion and styling choices, it is important to first consider your budget before picking a poncho.
There are brands that are more expensive than others but work almost the same.
Also, be sure that you already have a clear picture in mind of the style that you want during the winter.
The material just another aspect that should be factored in along with the maintenance or washing instructions.
Wool products normally need dry cleaning but there are some that can be hand or machine washed.
The most important thing is that you are comfortable wearing the poncho and that it matches your style very well.
And of course, it must effectively provide protection from the bitter cold of the winter season!