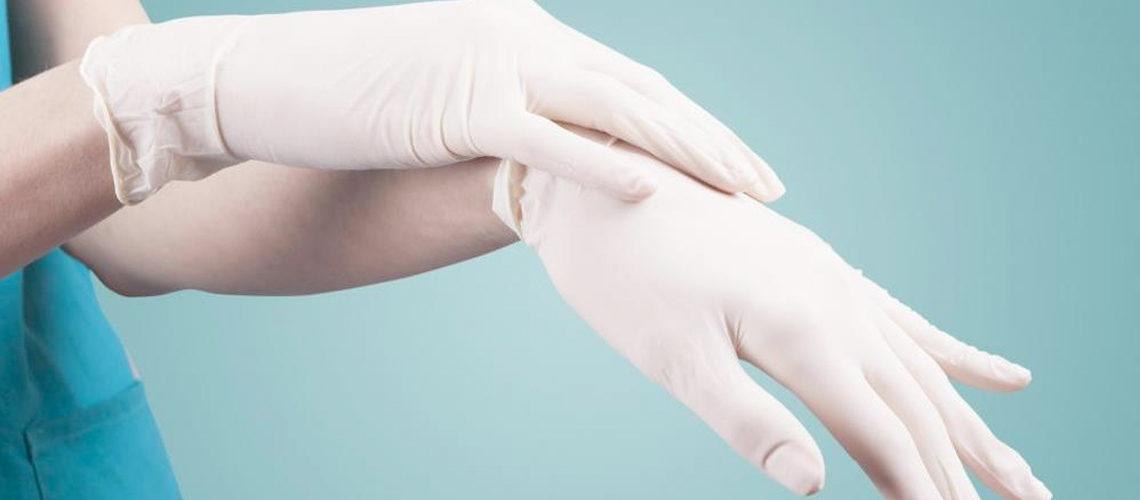 Whether you want to protect your hands while cleaning, preparing dinner, or tending to other tasks around the house, latex gloves are certainly a pantry staple.
With so many options out there, it can be difficult finding the best latex glove to suit your needs but we're here to help narrow down your options.
We have chosen five highly-reviewed latex glove brands readily available and focused on the key features of each, so you can make an informed choice.
We have also included a handy buyer's guide to answer some of the most common questions asked when purchasing latex gloves. 
Without further ado, let's look at our picks for best latex gloves and the most notable features of each. 
Here's the Best Latex Gloves of 2023 for Medical or Multipurpose Use:
1. Vivid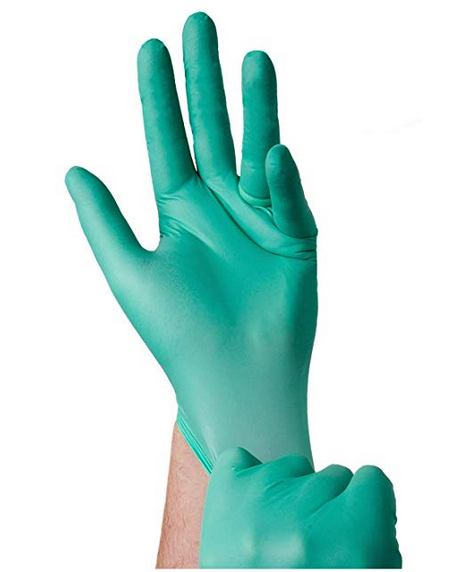 If you're looking for high-quality latex gloves that offer a comfortable fit, you may want to consider this option from Vivid.
They have an ambidextrous fit to suit both the right and left hand, and they're available in sizes small to x-large. 
These gloves are multipurpose, making them a good choice for household tasks like cleaning, gardening, and food preparation.
Although they are non-sterile, they are safe to use during medical and dental examinations. 
The inside of the gloves are powder-free, but there is a special aloe vera coating inside to help soothe hands.
Many users recommend Vivid latex gloves for their superior flexibility and stretch, making them an easy-fit for most people. 
Vivid latex gloves are available in a fun, green color that you don't see often in latex gloves.
This could be a problem if you are looking for a neutral, beige latex glove but if you aren't, the fun pop of color is a nice touch. 
Key Features
Ambidextrous fit 

Powder-free

Inside coated with aloe vera 

Multipurpose Use

Available in a range of sizes 

Excellent stretch and flexibility
Buy Here
2. Curad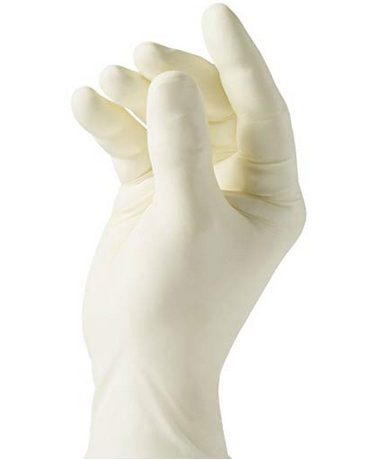 Curad disposable latex gloves are a cost-friendly choice that can be used for a variety of tasks at home like cooking or cleaning.
They're exam-medical grade, making them a good choice for physicians, dentists, and tattoo artists too. 
The gloves are textured, an important feature for tasks that rely on a certain level of grip and offer more stretchability than lower quality options. They're powder-free and available in a standard beige color. 
They are available in a wide range of sizes, so you should have no trouble finding a comfortable, snug fit. 
With latex gloves, you can expect some odor, but many customers have commented on the distinct pungent rubber odor of these gloves.
This could be a deal breaker if you are sensitive to smells, so it is worth considering before purchasing this product. 
Key Features
Available in a range of sizes

Powder-Free

Textured grip

Exam-medical grade quality 

Comfortable fit
Buy Here
3. Dealmed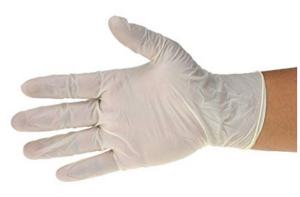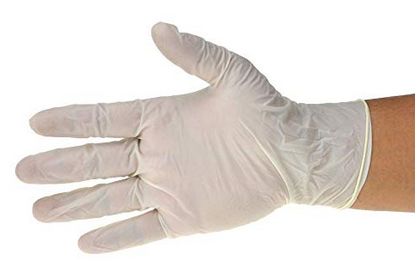 Dealmed's disposable latex gloves are applauded for their elasticity and comfortable, secure fit.
They are powder-free and suitable to handle a variety of tasks like food preparation, medical examinations, gardening, and more.
The gloves are textured to support tactile sensation, an important feature if you are going to be completing tasks that rely on precision and touch-sensitivity.
Most users find them to be high-quality and the range of sizes is useful for ensuring customers find a size that fits well. 
They are priced well with competing brands of latex gloves, making them a great budget-friendly option for households and professionals. 
Key Features
Available in a range of sizes

High elasticity 

Multi-purpose

Powder-Free

Textured 
Buy Here
4. Vibrant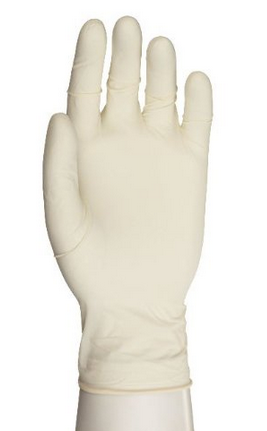 Vibrant latex gloves are examination-grade, making them a popular choice for dentists and medical clinics.
They are designed to withstand punctures from needles and medical tools, and the textured palm and fingertips improve grip and tactile sensation. 
They are advertised as having a palm thickness of 5 mils and a fingertip thickness of 6 mils.
This contributes to the glove's durability, making them a good choice for tough projects. 
They are available in a standard beige color, a popular choice for professionals, and powder-free so the risk of cross-contamination is low.
Compared to other brands of latex gloves, some users found the elasticity to be low, but the puncture-resistance makes up for it. 
Key Features
Designed for medical and dental examinations

Powder-free

Micro-textured for improved grip

Puncture-resistant
Buy Here
5. Microflex Diamond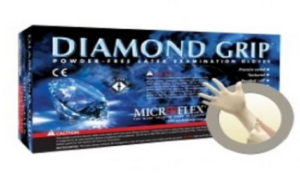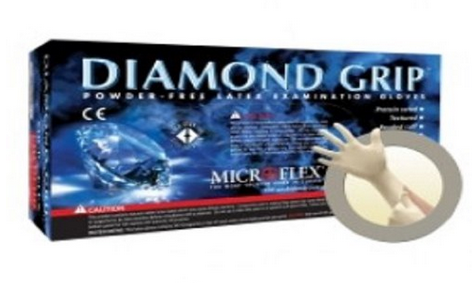 Microflex Diamond latex gloves are popular for their durability and thickness that make them a good choice for more strenuous tasks.
They offer textured palms and fingertips, to ensure you don't lose crucial tactile sensitivity and they're puncture-resistant, so they also work well in a medical environment.
A unique feature of these gloves is they have been chlorinated during manufacturing.
This may sound strange, but this process makes them easier to pull on and off and stops them from sticking together. 
Like the other options on this list, Microflex Diamond latex gloves are powder-free and are sold in a variety of sizes so you can find something that fits your hands comfortably.
They have great elasticity and resist tearing better than other brands of latex gloves. 
Key Features
Textured fingertips and palm for added grip

Thick compared to similar latex gloves

Chlorinated 

Powder-free

Good elasticity

Puncture-resistant 
Buy Here
Latex Gloves Buyer's Guide (FAQ)
Latex gloves are important for protecting hands and keeping them clean during important tasks.
If you think latex gloves are the right choice for your needs, read over our  buyer's guide to learn more about latex gloves before making a final decision. 
What are latex gloves used for? 
Latex gloves are used for a variety of tasks.
At home, you might want to use latex gloves while preparing food, gardening, cleaning, or working in the garage with dirty tools. Latex gloves are also a popular choice for working in medical clinics or dentist offices as they are affordable and more tactile-friendly than their vinyl counterparts. 
Are latex gloves food-safe?
Many brands of latex gloves are food-safe. However, if they contain powder for lubrication you shouldn't wear them while preparing food as powder remnants can fall into your food contaminating it. 
Will latex gloves cause irritation?
For most people: No. However, if you have an allergy to rubber, you will have a similar reaction to most latex gloves.
Latex contains natural rubber, and people with an allergy have experienced irritation or more severe reactions.
If you have an allergy, you may have to consider using vinyl or nitrile gloves instead. 
What size of latex gloves should I buy? 
This will vary between manufacturers, so you should pay close attention to each company's size chart and measure your hands according to their guidelines.
A well-fitting latex glove will be comfortably snug – not too loose or too tight. 
What features should I look for in latex gloves? 
This will depend on your needs and why you are purchasing latex gloves.
Popular features include texture for tactile sensitivity, a feature that is important for medical professionals who rely on their sense of touch to do their important work.
Many people prefer powder-free gloves because the powder can be drying to hands and it can contaminate food or important projects. 
Puncture-resistance is another popular feature, especially for doctors and dentists who work with needles and sharp tools throughout the day.
Similarly, some gloves are more durable than others, which is something you may want to consider before purchasing. 
Should I get single-purpose or multi-purpose latex gloves?
This will depend on what you are intending to use them for.
Multi-purpose latex gloves are appropriate for many different tasks, but if you are hoping to use them for professional food preparation or medical examinations, you need to ensure the product is FDA approved.
Without this approval, you should not use any type of latex gloves for food or medical purposes, as you or someone else could be harmed by contamination of unsafe material.