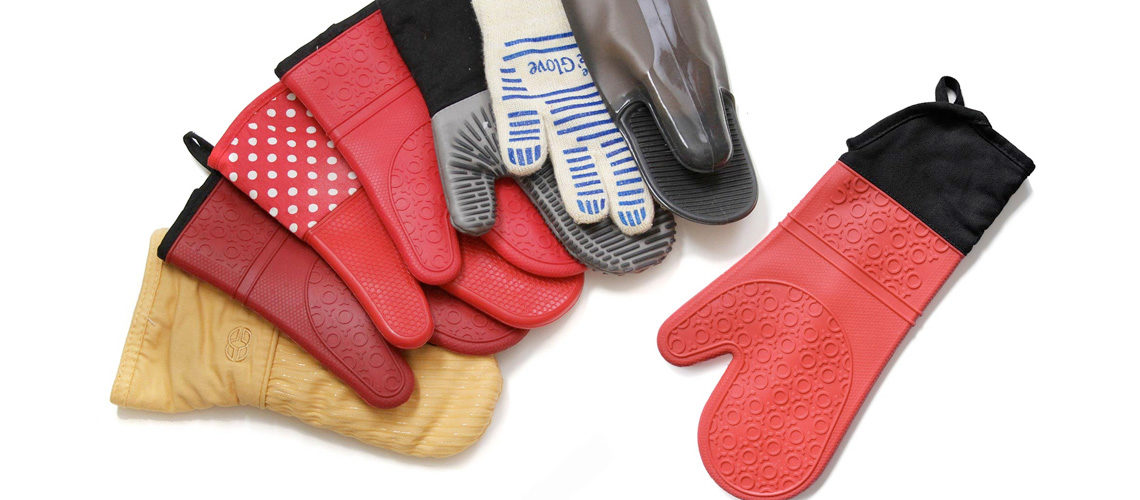 It's unfathomable to cook and not own a pair of oven gloves.
Even if you're mostly using the microwave, if you've ever burnt yourself taking out a hot soup bowl, we really don't need to sell you on the importance of over mitts.
Most people just use whichever ones they've got laying around, or that were handed down when they moved out, not a lot of thought usually goes into this purchase.
We're going to shake things up a bit, because we've taken an in-depth look at ten different pairs in order to help you choose the best oven mitts for your kitchen based on a number of different factors.
If you already have an idea what you're looking for, or if you're just starting the buying process, we've got you covered.
After intensive research, trial and error, and input from real home (and professional) cooks, here's the definitive list: 
Here's the Best Oven Mitts of 2023 Reviewed:
1. Rachel Ray Silicone Oven Mitt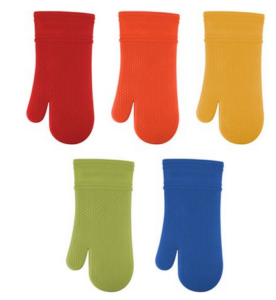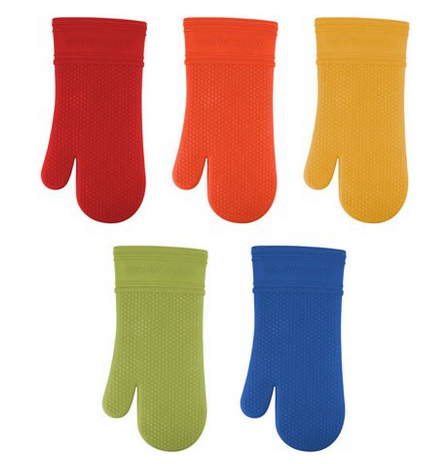 Rachel Ray didn't just take-over cooking shows, she's also killing it when it comes to kitchen accessories. Sometimes, a celebrity's name gets stamped on a ton of products without much regard for quality, they're just selling based on the name.
But anyone who has used Rachel's stuff knows it's generally very good quality, and these Rachel Ray oven mitts are no exception – you'll love them.
This product is sold in units of 1, so if you want a glove for both hands, just order two. If you only want one, just order one.
It's kind of nice when you can buy them individually, since some people only need one glove, and even if you end up buying both, the price is still great for what you're getting.
These are made of silicone on the outside with a soft, comfortable cotton liner. Due to the silicone, you get an incredible grip on whatever you're grabbing.
Rachel's mitts come in a number of different bright and vibrant colors, so whichever ones you choose, they'll always stand out and bring a smile to your face. 
Taking into account the quality, style, effectiveness at protecting your hands and wrists from being burnt along with preventing your cookware from slipping out of your hands, and finally the amazing value and versatility of being able to buy one or two gloves depending on what you need, this is our easy choice as the BEST oven mitt that you'll find. 
This oven mitt can handle up to 500 degrees Fahrenheit, and it can be used indoors in the kitchen and even outside in the BBQ.
Finally, another little perk?
If you own other products from the Rachel Ray Everyday cooking line, these mitts will match perfectly.
At the end of the day, it's priced great, it works great, and it's a great buy if you're looking for a great oven mitt. 
PROS
Well-made, high quality product

Extra bonuses like being slip-proof, handling high heat, and being easy to wash

Available in a number of fun colors

Matches other Rachel Ray products for a stylish kitchen
CONS
They run a bit large for some people, so if you have very small hands, they might not be super comfortable
BUY HERE
2. Kitchen Elements Oven Mitts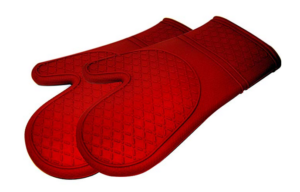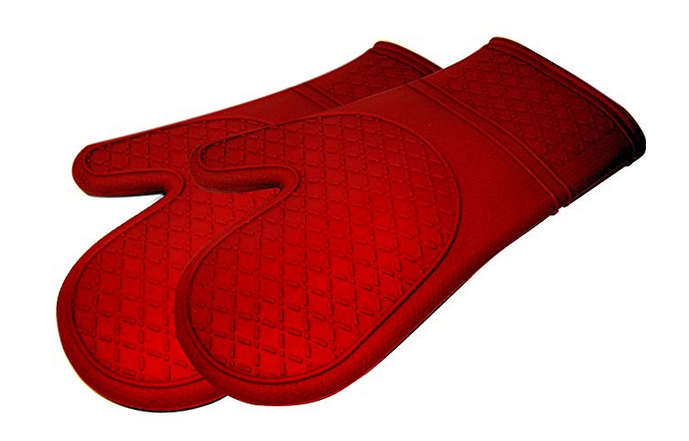 A very close second-place on this list is a pair of oven mitts made by the brand Kitchen Elements, and these gloves can certainly stand up to the elements in your kitchen.
They can handle up to 425 degrees F, which is a fair amount less than the Rachel Ray gloves are rated for, but still plenty for the vast majority of at home cooking.
They're a foot long, and they come with a handy hook if you'd like to hang them on your wall or on a kitchen rack.
You can wash them by hand, but they're also safe for the dishwasher which makes them even more convenient to clean than Rachel's mitts. 
We don't mean to keep comparing these to the Rachel Ray Everyday mitts, but these are two of the very best choices out there and they're different in some key areas, so it's worth making the comp[araisons in order to help everybody choose the pair that suits them the best.
Price-wise they're quite similar if you need two mitts, but if you only need one, then Rachel edges out the win in that category.
If being suited for stronger temperatures is a big priority and you don't mind not being able to toss them into the dishwasher, then Rachel's mitt is your best bet.
If you want to be able to throw your mitts in the dishwasher when they get dirty, and aren't worried about the extra heat protection, then go with these oven mitts from Kitchen Elements. 
Either way, it's a close contest, and you really can't go wrong with any of the mitts we're featuring in this round-up today.
They all have many pros and far outweigh the cons, and they've been hand-selected to be featured here for you.
PROS
Made from strong, heat-resistant silicone

Can be washed by hand or machine

They offer an excellent grip
CONS
They only come in one color, red

They're rated for 425, as opposed to the 500 degrees that our #1 pick can withstand

You're paying for two mitts, even if you only want one
BUY HERE
3. OXO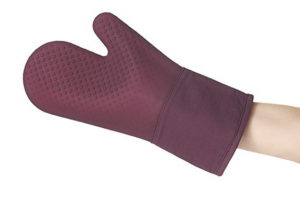 The OXO brand is known for higher-quality kitchen stuff, that you can still find in most regular stores without having to go to a specialty shop.
They make great stuff that's usually a touch higher in quality and price, but in the case of this oven mitt, they're bringing one of the lower-cost options to the table while still maintaining the quality they're known for.
How about that? 
This pack comes with just one glove, and it's only a dollar or two more than most of the other options when you look at the single glove price, so you really can't go wrong.
Silicon on the outside, with a fabric lining on the inside, as well as around the wrist area.
The longer wrist means you're less likely to burn your arm if you're pulling out a large casserole or turkey or whatever else is on the menu. 
These come in more than half a dozen different colors and they all look so great that it's hard to choose. From eggplant, to lime, to turquoise, and plenty more: you'll find a color that suits your kitchen, in fact with so many to choose from, you can even find a style that suits your mood. 
The grip pattern is nice, simple, and effective to ensure your hot dishes don't slip.
Having a more basic pattern like this also makes it harder for food and gunk to get stuck in the mitt, making it even easier to clean.
There's a handy loop for hanging this mitt on a hook, and it's easy to rinse it off and clean it while still wearing it, kind of like you're washing your hands.
PROS
From a reputable, well-respected brand that's known for quality kitchen accessories

Large enough to protect your hands, wrists, and even your arms

The non-slip pattern works great and keeps these gloves cleaner than their competitors

The value is fantastic, you can buy just one glove if that's all you need, or both to complete the pair
CONS
They run a bit large, so may not be ideal for people with smaller hands, mind you it's still a mitt so as long as you can fit your thumb in, you'll be able to do what you need to do
BUY HERE
4. RED LMLDETA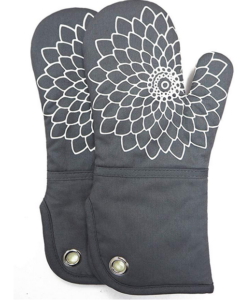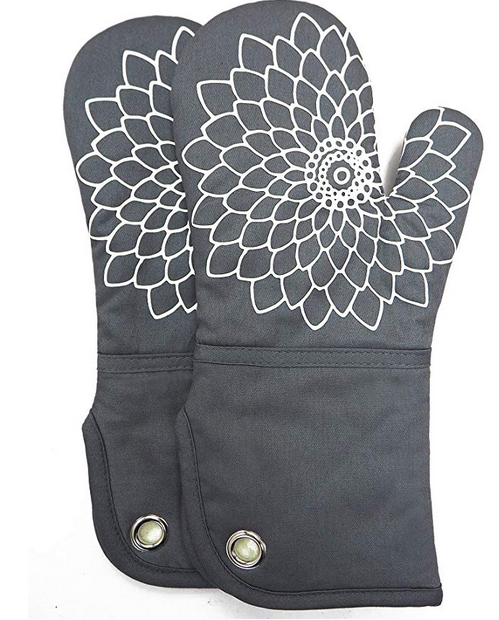 Looking for cloth gloves instead of silicone? Here's a superb pair of cloth oven mitts, for something a little more traditional.
The downside is that they're not as easy to clean as silicone, but they're still very easy to clean nonetheless: all you need to do is wash them by hand, or even in the washing machine, since they're made of cotton. 
These mitts come in four different colors to match your kitchen and your other kitchen accessories, and you get two of them when you order.
You get the benefits of cloth over mitts, but the palm still has a simple silicone pattern to give you extra grip, too – so it's really the best of both worlds with these ones.
There's a buckle (that's also great to hang these mitts from a hook or a nail), so you can adjust the wrist opening depending on how large your hands are, and what you're using these for.
They're just under 14 inches long, giving you ample support for your hands, wrists, and part of your arms. This is good to have when you're dealing with very heavy, large items from the oven.
The heat resistance is good up until 500 degrees Fahrenheit, making these among the most heat-resistant you'll find on this list.
You can find ones for even higher temperatures, but those start to get very pricey and are meant more for professional environments, you won't need that for basic home kitchen stuff like pulling pans out of the oven.
PROS
High-quality cotton construction, strong stitching

Silicone pattern for improved grip also looks really pretty

Lined with soft terry fabric

Long enough to protect all the way up to your arms
CONS
The hole for hanging them is only on one side of the mitt, so they have to face that direction unless you add an additional hole, which is easy to do

They run a little bit small, so if you've got giant hands, these might not be the best option
BUY HERE
5. Figrol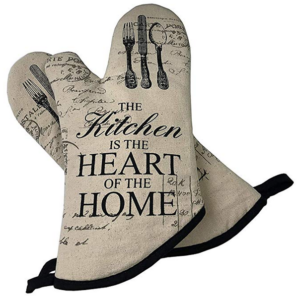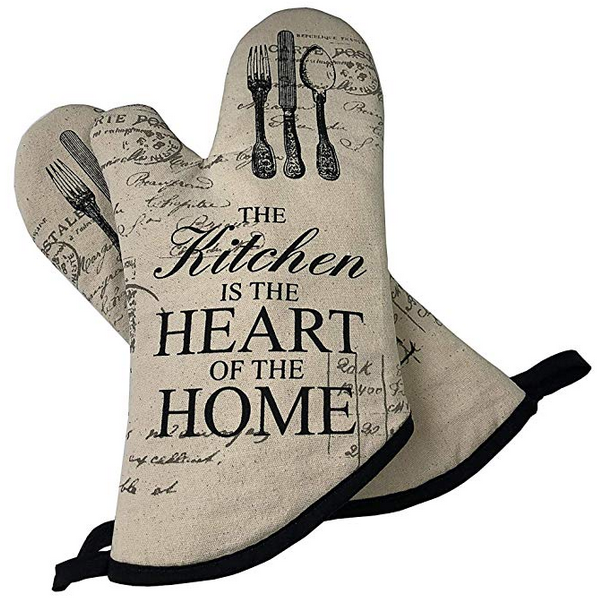 Let's round off this list of the best oven mitts with a basic, affordable pair for someone who is still undecided, wants to mits, and doesn't want to pay very much. If that sounds like you, then you don't need to read another word, just order these ones right here and you won't be disappointed.
These aren't the fanciest oven mitts out there, but they get the job done. If you're into the design, it's a no-brainer.
Some people don't really like the text on them or how "busy" it looks overall, and want something a bit more subdued, but if you're into the look, these will offer protection for you while BBQ'ing, reaching into a warm oven, and even using a fireplace.
This is the "no frills" choice on the list, but they're perfect as far as basic sets of mitts for the oven are concerned. 
There's not a lot to criticize or praise here beyond the value. There's a loop so that you can easily hang these from a hook for easy access, and they come in a couple of different colors with different mantras printed on them.
Overall, the value is exceptional, they'll last you for many years, and they'll protect you from being burnt – what else could you really ask for?
If you like to keep it simple, you'll be happy with these. If you see the allure of the silicone and higher-end oven mitts, then skip these ones because you'll be happy with the other options on the list.
We're all about finding something for everyone, and comparing them side-by-side so that our readers can make informed decisions.
There isn't a single kitchen mitt on this list that isn't excellent, so just choose the one that suits your wants and needs and you'll be thrilled with for years to come.
PROS
Simple, effective
Good value
Gets the job done
CONS
Not on the same level as other options
Nothing fancy here, just simple and decent
BUY HERE
Choosing the Best Oven Mitts for Your Home
Finally, let's go over a few of the traits to keep in mind when shopping for, and comparing, different oven mitts.
Uses
What are you going to be using them for? Simply taking light cookie sheets and pans out of the oven, or will you be using them for heavier, larger things too?
If it's the latter, think about getting heavier-duty gloves with anti-slip silicone patterns on them, or gloves made entirely out of silicone.
Otherwise, basic cloth oven mitts will suit you just fine, like the ones featured in the fifth spot of this round-up.
Price/Value
What's your budget? That's a pretty simple way to determine which ones you get, but more expensive doesn't always mean better.
Price is one thing, value is another.
Cheap gloves that perform great are an excellent value, whereas great mitts that cost a lot more (and perform better), could still be a great choice but they're not as good of a value, necessarily. 
Sometimes, you're paying for a brand name even if the product is exactly the same as a cheaper option, so it can be confusing if not downright frustrating to shop at times.
Ultimately, it's a lot of semantics, and you can rest assured that every glove on this list is worth the price, period.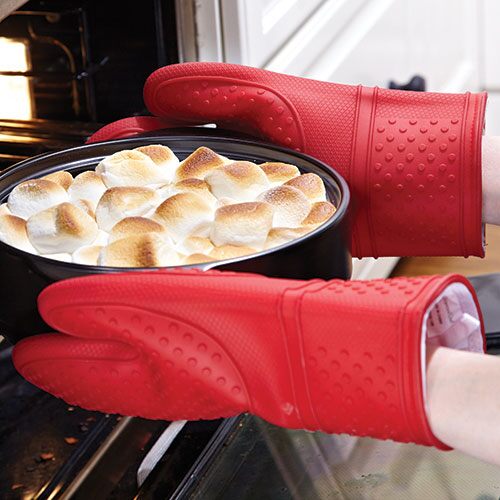 Materials (Cloth Kitchen Mitt vs Silicone Kitchen Mitt) 
The two most common materials are cotton (which will sometimes use polyester as fill in between the outer-shell and the inner-lining), along with silicone.
Silicone bakeware has exploded in popularity over the last decade or so, and it's great to use! So it makes perfect sense to find silicone kitchen mitts filling so many of the top rankings.
They're easy to clean, lightweight, and they offer great control and protection. Cloth mitts can be great too, and we've featured a few of them because they can hold their own. 
Design and Style
You may or may not have a certain aesthetic you're going for in your kitchen's design and style.
If your kitchen mitts are going to be out and on display, it's nice to find some that match the look you're going for. If you keep them stored in a cupboard or a drawer, it doesn't really matter as much.
It's up to you to decide how much weight you're going to put into this category in making your final decision.
Final Thoughts
With all of that out of the way, have you made up your mind yet? Let's face it, most products are going to have their own little quirks, but if you choose the one that stands out to you the most after reading through all of these options, you're going to love it!
All of these are contenders to be the best oven mitts, it just depends on what you're looking for, so remember you can't go wrong with any of these options – so grab a pair of kitchen gloves, and start cookin' up a storm!