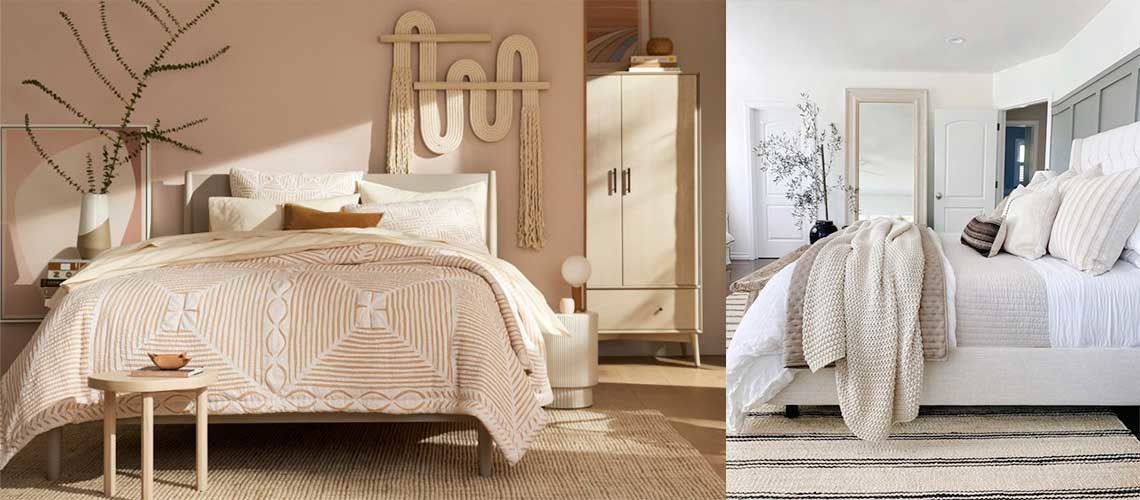 Types of Beds, Frames, & Styles
When shopping for a new bed or bed frame for your home, who would have thought that you would have so many choices to choose from not just when it comes to factors like colors or designs?
This makes it so easy to match your bed or frame to the rest of your decor or the overall theme and interior design of your home.
No matter what your style needs are, there is a bed frame out there that would fit your preferences nicely.
In today's Comprehensive Guide, we are going to go over a list of the different types of beds, frames, and styles to add functionality to your home – without sacrificing style.
Bed Types
Folding Beds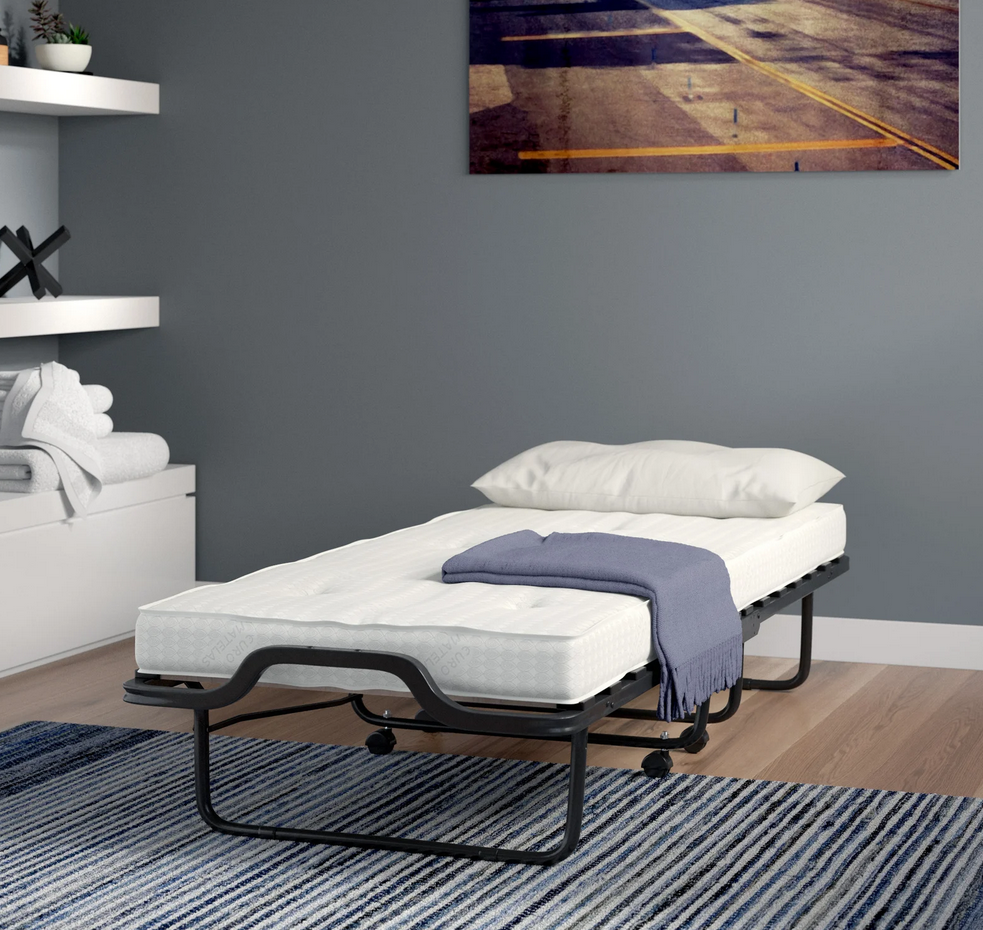 Folding beds have a hinged frame that permits it to be folded up onto the wall, a wheeled frame, a cabinet or other enclosures that can also be used for display to save space.
This works especially well for smaller living spaces.
These types of beds are convenient for studio apartments or rooms that have multi-purposes such as rooms that are being used as a guest room on some days and turned into a different room on others.
During the evenings, the bed can be laid out to accommodate people who would like to sleep.
Meanwhile, during the mornings, the beds can be folded up when it is time to work or have visitors over.
These kinds of space saving beds that are easily stowed are ideal for dormitories or apartments that would benefit from maximizing the limited space available.
Platform Beds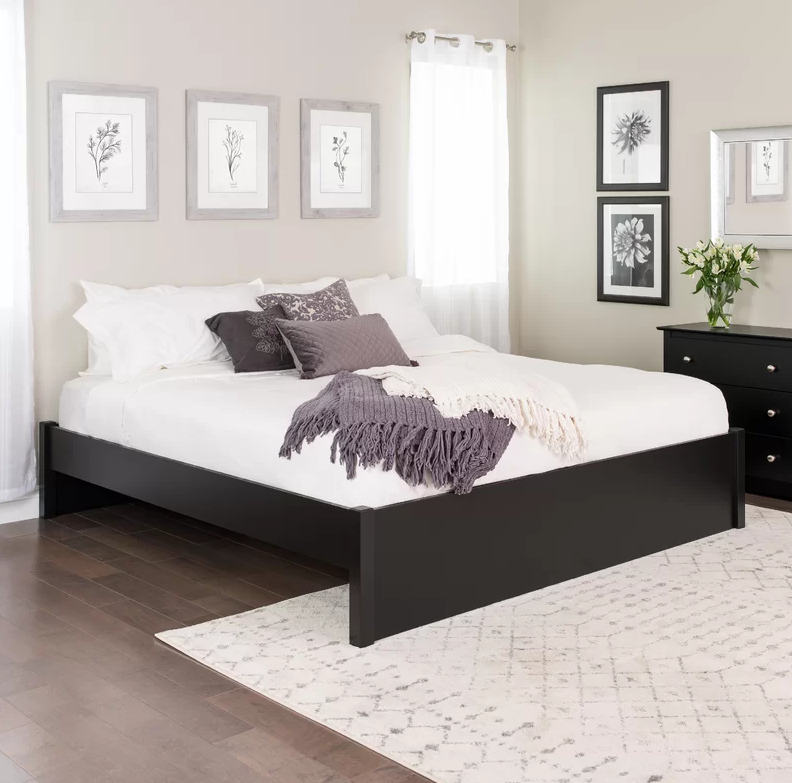 Platform beds are raised from the floor using a 'platform' frame that is latticed in structure and is created from rows of flexible wooden slates.
These bed types are designed to support mattresses no matter how heavy they are. 
Platform beds absolutely eradicate the need to use box spring bed frames that are bulkier and require more space to be properly accommodated.
Due to its elevated nature, platform beds have the means to provide proper ventilation to mattresses thus avoiding mildew and mold build up.
The space underneath this bed type can also be used to store boxes, shoes, bed sheets, linens, towels, and other household items or general belongings.
Panel Beds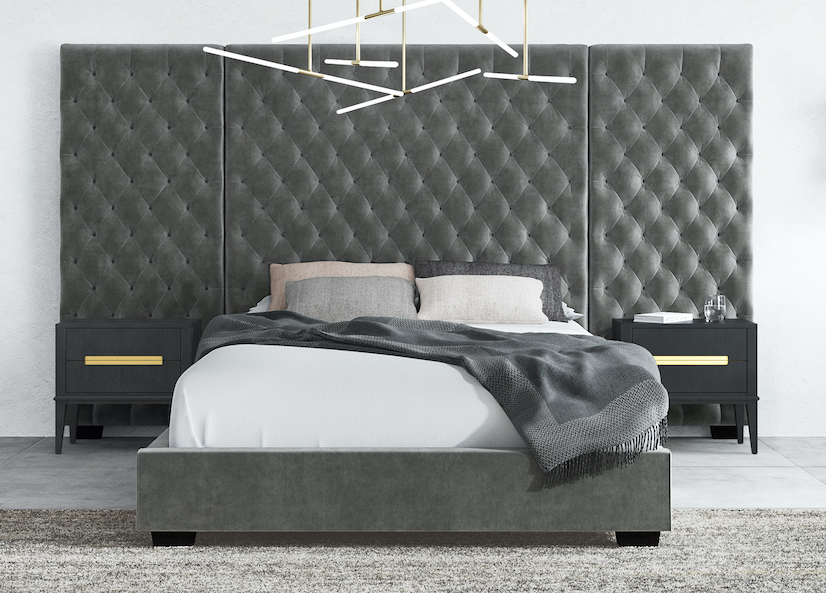 Panel beds are separated into segments infused with molding, similar to how wall paneling is.
Panel beds have tall panels of wood that are flat and decorated for the headboard and foot-board.
Panel beds may be identical to platform beds but they differ in the sense that panel beds have side rails that give way for the use of a box spring and mattress.
Sleigh Beds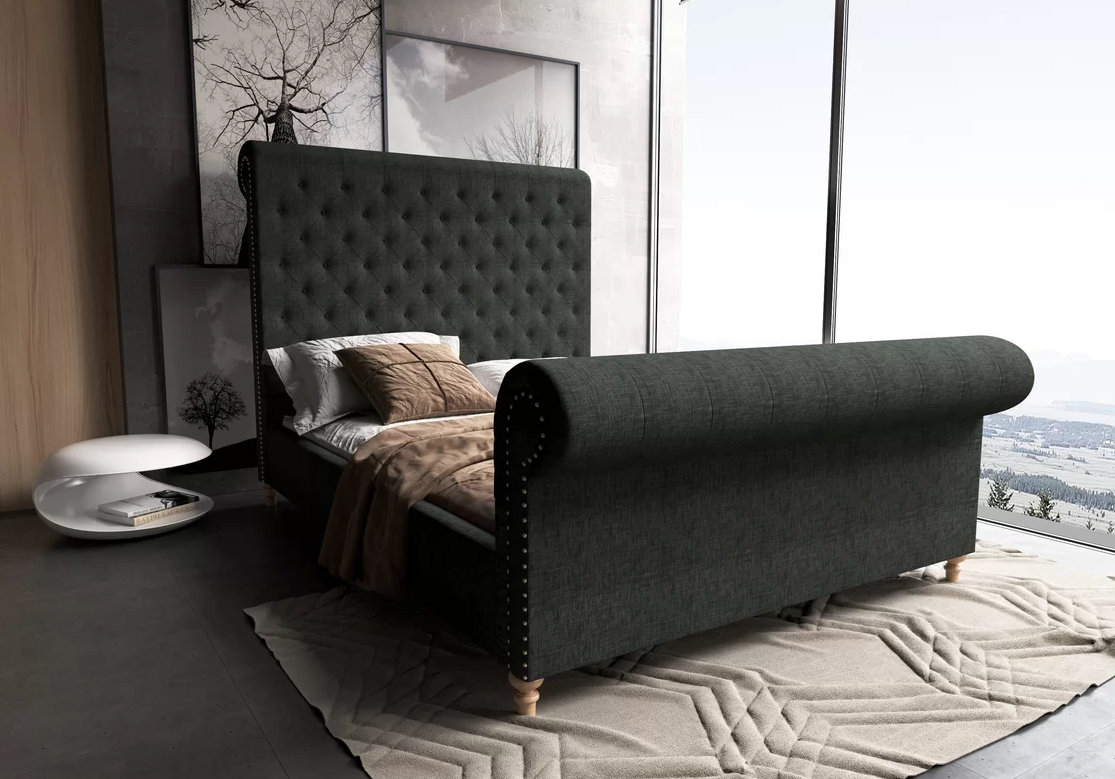 Considered as an exquisite piece of furniture during the early 19th century thanks to its design and detailing founded in the French and American Empire period, Sleigh beds look like actual sleighs of its namesake with its scrolled headboard and foot-boards made of substantial wood.
Sleigh beds can be built from different materials like steel, iron or aluminum though using these hard metals to make a sleigh bed will not result in as much of a curved headboard or foot-board as making the bed frame from wood.  
Murphy Beds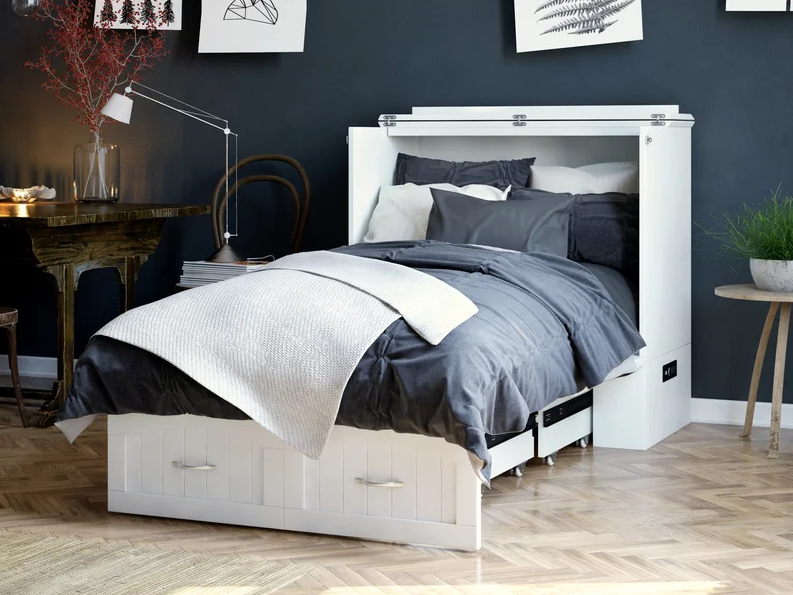 Dating all the way back to the time of Thomas Jefferson, the Murphy Bed is named after William L. Murphy.
Murphy beds are identical to the folding bed type in the sense that Murphy beds are also hinged in structure which allows them to fold into walls to free up space when needed.
Murphy beds are stored vertically against a wall or in a closed fixture.
Murphy beds can be availed with shelves, storage units and nightstands built onto their structure.
Trundle Beds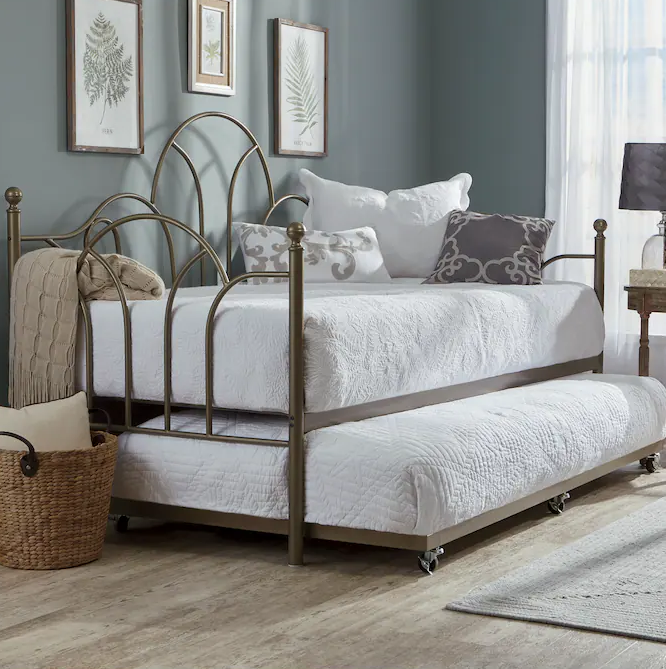 Popular in the bedrooms of kids and teenagers, Trundle beds are 2 beds put in one bed-frame with one of the 2 beds stored underneath the top bed.
The key purpose of having Trundle beds is to save space in your room.
The bottom bed can be stored under the top bed until it needs to be used with the bottom bed being easily pulled out to make it ready for use when necessary.
Trundle beds are great for smaller spaces and are not as bulky as a bunk bed.
Day Beds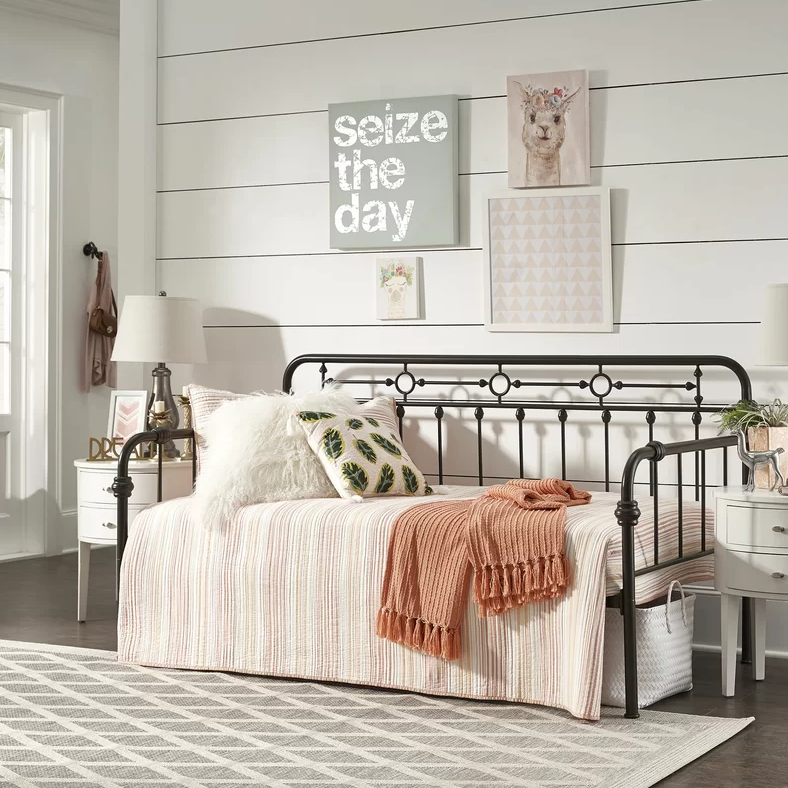 Day beds can be slept on, lounged in, reclined on and sat on, serving many household purposes.
Day beds can be made from varying materials that are cheaper or more expensive to add to its durability.
Day beds are a hybrid of a chaise lounge, a couch and a bed.
These kinds of beds are popular in guest rooms because of their multipurpose nature.
Poster Beds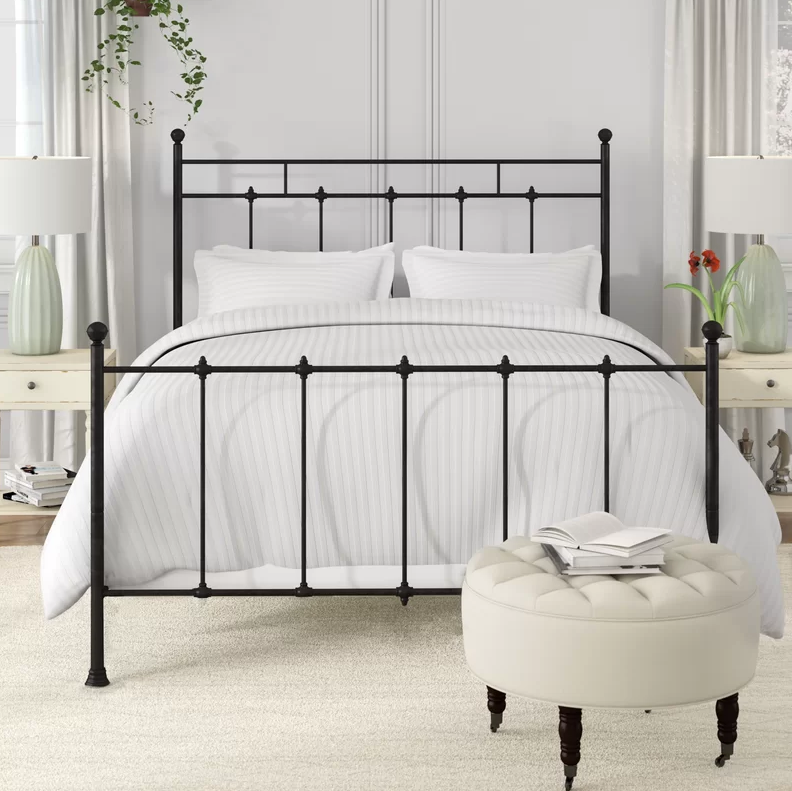 Poster beds are characterized by being built with four columns that run vertically for every corner of the bed frame.
Poster beds can also be availed with canopies or in differing sizes from smaller bed frames to larger ones.
Poster beds can be designed rounded, pointed, or squared with stores offering these types of bed frames in a variety of shapes.
Pencil Poster Beds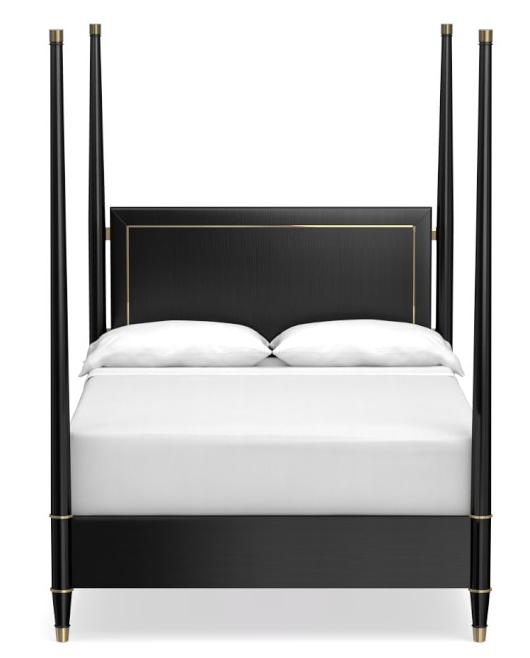 Pencil poster beds were widespread in New England where they were created in the 17th century.
Poster pencil beds are structured with four posts that end with a point at the top of each one running vertically for every corner of the bed frame.
Pencil Poster beds are available as a single frame or as a frame with a mount attached above to make way for the addition of a canopy.
Low Poster Beds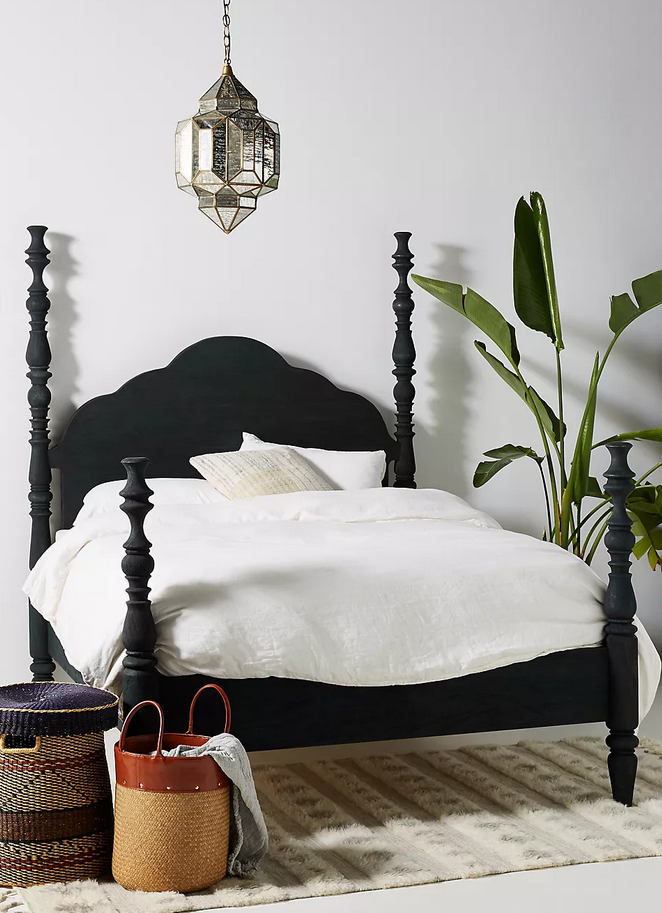 Common in several households, low poster beds have four posts running vertically on every corner of the bed frame that are usually only about a foot high.
These shorter corner posts can have tops with differing designs.
Low poster beds can be rounded, pointed, squared and so on.
Half Poster Beds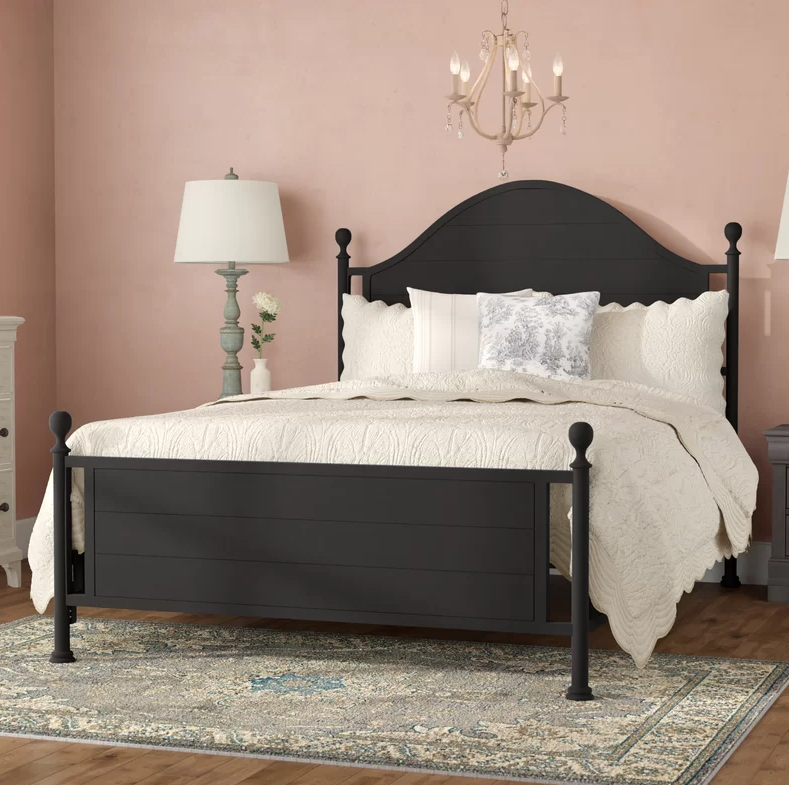 Half poster beds have four vertically running posts on each corner of the bed frame though the posts are not similar in height.
Half poster beds have headboard posts that are much higher compared to its foot-board posts.
These types of beds are easier to place in smaller bedrooms and its flexibility when walking around the bed also makes it convenient for moving around in smaller living spaces.
Canopy Beds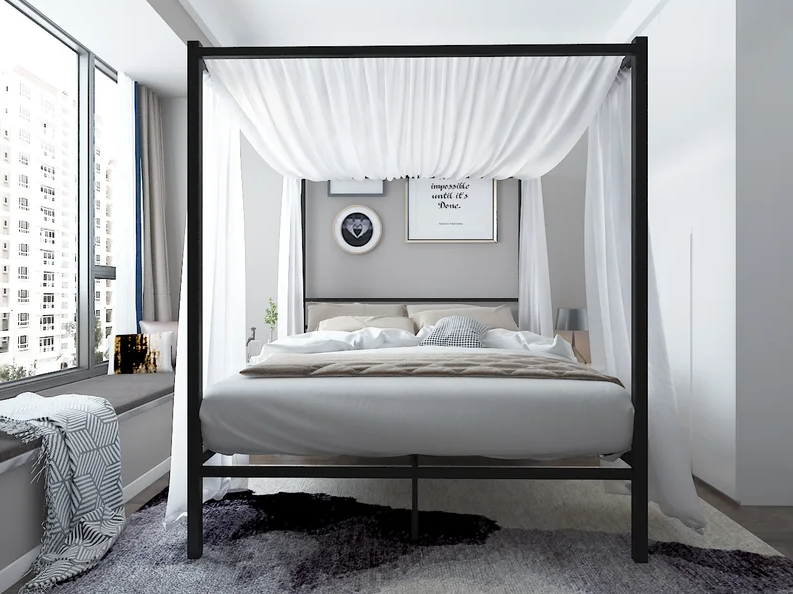 Similar to the poster beds discussed above, canopy beds are also structured with four posts running vertically at every corner of the frame only this time, these posts are connected to form a base that allows one to use a canopy in addition to the bed frame.
These types of frames allow one to either leave the bed open as it is or have it enveloped in a drape of canopy.
Canopy beds have two kinds of classifications according to their differing styles.
Contemporary Canopy Beds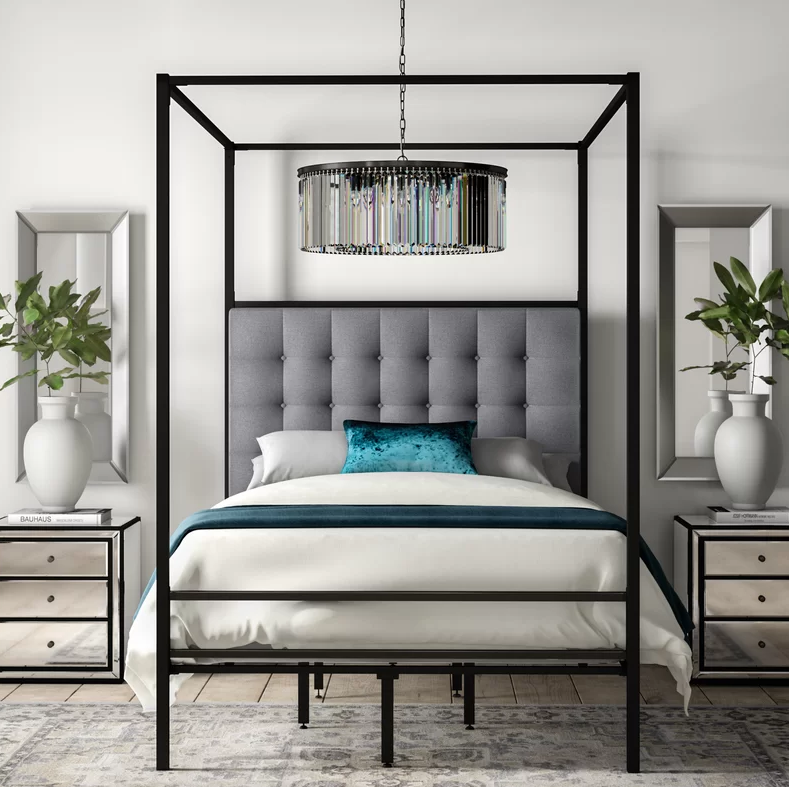 Contemporary canopy beds are not structured with decorative forms or pieces the way traditional beds are made.
These types of beds have frames that are thin and sleek.
These kinds of bed types blend in well with a room that favors streamlined, modern, or minimalistic designs and due to its aesthetic, contemporary canopy beds can also compliment a room's available décor.
Contemporary canopy beds are frequently made using either wood or metal.
Traditional Canopy Beds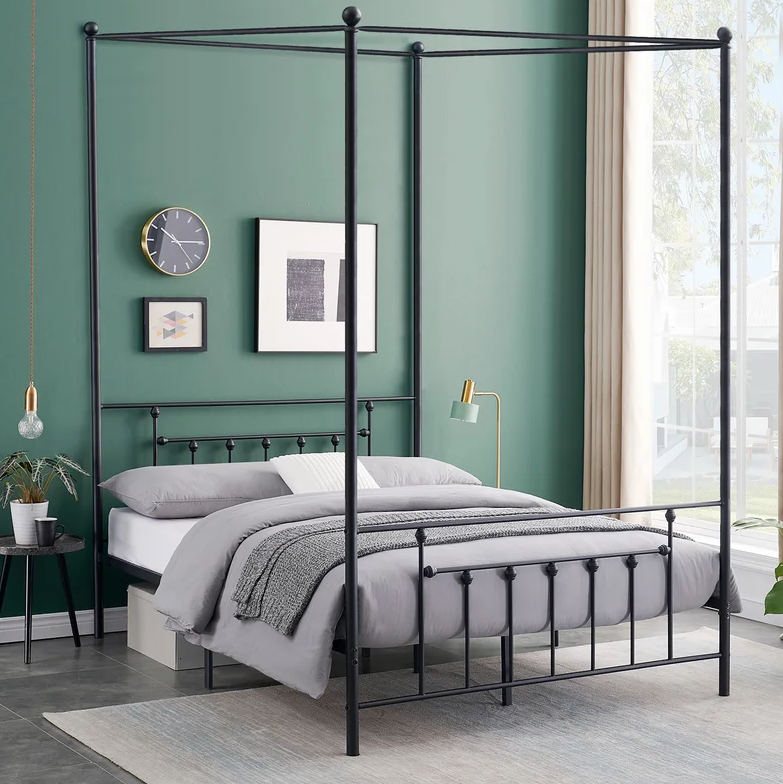 Traditional canopy beds are the opposite of contemporary canopy beds in the sense that these kinds of frames are ornamented, showy and larger in design, thus taking up and needing more space to fully accommodate it.
Traditional canopy beds are primarily characterized by their bulky posts that are more often than not exclusively made from hefty wood that is connected to a decorative headboard and foot-board.
Divan Beds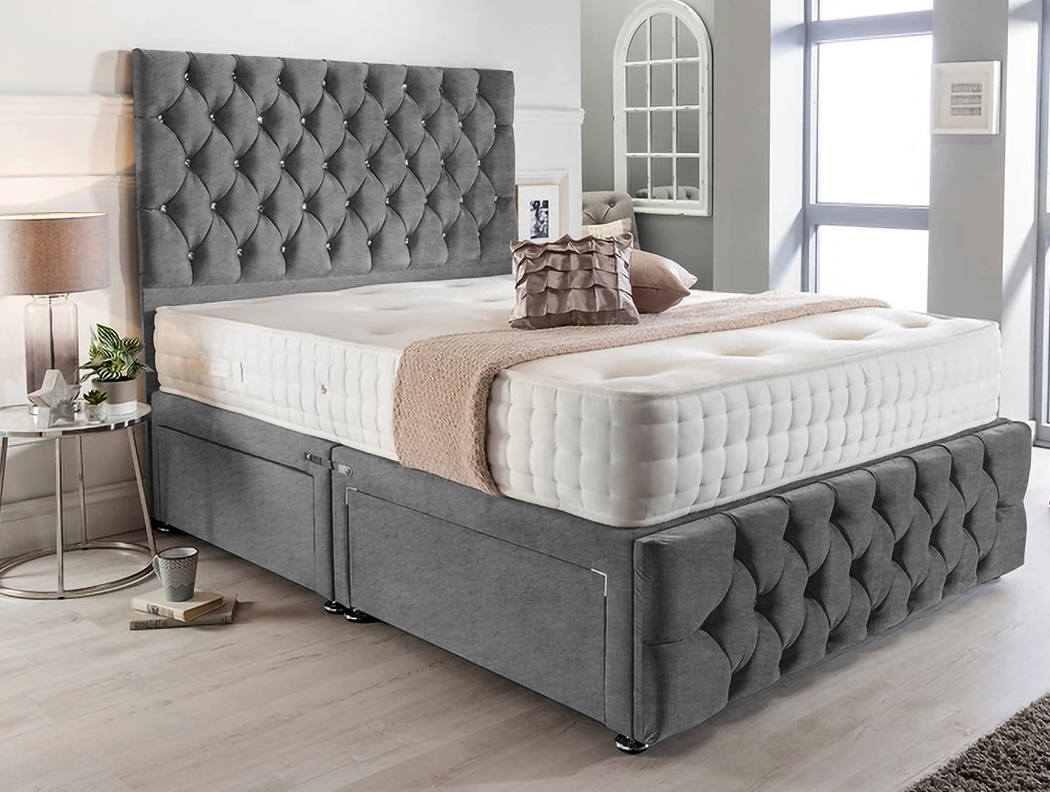 If you have drawers that do not comfortably fit inside your bedroom, Divan beds are the ideal solution to those who deal with limited living spaces.
Most models of Divan beds have drawers built into their structure for storage purposes.
For those that would like to opt out of models with drawers, Divan beds come in standard models that can be tailor made for smaller spaces.
The soft and cushiony headboards of Divan beds makes sitting up in bed more comfortable for when you'd like to read, work, eat or watch television.
Futon Beds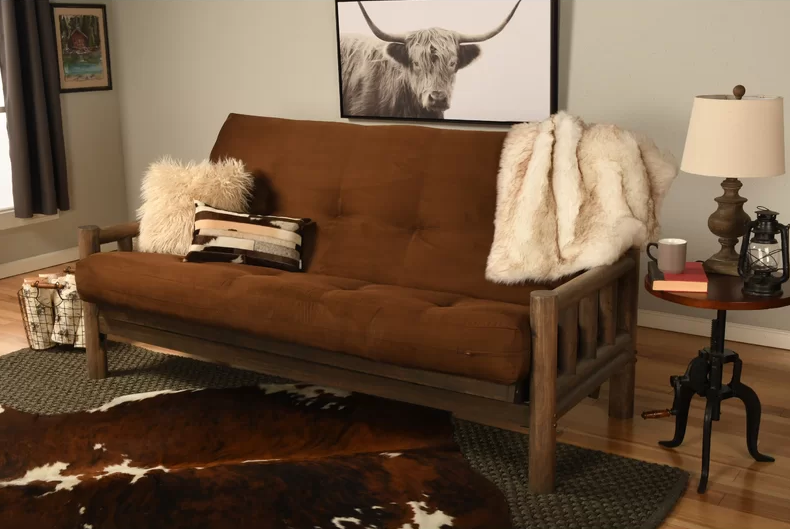 One of the many ideal solutions to maximizing the space of smaller living areas, Futon beds serves dual purposes.
These kinds of beds are both a bed and a couch rolled in one.
These kinds of beds can come in different frames made of different materials such as metal or wood.
This type of beds also allows you to change out mattresses as you see fit to specifically suit your individual comfort needs.
When not in use as a bed, futon beds can be folded into a couch.
Double Decker Beds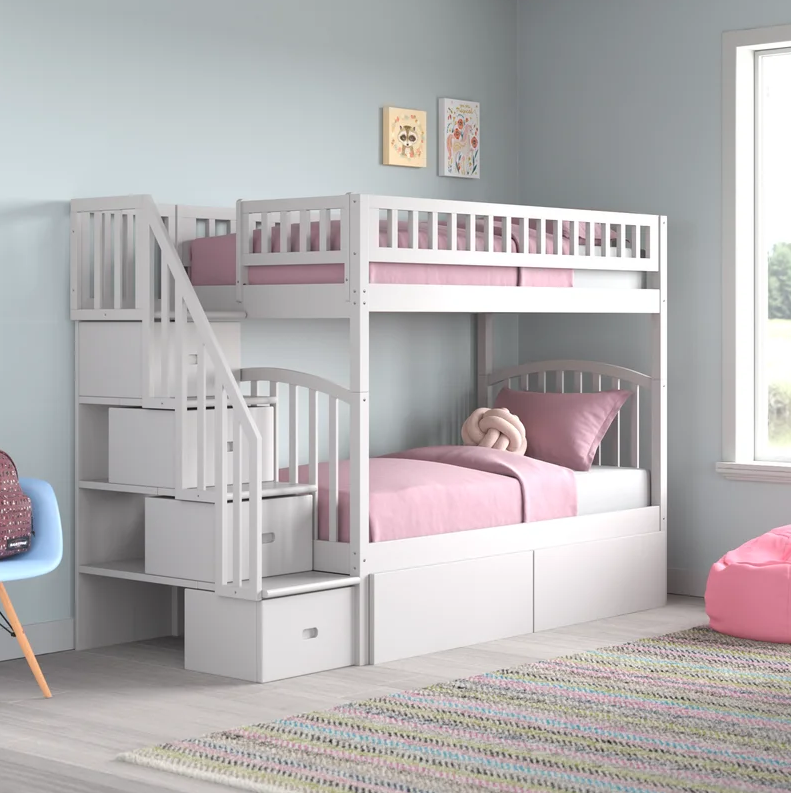 Double decker beds are also known as bunk beds and are a prime bed type to use for rooms that are shared by multiple tenants or children.
Over the years, various editions of double decker beds have been produced though conventionally bunk beds are twin beds stacked on top of each other with a ladder that leads to the top bunk.
Loft Bunk Beds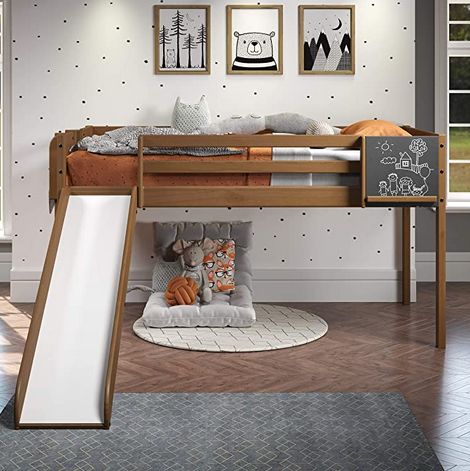 Loft bunk beds are similar to double decker beds in the sense that it is made out of two bunk compartments connected by a structure that would lead to the top bunk though it differs in the way that loft bunk beds do not have a bottom bed bunk.
Instead, below the top bunk is open space to place a desk, a small couch, or a dedicated study or work area.
These types of beds are ideal for maximizing limited spaces in places such as studio apartments or dormitories.
If needed, a smaller twin sized mattress can be added below the top bunk for additional sleeping space.
Loft bunk beds can also be structured with built in desks instead of just having open space below the top bunk.
L-Shaped Bunk Beds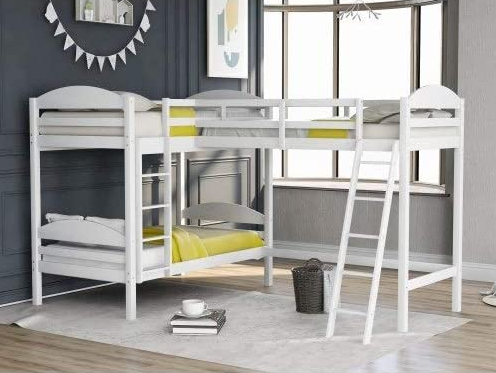 L-Shaped bunks are similar to traditional bunks though instead of the top and bottom bunks aligning with one another, the bottom bunk sticks out making an "L" shaped bed.
These type of bunk beds can come with a regular bed at the bottom or a futon.
L-Shaped bunks can accommodate extra sleeping space compared to the more traditional bunk bed types due to the way it is shaped and structured.
Twin Over Full Bunk Beds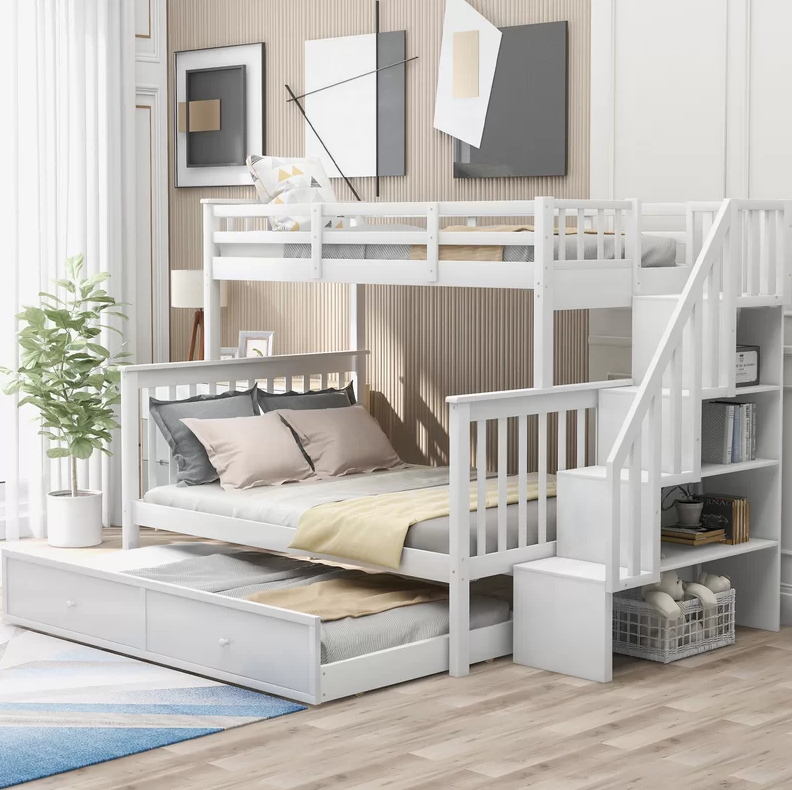 Twin over full bunk beds can accommodate a single sleeper on the top bunk while its lower bunk can fit in multiple sleepers as it is larger in size.
Connected with a ladder that leads to the top bunk, bottom bunks of this kind of bed type consists of a mattress that is full sized while the top bunk consists of the usual twin sized mattress, making the top bunk considerably smaller than the bottom.
Futon Bunk Beds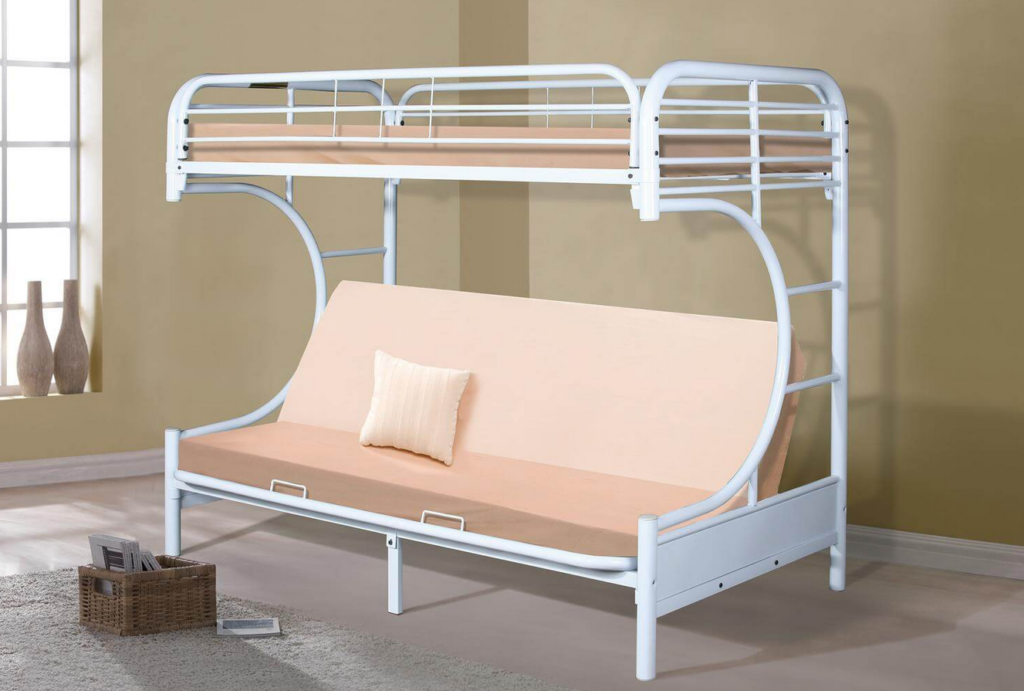 Futon bunk beds have a top bunk with the usual twin sized mattress though at the bottom bunk, a futon is built in.
These types of beds have built in futons at the bottom bunk making these types of beds ideal for smaller living spaces that need a designated sitting area and sleeping area in one.
The futon part of the bottom bunk can be used as an additional sleeping space during the night and then folded back up as a sitting area during the day.
Bunk with Trundle Beds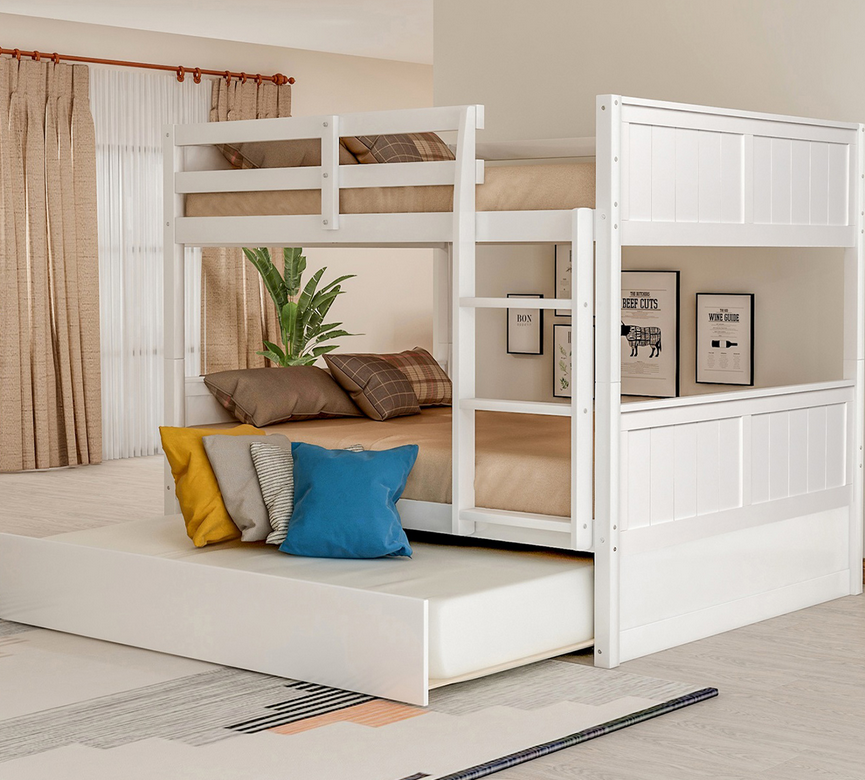 Considered as the crème de la crème of bunk bed types, this bed frame is characterized by it following the steps of traditional bunk beds though it adds a twist by having the bottom bunk being structured with a trundle.
Traditional bunk beds can comfortably fit 2 sleepers while bed bunks with trundles can comfortably fit 3 people, pulling out the third mattress when needed so beds do not have to be shared.
Cot Beds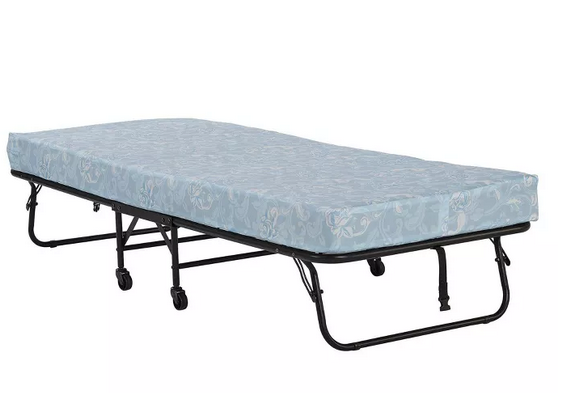 The main strength of a cot bed is its portability.
These types of beds can be folded and stored when not in use or folded and transferred to where it is needed thanks to its ease of mobility.
Cot beds are convenient to have to turn any space into a decent sleeping area or can be useful for accommodating unexpected visitors who plan to stay overnight.
Whenever a cot is needed, it can easily and quickly be folded open to have it ready to use.
Half Tester Beds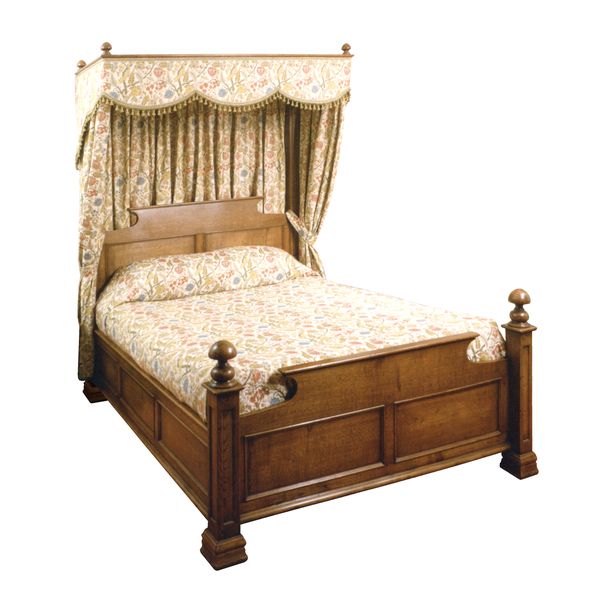 Characteristically similar to the poster bed type, half tester beds have low feet posts.
Half tester beds were widespread during earlier times though they are a not so popular addition to the household as of today.
These types of beds look sophisticated and ornate.
With a structure that has half a canopy draped over the headboard rather than the entire bed, a classy feel is extended to the half tester bed type as a whole.
These types of beds can also be availed with built in lighting.
Storage Beds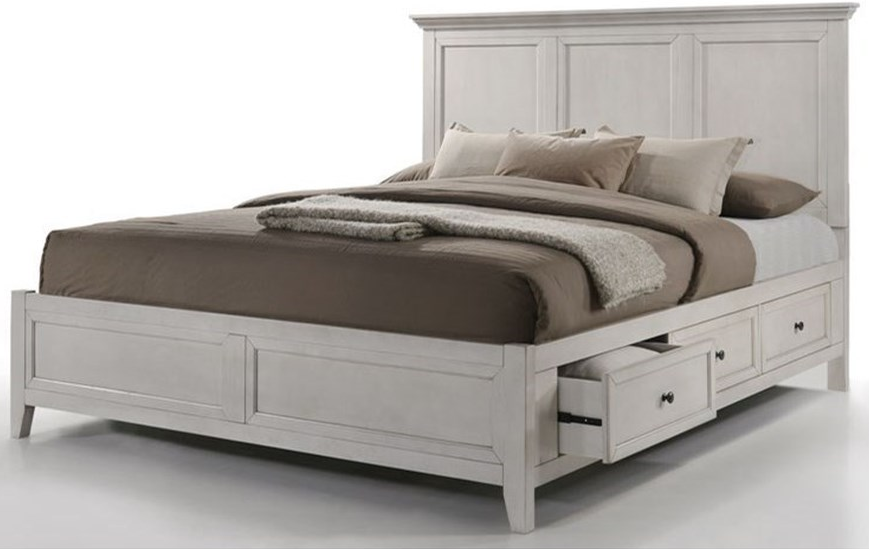 Storage beds are characterized by being encased in leather whether real or faux.
These kinds of beds have a designated space hallowed out underneath the mattress for storing items or personal belongings.
When the need arises for storage, the mattress portion of the bed can be lifted to make way for stowing needs.
These types of beds can be availed with large drawers built in on each side of the frame as partitions for storing clothes, linens, towels, bedsheets and other items that require to be stored accordingly.
Air Beds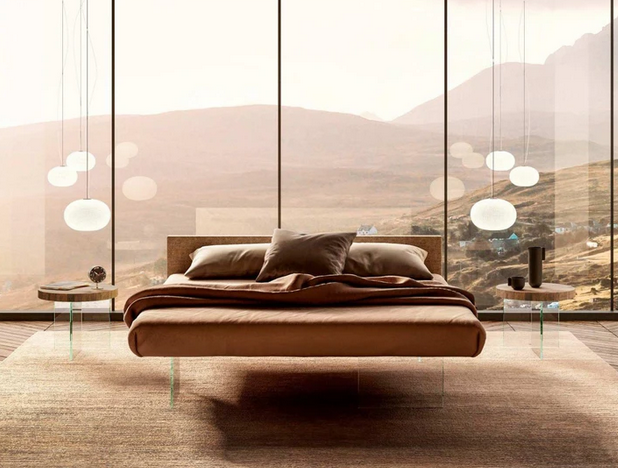 Although air mattresses are also a wonderful way to tend to your sleeping needs every now and then, air beds are a different thing altogether.
Air beds are for in home use only as they are a more permanent form of air mattresses.
These types of beds can be availed as regular beds or as pull out couches. Due to an air bed's characteristic of being malleable and able to be morphed from being firm to soft or vice versa, air beds are a useful addition to healing body aches and pains.
Water Beds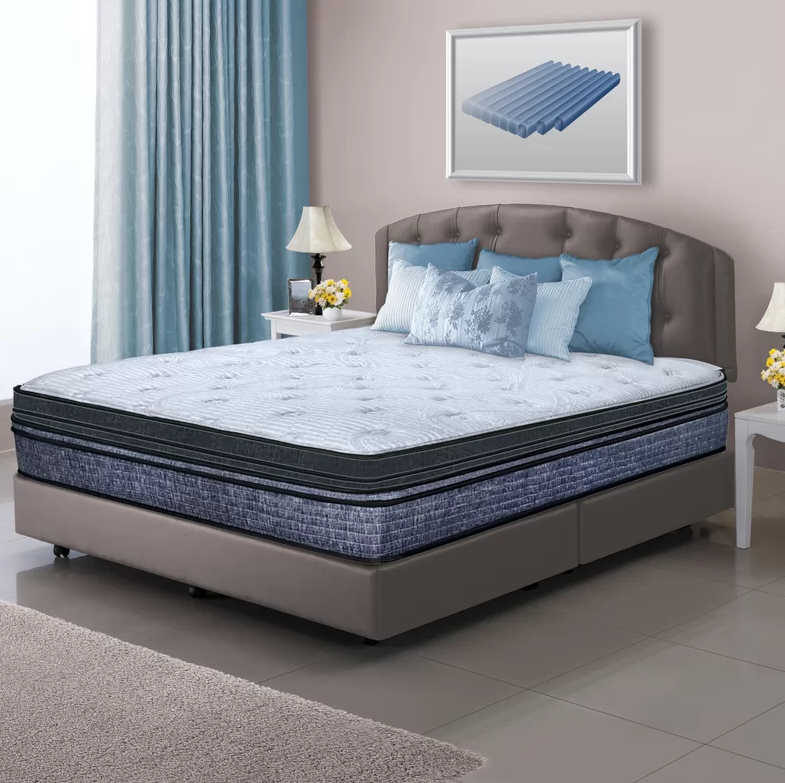 Initially made as an accompaniment for medical therapy, water beds are still in use today albeit on a more domestic level.
These types of beds are filled with water to provide the needed support for your body which in turn aids in reducing sleepless nights full of tossing and turning.
Water beds are considered as orthopedic beds by some.
These kinds of beds can be availed in different sizes and frames to better suit your needs and preferences.
Adjustable Beds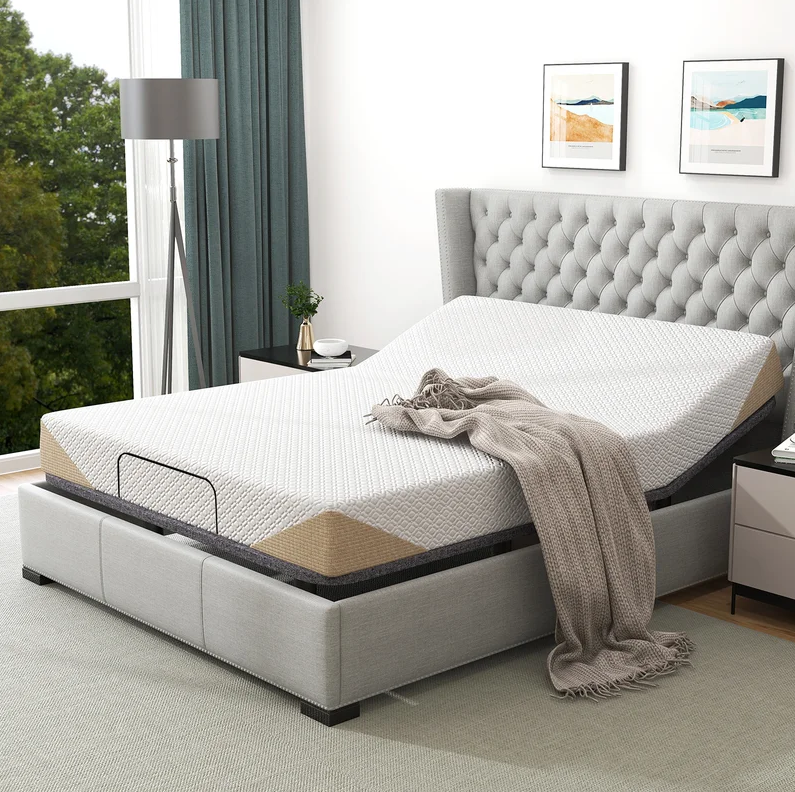 As its name suggests, adjustable beds have the inherent capacity to be adjusted into different positions to deliver the support and comfort that your body may need.
Similar to how hospital beds operate, these kinds of beds allow you to raise its head or foot portion so as to relieve body pains and stresses.
Sofa Beds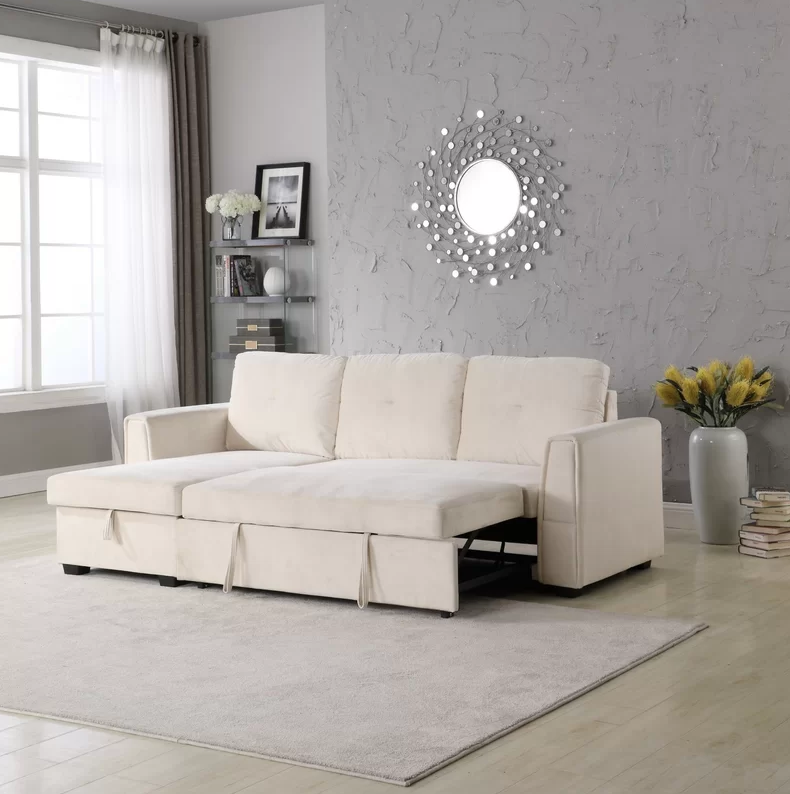 Sofa beds are built inside a couch so when it is needed, the sofa bed can be pulled out and folded down.
These types of beds are similar to futon beds.
Generally, sofa beds are available in queen sized mattresses though there are king sized sofa beds that are available too.
The size of sofa beds hinges on the size of the couch you are getting.
A unique feature of the sofa bed compared to other bed types that are similar in nature is that sofa beds when folded up will look like an actual couch instead of looking like a bed that has been folded up to resemble a couch.
Queen sized sofa beds are the most popular size for adults though it is not difficult to find different frames to match your needs and preferences.
Hanging Beds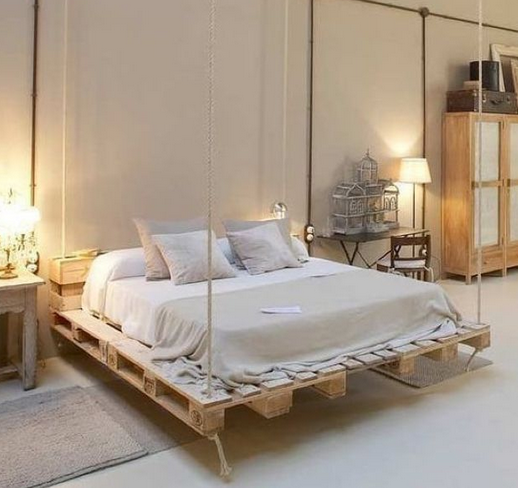 Hanging beds are one of a kind in the sense that it is not dependent on the ground or the floor to put it in its place or to house it.
These types of beds are connected to the base by a ladder as they are attached by durable rope or its equivalent to the ceiling. Another way to maximize small living spaces is using the available space underneath a hanging bed for storage purposes, a desk or a bookshelf if the hanging bed is built high enough to accommodate what lies underneath.
For those that would prefer to not be suspended at certain heights, hanging beds can also be hung closer to the ground.
Deluxe Couch Beds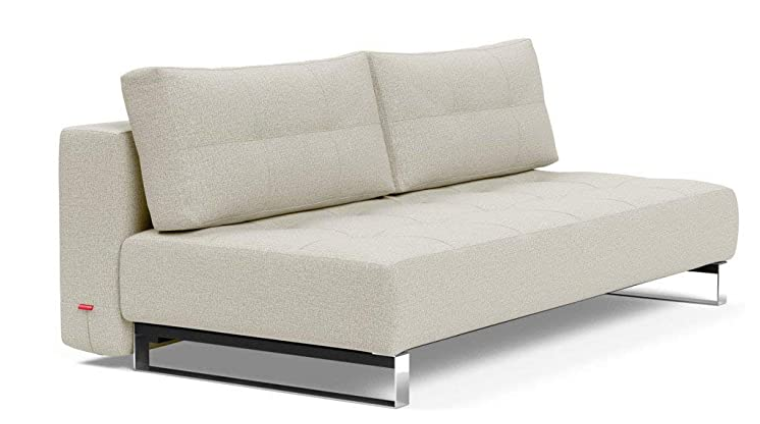 Ideal for maximizing the space in smaller living areas, a deluxe couch bed is more than just a couch that can be pulled out to form a bed.
This type of bed can turn itself into three different kinds of furniture: a bed, a couch and a bunk bed.
Deluxe couch beds can be unfolded to form the bed that you want or need based on what model you choose to avail of.
This bed is another good addition to rooms that need a designated sleeping or sitting area, especially useful to places with limited space.
Hammock Beds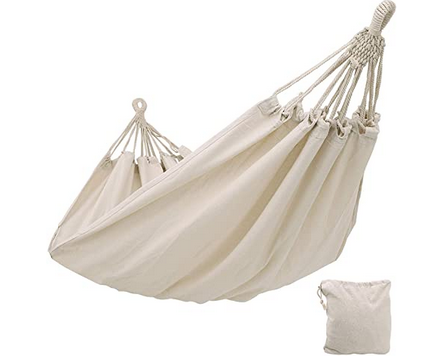 Hammock beds are not like the other bed types we have discussed so far.
In addition, these kinds of beds are not traditionally found in households.
These beds are attached to a dedicated makeshift frame that accommodates sleepers on its net made from stretchy, purposely elastic material.
These beds are suspended over an open area thus requiring a bit of resourcefulness and inventiveness to make it work for your bedroom.
Ottoman Beds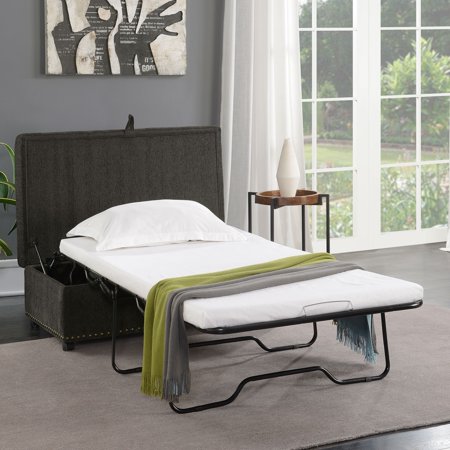 Ottoman beds resemble your average, everyday foot rest.
Though at night, ottoman beds change into convenient single or twin bed types when you have company.
Taking the top off the ottoman will reveal a bed that can be pulled out and is made from different materials, particularly leather or microfiber.
Bed Styles
Now that you have the bigger picture of the different bed types available worldwide, let us go through the different bed styles to choose from.
Modern Bed Style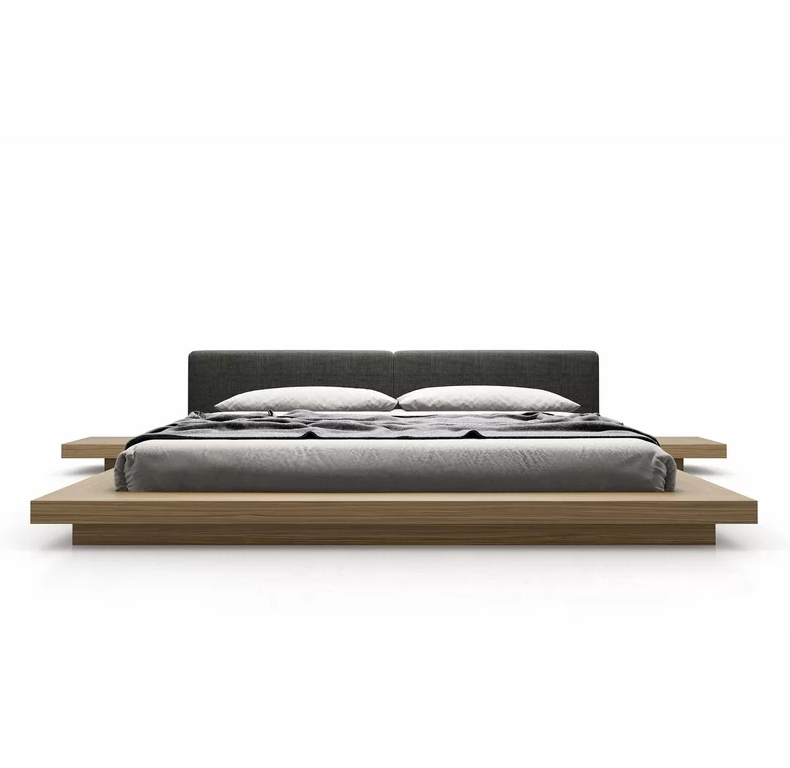 Modern bed styles are what fit in best with current homes of the present.
These types of bed styles are simple and uncomplicated with a nod to what is now in vogue.
These types of styles are not ornate and opt for little to absolutely no decoration while remaining flat and relatively slender.
This style is not traditional or vintage in nature though it does have numerous contemporary crossovers.
Cottage Bed Style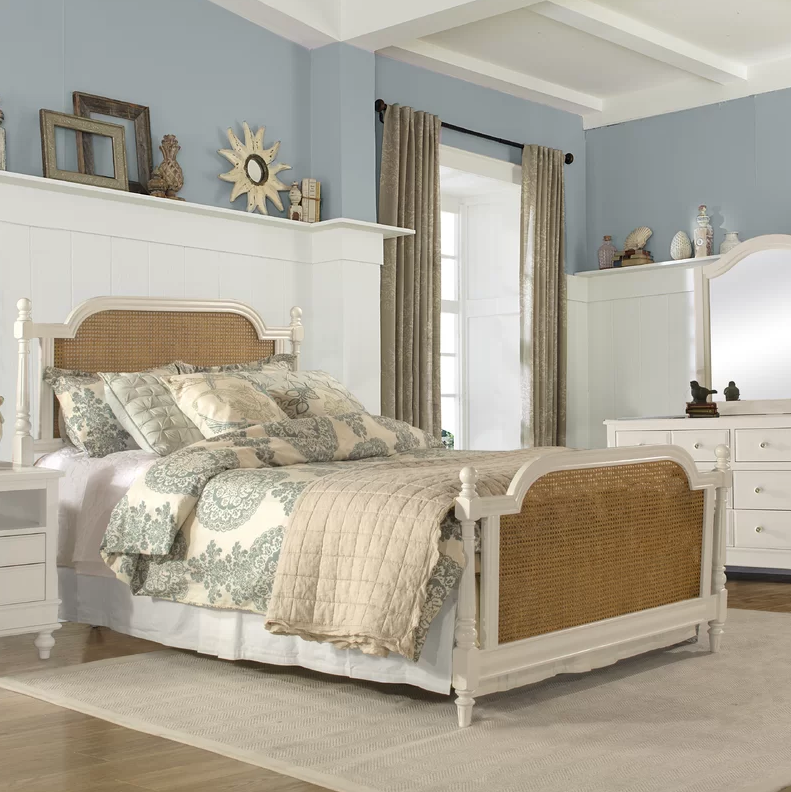 Cottage style beds are customarily known by its painted decorations.
These beds are branded by its elaborate headboards further designed with carvings.
Cottage style beds are characteristically old fashioned.
These styles of beds can also opt for a less ornamented design through a simple and sophisticated white finish over the wooden frame that is complimented by a curved head and footboard.
Mission Bed Style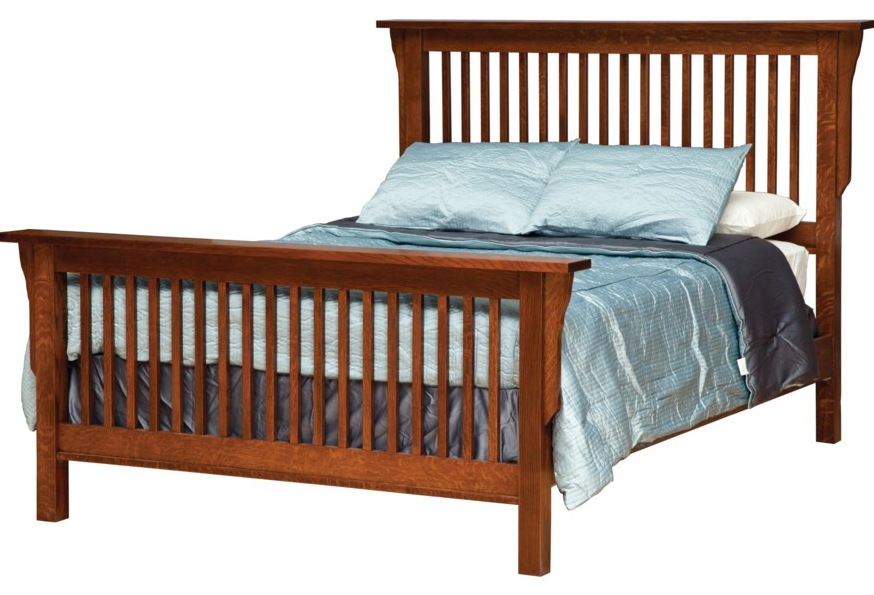 Flat panels that make the grains of the wooden frame stand out are one of the things that make the mission bed style an attractive bed style for those who prefer the understated.
The mission bed style makes use of horizontal and vertical lines as an integral part of its aesthetic.
Due to its rather contemporary and timeless design, mission bed styles can fit in with the majority of the room décor you may already have.
Traditional Bed Style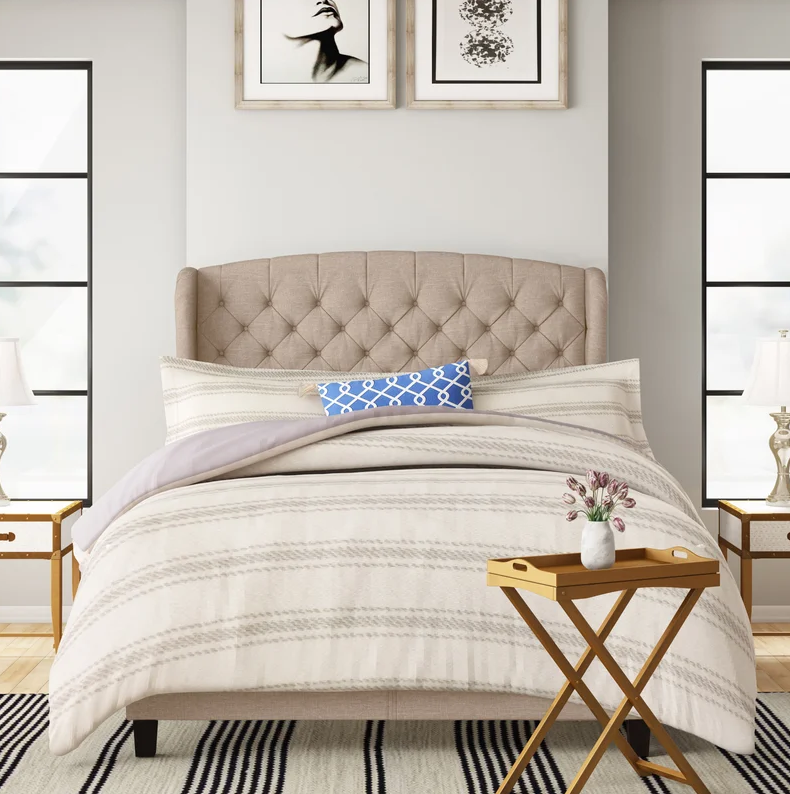 The traditional bed styles encompasses designs of older, antique and old fashioned eras.
Bed styles that fall under the traditional are the: half tester beds, canopy beds, poster beds and its numerous variations.
The traditional type of bed style is what you go for when you are aiming for a timelessly elegant look with modern day touches.
Country Bed Style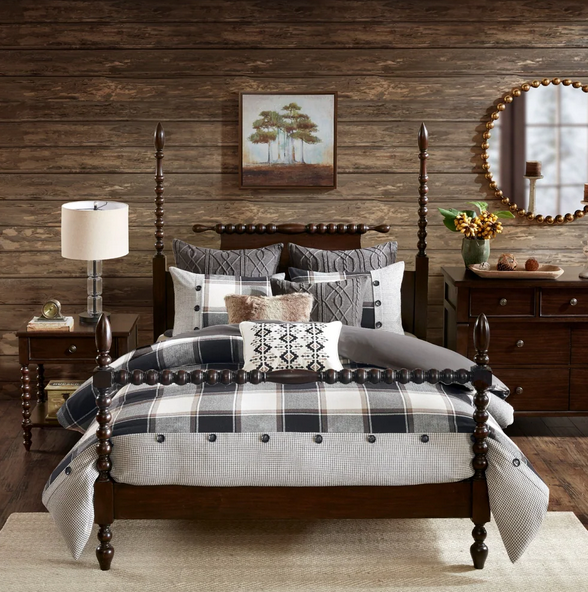 Country styled beds are characterized by the rural look and feel they have to them.
These types of beds are generally made from wood consisting of a tall, flat headboard with an unobtrusive footboard. 
Country styled beds can also have vertically running posts on each corner and can be structured to look like paneling.
There are country style beds that are created from wooden logs to make the bed have a woodsy, cabin like feel.
Retro Bed Style

Retro styled beds are considered a crowd pleaser with its pleasant designs that are made to draw attention.
Retro styled beds are a melting pot of several different style choices.
These types of beds have old fashioned features and vintage details delivered in a temporally up-to-date frame.
Due to its discreetly modern design, these kinds of bed styles will easily blend in with most of the decor you already have available in your home.
Rustic Bed Style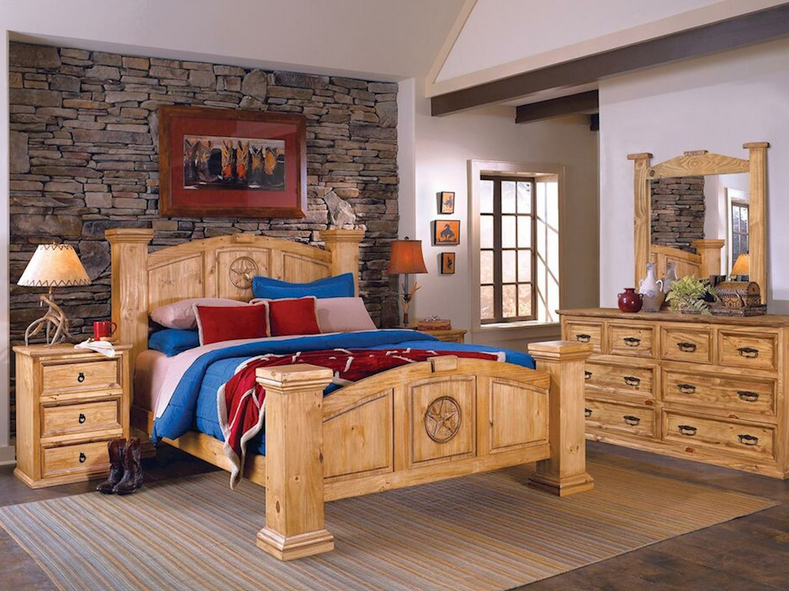 Outdoor enthusiasts will enjoy the look and feel of rustic styled beds.
Identical in many ways to the country styled beds, the rustic bed style differs in the sense that it does not have a modern touch added to it.
These types of bed styles lean towards the vintage and is a perfect bed style to compliment spaces that prefer the vintage look or old-fashioned homes that do not have a particular liking to the modern.
French Bed Style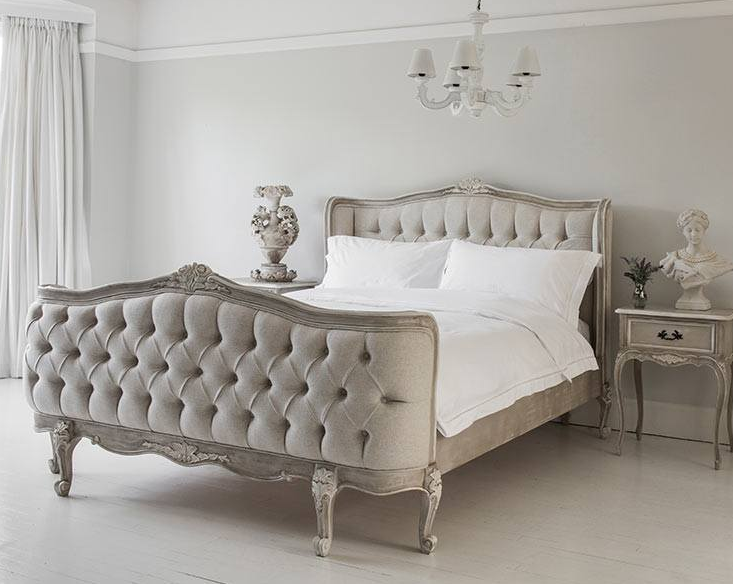 French style beds are stylish, sophisticated and straightforward.
These types of beds have elements of romantically inspired headboards that may even extend to its foot-boards at times.
Due to the often cushiony and soft headboards, this bed style is also a comfortable way to sit in bed, highly similar to upholstered beds.
Mid-Century Bed Style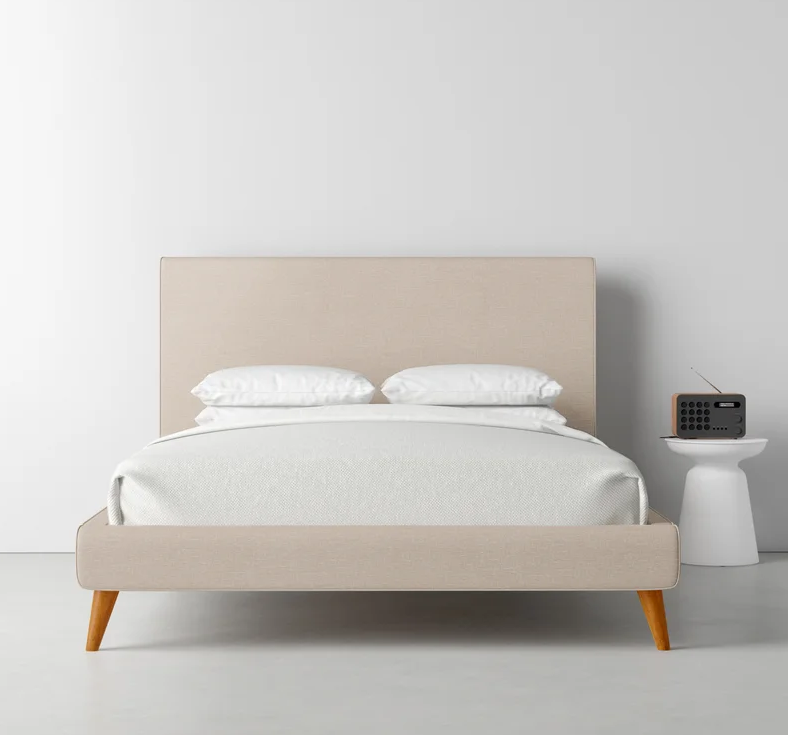 The mid-century bed style integrates designs from the mid 19th century with elements of the traditional style present in its structure.
These kinds of beds are ideal for giving your bedroom a vintage look and feel.
Beds made under this style are usually crafted from wood and can have a retro styled upholstered head with matching foot-boards.
Frame Styles
Now that we know the different bed and style types, all that is left to get an overview of is the different kinds of frames available for purchase.
Metal Bed Frames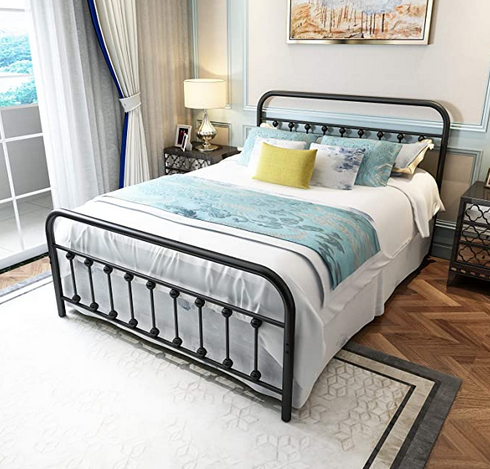 Metal bed frames are lightweight and this alone makes it rather portable and easy to transport from one place to another.
These frames are a common option for bed frames that are low-cost and provide a budget friendly alternative to wooden bed frames though they will not have the same look and feel as their heftier counterpart.
Metal frames are mostly adjustable which allows them to cater to different bed sizes unless the metal frame model that was availed of has a fixed head and foot-board versus just having a metal support base.
Unless used as a bunk bed, metal frames are most of the time used with box springs.
When used for a bunk bed, metal frames have dedicated bars designed to support mattresses without the need of using a box spring.
Wooden Bed Frames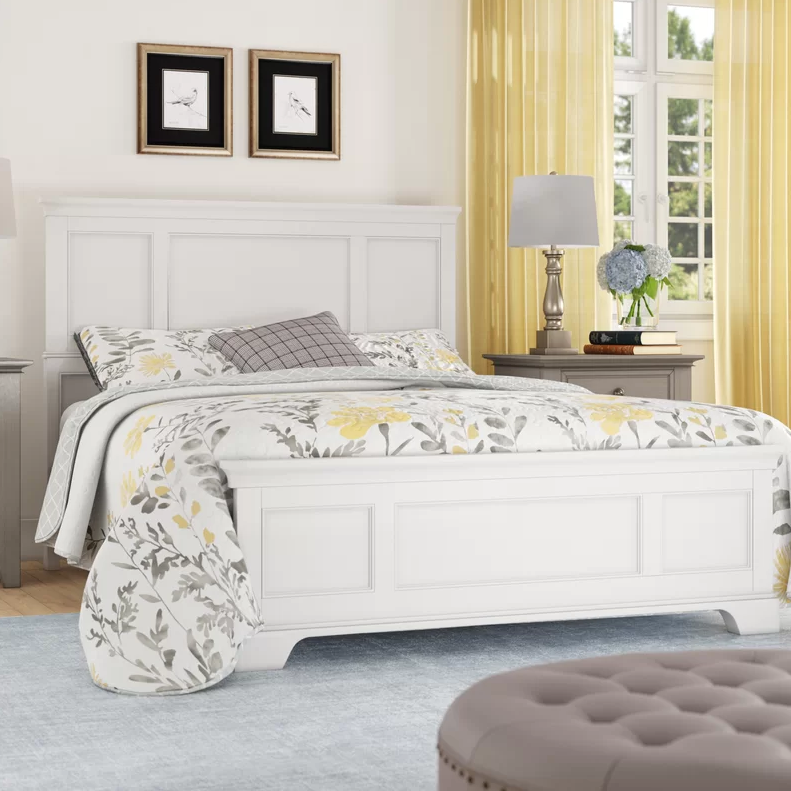 One of the oldest materials used for constructing furniture, wood frames are versatile.
These types of frames can be painted, carved, cut and processed further to make intricate or understated pieces.
Because of its flexibility, wood frames can be made into beds that are styled cottage, traditional, rustic, country and the list can go on.
Wood frames can be bought with shelves built into them.
Wood frames give bedrooms a warm and cozy feel.
Wood frames can be made in various styles with smooth or textured finishes.
Woven Bed Frames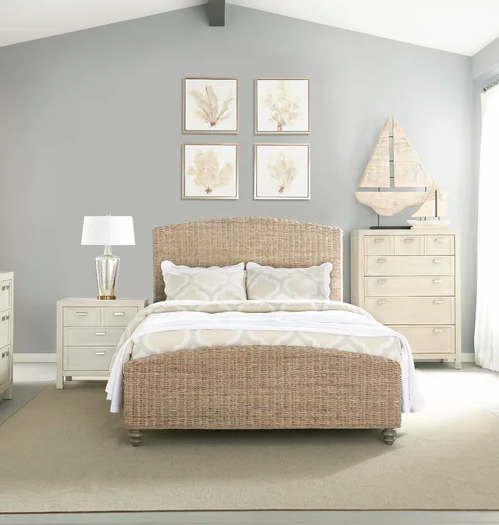 Also known as 'wicker' in layman's terms, woven bed frames are antique looking and considered old fashioned though they are making more and more appearances in home settings and outdoor recreational areas. 
Woven bed frames lend a resemblance of a country look and feel to rooms they are placed in.
These frames are also lightweight and sturdy due to their woven nature.
Customarily, these frames are produced from either plant based or plastic based materials.
Brass Bed Frames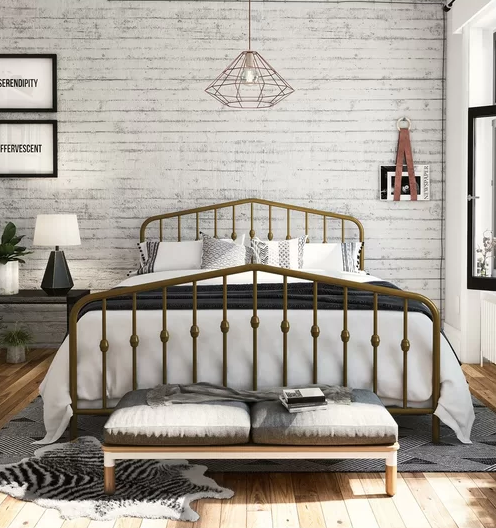 Brass bed frames are usually lightweight and sturdy.
This frame style comes in differing colors and designs that can range to having frames with or without head and foot-boards.
These frames are often composed of vertical bars that make up its distinctive features.
Brass bed frames can also have curved head or foot-boards.
Upholstered Bed Frames

Upholstered bed frames have cushioned head and foot-boards.
Due to the way it is made, these types of bed frames are soft which makes sitting up in bed a comfortable and pleasant experience.
A distinct style of these frames is a buttoned look that adds a deluxe and ornate flair to the bedroom.
Ornate Bed Frames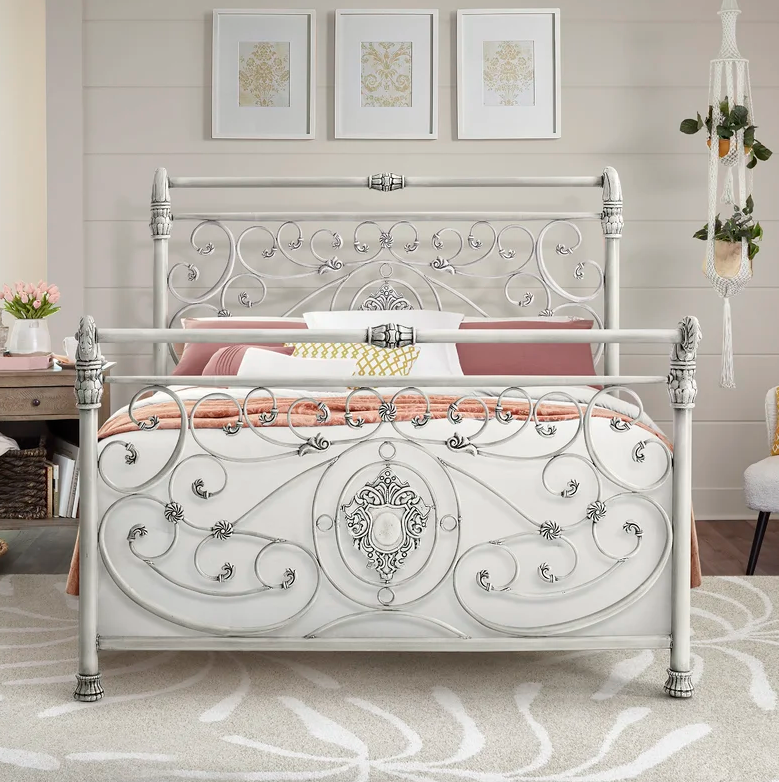 Ornate bed frames are a historical part of the Victorian era household.
These frames are intricately detailed and are an effective way to add opulence, extravagance or lavishness to a bedroom.
Ornate bed frames can be availed in different sizes, designs, or colors with the option of customizing them to look exactly the way you want them to.
Ornate beds are considered a bed frame that gets its beauty from its elegance.
Wrought Iron Bed Frames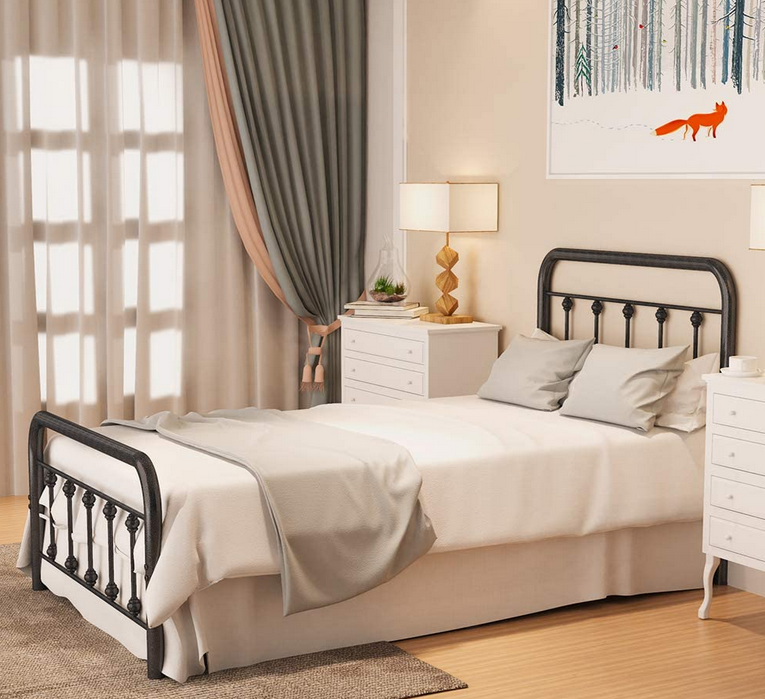 Striking a perfect balance between something that is vintage yet sturdy and hard-wearing, wrought iron frames are understated yet noticeable with a distinct scroll like style.
These bed frames are designed with scroll work on its head and foot-board.
Since these frames are made from wrought iron, its weight is substantial without decreasing its durability.
Bookcase Bed Frames

As its namesake, bookcase bed frames are bed frames that have book cases incorporated into its structure, typically at its headboard.
Perfect for the avid reader, these frames can also be used for anyone who needs extra storage options for their personal belongings.
Bookcase bed frames can be affixed to trundles, traditional bed frames, bunk beds, and so much more.
Distressed Bed Frames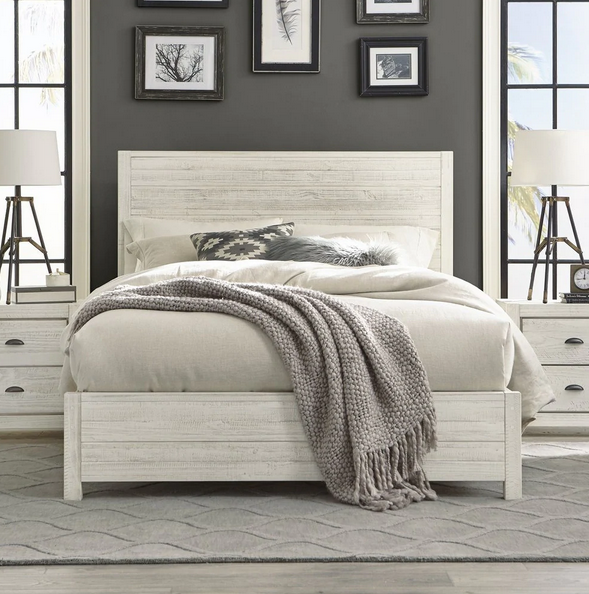 Distressed bed frames are made specifically to look flawed. Distressed bed frames look vintage with an unmistakable attribute of looking unrefined and imperfect as if they were left abandoned for several decades in a house that was not well maintained.
These bed frames are purposely given a distressed or worn out look using different methods that can include using paint stripper or sandpaper.
Lighted Bed Frames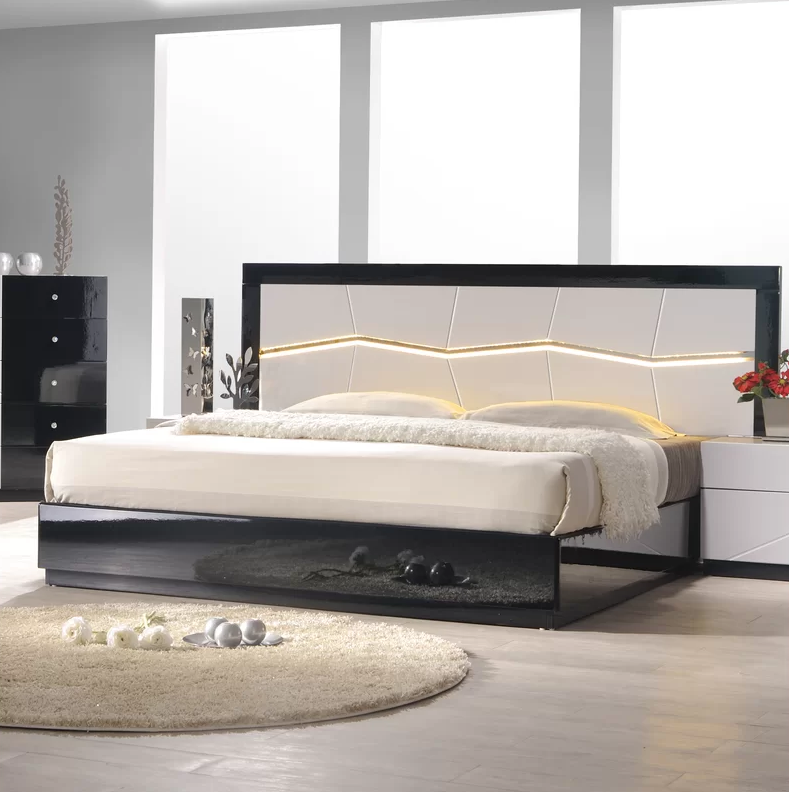 Lighted bed frames as its name suggests is a bed frame that consists of headboards equipped with varying lighting equipment that can cast warm, cool, natural or soft illumination type of lights, with some models even offering multi colored lighting.
These types of frames ensure that the struggle of operating lamps and optimal dim lighting when trying to read or work in bed is eliminated.
Lighting bed frames can be bought in differing shapes, sizes, colors, styles and materials.
Conclusion
There is no shortage in finding the right bed, frame or style for you and your home.
On top of the readily available options, further customization can add a unique twist to your set up.
As cliché as it sounds, the possibilities are endless.
It may seem daunting initially to have so much to choose from especially when there are so many apt selections but you can take advantage of all these assortments to bring out what would work best for you.
Rest assured, you will find something that would indisputably add personality to your room and bring in harmony with the rest of the decor you already have set up. 
The good news about this vast selection is that no matter the theme of your room, you are bound to find the exact piece to really bring in together the whole look and feel that you are going for.