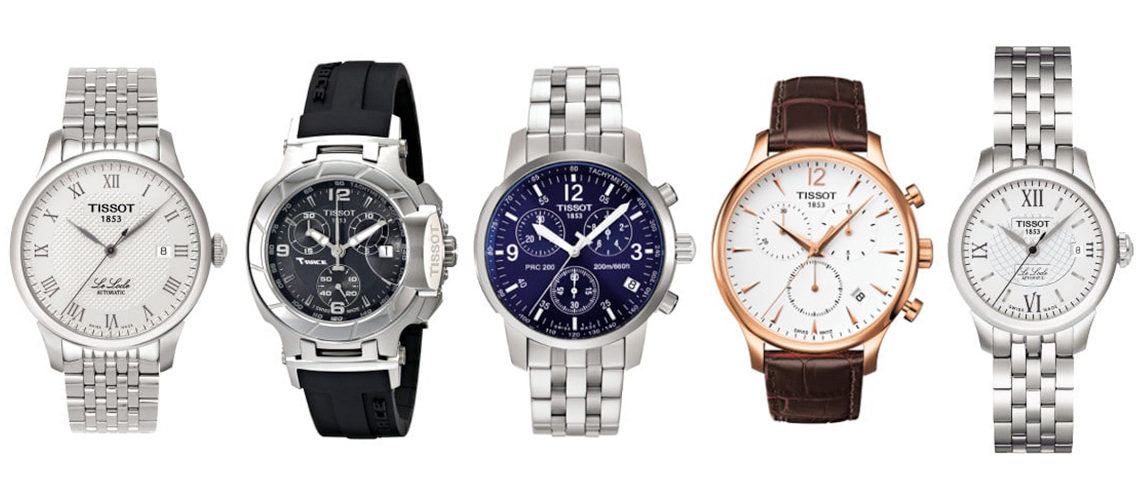 Let's just think outside of the box for a minute.
Let's imagine that there is no deterioration of the physical or mental aspect of a human.
Everyone will live for a very long time without fear of sickness or global meltdown.
Now that we have that template in mind, imagine doing one thing regularly for 50 years.
It could be as simple as driving a bike every day, doing laundry every three days; or it could be a more difficult exercise such as creating a computer program every month or climbing summits every weekend.
Whatever it is, you are guaranteed to be one of the best, if not the ultimate best, in the world after doing it for 50 years.
Now, what if you did it three times that long?
150 years! You would definitely say that you've gained a lot of experience and knowledge to be considered an elite, top expert in whatever it is you've been doing for that length of time.
This is exactly what Tissot has been doing since 1853 (if you're not very good with Math like me, that would be more than 150 years ago).
Interestingly, Tissot can also be found in at least 150 countries around the globe.
Coincidence, I think not.
Introduction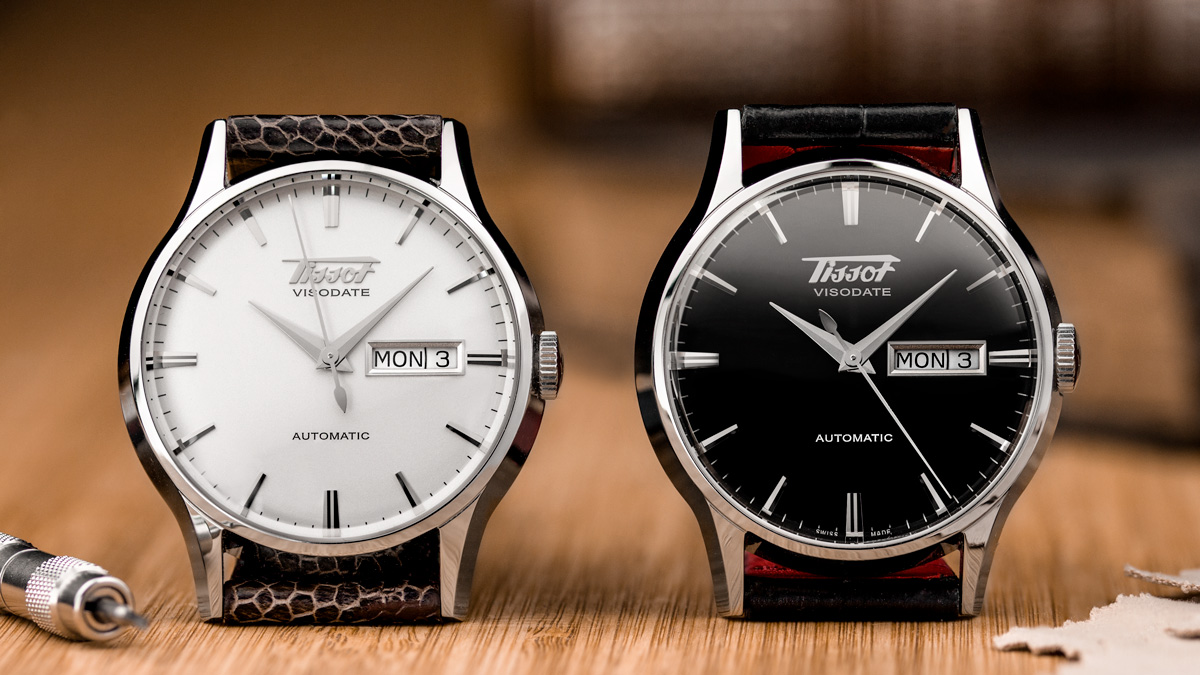 When Charles-Felicien Tissot and Charles-Emile Tissot started the aptly-named Charles-Felicien Tissot & Son assembly shop in 1853, they probably never imagined it would become a global powerhouse that it is today.
They were no doubt just thinking of surviving in their small town of Crêt-Vaillant, Le Locle, Switzerland.
Their first products were simply gold pocket watches.
Their Tissot watches were to be primarily for export to other cities, and even to other countries if good luck happens upon them.
And good luck, indeed!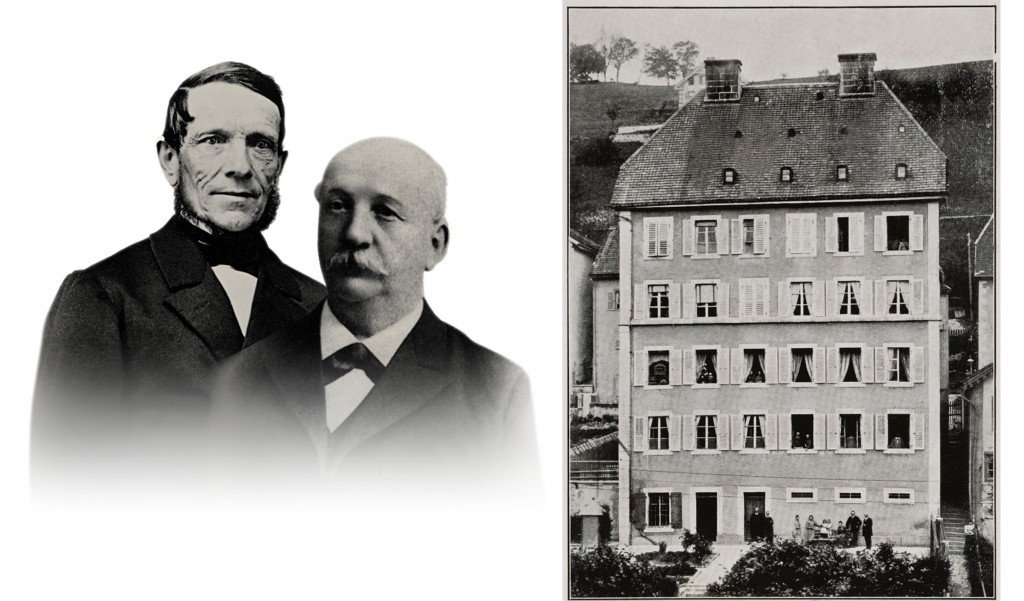 Still, in their first year, their watches already reached the shores of the United States of America and immediately started to be known as a genuine premium brand there.
In 1858, just five years later, Tissot arrived in the markets of Russia, which was not an easy place to start a business line, much more so a product that most people would presumably think is not a big deal, a timepiece.
The watch invasion of Russia went into full gear in 1885 when Charles Tissot, a third-generation watchmaker from the family, transferred to Moscow to start and manage a local branch there.
Fortuitously for him and the Tissot family, he found a local Russian woman and settled down and started a family there.
Now, he can focus on improving and marketing the product without ever leaving the country.
Because of his connection with the locals which led to very fast word-of-mouth advertising, Tissot watches became famous quickly.
In fact, they became so well-known that it made its way to the palace of Czar Alexander II.
Here's a short video of the History of Tissot.
Trendsetters
In 1907, the family finally had enough resources to build their own factory.
Charles Tissot headed the construction in Chemin de Tourelles, Le Locle in 1907 and it has been there ever since.
It is the global headquarters of Tissot and this is where they plan and design and devise ways to further improve the Tissot brand.
A big step forward for the company happened in 1910 when they initiated creating a women's line of wristwatches.
The wristwatches themselves were not as fancy as they are today but they did stand out with the gold, platinum, and even diamond models and designs.
This was not common at that time as watches were presumably only to be used by men.
And wristwatches were not thought of as cool in that era.
This was very ground-breaking and it was an unprecedented hit.
So, of course, wristwatches for men soon followed.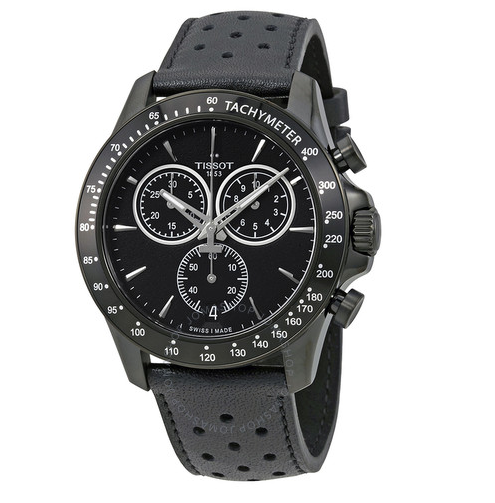 Tissot V8 Quartz Chronograph
Expansion
The year 1917 was a very critical time for the company.
They decided to start manufacturing their own movements, instead of relying on outside help.
This was a big step for the company that was known as great in design but still a newcomer in the watch movement department.
Seemingly blessed with the Midas touch, Tissot again succeeded in combining excellent movement as well as the traditional awesome designs.
Due to the lesser expenses because of the in-house production of both movements and design, Tissot was able to generate elite-quality watches at more affordable prices.
Cutting Edge Development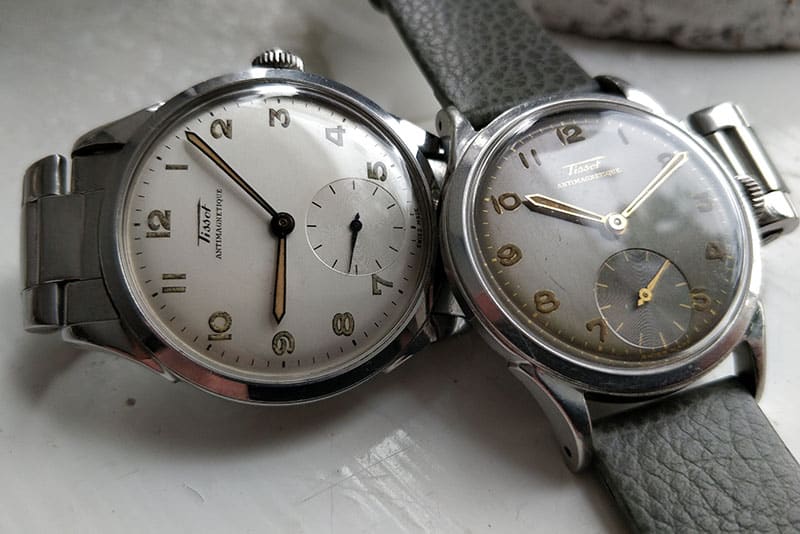 Creating what was probably the biggest watch company in the world at the time, Tissot united with Omega in 1930 to become SSIH (Société Suisse pour l'Industrie Horlogère); the English translation means "Swiss Society for the Watch Industry".
On a more trivial note, Tissot introduced the world's first non-magnetic wristwatch in that same year.
The new giant watch company launched the Tissot Plan in 1933.
These watches will be designed by Paul Tissot and the gist of the idea was to infiltrate markets that were strategically chosen by the company and then distributing free catalogs to the retailers.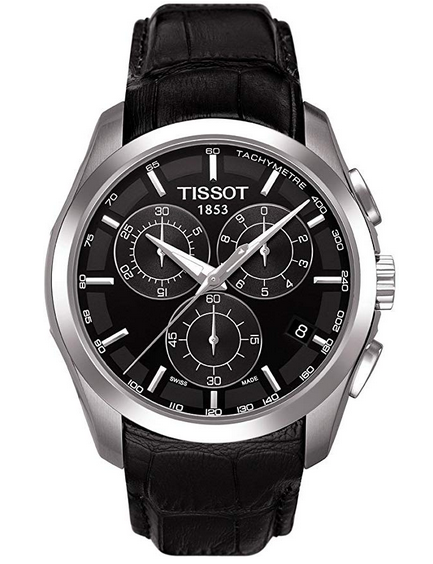 Men's Couturier Black Leather Quartz Watch – Best Sellers List

One Century Later
One hundred years in human terms sounds like a very long time and seemingly should be starting to "go downhill", as they say.
Not so with Tissot.
There is no end in sight for this revolutionary organization.
In their one-hundredth year of watchmaking, they started the Single Calibre principle.
Due to this innovation, Tissot was able to reproduce the manual as well as automatic watches.
As with any other famous and renowned organizations, it would be a great opportunity to visit their main headquarters and see what it feels like to be in the midst of this behemoth timekeeper company.
As such, numerous country officials, as well as other famous personalities, have made time to tour around the company's global offices.
An example would be in 1960 when the Prince and Princess of Monaco decided they needed to see what this company is all about, so they visited the venue.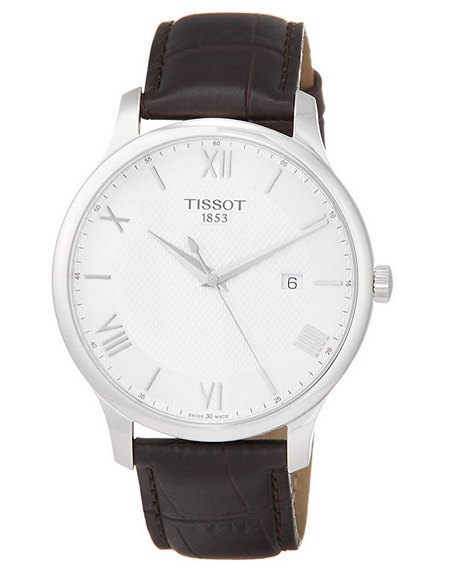 Tissot Traditional – Best Sellers List
The Swatch Group
The Quartz Crisis (sometimes referred to as the Quartz Revolution) then shook the global watchmaking industry.
This was in the 1970s through the 1980s and it basically ended the Swiss monopoly of watches (which was almost 50% of global watch sales).
Basically, the Quartz Crisis was a crisis only for the mechanical and traditional timepiece makers.
It was actually great for the consumers as new companies that produced these battery-operated watches could sell them at much, much lower prices.
This forced Tissot to find another partner in the watch industry to merge with so they can continue to survive and be relevant in the global market.
In 1980, Nicolas Hayek, a management consultant, was tasked to make this happen.
This led to another merger in 1980 that became SMH.
And then in 1998, due to the purchase of other smaller watch companies, SMH became the largest watch group in the world and renamed itself, The Swatch Group.
Currently, it is still the world's biggest watch company.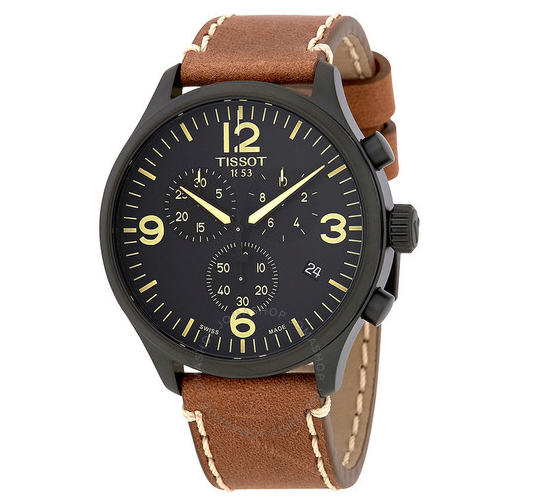 Tissot Chrono XL – Best Sellers List
Modernization
Now that Tissot can go back to focusing on designing and producing high-quality watches, they were motivated to stretch the limits of watch aesthetics.
This led to the invention of archetypal watches like the Rockwatch, the Woodwatch, and the very elegant PearlWatch: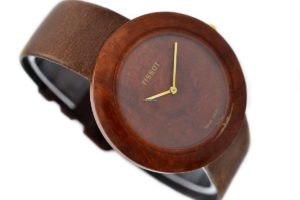 Tissot Woodwatch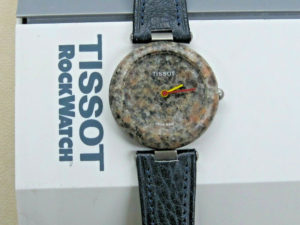 Tissot Rockwatch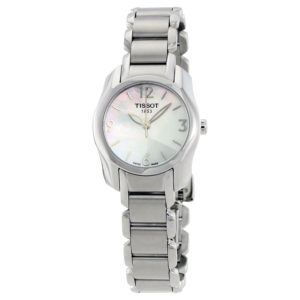 Tissot Pearl Watch
And still pursuing more modernism concepts, Tissot released the T-Collection by the late 1990s.
This line was devised with the modern generation in mind – lots of features and advanced technology (as well as telling time, of course).
Setting the standard yet again, Tissot released the T-Touch, the world's first tactile watch.
Not long after that, they improved on the design and made the model solar-powered; suitably christened, T-Touch Expert Solar.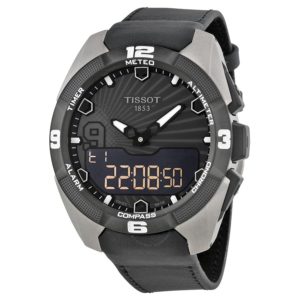 T-Touch Expert Solar II
Ambassadors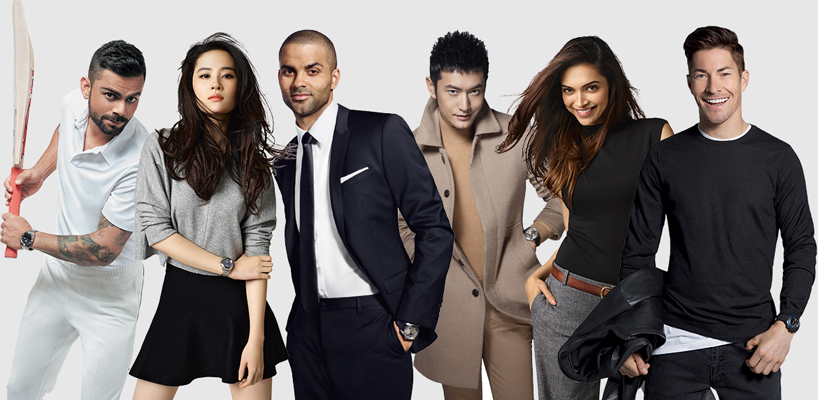 To add icing on the cake, Tissot has become such a worldwide phenomenon that it has dominated some of the biggest sports names and associations in the world.
Among these global brands are FIBA (International Basketball Federation), MotoGP, WNBA (Women's National Basketball Association), World Fencing Championships, and so many others.
They also have individual ambassadors in their arsenal. Maybe you'll recognize a couple of them –
Klay Thompson

 

(NBA Champion)

Liu Yifei (Actress)

Marc Márquez (MotoGP 8-time world champion)

Deepika Padukone. (Actress)

Tony Parker (NBA Champion)

Huang Xiaoming (Actor)
This has made Tissot a relevant player, now more than ever, in the watch industry.
Fully Swiss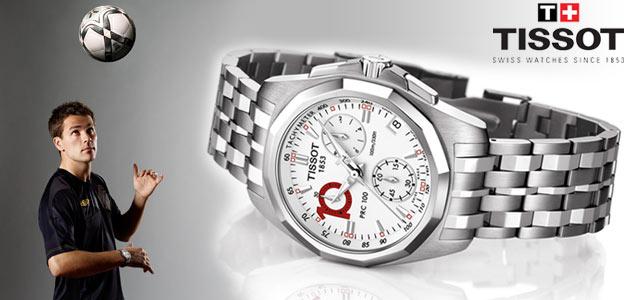 Tissot has never moved its main headquarters.
It is still located in Le Locle, Switzerland where it all started.
They are very proud to claim that all their products and watches are fully Swiss-made.
Now, if you didn't know, there is something called the 60% rule for "Swiss-made" watches.
This went into effect in 2017 and it was received with very mixed reviews, to say the least.
The rule states that in order for you to name your watch "Swiss-made", at least 60% of the product must be Swiss (i.e. parts, labor, movement).
Not a few companies have said that this as devalued the term "Swiss-made" as many startups call themselves as "Swiss-made" even though they only pass the bare minimum of the 60% rule.
This is where Tissot is set apart, they are 100% Swiss.
Meaning they find the materials locally, they make the watches in Switzerland, and the assembly, movements, and even the quality control are all done in the Switzerland headquarters. Swiss-made, indeed!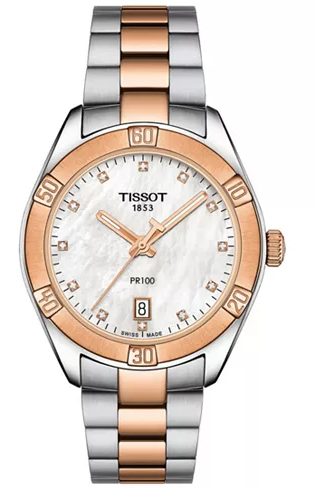 Tissot PR 100 Sport Chic Women – Best Sellers List
Fake Tissots?
As with almost everything in the world today, there are the authentics and there are the fakes (sometimes called "knockoffs").
Tissot fakes (or knockoffs) aren't as prevalent as, say, Rolex or G-Shock fakes; however, they are still out there.
The most common sign that it is a fake Tissot is when you see the inscription, "Made in China", that's a dead giveaway.
Remember, 100% Fully Swiss-made.
Even if they say that only the parts are from China and the rest are Swiss, don't be fooled.
Another sign of fake Tissots is in the physical design itself.
Knockoffs are so evident when get to hold one in your hand.
They are much lighter compared to the weight of the authentic ones.
You might even hear some weird sounds coming from the watch if you listen closely enough.
One more clue is if you're looking at a chronograph and the sub-dials aren't moving.
Well, they should be moving and working as needed. Tell the seller that you're not looking for a stopwatch.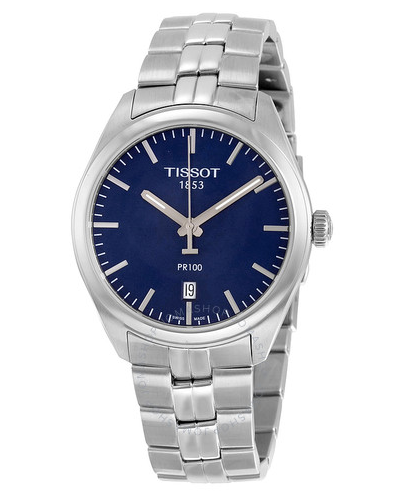 Tissot PR 100 – Best Sellers List
Current Reputation
As we said at the beginning of this article, if you do something for a long time, chances are, you become the best at what you do.
This is the reputation of Tissot in the modern global watch industry.
Tissot is an established and credible high-quality brand. And being part of The Swatch Group has only further enhanced its popularity as one of the top watches around.
Although it might not consider itself one of the royalty names in the watch world, many call it a great "affordable luxury" watch for all situations.
In addition, they have always been known to be one of the leaders in research and development and are famous for never resting on their laurels.
Again, look at the WoodWatch, the RockWatch, and the PearlWatch.
At one glance, they might look out of place, but it is so original that those with the creative and artistic minds have started to applaud it for being so courageous to think out of the box.
When it comes to movement, design, and durability, Tissot is up there with the best of them. A word of caution, though. Some people are so adamant in comparing them to other watches.
Tissot has been set side by side with various levels of watches – from Hamilton to Tag Heuer to Bulova and ones such as Casio and Seiko.
It would be totally unfair to compare a whole brand versus another brand (Tissot versus Movado).
What would be more beneficial is to compare specific watches (Hamilton Thin-o-Matic and the Tissot Visodate).
Generally speaking, Tissot is very accurately priced for the quality and the level of "coolness" that they give the wearer.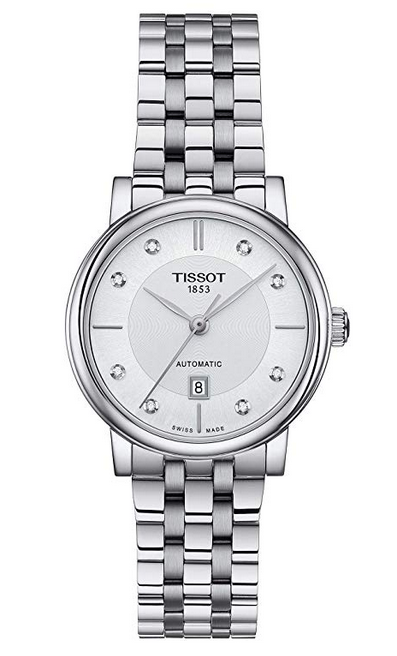 Tissot Carson Premium Automatic Lady – Best Sellers List
Good Quality
Interestingly enough, even though Tissot has been around for quite some time, it seems that it is still growing in popularity, as well as, reputation.
One main reason is their unwavering commitment to stay true to being 100% Swiss-made, high-quality, and no compromises.
Now, because The Swatch Group is the largest watch organization in the world, it's not too farfetched to say that Tissot has more room to grow.
Take the Tissot Visodate, for example. This was produced in 1953 but still continues to be a choice for many business casual events.
How about the Tissot Le Locle?
It always has a place in anyone's list of "Under $500 Best Dress Watches".
Another testament to its quality is the number of sponsorships it has been awarded by global organizations, sporting events, and world-renowned celebrities (Angelina Jolie, Nelson Mandela, and even the Duchess of Cambridge, etc).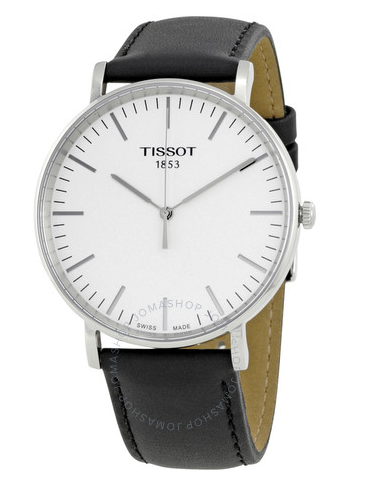 Tissot Everytime Large Women – Best Sellers List
Warranty Policy
Every Tissot watch comes with a two-year international warranty.
All the owner needs to present is the filled out warranty certificate signed by an authorized Tissot store or retailer.
This warranty includes the production defects (such as faulty material and unacceptable inconsistencies).
There will be no payments or fees as long as the warranty certificate is there.
However, be mindful that the warranty does not include replacement of the battery, regular use wear-and-tear, and any accident that is the owner's fault.
Tissot watches should be serviced at authorized Tissot Service Centers and should not be looked at by an untrained watch "specialist".
For more information on the international warranty for Tissot watches, click HERE!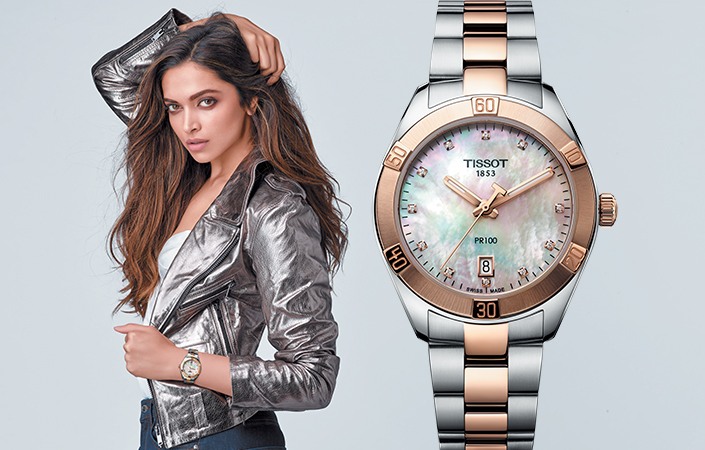 Tissot Authorized Stores
Tissot watches can be bought practically anywhere in the world – Asia, the USA, Europe, Canada, Australia (basically in more than 150 countries).
It is available in physical stores as well as the most credible online stores.
If you prefer to test out a Tissot watch before purchasing, you can always find the closest store near you. Just click here.
Let me give you a tip.
Go to their official website and browse through the dozens and hundreds of potentials. You can look by categories, color, year made, and many other filters.
The next step is to list down the model number of the one you think you're in love with.
Then head over to a few online stores and compare the prices. You might be in luck and find one that is being sold much cheaper than on the Tissot website.
Our favorite place to shop for Tissot watches is Jomashop.com. They have a huge selection and the best prices. You also don't have to worry about buying a fake as they are authorized resellers.
Here are some Tissot watches available on Amazon.
Or how about the ones from eBay.
Finally

Tissot is not slowing down.
One hundred and fifty years of experience and innovation have strengthened them to a point where if you mention the name "Tissot", it is synonymous with quality watches.
And the world confirms that – US$ 1.34 billion of revenue in 2017, not too shabby.
So the next time you are in the market to get a watch, and you are looking for a high-quality, durable, consistent, and cool-looking timepiece, Tissot is a great choice.
Tissot watches come in many designs and concepts, without compromising quality and movement dependability.
Therefore, if you are getting one for yourself this Christmas, or buying to gift a friend, you can never go wrong with Tissot watches.