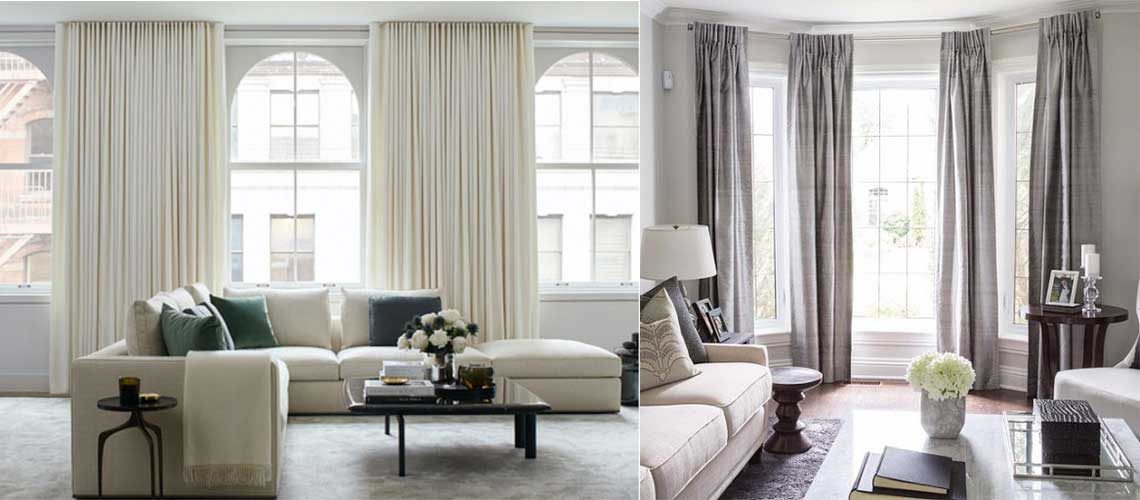 Types of Curtains
One of the most unavoidable (or maybe sought after) tasks in any type of home improvement, makeover, or maybe even new build is picking the right curtains for your interior design.
Millions of people choose and use a curtain!
But in reality, there's no one curtain that suits all.
In fact, there are many different types of curtains.
While its main purpose is to block out light yet provide enough sunlight to get inside your area (aside from shower curtains); they are also served for other usage such as aesthetic design, and adding decorative accents in your home. 
There are curtains that are purely decorative with faux silk drapes and translucent lace curtains.
On the other hand, there are curtains that are just the opposite where its purpose is to mainly block all the light that comes in – an example would be a blackout curtain.
Choosing a curtain doesn't have to be one over the other.
It doesn't mean that design and aesthetics don't go hand in hand with functionality.
In fact, there are curtains that combine both glamour and style with purpose and function. 
That is the very reason why this article was written.
A simple guide for people who want and need to know the kinds of curtains they are looking for.
That's why before shopping for curtains, read this article and find out the type of curtain that best suits your interior design and lifestyle needs.
Types of Curtains
When choosing a curtain, there are many factors that you have to consider.
As you walk along the aisle with curtains around you, you have to know what you want and if it actually compliments what you are looking for. 
Are you looking for something purely decorative?
Are you looking for one that just blends well with the color scheming of your interior design?
Are you a realistic, functionality-type buyer?
It's really important to be clear with yourself and know what you are shopping for. 
Another point to consider is the place where you are hanging your curtain.
The small details such as the curtain rail, the curtain pole, and even curtain rings.
Do you really need these accessories for your curtains? 
All these are part of the factors to consider and shouldn't be missed out on.
For you to make the right choice, you need this guide to know exactly what you need.
Let's begin with a detailed guide in knowing the different types of curtains and allow us to help you narrow down your choices and pick the best one for you.
Panel Pair
A popular choice for classic and contemporary styles is the panel pair.
This type of panel features two separate curtain panels.
For it to function, a curtain is placed on opposite sides of the window wherein you have to pull each curtain panel together to close the curtains.
For it to have an organized and symmetrical look for your window, you can pull the tie at the back of the curtain and let it achieve the simple design for your window covering.
Single Panel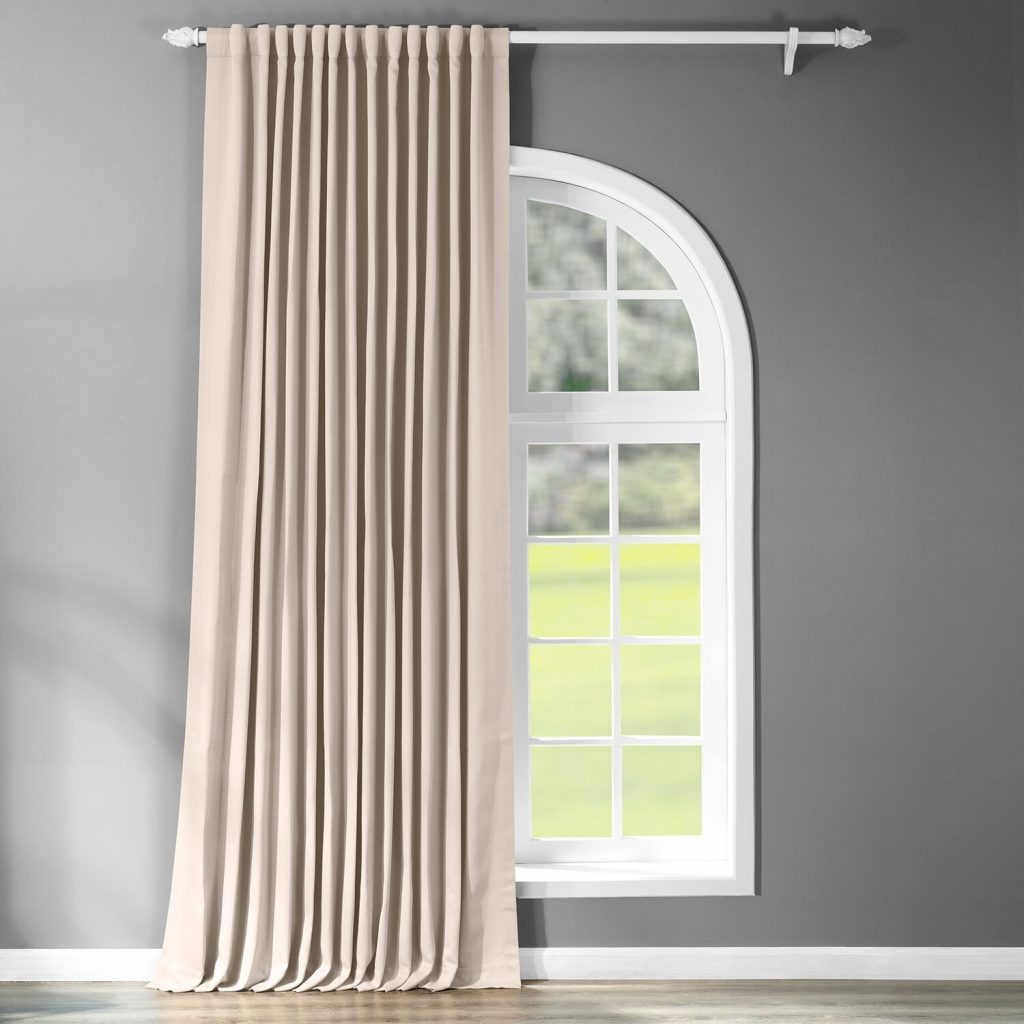 The way a single panel curtain works is one panel covers the whole window.
Similar to a panel pair, it can also be tied at the back of the curtain which results in a modern, asymmetrical look.
That way to open it is to pull either side of the curtain.
This type of curtain is probably the most versatile in decorative settings as they are modern in style while maintaining its classic and timeless look.
Window Treatment Set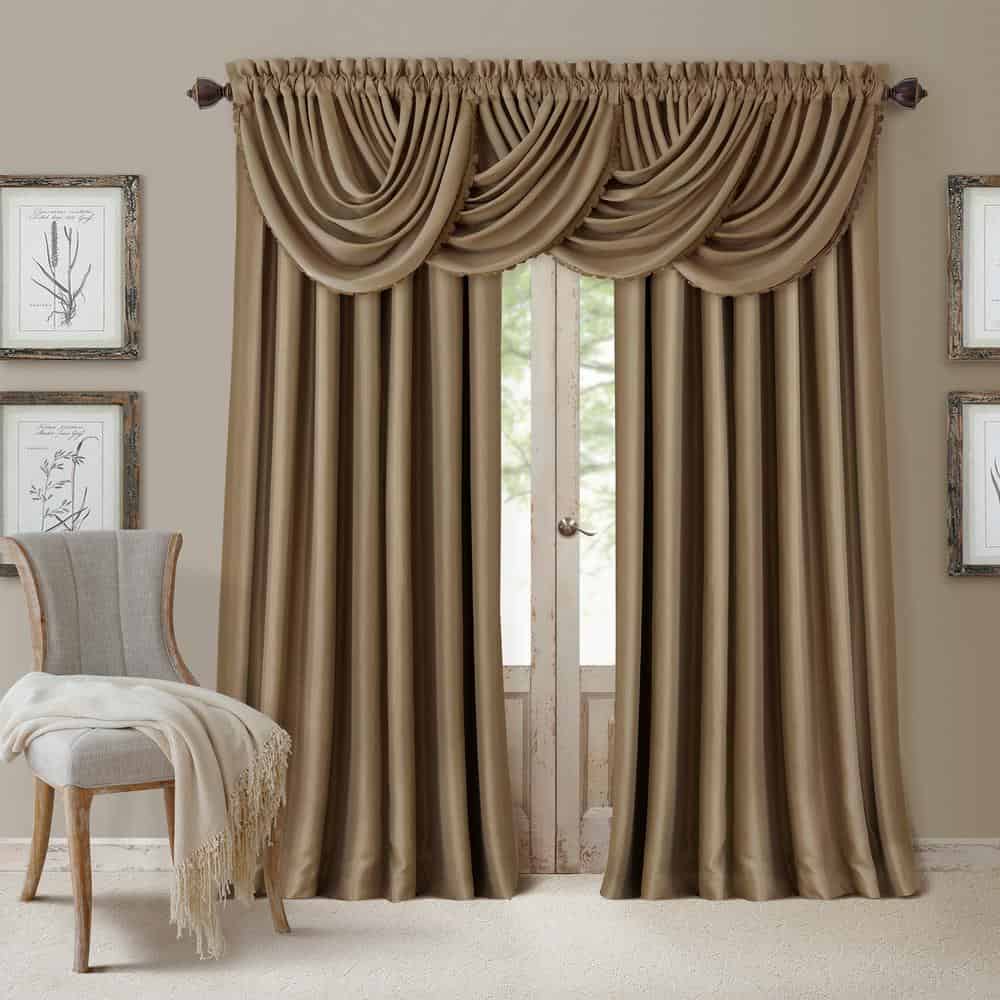 If you're looking for everything that you need for your window covering, a window treatment set has it all.
Its set includes one or two curtains and a valance.
In most cases, there are accessories included in this package such as tiebacks and a curtain rod.
In special ones, some may include a pelmet in it.
Valance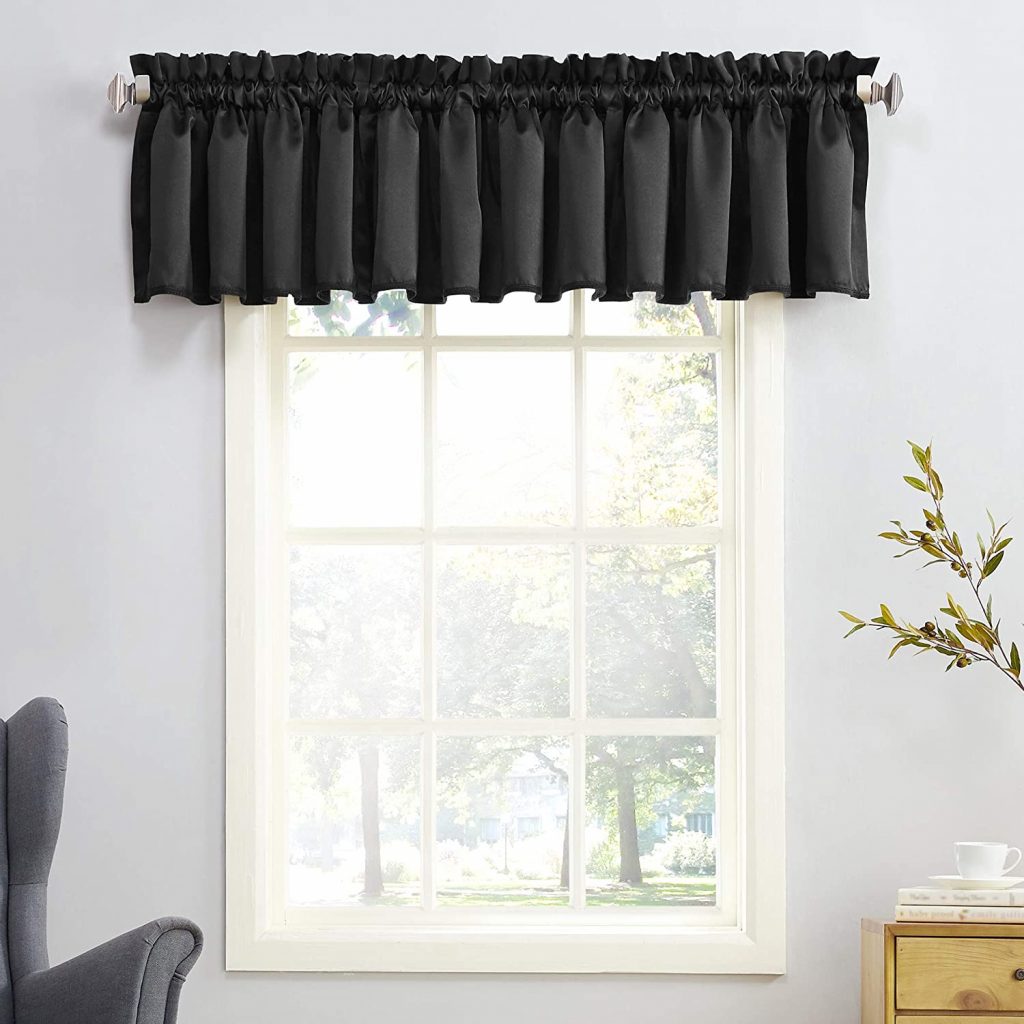 You might be wondering what the small curtains that hang on top are called – they are called valance.
Technically, it's an optional consideration. It isn't the one on top of the priority list, but valances are really great in balancing your interior design giving your window treatment a perfect and complete look.
Valances are offered in the market at come on a different set of products. In most cases, they are also part of a window treatment set.
For aesthetic purposes, valance can be used without additional curtains on windows.
But if you want your house to have more decoration, valance adds some glow and flare where full curtains aren't as applicable as they are. 
Window Scarf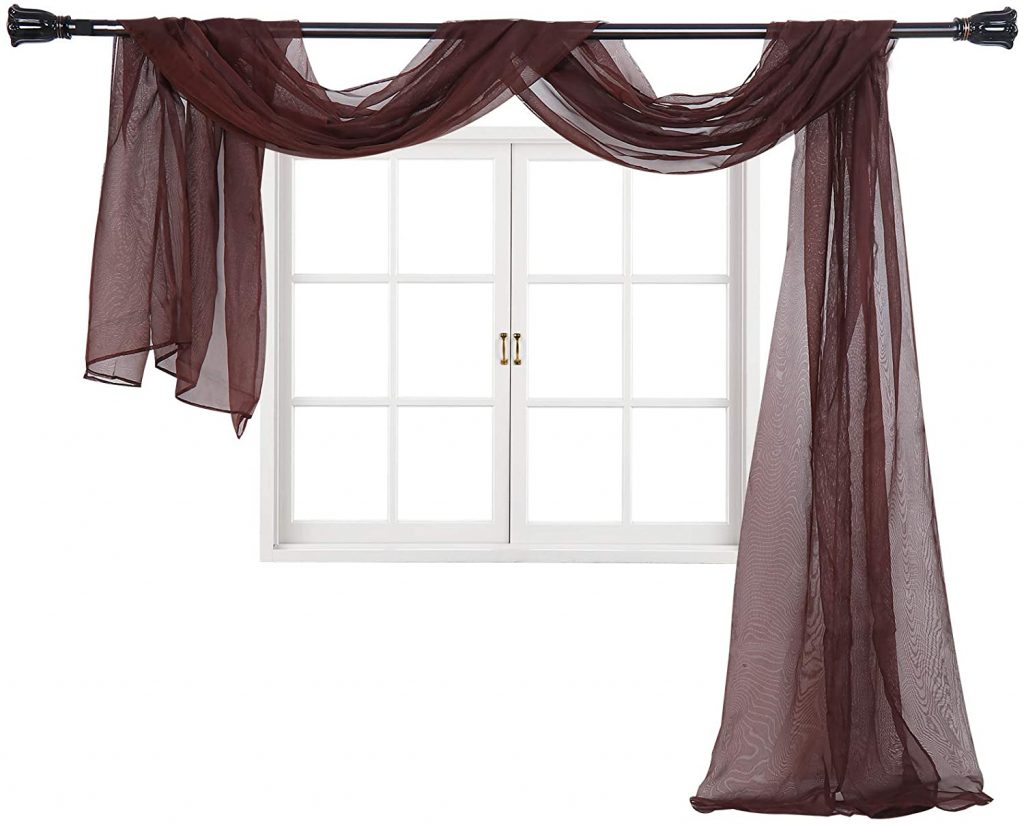 From a design perspective, a window scarf looks similar to a valance.
It is made up of a thin piece of curtain fabric that is commonly hung on top of the window.
If you want to add drama to your interior design, window scarf are a great option for your window makeover.
Liner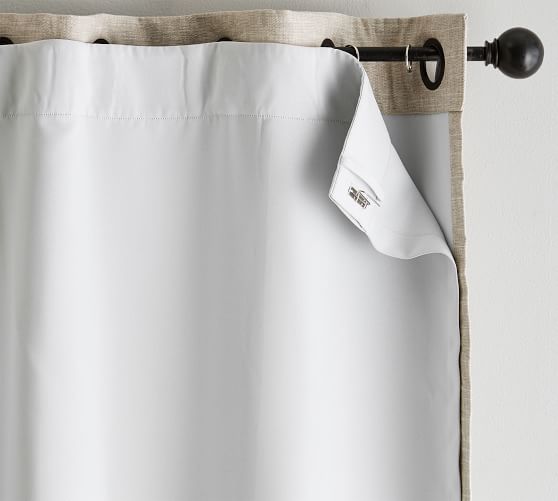 A fancy accessory and an optional add-on to your window treatment is a curtain liner and they're used to add an extra level of beauty and versatility to your curtain which in turn becomes a lined curtain.
Just a simple addition of this liner creates a private environment and adds durability which is why it's considered a popular option.
This add-on doesn't swerve away from the beauty of the design.
In addition, curtain liners have fancy features that make them a common choice as they provide insulation and noise-blocking attributes.
Opacity
Now that you know the different types of curtains, another factor to be taken note of is the opacity of your new curtains.
In fact, there are different opacity curtains that cater to different rooms and that best suit your needs.
For example, thin, light, and silky curtain styles don't fit well in your master bedrooms.
Rather, you would need curtains that totally block out the sunlight.
To determine which one is the right curtain for you, there are questions that you need to ask yourself:
Do you want curtains that totally block out the sunlight or ones that let the light come through?
Is your privacy really important to you?
Are you a realistic and more technical buyer where you want curtains that provide more function and purpose other than design and decoration?
Are you flexible when it comes to your interior taste and fitting? 
With that said, there is no doubt that opacity is one of the major factors you have to make clear before buying a new curtain.
Here's a brief list we have for you.
Blackout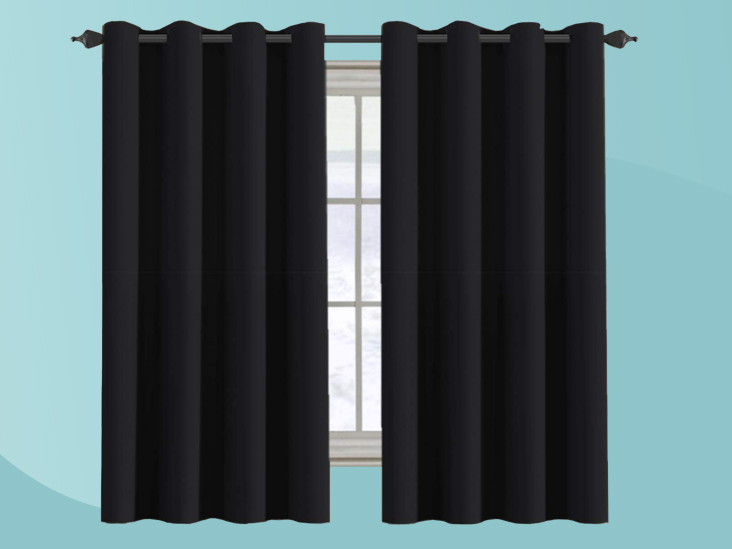 The perfect choice for curtains in your bedroom is the blackout curtains as they provide the least amount of sunlight to seep in when they're closed.
They're made of heavier kinds of fabric and often have linings in them.
Aside from their decorative purpose, blackout curtains have additional features that add up to their function.
I actually own several blackout curtains from Pottery Barn and love them! They are stylish and functional.
Semi-Opaque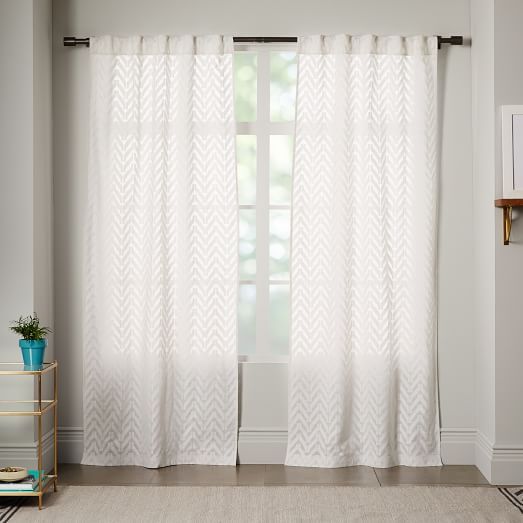 Most people prefer a semi-opaque curtain for its balance between a sheer curtain and a blackout curtain.
It allows enough daylight to enter your room while maintaining some privacy compared to the thin and silky fabrics of a sheer curtain.
It's also popular because of its flexibility as these can be combined with our curtains to add more opacity wherein you can hang them on a double curtain rod and hang curtains behind them.
Sheer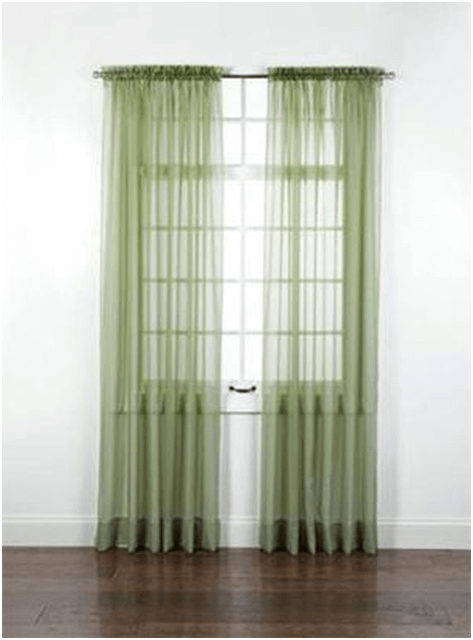 Due to its semi-transparent fabric, sheer curtains provide the most sunlight inside your room even if your curtains are closed.
Because of their thin and shiny material, they do not give as much privacy as you want.
More often than not, they're used for decorative and design purposes only.
That is why; sheer curtains are more visible and seen in living rooms and dining rooms.
Type of Attachment
Unless you really love using a valance on your curtains, you need to also recognize the type of attachment you will be using. T
his means knowing how the curtains attach themselves to the rod.
Personal preference still comes into play here but it would be best to know the other options.
Grommet and Eyelet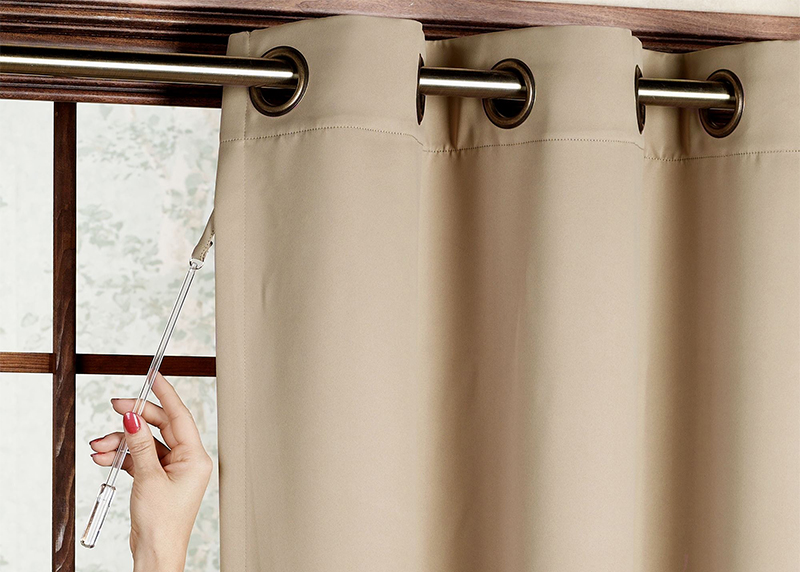 These are probably the most popular type of attachments in these modern and contemporary times.
Grommet and Eyelet curtains have large eyelets (holes) for the rod to pass through.
These eyelets are strengthened with grommets.
These are very popular because of their ease of use and somewhat classy look.
Rod Pocket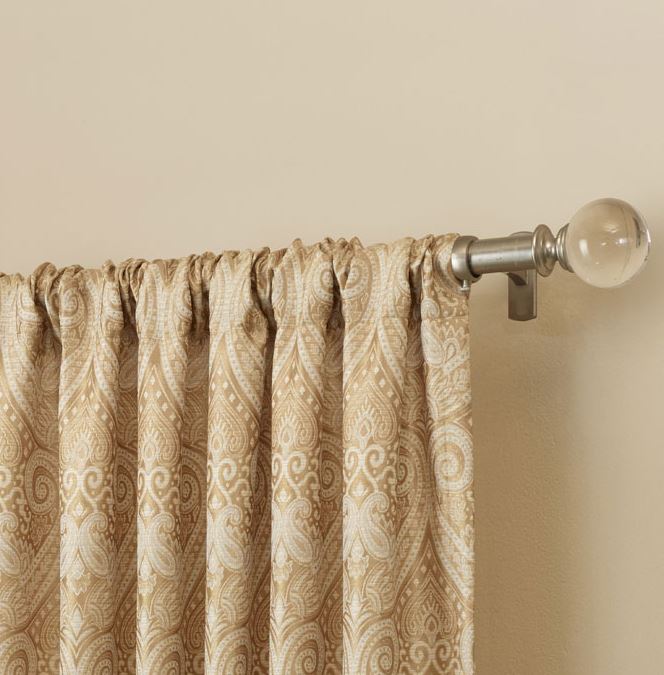 This type of attachment is commonly used with a valance.
Rod pocket curtains have pockets that are sewn into the topmost part of the curtain.
You push the rod through the hole from one side, through the entire length of the curtain, and then out through the other side. 
It can be a bit to do especially if the curtain is somewhat thick and heavy.
Rod pocket curtains work best with linen or cotton materials.
There might even be some decorative designs embroidered on the pocket itself.
Using this type of curtain without a valance can still work if you want a more informal look.
Tab Top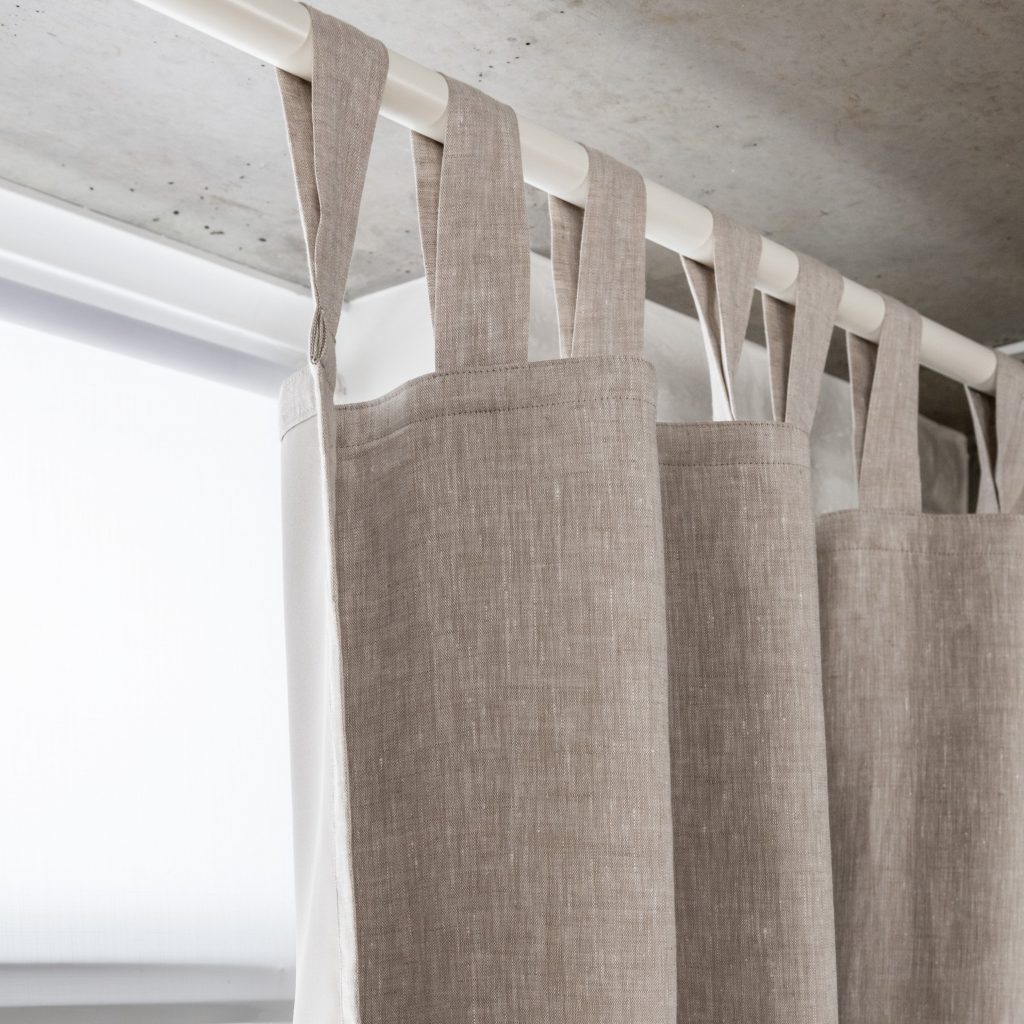 Most often found in modern country homes, the tab top curtains can feel relaxed and casual.
At the top of the curtain, fabrics are sewn into a loop.
The rod actually goes through the looped fabric and hangs from the same fabric.
Most of the tab top curtains also give an option for you to put "buttons" but more as a decorative accessory and not necessarily for functionality.
Hidden Tab
The hidden tab curtains are a collaboration of the tab top and the rod pocket curtains.
The "tabs" are still there but simply hidden out of sight.
They are usually concealed behind an extra piece of fabric that is decorative in nature.
A pinched pleated fabric at the top of the hidden tab curtain contributes to the style and gives another dimension of class.
These types of curtains are commonly found in both contemporary and traditional homes, which is a rarity. 
Curtain Style
The first you need to do is to analyze the type of room you are placing these curtains in.
Be as detailed as possible and factor in your overall creative style as you pick which curtains would work best for your need.
Classic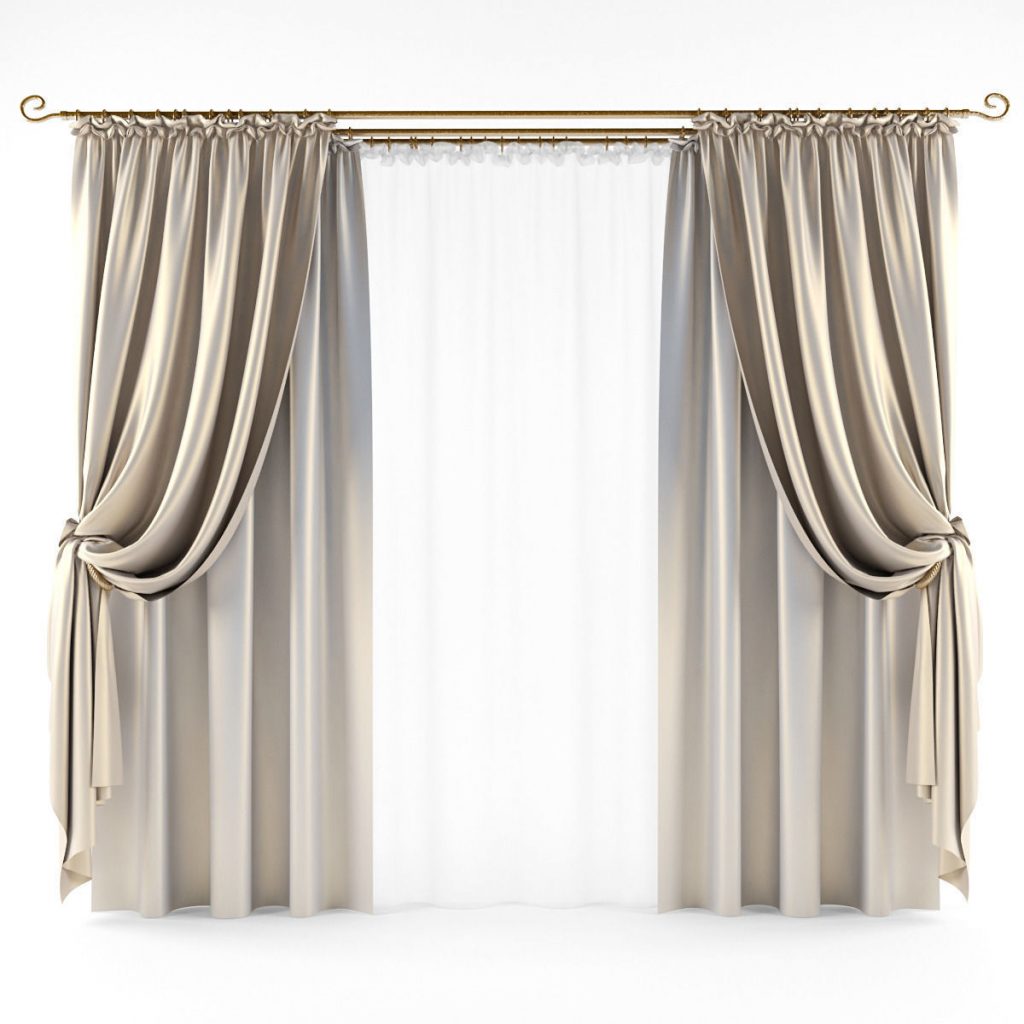 The classic is the more used curtain-type as this can apply in any room in most houses.
You can use them without a valance but most prefer using them with one and then adding some beautifying accessories to get a fuller window treatment.
Classica, Bohemian, and even country houses regularly use the classic curtain style.
Casual
Casuals can most often be found in bathrooms, kitchens, and bedrooms.
This type of curtain gives out a laid-back feel for the room which most houses aim for.
They often have either the tab top attachment or the grommet and eyelet.
These are seldom used with a valance.
Contemporary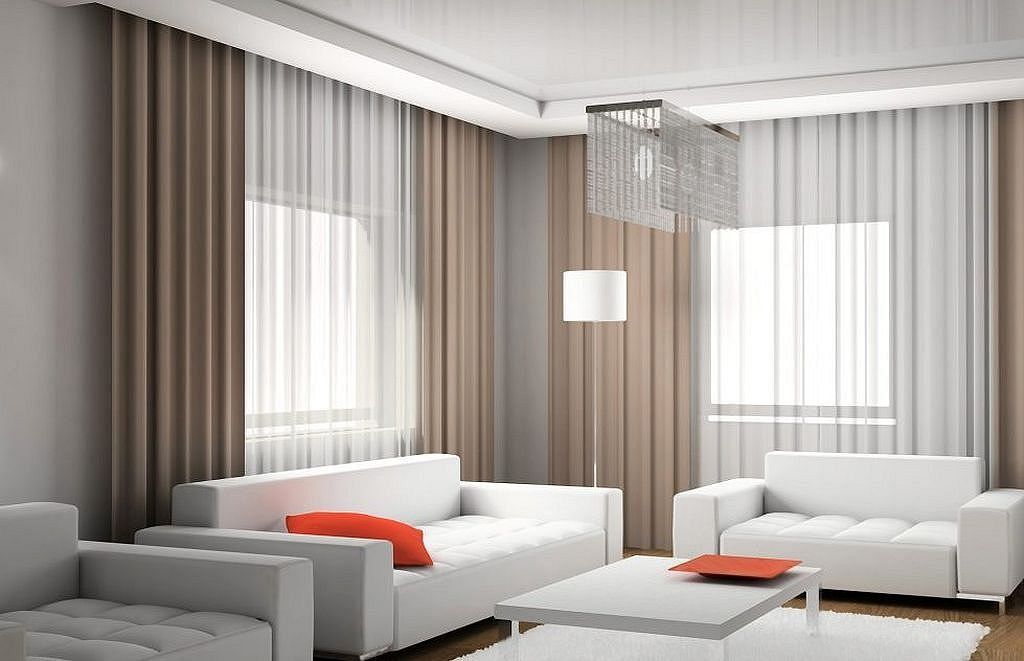 The contemporary aims to spin off the classic style but also tries to differentiate itself from the other styles.
The contemporary curtains come in many different points of accent, one of which is being nature-driven.
Nature-inspired curtains use more earthly tones like brown and gray which would otherwise feel too dull in a normal setting. 
However, if you want to accent a small room and make it feel bigger and louder, you can use more vivid colors.
The overall objective of the contemporary curtains is to be yourself and to put on curtains to make you feel really "at home".
Modern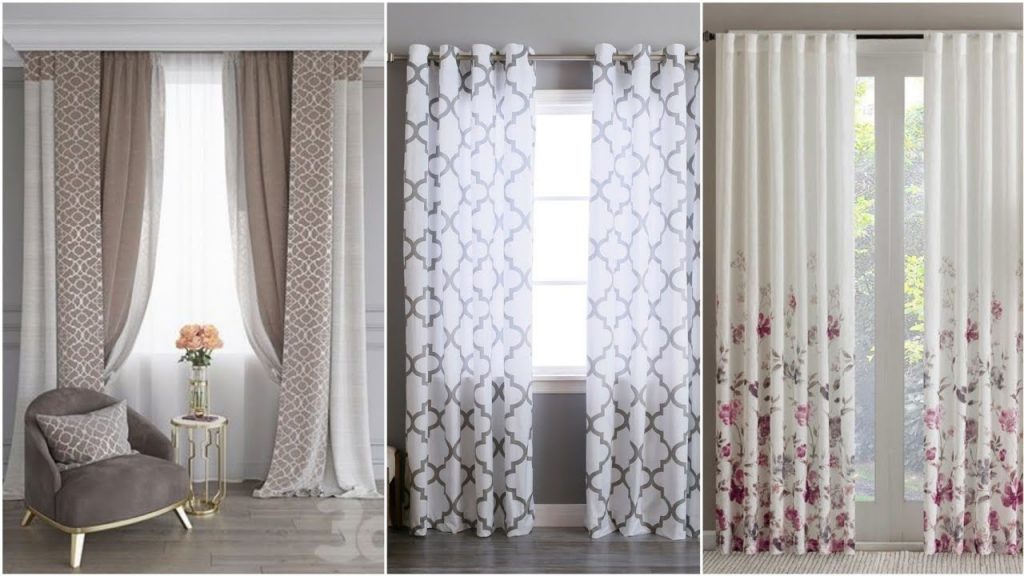 The modern curtain style is not for everyone, to say the least.
These types of curtains display not just the current trends but even some futuristic ideas.
Minimalistic and environment-conscious are its main characteristics.
That's not to say that all modern curtains are "out there", design-wise.
Solid and plain colors are still being used liberally with the modern styles.
Needless to say, metallic-type or unique patterns are not out of the box for this certain type.
Modern curtain styles sometimes even aim to make powerful personal statements.
In addition to the four curtain types listed above, there likewise needs to be considerations for the type of pleat that you plan to use.
In fact, there are certain styles that are directly categorized because of the type of pleat that they use.
The most used pleated curtain styles are:
Tailored pleat curtains
Pencil pleat curtains
Pinch pleat curtains
Goblet pleat curtains
The main differences in these pleated curtains are based on how they are hung and in what style the folds of the curtain are sewn together.
Materials Used
The type of materials that are used to make the curtains also play a big factor in your final decision.
The type of curtain material goes beyond simply the decorative and beautification purposes, they have definitive uses as well.
For instance, thicker materials are mostly used for blackout or semi-opaque curtains.
The thinner materials are usually utilized for semi-sheer to sheer curtain types.
Linen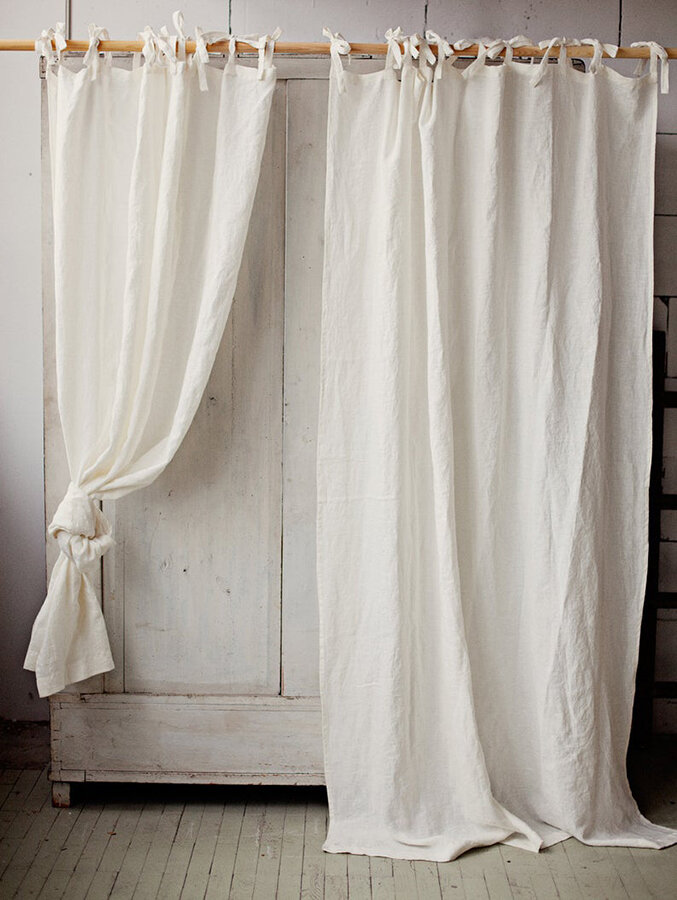 Linen curtains give out an easygoing feel that emanates throughout the whole room.
These are light materials but a little heavier than cotton.
And although they can give a little bit of privacy, they are still light enough to let some outside light come into the room.
Linen can be a bit harder to clean than cotton so you have to be careful that linen curtains are not the top choice in rooms where dust is prone to gather as some types of linen are dust magnets.
Prevention is better than cure, as they say.
Cotton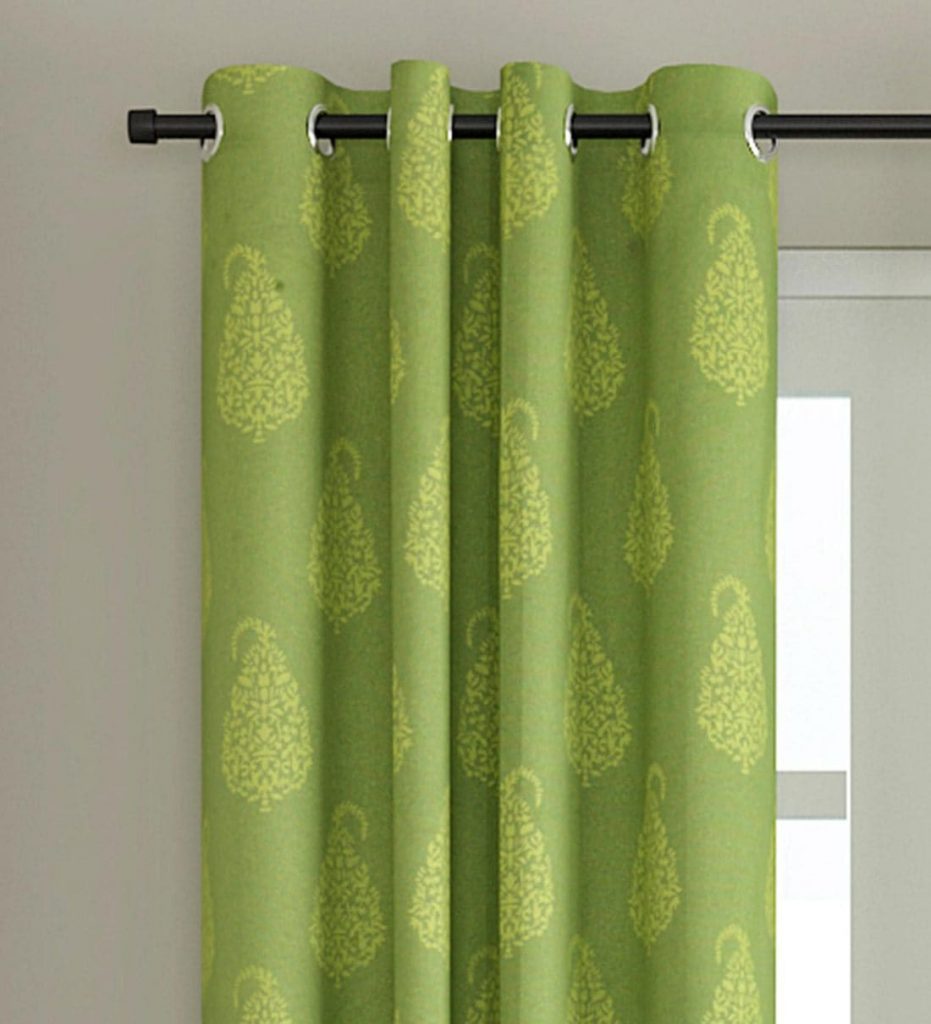 Probably the most popular choice for most homes, and rightfully so.
Cotton is part of the semi-sheer category because it still provides a bit of privacy even while letting in a good amount of external light.
They are usually paired with other types of fabric for the full effect and usefulness.
Most houses have cotton curtains in most of the rooms.
They come in multiple designs and styles and you won't go wrong in picking cotton curtains for any of your room.
And a great plus is that is it very easy to clean so you need not worry about getting it dirty.
Velvet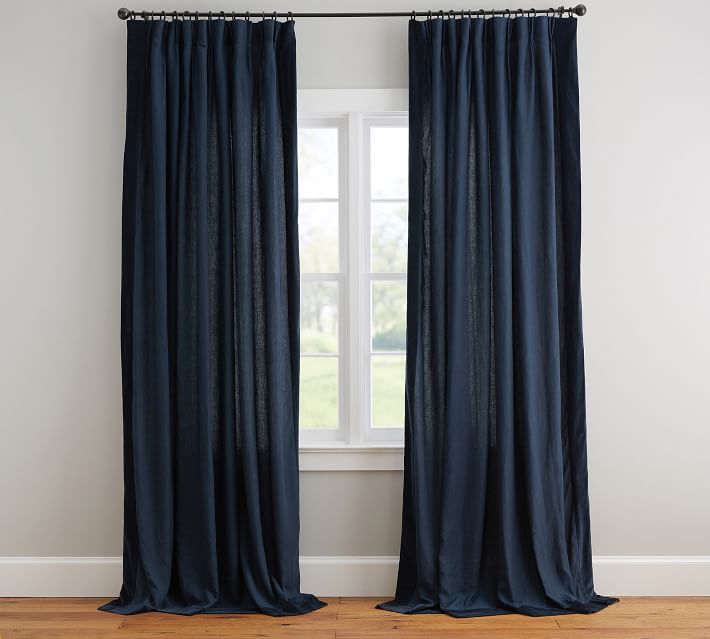 Velvet curtains are also one of the more popular choices of material.
However, the reason for this is quite different from the cotton curtains.
Velvet curtains are perfect for people who are very serious about their privacy.
Not only will it prevent as much light as possible from coming in, but it also creates a semi-soundproof atmosphere, adding to the privacy.
This type of curtain is a great choice for those who are very sensitive to light and can't sleep even with very minimal brightness.
Still, velvet curtains create a very dramatic feel for the whole room, if not the whole house.
One thing to note though is that because of its heavy material, velvet curtains are normally washed by professional cleaning services.
If you don't want the stress of having to call other people to clean your curtains, you might hold off on getting these.
Lace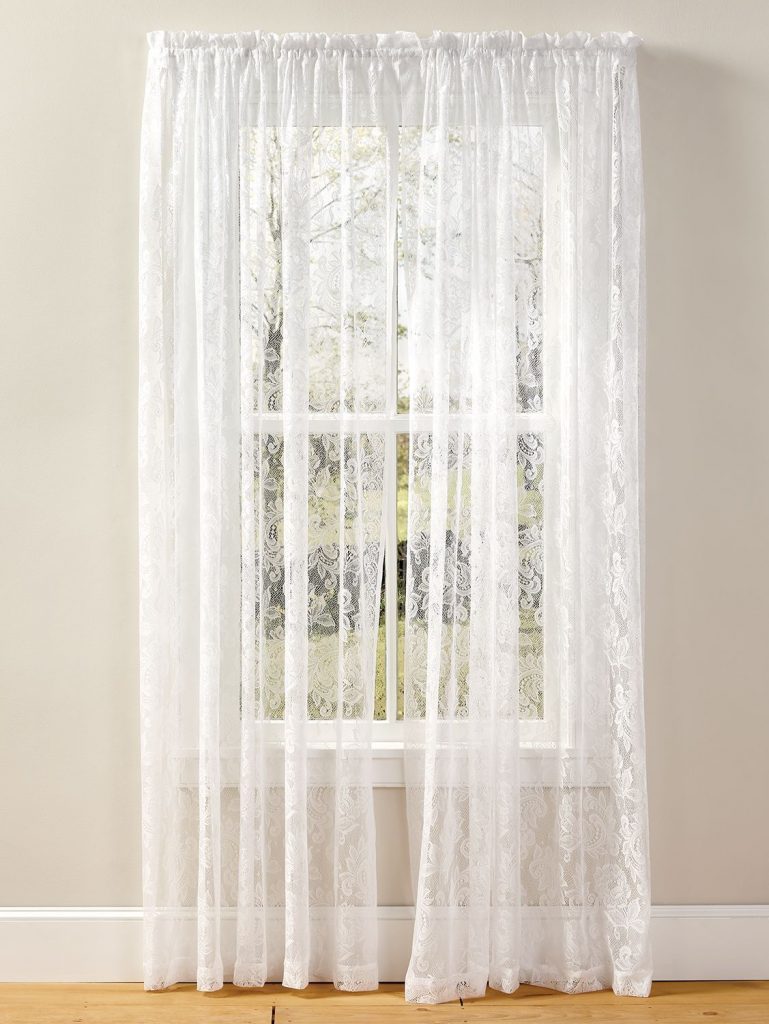 Lace curtains are definitely in the sheer category.
If privacy is not really a big deal and you want as much sunlight as possible, then this is the curtain material for you.
And if your house needs good air ventilation, then this curtain helps out in that area as well.
This is the ideal curtain for living rooms, kitchens, and any other area where you want tons of light (and fresh air, if preferred) coming in.
Another good approach would be to combine the lace curtains with other fabrics to create a hybrid type that can be decorative as well as functional.
Burlap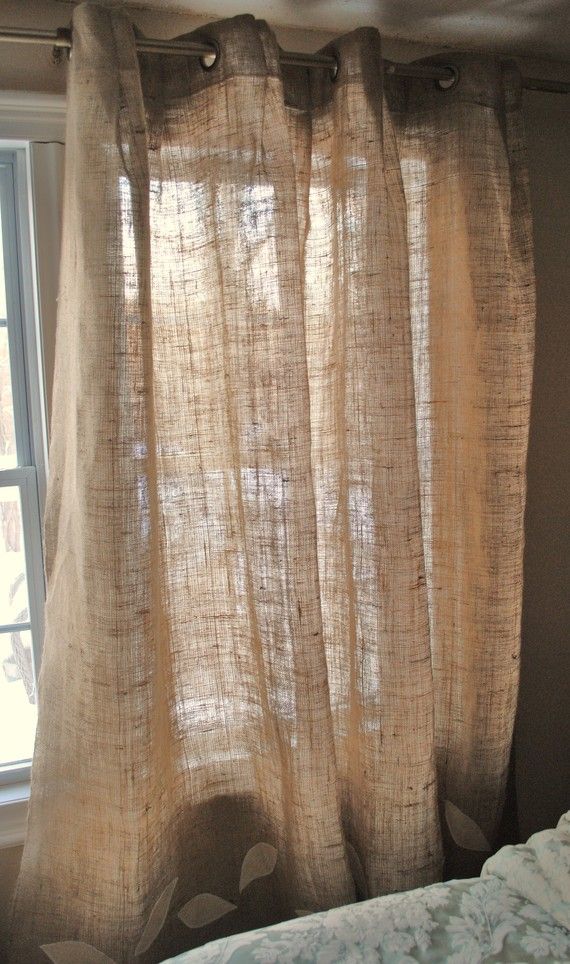 This material can sometimes be mistaken for linen because its looks and even texture are similar.
However, when you hold it, you'll notice the biggest difference is in the weight.
Burlap is much heavier than linen and actually gives a huge deal of privacy because it can reduce the light coming in and make the room dark if needed.
Still, the fabric gives out an easy and casual aura even when privacy has been prioritized.
Moreover, burlap is quite easy to clean so you won't worry about long-term wear and tear.
This type of curtain can also be used for multiple kinds of applications and can be combined with other materials easily.
Silk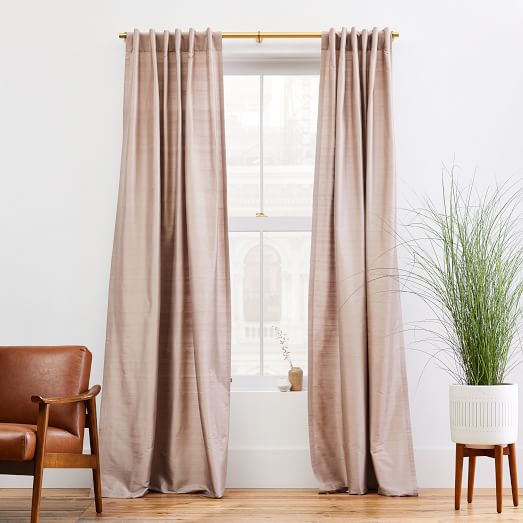 Silk is an all-time classic.
You can use silk material in any application and it will mostly work without a hitch.
Its elegance and class have been tried and tested for centuries.
It is semi-sheer and it is totally up to you how much light or privacy you want. 
Silk works in both classic and contemporary types of homes and is also still very popular with both the older and younger generations alike.
Silk is not easy to clean so you have to take that into consideration.
Extra money would be needed to clean your curtains because professional cleaning services would be required to clean your silk curtains to prevent any damage.
Synthetic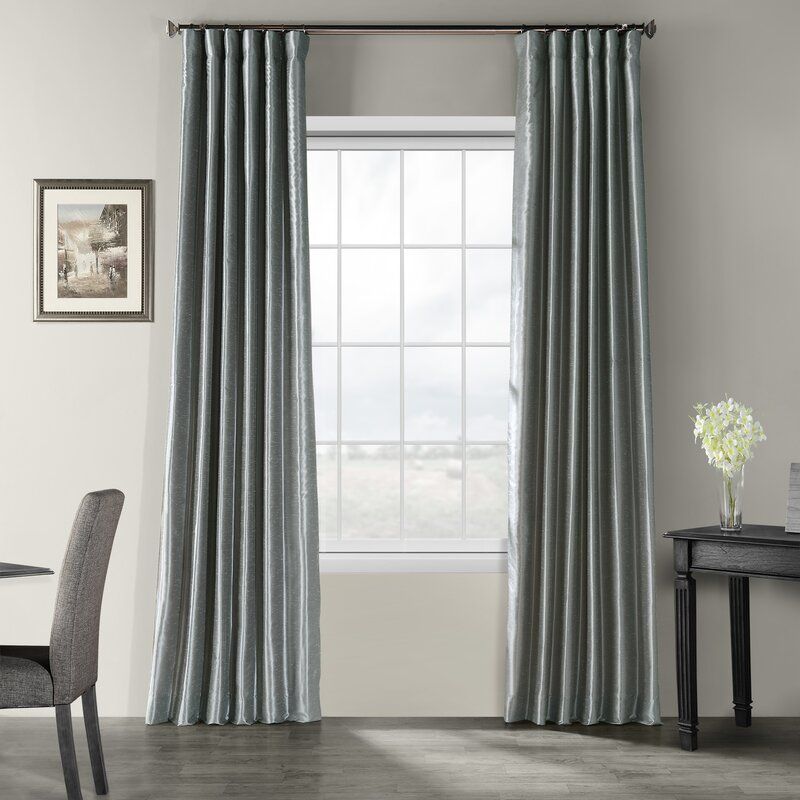 This type of material has gotten considerable popularity in the last few years due to its cheaper price tag.
These are quite easier to clean than the others on this list and that is another reason for their popularity.
Synthetic curtains can blend well with any of the other materials listed above making them very sought after because they can accent the window treatment even with just small additional pieces.
If you are trying to stay within a small budget as well as something that is easy to clean, then you might do well in selecting synthetic curtains.
Curtain Patterns
We're almost ready to finally select which curtains are fit for our homes.
The next thing we need to decide on is the type of curtain patterns we are most attracted to and which ones might be the perfect fit for us.
Solids
If you're simply looking for something that will accent your already beautiful and decorative window designs, then solid curtains are the way to go for you.
When you want a modern and relaxed look, solids are ideal because they give you that clean and yet contemporary expression.
Patterns
Patterned curtains normally come in either lace, cotton, or even synthetic material.
However, in these modern times, there is nothing off-limits as linen, burlap, and even the velvet curtains have joined the patterned curtains category and have offered their own unique designs and patterns.
There are as many types of patterns as you can possibly imagine – checks, stripes, floral, plaid, toile, paisley – and you can even mix and match these to make your patterns as classical or as contemporary as you want. Modern casual curtains offer more current designs such as dots, geometric shapes, graphic prints, and the perpetually eye-catching chevron pattern.
Patterned curtains are a way to represent what you want your house to feel like.
They can also be great equalizers if you want to compliment your current pieces of furniture.
Length of Curtain
The curtain length depends on one main thing – the dimensions of your windows.
Of course, you can place any curtain length on any window that you want but just keep in mind that not all curtain lengths work well with certain windows or rooms. 
Sill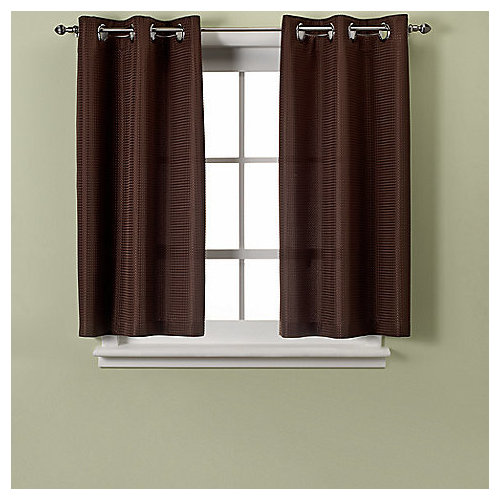 This is the shortest on this list and this length is ideal for windows that are open almost all the time.
Sill length is a popular choice for kitchen windows, bathrooms, and most small size windows.
As referenced by the name, the curtains hang from the rod and drop all the way until they are level with the window sill or a tad above it.
Apron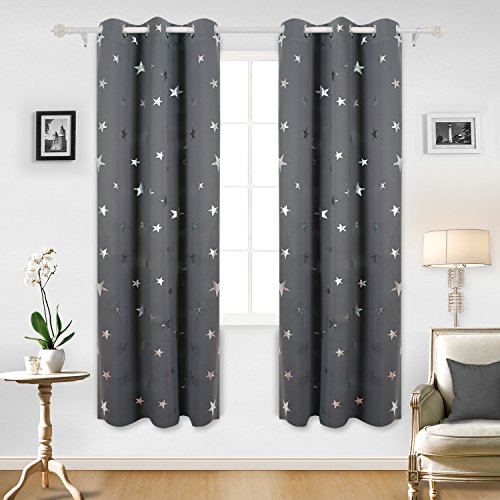 If you feel the need to somehow make your window appear larger than they actually are, apron-length curtains are the ones to choose.
Apron length is usually used on smaller windows like the one in the kitchen, bathroom, and sometimes, the bedroom.
The curtain itself is not short, per se.
The curtain is hung from a rod that is placed a bit higher than what the standard placement is and the curtain drops down a few inches below the window sill.
With the curtains open, you won't notice a big difference.
However, when the curtains are closed, the apron length curtains definitely make your windows appear longer and bigger than they actually are.
Floor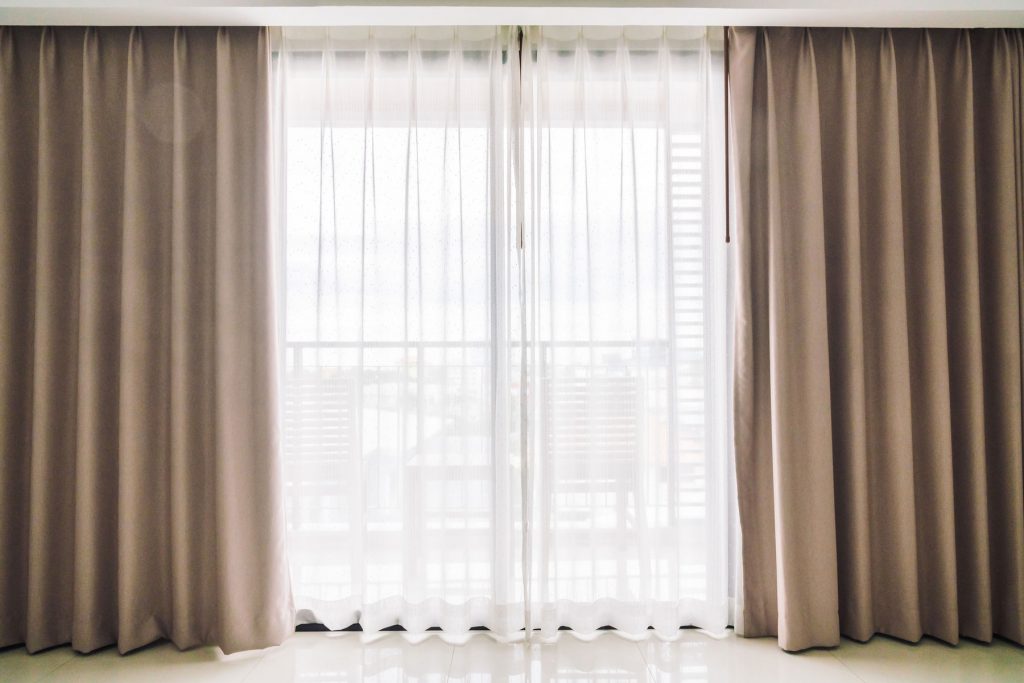 Curtains that are floor-length are ideal for sliding doors and of course, floor-to-ceiling windows.
Floor-length curtains don't necessarily reach all the way to the floor as their name suggests.
In fact, they have to be above the floor, customarily by less than an inch. 
Floor-length curtains can also work even with smaller windows that are very rarely opened making them look like larger and bigger windows than they really are.
Puddle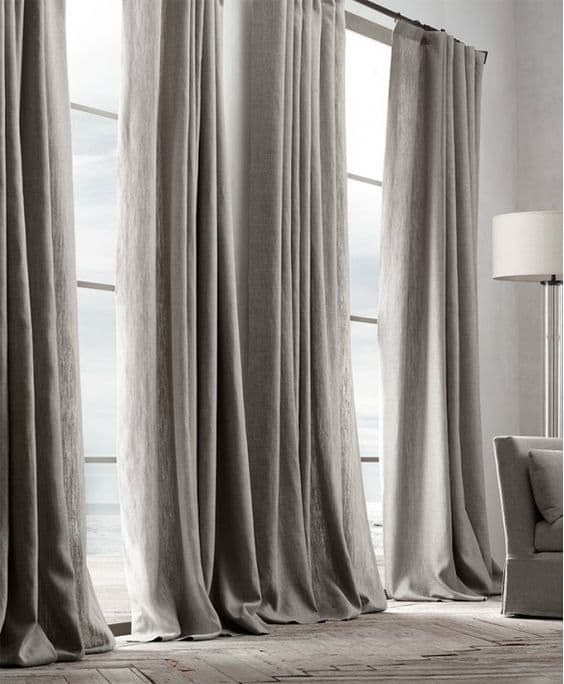 Puddle-length curtains reach all the way to the floor, and then some.
These are extra-long, extra-length curtains.
They are clearly many inches longer than the length of the window and they break on the floor somewhat in dramatic fashion, not unlike a wedding gown.
That is why if you're looking for a romantic or dramatic window design, this is the one you need to pick.
Curtain Width
Another thing you need to consider is the width of the curtain.
Although not as particular as choosing the curtain length, you still need to carefully look at the curtain width.
The customary width of the curtains should be twice the width of your windows.
Nevertheless, if you are going for a more bunched look or an exciting feel, choose an even wider curtain to achieve this purpose.
Other Curtain Features
Here are a few added features that you may also want to take a look at.
Bear in mind that some of these features depend on the type of curtain material that you have. 
Heat Insulation
Burlap, velvet, and some synthetic curtains are heavier than the rest and therefore render an additional level of heat insulation.
This is a good idea for those that live in colder climates.
The inverse is also true.
This is a bad plan if you live in a hot and humid area.
However, whatever climate you may find yourself in, the heavier curtain would still work well if placed in bedrooms, certain dining rooms, and any other room with a window that lets air come in freely.
The heavier curtains are sometimes called thermal curtains because of the heat insulation that they provide.
Studies have shown that you can save up to 25% of your electric heating costs (especially during colder seasons) when using these thermal curtains.
If you need a curtain that is specifically designed to thermal insulate, those are available as well.
Certain curtains made out of mylar or foam are devised to trap heat inside the curtains to help in the cold season or in the cold areas.
These curtains are covered with beautifully designed exteriors to cover the layer that provides the insulation. 
Noise Reduction
This is particularly useful for those that are light sleepers, people living in certain urban areas, and even for individuals who don't like to hear outside noise (or want the outside to hear their sounds).
Certain heavy curtains provide this feature.
Bedrooms are a great example of areas where noise reduction is essential.
You can also use them in music rooms, libraries, or in your home private theater.
Though they may not totally eliminate the sound, the reduction is so significant that you won't hear any complaints from your neighbors.
Current technology is working on more advanced materials and fabrics that go even further and reduce even more noise.
One example is Annette Douglas and her team who are developing new curtains that can potentially reduce noise by up to 80%.
That is some serious tech.
If you would rather stay simple and traditional, you can increase the noise reduction potential of your curtain by simply adding more layers or even a curtain liner to complement the natural curtain setup.
Outdoor Curtains
Although this is nothing particularly special, it is still worthwhile to point them out.
Regular outdoor curtains are much heavier, all weather-resistant, and, of course, waterproof.
Still, if you only need outdoor curtains for ornamental purposes, then sheers will do the job quite easily.
Sheers can blend really well in the patio.
Sheers can also be helpful in keeping away insects.
Wrap Up
Finding the right window treatment isn't just a walk in the park.
If you want to achieve that interior design that you have been thinking about, take some time to know what certain types there are so that you wouldn't regret buying one that you wouldn't be able to use.
Do your due diligence and have the most appropriate curtain that suits your interior needs.
Frequently Asked Questions (FAQs)
Here are some commonly asked questions.
We will answer them as detailed and as comprehensively as we can.
How do I measure my curtains?
You need to determine what type of curtain you want and then determine the hanging method.
Here's a quick and easy way infographic showing how to measure curtains.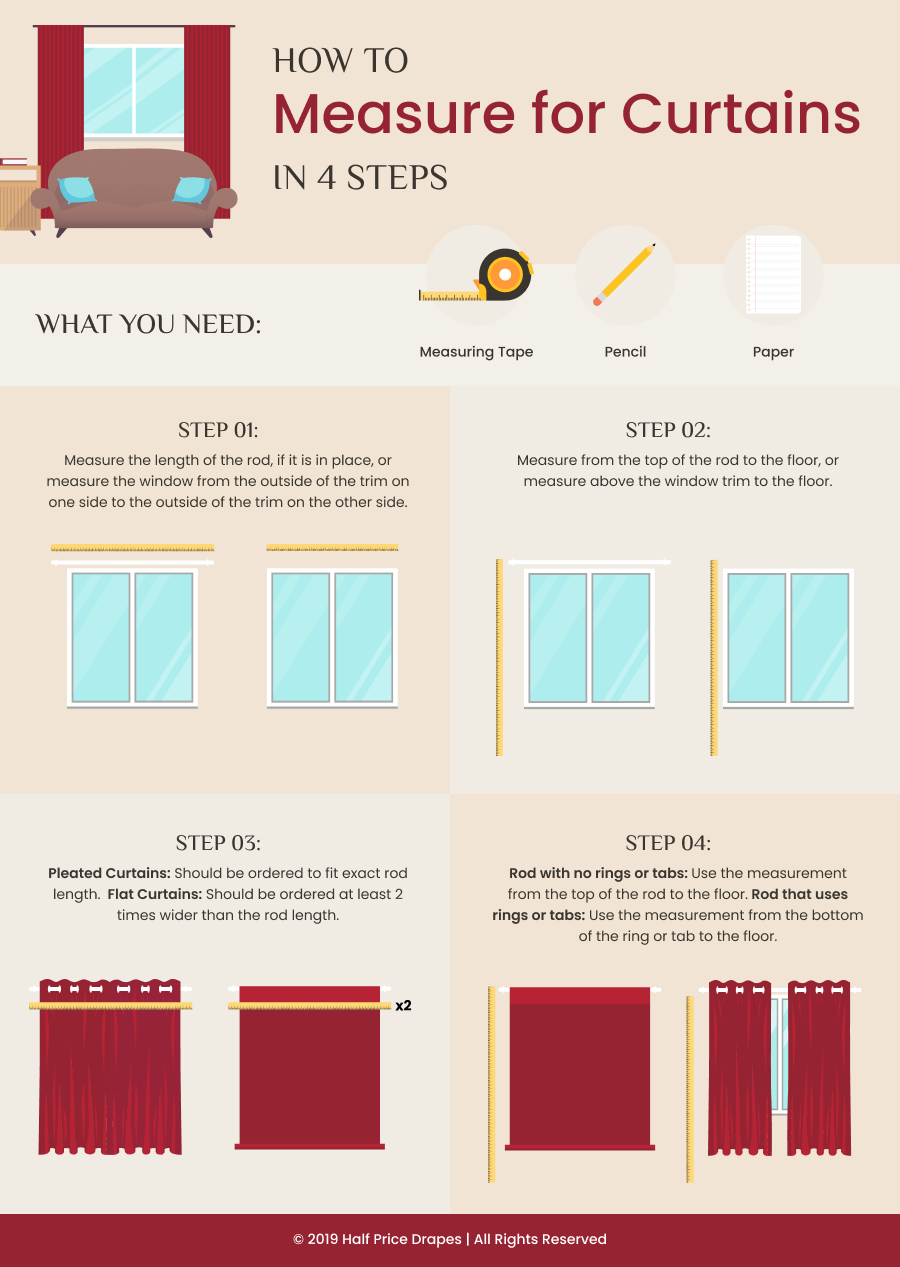 What is the lifespan of curtains?
There are many factors that affect the longevity of curtains.
One of the main factors is sunlight, and more specifically, the ultraviolet rays.
Direct sunlight hastens the aging process of the curtains. It doesn't matter what material they are (synthetic, fabric, linen), they are equally affected.
If you have curtains hanging outside, usually the ones near the kitchen or bathroom window, they will definitely age faster than the ones located in the inner parts of the house.
Even without direct sunlight, the heat index itself will cause the curtains to age somewhat faster than those in the more controlled temperature environment.
Another issue with curtains that are placed directly outside is that sometimes rain, fog, humidity, and other weather-related elements can also cause faster deterioration.
And let's not forget about the bugs.
You can add simple drapery to the curtain and this can undeniably extend its life.
Modern fabric technology is manufacturing synthetics that are somewhat impervious to sunlight, heat, and the weather elements we just talked about.
They will be coming to the market sooner rather than later. ANSI (American National Standards Institute) has said that the feasible lifespan of curtains, draperies, and other similar fabrics, is between three to five years.
If I buy a house, are the curtains included in the sale?
In normal situations, all attached components of a house are generally considered part of the real estate that is being transferred.
Unfortunately, when people are selling their house, the last thing they are willing to do is to spend money repairing the curtains.
So don't expect too much.
What is the basic material of all types of curtains?
This is going to be a bit technical.
Almost all curtains are made up of cotton and/or polyester.
Some curtains use wood (cellulose) or plastic panels.
The individual color depends on each individual fabric.
To make the heavier curtains, a tight weave is done which allows lesser light to pass through.
Do I buy curtains in pairs?
Contrary to popular knowledge, curtains are not always sold in pairs (or by fours).
Admittedly, most curtains are sold as a pair but you can definitely buy a single curtain without difficulty.
Some single curtains are wide enough and big enough (panel-wise) to fit the whole window.
Single curtains and single panels are more useful in the aesthetic part of the window treatment.
They have no actual use but they can make the window seem bigger than it really is.
Do curtains need to reach the floor?
The short answer is no, curtains don't need to touch the floor.
The long answer is that the process of window treatment is dependent on many factors – room dimensions, window dimensions, pieces of furniture in the room, and many more.
With that said, there are certain uniform stock sizes for curtains that you can simply purchase.
For example, panels can be found in lengths of 24, 36, 63, 84, 95, 108, 120, and up to 144 inches.
It is totally personal preference but it is best to also consider calling a friend who is an expert in curtains. 
Can I dye my curtains?
Yes, you can. However, most specialists and experts don't promote it.
The lifespan of a curtain is between three to five years so it might be better to simply wait until it's time to get a new set of curtains.
Another big reason is that dye can be rough on the curtain fabric.
It is also very difficult to manage color coordination and management because the fabric materials are different for each curtain.
Dyes can be used on certain synthetic curtains and they might even turn out good.
If you research and come to the conclusion that it will become better after the dye, then go for it.
But generally speaking, it would be best not to dye your curtains.
Can I recycle my curtains?
Some curtains can be recycled but this depends on the type of fabric it is made from.
It is also a good idea to call the recycling center in your area first to make sure that they will accept your donation (curtain). 
The curtain material, more specifically the fabric fiber, is worth something and can be used either as recycled items or even as a contribution to some children's shelter or senior community.
You can simply donate your curtains to charity and let them sell them or use them.
Is there a noise suppressant in every curtain?
Technically, yes, curtains can reduce and suppress noise.
The heavier the curtain, the more noise-proof it becomes.
Adding more layers can also increase the noise suppressant power of the curtain.
Modern technology has come up with a way to produce synthetic curtains that are able to reduce noise by up to 80%. That's pretty good.
Can I shorten or hem the curtains?
Curtains can definitely be hemmed or shortened.
Some factors to consider would be the hem width, the actual curtain length, the fold material, the sewing line, the curtain material, and so on and so forth.
In short, it basically needs an expert to do this but it can be done.
Can I wash the curtains in the washing machine?
Always refer to the label or the store employee who sold you the curtain.
Some curtains are washing machine-ready but a few are not.
There are other cleaning options aside from the washing machine and all you need to do is read the label. 
Traditionally, use a "delicate" cycle, cool water, and a slow spin will be adequate for the lighter curtains and for simple cleaning.
Dryers should always be avoided.
Is it possible to steam-clean a curtain?
As with the washing machine question, not all curtains can be steam-cleaned but some are responsive to it.
Be careful with steam-cleaning sheers or any other delicate materials as there is a very strong chance of burning them.
Refer to the label and maybe even ask a professional if you're still wondering.
Can I repair a broken curtain?
Absolutely yes, curtains can be repaired. If you have simple sewing skills, then you should be able to do most of the repair.
For stains and soiled fabric, soap or stain remover might prove to be sufficient.
If the mounting equipment needs to be repaired, a common screwdriver would probably be acceptable.
Wear and tear can be repaired if it's not too big a damage.
Curtain tears and stitching issues may require more specialized work.
When the damage seems like it is out of your league, find your nearest tailor or fabric company and tell them what you want to happen. Otherwise, sew away.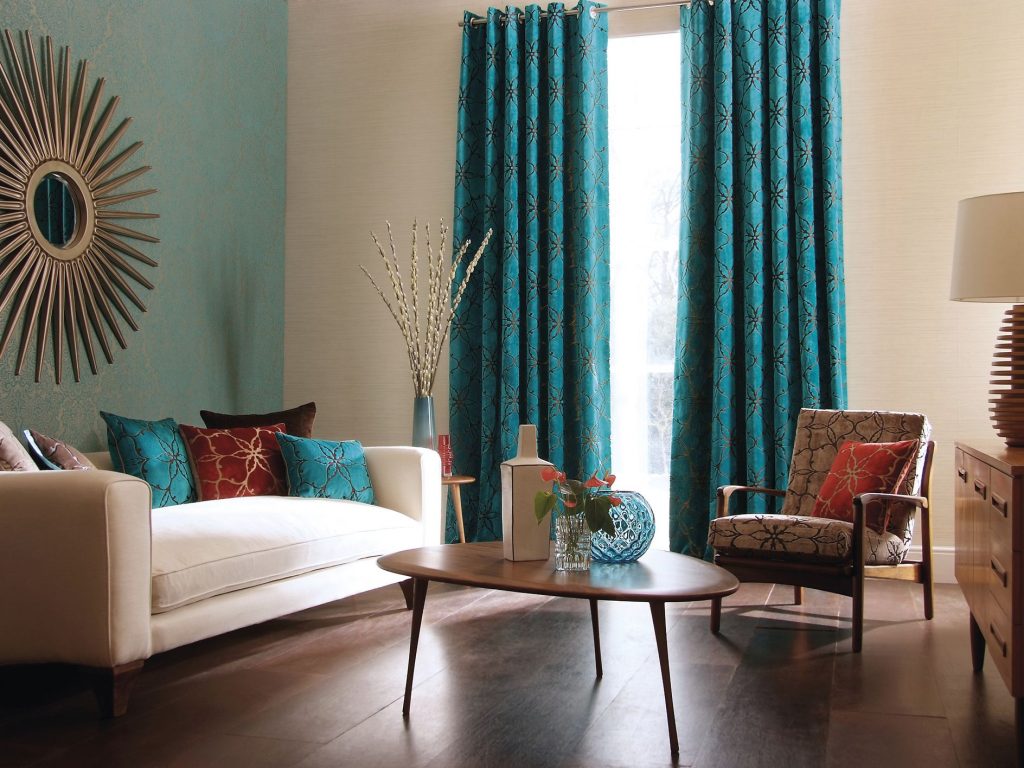 Where to Buy Curtains
Due to the pandemic, many physical stores suffered an economic depression.
Still, you can find many physical curtain stores now open and ready to serve.
If you are more of an online shopper, then the options could be limitless.
It is still best to look for a local curtain or fabric shop and ask for their opinion.
Online shopping has taken off in the last year and curtains are no exception.
Online stores even give you virtual setups to really make you imagine what the final product will look like in your house.
Here are the most popular curtain online shops:
Now you are ready to buy your curtains.
As you complete your window treatment, these last three things are somewhat useful to know.
Curtain Rods and Hardware
The curtain rod may be easily overlooked because the curtain is obviously the star.
However, there is no curtain if there is nothing to hang it on.
The type of curtain rod involves many points to think about.
The first one is that if your curtains are well-decorated enough already, then the curtain rod should be as plain and simple as possible.
If you are choosing the rod pocket or the hidden tab curtain, the rod does not play a huge part in the window treatment.
Though, eyelet and grommet or tab top curtains require you to have a presentable curtain rod as it can be partially seen through the spaces in between the curtains. 
Most rods are made of metal but there are a few wooden options readily available.
Also, be mindful of the curtain rod finish to minimize clashing of styles within the same window treatment.
A few curtain rods have finials to add that final classy touch to the overall curtain experience.
These finials do not only give elegance to the curtain, it also stops the curtain from falling off the rod (it's not impossible, mind you).
Some stores sell a set curtain package that includes the rod but a few don't have it so keep an eye out for that.
Hanging Your Curtains
Learning how to hang curtains properly sounds silly.
Nevertheless, it can be a little complicated if you are only starting out in your home window treatment.
As soon as you have decided which curtain you are purchasing and have chosen which rod you are using, the next step is locating the specific place where the curtains will be hung.
This might sound weird but it's funny how many people actually don't have an inkling of what to do when it comes to hanging curtains.
There are multiple online video tutorials that you can learn from so start learning up.
The popular height of curtains is called the trim height. This points to the height of the top of the window.
This is the "standard" starting point for where to hang your rod and curtain.
If you're looking for a more exciting feel, you can do ceiling height which simply means you hang your curtains as close to the ceiling as possible without touch the top.
This helps make your windows look bigger as well as add style to the room.
Tiebacks
Another element that is taken for granted is the tieback.
You might not have a need for it 99% of the time but there is always that one time when you need to tie your curtain back.
And then you realize that you have no tieback. Most of the time, curtains are open or closed.
Tiebacks are simply accessories that you might have to use in the future but don't ever think about.
Get a tieback that doesn't simply function, but get one that accents the curtain itself.
Some tiebacks come with the curtain purchase.