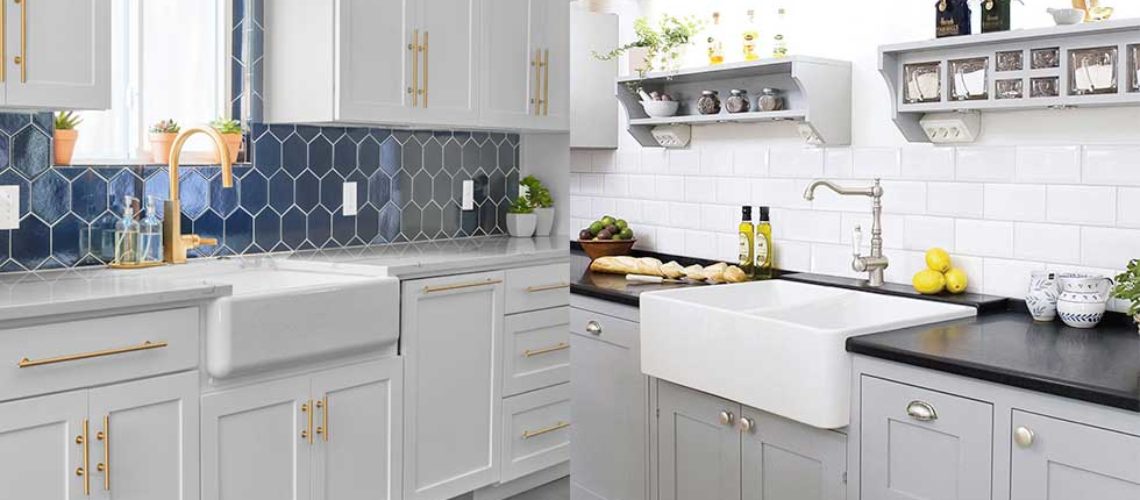 Types of Kitchen Sinks
Of course, we can't talk about kitchen faucets if we won't discuss its inseparable partner, the kitchen sink.
You have to pair the faucet with the right sink; therefore, this guide will present various kitchen sink sizes, materials, and styles.
Picking the right kitchen sink for your home should be coordinated with your choice of kitchen faucets.
Visual aesthetics are important but are not the only thing you should consider.
You should also weigh in on functionality, durability, and even replace-ability.
Here are some factors you should consider when choosing a kitchen sink:
With this sink, what activities are going to be done most?
Think about the largest kitchenware that you need to wash, will it fit in this sink?
Consider the size of your family, people that live in your house, and those that constantly visit you? Will you be washing a large number of dishes? Or would you rather have a dishwasher?
Are you planning to have your pet bathed in this sink?
How about a new baby, will they be washed there, as well?
Do you do a lot of cooking and food preparation?
Also, consider other things that you may be doing in the sink.
Good quality kitchen sinks can be expensive but it is only a small amount when you consider the overall cost of a kitchen.
It would be best that you get the best kitchen sink that you can afford early in the kitchen installation rather than get a cheap one and then having to replace it in a few years.
With all these things we talked about, let's get to the main guide.
We're going to look at different types of kitchen sinks.
We'll also look at the sinks in various categories such as configurations, materials, and even cost. We're going to be as detailed as possible.
Main Types of Kitchen Sink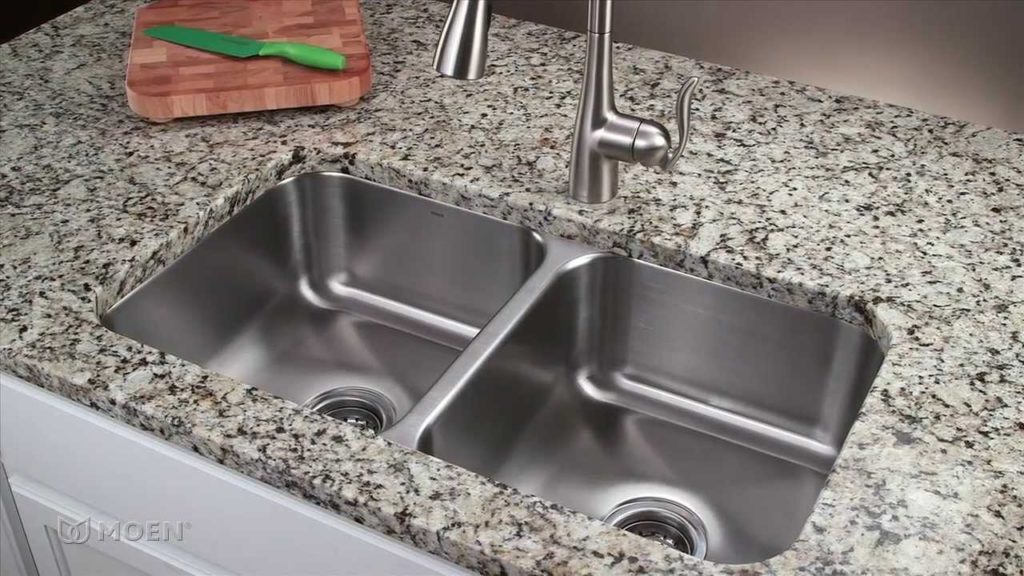 This is the most basic sink you can get for your kitchen.
It is one of the easiest to install and therefore preferred by most houses.
It utilizes the strength of the base countertop for support so having quartz or granite countertops are a plus. 
The basic configuration of the undermount sink is that it is attached underneath the countertop (including the rim) which helps with aesthetics with its elegant yet minimalist look.
The undermount sink is adequate for most kitchen needs.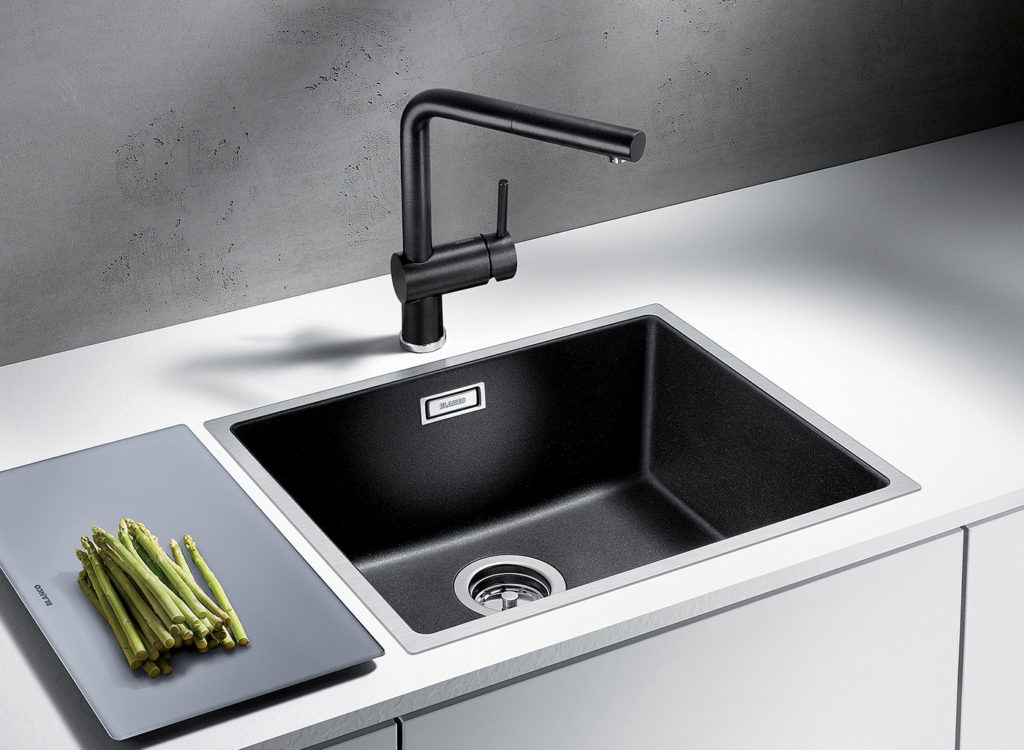 The flush mount sink is not usually one you can buy at a local hardware DIY, you need to have it custom-ordered.
The reason for this is that the sink needs to fit your countertop as perfectly as possible and therefore needs to be measured and re-measured to be well fitted.
This sink is unique because the countertop and the sink are actually made from identical material.
You can imagine the perfect seamless edge that it creates.
And the mind-blowing fact is that the sink and the countertop are actually two separate pieces that are perfectly joined together.
The grout line needs to be perfect as well, to maintain the illusion of one single piece.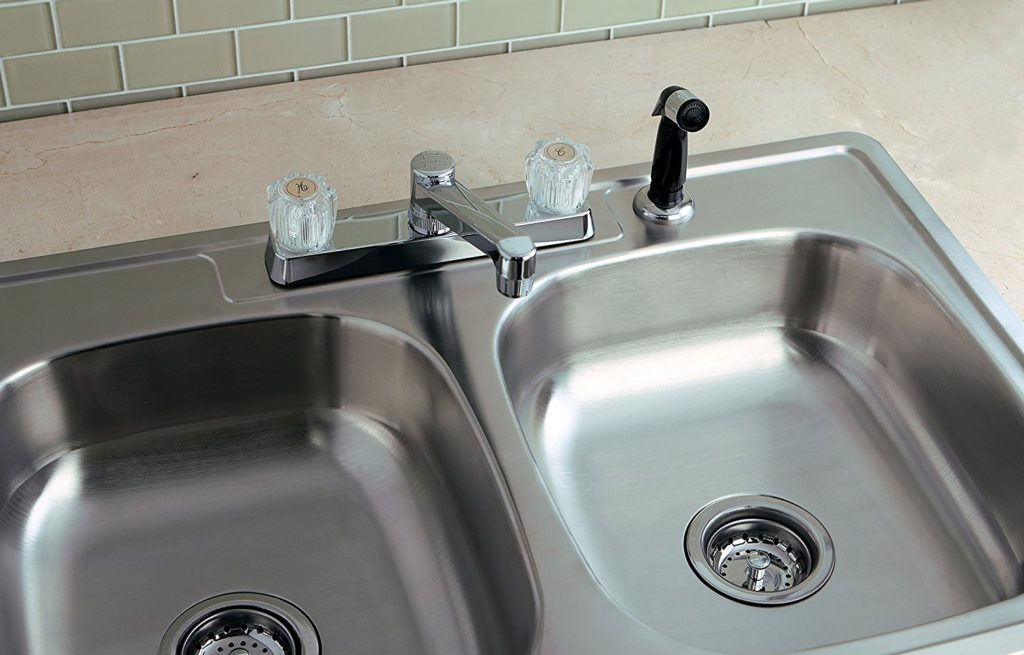 If you are a DIY kind of person, then this sink fits you perfectly (pun intended).
This is basically designed for self-installation. It utilizes a rim or a sink border that should fit perfectly on the countertop.
It doesn't matter what material you use for the countertop, you simply need to make sure the hole is the right size for the sink, and then install it.
Adding sealing elements such as epoxy, silicone, or even caulking can help in the lifespan of the sink.
Its unique feature is that the rim actually supports the whole weight of the sink.
The good thing with this type of sink is that you can mix and match the sink, basin, and even the countertop to get the look and feel that you want for your kitchen.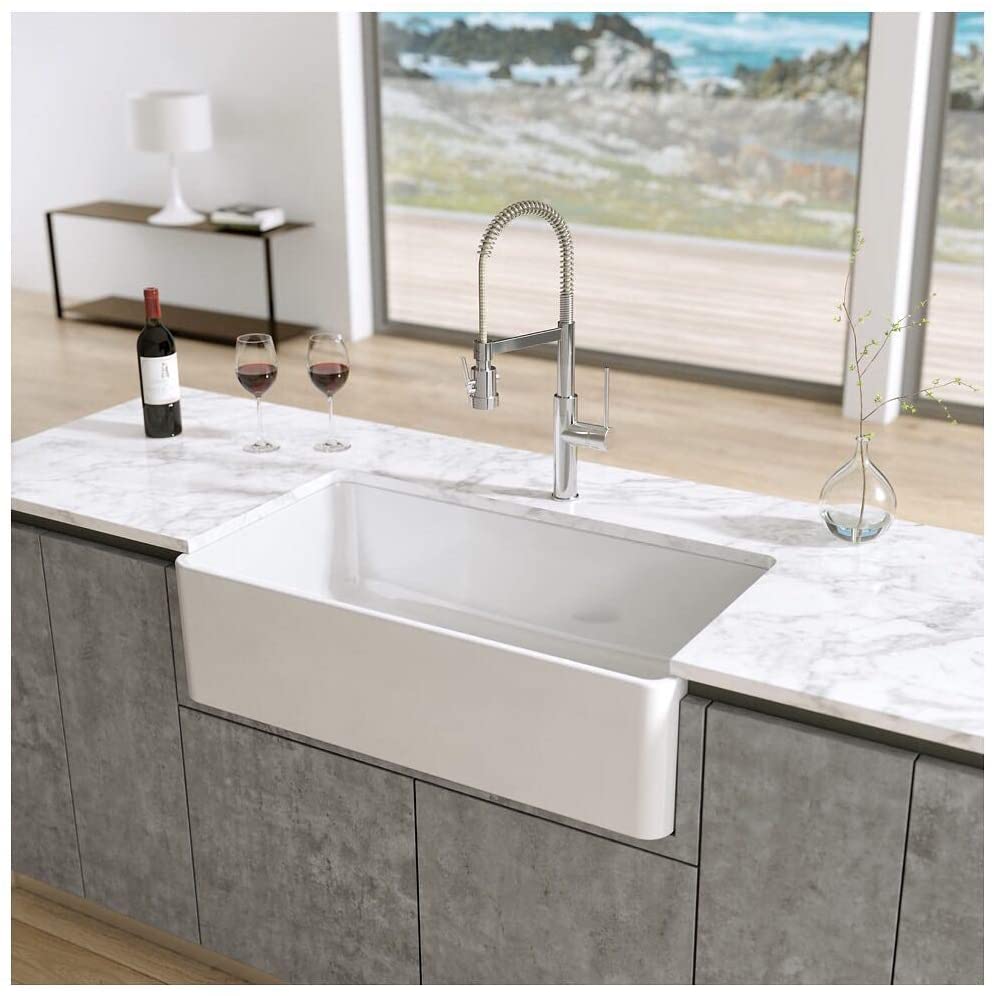 As the name implies, this would be a staple in farmhouses and rural homes.
However, it has gotten more popular lately in the urban areas.
Also known as the apron-style sink, its rounded edge hangs over the countertop and is very prominent giving the sink a very homey feel.
Installation is somewhat similar to the self-rimming sink, DIY people also love this one.
The farmhouse sink emanates an aura of simple living and even can be made to provide a rustic appearance; that's why it can be seen in a lot of rustic-themed kitchens and even restaurants.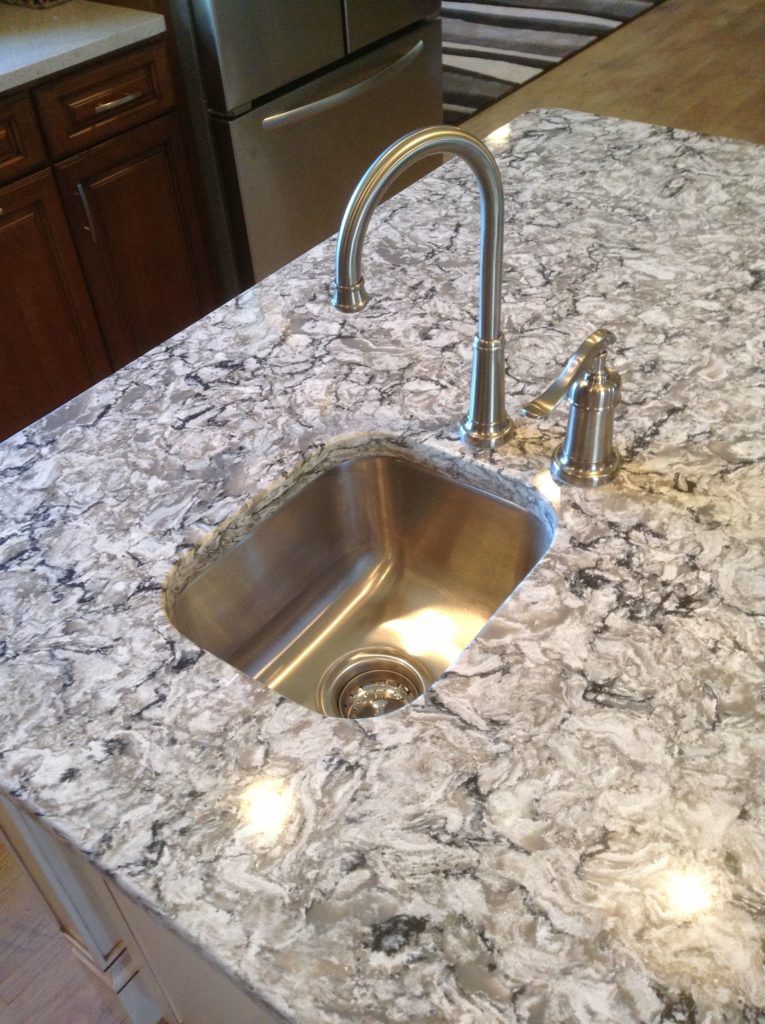 This is a specialized type of sink.
First off, this is smaller than all the other sinks on this list.
And although it can still function as a regular kitchen sink (washing dishes), its main purpose is its namesake, food preparation.
This sink is especially helpful when washing and prepping pasta noodles or fruits and vegetable produce.
The prep sink is sometimes also called the bar sink.
This is because you can wash glasses and even prepare "bar drinks" quite comfortably.
The prep sink can come in handy when you are hosting a lot of people and the "regular" sink is too occupied.
This way, there is extra prep space.
Genius.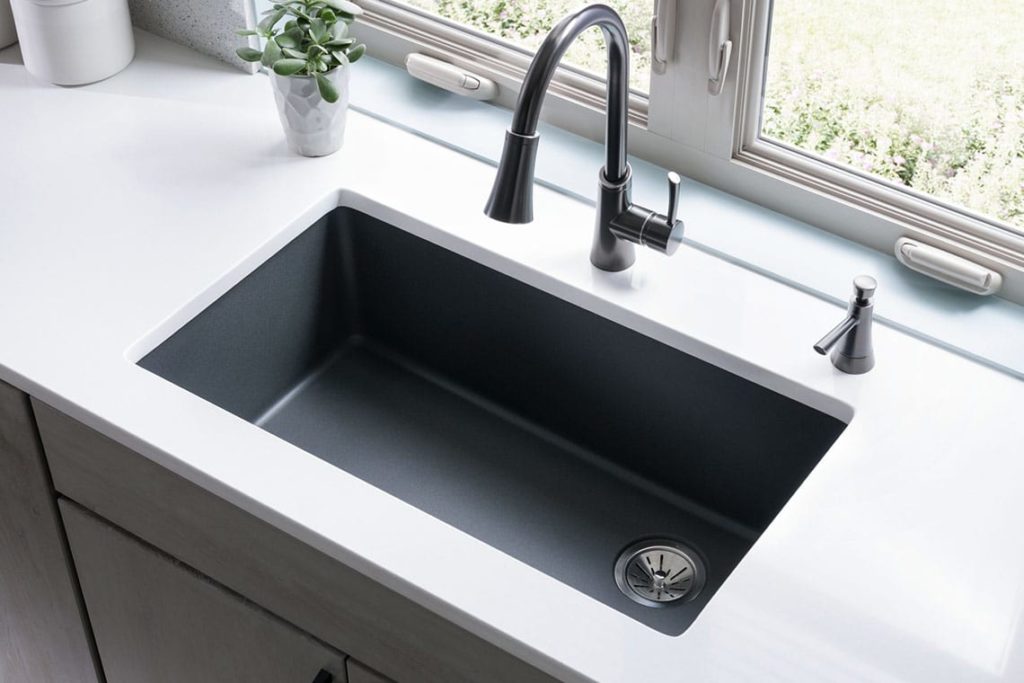 If you want elegance, the quartz sink is perfect for you.
It naturally comes in black and as with most things, everything looks good in black.
In fact, your countertop needs to be designed in a way that complements the sink.
Of course, quality and style come at a price and the quartz sink is no exception.
Still, if you value durability as well as taste, you won't go wrong with the quartz sink.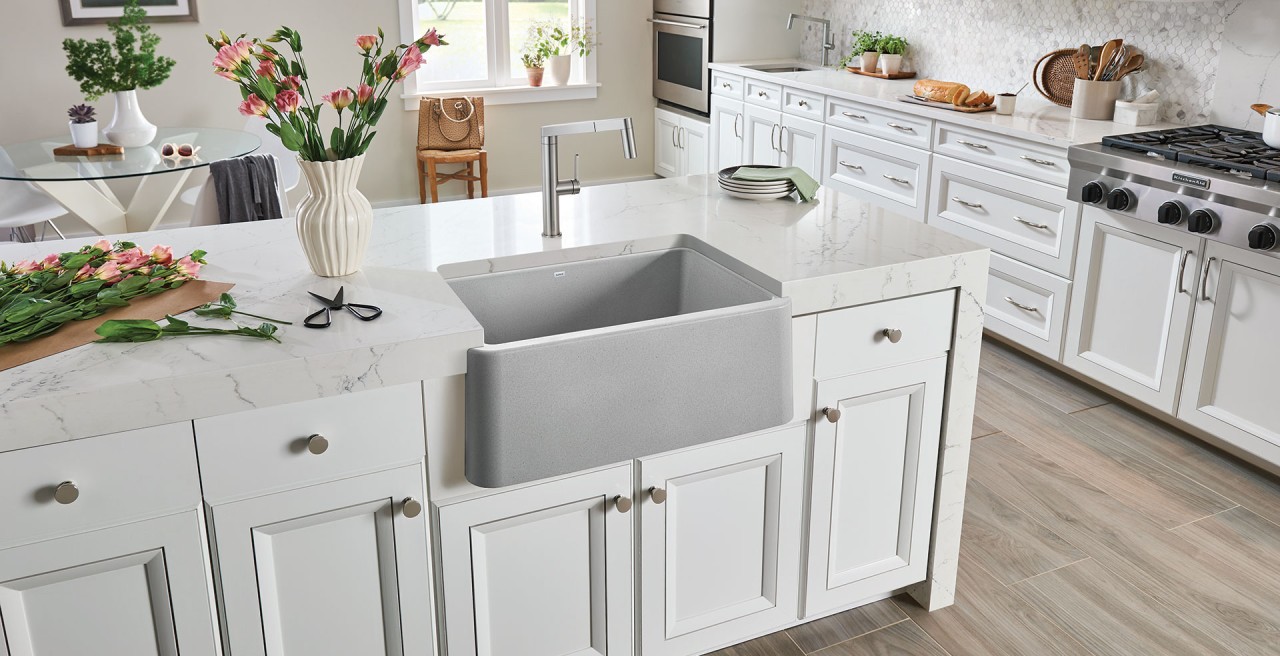 No, this is not the sink they use in the deserted islands.
The name, of course, refers to the work/dining island in the middle of your kitchen.
And the island sink fits right in the middle of the kitchen island. 
This is designed to be more of a decorative accessory but in actuality, it can be pretty practical as well.
It can be very helpful for prep in large gatherings and even for washing kitchenware if the basin material is quality enough.
Sink Materials
Here are the most basic options when looking for quality materials for your kitchen sink. Remember to choose with the overall kitchen feel and functionality in mind.
When you think of kitchen sink materials, this is the first thing that comes to mind; and rightfully so.
Most homes have this type of material for their kitchen sink.
This is a good material because it does not scratch easily, contrary to popular thinking about stainless steel. Stainless steel is very practical: inexpensive, quite strong, and easy to wash; although they are rare occasions when it leaves watermarks.
It is important to consider the size of the metal that you want to install.
If you are doing a lot of heavy work, then lower gauge steel might be better.
The stainless steel typically comes in between 15 to 24 gauge (the lower number, the thicker).
Note that the thicker the steel, the heavier it becomes and consequently, becomes more expensive.
If you want a sink that will last almost forever, then this is it.
Made with a porcelain enamel finish, this material is tough enough to prevent scratches and normal wear and tear as well as being immune to natural rusting.
This is definitely a strong and long-lasting material.
A couple of downsides are it can become quite expensive the thicker the material that you want.
And also, the thicker it becomes, the heavier it will be.
This means that you would need to support the sink basin with a heavy foundation to keep it from falling or collapsing because of the increased weight.
Not quite as strong as clay iron but it can hold its own when it comes to durability.
With composite sinks, there is usually either quartz or granite incorporated in.
The elements are crushed and mixed together to create a more consistent texture.
Composite sinks can withstand very hot temperatures and therefore are useful for multiple and quick-paced prepping, cooking, and washing.
If you lean more towards elegance and style, fireclay might be the one for you.
Although it can still handle regular kitchen chores exceptionally well, it has a tendency to chip or even make small cracks when too much pressure is applied; and you never when this can happen especially in a kitchen.
Just be warned.
If you thought this was a typo, then you can be forgiven.
You would never think of having any type of wood as a regular kitchen sink and you would be correct.
Side note, the bamboo is actually a kind of grass, not a tree. 
Bamboo has its own unique set of characteristics that can potentially be useful for it to be used as a kitchen sink.
It is definitely sturdy enough, almost impervious to scratches, and can hold an incredible amount of weight.
For practicality's sake, it would be better to have the bamboo sink outside the house for both decorative purposes, but one that can still be somewhat useful.
Configurations
As we all know, kitchen sinks don't all come in one design or configuration.
Here are the most common ones used today.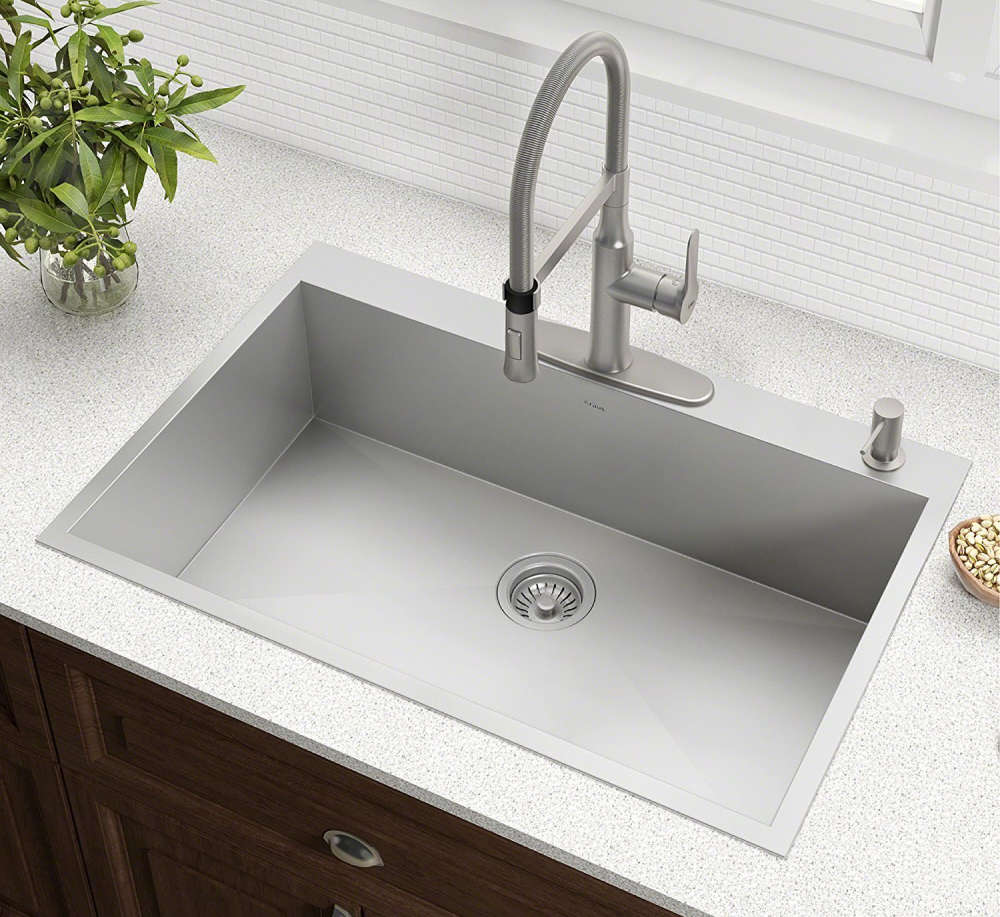 An all-in-one basin, this sink is designed to be multi-purpose as well as space-saving.
If you don't have a lot of people living at home and you don't expect many visitors, this might be the best option for you.
Unless you are doing a lot of cooking even for a small number of people, the single bowl sink is perfect for your needs.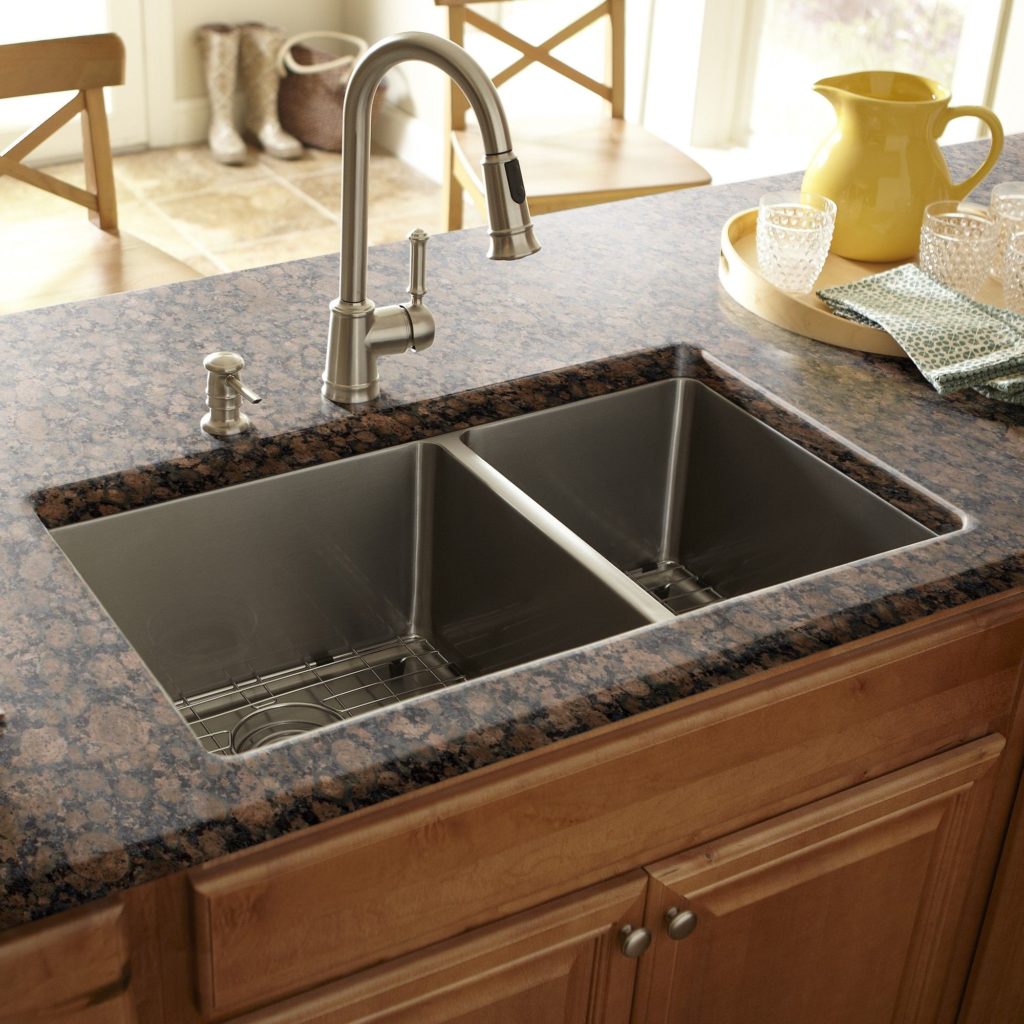 The double-bowl sink is the most common configuration in today's homes.
The two basins can either be exactly the same size or at least gives the impression that they are.
They have separate drains and this is very useful for both prepping foods and for washing a lot of dishes (wash in one basin, rinse in the other).
Very practical and serviceable.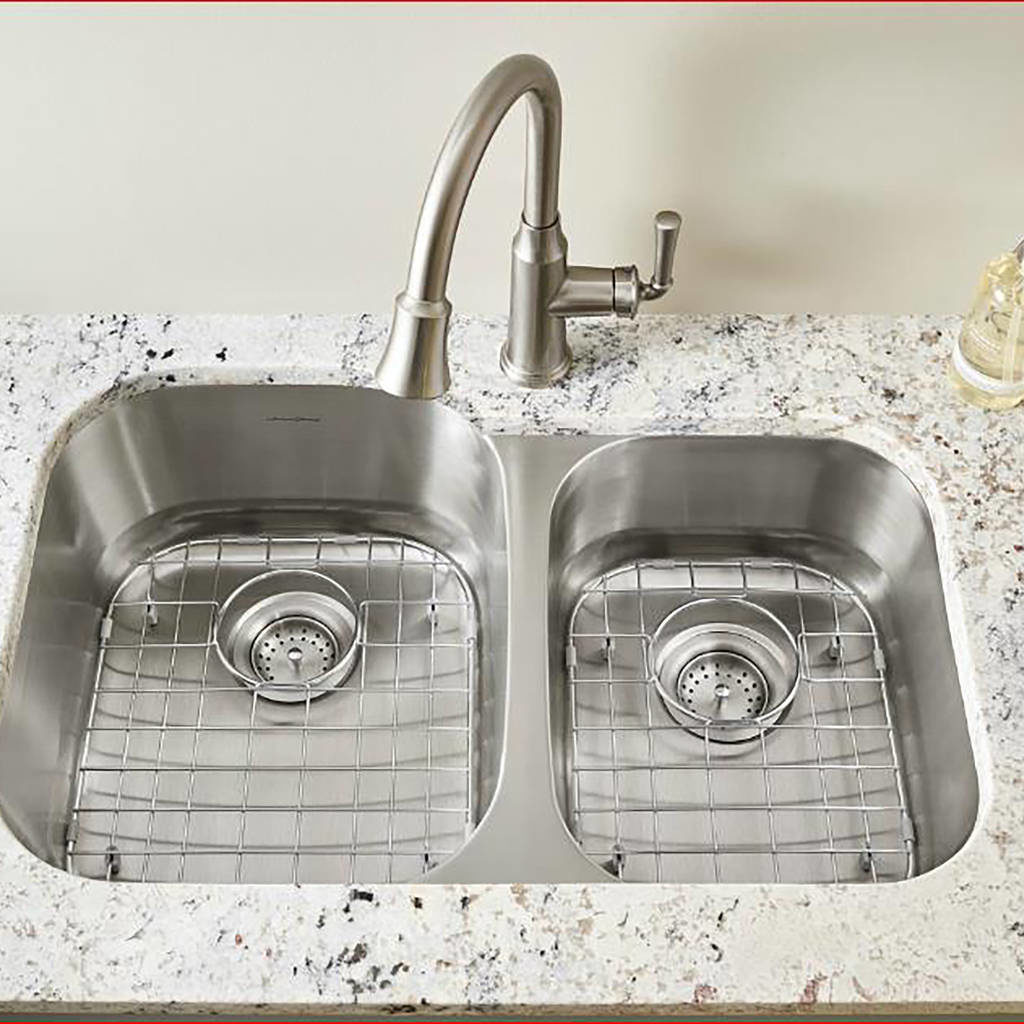 Similar to the double-bowl except that one of the basins is clearly differently sized.
One example of how this can be used is by preparing food in the smaller basin while washing dishes in the bigger one.
The smaller bowl can even be used for non-kitchen purposes such as rinsing brushes, washing smaller pets, and any other use you can think of.
Cost
The biggest factor is the material that you will be using for your kitchen sink. The harder the material, the heavier the sink, the more expensive the cost.
The basic stainless steel sink is between $200 to $500 depending on the configuration and type. If you prefer the cast iron, you'll need to be prepared to shell out between $800 to $1,000 for the more sturdy materials.
However, if you want to have the best of the best, then you need to acquire either the quartz or the granite sink. The cost of having style and stability will start at around $1,000 and even higher for custom-made designs and additional configuration changes.
Sink Size
The standard sizes for kitchen sinks are normally 30 to 35 inches long, 18 to 22 inches deep, and the basin is between 20 to 24 inches deep.
If you have a sink that has a size within the numbers mentioned above, then that should fit in almost all homes. Still, if you want something different and want a custom-made kitchen sink, it is totally up to you.
It's your kitchen.
Additional Unique Features
These features are not included in the basic setup but they can be very useful and practical; as well as decorative, for some of these.
Hose – this can vary in length depending on its main use. If your sink is next to a garden then this might be a possibility. Or even as simple as flexibility when washing kitchenware that might be hard to wash with the regular faucet. 
Hot Water – not very common but available for those that find the need to use this. You would need to connect to a separate water source that has hot water already stored in a small tank or some technology that heats up the water as it moves through the pipes.
Sink Cover – some are removable and some are more permanent but the purpose is the same: to prevent the bigger-sized solid waste from falling into the sink and possibly causing damage.
Trigger Button – if the bigger solid waste still falls through, then having a garbage disposal trigger button can come in handy. This can be installed somewhere close to the main faucet. However, this needs to be connected to a separate power supply.
FAQs (Frequently Asked Questions)
What are the standard kitchen sink sizes?
Note that sinks can come in different configurations (single-bowl, double-bowl, double-offset).
The measurement is based on the inside dimensions of the basin, not the outside.
Modern kitchen sinks are normally between 33 to 42 inches in height and about 26 inches in width.
What is the standard depth of kitchen sinks?
Standard kitchen sinks are 8 to 10 inches deep but can be even deeper depending on the owner.
If you are constantly preparing large food items or have a lot of oversized kitchenware, then it is better to go deeper just to be safe.
This might be present a challenge for those people who don't have a far reach.
A shallow sink is good for regular food prep and also much easier to reach but doesn't have the flexibility for a bigger workload. 
What materials are kitchen sinks made of?
Here are some of the most common kitchen sink materials.
Stainless steel – The most common material used in houses today mainly because it's cheaper and adequate durability.
Acrylic – Has gotten a lot of popularity lately due to its potential longevity and minimalist beauty. Basic elements include plastic, resin, and fiberglass; all cheap materials. Although very sturdy, still light and easy to handle, and stain-proof as well. Scratches can be removed simply by polishing. One disadvantage is that this material is not as heat-resistant as the others, but modern technology is starting to gain traction when it comes to this area.
Cast Iron – Porcelain-enameled, these are very tough and are almost 100% scratchproof. They come with a glossy finish so it receives points for elegance, as well. Some careful handling are needed and it requires a regular maintenance schedule due to the porcelain.
Copper – Rust-proof and even has some features which border on anti-microbial; this results in one of the more expensive materials for a kitchen sink.
Fireclay – Mainly made up of clay and other minerals that have been combined and heated to form a rust-resistant material.
Stones – They can either come in pure rock or mineral (granite, quartz, marble) or a composite of natural and synthetic. Getting them in pure element would be too expensive and impractical because the composites work just as well. These sinks can cost a fortune but their value is well-deserved: style and endurance.
What is the lifespan of a kitchen sink?
With regular kitchen use and no unnatural abuse, kitchen sinks can typically survive at least 15 years and can even reach up to 30 years.
However, if regular maintenance and repairs are done whenever they are needed, it wouldn't be a surprise for it to easily reach 50 years.
Do kitchen sinks need vents?
Absolutely.
Sink vents, like bathroom vents, are essential.
Without these vents, draining will be severely affected.
The worst part is that sewer gases might potentially enter your house; that's not something you want to happen.
Why does my kitchen sink smell really bad?
This is basically the owner's fault, plain and simple.
Pouring of cleaning materials into the drain to remove grease and other unwanted crap should be on a schedule; optimally, every 3 months.
The smell comes from the used oil as well as other waste that sticks to the drainage causing the awful smell.
Can you paint a kitchen sink?
Yes.
However, different types of sinks are painted in various ways.
For example, Ceramic and porcelain-enameled sinks can only be painted by a professional because they have special equipment that makes sure your sink doesn't crack. 
Epoxy paint, paint powder, and paint wax can be used to repaint sinks made of acrylic and stainless steel; although, they might not last very long, especially with stainless steel which has a very smooth surface.
Painting sinks can be done but you would need the right tools and experience.
Is it possible to refinish kitchen sinks?
When stains, scratches, small cracks, a bit of rust, or even just a few dings show up on your sink, call a professional before you do any DIY.
They will give you advice on what materials to use and maybe even recommend specific methods to refinish your kitchen sink.
Can I resurface a kitchen sink?
Advanced technology has made it quite easy to resurface kitchen sinks today.
Resurfacing a sink, or as some might call it- re-enameling, is much cheaper than totally replacing the whole sink.
Bear in mind that you need to have real-world experience before trying your luck with resurfacing.
Resurfacing can change the way your sink looks, simply by returning it to its original shine.
Can you re-glaze a kitchen sink?
Yes, sinks can be re-glazed.
As with all repairs and maintenance jobs, if you have the experience, then, by all means, go for it.
On the other hand, when you haven't fixed a kitchen sink before in your life, then it's probably a good idea to have a professional do it.
Are aluminum kitchen sinks available in the hardware?
Although not impossible to find, aluminum kitchen sinks are very rare.
There is no demand for them simply because the stainless steel kitchen sink has all the same characteristics and features but at a much cheaper cost.
Are kitchen sinks recyclable? If so, how?
Though it might sound weird giving your kitchen sink away, charity organizations can use them in multiple ways.
There are myriads of ways to recycle kitchen sinks.
Here is a link that might give you some ideas: https://www.houzz.com/magazine/how-to-recycle-or-reuse-your-kitchen-sink-stsetivw-vs~85299770
What kitchen sinks are popular?
The two most popular types of kitchen sinks are the stainless steel double-bowl sinks and the unique farmhouse sinks.
Stainless steel sinks have the flexibility to be able to handle even the hardest kitchen workloads.
The farmhouse sinks are popular with houses that put an emphasis on making the house rustic and homey, as much as possible.