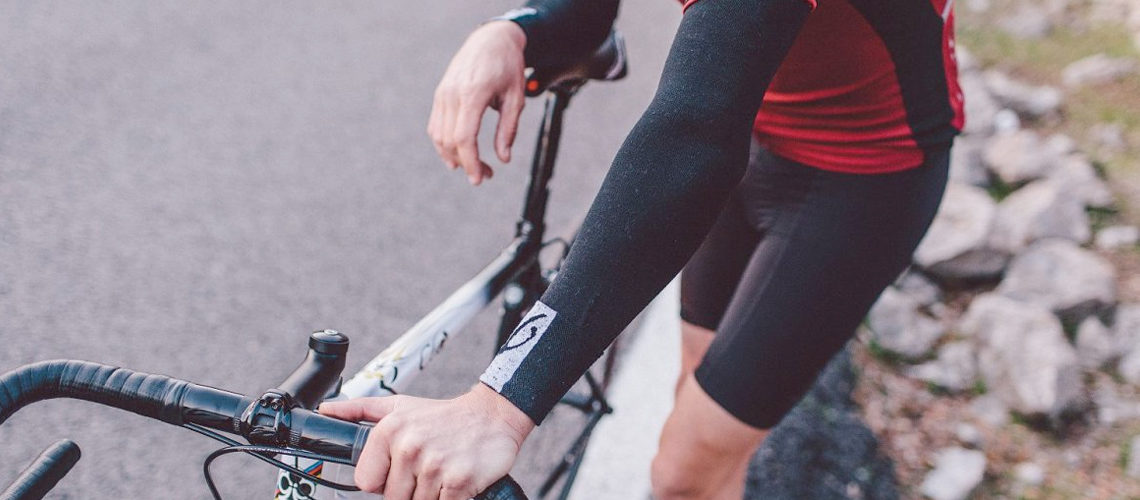 When you're cruising on your bicycle, it's easy to get lost in the moment, but nothing can take you out of it like the discomfort of the cold air slapping your arms.
With your arms extended on the handle bars, there's no body heat to protect them.
Even in decent weather, this can be a problem, so in the early spring or late autumn months, it's crucial to have cycling arm warmers as part of your kit. 
Whether you're wearing these warmers with short sleeves or long sleeves, a jacket or without, having the best cycling arm warmers doesn't just help with temperature, but they also offer compression.
Here are some of the best arm warmers for cyclists who want extra control regulating their temperature, so they can bike more comfortably, for longer. 
Here's the Best Cycling Arm Warmers of 2023 for Protection from the Elements:
1. Castelli Nanoflex+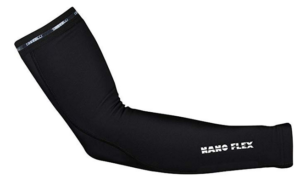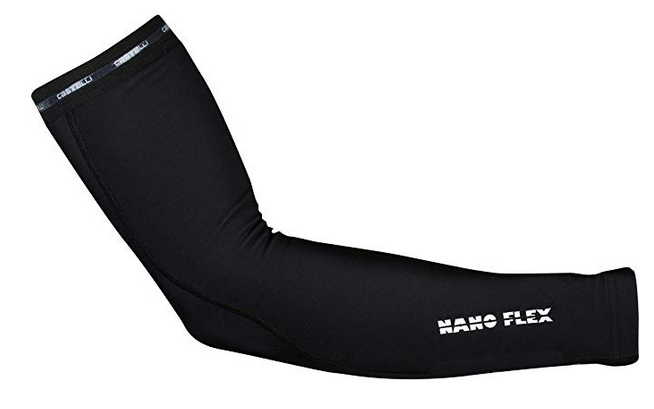 Castelli has hit it out of the park with their special Nanoflex fabric technology.
These form-fitting arm warmers weight a combined 69 grams.
Castelli offers a one year manufacturer's warranty on these warmers, so you can use them a ton and not have to worry about wearing them out or running into any issues, at least for the first year.
If they make it past the first year, it's safe to assume they're free from any defects, and should last you a long time forward. 
Nanoflex is designed to be very warm and comfortable, while also helping prevent rain from soaking up and bothering you.
Thermoflex fabric is usually found in winterwear made by this brand, but it's also present in these arm warmers. 
In the elbow area, they used a slightly lighter fabric to give you better movement by allowing for more stretch in that particular area.
You won't feel restricted when wearing these, you don't have to sacrifice movement or agility at all, in fact you'll feel empowered to take on whatever the trip can throw at you.
Key Features
Special high-tech fabrics for comfort, warmth

Specially designed in the elbow area for improved mobility

One year warranty protects your investment

Stretchy, flexible, warm, water resistant, and perfect for every serious cyclist
Buy Here
2. Pearl iZUMi Elite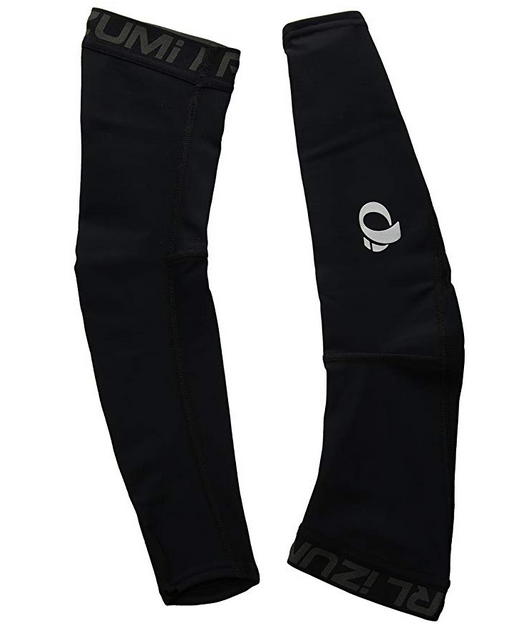 Pearl Izumi makes a number of great products for athletes, and these thermal arm warmers continue the tradition.
They're made with a thermal fleece fabric that acts to shed water upon contact, so these are great in any weather that you can handle.
Unlike some options, these aren't just "tubes", the left and right arm are specified to ensure you're wearing the correct glove on each side, both warmers aren't identical in that sense.
Then is because they've been shaped and crafted for comfort and fit. 
They have BioViz technology to help in situations where visibility is lacking, which quite frankly can end up saving your life someday.
This shouldn't be the only form of visibility that you rely on, but you can never have too much, either. 
If you enjoy riding your bike in cooler weather, there's no two ways about it, you need a pair of arm warmers, and these ones are hard to beat.
Key Features
Thermal fleece keeps your warm on chillier rides

Water is repelled to help keep you dry

Reflective areas for safety using BioViz

Left and right arms have unique fits to better contour your elbows 
Buy Here
3. Giordana Sport Super Roubaix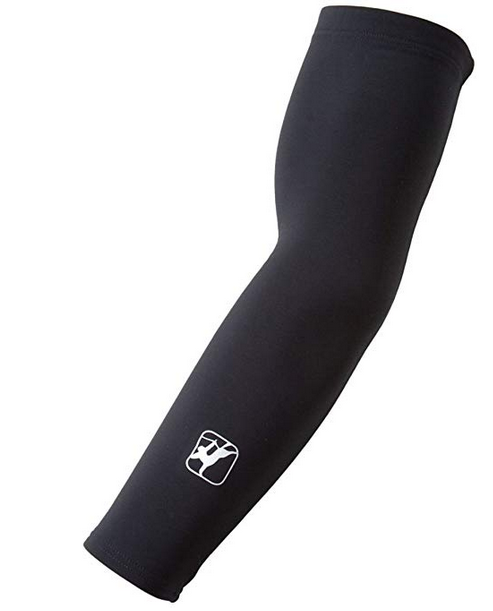 Giordana's foray into arm warmers for cyclists is a strong offering.
These gloves are available in black, or in white. Black won't show dirt or sweat as easily, if you're trying to decide between the two colors. 
These are recommended to keep you warm in temperatures ranging from the mid 40's to around 60 degrees.
They recommend this as part of a kit consisting of a vest, a base layer, and a short sleeve jersey.
Of course, you can wear it however you'd like, and even under a jacket in colder weather, it just comes down to what types of conditions you're faced it. 
Giordana is known for giving their customers that professional look and feel, without having to dish out the type of cash you usually need to spend for professional-tier equipment.
These warmers are made from a very comfortable roubaix fabric, and have a one year warranty. 
Key Features
Two color options

Great for cool to somewhat cold weather, but not freezing

Made from a stretchy microfiber so they're light

The cuff closure helps grip to keep these in place no matter how hard you're peddling
Buy Here
4. Aegend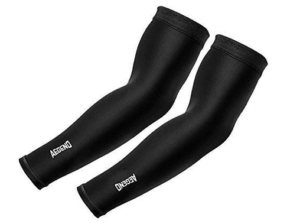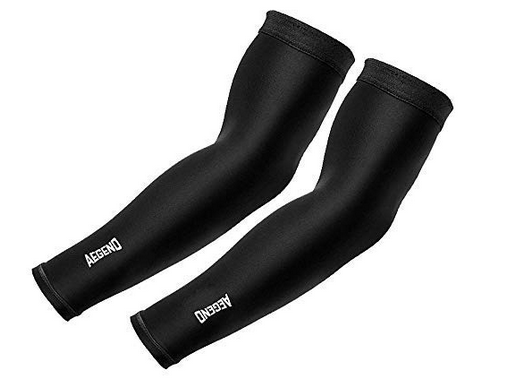 Here's a very simple, straightforward set of arm warmers.
They're used by everyone from runners, to cyclists, to football players, golfers, and for a number of other outdoor sports and activities. 
At this price point, these obviously aren't going to be the best pair in the world, they're not going to have all of the latest microfibers and technologies, but they do have some nice features that you wouldn't expect at this price, and they're pretty decent overall for anyone who is budget-conscious and looking for something cheap.
There's not a lot more to say about these, if you're looking for an affordable option that does the job, here you go!
It's not a bad idea to grab these, even if you've got your eye on another pair, just to have a backup set and to compare them 1:1 for yourself.
Key Features
Amazing value

UV 50 protection from the sun

Low profile design fits great under your jacket or even a long-sleeve shirt

Made from polyamide and spandex
Buy Here
5. Columbia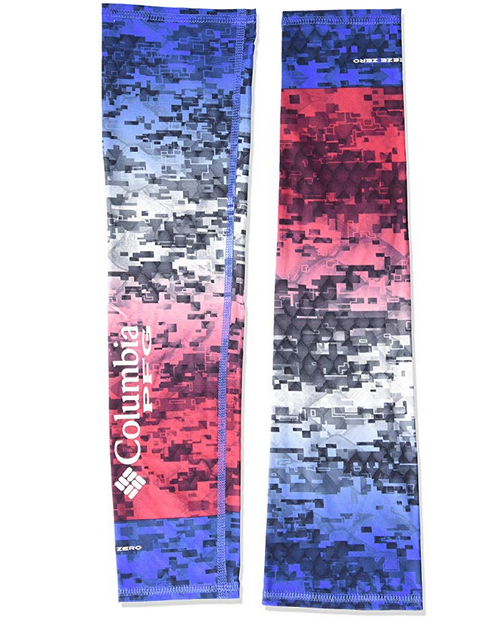 Here's a brand that everyone can recognize, so if that gives you peace of mind over going with one that you haven't seen or heard of before, this option is for you.
Does being the most recognizable brand make these the best arm warmers?
No, otherwise they'd be higher up on the list, but this is still a competitive offering from Columbia nonetheless.
These sleeves aren't just for cold weather, in fact they have special UV protection to shield your arms from the sun's harmful rays.
It doesn't have to be sunny out for you to suffer damage from UV, however, so these are wise to wear in any conditions.
On warmer days, these actually help to cool you down with special blue ring technology that works with your sweat. It's pretty high tech!
These aren't specifically designed for cyclists, they're for anyone doing any type of activity that needs a little extra arm protection and moisture wicking, cycling just so happens to fit the bill. 
Key Features
UV protection built into each sleeve

Warms you in colder weather, and helps cool you when it's hotter out

Moisture wicking material
Buy Here
Cycling Arm Warmers Buying Guide
Some arm warmers will help by blocking UV rays, others are meant for colder months and don't make sun protection as much of a priority.
Like with any purchase, think about when and how you're going to be using these, and let that help dictate your budget.
Do you ride once in a blue moon? If so, maybe stick with a cheaper option that you'll find lower down on our list.
If you're out there on the bike as often as possible, and looking to extend your cycling window (By starting earlier in the morning when it's chillier out, or extending later into the evening, or even by cycling a month or two earlier/later in the season…) then you're the type of person who will benefit from a higher-end option.