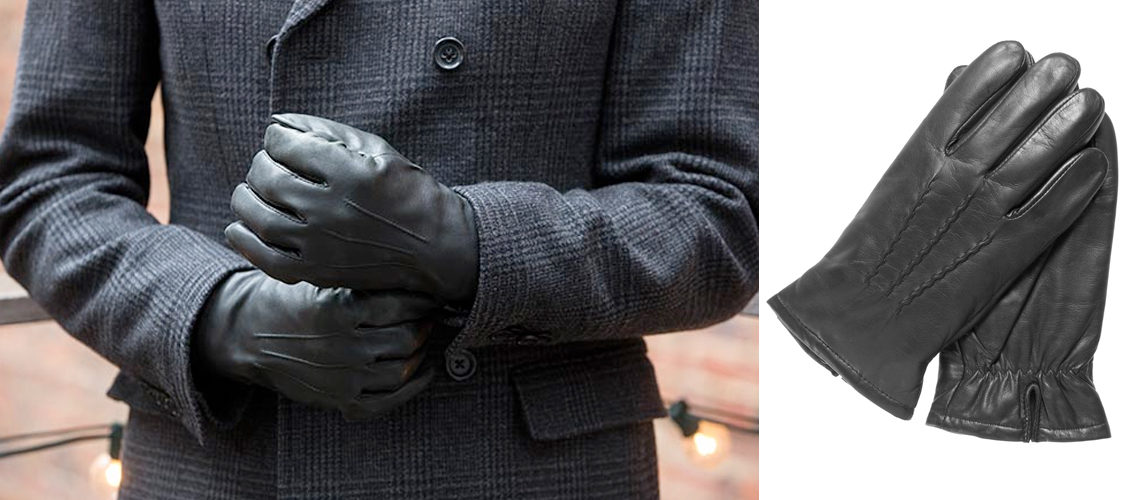 Men and women alike can't resist the allure of a gorgeous pair of leather gloves.
If you've tried on a lot of different pairs, you know there's a huge difference between a cheapo pair, and the best leather gloves – and today we're focusing on QUALITY.
Of course, with that focus on quality also comes an emphasis on keeping great style within reach.
This list of gloves is people who want an exceptional pair of leather gloves when it comes to quality, style, but also value.
There's no over-inflated prices here, there's no spending 10x more than you have to spend just to get a certain brand name.
Having said that, we are featuring some very respectable brands who have proven themselves to be among the world's elite glove makers.
We're also going to look at a cheaper option or two, where you'll get amazing quality at a much more modest price.
As usual, we've got something for everyone…
Here's 2023's Best Leather Gloves for Style and Warmth:
1. Downholm Cashmere Lined Leather Gloves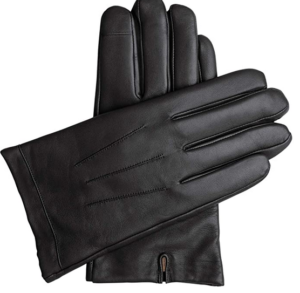 These are the best leather gloves that you can grab off the shelf, it's hard to imagine a better pair.
You could get something custom-made for much more expensive, but these are so close to perfect that it's hard to imagine why you would even want to. There's a lot of reasons to love these, so let's get right into it.
These gloves come in a brown color, and a cork color, basically two different depths of brown, depending on whether you want something that looks more on the brighter side, or the darker side.
Whatever you're going for, you're going to get a pair of leather gloves that looks absolutely stunning. It's hard to photograph something like this in a way that does it justice, so you'll just have to take our word for it until your pair arrives. 
Make sure you pay a visit to Amazon to check out the size-chart (it's listed among the product images) before placing your order, because you need to take the time to measure your hand in order to choose the pair that's going to fit you perfectly.
Fit is a really big part of determining how much you're going to love your gloves, so with an investment piece like this, it's worth getting it right. 
They cost more than most gloves do, but the value is still there, believe it or not.
There's a cost associated with high-quality Italian craftsmanship like this, and you really just have to put them on to understand it.
You can do a side-by-side with these versus any gloves that cost $25, $50, $100 or even $150 and 9 out of 10 people will probably be able to identify which ones are more expensive.
You can just feel it, it's hard to explain.
Talk about saving the best for last: These gloves are lined with Cashmere for added warmth, and an incredibly soft feel.
There's not ideal for super hot summer days, but they really shine in the colder months of the year.
PROS
AMAZING quality, perfect feel, perfectly made – this all puts them at the top of our list

From a remarkable Italian brand

The cashmere liner inside of these leather gloves feels absolutely incredible when you first get them, and for many years to come
CONS
The cashmere lining can get a little hot if you're wearing these on a warm summer day
Buy Here
2. Dents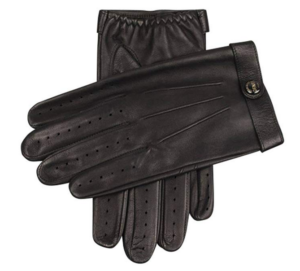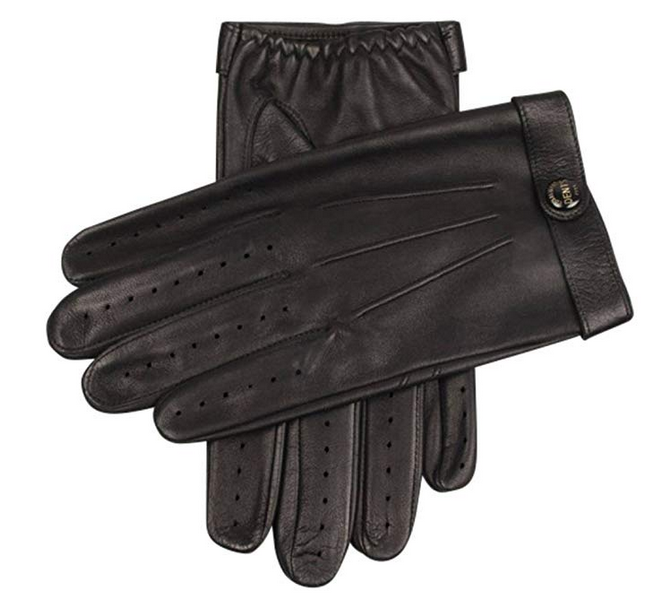 There's just a hint of novelty here, knowing these are the same gloves worn by Daniel Craig in the James Bond movie Spectre. Obviously, that alone isn't a very good reason to spend this much on a pair of gloves, but that's not the only reason to buy them, thankfully.
Dents is a legendary British brand of leather goods including gloves, purses, handbags, and more.
They are well-respected for their hand-sewing and cutting techniques, and often maintaining price points that make their products accessible to people who may not be able to afford some of the others on this list.
Having said that, they're far from being cheap, and that becomes wildly apparent the moment you first hold them, let alone when you're wearing them…
In other words, the quality is obvious. The comfort is remarkable.
These are essentially a perfect pair of leather gloves, if you like the look of them, at least.
You don't have to be a secret agent who needs to avoid leaving fingerprints to justify wearing these gloves, they look sophisticated and classy without being over the top or standing out too much. They just look like they belong, you know? 
There's really not a lot more that you could hope for from a pair of leather gloves, and these are some of the best we've ever seen, especially when you take a look at the price tag and compare them to others that cost 2x or 3x as much. You'd never be able to tell that these were less.
These were also featured on our list of the best driving gloves, there's perennially some of the best gloves available no matter which category you slide them into.
They're not just for driving, to say the least.
PROS
Incredibly well-made by the hands of skilled and experienced artisan craftsmen and women

A British brand with a long history of making fantastic leather goods

It's kind of fun to know you wear the same gloves that James Bond would

This offering is filled to the brim with value, even though they're kind of expensive in the eyes of people who have never owned high-quality leather gloves before, they're worth every penny
CONS
These only come in black, there isn't a single other color option available

They don't have any lining in them, which makes them lighter and less bulky, but some people prefer a soft lining (for comfort, or for warmth) 
Buy Here
3. Hickey Freeman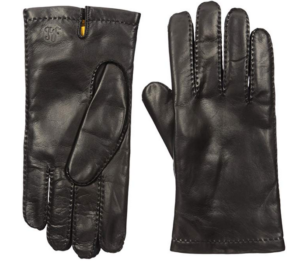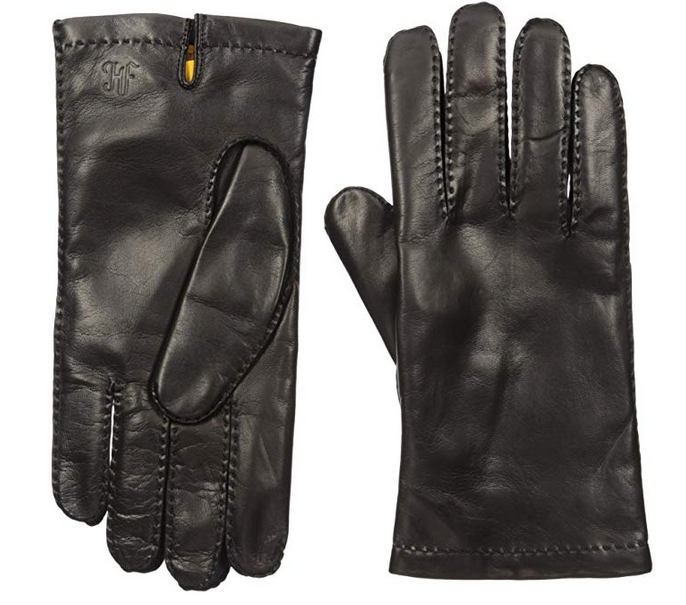 These gloves were very close to occupying the top spot in our list, and the argument could definitely be made that they belong higher up.
You can be the judge of that. The outside is made with quality 100% real leather, as you would expect.
The inner lining is made from cashmere, which is always a nice touch, literally and figuratively bringing luxury to your fingertips.
These gloves are hand-sewn, and are probably most comparable to the Dents that ranked in our number two spot.
Unlike the Dents gloves, these have a fantastic lining in them. How can you choose between both pairs, assuming you like the style of both about equally?
If you want warmer gloves with a soft lining, go with these.
If you want lighter, cooler gloves without a lining other than the inside of the soft leather, go with the Dents. Easy enough! 
PROS
These have that classic leather glove look that's so timeless and never goes out of style

Incredible value when you factor in the hand-made quality, durability, and elegance of these gloves

The little HF logo isn't overbearing, and adds a bit of flare to design that many gloves lack

The small slit near the wrist opening makes these easier to take on and off, but offers a more subtle look than if they had a shiny buckle or clasp like we've seen in other gloves

The cashmere lining ensures that they'll keep you warm, but they're also surprisingly breathable
CONS
You need to take very special care of them, if they get dirty it's dry clean only

You don't have a lot of choices of colors with these, so it's kind of a "take it or leave", but with that being said if you even remotely like the look of them, grab them, because everyone else will love the way they look and you'll grow to love them, too
Buy Here
4. Solo Classe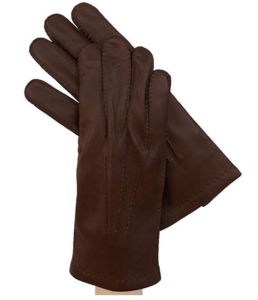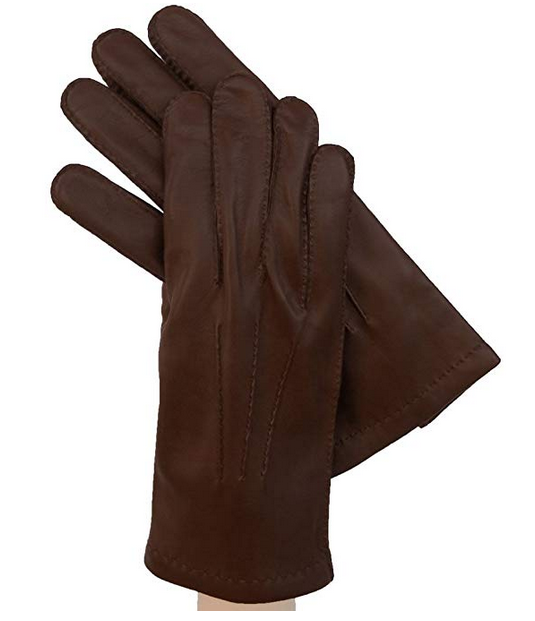 Here's a fantastic pair of gloves from Solo Classe, that give you some of the things you'd find in much more expensive gloves, at a more reasonable price.
If you want a similar look for less money, however, check out the final pair on this list, they look almost identical style-wise to these.
But there's more to choosing a pair of gloves than just how they look.
If looks were the only thing that mattered, nobody would spend the money on quality, but quality is one of the most important traits when choosing gloves, and Solo Classe brings a lot of quality to the table.
It is with classic Italian craftsmanship and design that these gloves have earned a spot on our covered list of the best leather gloves in the world.
We take a lot of factors into account, and these gloves check off all the most important boxes. They just feel great to wear, they feel very well-made, and they give you that extra feeling of confidence that comes from knowing you're well put-together. 
PROS
Excellent value

Great quality

Comfortable

Beautifully made in Italy
CONS
They only come in brown

They are lined but the line is very thin, so if you're expecting a thicker liner – you've been warned
Buy Here
5. Harssidanzar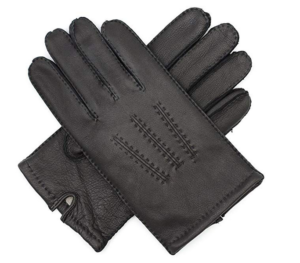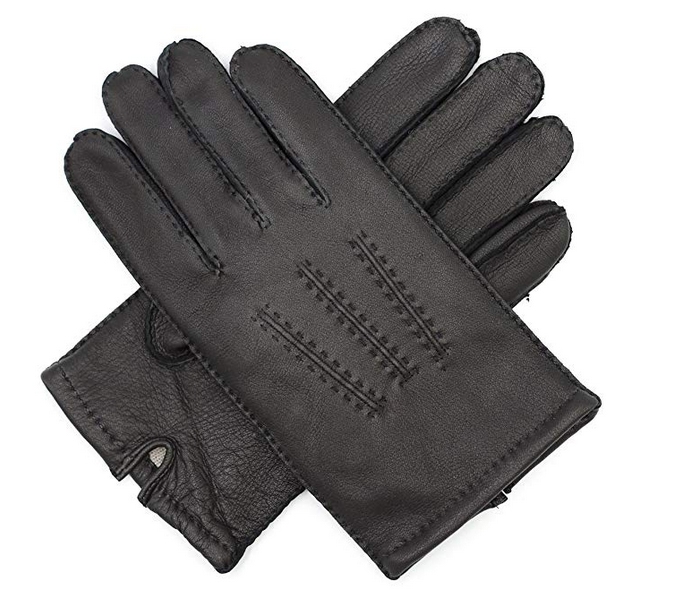 If there's ever been a time to say "last but not least", it's right now, in reference to these leather gloves by Harssidanzar.
They may be in the number 5 spot, but when it comes to what you get for what you're paying, they're the very best ones on this entire list.
They're not the absolute best overall, you'll have to look in the first few spots for that, but for less than half the price of most of the other gloves we're featuring on this page, this is a hard deal to pass up. It's almost worth getting these as well even if you have your eyes on another pair, just to have as a backup.
These are, once again, some of the best leather gloves for all-around, day-to-day wearing.
They're made from sheep leather, have a very soft lining on the inside, and are available in a number of different sizes.
These gloves are on the warmer side, so if you live in a warmer climate, you'll want to find some unlined leather gloves instead.
So, you're probably wondering, what's the difference between these gloves are the ones that cost more, if these ones are so good?
Well, it's all relative. The leather isn't quite up to par with the best gloves, the stitching isn't always as tight and flawless, it may also be done by machine on cheaper gloves, and overall the quality is just a step down.
They're still great quality, but not the same as the very best gloves on this list.
PROS
Very affordable
Still way above average compared to typical gloves
Classic styling
CONS
The stitching and overall quality leaves a bit to be desired compared to more expensive pairs, but these are still great
Buy Here
Here's Our Leather Glove Buyer's Guide
If you're still on the fence about choosing the best leather gloves, here are some things to keep in mind, what to look for, and what to look out for.
Leather gloves are great for cold weather, especially when you're a professional and don't really want to be wearing ski gloves or mittens into work. There are also driving gloves made from leather, which are typically not as warm, and may be lined with silk or nothing instead of warm cashmere.
At the end of the day, it's all about matching up the right pair of gloves to what you're going to be using them for.
Here are some traits to keep in mind when glove shopping:
Sizing/fit: With great gloves, the sizing and fit is consistent. With cheaper ones, there's a little more wiggle room. In either case, it's absolutely crucial to properly measure your hands, and look at the sizing chart before you buy a pair. When you buy quality gloves, and you've measured your hand correctly, you can rest assured they'll fit like… well, like a glove. That expression exists for a reason. Fit and sizing is so, so, so important to having a great glove experience. 
Material: From the finest leathers, to "genuine leather", cows, sheep, and other animals… the material will vary a lot from glove to glove. Sometimes, it makes a difference, like having a warm cashmere lining, other times it's more just about saying "Yeah, my gloves are made with a super-rare luxury leather.) Quality material will hold its shape better, feel better on your skin, last longer, and look better.
Quality: The factors that influence quality are indeed the material, the sizing and fit, but also the manufacturing process. Some gloves are made crudely by machines that churn them out at lightning speed using run-of-the-mill materials, meaning these gloves can be sold very inexpensively. Other gloves are hand-stitched and built to last using only the finest grades of leather, with perfect accuracy in the sizing and measurements, and they'll naturally carry a higher price tag. 
Value: Quality represents how good the gloves are overall, and value represents how much you're paying for that quality. The single highest quality pair of gloves in the world are going to carry a hefty premium, whereas a more entry level pair may not have the same quality, but factoring in price, they could be a much better value.
Final Thoughts and Considerations
Whether you need something warm and lined for winter, or something stylish and thin for driving around or just your day to day life, leather gloves look great, they're among the more durable types of gloves, and they can offer you protection from the elements. 
This is an area where we recommend avoiding the very cheapest of the cheap (They are some leather gloves out there for $10-$15, believe it or not) because they're essentially junk.
When you get into the $40-$80 range, you start to find some pretty serviceable gloves, but if you want something that's truly special, you're looking at spending closer to $100 or more.
It's an investment, for sure, but if you can't afford the top tier, don't worry about it – there are definitely some good enough options in the lower ranges, they look very similar, it's just that the material might not be on the same level, they may not be hand-stitched by artists in Italy, but that's okay.