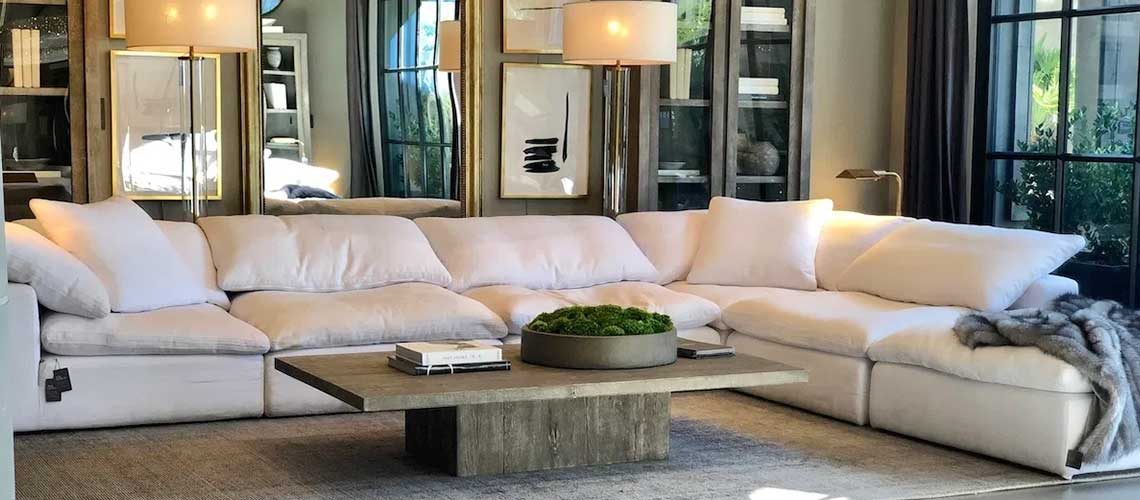 Types of Sofas & Couches – We Breakdown Every Style of Sofa
It is fascinating to know that sofas and couches are made for different purposes and functions.
The overall function can be argued as similar but the differences are myriads.
Not only are they different in material, style, and look, but there are also distinguishing features for each sofa type. 
If you have already been searching for a new sofa, you have most likely noticed the overwhelming amount of styles to choose from.
Depending on your taste, sofas and couches vary from their exterior look.
In this article we are going to define the different types of sofas and couches as well as their uses.
There are more than what we will share in today's post but we will stick to the most popular styles.  
This quick, easy guide will teach you how to distinguish the various types of sofas and couches you'll find so that you can pick the best one for your space and your needs.

At the very end of the guide, we will go over some frequently asked questions as well.
Let's get started!
25 TYPES OF SOFAS AND COUCHES
Sectional Sofa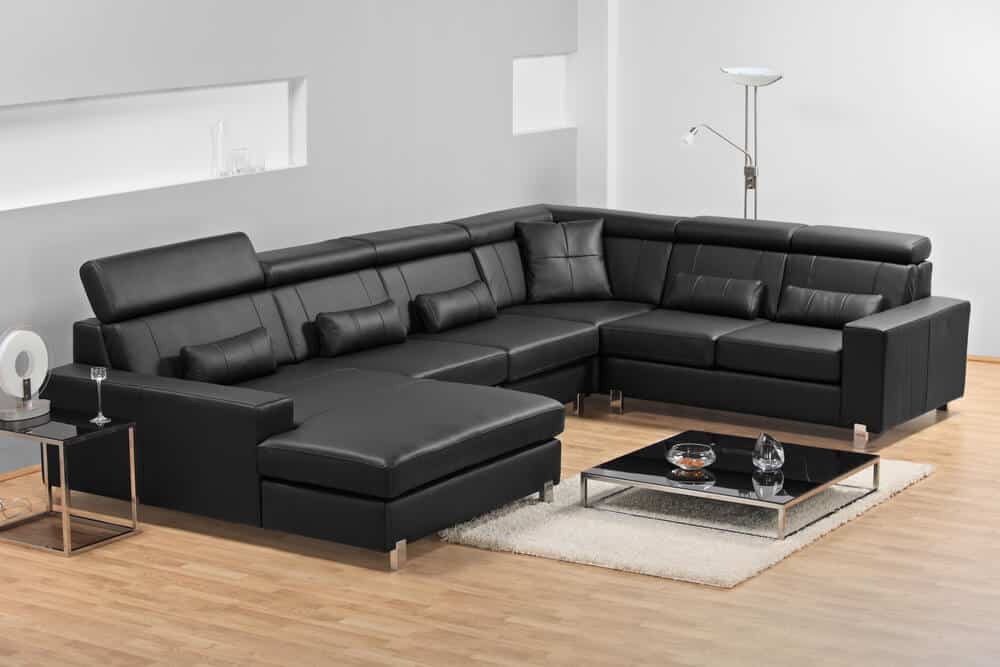 The unique feature of this sofa is how multi-faceted and multi-piece it is.
In just one sofa, it can number about 3-5 pieces and can be arranged in different ways (depending on how you want it to look).
And if the kid inside you wants to play around more with the configurations, you can have more pieces attached to it. 
Historical Background of the Sectional
The original Sectional started out in the Victorian era but it was a very rough assembly comprised only of two small sofas pushed together to become one bigger piece.
The modern look of the Sectional only started becoming popular in the 1950s due to the rise of popularity of classical furniture designs.
Because of its growing popularity among customers, there are more styles and designs that you can choose from.

The size of the sofa can fit as big as a large room or it can also come in smaller sizes for smaller spaces.

Normally, once you purchase more sides, it comes along with fixtures to prevent the additional side from detaching.
The most common shapes of a sectional safe are the L-shape or the U-shape.
The best thing about Sectionals is that they're quite easy to move around despite their size. 
Chesterfield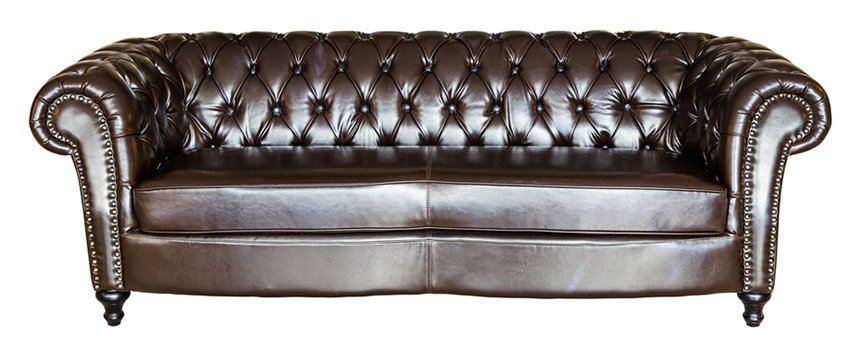 The chesterfield sofa is a classic and iconic piece seen throughout popular culture.

It's called the chesterfield sofa for a reason and that is because of its "quilted" or "tufted" style.
While it looks old and a blast from the past kind of sofa, the chesterfield sofa continues to remain a popular trend for sofas. 
Historical Background of the Chesterfield
The origin of the Chesterfield is widely credited to Lord Philip Stanhope, the 4th Earl of Chesterfield and this was around the 18th century.
The original quote from Lord Philip is that he was looking for a sofa which "gentleman to sit upright in the utmost of comfort allowing sitting without wrinkling the garment". 
Lawson-Style Sofa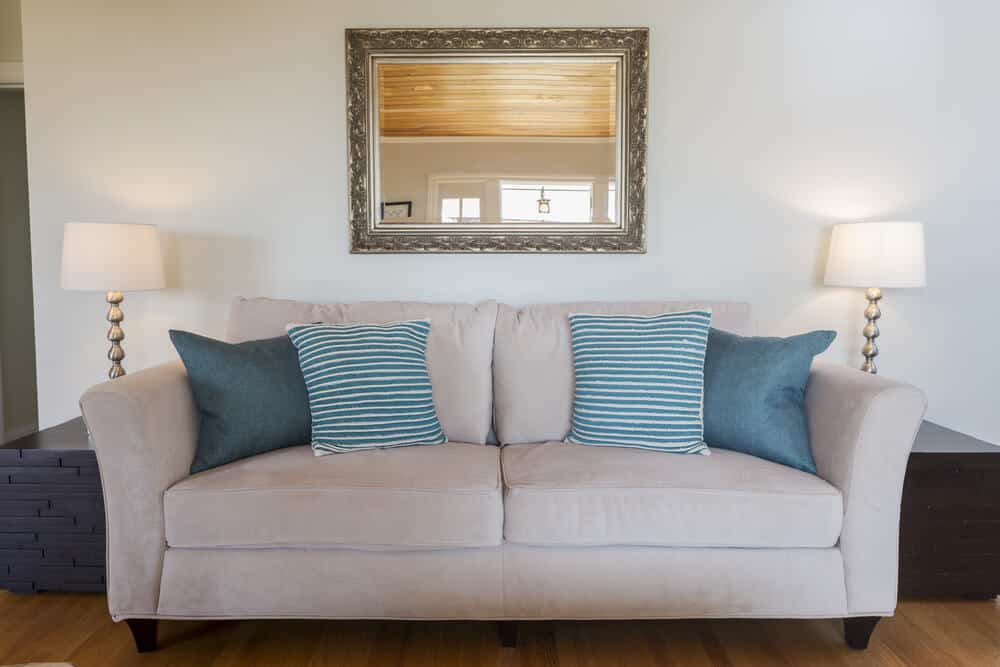 If comfort is what you're looking for in a sofa, then don't look too far because the Lawson-style sofa is made to give just that.
This is what you most commonly find in homes where the pillows at the back of the sofa are separated from it.
The reason for this is to create that more comfortable experience with a softer, gentler, cushioned sofa without necessarily fitting in the frame of it. 
There's no question why there's a solid fan base for this kind of sofa and couch.
The Lawson styles come in different sizes, colors, and materials.
To top it all, the pillows of the couch can be moved to give that extra comfort for you.
Historical Background of the Lawson Sofa
This is one of the more modern sofas found on this list.
It was produced in the early 20th Century by famous financier Thomas Lawson.
He wanted a sofa that was not only comfortable but also modern looking.
The Lawson has a few similarities with the Tuxedo Sofa (another sofa we review below).
Mid-Century Modern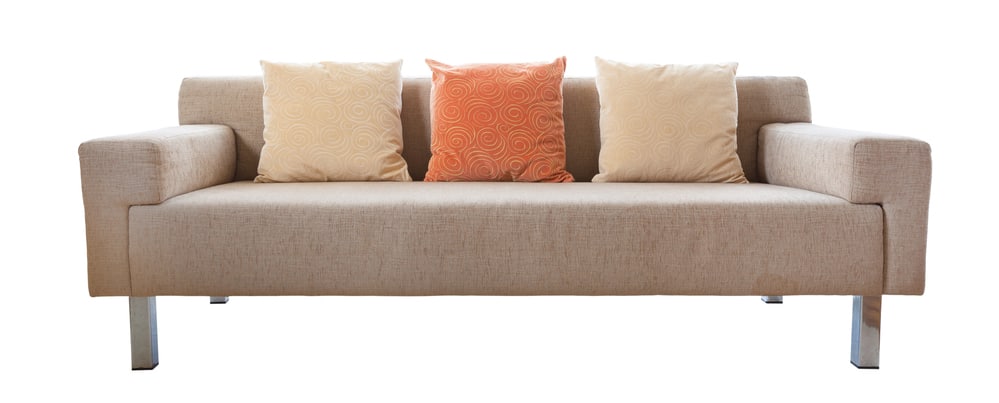 Let's go back to year 1930s and 1970s where the mid-century modern sofa remained the king of sofas and couches.
However, don't sleep on them as they're making a roaring comeback where it seems that its longevity in the industry has solidified its position to be one of the best sofas and couches there is.
They say that minimalist is a new trend, but the mid-century modern sofas were the first to ever implement a minimalist and clean design on a sofa.
There are varieties in this style wherein sometimes it's confused not to be a piece of comfortable furniture as far as aesthetic is concerned.
But if you're an expert, you might just magically pair this with the right home design and you might just get the perfect result out of it.
Historical Background of the Mid-Century Modern
The origin of the American Mid-century modern sofa can be traced back to the more popular European sofa styles, most notably, Bauhaus from Germany.
As more and more German designers moved to the United States during the World War II era, they influenced modern designs and were very instrumental in the American International Style.
This began the birth of contemporary homes with coordinated furniture.
Modern tech, such as Lucite, Plexiglass, and even common plastics, have assisted in creating new materials that fit well with the modern home.
This type of sofa became very popular from the mid-1930s to the mid-1970s.
It evoked style, simplicity, and practicality.
The official name comes from Cara Greenberg and was taken from her 1984 book, "Mid-century Modern: Furniture of the 1950s." 
The Mid-century Modern was breaking the mold of traditional furniture in that these were slim designs, very modern looking, and sometimes even used multiples types of materials in the same piece of furniture (fabric, wool, or vinyl).
This was previously unheard of.
The Mid-century modern's designs revolved around basic geometric shapes.
They could combine a variety of colors and it would still work perfectly – blacks and whites, plain to bold colors.
Contemporary Mid-Century Modern Sofa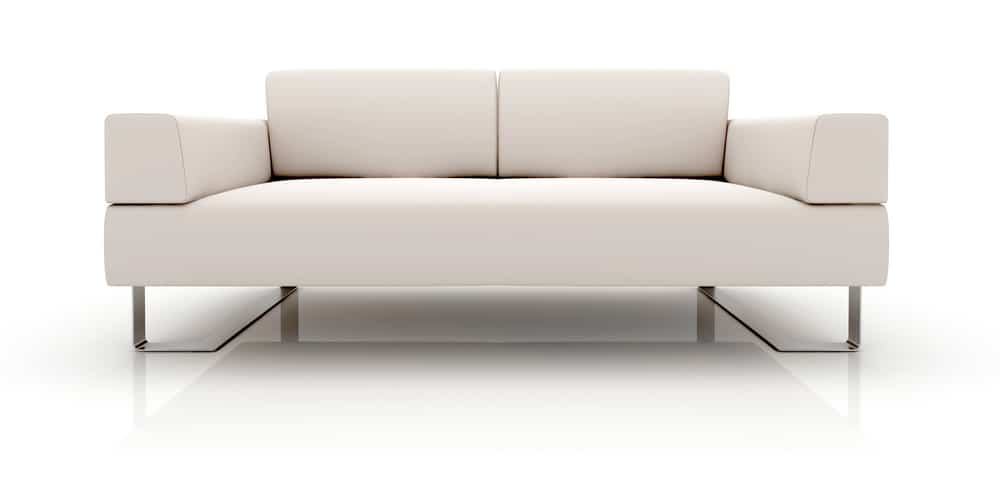 This didn't necessarily have to be in the list but we're including this one as we're commonly using modern sofas as contemporary mid-century modern furniture in most modern houses.
While contemporary mid-century sounds new, it's very much different from contemporary furniture.
Contemporary is referred to as a piece of current furniture, but it was always referred to a specific design such as contemporary camelback or contemporary chesterfield.
English Rolled Arm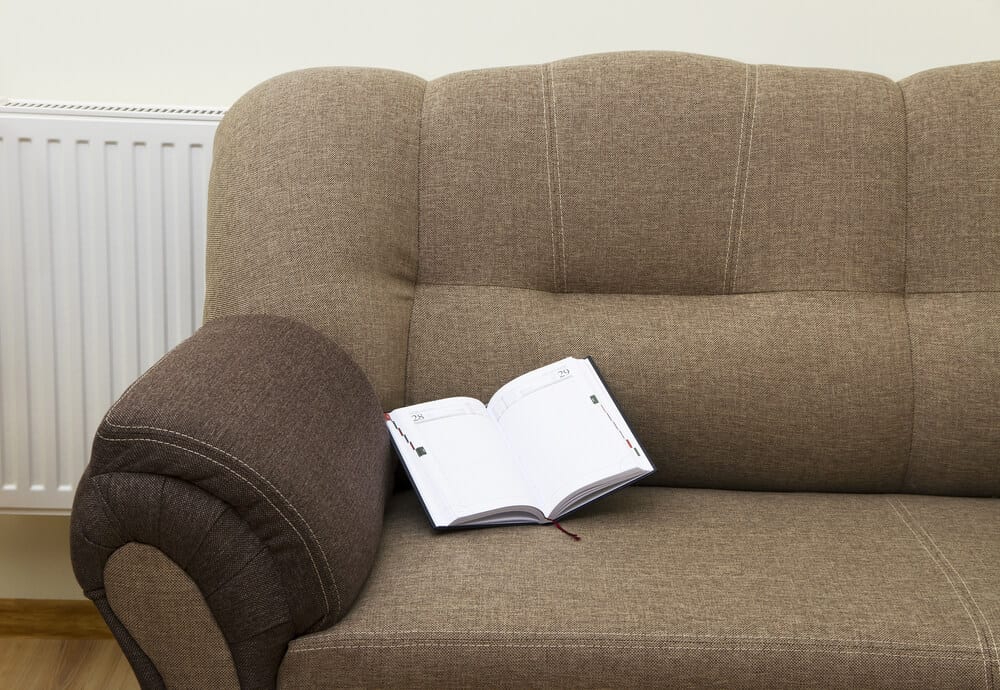 The English Rolled Arm, or more commonly referred to as the English sofa, is different in its design as it has low arms and a high back.
What's beautiful about the English Rolled arm is its upholstery is tight all through including the arms. 
There are some cases of the English rolled arm sofa where its arms appear to be so low that it looks armless.
But that's what separates this from other types of sofas and couches.
Its traits include big cushion seats, which are both plush and relaxed, and the distinctive firm, curved rolled arms which are perfect for any relaxation purposes.
One way to make the English sofa look more modern, if that is your preference, is to customize the sofa legs with ones that can accent or complement the other pieces of furniture around it.
For instance, straight legs will blend better with modern furniture and curved legs for the more traditional ones.
Historical Background of the English Rolled Arm
The English sofa first made its appearance in British country manors in the early 20th century.
This is one of the most comfortable sofas on this list.
And who doesn't want comfortable?
It has even been called the "meatloaf" of modern sofas.
If you are the type of person who uses slipcovers to protect the wear and tear of your sofa, the English sofa is perfect for you.
You can easily change a dirty or worn cover to preserve the sofa's classic beauty.
The English sofa is a classic, timeless piece of furniture that can blend well with any living room, whether it's a formal or parlor-like feel.
It can even fit with modern furniture which other sofas would feel out of place.
Bridgewater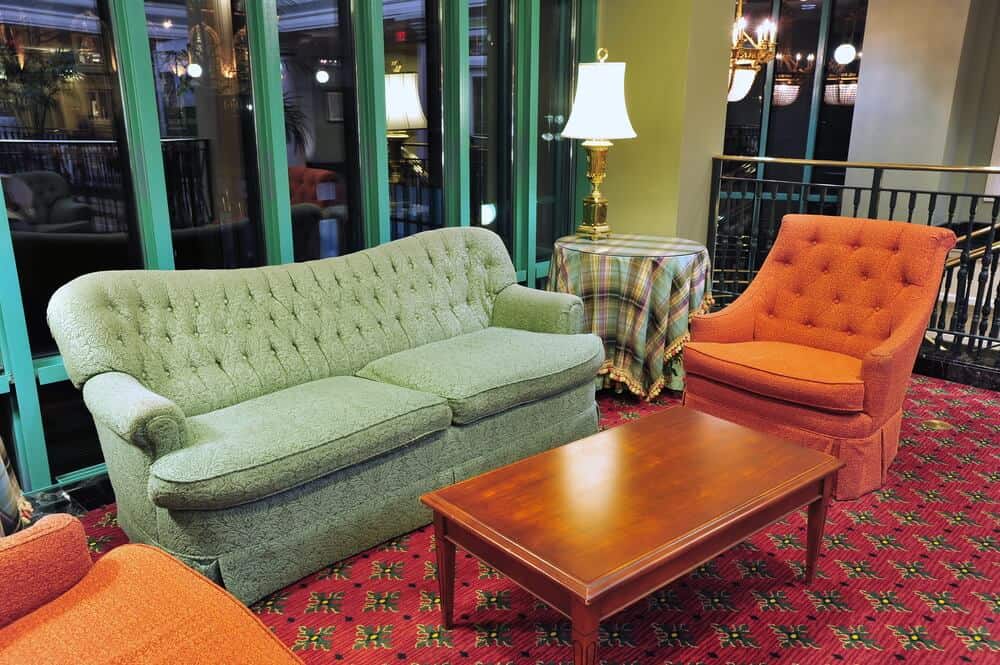 Two words that best describe the Bridgewater sofa – casual and comfortable.
Its unique design is seen in how the arms are slightly rolled to each side but are lower than the sofa.
While the Bridgewater sofa is common and easy to fit in all kinds of designs of a room, but that's exactly its downside as well.
It seldom stands out in the room as well.
Its characteristics include a back rolled softly, arms that are low and slightly curved as well, seats that are loosely padded, and a tailored skirt that perfectly hides the legs.
Modern Bridgewater models break traditional, however, by showing the legs and not hiding them. 
Historical Background of the Bridgewater
Traditionally also called an English three-seater or a birch-arm, this sofa originated from Great Britain.
It is an informal and yet subtle piece of furniture that doesn't overpower the other pieces around it. 
The Bridgewater, similar to the English Rolled Arm, can endure for a long time because it can quickly be protected by slipcovers.
And the name itself is proof that this sofa can easily fit three people.
So if you're looking at a sofa that extraordinary and above the others, then maybe the Bridgewater sofa shouldn't be part of your list at all.
But if you're fine with settling for a traditional sofa that gives enough comfort, then consider this type of sofa. Still considered a good sofa but not as popular as it used to be.
Camelback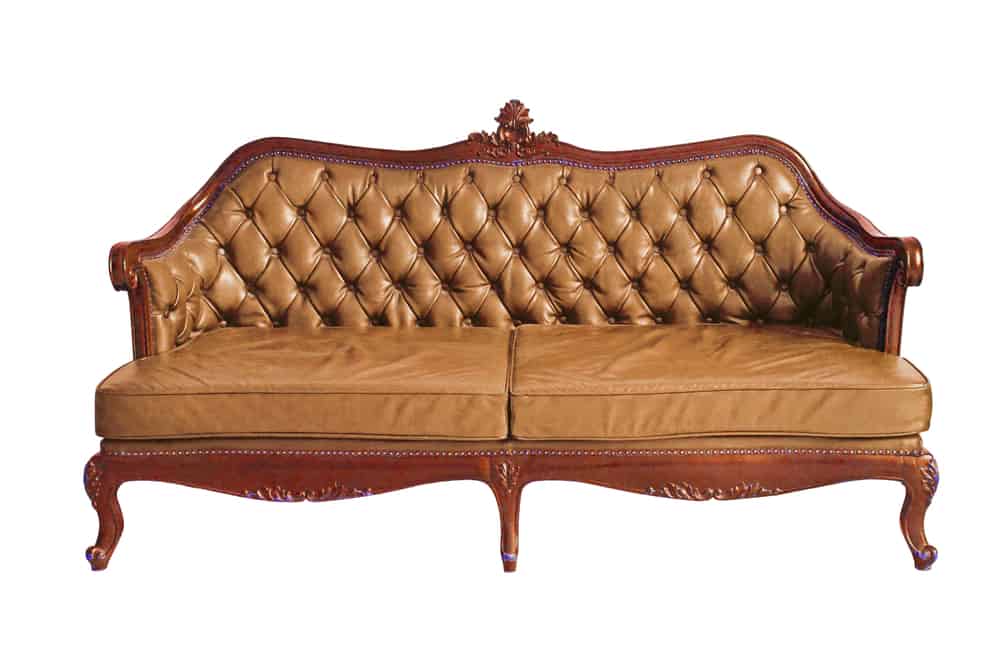 From afar, looks similar to a Bridgewater sofa, but what separates a camelback sofa from others is its main design feature.
Its peak is at the center which descends smoothly and forms a continuous line straight to the arms of the sofa.
There are also designs on the arches and edges at the back of the sofa.
Not to mention, another way to recognize the camelback sofa from others is the exposed wood legs and the exposed wood design on top of the peak of the sofa.
This classic design looks fabulous and you can get a contemporary camelback sofa design that serves more comfort than those antique ones.
Historical Background of the Camelback
If you like furniture, then you know the name Chippendale. The Camelback was a product from the late 1700s by the great designer Thomas Chippendale himself.
This sofa actually came from the famous Chippendale furniture design workshops in Great Britain.
The more traditional English Camelbacks highlight the Queen Anne-style which has claw-and-ball feet.
The back cushion is not separate which is the perfect design for a formal living room sofa that is placed in between windows.
Here's a bit of trivia – all the other furniture styles in Great Britain were named after a ruling monarch until Chippedale broke the trend.
Many English aristocracies liked having the Camelback sofa in some of their homes mainly because of the exquisite craftsmanship that Chippendale was famous for.
Furniture that came from Chippendale was distinguished because of its refinement, lightness, and its natural arches and adornments were second to none.
The name Camelback comes from its unique design of an arched back that peaks at three different spots (at the center and at two sides).
These peaks resemble a camel's back or humps. 
A combination of upholstery tightly knitted, a bench seat shaped for class, high yet curved arms to provide both support and comfort at the same time.
Contrary to traditional Camelbacks, modern ones don't necessarily feature three humps.
Along with the contemporary-looking one or two humps, the sofas are draped with large graphic prints which transform the classic look into a modern one.
Cabriole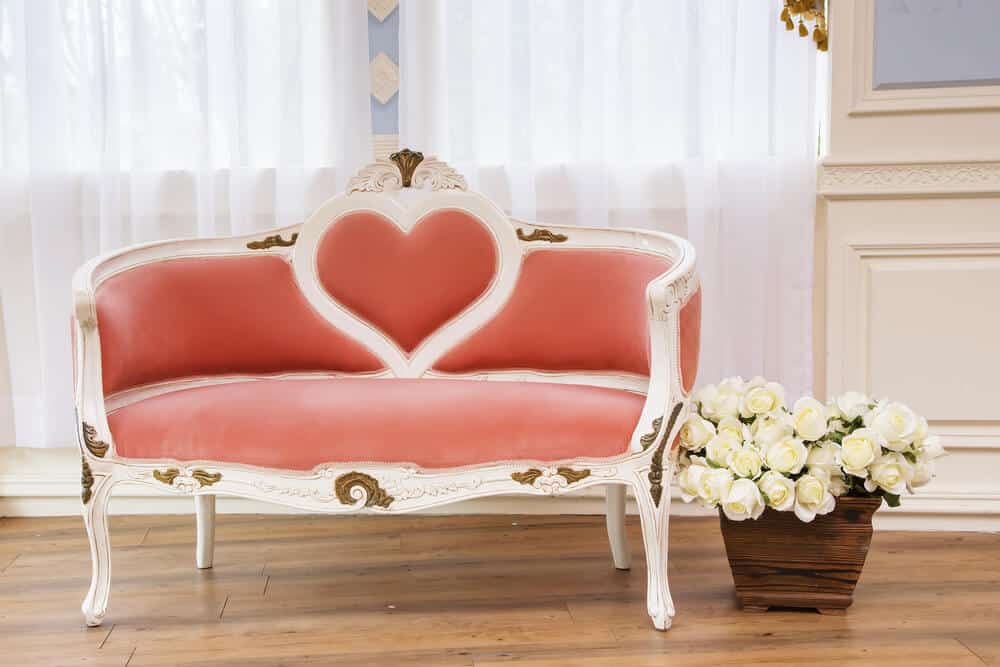 It's easy to distinguish a cabriole sofa from others because of its trademark design where there is a continuous and equal height that spans from the back to its arms.
It's so unique in its form where the arms form a curve running from the different sides of the arm.
Traditional cabriole sofas have ornaments included in the sofas, but the more contemporary ones are more comfortable as they use a cushion that's wrapped all through especially on the sitting areas.
This is in substitute for the ornaments.
Cabriole sofas in the past were popular and recognized for their wooden trim exposed at the bottom of the sofa.
However, for modern cabriole sofas, the design remains but without the wooden trim.
Chaise Lounge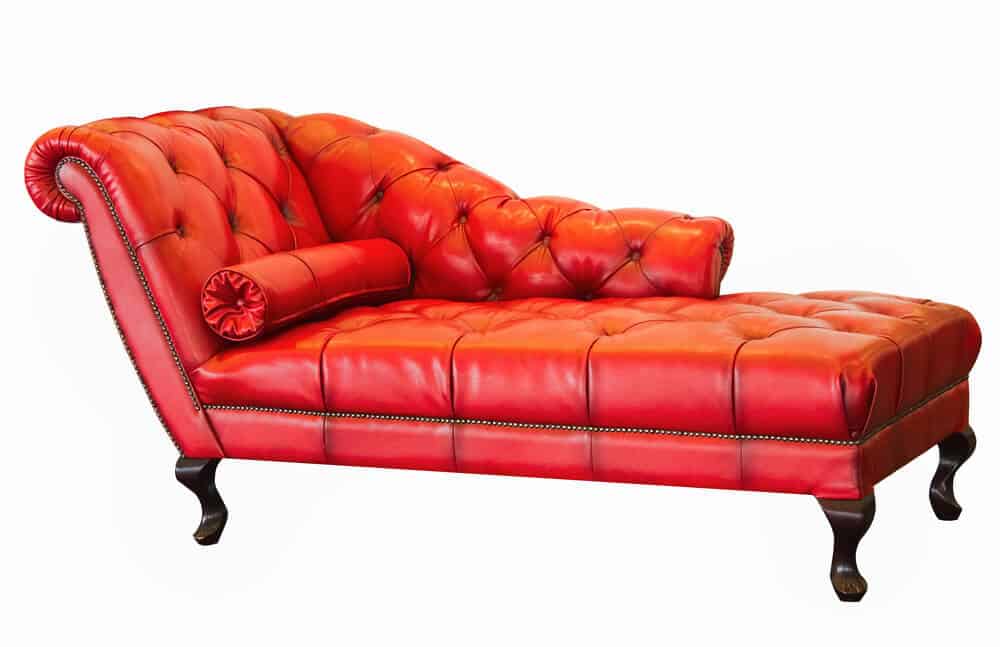 To round up our shortlist of different types of sofas and couches is the chaise lounge.
Despite the growing number of new designs and types of sofas and couches, the chaise lounge still remains popular with more primary bedroom suites also preferring this type of sofa.
Some chaise lounges have an arm while others don't.
It has also grown its popularity as some chaise lounges are used as an item of patio furniture commonly found beside the pool. 
Historical Background of the Chaise Lounge
Although there is no certainty as to the specific origin of the chaise, it is widely accepted that it is of Egyptian origin because it can be used both for day and night lounging, which was a staple with Egyptians in those days. 
Approximately 3,000 years ago, Egyptians simply used palm stalks tied with rawhide or thin cords and converted them to "lounges".
The more prosperous Egyptians used wood as the base for a sturdier foundation.
In Greece, lounges were also popular because it was a good way to relax chill for the day.
The Greeks would spend time reclining on these "day beds" when reading or drinking, rather than on traditional tables.
Their lounges were usually covered with fabric and used various materials for soft cushions.
The Romans also had their own chaise lounge which was called a "lectus".
They used this mostly during meals and banquets. The seats were made out of wood and accompanying soft cushions, of course.
The term "chaise lounge" is actually French which means "long chair".
Although not quite accurate in the definition, this is technically correct as a chaise lounge is simply a sofa shaped like a long chair. 
The French chaise lounge started becoming popular in the 1500s and hasn't looked back since.
By the time the French Rococo era arrived, the chaise lounge has become more of a status symbol and was usually manufactured with rather expensive, and sometimes, rare materials.
These days, modern chaise lounges are more in the decorative category rather than actually useful pieces of furniture.
They are mostly found in the houses of celebrities and are even used and seen in many movies and TV shows. 
Sleeper Sofas
There are five main types of sleeper sofas that differ from each other but their one main function is to be a sofa that can be converted to a bed quickly and without much fuss.
a. Pull-Out Sofa Bed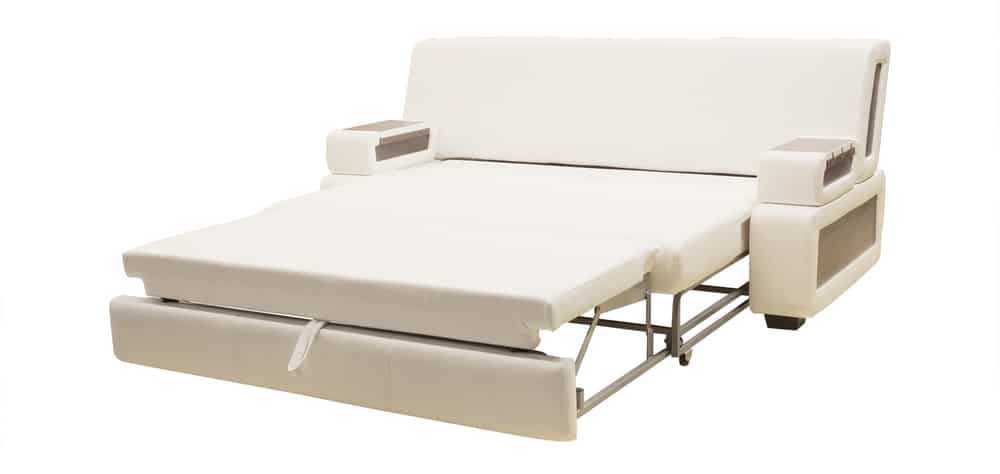 Undoubtedly the most popular sleeper sofa in the market today.
The pull-out sofa bed is very easy to assemble which makes it the choice of most homes that need sleeper sofas.
Twenty years ago, sofa beds were not very comfortable to sleep in but recent technology has made it easy to love the modern pull-out sofa beds.
They can even be used by guests and transients who don't plan on staying long but still need a comfortable "bed" to sleep in.
This has similarities with the Futon Sleeper Sofa. They differ simply because the back of the sofa remains straight while the surface used for sleeping easily folds under the sofa.
This is where it is stored and is simply pulled out.
b. Convertible Sofa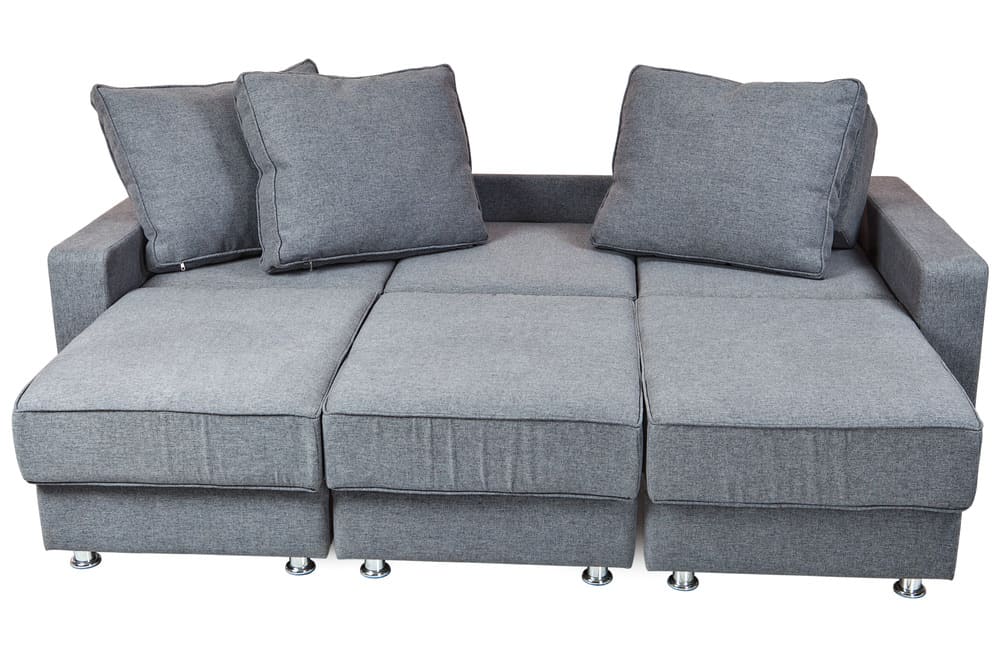 The biggest difference between the pull-out sofa bed and the convertible sofa bed is that this one has no mattress.
The couch pillows themselves form the "mattress" of the convertible sofa.
The quality of the faux mattress varies greatly and this depends on a number of many factors such as price, materials, and even the longevity of the sofa itself.
c. Bunk Bed Sleeper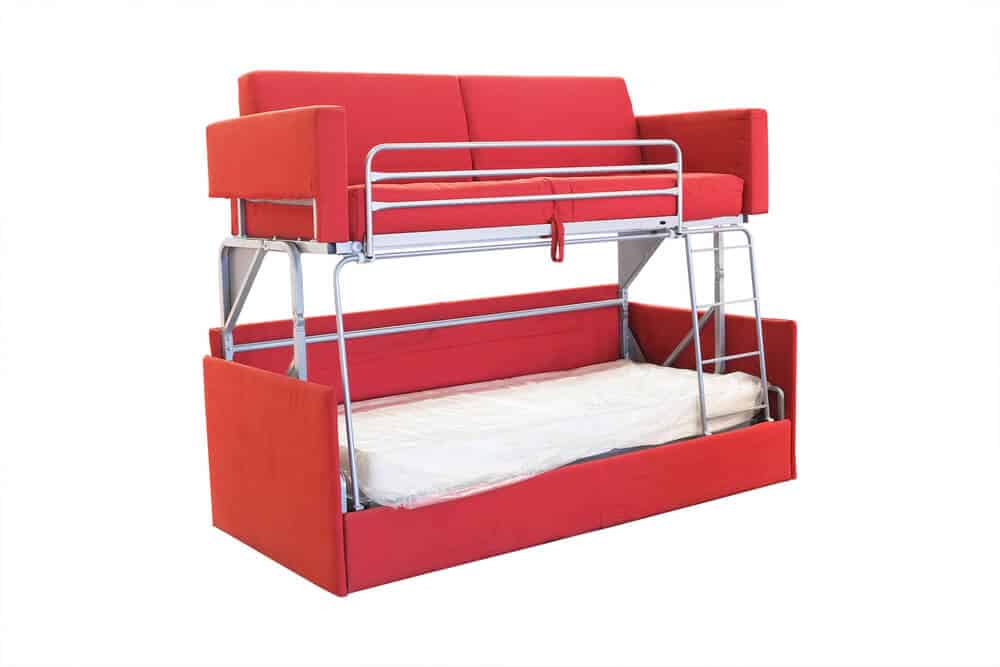 Bunk beds are one of the more unique sofa designs out there.
Although not as mainstream as the other designs on this list, they are readily available in most stores, both in online and physical stores. 
Adults may find them weird and impractical but kids absolutely adore them.
Children love things that transform and they also love heights so this is the perfect combination.
This is a good option for kids, especially when going on vacations where you need to stay in cabins.
Or just simply any other places where there is a necessity for additional sleeping space for kids.
d. Daybed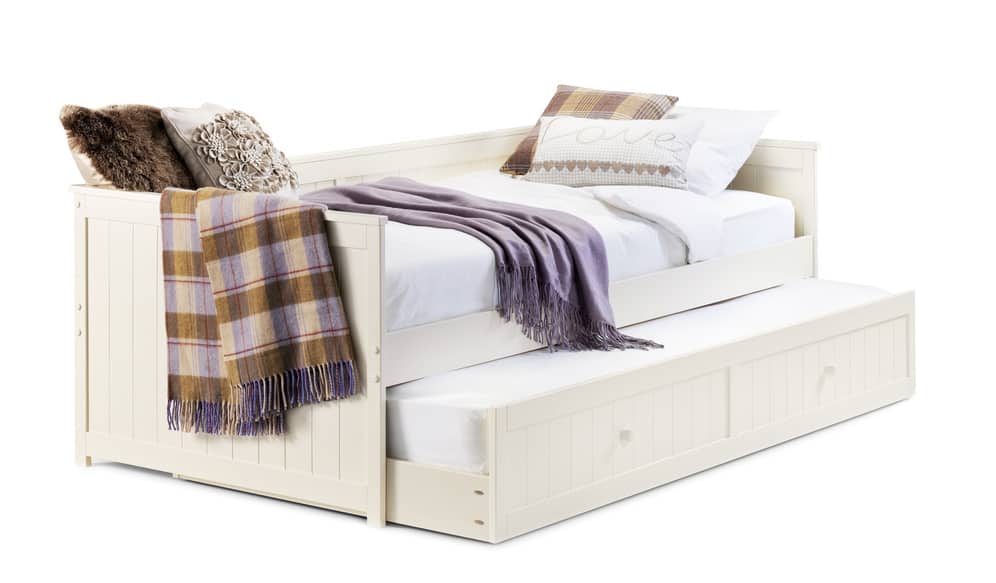 As the name suggests, day beds are a good place for you and your guests to relax and lounge a little.
It can be used for short naps during the daytime and can even be used as an extra two-person bed space if the situation calls for it.
Looking very similar to the chaise lounge with the only difference being the daybed has a back or end on each side of the sofa.
The only negative with this sofa is that taller people may have a harder time being comfortable since their feet may have to be elevated over the sofa end.
e. Futon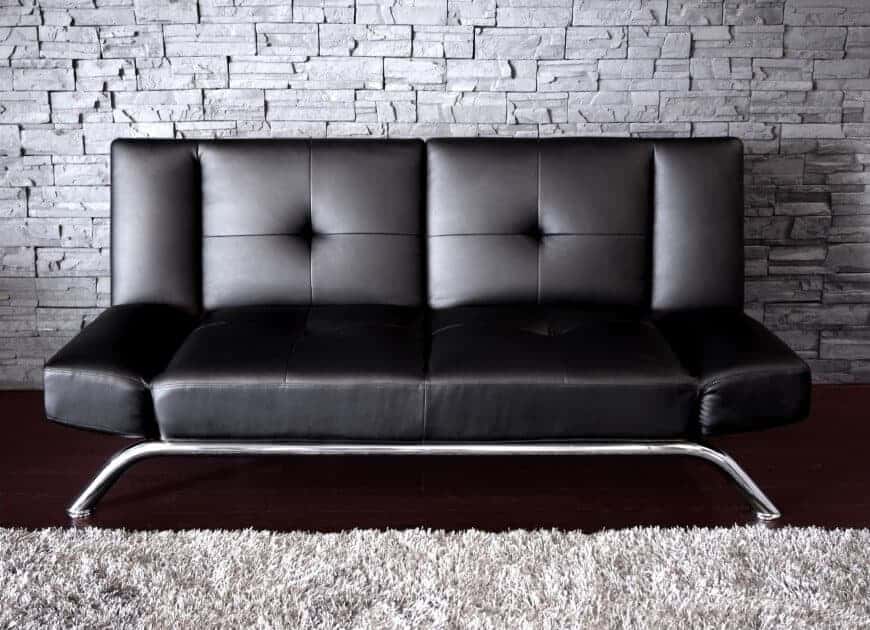 As with all the other sofa beds, the futon is very handy when it comes to practicality.
Regular futons convert into "beds" when the back of the sofa folds down to create a bigger space that can be used as a cushioned sleeping area.
Another one that is similar is the convertible sleeper couch which also uses the sofa's cushions to create the "mattress".
The convertible sleeper sofa can also be classified into other categories such as sectional sofas.
Historical Background of the Futon
It is widely believed that the futon originated in Japan all the way back in the 17th-century.
In fact, the word "futon" is taken from the Japanese word which means "bedding".
The original futon consisted of stuffed wool or cotton and spread all over the bed floor which was made of rice straws ("tatami").
Now because the bed floor was so lightweight and couldn't handle extreme loads, the mattresses had to be lightweight also.
To achieve this, the mattresses were made out of cotton which was stapled together and formed one long piece.
The mattresses were also transportable and could easily be brought anywhere.
In the earlier times, only the rich and powerful people could afford to have the futon.
Eventually, after the Industrial Revolution arrived and the cotton manufacturing industry blossomed in the 1700s, almost everyone can avail of the futon if they wanted.
Ultimately, WW II American soldiers who returned from Japan recalled the comfort they felt when they slept on the Japanese floor mattresses.
This led to the demand for softer and more comfortable sofa beds. And the American futon was born. 
Of course, this new type of futon has to be adjusted for mainstream Americans and their cultural preferences.
If you prefer a more authentic Japanese-style futon, simply order one without the frame and stack several mattresses on top of another to create the experience.
Loveseat Sofas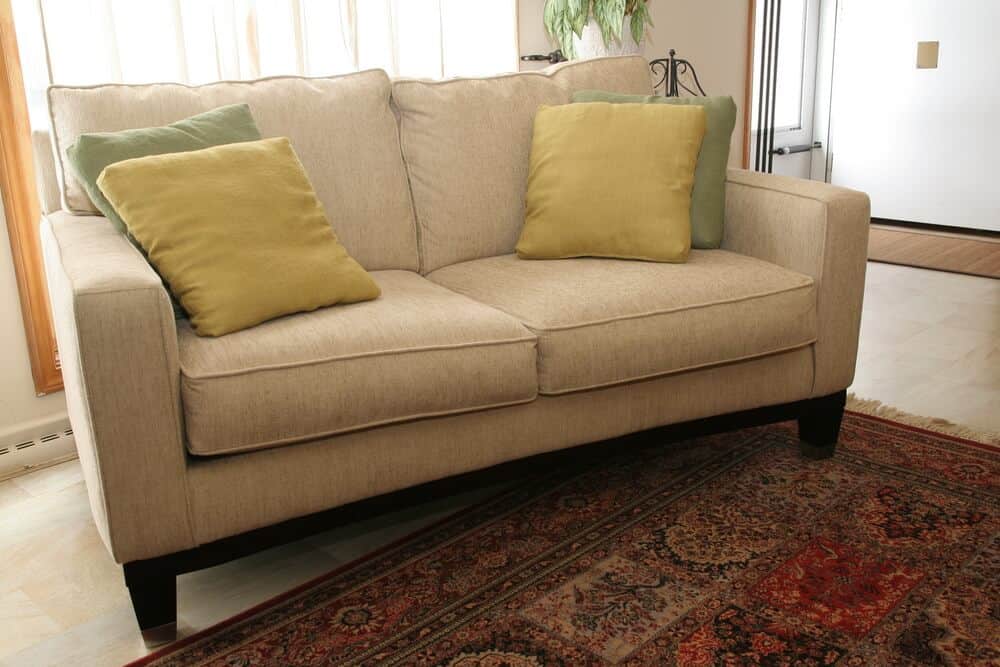 Specifically designed for only two people to sit down together, loveseat sofas are usually part of a living room set purchase.
As with other sofas, they can also come in different styles and designs (like the camelback or cabriole).
The best use of the loveseat sofa is if there is a particularly small space that could be filled with a piece of furniture, this could be perfect for that.
Maybe even place it at the foot of the bed, if there's extra space.
This is not a sofa that you should plan on stretching out and taking a nap because it's not too big.
There are four types of loveseat sofas and they are categorized according to their size:
compact – up to 51 inches long (good for one person);

small – 52 inches long;

medium – 58inches long;

full – up to 64 inches long; and

loveseat sofas – up to 71 inches long.

 
Divan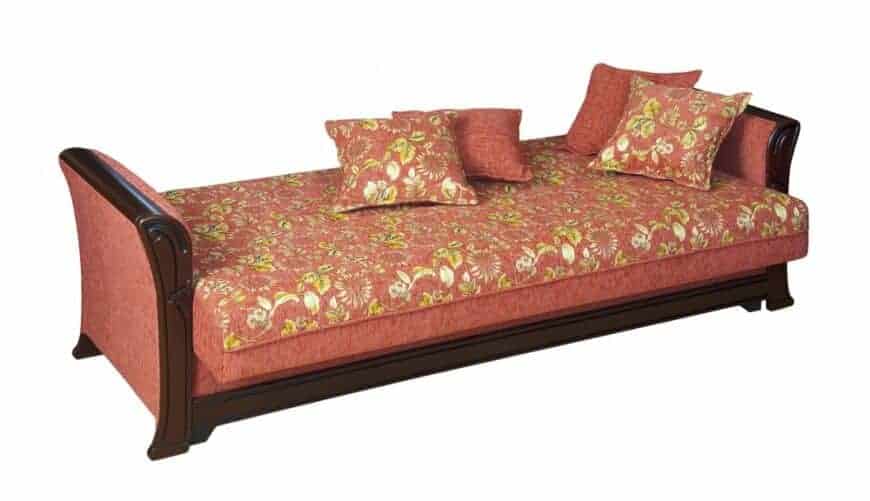 Another unique design on this list, the divan is a sofa without a back piece.
Because of this, the divan is expected to be placed near a wall to make use of the pillows as a substitute for the cushioned back.
And although the divan won't win any usefulness and practicality awards, they do offer a sense of elegance and class.
You can arrange the pillows in any way you want to match whatever the mood of the moment is.
Or you might even like the backless look and make it the centerpiece furniture of the room.
Some divans offer some back supports that are placed on both ends of the sofa but the overall idea is simply to place a divan close to or even next to a wall.
Settee Sofa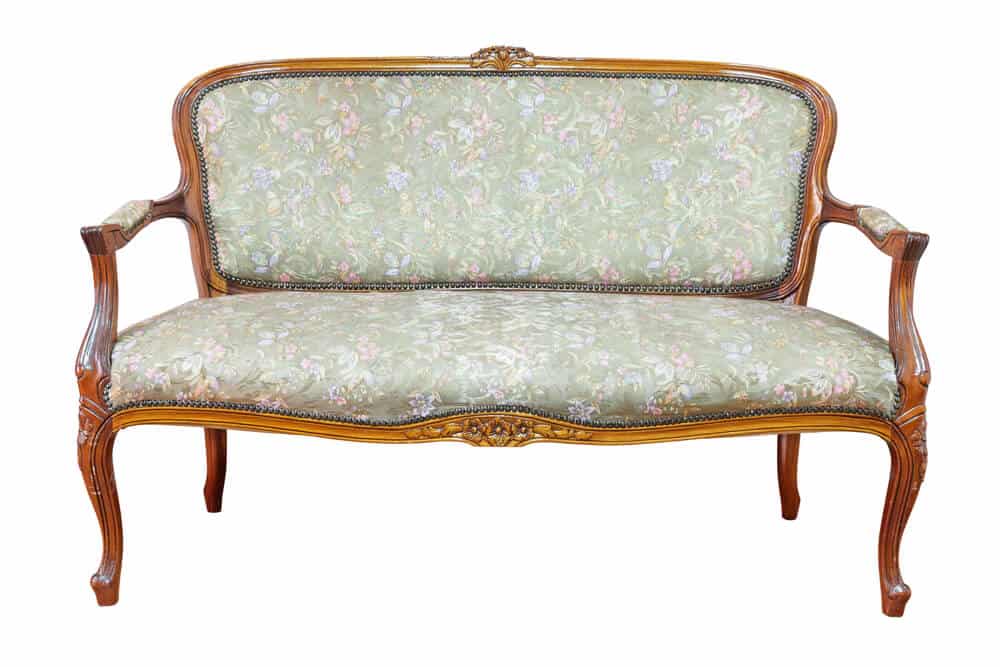 In these modern times, the equivalent of a settee would be the loveseat sofas.
Settees are traditionally more narrow than loveseats as settees are simply wide (to extra wide) chairs.
These were not designed to sit more than one person as doing so would create a lot of uncomfortable and awkward situations.
These are basically dining room chairs with arms, only a bit wider.
The settee sofa only exists because there is a certain traditional and classic attraction to them.
They can even pass for more-than-acceptable foyer furniture pieces.
Recliner Sofa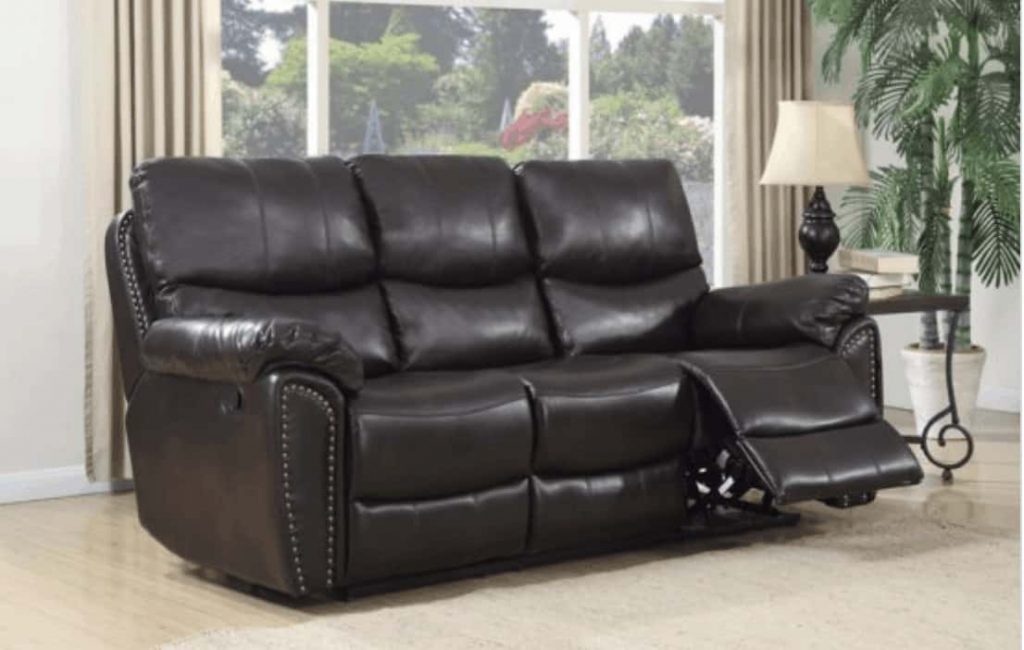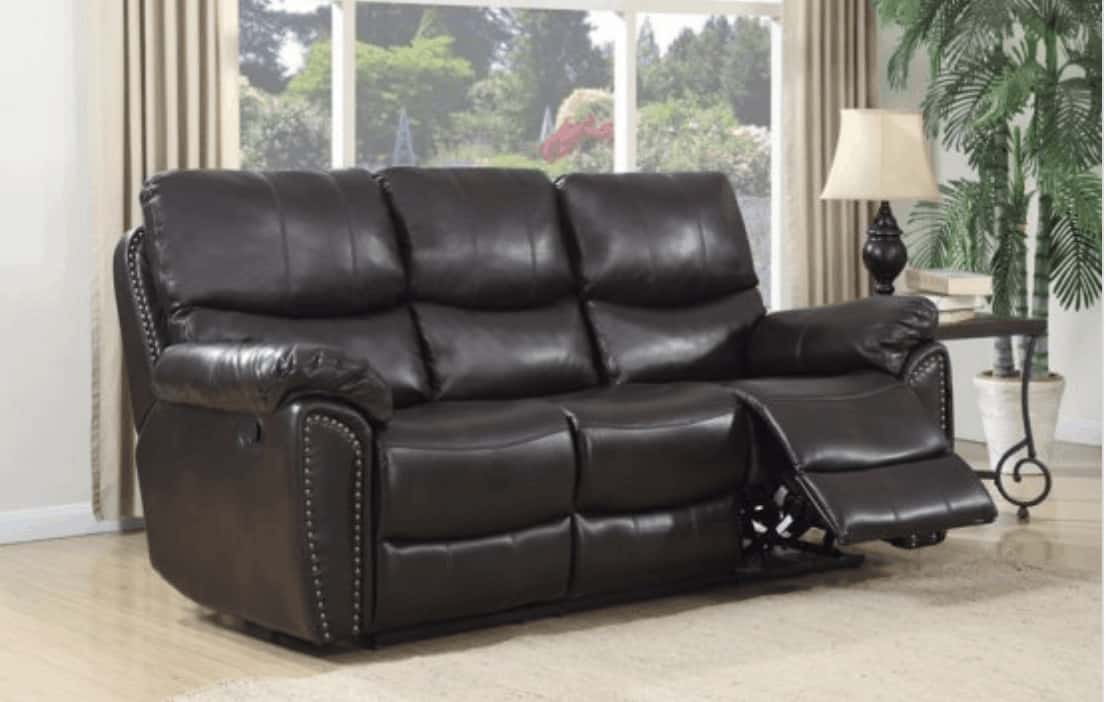 This is a somewhat new type of sofa which has caught on in these last couple of decades due to the popularity of television binge-watching.
Although recliner sofas are also great for reading, their main purpose is simply to relax and watch TV.
Needless to say, these are not the most popular for those picking sofas for formal living rooms.
However, they are perfect for most family rooms and media rooms (if the house is big enough to have one).
You can create an awesome media room by simply having two recliner sofas and some basic home DIYs. 
Tuxedo Sofa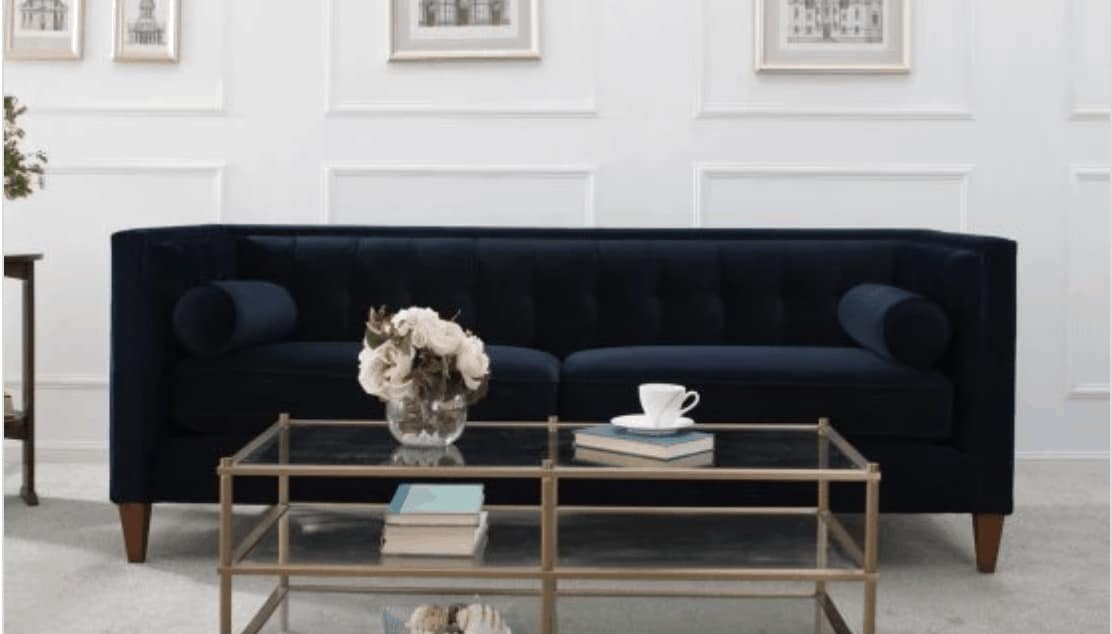 As with wearing a tuxedo, this sofa is not for those looking for the most relaxing type of sofa.
The tuxedo sofa has a back that goes straight across with arms that are particularly elevated.
Its origins can be traced back to the 1920s to a rather wealthy New York location called Tuxedo Park.
But contrary to most assumptions, the tuxedo suit didn't come from Tuxedo Park because tuxedo suits go all the way back to 1865 when The Prince of Wales, Prince Edward VII, started wearing it.
Of course, the tuxedo sofa is a very classy-looking piece of furniture. However, without any reclining angle anywhere on the sofa, this is not for relaxation purposes.
Low-Seated Sofas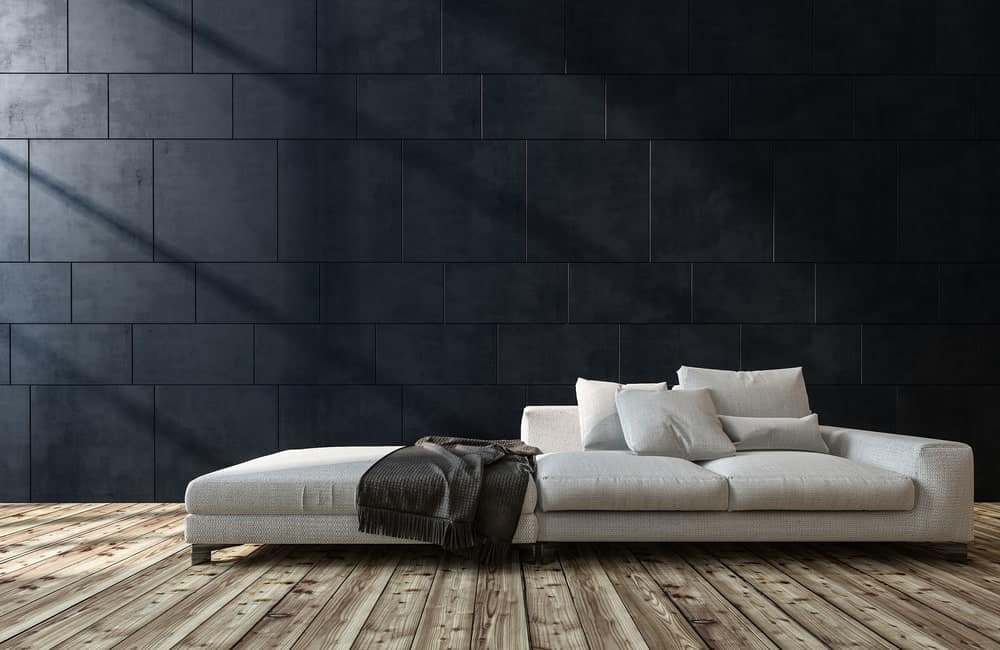 The low-seated sofa is a very flexible type of sofa when it comes to style and usefulness.
You can place them in bedrooms, lounge rooms, family rooms, and, of course, living rooms.
They are called low-seated sofas because the seat is lower than 17″ whereas regular sofas are often between 17″ and 18″ high.
This might be a bit hard for taller people to sit down on but the inverse is also true for shorter individuals.
Pallet Couches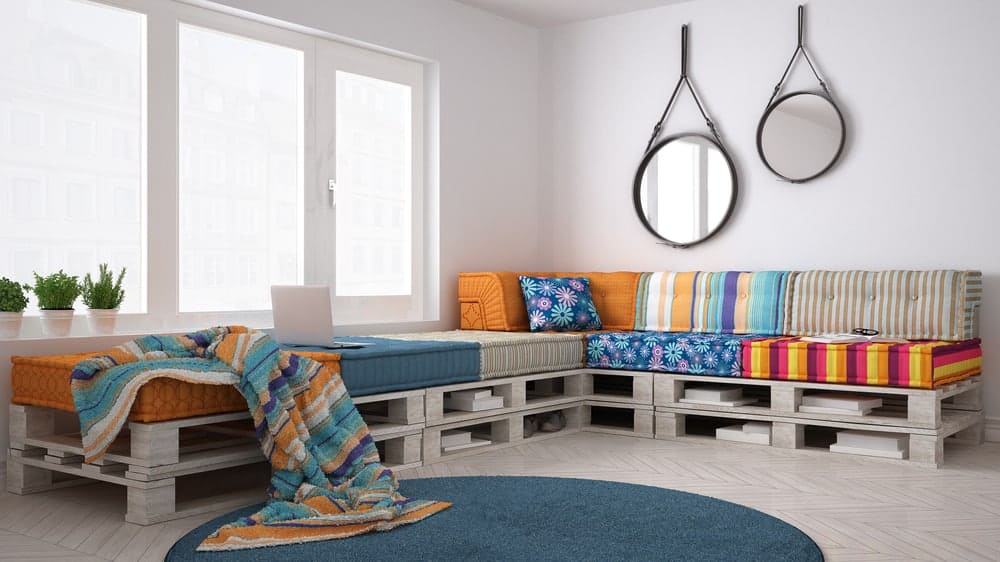 This is a very popular type of safe in these recent times.
A lot of people actually just do DIY and build these themselves.
You can buy pallet furniture in many stores nowadays but a lot of people can make specific customizations when they DIY.
Most pallet couches don't have a back so they need to be placed next to or at least close to a wall.
There are cushions that act as the backs of the sofa and these cushions can either be placed directly next to the wall or placed as separate pieces to create more comfort and even character.
Sofa Lounger
A sofa lounger is simply a sofa that has a design very similar to the chaise lounge sofa.
These types of couches have actually been in the market for quite some time but have only recently gotten their own category or type. 
Sofa loungers are essentially sofas with extension pieces so that you can put your feet up for comfort.
There are three main styles of sofa loungers. Here they are:
a. Full Sofa Lounger
The full sofa lounger is primarily a sleeper sofa but you can still sit up straight even when the sofa is in "bed" form.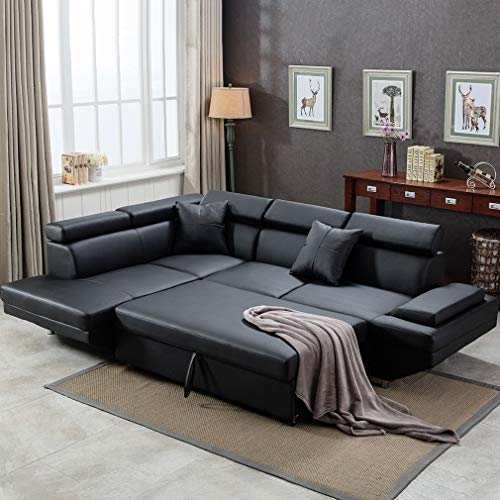 b. Multi-Sofa Lounger
Also known as the multi-lounger, this sofa has two or more lounging extensions.
You can arrange them in whatever way so that they may accomplish the objective.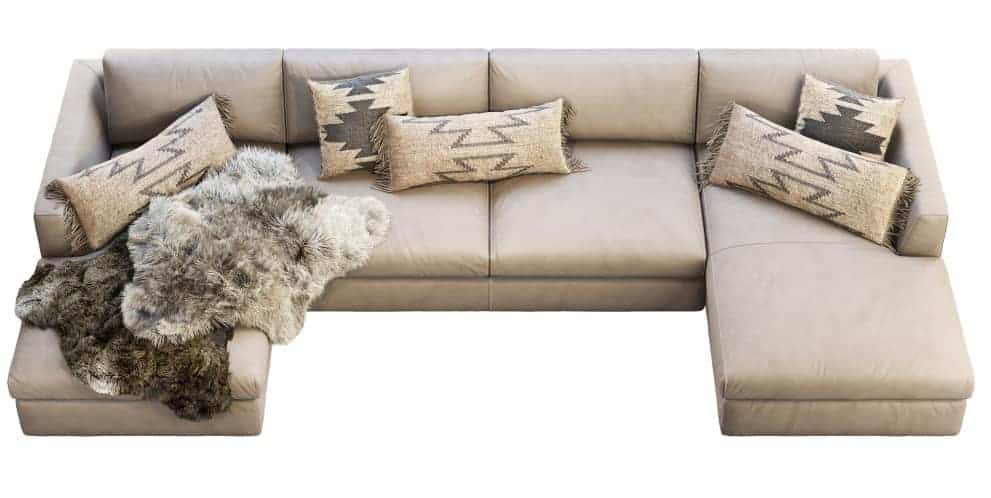 c. Single-Sofa Lounger
In actuality, this is just a sofa with one extension.
The extension piece can be a smaller section of the sofa or it can even be a small chaise lounge by itself.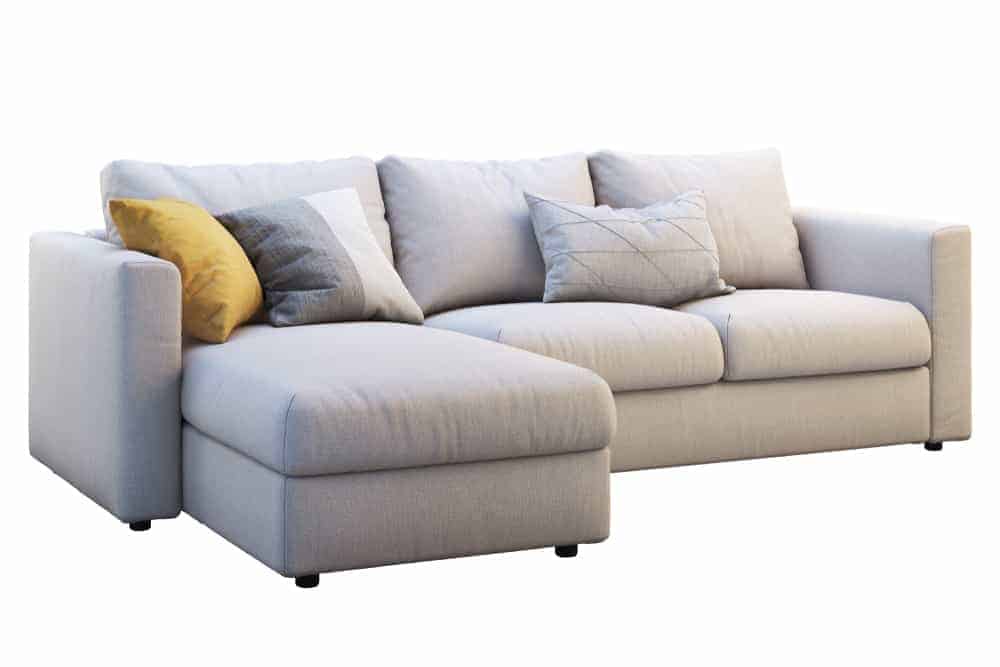 Final Thoughts
In conclusion, the next time you walk inside a furniture shop or simply browsing through online stores, now you have ample knowledge on what sofa and couch caters to your needs.
Now you can recognize the sofas from their design and function.
Plan before you purchase and find out what sofa is best for you.
Frequently Asked Questions
What are the standard dimensions for a sofa?
Sofas come in different shapes, sizes, and dimensions. However, there is a certain "standard" when it comes to the height, weight, and length of the most popular sofas.
The standard depth is between 28 to 30 inches from the frontmost part of the arm to the back of the sofa.
The height of the seat is somewhere between 15 to 20 inches.
And the standard length is between six to eight feet. 
One significant thing to note is that there is no definite height of the back of the sofa as there are numerous designs and styles.
But for uniformity's sake, the height should be adjusted to fit the other furniture in the room.
This usually ranges between 30 to 36 inches.
The most essential measurements to take care of are the height and the seat depth as these make or break the comfort of your sofa, as well as the practicality of use.
Shorter depths and lower seat heights are suitable for shorter people and the opposite is true for taller people.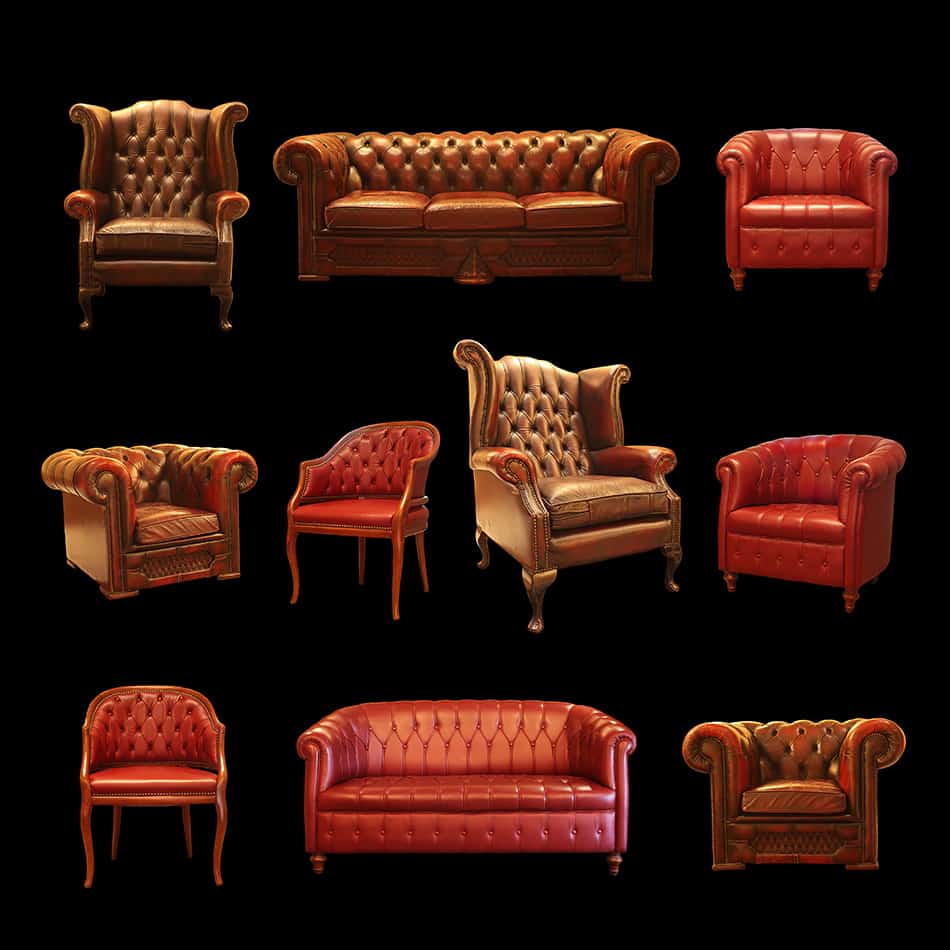 Are "sofas" and "couches" one and the same?
Practically speaking, there is little to no difference between the two and we tend to use both words interchangeably.
Couches in the older days were smaller than sofas in almost all the dimensions (length, width, height).
Couches, traditionally, were also without arms.
The word "sofa" comes from the Arabic word "suffah" which describes a cushioned wood bench; while the term "couch" originates from the French word, "coucher", which literally translates to "lie down". 
Today, couches would refer more to casual and lounging seating for one or two people only.
And sofas would be larger seating furniture that leans more towards comfort and practicality.
Do sofas attract bed bugs?
Sadly, sofas and couches are not exempt from bed bugs.
In fact, because of the soft cushions and materials, sofas and couches offer the ideal living situations for them to survive and thrive. 
Bed bugs can survive for weeks, even a couple of months, without feeding so you may never know if they are there until after a few weeks.
If you've ever experienced a bed bug infestation, they are not fun, to say the least.
You will simply start scratching yourself until you notice blood stains on your sofa and clothes. It's no fun at all.
Now the problem is they are not so easily removed.
Getting rid of them can be a pest, pun intended.
The simplest and most practical way is to repeatedly vacuum and rinse and clean off your couch or sofa. 
For more thorough extermination, you can contact a local exterminator and have them handle the issue.
However, due to the multi-layered materials of the sofas, it might be impossible to totally remove all the bed bugs from the inside.
Regular cleaning and examination might be the best solution.
What materials are sofas made of?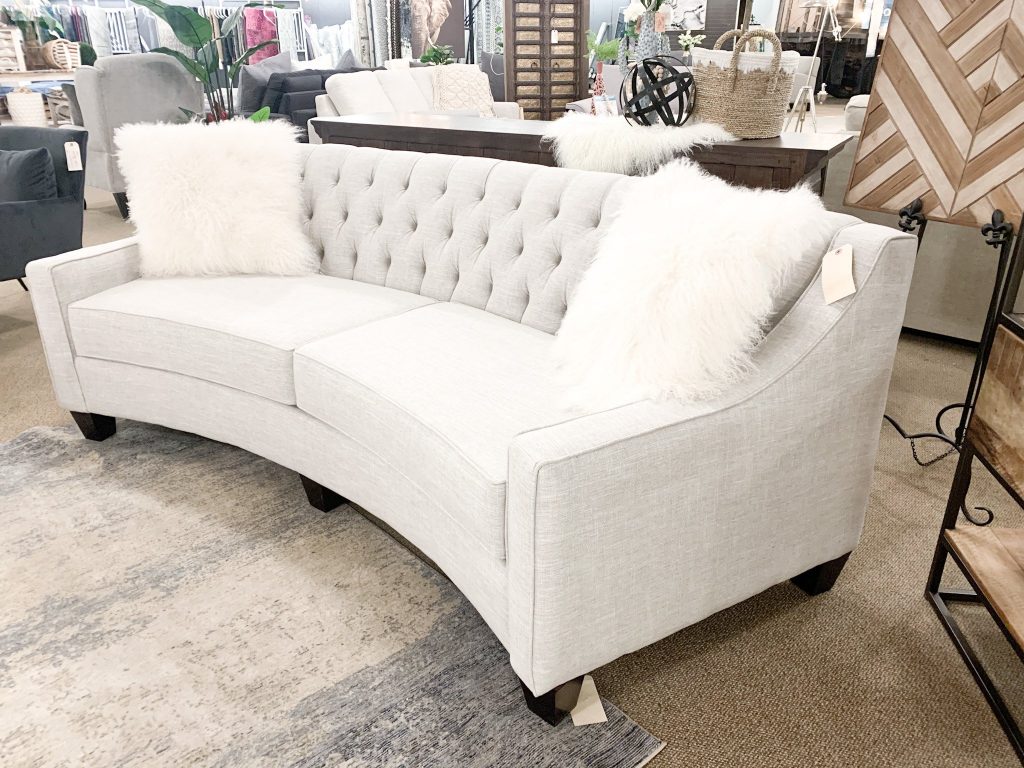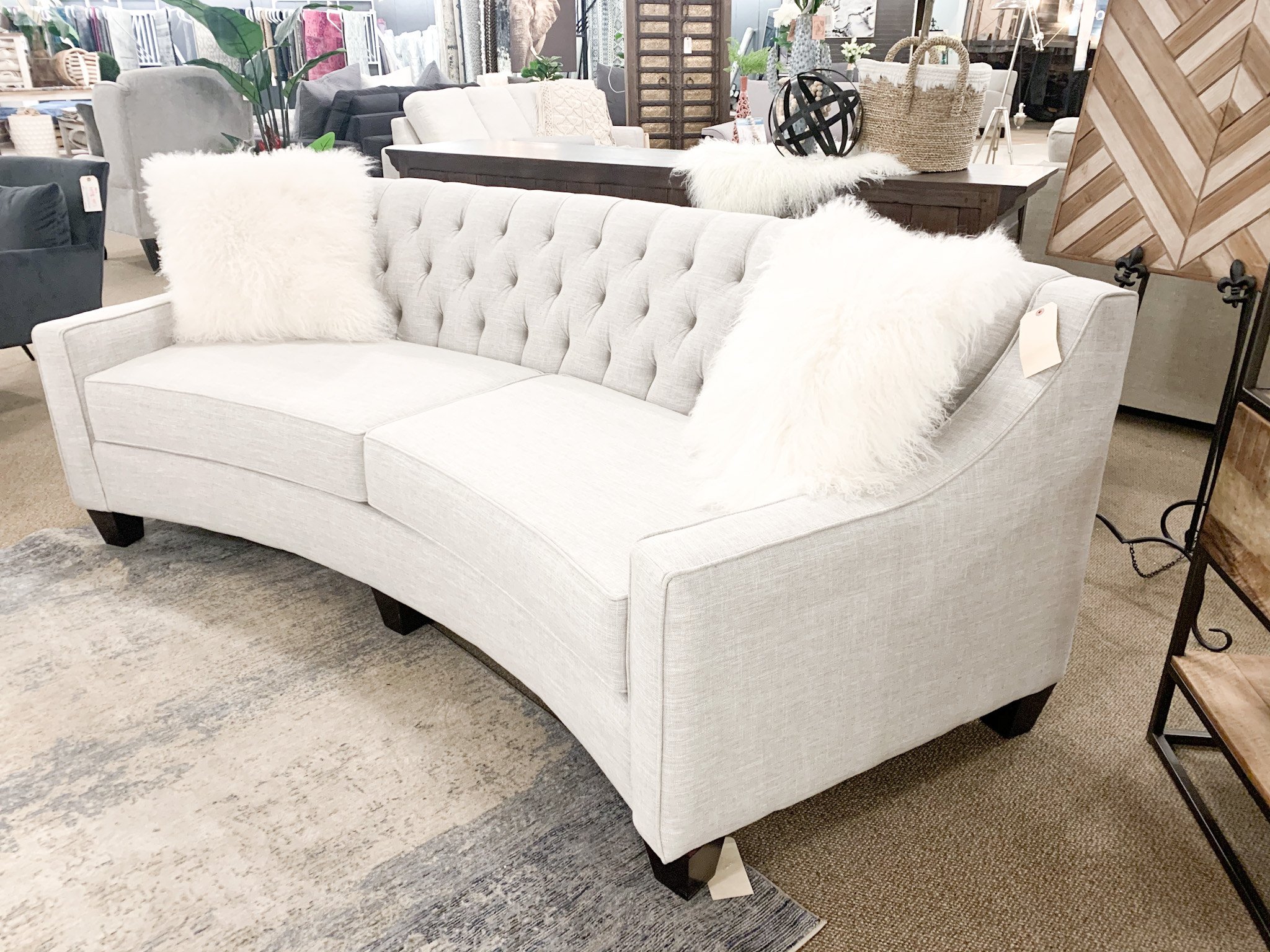 The coverings can come in a myriad of combinations of textures, styles, and even colors.
The most popularly used are corduroy, leather, and faux leather.
Synthetic elements such as nylon and microfiber are gaining more popularity recently.
Cotton, linen, and other natural fabrics are still the most sought-after kinds of materials for sofa coverings.
The sofa frame is usually made out of wood but other manufactured and more modern materials are gaining demand.
These include plastic, steel, aluminum, and even a combination of any of these materials.
The padding can be sturdy yet still be soft and flexible. And this is a big thank you to modern technology.
How do I measure a sofa?
The natural answer would be to get a steel tape and start measuring.
However, there is also another aspect to measuring a sofa. You have to ask yourself a few questions first. 
What is the measurement of the entrance? 

Will the sofa fit through it? 

Is this room the right size for the type of sofa I'm planning to buy? 

Or should I purchase a smaller sofa?

Is there enough space if I were to add another piece of furniture? 
To get the width or length, you measure from the edge of one arm to the other, whatever is the farthest measurement.
If the arms are not straight, measure the two furthest points of both arms.
The height of the seats is measured from the floor to the top of the seat cushions (not the bottom part of the cushion).
To get the depth of the sofa, you measure from one side.
It would be a straight level measurement from the back of the sofa to the frontmost part of whatever part of the sofa is protruding out.
These are usually the arms but in certain designs where the seats are curved out, the seats are the frontmost part of the sofa.
To get the height of the back of the sofa, try to get two measurements – one with the legs and one without the legs (if possible).
Why?
You'll want to get the measurement without the legs to know if it's possible to fit the sofa into the room, and also if it will fit through the entrance.
Measuring with the legs will let you know the actual size it will take up inside the room.
Lastly, get a diagonal measurement of the sofa. Measure the diagonal length between the top, front edge, and the bottom, back corner.
Why is this needed?
This is for you to make sure that the sofa will be able to fit into the entrance even if it needs to be turned sideways.
Can I Wash Sofa Cushions?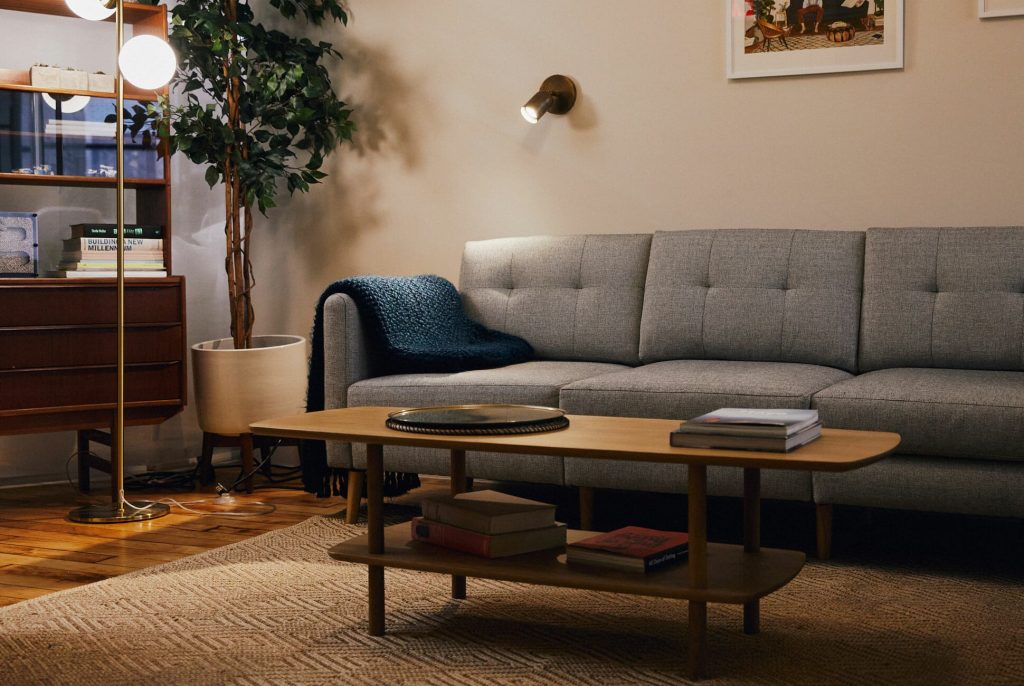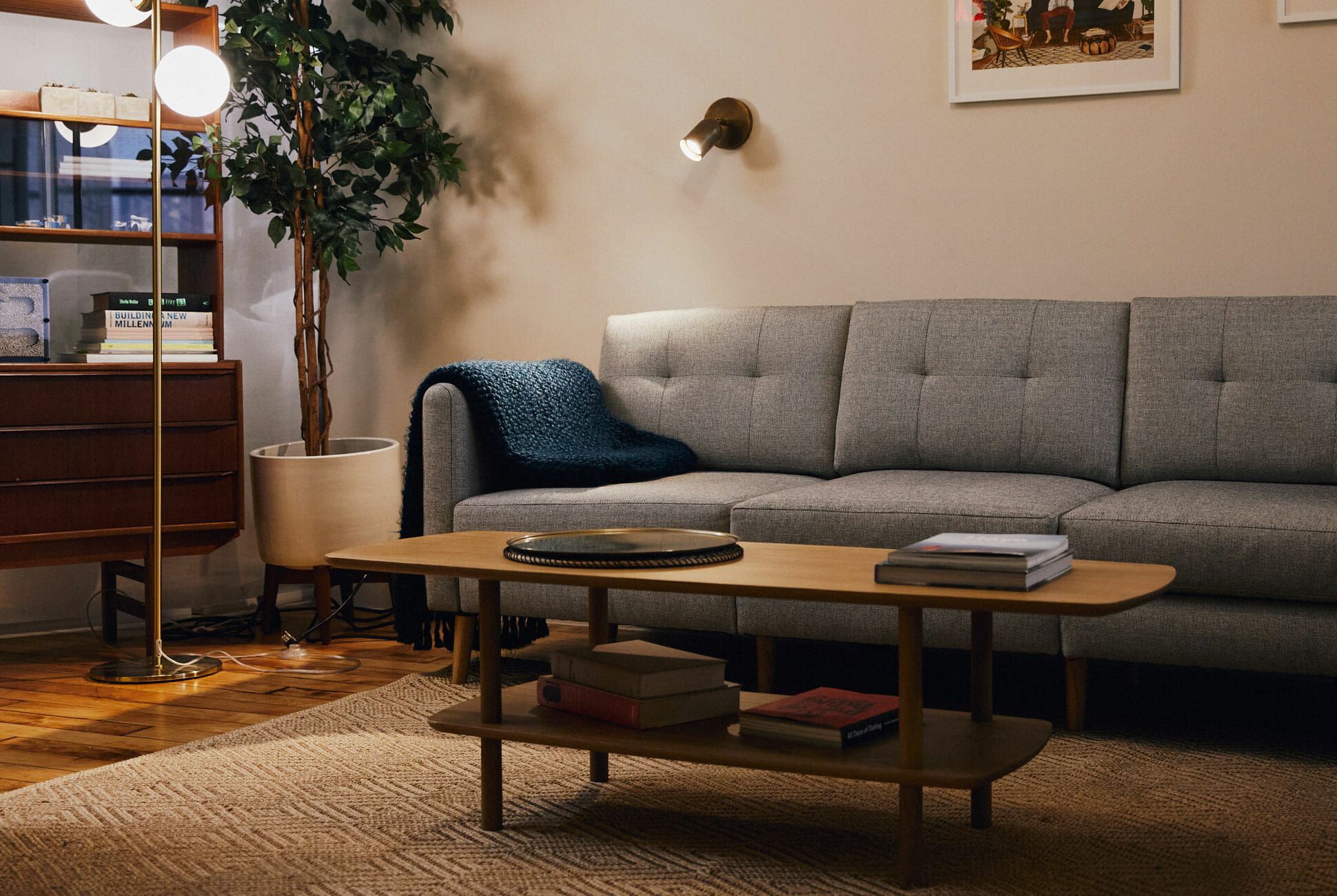 For cushions that don't allow the removal of the covers, you can just use regular soap and water.
Be careful not to soak the fabric material itself as it may not be so easy to dry out.
Give it a good cleansing, rinse well, and air dry until you are satisfied.
Some cushions allow you to remove the covers for a more thorough cleaning.
The openings are either through zippers or through velcro.
Wash with a gentle cycle and then immediately air dry to prevent shrinking.
Can I dye my sofa?
Yes, most definitely.
Almost 100% of sofa covering can be dyed to whatever color (or combination of colors) you want them to be.
Even leather and faux leather are not exempted.
This will actually prolong the lifespan of your sofa as it will keep the look fresh even after a few years of use.
Simply look at DIY videos of tutorials which will help you with the process. Or you can just give your local dye professional a ring.
Can sofas be recycled?
Although you cannot recycle the whole sofa, most of its parts can be.
If you have a truck that picks up recycled items, then give them a call and see if they can pick up your old sofa.
There are many possible recycling options in most areas that will take care of this problem for you.
If you love doing DIYs, you can take apart the sofa and utilize the stuff that can still be useful.
Almost all the metal parts can definitely be recycled.
However, you have to be really creative to utilize the worn-out cushions or padding, or else they will likely be thrown into a compost pit.
Is it possible to refurbish or reupholster a sofa?
Reupholstering a sofa depends almost entirely on the condition of the frame.
If the frame is in good form, then there is no problem with reupholstering.
Nevertheless, it would be smart to get help from someone who has done sofa reupholstering before.
Still, make sure that they've handled the type of material that you have in mind.
On refurbishing, you have to determine what type of damage your sofa has and what kind of repair it needs.
If the damage is too extensive, it might be better off to buy a new one.
However, if the damages are minor, then refurbishing is not out of the question.
Again, consult a more experienced person who has done it before.
Can I sell my used sofas?
If your sofas are still very much in good shape and with minor or no damages, definitely, you can sell them.
And they will go quickly.
Many people are looking for cheap sofas, used or brand new.
As long as your sofa is still durable and firm enough for another few years with its new owner, then sell it.
Can I replace the sofa cushions?
If you have a standard sofa, then it would not be an issue to get your cushions replaced as there would be readily available stocks from the manufacturer or even from the store that you bought the sofa from.
Cushions are usually replaced because of wear and tear and because of accidents like spilled beverages and food.
These disasters leave stains that would be very hard to remove. 
Can I re-stuff the sofa cushions?
Whether it's down, feathers, or even synthetic stuffing, they can readily be re-stuffed.
Older sofas need re-stuffing if you want to maintain or even improve the comfort of the cushions. 
Can I dry clean the sofa cushions?
It's a good idea to check the instruction manual before doing any washing, cleaning, or dry cleaning.
Some sofas can be soaked in washing machines, others are specifically only for dry cleaning.
Always follow the manufacturer's instructions for your cushion's long-term condition. 
If you get them soaked or dripping even though they're not supposed to be wet, it can cause the cushion to shrink once you get them dried or worse, totally destroy the stuffing.
If you want to be totally safe, call a local professional upholstery cleaning service and let them do the dirty job.
You might spend a little more cash but you will also have peace of mind.