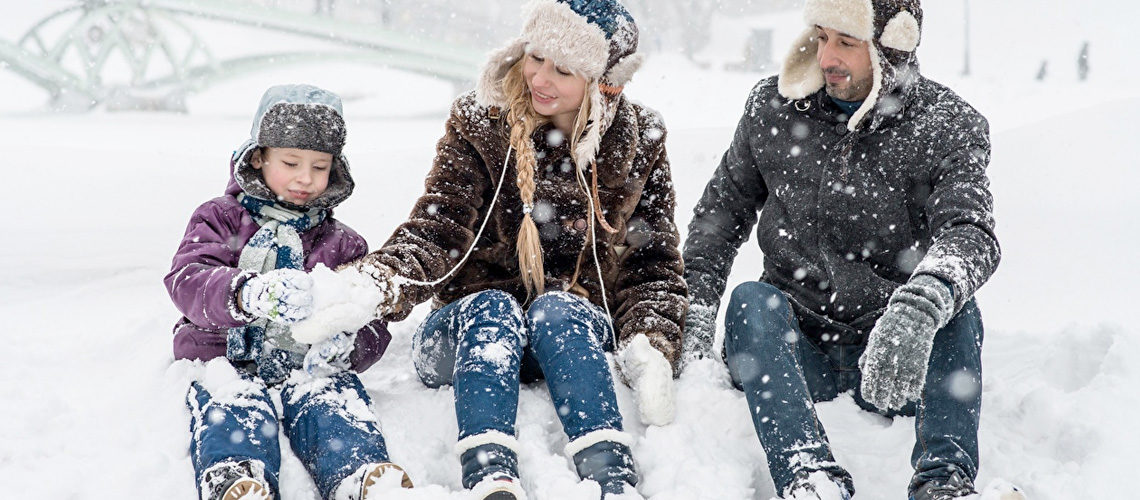 Gloves and toques are essential pieces of clothing for staying warm in the winter.
A lot of your body's heat can escape from your head and your limbs, so keep your hands warm is going to help keep the rest of your body warm, too.
If you want to keep your hands as warm as possible, then a best of the best winter gloves is a great start.
Here's the Best Gloves of 2023 for Men and Women:
1. Öjbro Vantfabrik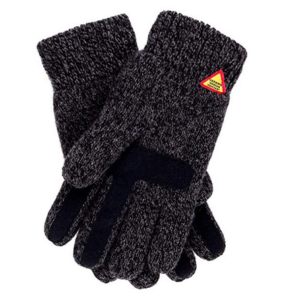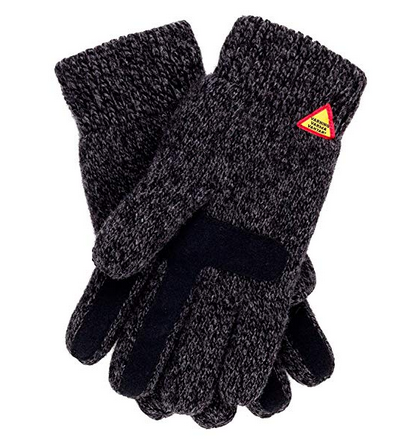 This pair of winter gloves by Öjbro Vantfabrik are an absolute showstopper. They're very aesthetically pleasing, but that's irrelevant compared to the warmth and overall quality that they offer. Looking gorgeous is just a cherry on top. These gloves are so well made, with so many amazing features and benefits, that we were truly looking forward to sharing them with you.
We've looked at countless gloves in every single category, but there are certain ones that ascend beyond the rest. These gorgeous gloves will keep you warm through the winter, and they're even featured by the Raynauds Association.
They come in three different sizes, one of which will be suitable for most people, since these gloves don't need to have a super tight fit to them. According to the manufacturer, most men will wear a large, some will wear a medium, and very few will wear a small. Most women will wear a medium, some will wear a small, and very few will wear a large. You can imagine the size of your own hands and probably get a good idea which size will be best, or check their listing for an actual measurement chart.
 The inner lining is made with tricot and feels super soft and cozy. These gloves are best for colder days, since they're quite thick. 
Key Features
Made in Sweden

Uses very soft, 100% Merino wool with tricot lining

Gorgeous looking gloves

Very, very thickly made which makes them incredibly warm

Larger cuffs help keep your wrists warm, too, and keeps the cold air out of your coat
Buy Here
2. Swany X-Cell II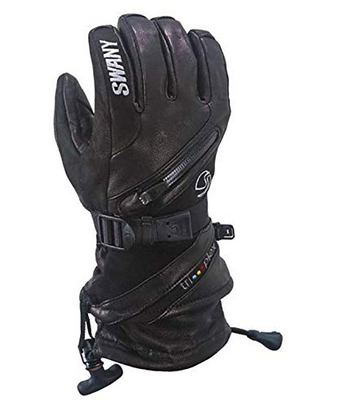 These are a follow-up to the X-Cell gloves, and they've managed to improve them in a number of ways. 
Looking for a more robust pair of gloves, made with heavy, thick, strong leather as opposed to comfortable, soft merino wool? Here's a very heavy duty pair of men's winter gloves. Despite being made from leather, they're still water repellent. The back of these gloves are made to be extra thick, to help with warmth, and the palm area is a bit thinner to give you more control and dexterity when wearing them.
The rolled tips on these gloves helps to reduce drag and to avoid unnecessary wear and tear. For winter sports like skiing, snowboarding, or even just riding down the hill on a sled, these gloves fit the bill. They'll prevent snow and water from getting in, they'll keep your hands super warm, and they'll last years and years because they're so durable.
The downside is that they do such a good job of creating a seal and creating so much warmth, that some people complain about having issues with their hands getting too sweaty inside of these gloves, and that can happen, especially if you're wearing them for extended periods of time, so that's just something to keep in mind… if it's super cold out, you'll just be happy to be warm, but these gloves aren't ideal in less chilly temperatures or if you're going to be exerting yourself for hours. But let's face it, if you're doing winter activities for hours, your hands are just going to be one of many sources of sweat on your body. 
Key Features
Incredible strong, well-made, rolled fingers for added durability

Some of the warmest winter gloves we've ever seen

Thick leather construction
Buy Here
3. The North Face Etip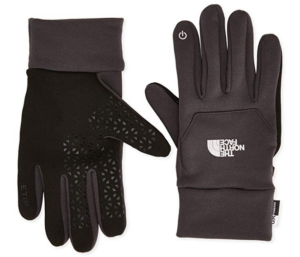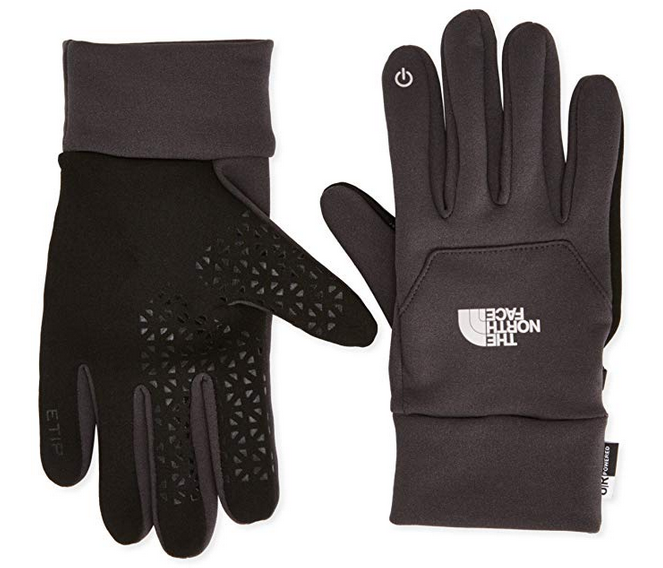 After fearing a gorgeous merino wool glove, and a robust athletic glove for winter sports, let's look at something a little lighter and thinner. These North Face winter gloves aren't quite as warm as the others, but they still serve an important purpose.
On milder days, where you still don't want to go gloveless, it's nice to have something lighter that's not going to slow you down, that you can easily fold up and put in your pocket, but that'll still keep you plenty warm. 
These gloves are made from fleece, and the Etip in the name refers to the finger tips that makes these compatible with touch screen devices so that you don't need to take your gloves off in order to respond to an important text (or to find out who got kicked out of the Big Brother house.)
The inner-lining is fleecy, soft, and comfortable. The knock on these gloves is that they aren't super durable, especially if you're using a size that fits you too snuggly, they can tear at the seams. These are perfect for driving, and casual wear, but they're not ideal for sports, or any high-energy activities in prolonged use. On a super cold day, these won't be great, but the rest of the time – they're a solid everyday wear. 
If you want to keep warm, while still being able to use your phone, hold a cup of coffee, pull out your wallet, etc… these are perfect. 
Key Features
Lightweight and agile

Great for milder days

Full control of your touchscreen devices

Soft and fleecy lining
4. Gordini Polar Glove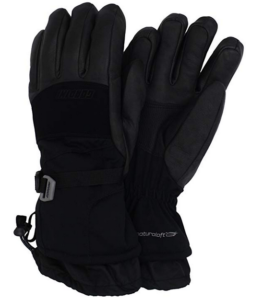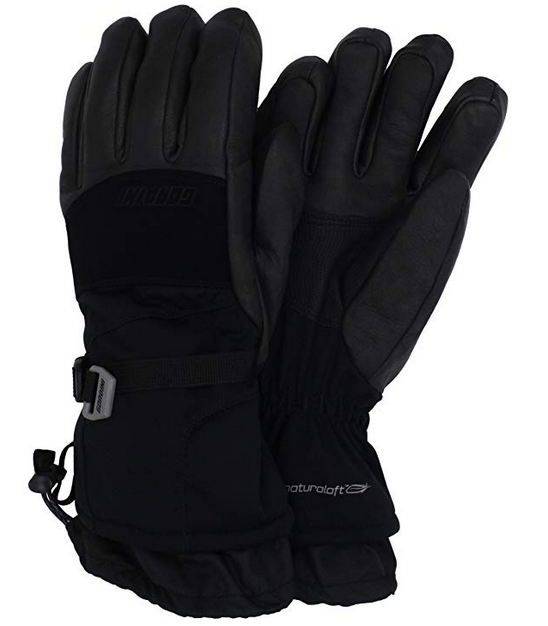 The Polar Glove by Gordini is made from nylon, with a little bit of spandex thrown in for good measure. These gloves are made in China, and need to be hand-washed. They have an insert called Aquabloc that makes them breathable, while still being waterproof and windproof. These gloves are great for cold weather.
The insulation is called Naturaloft, and it's made with 600 fill power goose down, so these gloves have a nice weight to them while still remaining surprisingly warm and comfortable. The Lavawool system helps to manage moisture (sweat) inside the glove, and the rear of the glove has something called Thermo Plush, so they're soft if you need to wipe sweat off your face. 
Overall, The Polar Glove is great. It offers a lot of protection and warmth like the Swany gloves that came in second place, but without being quite as heavy-duty or bulky feeling.
Key Features
Durable nylon construction

Aquabloc keeps them dry, resists wind, and helps with breathability

Filled with goose down

Thermo Plush adds softness to the exterior
Buy Here
5. PossumDown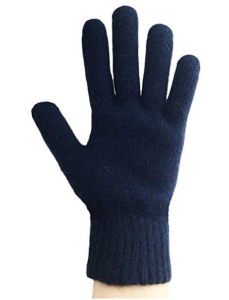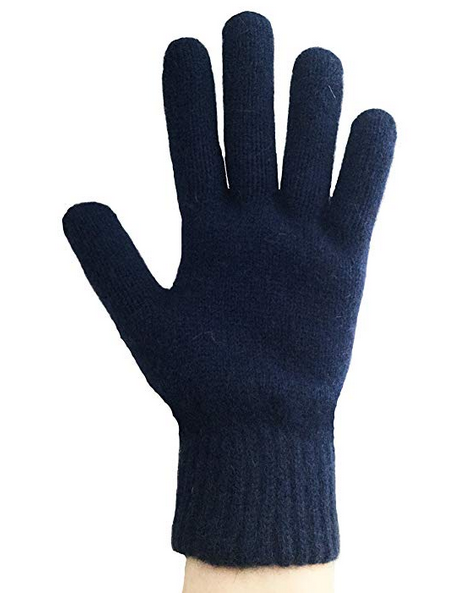 These gloves come all the way from New Zealand, where they're made by a small, family-owned company. These gloves use special fabrics that are unique to New Zealand, made from brushtail possum fur and New Zealand Merino Lamb's wool. The result is a fabric that's lighter, softer, and warmer than Merino is on its own. 
The magic here is the possum fur, in which every little individual fiber is actually hollow. The air inside acts like a bunch of microscopic little pockets of insulation. The result, for you, is a warmer hand, and isn't that the main goal of a great pair of winter gloves?
They come in four different sizes and a number of different colors, with each glove consisting of one solid color. These are some of the most unique gloves, and there's a reason that people are willing to search all the way over in New Zealand for such a great pair of winter gloves! 
Key Features
Made with unique possum fur for added insulation and comfort

Mixed with merino wool for the best of both worlds

Imported from New Zealand

Very warm, durable, and perfect for everyday wear
Buy Here
Winter Gloves Buyer's Guide
If you're doing extreme sports in the blistering cold, you'll want gloves that can accommodate that, but those same gloves will be very overkill in day to day life. It's all about choosing the pair that matches up with how you'll be using them.
A lighter pair of gloves is great for driving around, holding coffee, using your phone… the types of things you'll do when you're not in extreme cold for hours at a time. There's no single pair, even the very best winter gloves in the world, that are perfect in every situation and scenario. You may end up needing two, or even three pairs, if you're all about the outdoors in the winter. 
A light pair and a heavy pair will suffice for most people, in fact many people are just fine with a light to medium pair, unless you're exposed to very cold weather for extended periods of time, or buying these gloves as a safety precaution to keep in the trunk of your vehicle, etc.