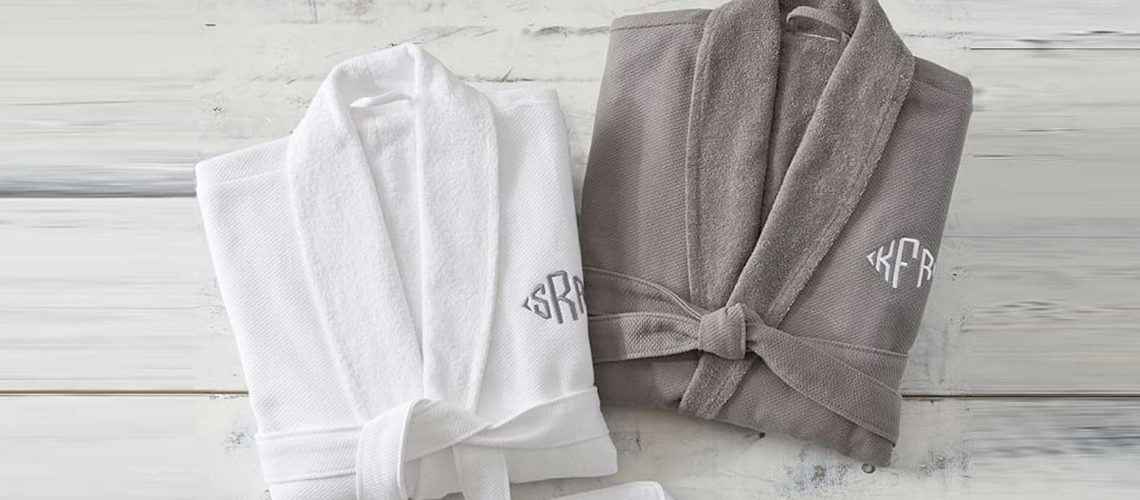 Here at StyleWithinReach, we want to be of help to our readers in every way possible especially in the stuff that they purchase.
From pillows down to office chairs and down to fashion accessories like sunglasses, we want to try everything but of course, to save you the time reading, we pick the ones that are the crowd's favorite.
We like to include items that are well-reviewed (having four to five star ratings from consumers) and are not only fashionable, but practical and affordable.
We even review random items like heated pants and Irish hats, and in this article, we're going to give you the top 15 best-reviewed men's bathrobes because you asked for it!
Here's the Best Bathrobes of 2023 for Men:
Below, we have rounded-up the best-reviewed bathrobes for men and included a review from customers who purchased them.
1. Turkish Towels Original Terry Shawl Turkish Bathrobe
One customer commented on how the bathrobe fits him perfectly. He writes; "I was looking for a robe but didn't really know which one I should pick.
So I decided to go for the one that has the highest rating in Amazon then compared them one from the other to see which one fits best.
This one exceeded my expectations! It feels comfortable and the terry cloth material absorbs water that's left on me after a shower. It is warm, heavy and super soft which is perfect for lounging.
It is truly more than what I wanted and I am very satisfied with my purchase".
The robe extends just below the knee and has 2 pockets in front where one can put his hands when they need warmth.
They also hold any valuables like your smartphone or anything else that you want to carry around while lounging.
Most people who reviewed it have commented that it's really more than what they wanted.
Buy Here:
2. TowelSelections Men's Turkish Cotton Terry Kimono Bathrobe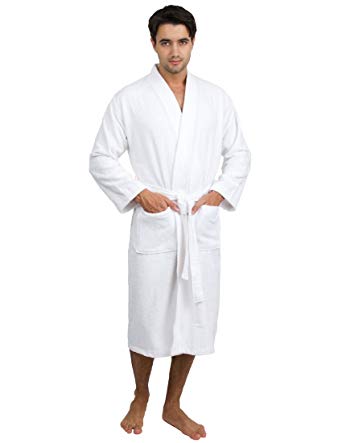 Inspired by the traditional Japanese attire, this next bathrobe on our top 15 list isn't short of comfort and style.
Just like the other bathrobes out there, it extends below the knee and is made of high-quality terry cloth which provides guaranteed comfort while you are lounging.
One customer writes; "We just had a hot tub and a pool installed this year but as temperatures cooled due to the change in season, it was a bit cold and chilly whenever we got out of the warmth provided by the water in the pool especially on cold evenings. These robes solved that and now, we don't bother with towels anymore.
We just put these on after getting out of the water and instantly, we feel toasty warm with the robe's high-quality, absorbent, and soft terry cloth.
I even use it as a jacket when walking the dog outside on chilly mornings."
The long sleeve design which extends down toward the wrists makes it perfect protection against cold.
Others also like the roomy pockets in the front that can hold almost anything with its size. It truly does what it's supposed to do as some reviewers say.
Buy Here:
3. Alexander Del Rossa Men's Solid Cotton Robe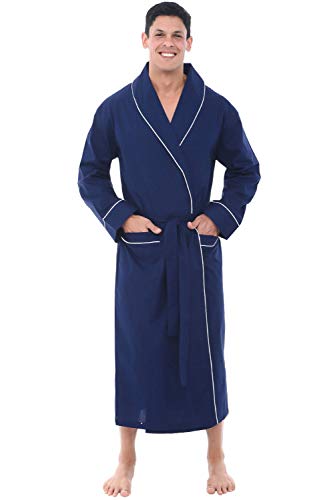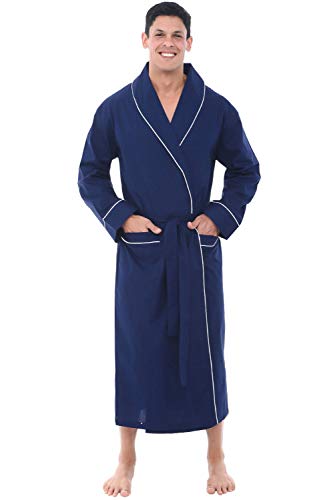 If you are looking for a bathrobe that's made of cotton then you'll find this one perfect! It is made of high-quality cloth that is guaranteed to absorb moisture while providing warmth and comfort every time!
One user has nothing to say but praises for the Alexander Del Rossa Men's Solid Cotton Robe saying;
"It's a wonderful piece of comfortable garment and it's exactly the one that I wanted. I have a terry cloth robe and it's quite heavy and is only perfect for winter.
This one is the opposite! It is large and is made of lightweight cotton cloth but does every single trick that my other robe is able to perform.
I love the pajama fabric that is used and it's not see-through at all. An internal tie also keeps the robe closed even while I am moving around unlike others that tend to shift open because of the absence of such. I can move around freely with it and I just love it!"
There's a lining design that extends through the edges making it look better than the other robes in this list. It's a perfect way to stay in-style even while lounging.
The robe extends way down the knees making it perfect for those who want to keep warm after a refreshing shower on a cold evening. And for its price, it really is a steal!
Buy Here:
4. TowelSelections Men's Kimono Waffle Spa Bathrobe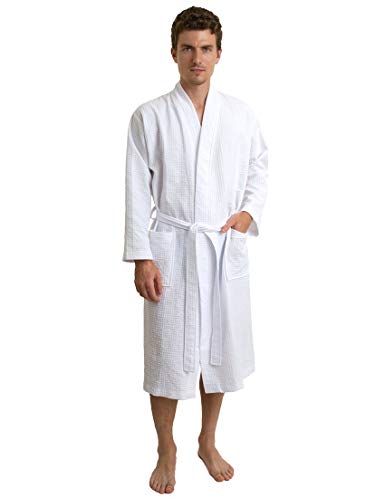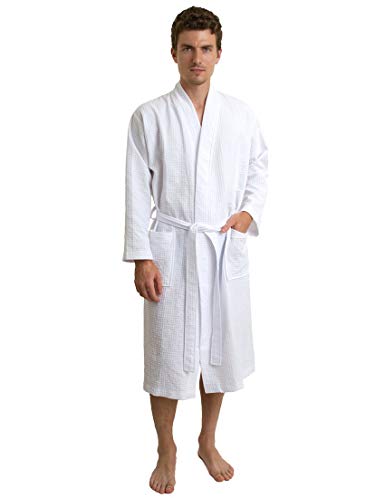 The second one on this list from TowelSelectins, this bathrobe is made to provide comfort and warmth to those who feel chilly after a shower on a cold morning or a chilly evening.
It is made of high-quality materials that extend below the knee and dries your body well after a shower.
One customer likes the comfort that it provides saying;
"The robe provides comfort and warmth and it provides effective drying after a refreshing shower.
I love the waffle pattern which to me feels better to the skin than the other bathrobes I tried.
I wear them while I'm picking my clothes for the day and I like how it keeps me warm even in the cold of the morning.
The stitching is done well and it's such a good quality product for its price. The pockets also hold my smartphone really well and I am very happy with my purchase!"
Most reviews center on how good the robe delivers for the cheaper price tag that it has. It is comparable to the other robes that are most expensive according to them.
If it's drying, comfort and warmth that you're looking for especially after you take a shower but you don't have much in your pocket to spend then this robe would be perfect!
Buy Here:
5. Arus Men's Hood'n Full Ankle Length Hooded Turkish Cotton Bathrobe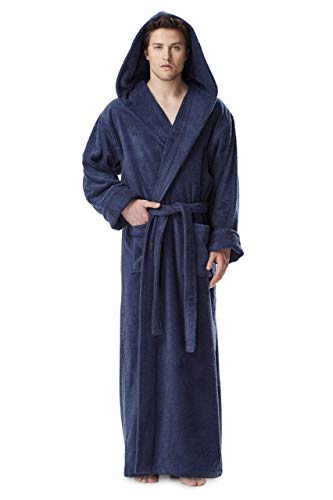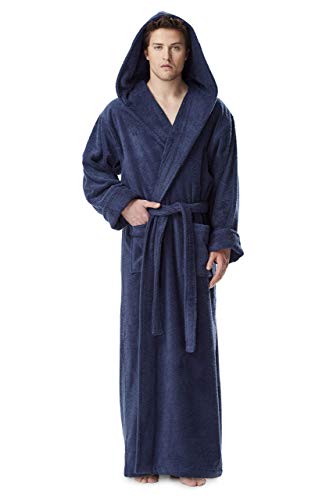 Next, we go to a longer piece of comfort garment which extends right towards the ankles.
Unlike the ordinary bathrobe which reaches just below the knee, this one extends down and provides warmth even to the lower leg and the ankles.
It is also equipped with a hood for those who are sensitive to cold temperature which is normal after taking a shower on a cold and chilly night.
One reviewer who purchased bathrobe writes;
"Hands down to this awesome bathrobe! My husband loves it and it quickly became his favorite. Now the other three just hangs inside the closet unused for a long time.
He has tried several robes before trying to find a long one that has a hood.
He wanted it to be big enough so he can wear it alone when he's checking something in the garage and this one was perfect! I love the terry-cloth material. It is durable, soft, and it is easy to wash. I even have this feeling that it becomes softer now after several washes.
I would definitely get one of this again and recommend it to my friends!"
One strong point that this robe has is its length and the added hood which provides better warming and comfort than others.
It is also made of high-quality terry-cloth which is soft and absorbent making it perfect to be used after a shower.
This is also one of our favorites!
Buy Here:
6. Nautica Men's Long Sleeve Lightweight Cotton Woven Robe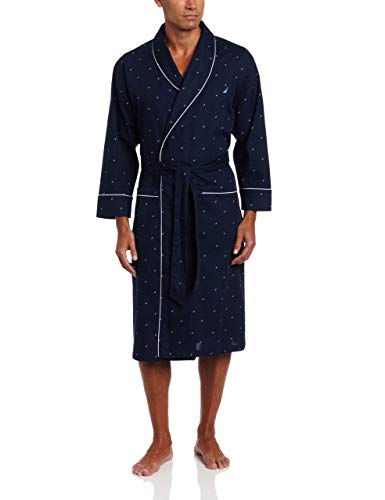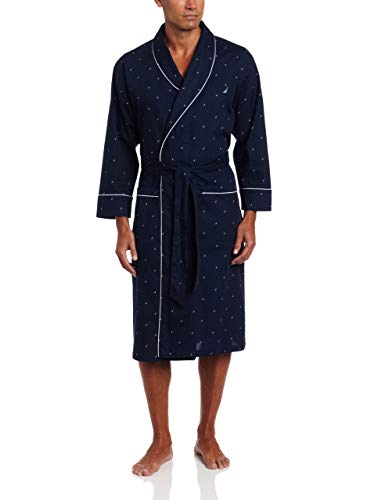 It's not as thick as the others but it delivers well. This robe is made of lightweight cotton cloth which is able to provide warmth and dry the damp skin after a shower.
It's also great for those who are looking for a robe that can be used during the hot seasons. One customer has expressed appreciation for the product saying;
"I wore this robe while recovering from surgery and I would say that it's distinguished-looking.
I felt much better whenever I have it on and I can't explain why.
Maybe it's because it fits well with its belt loops which by the way comes in two sets.
It would fit you even if you're high or low-waisted.
The pockets also hold well because they are sewn using precise stitching done with durable threads. I stand six feet tall and the robe reached mid-calf.
I would say that it's nicely proportioned so you won't need to worry about it showing most of your legs."
While most robes are made of thick terry-cloth, the Nautica Men's Long Sleeve Lightweight Cotton Woven Robe settles with a more lightweight material without compromising on functionality and performance.
It is also cheaper compared to other brands so if you're looking to save but still get a high-quality robe then this one is just perfect!
Buy Here:
7. Wanted Men's Hooded Plush Lounge Spa Robe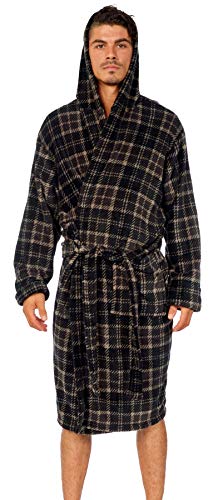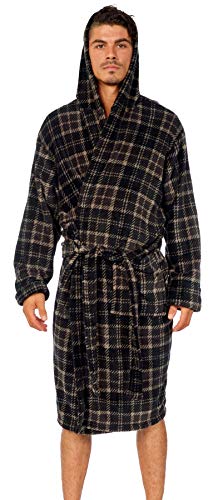 The Wanted Men's Hooded Plush Lounge Spa Robe is made out of plush cloth but it doesn't mean that it is any less than those we've listed above.
In fact, it is capable of performing on-par with the other brands out there. One user liked its fluffiness and warmth saying;
"I just love it! The fluffiness and warmth that it provides are just extraordinary.
It has the right length and I love how the hood provides additional warmth to my head while drying it at the same time.
At first, I was hesitant about washing it because I was thinking that the softness will diminish after doing so but it came even better out of the dryer!
I even dried it on high settings but still worked great! I am looking to purchase another one with black color. I really am happy with this robe and it is now my favorite one!"
Plush is commonly used in stuffed toys but also works great on bathrobes as this one clearly demonstrates.
It may not look as stylish as the others but it certainly does the same thing and even exceeds the rest in terms of fluffiness.
If you're looking for a soft and warm bathrobe then this one would be a perfect pick!
Buy Here:
8. Latuza Men's Cotton Flannel Robe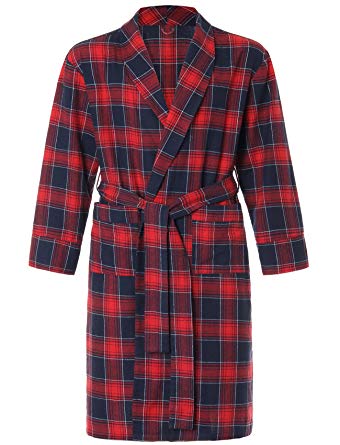 Next, we come to a flannel robe that provides just the right warmth and comfort for the not so cold days.
The Latuza cotton flannel robe is one that is designed to dry the skin and keep that way after you emerge from a refreshing shower.
One customer likes the material of this robe and writes;
"I love the robe and it's perfect for the summers in Colorado. The material is lightweight but sturdy.
It compares to those high-quality flannel shirts out there but has cotton material within making it breathable but still effective in fending off the chill on a cold morning shower.
The XXL size fits me well and I think the sash is long but I love it! If you're not 6 feet 4 inches tall, the sleeves would probably be longer but it can easily be fixed with a simple re-hem or you may even roll them up which I do." 
Thick robes won't work on warmer seasons and that's where this Latuza Men's Cotton Flannel robe steps into the picture.
It provides just the right amount of warmth keeping you more comfortable while lounging after a refreshing shower.
Just be sure that you are getting the right size so you'll enjoy a better fit especially on its sleeves.
Buy Here:
9. Alexander Del Rossa Men's Flannel Plaid Robe
Still, in the thinner robes category, the Alexander Del Rossa Flannel Plaid Robe for men won't disappoint in any aspect.
It is capable of drying extra moisture after a shower and provides warmth when you need it.
Many users say that it's the best one they ever owned because it is perfect to use for most of the year;
"It's the best bathrobe I ever owned! I like that it is light and it's been perfect for most of the year as I used it – It is a bit lighter than my other robes and I think it would not be the perfect one to those who keep their house cold with AC.
I love the internal tie because it helps the sides to stay in place and the tie outside is the perfect length.
It's really soft and warm whenever I put it on and my wife just loves the way it looks! For its price, it's really the best buy!"
Being cheaper in price doesn't mean failing in terms of performance.
In fact, there are more expensive bathrobes out there which fail in different aspects where the cheaper ones succeed.
The Alexander Del Rossa Men's Flannel Plaid Robe has balanced every feature so it can perform on-par with the other brands in this list.
Buy Here:
10. John Christian Men's Hooded Fleece Robe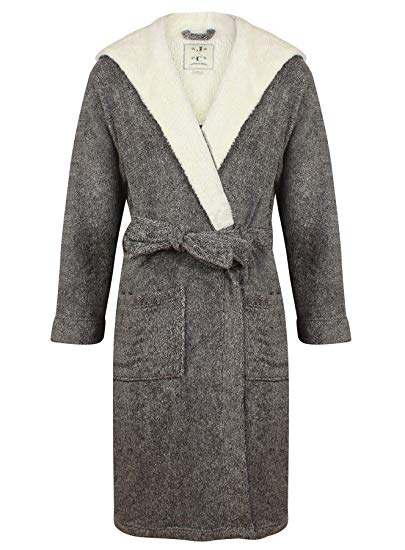 Another addition to our Fleece line-up is the John Christian Men's Hooded Fleece Robe.
It features an additional warming part through its hood. Made of high0quality fleece and cotton material, this robe is going to give nothing but warmth and comfort to the wearer.
One customer expressed how satisfied he is with the product saying;
"A friend of mine had this robe in his house and I loved it! It is warm, soft, and I feel very comfortable having it on.
It does not have the tendency of making you feel too warm. The stitches are great and it really fits well.
The hood feels cozy especially when you put in on while lounging after a refreshing shower.
The pockets are also great for holding a smartphone and some other stuff.
The ties are also the right length so you will feel comfortable even when it's hanging from your waist. It's really a great robe and I love it!"
If you're looking for a robe that has a balance of comfort, softness, and warmth while giving you a perfect fit then this one is going to be a nice pick.
It does what it is supposed to do without breaking your bank with its price!
Buy Here:
11. Intimo Men's Classic Silk Robe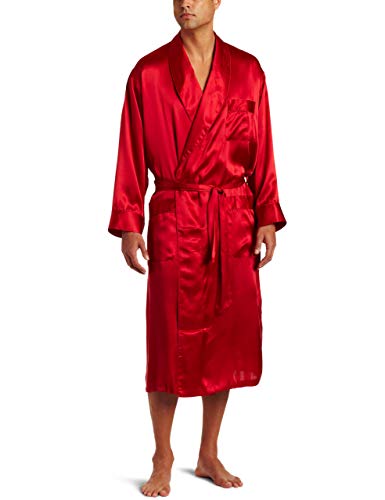 Done with the terry, cotton, and fleece robes, let's explore a different one which is made of silk.
The Intimo Men's Classic Silk robe is made of a different material but still performs at the same level as the ones made by thicker materials.
The proof of this is the several positive reviews that are found around the Internet. We found one user who's been impressed with its fine quality saying;
"I am delighted that it weighs heavier than what I expected. It is made of silk so it won't overheat you and I've enjoyed wearing it all summer.
It's one of the finest quality robes I ever tried. I love how sturdy and well-sewn it is. The belts are sewn well to the robe itself.
It really looks good and it provides enough wrap for a wider man but still does not impose any restriction on any movement.
The length extends below mid-calf and I think it is long enough. It maintains dignity even while moving around as it covers those private parts very well without any accidentally flashing off to other people. The color is rich and deep.
I have already washed it a couple of times using a gentle cycle together with other clothes but it didn't even change in appearance.
There's no shrinkage, damage, or even color bleeding that I observed."
There's no reason to be afraid of trying something different especially if you're looking for a robe that you can wear during the warm days of summer.
The Intimo Men's Classic Silk Robe is a perfect piece of bathing accessory which delivers great performance without any compromise.
It is definitely worth your money!
Buy Here:
12. Noble Mount Men's Premium Satin Robe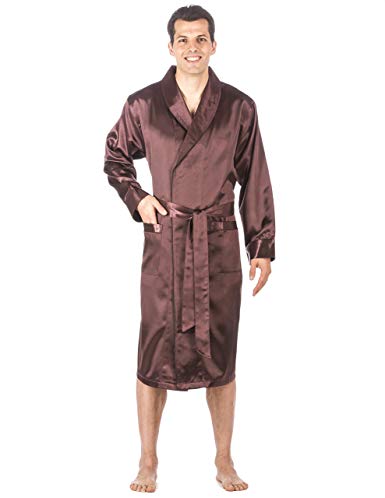 Continuing with the robes that you can wear on warmer seasons, the Nobel Mount Men's Premium Satin Robe is one that's got plenty of positive reviews because of how well it performs and how well it is crafted. Most users have found it by reading through some reviews that are abundantly found on the Internet.
One wife expressed her appreciation of the product by writing;
"I bought robe for my husband after finding many great reviews about it. It was delivered to me in a beautiful box and was delivered on time perfect for our romantic getaway during the weekend.
He loved the robe and even felt that it was luxurious and well-fitted on him. The placing of the pockets was perfect and it was where we wanted them to be. It's the perfect gift for the man you love and is even perfect to wear outside the bedroom.
It truly is a classy robe and it's not like the other ones that I bought for him in the past.
I already washed it several times and it was able to preserve its beauty on the delicate cycle machine settings. I would definitely recommend this robe to those who want something luxurious and fine."
Though it is made of another material which is out of the usual terry-cloth, cotton, or fleece, this robe still performs very well especially in the warmer seasons and it never fails in its looks of luxury and style.
It is also competitively priced!
Buy Here:
13. Alexander Del Rossa Men's Sweatshirt Style Hooded Bathrobe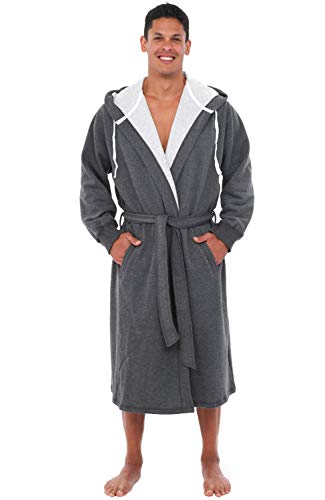 Moving on to a robe that takes style inspiration from sweatshirts, the Alexander Del Rossa Men's Sweatshirt Style Hooded Bathrobe is one that's perfect for Millenials and younger ones who want to stay in-style even while lounging.
This bathrobe also has a hood that brings additional warmth and helps the head to quickly dry after a refreshing shower.
One user expressed nothing but satisfaction on the product and wrote;
"I bought this robe in advance (a month) so I can give it as a gift for my boyfriend's birthday.
I even tried to have him put it on so I can see if he really liked it then I planned to wrap it so I can keep it away for the next month.
I loved the look on his face when he slipped into the robe for the first time and all my plans failed. I knew I couldn't get it from him ever again so it turned out to be an early birthday present.
It is lightweight, soft, and cozy. It is everything I wanted and he feels like he's a Jedi master, a boxer, and a martial arts monk whenever he puts it on!"
Moving out of the conventional style and looks of a bathrobe are the strength of the Alexander Del Rossa Men's Sweatshirt Style Hooded Bathrobe.
It integrates modern design and looks which are perfect for people who are looking for something that looks different than the traditional robe out there.
And for its price, it's truly perfect for those who want to keep warm without spending too much.
Buy Here:
14. Regency New York Men's Cotton Sweatshirt Style Hooded Robe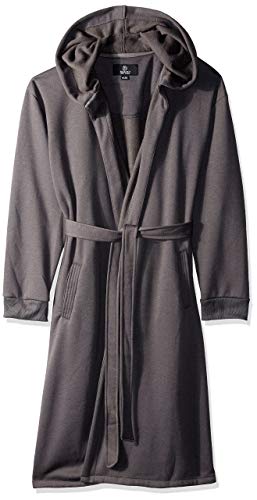 Another robe that takes inspiration from the shape and design of the popular winter wear the sweatshirt, this piece is made of cotton ensuring that it's lighter in weight but still as warm and comfortable than other materials.
It is designed so it fits every size and shape of the man's body and with the high-quality materials used in it, it's going to provide effective drying and warmth every time!
The design, stitching, style, and fit are the strong points which this user likes and he writes;
"I have been looking around for a robe that isn't made of cheap nylon fleece and I've been doing it for many years now.
Finally, I found this one after reading some great reviews especially in Amazon where most of my friends get their gear.
I love its superior stitching which produces great style and fit. The overall build also feels durable without being too heavy.
Its cuffs  help me avoid the wide and floppy sleeves and the hood is a welcome addition as well as it keeps my years and head warm.
It is also an absorbent cloth when compared to fleece robes which tends to sweat and water dripping within and it's not a nice feeling at all.
The belt has double-stitching and is ready for heavy duty use. I'm really happy with my purchase."
The Regency New York Men's Cotton Sweatshirt Style Hooded Robe combines good quality material with modern style and perfect fit making it great for younger generation robe users.
It is one of our favorites and for the price of around $35, you couldn't find a robe that's better in terms of quality, design, and style than this one.
Buy Here:
15. King Size Men's Big & Tall Terry Bathrobe With Pockets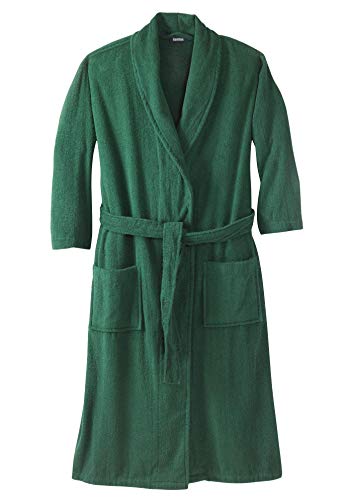 Lastly, to those who are looking for a bigger robe that still provides a perfect fit, the KingSize Men's Big & Tall Terry Bathrobe With Pockets would be a perfect choice.
It is made of high quality terry-cloth material that is soft and absorbent in every part. One reviewer posted how glad he is with his purchase. He writes;
"The robe is super soft and absorbs moisture really well. Every part is cut generously starting from the chest, to the shoulders and sleeves, down to the waist, and the overall length.
It is comfortable and warm and I use it whenever I go to our outdoor hot tub especially when the air is cold and chilly during the spring.
It's really a great way to dry yourself off and keep yourself warm while having a luxurious looks and feeling at the same time."
This robe is designed for those who are having a hard time finding a robe that fits them well because of the bigger or taller size body that they have.
It is made of high-quality materials stitched together using durable threads so you can use it for longer. It is truly a great way to stay warm after shower on the cold days of winter.
Buy Here:
Things to Remember When Choosing a Bathrobe
Choosing the right bathrobe is important given the price that these garments usually have.
That is why it's important that you consider your budget first of all before anything else.
Next, you must select the right material used.
If it is meant to be used during the winter then you need to choose one that is made of terry, cotton or fleece and it must be thick so it can effectively keep the cold air at bay.
If it's generally warm especially during the summer then get a bathrobe that is made of satin or silk.
The style is also important.
If you're fond of wearing your robe outside your bedroom then you need to make sure that it looks good on you and it does not look like a window curtain wrapped around your shoulder.
It also needs to fit you well so you can be sure that it works perfectly in keeping you warm and comfortable every time.
Also, choose one that has the color which you really like. Color choice influences the length of time you would use your investment so be sure to get one that has the color which you love.