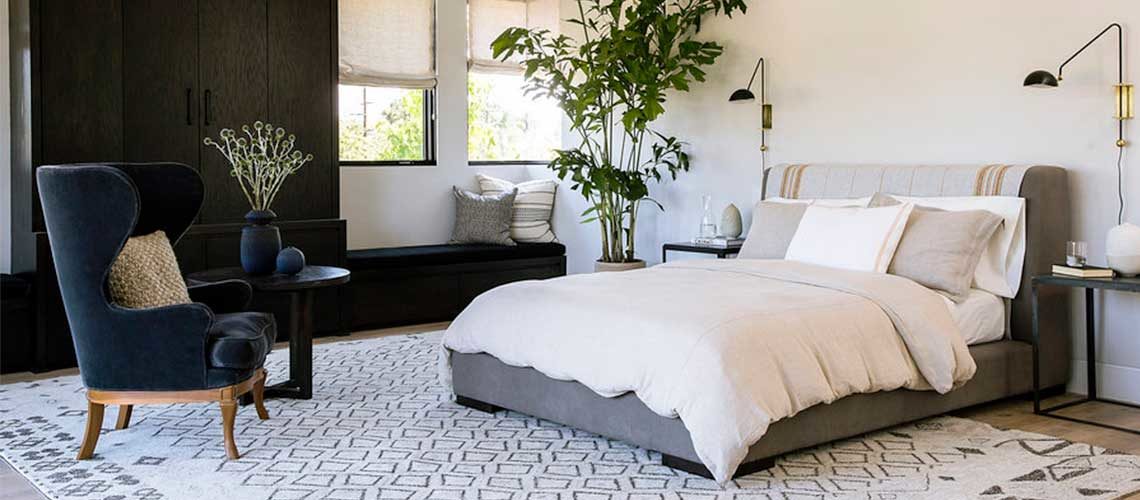 Bed and Mattress Size Dimensions Comparison Guide
When choosing your mattress size, it goes beyond personal preference.
You have to factor in the size of your bedroom, your budget, and more importantly, your comfortability.
Beyond the factors of room space, your preference should be your top priority and that includes the size of your bed.
In this article, we will cover the different standard sizes of mattresses that will help you choose the right size for your preference.
We will also be sharing some frequently asked questions in regards to the dimensions of the bed.
Let's get started with an overview of the different size options and then dive into the details of each one:
Quick Reference Guide:
King

: 193 X 203cm | 76" x 80"

Queen

: 152.5 X 203cm | 60" x 80"

Full

: 134.5 X 190.5cm | 53" x 75"

Twin

: 96.5 X 190.5cm | 38" x 75"

Twin XL

: 96.5 X 203cm | 38" x 80"

California King

: 183 X 213cm | 72" x 84"
King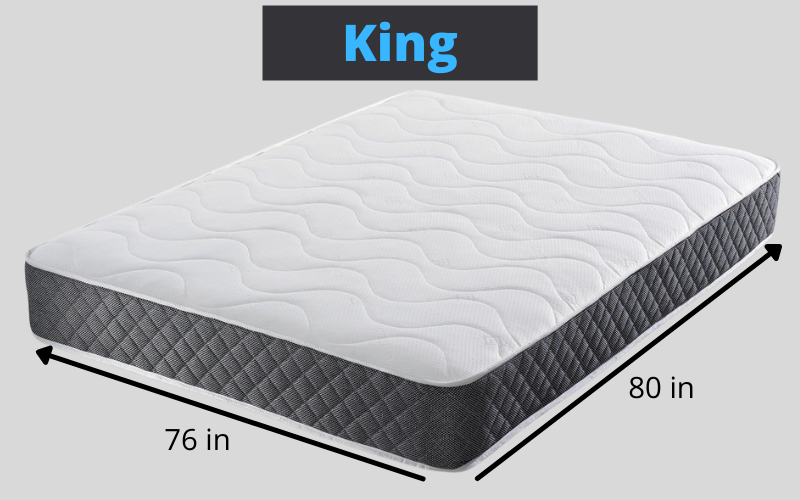 If you are a couple that enjoys their space or a growing family, you need your bed size to be larger with a king-sized bed that makes you share space with your children or your partner. 
A dimension that's about 76" x 80" would require a more spacious room with a minimum size of 12ft x 12ft.
With a whopping size that's about one foot bigger than a queen-sized bed, this gives enough room for couples to share space, for smaller kids or even their pets.
King beds are large and spacious with plenty of room to share your sleeping space.

Queen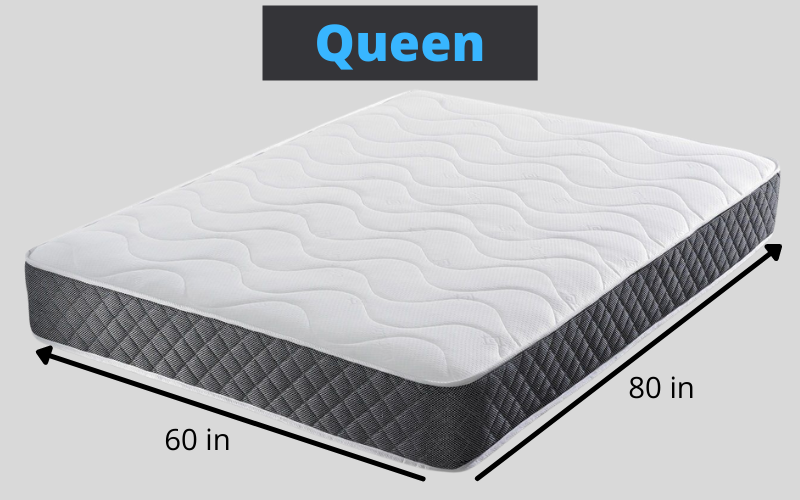 Now for couples and adults who want to romantically play around the mattress, a queen-sized is their choice.
With dimensions that span from 60" x 80", this would require a bedroom space of 10 x 10ft which is suitable for master bedrooms.
Also considered the most popular bed in the market, queen-sized mattresses have enough space for couples to move around the bed for cuddling romantically but also sleeping comfortably.
That's why, traditionally, this bed is situated in master bedrooms.
Full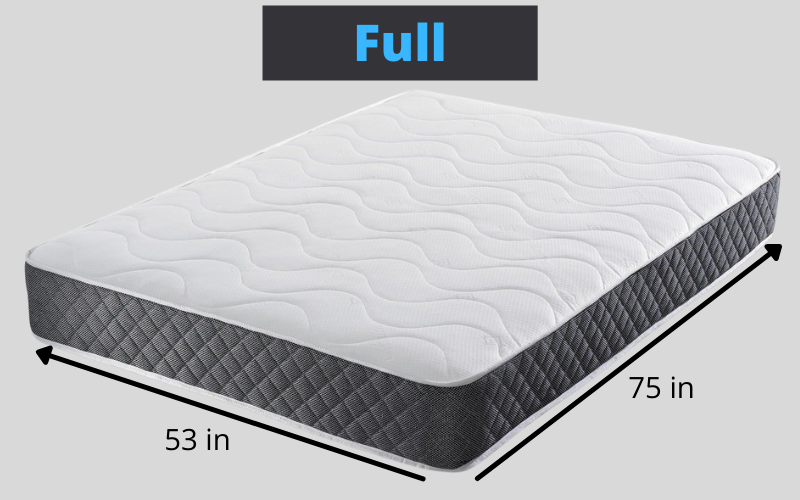 If you're looking for bigger sizes of beds at a cheaper price, a full-sized bed with a dimension of 53" x 75" is one that you would look into.
This is perfect for young adults and young couples.
The full-sized mattresses are a good starter pick for fresh graduates who are moving in locations and living on their own.
Sometimes referred to as a double bed, this mattress is 16" wide compared to a twin bed, a suitable size for young adults who don't have pets or children to share with.
This is also a perfect choice for guest rooms.
Twin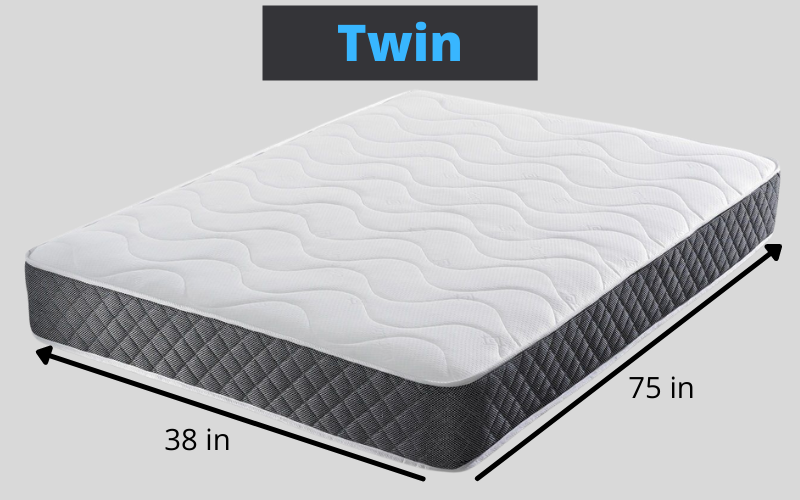 The size of a twin bed is 38" x 75."
Ideally, twin beds are best for kids and bunk beds.
For the room space, a twin bed would fit a bedroom size of 7 x 9ft.
But, if you're looking at adding other furniture like a desk and small cabinet, an 8 x 10ft bedroom space would be comfortable already.
A twin bed is the smallest size of a bed that you can find in the stores.
That's why this type of bed is ideal for kids and bed spacers in small bedroom spaces like a studio unit in a condominium.
Twin XL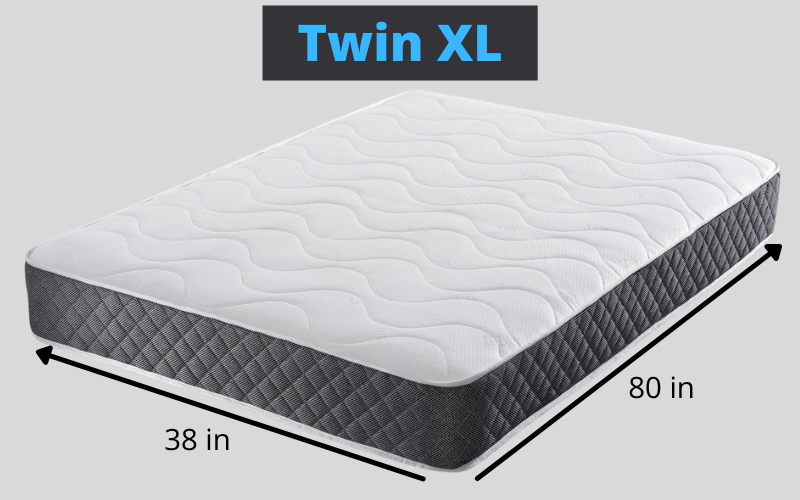 Compared to a twin-sized bed, a Twin XL is slightly bigger at a size of 38" x 80."
If you already have a teenager or you're a single adult, this size would be a good option for you.
Still, with its compact size, it only requires a limited bedroom space.
With a room space that's 8 x 10 feet, a Twin XL bed could already fit in.
Narrow rooms that are 7 feet wide are the minimum size for this type of bed.
Considered the more popular type of bed, Twin XL are really suitable for college dorms.
With a size slightly longer than a twin bed, this is really suitable for teenagers, college students, and individual adults.
Plus, it only needs a good limited space. 
California King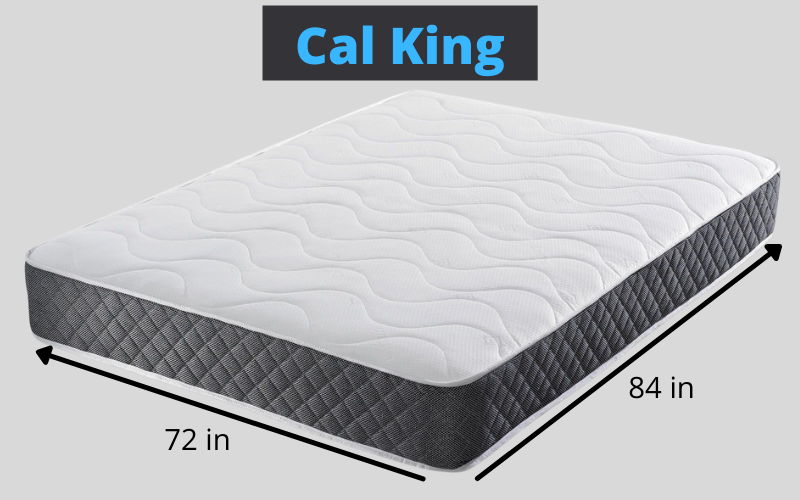 The last type is the California-king bed with a gigantic size of 72" x 84."
A luxurious type of bed that could comfortably share space with your kids and pets.
While it is a dream bed for most, it also comes at a hefty price due to its size.
This size of the bed could fit right in a 12 x 12ft room space, but ideally, a larger one would be more preferred.
The largest size of mattress out there is the California King bed (although the Standard
King would have something to say about that).
Because of its size, taller individuals who are above 6 feet  in height would fit comfortably on this.
With the height longer than the king-sized bed, individuals with an average height would also benefit from this if they want to share more space for kids and pets.
Choose Wisely
If you're considering changing your mattress with your preferred size, factors such as room space, bed-sharers, furniture, and maybe even health or sleep issues should really be considered.
Buying a mattress is not as easy as picking the food in the grocery.
In the bed market, there's no such thing as one size that fits all.
That's why your needs and budget should be factored in.
If you have a history of sleep issues, that's also another concern you want to look into.
Perhaps, suggesting to use a free trial from the bed supplier is a consideration to know if it's suitable and comfortable for you.
Here are other factors you also need to look into:
Room Size
As mentioned, room space is a big factor in choosing your mattress.
If you have a big-sized bed but a limited room, most definitely you're mattress won't fit, or if it miraculously does, you're sacrificing your comfort and movement inside your room.
Planning before purchasing is a wise step to do.
Here is the breakdown of sizes for the standard beds:
King

: 193 X 203cm | 76" x 80"

Queen

: 152.5 X 203cm | 60" x 80"

Full

: 134.5 X 190.5cm | 53" x 75"

Twin

: 96.5 X 190.5cm | 38" x 75"

Twin XL

: 96.5 X 203cm | 38" x 80"

California King

: 183 X 213cm | 72" x 84"
Body Size
Sometimes left out, your height does matter as you look into new mattresses.
A common twin-sized or twin-XL can only kids and individuals who are shorter in height.
But with individuals who are taller than 6ft, adult sizes like queen-sized, king, and California-king are a comfortable choice.
Those that just want more luxury and space to move around, go straight directly at the California-King bed if you prioritize your comfortability without any limits on budget.
Who's sleeping in the bed?
Are you a single, couple, or a family?
If you're single and living on a budget, you have to look into this before deciding to buy a new one.
If you're a couple and a growing family, you might look into buying bigger ones that are essential to your needs.
Typically, smaller sizes like twin, twin-XL, and full mattresses are good for single individuals.
If you're a couple or with a family, bigger sizes like the queen-sized, king, and California-king bed are a good suggestion.
If you're sharing with another individual, look into your sleeping habits and movement.
Perhaps, a room with a king or California-king sized bed is a more comfortable choice for you.
Budget
Speaking of budget, the last factor you want to consider is your financial resources.
If you're limited with your budget, smaller sizes of beds could help you choose what's good for you.
Technically, king-sized beds are bigger than queen-sized ones.
Queen beds are also bigger than full beds, with twice the width in size.
Matching your budget and your size is key to purchasing a new mattress.
Finally
In conclusion, choosing the right bed size should really be looked into without deciding passively.
If you have the budget to splurge and spend, aim for the California-king bed.
But if you're living alone, then you don't need to spend so much on bigger sizes of beds.
Have one that suits you and you're going to be fine.
Making an informed decision is now possible after you have researched the different mattress sizes and bed dimensions.
For additional comfort, you might also consider an alterable bed frame for added situational flexibility.
Having breathable bedding will also make your rest time feel so much more relaxing.
FAQs (Frequently Asked Questions)
How Do You Measure a Mattress?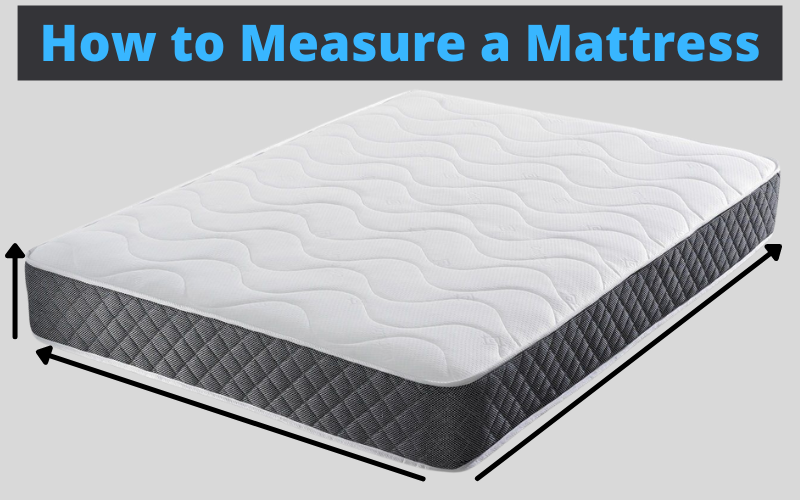 This might sound like an obvious question but trust us when we say a lot of people don't know how to measure their mattress or bed size.
First off, you may want to use a tape measure, or better yet, a steel tape to have measures in both inches or centimeters as both can be very useful information.
To determine the length of the mattress, measure from the head to the foot, and, of course, side to side for the width.
The last dimension is the depth where you measure from the base of the bed that touches the bed frame or box spring to the top of the mattress.
It is a good idea to have all kinds of measurements in hand and ready before going to a store and buying or even if you are just simply pricing out beds, mattresses, bed frames, or even box springs.
Is There a Mattress Smaller Than a Twin?
The single mattress, otherwise known as a twin, is the smallest regular mattress size in the market.
They measure 38 inches by 75 inches which is adequate enough for children or even adults who are not particularly tall.
Note that you can always get a customized mattress that is even smaller but this is going to cost additional money and time.
Some people have custom-made mattresses for their pets; although this is very rare and only for special occasions.
Twin vs. Single Mattress: What's the Difference?
With all the bed and mattress categories, admittedly, it can become somewhat confusing.
A single mattress and a twin mattress are technically one and the same.
They both have a dimension of 38 inches by 75 inches. The twin and even the twin XL (somewhat longer in size) are both designed to fit a single person only.
And because these mattresses are small enough that you can usually fit two in any room, this bough about the term "twin".
You can find these setups usually in hotel rooms, children's rooms, dormitories, and other similar rooms which are designed to fit more than one person.
What Size Is a Double Mattress?
A Double-size mattress (also known as a Full mattress) is 53 inches by 75 inches.
Just like the Single and Twin mattresses are exactly the same, the Double-size mattress and the Full mattress are the same as well. 
If needed, this bed can fit two people, although it wouldn't be very comfortable for both.
Smaller-sized adults can definitely make do if there is nothing else available.
Is Twin XL The Same as Full?
The Twin XL is a little bit longer than the full by about 5 inches. However, it is also 15 inches narrower.
The Twin XL is not a particularly good idea if you want to fit two people.
The twin is designed for one individual who is taller than the average person.
The Twin XL is specifically used for rooms with rather limited space.
You'll want to maximize the area so the Twin XL would be perfect.
You can definitely notice that school dorm rooms and even cozy apartments use this type of mattress.
What Is The Size Difference Between Full and Queen?
Most adult bedrooms usually have either of these two options.
A Full-size mattress measures 53 inches by 75inches.
A Queen is somewhat bigger at 60 inches by 80 inches.
A Full Bed can be a bit snug for two people but they are adequate enough for two adults who don't mind sleeping in close quarters.
It can even be used for guest rooms.
Queen beds are more comfortable because it is bigger but it would also need more floor space, and more cash, as well.
Is a Full Bed Big Enough for Two?
Also known as a Double Bed, the Full-sized bed can definitely fit two people.
In the 1960s, Full-size mattresses were the norm among couples.
The big advantage of this bed size is that it can fit into smaller rooms without sacrificing too much on bed space.
Today, most adults prefer a bigger bed.
The full bed is 53 inches by 75 inches meaning that each person would have 26.5 inches of lying-down space.
Given that the average male shoulder width is 18 inches, the extra 8.5 inches of space might not seem much, but it can be fairly adequate.
For a more comfortable bed space, go with the Queen bed.
It gives each person about 30 inches of bed space.
Or better yet, get the King and have 38 inches of bed space all to yourself.
Always consider the sleeping styles of the bed occupants, and not just the bed size.
Is There a Bed Bigger Than a King?
Yes and No. 
Yes, because you can have a custom-made bed that can be whatever size you want; of course, depending on the budget and the size of the room you want to put the bed in.
No, because for the regular bed and mattress lineup, the King is the biggest one you can get that's ready-made.
It measures 72 inches by 80 inches and is perfect for those whose sleeping style is following the flow of the clock (which is rotating 360°).
What Is the Difference Between a King and a California King?
The Standard King measures 76 inches by 80 inches while the California King is 72 inches by 84 inches.
The overall bed space is exactly the same but it all depends on where you want your bed to be taller or wider (by 4 inches to be exact). 
The Standard King is four inches wider than the California King but is also four inches shorter.
As to comfortability, both are quite huge beds and need a big room to fit them.
The final verdict all depends on the preference of the user.