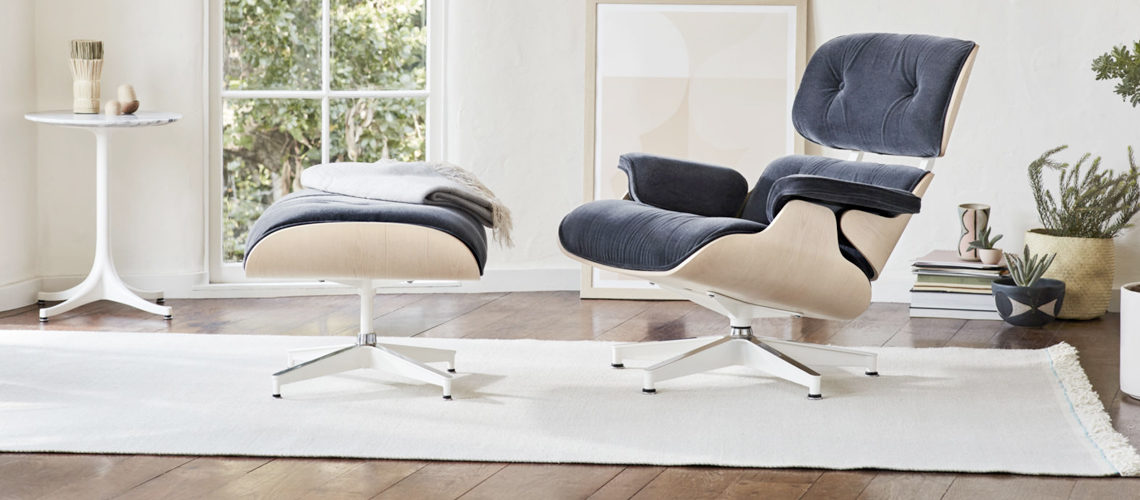 Today more than ever, the mid century modern look is everywhere.
With entire museums like the MoMA (Museum of Modern Art) dedicating large sections of their displays to these architectural pieces, it's no wonder they are so sought after.
In this image you can see several original furniture pieces displayed in the Museum of Modern art in NYC: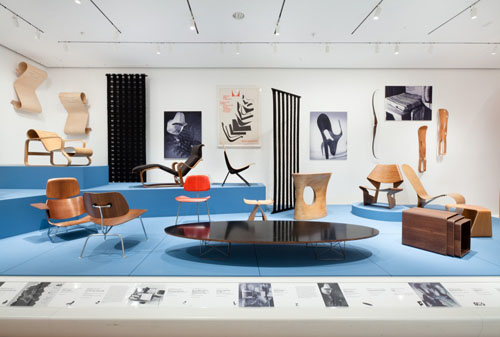 The Mid Century or sometimes called The "Eames style" era has made a mark on design history.
With designers like Charles Ormond Eames, Bernice Alexandra Ray, Eero Saarinen, Arne Jacobsen, and more, their timeless designs have remained highly sought after even to this day.
Famous pieces like the Eames Lounge Chair, Tulip Dining Table first designed by Eero Saarinen, the ball chair, and many others are collected and reproduced to meet the consumer demand.
In the early 1990's, Knoll, a major manufacturer of iconic midcentury designs opened a showroom in SoHO.
In fact, in 2013 they opened a new showroom pictured below: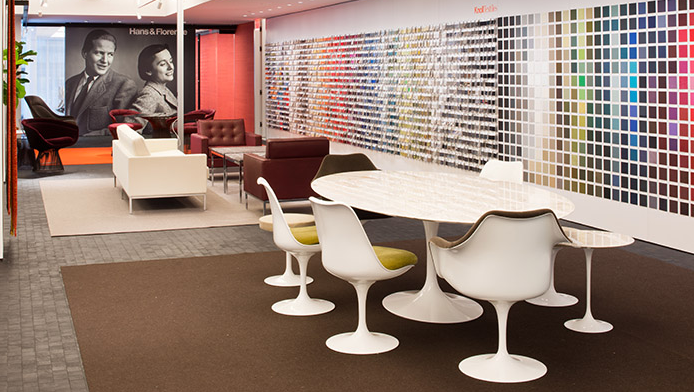 It quickly gained popularity and they eventually began selling online as well.
So many people are drawn to the mid-century era designs that other manufactures caught wind and began making reproductions.
Today you can find so many almost identical and similar reproductions that are more affordable but still offer the same quality and style.
Style and comfort can work well together and these architects and designers found ways to work with both, not sacrifice one over the other.
Here we have compiled a list of some of the best recliners that not only provide a similar Eames-era style, they don't skimp out on the comfort part!
Here's the Best Eames Style Recliners for Absolute Comfort & Style in 2023:
Hadler 30″ Wide Top Grain Leather Lounge Chair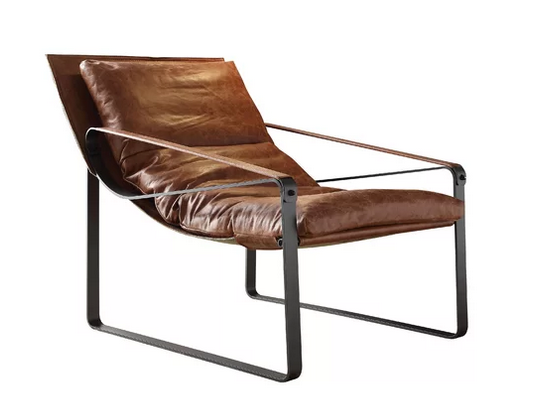 This beautiful recliner style lounge chair is not only a beautiful piece to look at, it is comfortable and made with a beautiful soft grain leather.
Tucked in the corner of the living room or bedroom, up next to a side table, or centered on an enclosed porch, this chair is the perfect addition to any room.
This durable chair provides the comfort you are looking for but brings the mid century era flare to a modern, updated space.
Made with the softest Top Grain leather, it includes a plush padded seat and back and sturdy iron metal legs.
Features:
Padded seat and back
Top Grain Leather
Cocoa Finish
Iron Metal Legs
No Assembly required
300lb Weight Capacity
Price:
$899
Buy Here:
Scout & Nimble Barca Lounge Chair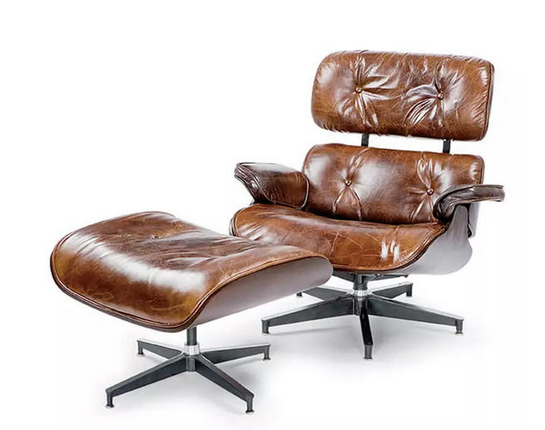 This Lounge Chair replica is the best budget buy reproduction you can find of the original Eames Lounge Chair.
For the price, you simply won't find a replica that matches this closely to the original.
The main reason that this chair is cheaper than the other top choice replica's is that they use "top aniline leather" rather than "full-grain" aniline leather.
Nonetheless, this chair is sturdy, still has the same measurements as the original and to the naked eye of most people, they won't know the difference unless they are true Eames enthusiasts.
Key Features
Upholstered in your choice of top-grain eco-leather, premium Italian leather, and full grain aniline leather imported from Italy.
Braided thread used with Lockstitch (stitch type #301) ensures piping stays in place and seams are long lasting
Plywood veneer is FAS American Timber
Veneer is finished with a final application of Italian Lacquer
PU-injected memory foam cushions are wrapped with a synthetic silk
Removable cushions
360 degree swivell
Standard Vitra-style cast base and back braces come in powder-coated black with a high polish bright aluminum trim.
Price:
$994.00
Buy Here:
Caddock Leather Chaise Lounge Chair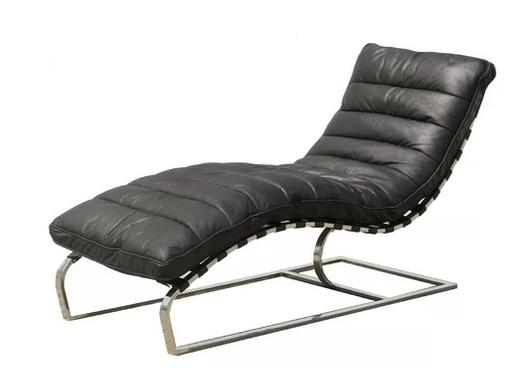 Where converted lofts meet old factories, this chaise lounge provides city industrial chic style.
Although on the pricier side, this chaise is made of soft genuine leather that stays cool in the summer and warm in the winter.
Not only does this piece provide beauty to your space, it is so comfortable!
Designed with the same curves and lines as some of the original mid century chaise lounge furniture, this chair radiates style and class.
It comes fully assembled and ready to enjoy!
Features:
Genuine Leather
Sturdy Metal Frame
Chrome finish
No Assembly required
Price:
$2,999
Buy Here:
Strick & Bolton Lounge Chair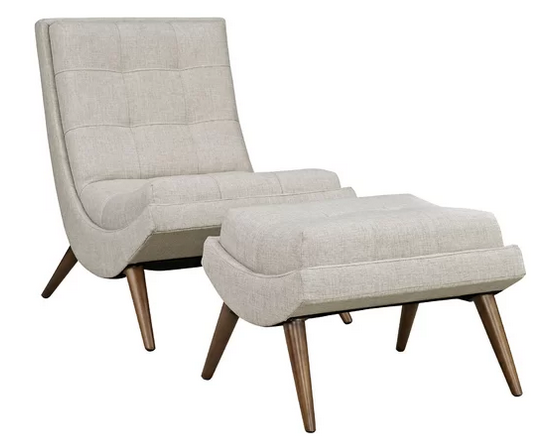 Matching the Eames Era mid century style, this gorgeous chair and ottoman set provide comfort and style.
The highly sought after hairpin style legs and tufted design was a popular design touch during the mid century era.
The ramp lounge chair and ottoman set was designed to serve as a carefree and comfort-filled way to spend your leisure time.
The perfect set for modern living rooms and lounge spaces.
Ramp is made with dense foam padding providing support and comfort and beautiful cherry stained wood legs.
Features:
Dense Foam Padding
Upholstered fabric with tufted buttons
Cherry Stained wood legs
Some assembly required
Price:
$459.99
Buy Here:
Mid Century Womb Chair and Ottoman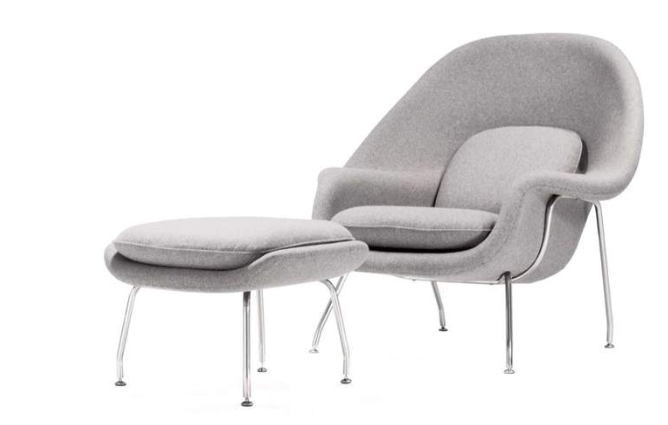 Originally designed in 1946 by Euro Saarinen, the womb chair has become an icon in furniture from the same era as Eames and other notable architects and artists.
Inspired by Florence Knoll's request for a chair that would feel like a basket full of pillows that she could curl up in, you can do the same in the beautiful reproduction.
This reproduction features stainless steel legs sturdily supporting the plush upholstered seat.
It's organic shape envelops you when you sit in it creating a comfortable, safe feeling place – like the "womb."
The matching ottoman allows you to kick up your feet after a long day and really relax in comfort and style.
Features:
Stainless steel legs
Reinforced fiberglass
Wool-blend
High Density Foam
No Assembly required
Price:
$1,200
Buy Here:
These are only five out of thousands of beautiful reproductions that can be found. There are many other great options that can be added to this list.
Just be sure to read reviews when purchasing to see how the quality and comfort compare.
With a little online research, you can create a beautiful space inspired by the famous architects and designers of the beloved mid century era and, you can even make it happen on a budget.