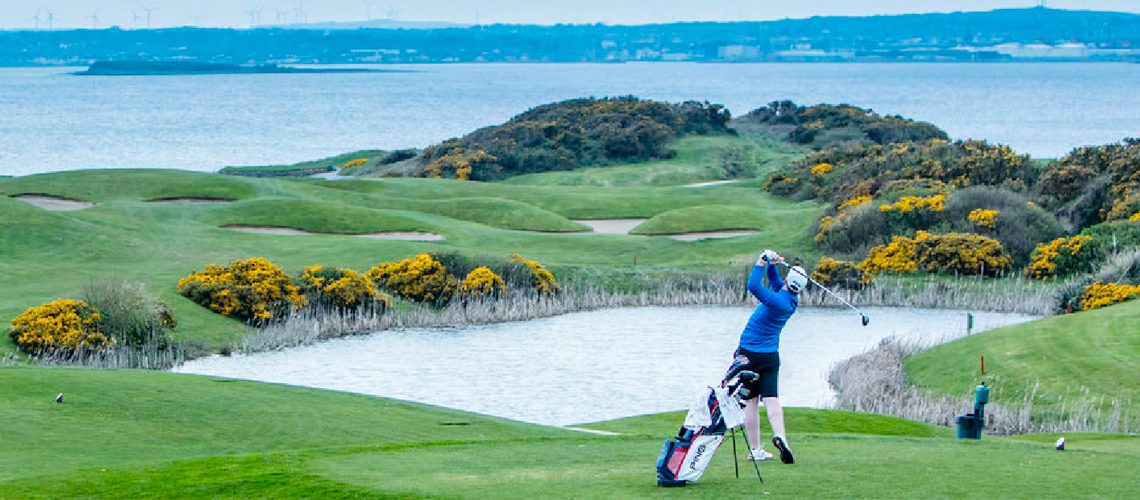 One of the most fascinating things about the game of golf is the scale upon which it's played. The distance of the playing area is much larger than nearly any other sport, and the ball is much smaller than nearly any other sport. The size of the hole is tiny compared to the huge scale of the game, and the precision required is unbelievable…
Naturally, every tiny fraction of an inch makes a difference.
Hitting the ball with perfect contact to send it exactly where you want it, or hitting it horribly, is only a matter of a sliver in either direction.
It's no wonder golfers obsess over every little detail, taking any possible opportunity in the world to improve their game, even slightly.
You can't control the wind, or an unlucky bounce, but you can control certain aspects of the game… including your equipment.
The gloves are what come in between you and the clubs, and the clubs are what come in between you and the ball.
A proper grip with comfortable gloves can be that extra little something that helps take your game to the next level, just like the wrong pair of gloves can hold you back.
If you're the type of shopper who likes to do a little research before making a purchase, and doesn't want to start off in the pro shop trying on 50 different pairs, then coming home to research them, and hoping you don't get overcharged too badly, check out our recommendations below. 
We promise there's a pair of gloves here that you'll love, we've done all the heavy lifting so that you can quickly browse our list and pick your favorite – all of these gloves are fantastic, so you can't go wrong with any of our hand-picked recommendations. 
Here are the Best Gloves of 2023 for Optimal Grip and Performance:
1. Titleist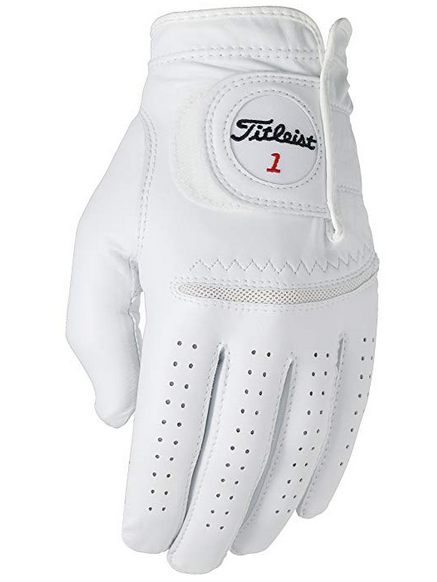 Available in either right or left handed, Titleist's Perma Soft golf glove is absolutely fantastic. It's so, so soft, holds its shape very well over time so it'll always fit like a glove, it helps to resist moisture, and more.
Titleist is one of a handful of brands that are synonymous with golf. Their products are used and preferred by many professionals, but still affordable and accessible enough for amateurs of all levels.
These gloves are a plain white color, with the famous Titleist logo where it fastens on the back of your wrist. Titleist makes these golf gloves out of cabretta leather, which is a strong yet soft type of sheepskin. It's real leather, and it's one of the best fabrics for making durable, but soft and precise gloves, so it's basically a match made in heaven for golfers. 
It's called Perma Soft because it holds onto its soft feel for a very long time. There are small perforations along the fingers for improved mobility and airflow, helping to keep your hand cool no matter how hot your game is. 
There's also a breathable mesh area just below the fingers, which further improves your ability to move and control your hand, while further improving the cooling ventilation of this glove. 
Key Features
Soft, breathable design that's also surprisingly durable thanks to the cabretta leather

Lightweight, clean looking

Moisture resistant and very durable

Our #1 pick, these are the best golf gloves! 
Buy Here
2. Bionic Gloves Stablegrip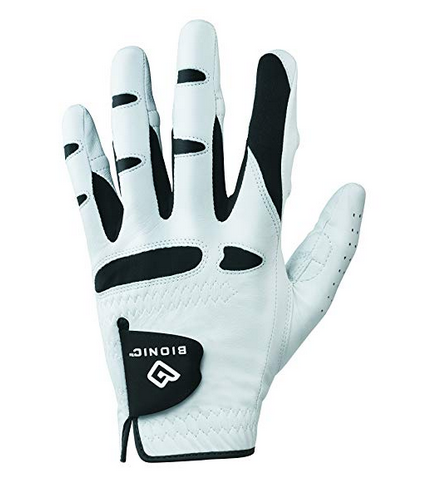 Here's a lesser-known brand that has been taking the golf world by storm. Bionic sells a ton of gloves due to their style, quality, and overall value. They're not the cheapest gloves for golf you'll ever see, but they're also not the most expensive, and they're some of the very best, so all of that is a formula for a must-buy. 
The style is black on white, rather than some of the others that are purely white. The black accents make these stand out a bit, but what really sets this golf glove apart is the perfect grip it gives you by eliminating fatigue and allowing you to keep a firm grip on your club without having to squeeze it as tightly. It has a "second skin" fit to it, so you'll barely even know it's there, especially with the ample mesh areas for breathing and air circulation.
Key Features
Lycra between each finger keeps things cool

Perfect grip allows you to hold on less firm, which prevents fatigue

Machine washable for easy cleaning
Buy Here
3. Callaway OptiColor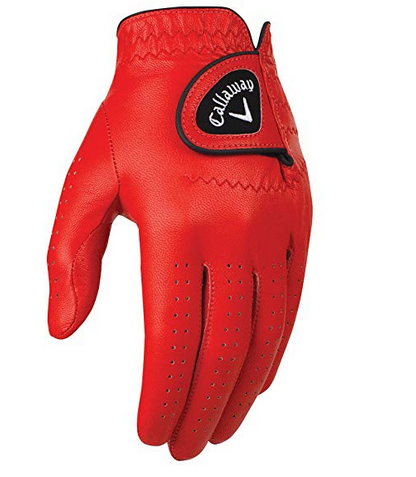 Callaway is another notable brand of golf clubs, clothing, and more. This glove comes in seven different solid colors, including red, green, blue, black, and more. Interestingly enough, it doesn't come in which, which is far and away the most popular color of gloves for golf.
Callaway did an incredible job with this glove, it's truly comfortable, and does everything you'd expect from one of the best golf gloves available. There isn't a ton of special fancy stuff here, or crazy space-age fabrics or anything like that, just an affordable, quality glove that deserves a spot in your golf bag.
It's made from full leather, has perforations on the palm and fingers to help it breathe, and the unique OptiFeel closure to keep this glove in place and to keep your hand feeling grippy, in control, comfy, and ready to smash your handicap.
Key Features
Basic, affordable, but very durable and comfortable

Amazing value for golfers of all skill levels

Available in a number of bright colors
Buy Here
4. Srixon Z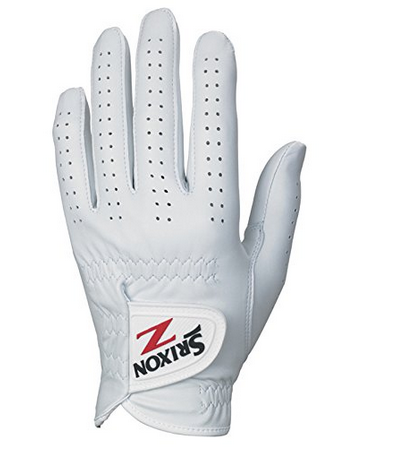 The Z glove by Srixon is made from cabretta leather, which we already discussed as being a great type of leather for golf gloves in particular, so here's another option using the same type of material with some slight differences.
There's a lycra insert that goes across the knuckles, and the cabretta fits snug and secure. Both of these work towards the goals of achieving both comfort and performance. This glove is a fit thicker than some of the others, which is usually a good thing except not as desirable with golf gloves. This added thickness means it'll feel warmer, and is a bit bulkier. You won't have quite the same close feel to the club, but you'll still have plenty of grip. 
A thicker glove is still much better than no glove at all, but it's not quite on the same level as some of the more famous golf brands we've looked at. One of the big benefits of this thickness is that the material will last longer, you'll get more rounds out of this glove than a super thin one, it just won't be quite as comfortable or tactile in the process.
Key Features
Thicker style with an emphasis on durability for people who go through gloves quickly

Standard design, good value for the money

Lycra insert for knuckles helps with fit and feel
Buy Here
5. Nike Sura Feel VIII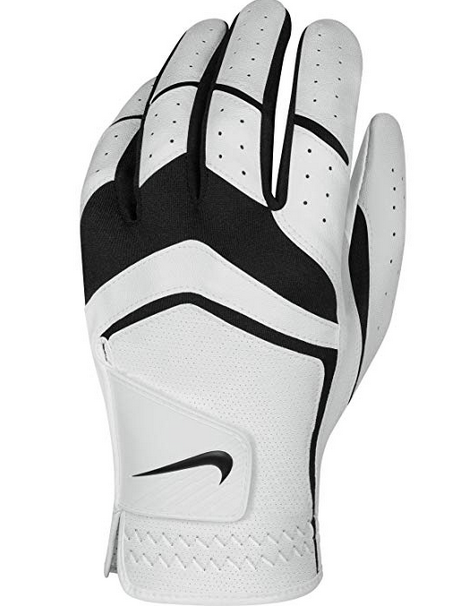 This is an all-around pretty decent golfing glove, it's not the greatest but it still deserves a spot on this list since people adore it. Since they don't last forever, it's not a bad idea to try a few different gloves from a few different brands, and to make the effort upfront to dial in a perfect fit. Once you find the perfect glove, it's time to stock up, but until then, we recommend getting one or two different gloves at a time and comparing them side-by-side, either on the links or at the driving range. 
This glove comes in either white with black accents, or solid black. The fit is adjustable, it only comes in one size, so make sure you measure your hand carefully before grabbing this, or try to try it on in person… or just roll the dice if you're feeling lucky, either way you'll end up with a solid glove at a great price from a well-known brand. 
Nike stuff usually isn't at the very peak in any category, but it's always at least half-decent and can range from great value to slightly overpriced. In this case, it's a great value.
Key Features
Nice quality

Soft and comfortable

Relatively durable considering the price
Buy Here
A Few Tips for Buying The Best Golf Gloves
Golf gloves aren't as big of a purchase as choosing a new set of clubs, or even a pair of golfing shoes, but it's still a really important part of your overall experience, whether you're practicing or playing 18 holes. 
Most gloves don't last forever, so think of this as a somewhat disposable purchase, and don't get too worried when they wear out, it's bound to happen. Some golfers will buy a premium pair for important games, and have some cheaper pairs for hitting the range.
Leather is a good material to look for, cabretta in particular. It feels great, it can get really thin while remaining durable. You'll find other materials too, and they can be just fine. 
Size is one of the major issues you'll find when people aren't happy with their golf gloves. You can measure your hands, and find measurements for most gloves, so take a few moments to do that and remember it's okay if they fit snugly, that's what you're looking for, as long as you still have control over your hand and fingers.