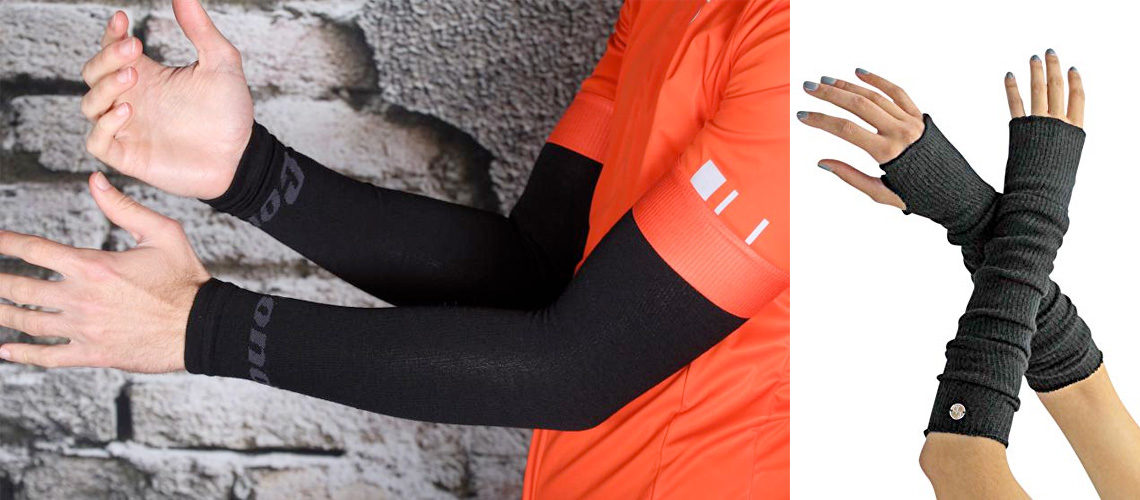 Arm warmers can be a fashion statement, or something that quite literally is just there to accomplish the function that their name implies.
Whether you're looking to complete the look, or to keep warm while partaking in any number of outdoor activities while protection your arms from the sun and having the versatility to take them off when things cool down (unlike a long-sleeve shirt), then we've got you covered.
We've compared all of the popular options out there, and even some of the less popular ones, and we're left with this list of the very best arm warmers for a number of different occasions, so if you're in the market for a pair, and you're not really sure where to start, we've done the hard work for you, all you've got to do now is choose which of the following ones that you like the best. 
Here's a Comprehensive Review of the Best Arm Warmers of 2023:
1. Abbyshot Outlander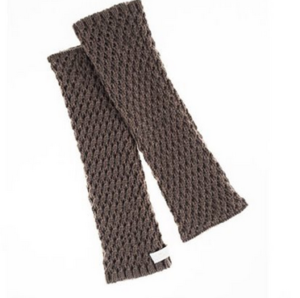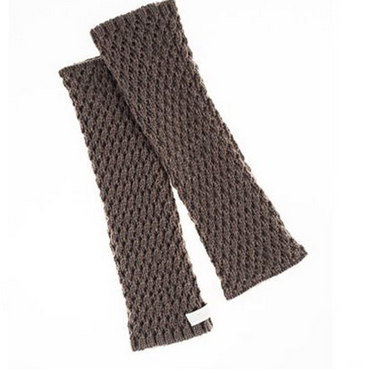 These arm warmers by Abbyshot are licensed merch from Outlanders, these are like the ones Claire wears. It might be a bit surprised to see what is essentially a piece of merch at the number one spot, but these arm warmers are absolutely fantastic.
The value for the price is off the charts, they're very warm and comfortable, and they look great with an elegant and classic style.
These were made with costumes in mind, but they're actually good enough for daily wear, so even if you aren't cosplaying Claire from Outlanders, these are great in your day to day life.
They're sleeve-length, with thumb-holes on both warmers. The shape itself is a pretty simple tube, these aren't meant for sports or athletes who need performance gear that's going to stay perfectly in place. 
They're made with 100% acrylic, 3 inches wide, and just shy of a foot long. If you want to imagine how they'll fit on your arms, just hold a ruler down your arm, starting roughly above where your thumb comments to the rest of your hand, and you'll have a pretty good idea how they'll fit you, give or take. 
Key Features
Gorgeous design

Incredible value

Not just for fans of the show

Overall our top pick
Buy Here
2. Pearl iZUMi Pro Barrier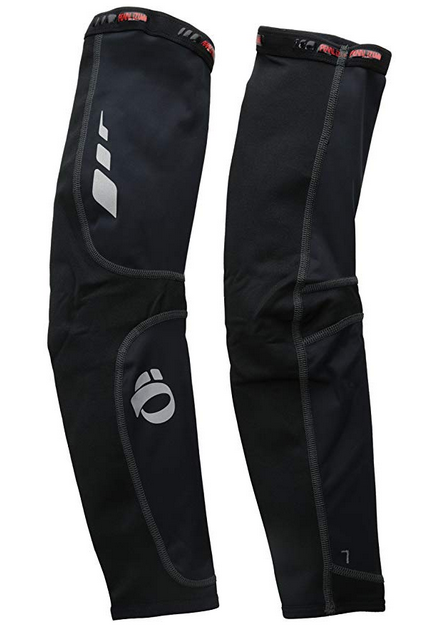 These arm warmers from Pearl Izumi are marketed towards men, but that's just due to the sizing, so if you're a lady, just consider sizing down a bit.
These are less for fashion, and more for practical use like when golfing, riding a bike, or even gardening.
They help protect from the sun, and uses 4 different layers of fabric to achieve comfort and a perfect fit, along with protection from the weather.
These are designed and sewn in a way to give you optimal movement, but also stability.
They're available in solid black (with reflective sections) or red (which also features visibility.)
These are pretty thin, but still quite warm. You can fit them under other clothing if warmth is your main priority.
If you're looking for something a little more stylish that you can wear out and about, that doesn't look as athletic, we've got plenty of other options on this list.
Key Features
Sleek, thin, and practical

Protects you from the elements while keeping you warm

Meant for athletic pursuits, not so much for casual wear
Buy Here
3. Saucony Swift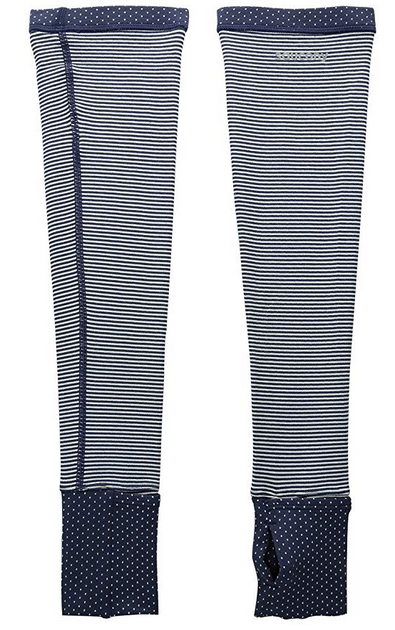 Saucony is a well-regarded and recognizable brand, and these are a very "easy" pair of warmers that come with a fingerless style attached to the end with a thumb hole.
What makes them easy is that they're nice and light, thin, and low maintenance because you can just toss them into the washing machine when they need to be cleaned.
Now, with a more basic product like this, you do miss out on certain things.
They aren't as warm as some of the other ones we've looked at, like the knit ones, and they aren't as useful as some of the tactile ones we've looked at like the pearl iZUMi's, but these still look super cute with a polka dot pattern, and they serve the basic purpose of arm warmers without skipping a beat. 
They're soft, stretchy for a perfect fit, and the cuffs can be converted to mitts when its extra chilly out.
The top of these warmers is made from elastic that's encased in fabric, which helps keep them perfectly in place even when you're out and about. 
Key Features
Simple, basic, low-maintenance

Recognizable brand

Well-made, but nothing overly fancy 
Buy Here
4. Jisen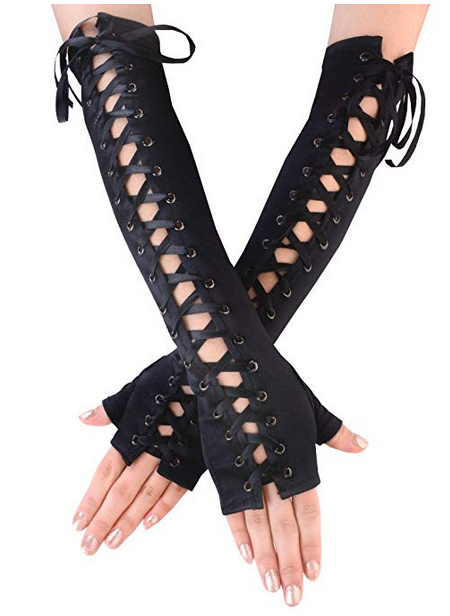 Here's a stylish pair of arm warmers/fingerless arm gloves that are ornamental and decorative, these are popular among cosplayers, the steampunk community, and anyone who is looking for a unique way to accent their outfit. 
These lace up from top to bottom, leaving part of your arm exposed, so they don't offer the most protection from cold in the world, but they'll still keep your arms a lot warmer than if you weren't wearing them at all. 
Whether you're looking for a goth, punk, steampunk, or any other style – these can help bring the look together. There's a built-in slot for your thumb, not just a hole. 
These are more meant as a costume piece than day-to-day clothing, they're very affordable considering the intricacies of the style, but they're not the strongest or the best made warmers in the world, nor will they keep as warm as some of the other options, but they still deserve a spot on this list because they're exactly what some of you are looking for.
Key Features
Costume piece

Surprisingly affordable

Complex and unique design with lace-up fit

Steampunk, goth, cosplay, Halloween, wedding party… they complement a number of looks and uses
Buy Here
5. Flammi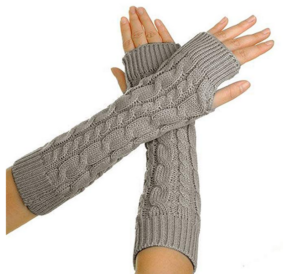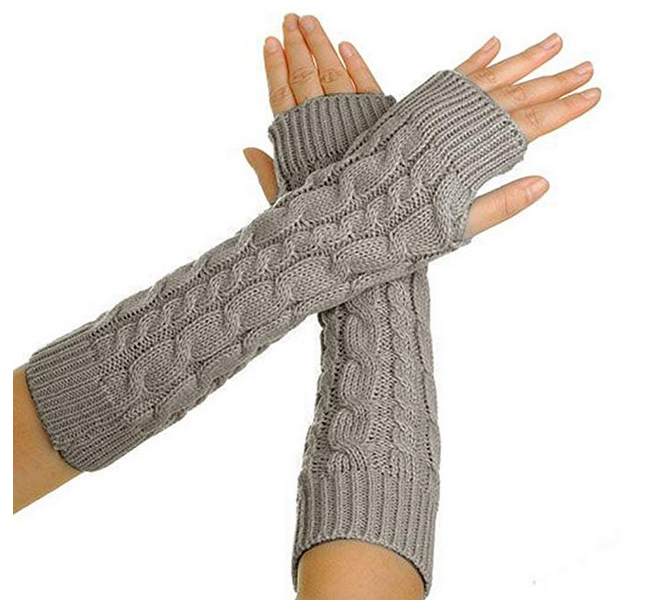 Not sure if arm warmers are really for you, not sure how they'll look or if you'll even enjoy wearing them? Here's a perfect "trial" pair because they're so inexpensive.
These ones come in 7 different colors, each one with a great cable knit design.
They have a slot for your thumb, which keeps them in place and also helps to warm your hand partially, while still giving you full control of your fingers. 
These won't interfere with texting, typing, or whatever else you might get up to.
These aren't of the athletic style, like certain arm warmers for cyclists we've looked at, but you could still use these casually for sports, to stay warm. 
The style here is really nice. It's not the softest or most precious fabric in the world, these are certainly a budget option and they feel a bit cheaper than the rest, but they still give you a good chance of figuring out if you even want a better pair or not.
Having said that, there's nothing wrong with them, they're not below average or anything, they're just cheaper and they feel a bit cheaper, that's all.
They're still perfectly suitable, and great quality for the price you pay, which his why they're on this list in the first place. 
Key Features
Incredible value

Really nice knit pattern

A number of color options available

Fingerless style with thumb hole 
Buy Here
Arm Warmers Buyer Information
From athletic warmers for athletes, to fashionable ones that lace up for a cute, or even sexy look, there's a lot to choose from and the choices can be overwhelming.
We've taken the best options from each category, and highlighted them above, to help you choose the best arm warmers, no matter what you plan on using them for.
Take into consideration the materials, for example some of them can be machine washed and others will get destroyed in the washer.
Also, some of these are more "costume quality", meaning they're less expensive and aren't really designed to be worn day after day. 
One thing remains true in any case – all of these are great options, and very viable, so choose the ones that look the best to you and meet your needs, and you won't be disappointed in your purchase.