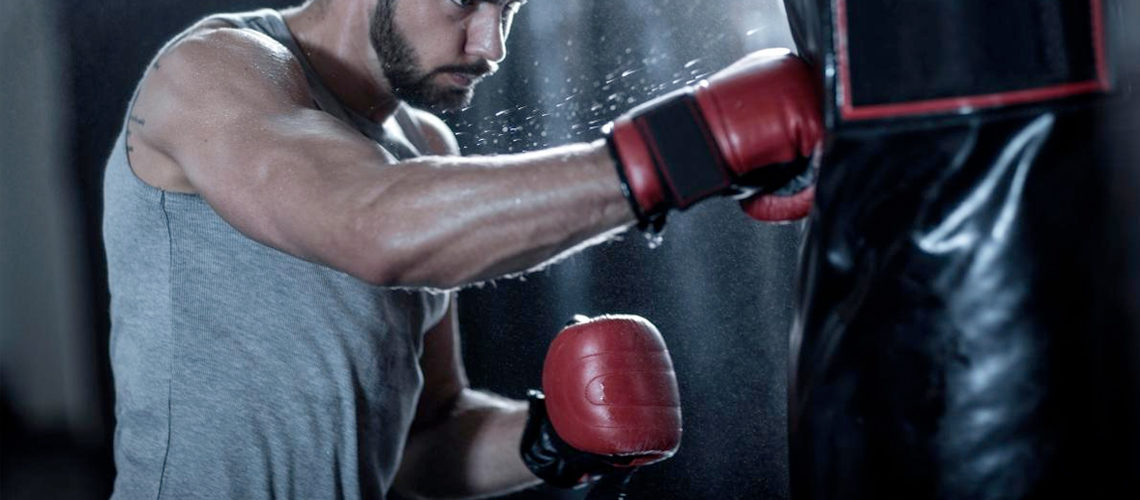 Having the right pair of gloves is so important for combat sports training.
It's so easy to get injured if you don't have the right gloves and the best hand wraps, especially in boxing where you're constantly using those gloves to protect your hands. 
Many people think that boxers wear gloves in order to protect their opponents from being hit in the face over and over with bare hands, but the gloves are actually there to protect the person wearing them. Gloves are heavy, and can do a lot more damage than being hit with bare hands. 
With bare hands, it's super common to break bones when throwing hard punches, whereas with padded boxing gloves, your hands have more protection, and the punches are also heavier because the gloves add weight.
We advise you to only train in the proper settings and if you know what you're doing. Don't just buy a pair of the best boxing gloves and start smacking around your buddies in the backyard.
Here's the Best Boxing Gloves of 2023 reviewed:
1. Cleto Reyes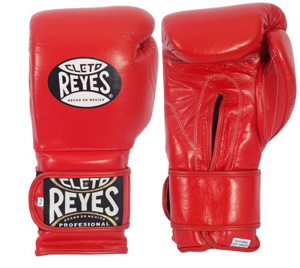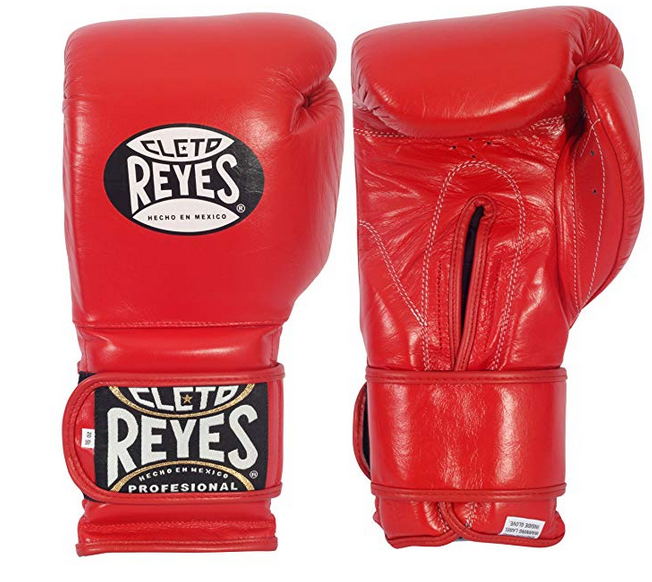 These training gloves are the cream of the crop. They're so well made, with incredible quality control.
A lot of heart goes into each and every glove, the work ethic it takes to produce such a quality product, so consistently, is something that most fighters can relate to.
These Cleto Reyes training gloves have a hook and loop, so they're super quick to take on and off.
They come in a number of different colors, so you can find something that doesn't just fit your training routine, but also fits your personality.
These training gloves can handle a beating, so while you're grinding it out in the gym, you know they'll be able to hold up for as long as you can.
This iconic Mexican brand has been around since the '40s, and while they've adapted and added new styles and designs as boxing gloves have advanced over the years, they still keep a secret weapon: these gloves are loaded with horse hair to give you that authentic feel, with extra protection for  your fists so you can throw haymakers without breaking your hands. 
You'll be the envy of your gym with these gloves, at least among the experienced people who know what's up and have been around the block.
The quality of your gear matters in every sport, and having the best boxing gloves means you'll be able to perform better.
Obviously, you'll still need to train your butt off, but having the best training gloves makes that less of a struggle.
Key Features
Made with horsehair

Extra padding for protection allows you to train harder

They're made to fit compact, compared to a lot of other brands, for an authentic "real fighter" feel

These gloves will help you flow better in training due to their size and construction

Affordable considering how high the quality is, it's an incredible value overall

Very well made, these are super durable gloves
Buy Here
2. Hayabusa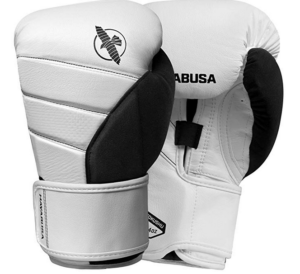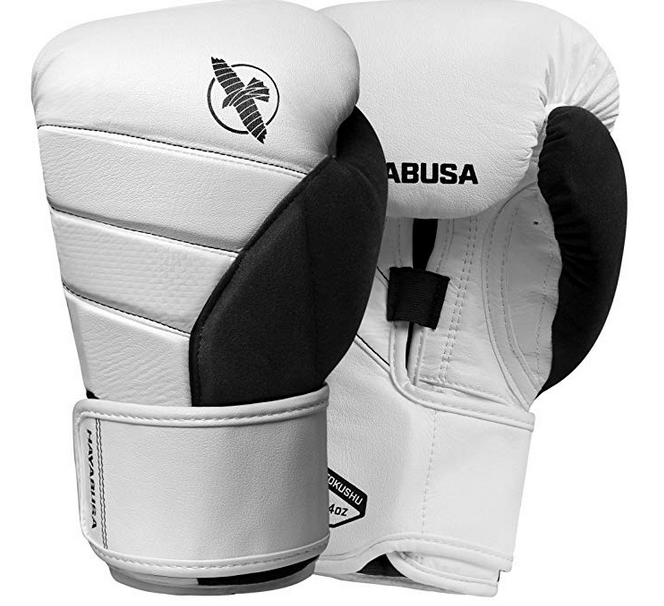 The Hayabusa T3 boxing gloves are a fantastic all-around pair. They're a more modern take on traditional boxing gloves.
The purists may scoff a bit, but let's face it – glove design and technology has improved over the decades, so why not take advantage of it?
There's something to be said about holding a pair of the best boxing gloves from back in the day, but we can't pretend there aren't advantages to a newer style pair, either.
These gloves don't have a break-in period, you can get to slugging right out of the gates.
They use a special foam padding system with 4 parts, to give the glove its precise shape, and to hold that shape will protect your hands. 
The thumbs on these gloves are made with a microfiber that you can use to wipe away sweat from your face.
This is a nice touch compared to old school leather gloves, that'll just smear the sweat. 
They use a strap instead of laces so they're quick and easy to take on and off, and the dual-strap gives it a fit that actually feels really close to having them tightly laced up.
It's not exactly the same, but it's close enough when you're training and sparring. There's an inner lining that's actually made with silver to help prevent odor and nastiness from building up.
See, we weren't lying when we said these boxing gloves by Hayabusa were a modern take that bring a lot to the table.
Key Features
No break-in period

Heavy-duty foam padding for protection

Wipe away sweat with microfiber thumb cloth

Strong straps offer incredible wrist support, some of the best we've seen

Silver lining helps prevent odor
Buy Here
3. Twins Special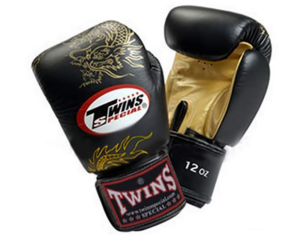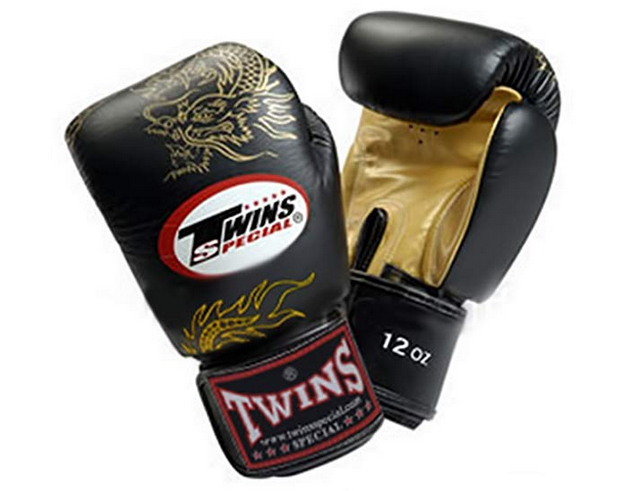 This iconic brand never disappoints, and this Twins Special Signature pair is no exception.
The striking style and design of these gloves is the first thing that catches the eye, but there's a lot more going on under the surface that really sets these leather boxing gloves apart from the pack. 
These gloves are meant for muay thai, MMA, boxing, whatever you'd like to use them for.
They come in different sizes, from 8oz to 12oz, with 10oz in between.
They're available in small, medium, and large. There are 7 colorways available with different designs and patterns on them. The black and gold ones look very slick, but maybe white with spider-webs is more your style?
The Velcro wrist straps keep these gloves sturdy with ample support.
It's not the most support we've ever seen, but the trade-off is usually that more support means they take longer to put on and take off.
This falls somewhere in the middle, but there's plenty of support here, don't get the wrong idea.
Key Features
Iconic brand's signature series with tons of cool designs to choose from

Can be used for a number of different martial arts

Velcro wrist straps keep these gloves in place and offer decent support   
Buy Here
4. Ring to Cage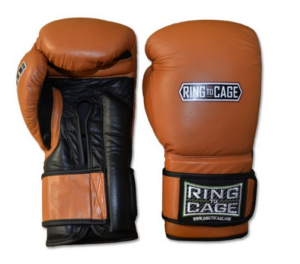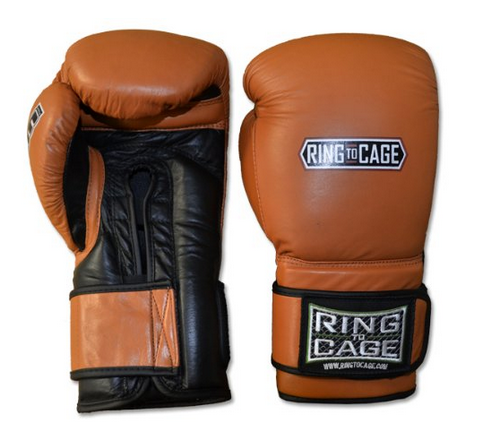 Here's an awesome pair of sparring gloves by Ring to Cage.
They're heavier than the Twins we just looked at, weighing in at any number of sizes in between 14oz and 24oz. Sparring gloves are designed to keep you punching for extended periods of time, to build up your technique, and to protect yourself and your sparring partner and these ones check all of the boxes.
There's a quick-dry lining on the inside so these gloves won't get disgusting too soon, it helps get the sweat away from your hands and keeps you dry.
The cowhide exterior is strong enough to handle years of abuse, and the attached thumb offers extra protection.
If this is the style you're looking for, you won't be disappointed with these gloves at all.
They're everything you could reasonably hope for from a sparring set, and even when you factor in the fact that they aren't the cheapest gloves around they still bring massive value to your training sessions, far exceeding expectations. 
Key Features
2.5 inches of foam technology for incredible protection 

High-quality and strong construction means they'll last a very long time, no matter how hard you hit

Many martial artists consider these to be the cream of the crop for training gloves

Unique safety strap closure system keeps these gloves sturdy and in place

They

should

cost a lot more than they do, so they're an amazing deal
Buy Here
5. Venum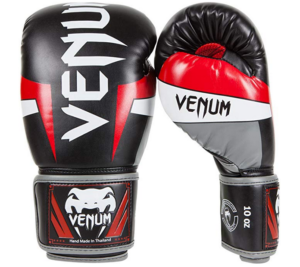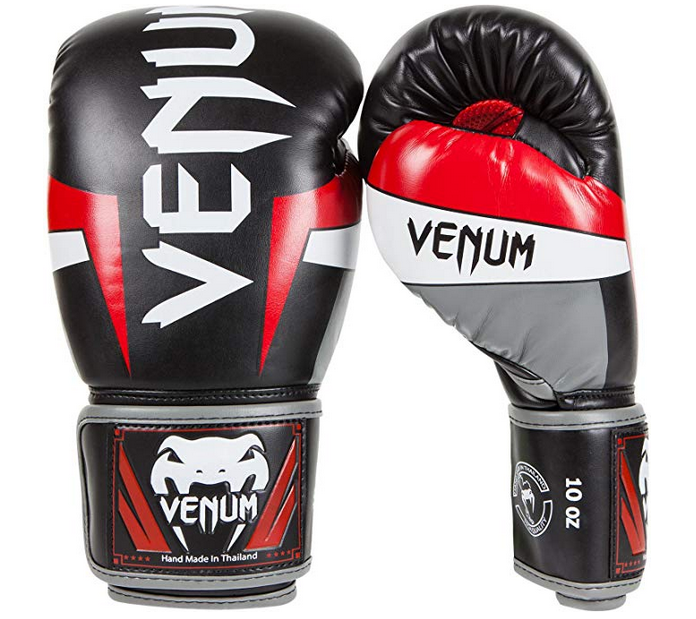 Rounding out our list are these gloves from Venum. While they aren't quite up to par with some of the other gloves on this list, they're still fully capable of taking a beating and giving you the protection you need to ensure you're feeling great on fight night. 
With five sizes available and over a dozen different color patterns, these gloves aren't just versatile when it comes to training but they're also versatile enough to fit your personality.
If combat sports are an art (and they are), then your gloves are like the paintbrush, your opponent's face is the canvas, and you can figure out what the paint is. 
Key Features
Less expensive than other options but still great quality

A little more basic/simple/less technology at play than the pricier gloves

Despite that, they aren't a bargain option in any sense of the word

They hold their own, offer sturdy protection, and tons of designs
Buy Here
Boxing Gloves Buying Guide
Here are some things to consider when you're shopping for a pair of boxing gloves…
Size/weight: Different organizations will have different requirements for glove size and weight, otherwise it comes down to what you like using while you practice.
Lighter gloves give you more speed, heavier gloves give you more power.
Materials: Do you want a traditional leather glove, or a more modern material?
Both have their own advantages.
Price: If you're taking boxing seriously, you'll want the best boxing gloves.
If you're doing it for fun, or don't really plan on taking it too far and competing, then more basic gloves should be just fine.