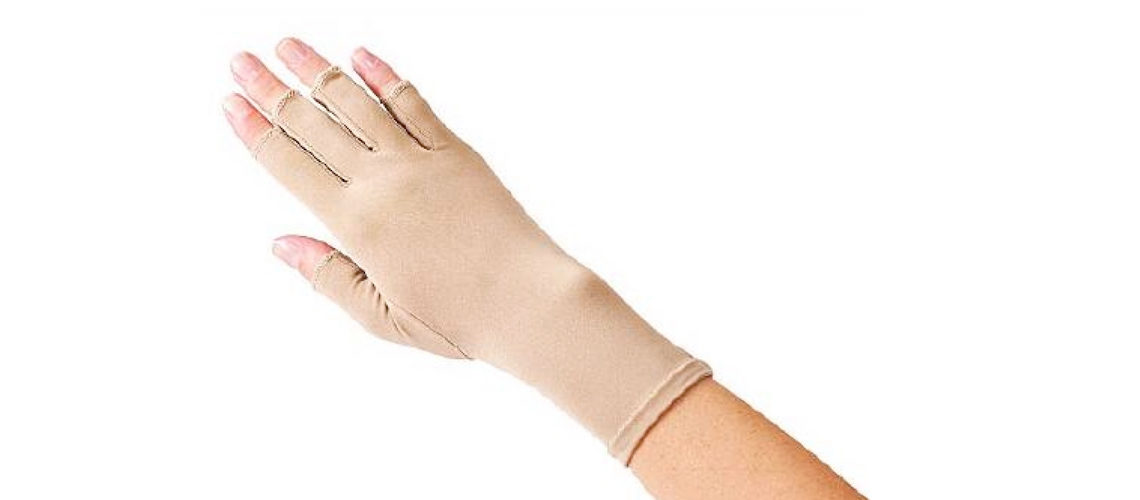 Arthritis is one of the most common conditions affecting people worldwide.
With over 100 different types of arthritis, including rheumatoid and osteoarthritis, pain management becomes very important, so you can continue doing your favorite activities.
Compression gloves are a popular, non-invasive method for managing pain and swelling associated with arthritis.
Most gloves work by applying pressure to the joints in your hand and reduce swelling, or by providing warmth to improve circulation.
With so many brands of compression gloves to choose from, how can you be sure that you pick a pair that will work for you?
Luckily, we're here to help. We've researched and broken down some of the most popular choices available by targeting important features and the pros and cons of each.
Here's the Best Compression Gloves for Carpal Tunnel and Rheumatoid Arthritis for 2023:
1. IMAK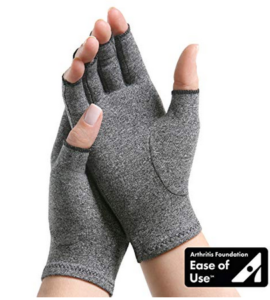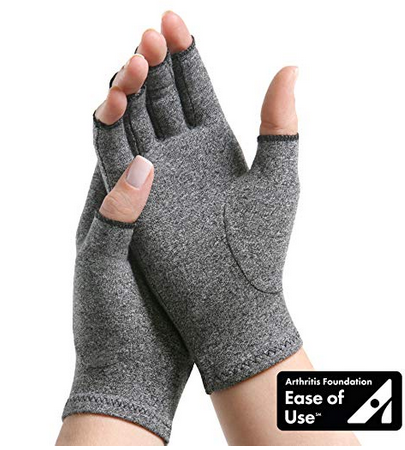 These compression gloves from IMAK are a great choice for managing the aches and pains caused by mild to moderate arthritis.
Through mild compression and warmth, these gloves work to reduce swelling and stiffness, while the open fingertips allow for easy movement.
They are made using a breathable blend of 98% cotton and 2% spandex to ensure a comfortable fit that can be worn all day. 
PROS
Available in three sizes to ensure a perfect fit: Small, Medium, and Large

Recommended by the Arthritis Foundation for easy use and design 

Breathable fabric ensures hands stay dry and cool
CONS
Not suitable for more severe cases of arthritis 

Some users have found the provided measuring guide inaccurate
BUY HERE
2. Thermoskin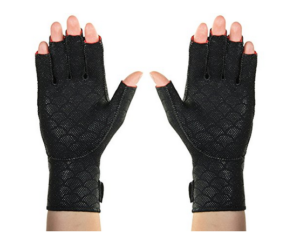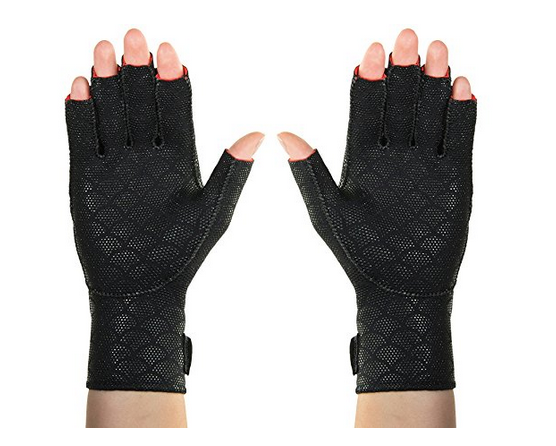 These premium-quality compression gloves from Thermoskin offer unbeatable relief from arthritic pain thanks to their impressive compression capabilities and heat-retention.
Unique to Thermoskin, you'll find the Trioxon Advantage, a thermal feature that promises to increase blood flow, circulation, and improve muscular function. 
The textured outer layer supports grip strength, so you can continue doing your favorite activities without feeling limited by your arthritis.
These gloves are 100% latex free and will not impede joint movement during use.
PROS
Textured outer layer provides additional grip to help conquer everyday activities

Trioxon Advantage provides unique thermal relief to increase blood flow, circulation, and improve muscle elasticity and reactivity 

Effectively reduces swelling that is commonly associated with arthritis 
CONS
Gloves might need to be "worn-in" to remove initial stiffness

The combination of materials used, and heat retention can lead to hot and sweaty hands 
BUY HERE
3. Dr. Frederick's Original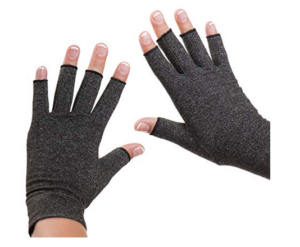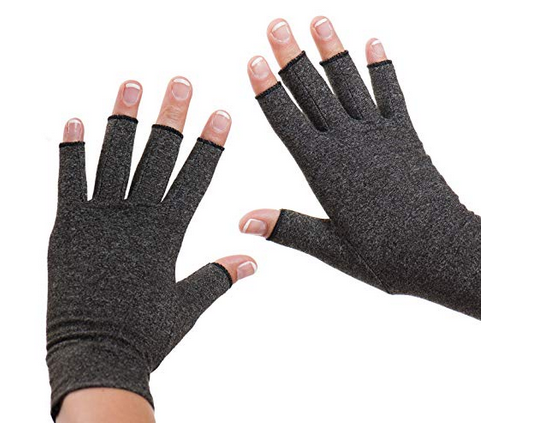 Like other popular compression gloves available, Dr. Frederick's uses a blend of 88% cotton and 12% spandex to ensure a comfortable fit that encourages breath-ability without sweaty palms. 
Each pair of gloves targets specific pressure points in the hand: thumbs, fingers, wrists, and knuckles to eliminate arthritis pain and can be worn all-day long.
Additionally, there is an improved texture on the palm of each glove to provide enough grip to partake in your usual activities while also encouraging strength development in your hands.
If cleanliness is a concern, these gloves are easy to keep clean by throwing them in with your regular load of laundry.
Once washed, you simply need to allow them to air dry and they should have no trouble retaining their original shape. 
PROS
Improved textured palm provides grip and helps improve hand strength 

Compression "pressure points"  targets specific areas of the hand to relieve pain 

Easy to clean: just throw them in with a regular load of laundry and air-dry 
CONS
Quality-control issues regarding the seams unraveling for some customers, it's rare but it can happen so keep your receipt just in case

Not the most stylish option when compared to other brands 
BUY HERE
4. Brace Master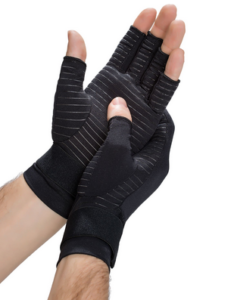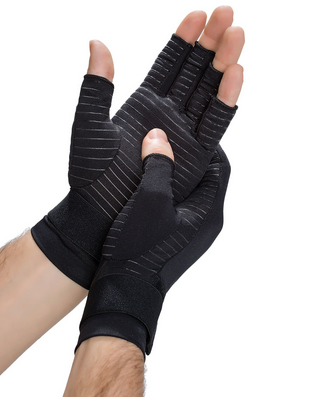 Brace Master compression gloves are made from a blend of three fabrics: cotton (45%), spandex (10%), and polyester (45%) to ensure a comfortable all-day fit.
If you have sensitive skin, minimal stitching has been used to prevent irritation and the fabric allows for easy breath-ability. 
Unlike competing brands, gloves are available in different colors to match your wardrobe or preferences.
To help alleviate arthritis symptoms, these gloves use mild compression on the thumbs, fingers, wrists, and knuckles in conjunction with warmth to encourage relaxation of joints.
The company offers excellent customer service and refunds if the product is not effective for dealing with your aches and pain associated with arthritis. 
PROS
Available in a range of colors to suit your unique preferences 

Design uses less stitching to minimize discomfort and irritation

Gentle compression reduces pain caused by arthritis and can be worn all-day 
CONS
Stretching can occur after usage 

Compression may not be strong enough for some users 
BUY HERE
5. Dr. Arthritis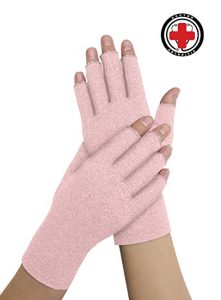 Designed by practicing medical doctors with experience treating arthritis, these gloves provide mild compression to relieve pain symptoms.
With comfort and breath-ability in mind, these gloves are made using a blend of cotton and spandex and they are available in a soft pink color that sets them apart from the standard black or grey. 
Unlike other compression gloves available, Dr. Arthritis includes a handbook that goes over beneficial information like specific exercises to improve hand strength, and how to manage bothersome arthritis symptoms. 
There is a 100% money-back guarantee if you are not satisfied with your purchase. 
PROS
Developed by medical doctors who are familiar with arthritis and how to effectively relieve symptoms 

Competitively priced with similar compression gloves 

Includes a handbook with useful hand exercises and tips for managing arthritis 
CONS
Designed to appeal to a female audience 

Do not provide enough compression for moderate to severe arthritis 
BUY HERE
Compression Gloves Buyer's Guide
Compression gloves can be a great tool for alleviating the symptoms associated with arthritis.
It's important to be aware of any triggers, such as cold weather or air-conditioned environments that you can't control and how compression gloves can help with that.
Before you take the plunge and purchase your own pair of compression gloves, there are some important questions you should consider first.
Do compression gloves work?
Compression gloves are effective for managing most symptoms caused by arthritis.
There are different features to consider when choosing a pair of compression gloves.
Thermal gloves soothe arthritis pain by warming hands and joints.
Pressure gloves help reduce the swelling and stiffness associated with arthritis by applying pressure to specific areas or throughout the hand and could improve circulation too. 
Many users report feeling relief while using compression gloves, but your mileage may vary.
When choosing a pair of gloves, it's important to measure your hands correctly and choose brands with a guaranteed return policy. 
What do copper compression gloves do? 
Copper compression gloves have copper fibers intertwined into the fabric.
The idea behind including copper is like the debunked "As-Seen-On-TV" copper bracelets promising arthritis pain relief. However, there is no scientific evidence supporting these claims, so it is believed that copper compression gloves are nothing but a placebo effect.
Unless the gloves are well-made and reasonably priced, you might be better off choosing a pair that doesn't include gimmicky claims. 
Can you wear compression gloves while you sleep? 
Yes. Wearing compression gloves while you sleep may help reduce pain, but you should ensure you are wearing a properly fitting pair before wearing them to bed.
If the gloves are too loose, you will not receive any benefits and if the gloves are too tight, you might be dealing with more pain than you anticipated in the morning. 
Do compression gloves work for carpal tunnel?
Compression gloves are usually not recommended for alleviating symptoms caused by carpal tunnel syndrome.
Although they can provide enough warmth to promote circulation and relieve pain symptoms, wearing compression gloves that are too tight can restrict circulation and leave you with more pain than you started with. Instead, it is recommended that you use a brace designed for carpal tunnel syndrome.