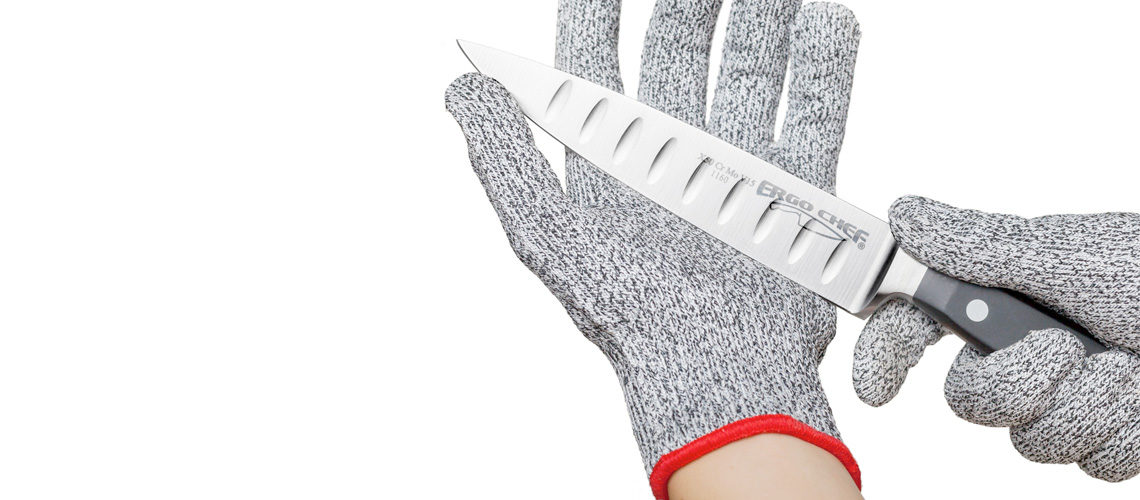 Whether you're clumsy in the kitchen or your knife skills could use a little work, a pair of cut resistant gloves could go a long way protecting your fingers while preparing your next meal.
But how do you choose the perfect glove, that is durable enough to withstand the typical kitchen knife?
Luckily for you, we looked at some of the most popular cut resistant gloves currently available online, narrowed them down, and compiled a list of pros and cons for each option to help you make the right decision.
Here's the Best Cut Resistant Gloves of 2023 for Multi-Purpose Use:
1. Stark Safe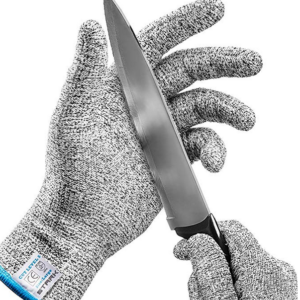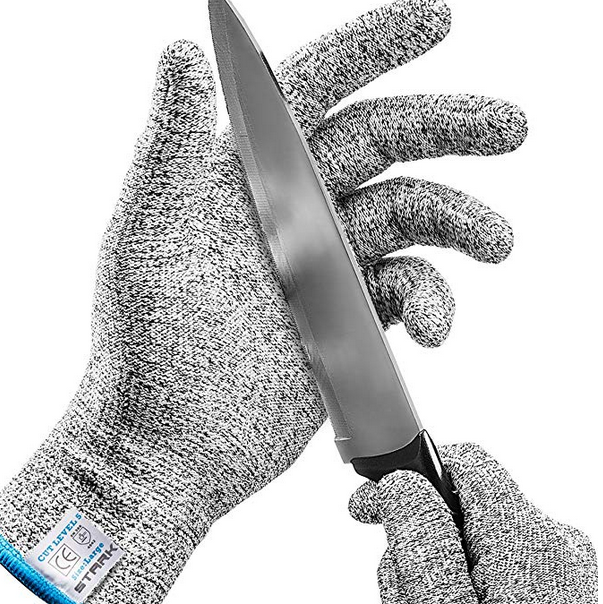 Stark Safe cut resistant gloves are the ideal choice for a variety of activities, including: food prep, wood carving, carpentry, and metal work.
They are made using level 5 cut protection material that is four times stronger than leather, so you can be sure that your hands are getting the protection they need.
They are available in four sizes, so you should have no trouble finding a perfect fit that is comfortable and snug to ensure dexterity is never compromised. 
The company offers a money-back guarantee if you aren't happy with the quality of these gloves, but we're sure that they will quickly make #1 on your list, too! 
PROS
Fabric allows for maximum breathability, so you won't have to worry about hot or sweaty hands during long periods of wear 

The low-price make them an affordable choice to suit almost every budget 

Breathable fabric ensures hands stay dry and cool

Machine washable for easy cleaning
CONS
Inconsistent sizing with some gloves fitting smaller than intended. The company recommends ordering one-size up to counteract this issue.

Some gloves have been received with loose stitching or tears, but the company is quick to replace defective product 
BUY HERE
2. NoCry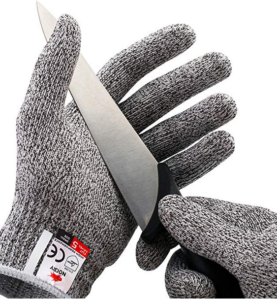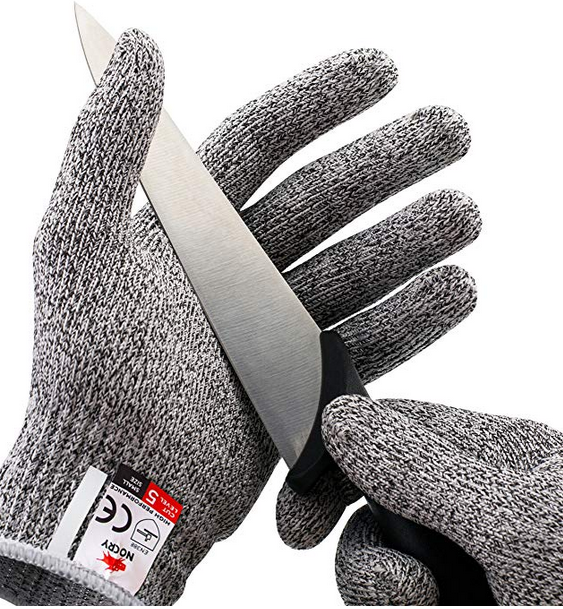 NoCry cut resistant gloves are popular for their durability and lightweight feel.
They are made using a blend of polyethylene, glass fibre, and Spandex for a snug fit that meets level 5 cut-protection standards.
Most users report an improvement in grip while using these gloves, which can be an issue with other competing brands available. 
Each pair of NoCry gloves are ambidextrous, so you can be sure that your free hand is protected if a glove is misplaced or in the wash.
Speaking of the wash, these gloves are machine-washable but should be left to drip-dry. 
PROS
Ambidextrous, so you can't put them on incorrectly 

Lightweight with an improved grip – not always an easy combination to find! 

Competitively priced to similar options on the market 

Quick and efficient customer service
CONS
Inconsistent sizing with some reports of gloves being too small

Food can become lodged in the fabric if it's too sticky 
BUY HERE

3. WISLIFE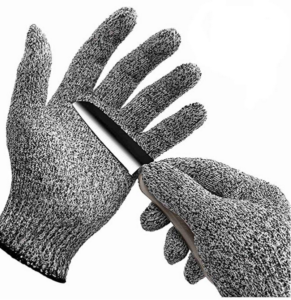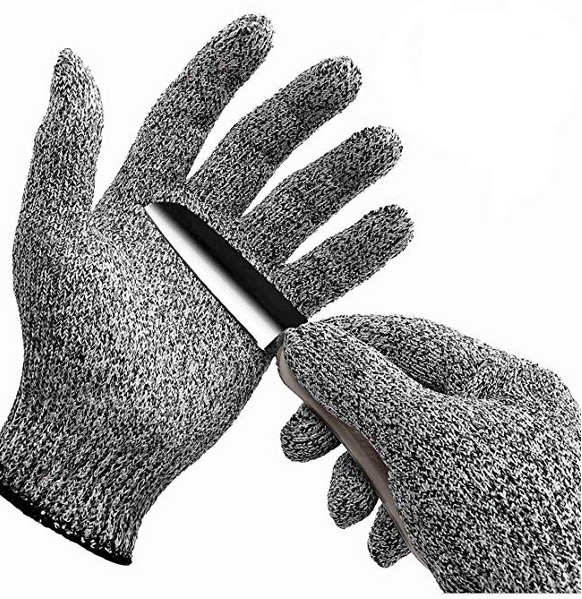 WISLIFE cut resistant gloves are made from Dyneema, an ultra-high-molecular-weight polyethylene, Spandex, and nylon.
Like the first two options on this list, they meet level 5 cut-protection standards and claim to be 4x stronger than leather.
They meet food-grade standards and are breathable to ensure a comfortable, lightweight feel that allows you to focus on precision tasks like preparing dinner.
If cleanliness is a factor in your decision, these gloves are easy to maintain through hand or machine washing.  
PROS
Ambidextrous 

Snug, elastic fit that is comfortable enough to focus on precision cutting 
CONS
Only available in two sizes: small and large, which might be off-putting to some customers

Durability is a concern, so you may end up replacing them quickly 

Tend to retain strong food odors 
BUY HERE
4. G & F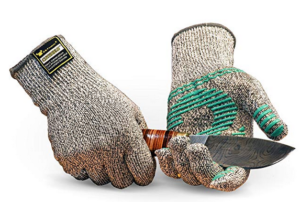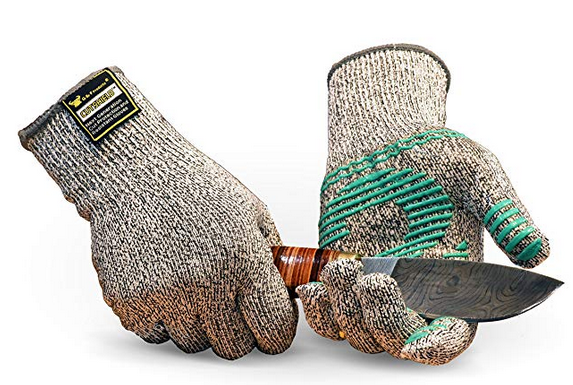 Unlike the other options on this list, G & F cut resistant gloves are coated using silicone block palm technology to protect from heat while cooking.
They offer 100% cut resistant protection and are food-grade, so you don't need to worry about toxic material being added to your meal.
They are also machine-washable but should be left hanging to dry. 
PROS
Additional protection for your hands from heat thanks to unique silicone block palm technology

Competitively priced to similar cut resistant gloves on the market 

Available in four sizes (Small to XL) for a perfect, snug fit 
CONS
Thicker than other gloves, so your hands might get a bit sweaty or hot during usage

Strong scents seem to be difficult to remove despite repeated washing 
BUY HERE
5. Hilinker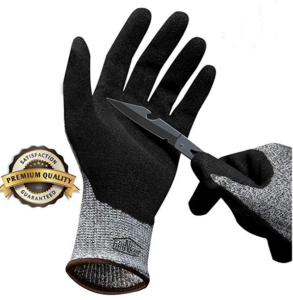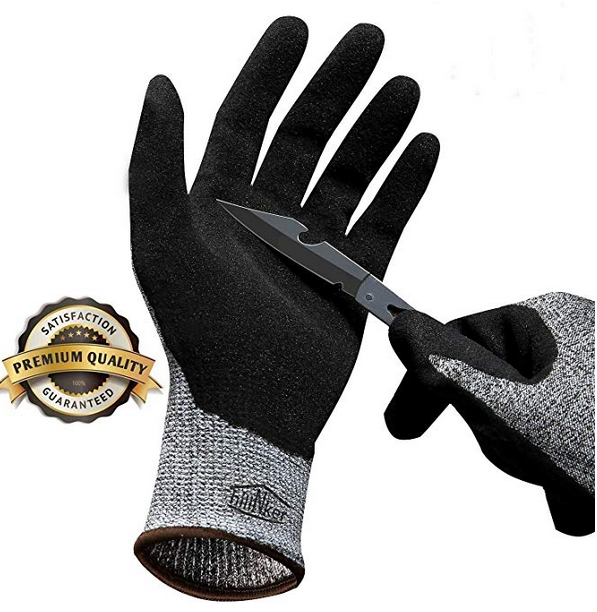 Hilinker cut resistant gloves are made using a unique type of fiber known as Doyentrentex that claims to be 8 times stronger than leather.
This material makes them a popular choice for many activities ranging from cooking in the kitchen to working in the garage. 
Although they are priced higher than similar cut resistant gloves, they are considerably more durable, so you may not need to replace them as often. 
PROS
The company offers a 100% satisfaction guarantee, so returning them is a breeze if you aren't satisfied with the level of protection or the sizing is off

Stronger than most cut resistant gloves, at eight times the strength of leather 

Breathability remains great, allowing for a comfortable fit 
CONS
Only available in two sizes: Medium and Large, so it might be difficult to find the perfect, snug fit if your hands are smaller 

Only the palm and underside of the fingers are rated as cut resistant. The remainder of the glove, while durable, does not offer the same level of protection

Grip has been an issue for some users 
BUY HERE
Buyer's Guide for Choosing the Best Cut Resistant Gloves
It's important to remember that cut resistant gloves are not cut proof, and you could seriously injure yourself if you are not careful while handling sharp knives or tools.
They offer extra protection, but it's not like having an invincible forcefield. Think of them as an extra layer of protection if you slip, not an excuse to be careless.
Every option on this list is not puncture resistant, meaning that direct cuts will likely puncture the glove and possibly either your hand or one of your fingers.
We cannot stress the importance of being careful enough, as some users are known to become careless after hearing the promise of cut resistance gloves.
As every pair of cut resistant gloves will have different features and measurements you should take some time to determine what features are most important to you and ensure that you accurately measure your hands to get the best fit possible. 
We recommend looking for cut resistant gloves that include a non-hassle return policy, so you aren't stuck with ill-fitting gloves or a product that isn't strong enough to suit your needs.
Now that we've gotten that out of the way, let's look at other common questions people have regarding cut resistance gloves.   
Do cut resistant gloves work? 
Mostly yes. Cut resistant gloves are designed to protect your hands from sharp objects like knives or tools but will not protect from direct puncture wounds or machinery. 
You should still take precautions while using them, and not allow yourself to become distracted while cutting or using tools. 
Are nitrile gloves cut resistant? 
Nitrile gloves are between 3 and 5 times more puncture resistant than latex but should not be counted on as being cut resistant while prepping veggies or working with tools. Your best bet is to purchase a pair of the best cut resistant gloves, like one of the options on this list. 
How are cut resistant gloves rated?
Cut resistant gloves are rated using two standards: The American National Standards Institute (ANSI) and The International Safety Equipment Association (ISEA). 
Ratings are based on certain guidelines like cut resistance, heat, puncture and flame resistance, and chemical resistance, and will fall on a scale of 0 to 6, with level 6 offering the most protection overall. 
Can you wash cut resistant gloves?
Yes. Many types of cut resistant gloves are machine washable while using a cool to warm setting. However, you should not use bleach, machine dry or iron any cut resistant glove because you could damage the fabric or decrease its longevity. You could also wash your cut resistance gloves by hand, if you prefer.