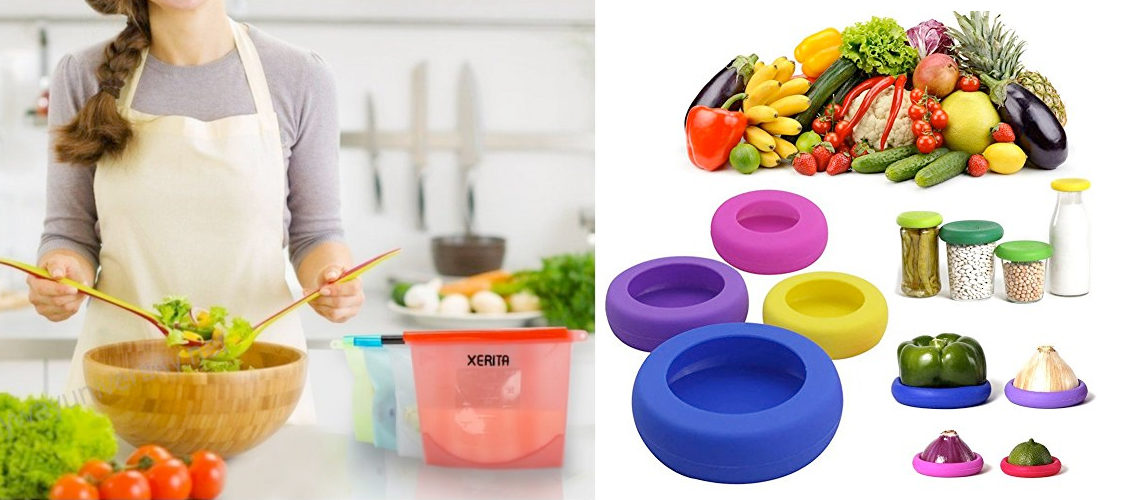 When it comes to food storage, Vacuum Sealers are one of the many solutions available out there.
In this guide, we're going to explore the different types of food savers which will hopefully fit your needs.
Practical food storage techniques can save you time and help you take advantage of the space that is available.
It also extends the food's freshness while minimizing waste and it will even save you some money.
If you love preparing food way ahead of time – probably weeks or even months before – then vacuum sealers are going to be an excellent tool.
It will keep the proteins, herbs, vegetables, and sauces from losing their freshness and even spoiling.
To store food for shorter time frames, you won't need to use a vacuum sealer.
But there are lots of other options in the form of storage containers and other ways of food sealing methods which will not require the use of a vacuum pump.
Keeping a machine that is 20 to 80 pounds in weight inside your closet or cabinet will not be a practical thing for every kitchen.
And it's also an expensive piece of equipment but that's okay.
You should not lose hope because we're going to explore some of the food storage containers out there that makes use of reusable silicone.
Compared to disposable plastic containers, silicone food storage provides a variety of unique ways to store different types of food.
It also ensures environment-friendliness and sustainability as well as lessens the possible hazards to health which are essential topics to talk about in food storage using plastic.
So let's get started!
Here's the Best Food Savers of 2023:
Food Huggers – Farberware Food Huggers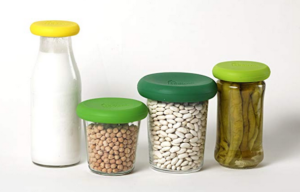 Plastic bags should not be necessarily involved in storing vegetables and fruits that are partially used.
Limes, oranges, lemons, onion, and any other fruit or vegetable that is round are going to be perfect for these.
Tomatoes are a bit soft so they may fit tightly especially if its a large one that you've got. 
You can use this 4-pack BPA-free silicone food huggers from Farberware.
Here are some important features that it has:
IT CAN BE USED FOR DIFFERENT FRUITS AND VEGETABLES: Farberware Food Huggers perfectly fits on onions, lemons, tomatoes, cucumbers, and others.
USE THEM ON FOODS THAT ARE HARD: It can be used for resealing jars and cans that have already been opened. You'll no longer worry about a Tupperware being used up because of a lost lid.
IT EXTENDS THE LIFE OF VEGETABLES AND UNUSED FRUITS: These food huggers are designed to make the task of extending the life of vegetables and unused fruits a lot easier. They're reusable so you won't need to use plastic wraps that can hurt the environment.
1 SET INCLUDES 4 HUGGERS: This set includes 1 piece 1.75-inch lid, 1 piece 2.25-inch lid, 1 piece 2.5-inch lid and 1 piece 3-inch lid food hugger.
BPA-FREE AND DISHWASHER SAFE: Made using BPA-free, food-safe silicone, these huggers are going to keep your food edible without any harmful stuff. They're dishwasher safe so you can clean them quickly and easily.
They can be used for sealing cans. Oftentimes, we open a can of curry paste, tomato sauce, and other canned goods then end up using plastic wraps, plastic bags, or another plastic container to keep them sealed. That usually works but the result is dirty dishes and more plastic waste.
By using one of these Food Huggers on top of an opened can is much easier.
Buy Here
BPA-Free Stretch Lids Made of Silicone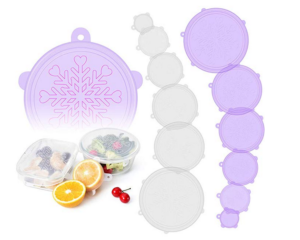 Another option for sealing foods in their own container is by using Silicone Stretch Lids.
They are designed to seal cups, pots, cans, bowls, and anything else that you have in your kitchen.
They stretch and seal those things tightly to preserve the food you placed in them.
YOUR BUSY LIFE MADE EASIER: You no longer need to use those saran/cling wrap, baggies, aluminum foil and do more lid hunting for lost or misplaced lids. These silicone lids will do the job for you and the best thing is that they're stackable so finding food or storing them is going to be a lot easier.
VERSATILE: You will get 6 lids coming in different sizes to fit containers that are 3 inches to 10 inches in size. It will fit glassware, cups, food can, jars, crockpots, instant pots, pyrex, bowls, and many other kitchen containers. They can store FRUITS and VEGETABLES like pineapple, watermelon, lemon, onions, tomatoes, garlic and many more!
PREMIUM PERFECT SEAL: Every silicone stretch lid is designed to provide an optimum seal for different size containers with its PREMIUM BPA-Free silicone material that has THICKER GROVES on its edges. They're smooth but stretchy and tough at the same time which snuggles well even on odd-shaped lids preventing liquid spills while keeping food safe and fresh.
SAFETY: The silicone material used in every lid is approved by the FDA and are guaranteed BPA-Free and non-toxic. They're also 100% Lead, Plastic and Phthalate free. They can be washed in dishwashers and heate in a microwaved or frozen in freezers so it's sure to be a safe food storage solution for babies and adults.
DURABILITY TESTED: It is made of premium high-quality silicone material which stretches without breaking or tearing. You can clean it, heat it, freeze or do all the things that a lid would do and it will stay intact.
FREE E-Book is included which shows the different ways of saving food waste.
These stretch lids are going to offer great help in the kitchen and the environment as a whole.
They will keep your mixed up or marinated food safe without using any plastic bag. Meat can also be added to your marinade stored in a bowl then seal it again.
This means that you'll have fewer things to clean and totally lesser waste plastic.
There are 6 sizes that are available for this silicone stretch lid which can cover anywhere between 3 inches to 10 inches containers.
It covers almost everything from glass, cans, soup bowls, salad bowls, mixing bowls, and more!
Buy Here
Glass Containers – Pyrex Simply Store Glass Rectangular and Round Food Container Set (BPA-Free, 18-Piece Set)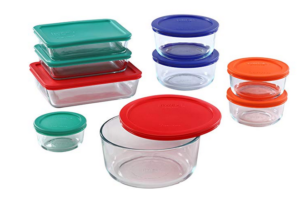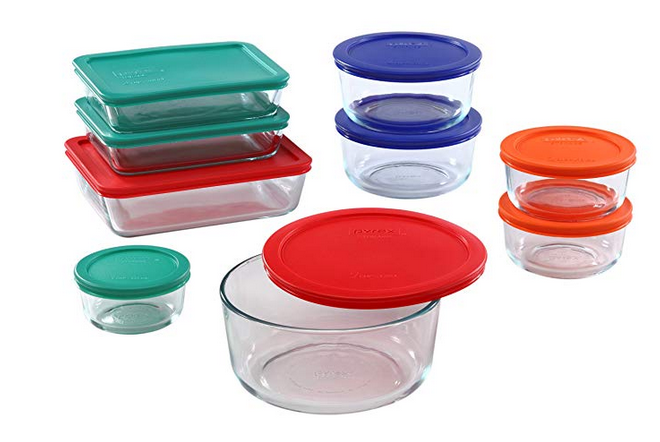 Now, let's move on to glass instead of plastic and silicone. This material is an even better form of storing food and this 18-piece set by Pyrex features BPA-Free lids to keep you on the safe side.
While it's not a 100% free from plastic, its lids are reusable and it will stay usable as long as you don't lose them.
This means that you can stay away from single-use plastic when you use them for storing food items.
This 18-Piece Pyrex Set includes a 3-cup rectangular container, 4-cup round container, 1-cup round container, 6-cup rectangular container, and a 7-cup rectangular container which contains (2) each of 2-cup capacity round containers.
Made of Pyrex glass that is microwaveable, freezer, dishwasher, and preheated oven safe and the lids are all made of BPA-Free plastic. The lids are microwave and top-rack dishwasher safe as well.
The glass used is non-porous which means that they will not absorb flavors, odors, or stains from other food.
The lids are designed to be airtight so food stays fresh for longer.
The containers are stackable so you can save space in your kitchen. The clear glass also offers ease in viewing what is stored in it.
Buy Here
Herb Saver Pods – Prepara Herb Savor Pod 2.0 (Set of 3)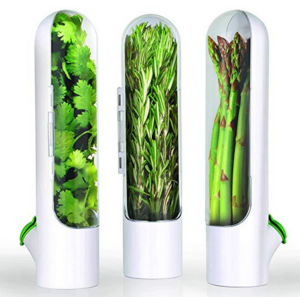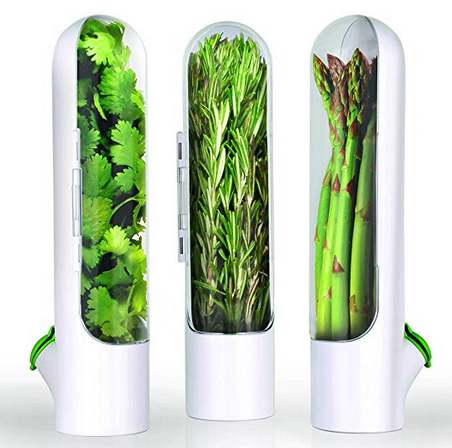 Keeping herbs safe can be challenging. Yes! It requires a little bit of effort but these Herb Saver Pods are going to help bring ease to the overall process.
They're made of BPA-Free material so you can be sure that your cilantro is fresh for even up to 3 weeks as long as you trim the stems and put water in it every 3-5 days.
These saver pods make the task of changing water easy and your herbs are going to be stored in your fridge without making a mess or getting crushed.
It helps triple the life of your fresh herbs with its innovative design pods that are BPA-Free. It prolongs the life of herbs while providing ease of use and making them fit in the fridge better. You can even put them on the shelves of the fridge door. The design has a clear window while the hard shell is used to protect the freshness of the stems and leaves. It prevents crushing by other items that you store in your fridge. Hydration levels are also maintained easily while the herb is able to breathe without any problem. This is definitely a better way of storing herbs than having them wrapped in a damp cloth.
They're very simple to use: Just rinse and pat dry your mint, cilantro, basil, chives, parsley, oregano, rosemary, dill, thyme, or even those yummy asparagus then have them placed in the pod. Afterward, you can put fresh water into the tethered filler cap. Just remember to throw the old water then refill it with a new one every 3-5 days and the herbs will keep their freshness for up to 3 weeks.
The Pods are designed in the USA by a team that's known for their many useful kitchen and household gadgets and tools. Herb Savor has been invented with the purpose of maximizing the life and taste of greens and herbs by keeping them crisp and fresh. Fresh herbs make food taste better and that's what this prolific team wants to preserve for longer with the pods.
These Herb savers are designed so they can fit in any kitchen décor beautifully without becoming an eye-sore or nuisance. Oprah Winfrey herself has chosen the Prepara Herb Savor as one of her Ultimate Favorite Things.
This product has been awarded "Kitchen Hero" by the Readers Digest Magazine. It has also been featured in "The Doctors". Yes! Herbs are really good for the health and they improve the overall flavor and taste of a dish that's why it has also appeared in the Cucina Italiana Magazine.
Buy Here
Concerns Involving Health and Sustainability
We know that food storage is important but there are other aspects in the whole picture which are also worth considering.
These are health and environmental sustainability.
These are serious issues that are affected because plastic is a commonly-used material for food storage.
When it comes to advantages, silicone has more of it compared to plastic and many of the food sealers and storage that we're going to explore in this guide are actually made of silicone.
Plastic Vs. Silicone Food Storage: Which is Better?
There are two factors that we want to explain here and these are health and safety as well as the impact on the environment concerning the use of these kitchen products.
Plastic containers that are designed as "single-use" ones are not sustainable.
They can be avoided by making simple choices every single day.
For instance, you can consider the following:
Not taking plastic spoons and fork for your take-out food and using the metal spoons and forks that you have at home or in the office instead
Not using a plastic straw for drinking out of a cup
Buying canned soda instead of one that is placed in plastic bottles
This process becomes easier when you are proactive. The adjustment that it requires in your daily habits and routines is very minimal but it can have big impacts on the environment and to your health.
You can bring your own grocery bag to avoid using plastic bags which are going to landfills by the tons every year!
The Impact on the Environment
Plastic pollution is becoming a big problem because it is engineered well to survive almost forever.
They're not biodegradable and only break down into smaller pieces in time. 
The small plastic pieces find its way into the groundwater flowing into rivers and lakes and eventually being ingested by animals living in these natural habitats.
And not only that, but it also contributes to the destruction of the environment as a whole aside from making its way to our food chain.
Nowadays, there are traces of chemicals originating from plastic which can already be detected in the tissues and blood of humans.
Being exposed to these chemicals have been found to contribute to the development of cancer, birth defects, endocrine disruption, impaired immunity, and other medical problems and conditions.
It is a problem that every individual living on this planet has a responsibility to take.
And everyone can contribute to the solution by making better and wiser choices of not purchasing foods that are packed in plastic bags and containers as often as possible.
Examples of plastic items that can be avoided are plastic spoons and forks, drinking straws, bags, bottles, to-go containers.
There are alternative materials such as ceramic, stainless steel, glass, paper, and bamboo which can take the place of plastic.
You can buy a soda in a can instead of one that is placed in a plastic bottle.
But what about silicone?
This material is a lot safer than plastic and has not been found to have harmful effects on the environment and the organisms that live in it.
Silicone is biodegradable and this can be made faster if clays are mixed with it during construction. Because of this, silicone is better than plastic.
To those who love to reuse things, purchasing plastic containers instead of bags is a better thing to do.
Health and Safety Concerns
Food's exposure to plastic is common in our modern day and age. Every stage of a food's life cycle starting from production to preparation, and even down to consumption involves plastic.
Small pieces of plastic mix with our food through the process called "migration" or "leaching". This can be avoided though and it must be avoided because it can bring health and safety hazards.
When plastic is heated, the rate of leaching increases and for this reason, it is recommended that food should be heated on a plate so plastic exposure can be avoided.
Silicone, on the other hand, is used in breast implants, bandages, pectoral implants, testicle implants, contact lenses, and other medical grade stuff. It is non-toxic and is no stranger to the human body.
Cheap, Plastic-Free Storage for Less
All of the products we've listed above offer a clever way of avoiding the use of single-waste plastic as food storage.
With them, you will able to contribute to the effort of saving the environment while saving yourself from the effects of plastic leaching into food items.
Start making wise choices today and you will eventually get used to it until it becomes a habit.
And it's not some harmful or useless habit, it is one that leaves a great positive impact on the environment your family's health as well.
What other plastic-free food storage products are you using?
How well do they work?
Please share your story with us by joining the discussion in the comments section below.