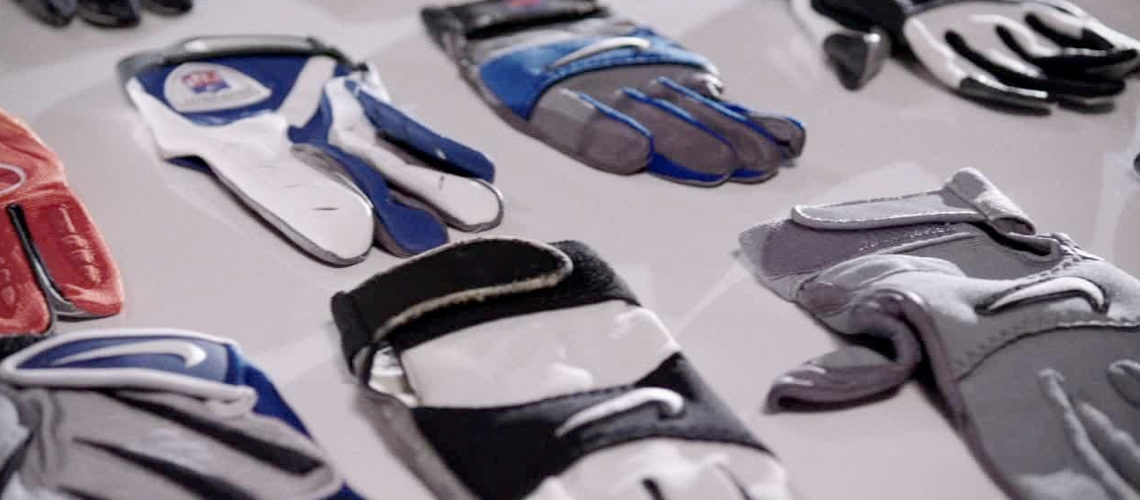 Some gloves are meant for fashion, others are meant for keeping you warm, but there's a third category and it might be the most important.
Gloves that serve a specific purpose.
Take football gloves, for instance. They're an essential piece of equipment for North America's most popular sport, but with so many to choose from, it's not always easy to pick the right pair.
Before we dig in, let's clear something up: We're talking about the best football gloves for American football, these aren't goalie gloves for soccer. 
Every major sports brand has their own take on this style of glove, but only a few of them are worthy of being considered among the very best options out there, and we've curated them for you.
Take a look at the following list, and by the time you reach the end, you'll know exactly which pair you should get. 
Here's the Best Football Gloves of 2023:
1. Under Armour F6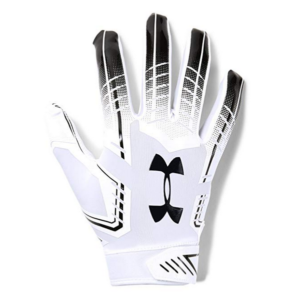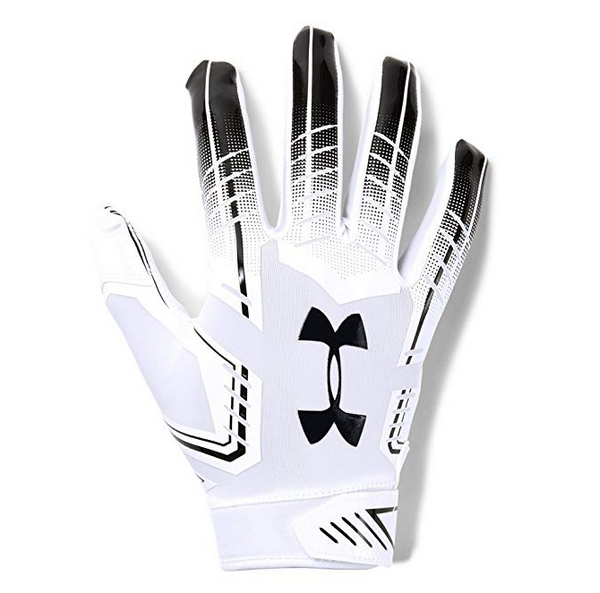 The F6 by Under Armour is a surprisingly capable football glove.
These gloves have a lot going for them, starting with a very reasonable price point that keeps them accessible for everyone.
But they're far from being "cheap", the quality is there, too. 
These gloves meet the standards of the NCAA and a handful of other leagues, so you're in good hands.
The custom-fit closure systems help these gloves to contour perfectly to your hands.
Football gloves should feel like you're wearing a second skin, and they should improve your grip and control of the ball.
If a glove isn't doing that, it's not helping. These gloves get the job done.
The fingers and palms have a special material called Armour GrabTrak which is meant to help you get a hold of the ball, and not let go.
Grip is everything, and serious football players will do anything they can to improve their grip and grip strength, but most of that starts at the gloves.
The HeatGear fabrics used to construct these gloves are specially designed to keep your hands cooler, even when you're playing on a hot day.
Key Features
Meets NCAA standards

Custom-fit closure gives you a perfect fit

Moisture wicking fabrics keep your gloves clean and help eliminate odors 

Special Armour GrabTrak helps you control the ball

HeatGear fabric keeps your hands cool
Buy Here
2. Nike Vapor Jet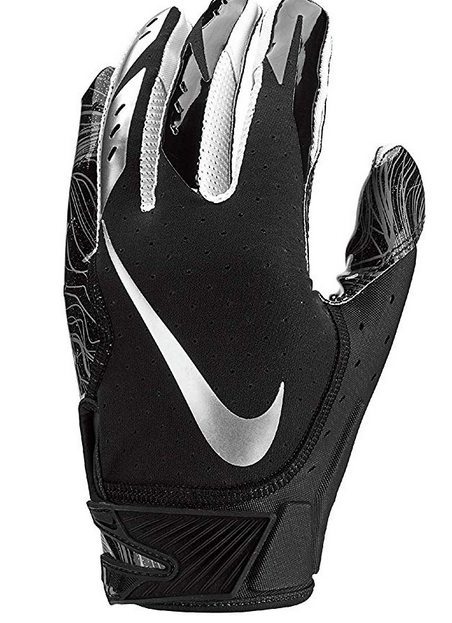 Nike makes some great football gloves, and our pick is the Vapor Jet 5's. These come in five different sizes, and 14 different colorways.
These are good quality gloves, they're not quite up there with the Under Armour ones, but they're still great. 
The breathable and stretchy fabric on the back of the hand helps with airflow and to keep you cool, without sacrificing grip on the other side of the glove.
There is a little bit of padding around the thumb for extra protection. 
But at the end of the day, it's all about catching the ball and holding onto it, and that's where these gloves really shine.
Even though they come in five different sizes, these gloves also have an adjustable wrist opening to give you an even more bespoke fit. 
Key Features
The placement of the pinky prevent injuries

The thumb-padding also helps to protect you

Uses Magnigrip technology to give you added control over the ball

Adjustable at the wrist
Buy Here
3. Cutters Rev Pro 3.0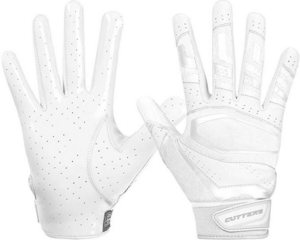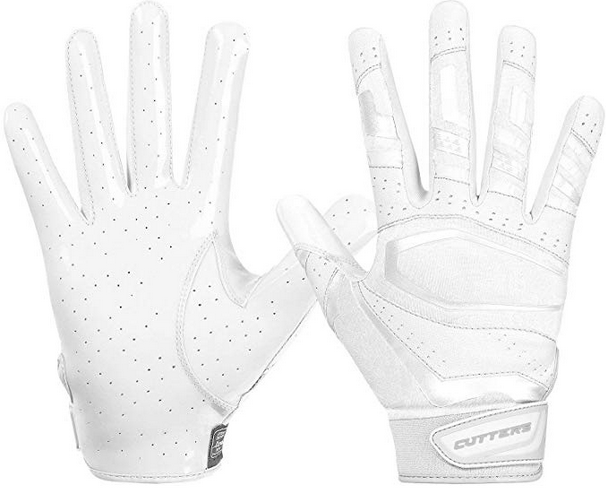 Building upon what players loved about the Cutters Rev Pro 2.0 is the Rev Pro 3.0, an even better football glove that takes everything to the next level.
Let's go over all of the features that make these gloves special, and a great value. In the top 3, all of the gloves featured are excellent choices, it mostly comes down to personal preference, so here's what sets the Rev Pro 3.0 apart. 
The material itself is perforated for tons of ventilation, and comes in 20 or more different colors.
These gloves are very lightweight, but still cleverly designed to give you that extra little edge out on the field. 
The grip is fantastic, and is aided by the flexibility and control that you get from the fabric itself and the specific way that it is sewn together, for instance the special panels, along with finger-lock gussets.
All of these little details come together to create a very, very nice pair of gloves to play in.
Key Features
The newer, better version of a very popular glove
Perforated ventilation keeps your hands cool
Tons of colors to choose from
Buy Here
4. Adidas Adizero 5.0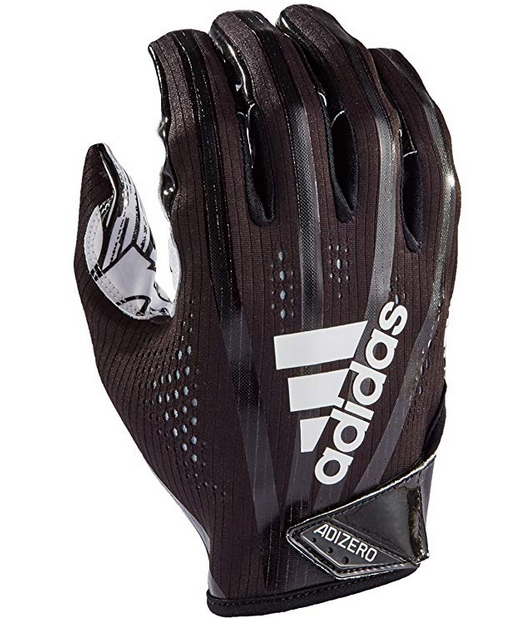 The 5th incarnation of the Adizero football gloves by Adidas is the best incarnation.
These gloves are among the lightest, so you're not getting quite the same protection as some other gloves offer, but they still have their own advantages.
There's usually a trade-off. 
Gloves with more protection with have more padding, and will often be stiffer.
Gloves with less padding are going to be lighter and give you more agility, but they aren't as protective.
It really comes down to your experience level, your style of play, and what you're looking for from a football glove.
These gloves use GripTack technology on the palms, with no seams.
Whether it's nice out, or you're playing in a bad-weather scenario, the grip on these gloves will hold up and won't be phased by the elements.
These gloves meet the standards of the National Operating Committee on Standards for Athletic Equipment.
The fastening mechanism around the wrist is low-profile so it's not going to get snagged and jeopardize your control. 
The back of these gloves is stretchy and made from mixed media with a multi-direction stretch for extra comfort and a perfect fit. 
These gloves are made for more experienced players at a higher level, where the light-weight factor is more important than trying to force your hand into perfect form to catch a ball, since more experienced players can handle that all on their own.
Key Features
Very lightweight

GripTack technology gives you amazing grip on the ball

They can handle all-weather 

Meets NOCSAE standards

Great for experienced football players
Buy Here
5. Grip Boost Pro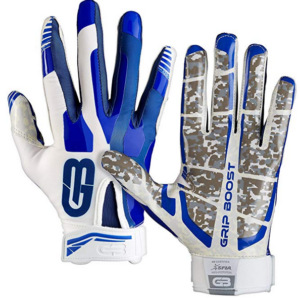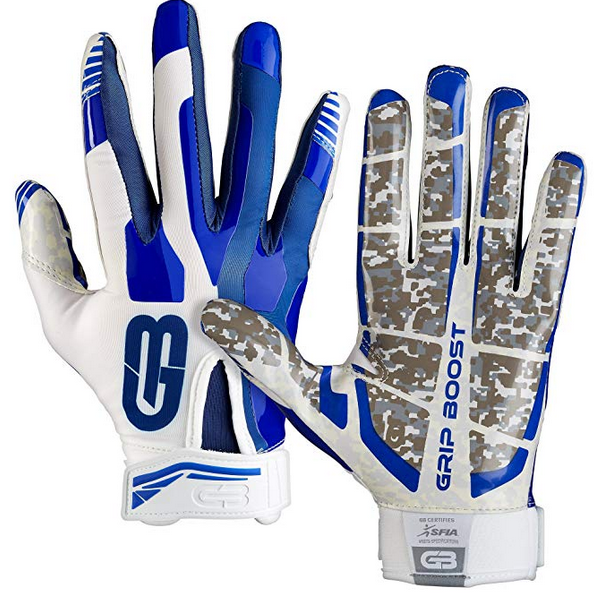 As the name suggests, these gloves are all about grip. They're no frills, they aren't from some huge sporting brand that you've known your entire life, but they've still managed to make quite a name for themselves.
The same way that the Adizero gloves above are great for more experienced players, these ones are great for less experienced players. 
First of all, because they're very inexpensive.
It's not a huge investment, if you don't love them, it's all good, you're not out much and you've still got a decent backup pair. 
Secondly, they help a ton with grip.
They're not as lightweight as some other gloves, but they're comfortable and strong and that matters, too.
They're great in all weather, manufactured very strongly, very breathable, and with the famous sticky grip that keeps the ball right where you want it so you can catch tough passes that might otherwise be out of reach.
Key Features
Great for newer players

Comfortable with lots of protection

Inexpensive, they're a very affordable action

Very sticky grip, they're famous for it 
Buy Here
How To Choose a Pair of Football Gloves Buyer's Guide
Here are a few of the traits where gloves will vary from one pair to the next. 
Wrist

: The wrist opening can vary in size, but most of them are adjustable in different ways. 

Protection

: Some gloves offer more protection than other styles to. 

Weight

: Lighter gloves are lighter and give you more movement of the hands, but they also offer less protection and some players prefer a stiffer, more stable feel.

Palm

: Some palms are smooth, others have dimples on them. Smooth palms can help grip the ball initially, and dimpled are more commonly used for practice since they don't degrade over time in the same way as a smooth palm glove will.