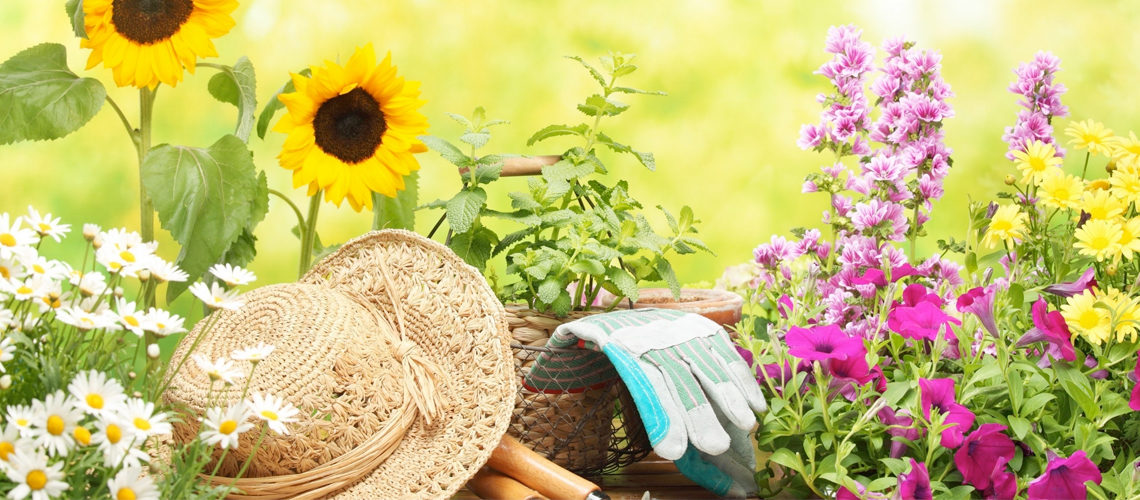 While it feels amazing to dig your hands into the dirt from time to time, every serious gardener needs a great pair of garden gloves.
Choosing the pair that'll suit you the best can be a personal experience, but there are still some golden rules to keep in mind, and some gloves that are undeniably better than other ones…
So, take a few moments to browse this list of the best garden gloves, and pick the pair that stands out to you the best.
All of these garden gloves are well-made, functional, high-quality, and offer great value – so it's just a matter of figuring out which ones you like the best. 
Being able to pick weeds or tend to your rose garden without getting pricked and stabbed by your plants is always a big plus.
Less clean-up after doing some garden work is nice, too, you won't automatically have to shower to clean the mud and dirt off your hands and arms. 
Here are the Best Gardening Gloves of 2023 Reviewed:
1. Bear Wallow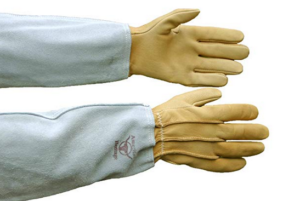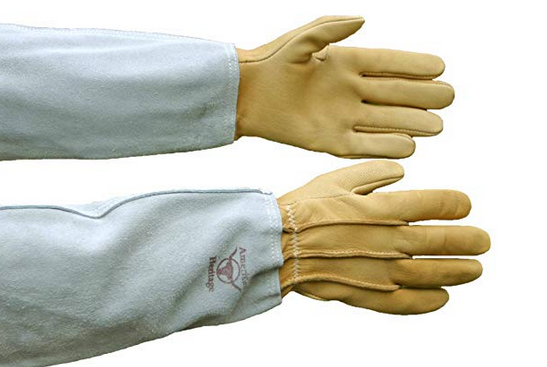 Let's start this list off with a pair of very heavy-duty gloves that are perfect for pruning and other demanding garden tasks.
If you just need to do a bit of light gardening, these will undoubtedly be overkill.
But for medium to high-demand yard work and gardening, you won't find anything better than these Bear Wallow gloves, truly.
They're made with thick, strong goatskin. The palms don't have any seams, so you have maximum control over your gloves, and therefore over your tools, too.
This particular pair is called "The Protector", as a testament to their supreme levels of protection from thorns, and pretty much anything else you may encounter during a trip to the garden.
Gauntlet-style gloves are heavy, heavy duty, very durable, but when they're made from leather you need to be a little more careful about getting them wet, which means they're not always suited for day-to-day garden tasks like digging, or planting, but they're great for maintenance.
If you need a day-to-day pair that don't need to be as durable or strong, check out the next pair below.
Key Features
Incredibly strong, durable, and able to protect you from all sorts of minor injuries in the garden

Made in America, and they're very well-made to stand the test of time

No exaggeration, you'll probably be able to pass these down to a younger budding gardening someday
Buy Here
2. Skydeer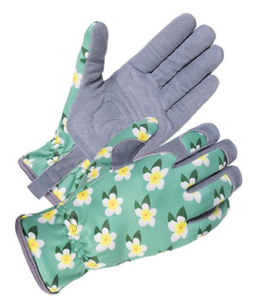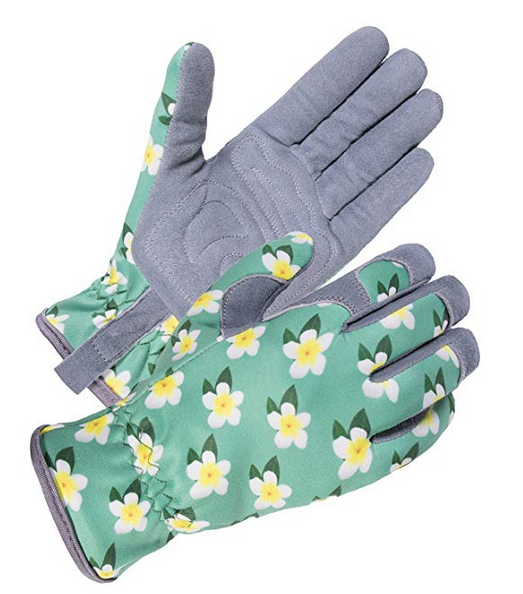 If rose pruning gloves are more than you need, here's a perfect pair of simpler gardening gloves.
They won't protect you as well from thorns and the like, but they're perfect to toss on if you're planting seeds, transplanting, doing maintenance on plants that aren't prickly, and more.
They're more about keeping your hands clean and giving you some extra grip, rather than full-on protection, but they can still absolutely protect your hands from minor cuts and cuts, not to mention the insects that you may be disturbing while reaching around in your garden.
These gloves run a bit smaller, they're meant for ladies hands, so men may want to opt for something larger, unless you're a man with smaller hands, in which case these were made for you, too.
The backs of them are waterproof, and the palms have a soft, foam padded area to help with blisters, and to offer an extra layer of protection.
Key Features
Smaller form factor gives you greater control for precise work

Padded for protection

Great fit for people with smaller to medium sized hands

Elastic design makes them easy to put on, keeps them in place, and ensures they can fit a wider variety of hands
Buy Here
3. Exemplary Gardens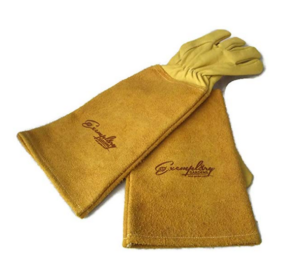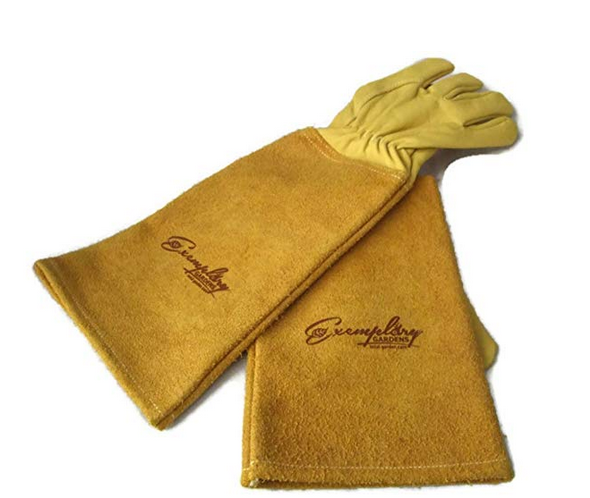 Now, let's circle back to a pruning-style glove. These are an alternative to the Bear Willow gloves that are sitting in the top spot.
These cost a lot less, but they're still very well-made, heavy-duty and more than capable of handling the most demanding gardening tasks.
They aren't quite on the same level as Bear Willow, but they're cheaper and better overall value, so that's something to keep in mind if you'd like to save a few bucks, but still need a substantial pair of gloves for gardening.
The one hundred percent leather exterior with a slitted-gauntlet form factor makes these gloves perfect for tricky jobs.
If you grow roses, you need a set of gloves like these to help you in the garden, there's no two ways about it.
Having said that, you should also have a more basic pair of garden gloves, and we've featured a handful (no pun intended) of those on this same page, too, so if pruning gloves aren't what you need, keep looking around – we've got something for you.
Key Features
Made very strong to handle the toughest jobs in your garden

Protect yourself from thorns, prickly weeds, and more

A more affordable option for people who still need heavy-duty gloves

Available in a number of different sizes

They have great air circulation, so your hands won't get sweaty as quickly or easily as with other gloves

The interior is a light fleece fabric that feels incredible
Buy Here
4. Olson Deepak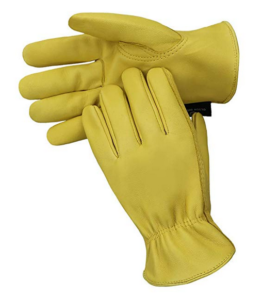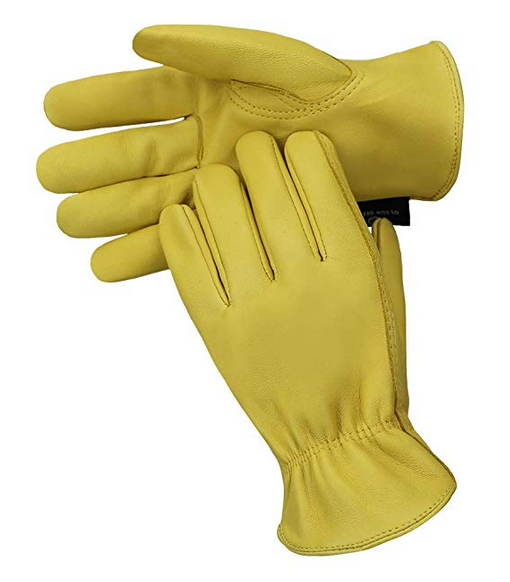 These are considered "men's gardening gloves" because they fit a bit larger, and they don't have a very colorful or unique design on them.
If that's what you're looking for, regardless of your gender, these make a great choice.
These may be ranking in the fourth position, but they're still quite a bit better than any of the cheap gardening gloves – it's not worth it to try to spend less, you won't get anything even remotely comparable.
The quality, even at this price point, far exceeded our expectations. Simply put, these are an amazing pair of gloves at an amazing price: the value is incredible.
They gloves aren't elastic, so you'll want to ensure they're a decent fit by measuring before you order. They're available in solid black, or black and white.
The white ones look nice, but keep in mind that if you're digging around in the dirt, they won't stay white for very long.
The all-black ones will stay looking newer for longer, if that matters to you! Personally, we're okay with our gardening gloves starting to look dirty, it means they're getting used for what they're meant to be used for! 
Key Features
Available in two color schemes 

Marketed towards men, but available in different sizes and they're really unisex 

The inside is made with absorbent cowhide for natural breathability

The palm is reinforced
Buy Here
5. Pine Tree Tools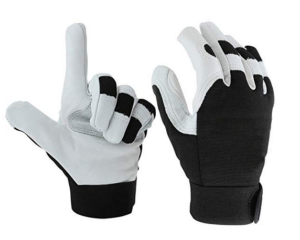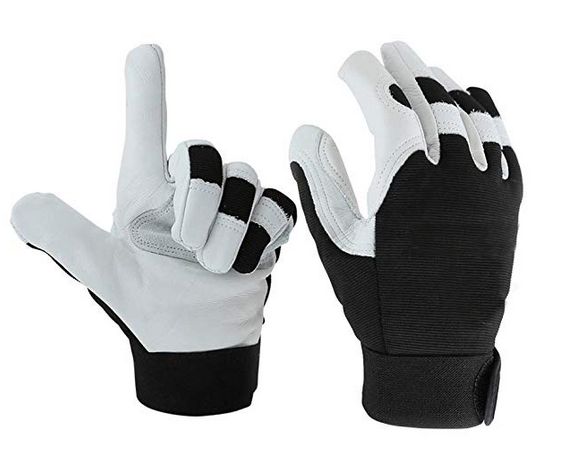 Here's a style we've been seeing more and more of lately. It's very tight-fitting, so it's available in 5 different sizes rather than having a baggy glove that's one size fits all.
They're made from a very breathable bamboo material so they're light, they handle moisture perfectly, and they're also super affordable. 
The fingers and palm area is coated in a protective rubber, but it's still thin enough that you have full mobility and can still feel, which gives you a lot more control over whatever you're working on.
Beyond just gardening, these versatile gloves are also popular among people who fish, or even using for restoration work, clamming, etc. 
We love these gloves, and when you factor in the super low price, everyone should have a pair of these in their shed.
They're so useful to have, even if they aren't as protective as some of the heavier-duty gloves on this list. For light to moderate yard work, these are perfect.
Key Features
Incredibly low-cost option

Fits snugly, giving you full control and feeling to get the job done accurately

Breathable, comfortable, and well-made
Buy Here
Gardening Glove Buyer's Guide
Don't buy just anything! It's a good idea to take your time and shop for the best gardening gloves since you're going to be spending a lot of time in them.
Hopefully, this list has helped point you in the right direction, but here are some additional things to keep in mind, too: 
Buy the pair that best suits the work you'll be doing (You don't need super heavy-duty gloves for simple yard work, but you also don't want simple gloves for heavy work) 
Different materials have their own pros and cons (Some are warmer, heavier, lighter… thick leather offers better protection from thorns, but lighter smaller gloves give you greater control)
Bring your gloves indoors (or into the shed/garage) when you're not using them to reduce their sun exposure and to protect them from the rain, ensuring they'll last you much longer.