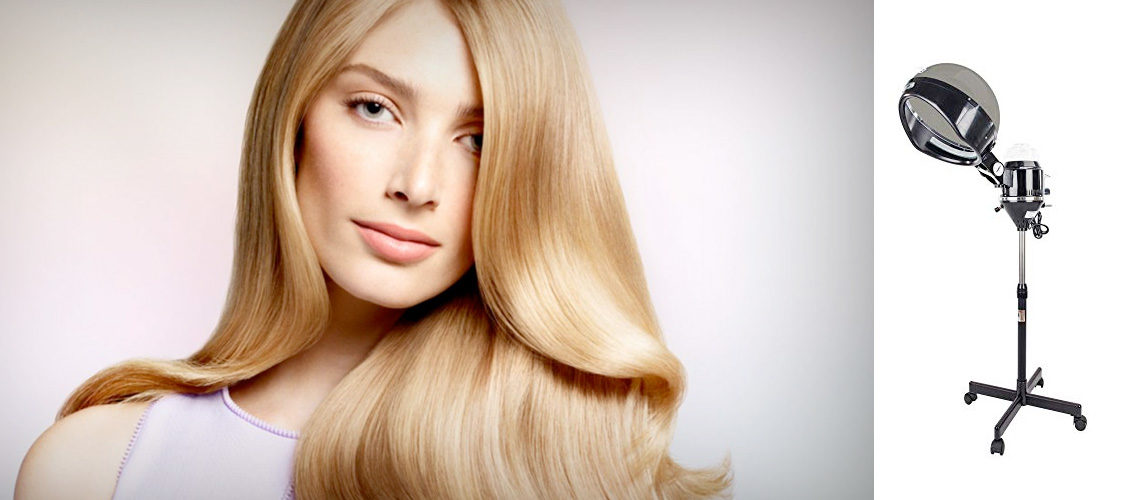 Growing healthy hair can be challenging.
You will need tools to accomplish it and if you're really serious about making your hair as healthy as possible, you will need to have this styling gear and start learning how to use it until it becomes your best friend.
In this guide, we're going to explain the reasons why you need it and help you to choose the best one that fits not just your hair styling needs but also your budget.
You might already be using different products and tools now in an effort to make your hair grow healthier but if you're not getting the results that you want, it might be that the products don't penetrate down to the roots in your scalp.
That's why you need a hair steamer.
Using this tool, you'll be able to ensure deep penetration and better absorption of the products that you apply on your hair and scalp.
With all the products that are now available in the market, you may end up choosing a hair steamer that doesn't deliver great results.
That's the very reason why we've written this article.
We want to show you the best hair steamers out there and as well as share review on each one of them.
So read on if you want to pick the best one…
2023's Top 6 Hair Steamers Reviewed:
1. Secura S-192 Hair and Facial Steamer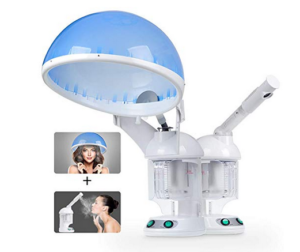 The Secura S-192 is not your ordinary hair steamer. Yes! It is a multipurpose one that can steam your hair and also relax the pores of your face on demand. It's got awesome features which enables it to discharge oxygen particles that are negatively charged to help prevent dandruff and itchy scalp. Because of this feature, this hair steamer stands out from the rest which only has ordinary features.
Secura S-192 is capable of generating ultrafine mist that can easily be absorbed by the scalp resulting in better moisture levels. Additionally, it ensures that the hair products which you apply to your hair and scalp are absorbed well so you can enjoy the best results every time.
If you have a problem with your hair that causes it to break easily along with some ugly split ends then this hair steamer will be able to help in hydration and moisturization during the steaming process. It is able to produce steam that can help every type of hair there is. The steamer is also capable of lifting the cuticles so your hair becomes shinny and soft.
And if it's increasing hair length that you want then this steamer will also be of help. By improving your hair's moisture level, your conditioner is going to work better thus resulting in an improvement on hair growth.
Pros
Help bring hair breakage and split ends to a minimum level
Ensures efficient absorption of conditioning products
Relieves itching and prevents dandruff

Promotes hair growth by providing enough moisture to the hair
Cons
Some users report that the hood is cheap

Others claim that the steamer can't reach all of their hair
Buy Here
2. Q-Redew Handheld Hair Steamer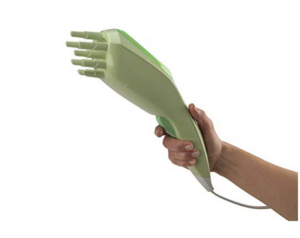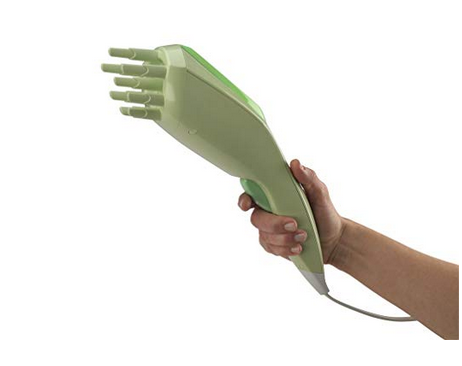 A portable hair steamer that is designed to take minimal storage space, and does not need to be tabled either. The Q-Redew Hair Steamer allows the steaming of your hair while you hold it in your hands. Because of its handheld design, this steamer has easily become one of the best in the market. And not just that, it's also portable so carrying it around would not be much of a problem.
Just like any other steamer, the Q-Redew hair steamer moisturizes and hydrates your hair but most users praise it for its portability especially if you're a person who is on-the-go most of the time. If you want to maintain good health while looking stylish and cool at the same time then you must get this hair steamer now!
It is perfect not just for moisturizing but also for detangling and restyling the hair and all these are going to be done in a few minutes. The end result is hair that is perfectly in shape.
The best thing that we like about this hair steamer is that it can go to the areas that are being targeted but are otherwise hard to reach.
Pros
Portable design makes it perfect for travel
Reaches the hard-to-reach areas of your head
Cons
The water reservoir is a bit small so it must be monitored and refilled every now and then
Since you're going to steam your hair in sections, there would be times that a part of it is still will not be steamed evenly.
Buy Here
3. Salon Sundry Professional Salon Hair Steamer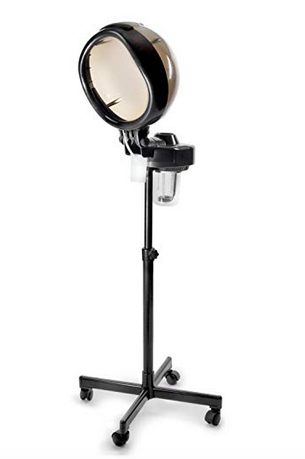 This hair steamer is designed with a stand and a hood so you can do your thing while relaxing and having your hair pampered. It also has enough water storage so you won't be filling it daily. We also love how this feature makes the steamer generate a lot of mist in such a little amount of time.
If your head is the bigger size and you want to cover every strand of hair on it then this steamer is going to do the job excellently because of its large hood compared to other steamers. This will helo cover the back even without pinning your hair.
It's truly the best choice for those who have thick hair because the steam that this product emits ensures that all the hair on your head gets ample amount of steam. It is able to release a lot of steam ensuring that the protein treatment and other hair care products would penetrate deeply into the scalp so you can get the most out of them.
It's the best choice for those who want to treat and repair dry and brittle hair since it gives off more than enough steam which can elevate the moisture level on your scalp resulting in healthier, more nourished locks.
Pros
Its big hood makes it perfect for people who have large size heads
Easily adjustable height
Emits plenty of steam
Easy to move and roll around
Cons
Over-steam is possible because of its large water reservoir. This can damage hair in the long run
Other users report water dripping out of the reservoir
It sometimes gets hot so the ven holes need to be slightly opened on top
Buy Here
4. KINGDOMBEAUTY Large 2-in-1 Hair and Facial Steamer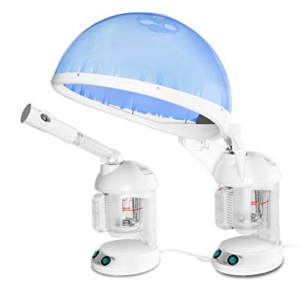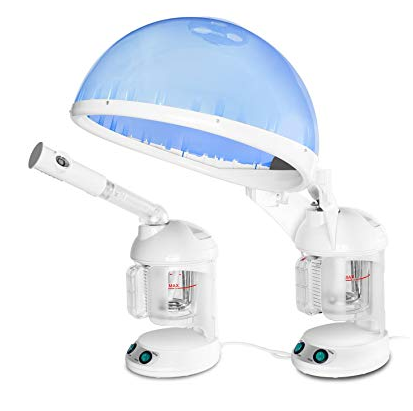 Just like the first one on this list, this hair steamer is designed to have 2 functions instead of just one. Yes! It will help you achieve not just healthy, shiny hair but also healthy skin at the same time.
It is the best choice for those who experience itching on their scalp due to the growth of dandruff. This steamer is able to release ions that are negatively charged while you are steaming your hair. And because it is equipped with the best cleaning and nourishing technology, the KINGDOMBEAUTY hair steamer is going to cleanse all the dirt and oil build-up so your hair and scalp are left clean and healthy in every session.
If you want to revive your hair to its previously healthy condition then this steamer is going to help you. It repairs your hair with the ionic water particles that it releases to your hair leaving it smooth, clean, and healthy every single time. It doesn't only cleanse and conditions your hair but also solves tangled hair so it grows better and stronger.
It is the best choice for people who have damaged, dry, dull, brittle, or dirty hair because of prolonged or repeated exposure to too much heat or to treatment chemicals. Yes! This hair steamer will help revive the hair and scalp by ensuring that nutrients from hair care products and conditioners are absorbed by the roots within the scalp.
Many users praise it for the great job that it does in reviving their hair and cleaning it along with the relaxation and comfort that it also provides.
Pros
Equipped with an automatic shut off feature that prevents overheating for the user's safety
Capable fo releasing ionic particles that revive hair from damage
Cons
Over-steaming is possible on this steamer because of the large water reservoir that it has
Buy Here
5. Red Pro Hair Therapy Steamer 2-in-1 Hair and Facial Steamer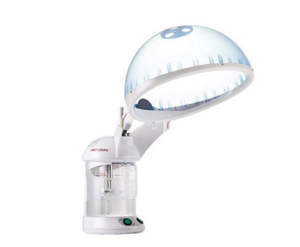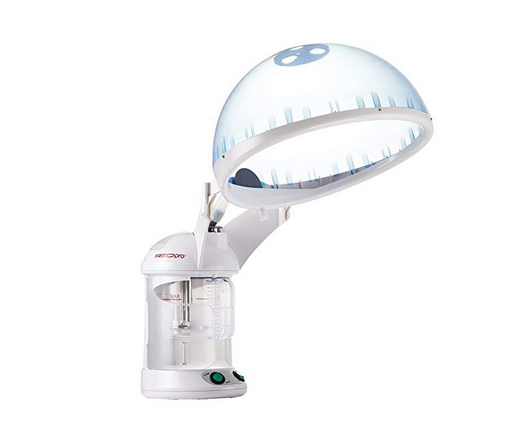 Next on this list is another multipurpose steamer that works for both the hair and the face keeping both of them healthy every time. Yes! The Red Pro Hair Therapy Steamer is guaranteed to improve the growth of your hair especially when you're using protein treatment. The steam will aid in deep penetration of the nutrients through the scalp which results in healthier growth of hair.
The steam that it emits also helps in lifting up the cuticles resulting in a stronger hair that is both hydrated and moisturized. With it, you'll be able to achieve the healthy and smooth hair that you've always been dreaming to have. And it's also got the power to take care of your facial skin by relaxing the pores and making sure that the bad oils are released for further washing and cleansing.
If you live in a dry climate then you will definitely need this steamer as it helps in maintaining soft and vibrant hair. It also relaxes your facial skin to avoid pimple or acne breakouts which you surely hate.
Users have been grateful for this hair steamer because of the great job that it does in relaxing their hair and making it grow better and stronger without losing its color and natural moisture.
Pros
Helps in deep penetration of nutrients to keep the hair grow healthy, shiny, and smooth
Promotes hair and scalp moisturization
Prevents dry and flaky scalp
Makes the hair grow stronger to avoid split end s and breakage
Cons
Big size head might not fit well on its hood
The hood is not adjustable
Hot water might drip so it requires releasing the vents on the hood to release excess steam and water
All hair strands will not be covered by the hood
Buy Here
6. Deluxe Hair Steamer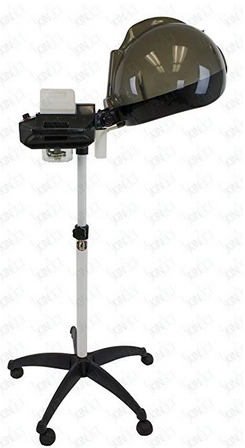 Lastly, on this list, we have the Deluxe Hair Steamer which you can easily use even at the comfort of your home because of the safety and other remarkable features that it has.
It is perfect for every hair type because it is equipped with both high and low settings switch. With it, you can steam with the heat settings that best suits the type of hair that you have for optimum nutrient absorption deeply into the scalp.
Keeping your hair hydrated and your scalp moisturized is made easier by this steamer even at times that you are in a hurry. It is able to heat up faster than other brands ensuring that you get noticeable results in a shorter period of time.
The Deluxe Hair Steamer is guaranteed to make your hair feel smooth and look shiny after you condition with the needed oils and shampoo. The steam that this product produces spreads evenly to ensure better nutrient penetration both on the hair and scalp.
Pros
Equipped with an automatic shut off feature
Quickly heats up for faster achievement of results
Helps in better nutrient absorption to make the hair hydrated and the scalp properly moisturized
 
Cons
Some users report that the product doesn't last too long
Buy Here
Selecting the Best Hair Steamer
Choosing the best hair steamer that will best serve your hair styling needs should not be that hard.
But when there are lots of options in front of you and all are promising a lot of good things, the task of choosing becomes harder.
Below, we've rounded up a few simple steps that can help you choose the best hair steamer:
1. If it is a hooded hair steamer then definitely go for the one that has a bigger hood.
However, if it's one that needs to be held by the hand to operate, covering most of your strands will be a bit tiresome.
Choosing a steamer that has a deep and wide hood will help ensure that even the back portion of your head is covered along with the edges and the front sections.
2. Choose a steamer that features a big compartment and a water reservoir that is designed for heavy use.
This will help ensure that you're going to have enough supply of water while undergoing hair steaming sessions.
It will also prevent interruptions in every session.
3. Pick a hair steamer that is equipped with an ozone feature.
This ensures that an adequate supply of oxygen is given to the hair and scalp and it also helps in removing dirt build-up resulting in better-nourished hair and a scalp that is itch-free.
4. Select a hair steamer that has an auto-shutdown or a timer feature so you are made aware every time the water level in the container is low or almost empty.
This also avoids damage and injury due to overheating.
5. The hair steamer must be easy to move around and it should be designed to be portable. One that has swivel wheels is a big plus as it is easier to push, pull and move around.
6. Choose a hair steamer that is equipped with an adjustable height feature. Doing so will ensure that it can easily conform to your height and your customer will feel more comfortable every single time.
Conclusion
Hair steamers are not cheap but they're definitely worth every dollar of your investment.
And if you're looking for the best ones then you can start with the top 6 hair steamers that we've listed above.
Every person has a unique set of hair needs so it's important to take a look at each of the products above, read some reviews, and of course, look into the amount that you're willing to spend before picking your final choice.
Achieving the best hair and scalp condition that makes you feel more confident with your crowning glory shouldn't be that hard.
It just takes the right kind of treatment and equipment just like the hair steamers we've shown in this guide.
Do you own a hair steamer at home?
What brand did you buy and how well does it work?
Please share your experience by joining the discussion in the comments section below.