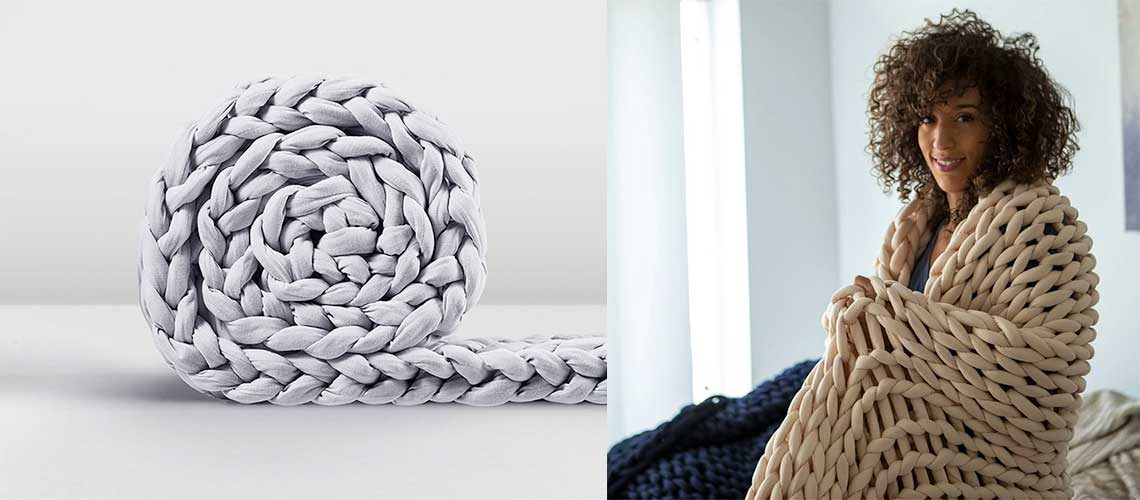 Knit Weighted Blanket – Everything You Need To Know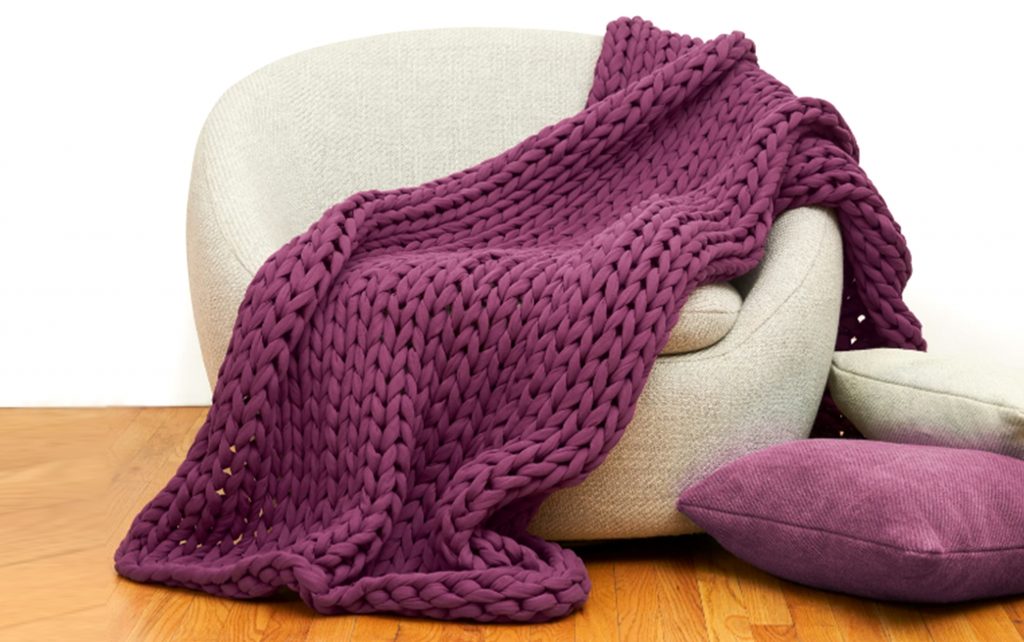 There are many kinds of blankets that are available in the market.
Most are simple and nothing really special.
But what if we tell you that there's a special type of blanket that provides more than just covering but comfort, stress-relief, better sleeping cycles, and a whole lot more?
Today we are introducing you to the hand-made knitted weighted blanket.
A weighted blanket is not a remedy and it's not for everyone but it has been proven to help ease the symptoms of medical ailments like sleep disorders, anxiety, PTSD, and more.
Having good sleep is so valuable.
If given the chance, why wouldn't you want to attempt something that could help you rest better?
Beyond sleep problems, weighted blankets for adults are being touted for their ability to ease anxiety, help with sensory problems, create a calming effect, soothe the elderly, and more.
Discover why weighted blankets are taking over the mainstream market and making their way onto a cozy bed near you.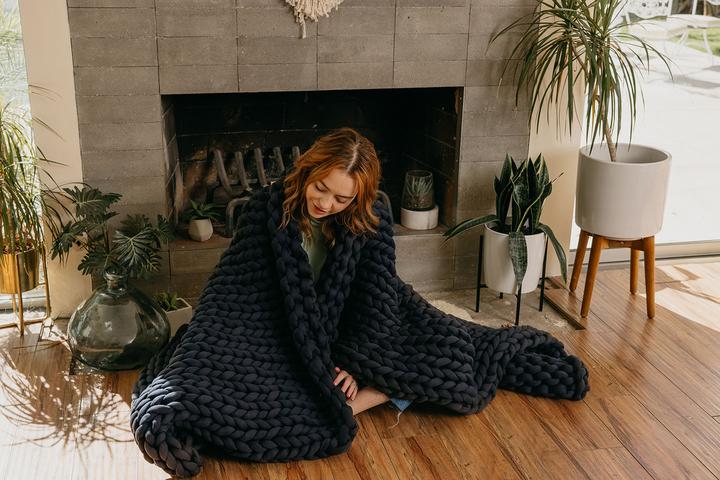 Choosing the Weight of  your Blanket
Weighted blankets come in various weights.
For adults, they range from four to more than 25 pounds.
The best ratio is that the blanket should be approximately 10% of the user's body weight.
Excess weight is not helpful so be sure to get the appropriate ratio for your body.
Before using a weighted blanket on a small child, be sure to talk with your pediatrician because there is definitely a risk of suffocation if used clumsily.
Weighted blankets should never be provided to babies or very young kids.
Again, your blanket should be approximately 10% of your body weight.
And if you're wondering why this is to ensure that this blanket gives you the best healthy and psychological benefits that you deserve. 
In this article, we will share with you the top five reasons why getting yourself a knitted weighted blanket is one that you'll never regret.

Breathability
Because of their design, weight blankets are breathable for any season.
This kind of blanket doesn't go wrong in providing warmth during cold weather and staying cool during warmer seasons.
It's the softest and most comfortable kind of blanket you can ever find.
Some knitted weighted blankets are beadless, just like the Nuzzie Knit.
This means that the weight of the blanket is evenly distributed because of the very luxurious fabric they use.
The free flow of air via the loops and holes in the blanket maintains superior breathability and ventilation.
When it's laid on your or wrapped around you, this doesn't retain much heat but guarantees you a more comfortable and soothing experience.
So, bid farewell to hot and sweaty nights and find yourself hugged by this comfortable blanket.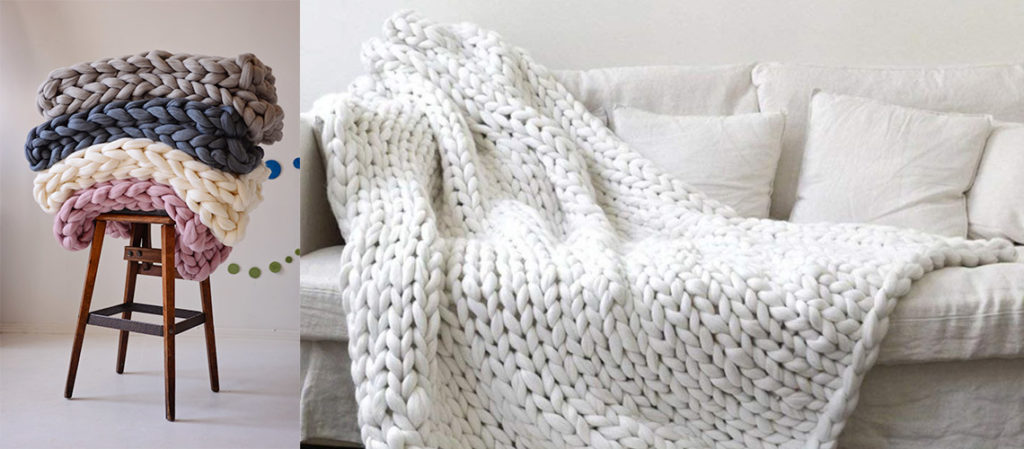 Stress Relief
We live in a world that's fast-paced and most people find that they have some level of stress in their lives.
Everybody is catching up with time and people are getting more stressed as each day goes by.
All you ever want after a really long day is to find comfort and peace at home while asleep or cuddle on the couch for some down time.
A perfect choice for that stress-reliever is a knitted weighted blanket as you go to sleep or relax.
No matter how stressed you are in your day, the fabrics, design, and the gentle pressure it adds will make you forget all the stress you have and help you feel safe and relaxed.
They say that a dog is a man's best friend.
Now, this knitted weighted blanket is your new huggable best friend.
The ideal pressure sensation or what they call Deep Touch Therapy (DTT) gives you the best physical and psychological benefits.
Its gentle touch gives you that calm and relaxation that your mind and body are looking for.
Not only are you enjoying therapeutic benefits from this weighted blanket, but you are also helping the planet breathe life is having a weighted blanket helps you avoid commercialized production that is made of synthetic textile.
After all, this is what we all wish for.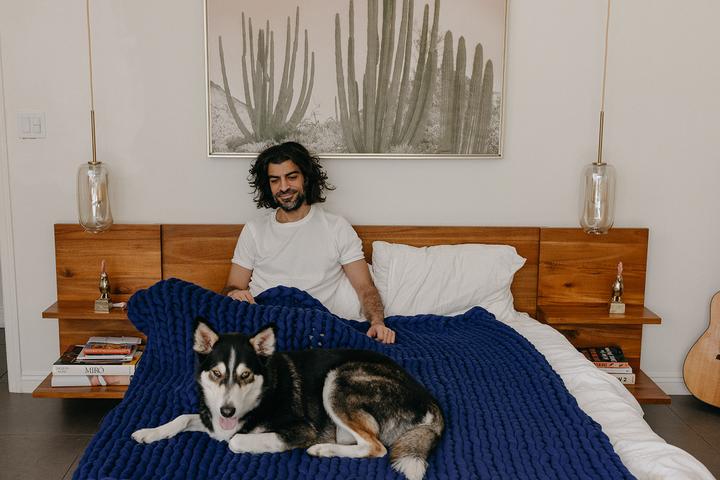 Sleeping Cycle
Getting much-needed sleep and rest isn't stressed as much among young adults, the career driven, and even the younger generation these days.
Everybody puts hype so much on working and overtime resulting in fewer hours of sleep.
But the truth is, you are more productive if you get the much-needed rest that your body requires.
And if you're having problems with your sleeping cycle, getting a knitted weighted blanket can be just the solution you need to ease your sleeping woes.
This blanket will be your huggable best friend after a long day at work.
Scientifically it is proven that because of this blanket's material and the gentle pressure it applies, it helps you improve the quality of your sleep so that you can be the best version of yourself each day.
The more rested you are, the more recharged and revitalized you are to get through the day.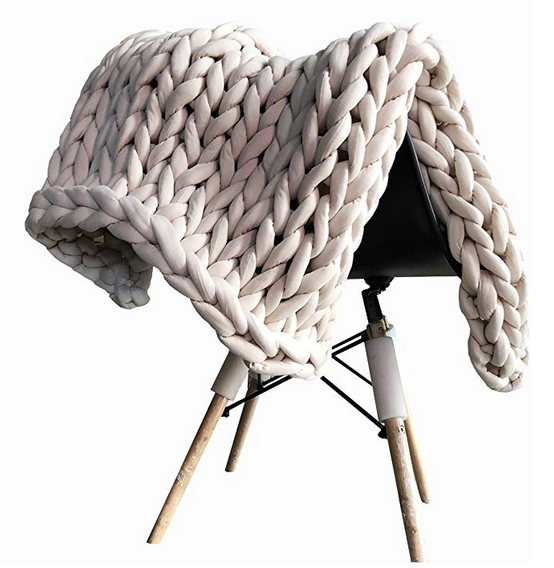 Machine Washable
Another great benefit is that most of these weight blankets are also washable.
What good is a blanket if you can't wash it, right? 
Most knitted weighted blankets are created to be machine washable and dryer friendly.
Brands like Nuzzie Knit even do a 100+ wash/dry cycle to test the fabric and condition of the blanket – making sure it is made to last.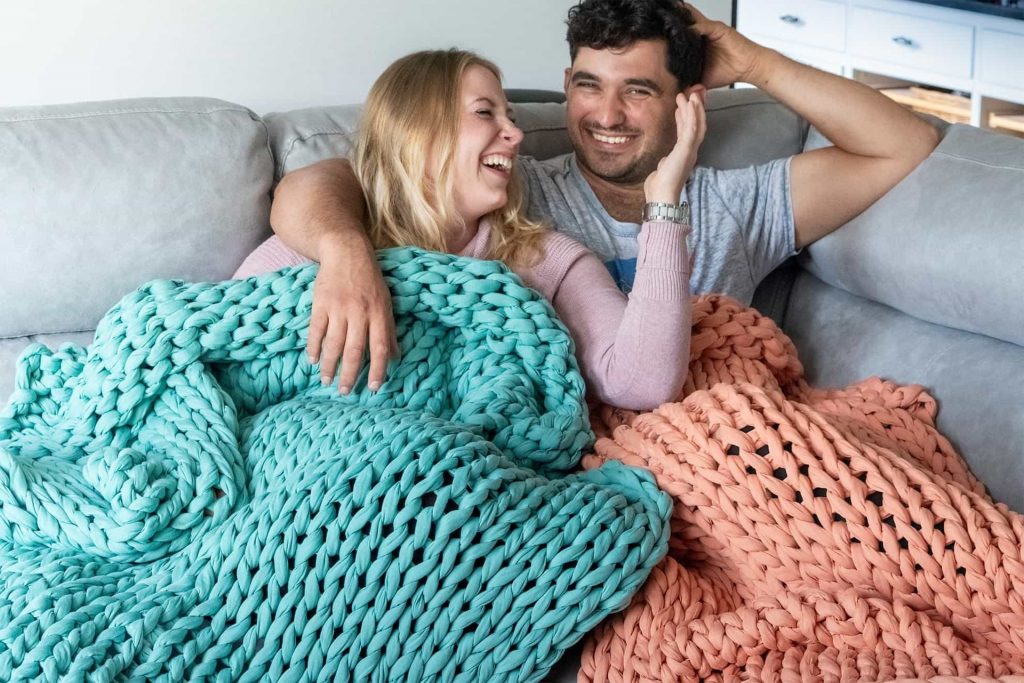 Relaxation
What better way to relax, have a good cup of coffee, cuddle up and watch movies, play with your pet or child, enjoy quality time with your partner, and even read a book than a gentle and comfortable blanket wrapped around you.
The knitted weight blanket is the most relaxing kind you can ever find.
It's so soft in material and the most comfortable one that you want to wrap around you.
Because it is a perfect weight, this is ideal for all seasons.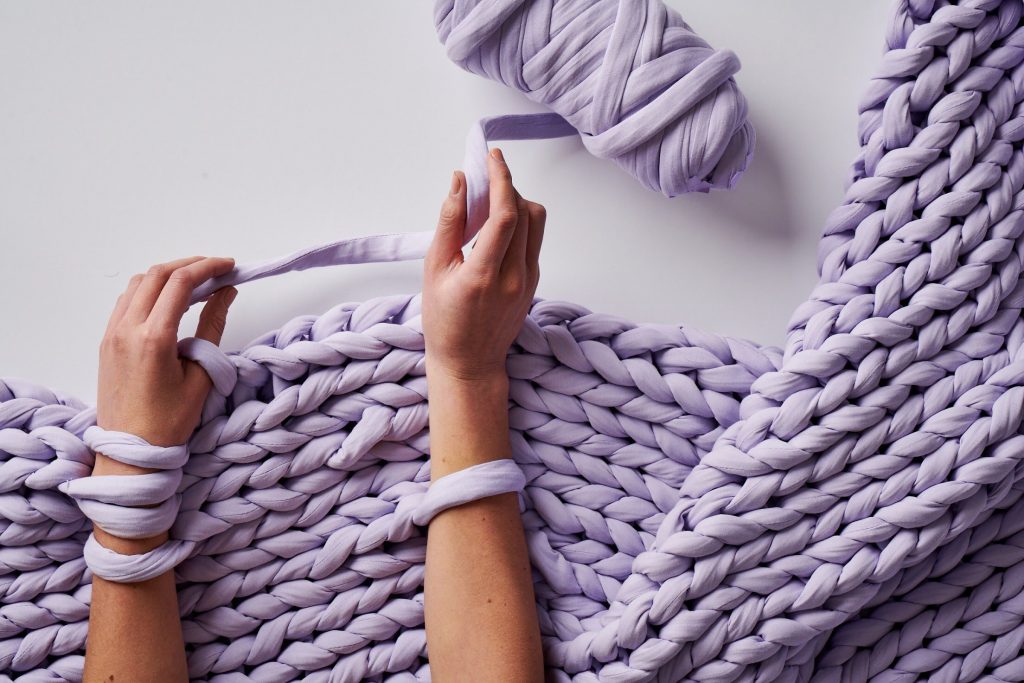 Here are the Best Weighted Blankets:
Nuzzie Knit Weighted Blanket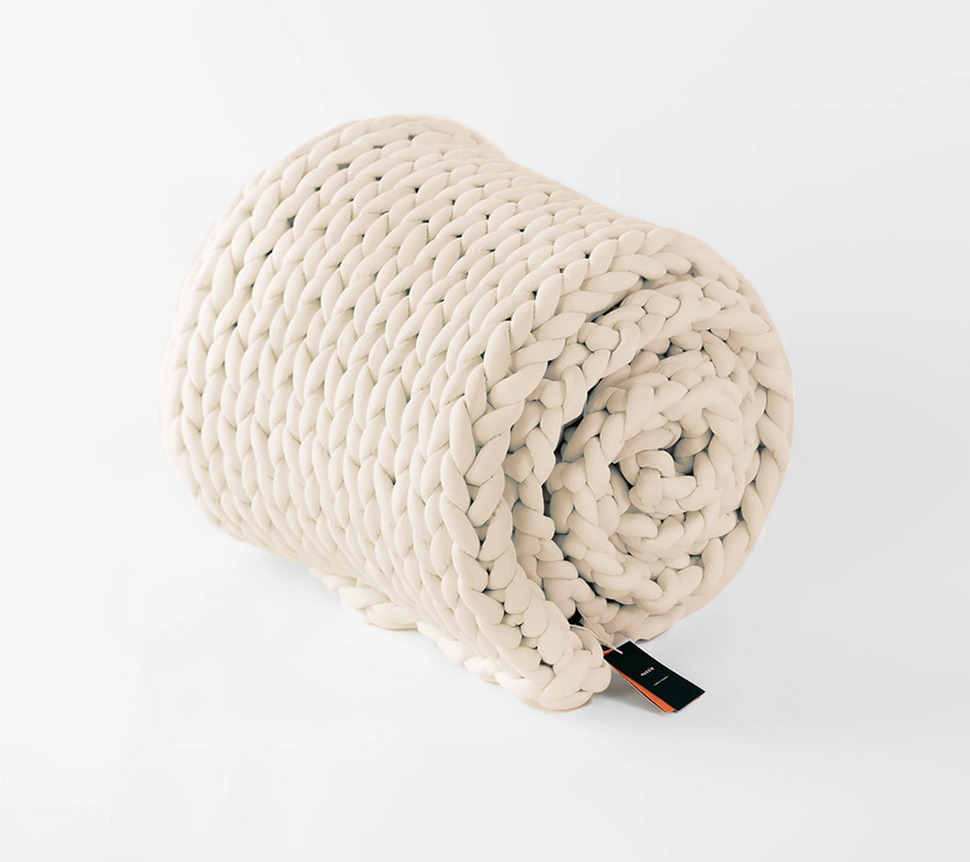 The Nuzzie Knit is a consumer favorite and they have a pretty amazing donation pledge.
For each blanket sold, they donate one blanket to a community in need around the world.
Their products are designed to improve sleep while still provide an aesthetically pleasing look – all while being socially and environmentally conscious.
Their weighted blankets come in 7 color choices and 4 sizes ranging from Kids – King size.
You can read our full Nuzzie Knit review here to learn more!
Koala Comforts Knit Weighted Blanket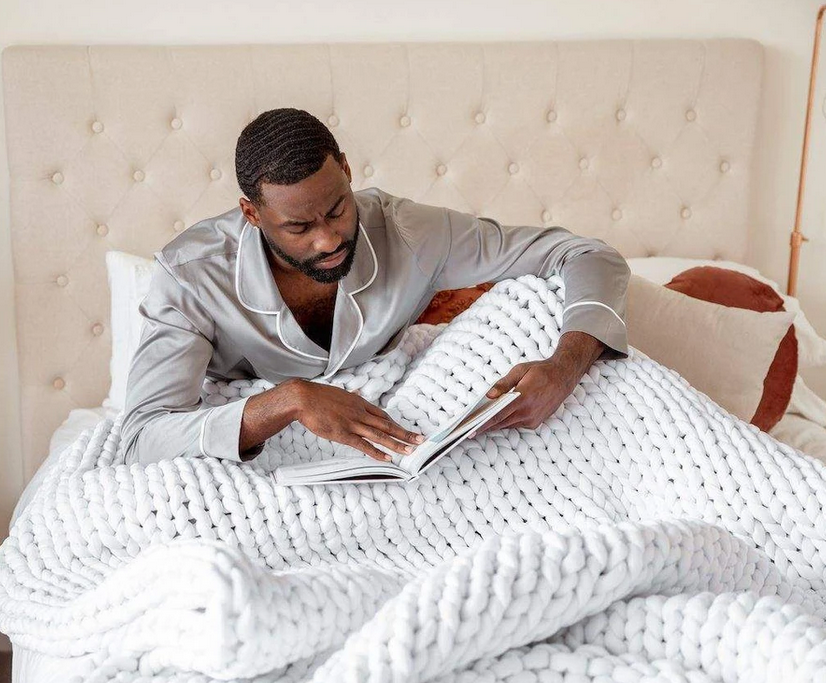 Weighted blankets are usually handmade and with their health benefits, this type of blanket is in a class of its own.
Made of 100% natural cotton, the Koala Comforts knitted weighted blanket is on of the most comfortable, eco-friendly, sustainable, and health-conscious blanket you'll find.
This is not your ordinary blanket – more like an updated version of it.
Not only is it handmade, but the weight is evenly spread to make sure that it can last for years to come.
Koala Comforts fill their blankets with 100% hollow fabric so that their sturdiness and longevity and are sustained.
Bearaby Weighted Blanket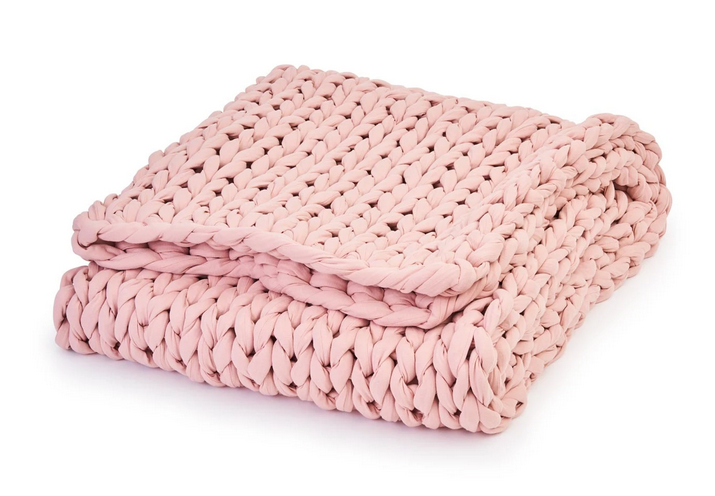 The Bearaby Cotton Napper weighted blanket is made of GOTS-certified organic and comes in 8 color options as well as 3 sizes: 15 lbs, 20 lbs, and 25 lbs.
The blanket is designed with this breathable cotton exterior as well as organic cotton filler so that is is perfect for all seasons.
Bearaby has a 30-day return policy so that you can return or exchange your blanket if you aren't fully satisfied.
They also offer free shipping and free returns!
YnM Knitted Weighted Blanket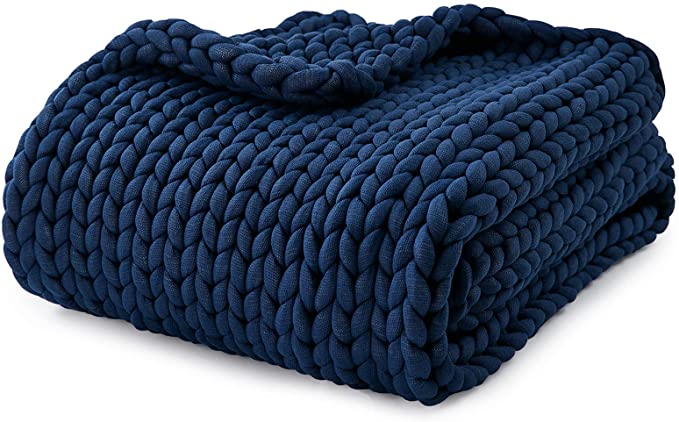 The YnM knitted weighted blanket grew quickly in popularity on Amazon for its great price and customer reviews.
The blanket is available in 8 colors and 5 sizes ranging from small to extra large.
Each blanket is hand made and the blanket weight is adjusted via the diameter of the chunky yarn and the density of the knitted blanket for even weight distribution.
This blanket is also machine washable.
Etsy Weighted Blankets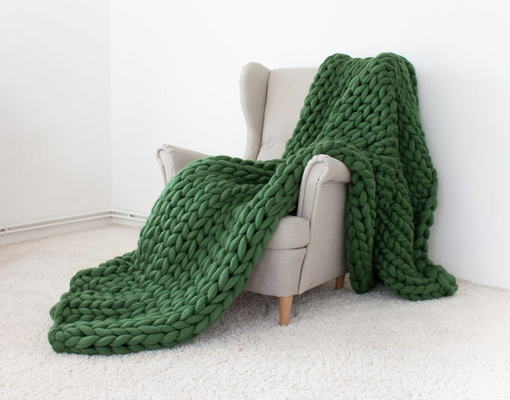 One of the best places to buy knit weighted blankets is via Etsy.com.
There are hundreds of handmade weighted blankets to choose from in different fabrics, styles, colors, and sizes.
Many Etsy sellers can custom make the color and size you want as well!
Here is a list of Etsy blankets for sale!
Silk & Snow Knit Weighted Blanket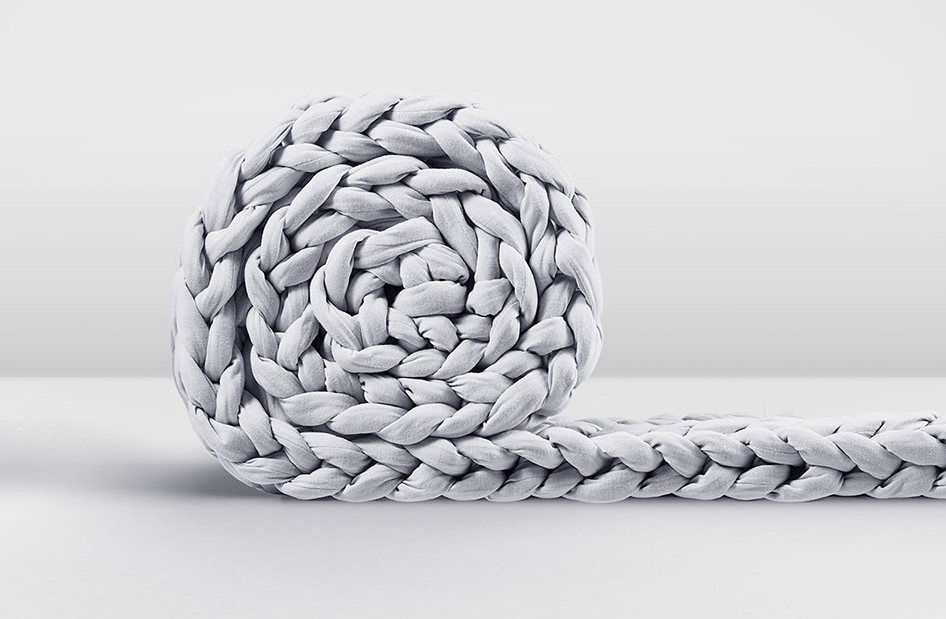 Handwoven from 100% natural cotton, the Silk & Snow weighted blanket provides all of the beneficial stress-free comfort of a traditional weighted blanket without synthetic materials or glass pellets.
The blanket comes in 5 sizes from travel size to their largest size weighing 25 lbs.
You can also choose from 4 neutral colors.
Various Kinds of Weighted Blankets
The different styles of weighted blankets can differ from a conventional blanket to a duvet where the contents can be segregated from the exterior.
A duvet is not hard to maintain as the exterior can be washed in the laundry.
So why get yourself a knitted weight blanket?
It is sustainable, comfortable, stress-relieving, healthy, and long-lasting.
You cannot trade a substantial amount of rest, sleep, and inner peace for just anything ordinary.
If you want to have better results for your sleeping cycle and healthier mental and physical state, then buy yourself this blanket and you will not surely regret it.
Frequently Asked Questions
How Do I Maintain My Knit Weighted Blanket?
Most weighted blankets are washable, but you will want to double check with the manufacturer.
They should be able to provide care instructions specific to your weighted blanket.
Most front-loading washing machines can manage up to 20-22lbs of weight.
For machine washable blankets, just use cold water, and wash separately on a delicate or permanent press cycle.
Be careful because some blankets are not supposed to be hung dry. You can do tumble dry on low for 2-3 drying cycles to complete the process.
What are the advantages of a weighted blanket?
Here are 10 advantages and benefits to using a weighted blanket:
It can reduce blood pressure and stabilize pulse rate.
It is helpful to assist in decreasing tension and anxiety.
It provides you zen-like rest and restores energy.
It aids in falling, as well as, staying asleep.
It decreases symptoms of Restless Leg Syndrome.
It eases chronic pain concerns like Fibromyalgia.
It can treat patients with traits of Autism Spectrum Disorder.
It helps people who are suffering from Sensory Processing Disorder.
It is pacifying for those with ADHD.
It aids people with PTSD to cope with the symptoms.
Are Weighted Blankets Worth The Extra Cash?
Weighted blankets can be a tad more expensive than regular ones but the advantages far outweigh the cost difference.
It is very much well worth it.
For those people with stress issues as well as those who are anxious-prone, these kinds of knit weighted blankets are perfect for lessening and alleviating the symptoms.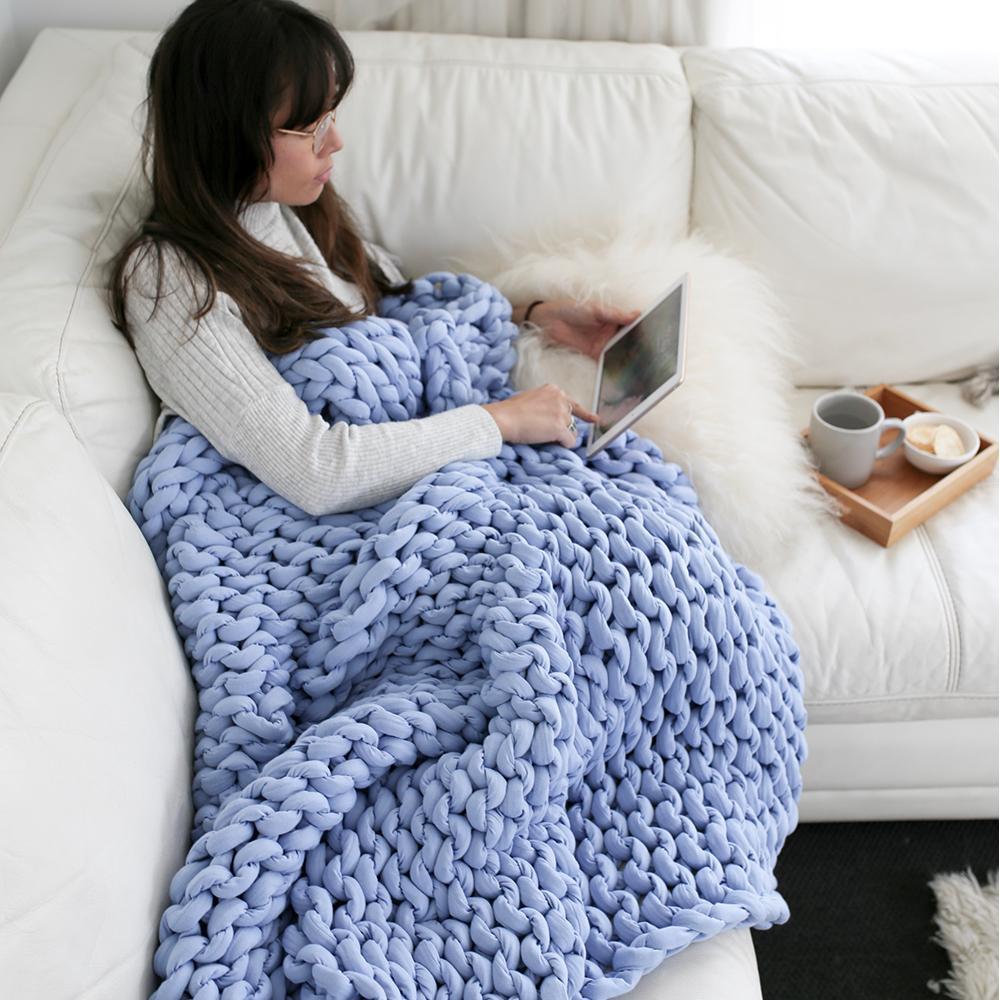 What Weight Is Perfect For Me?
Most of these contemporary knit weighted blankets are built to be more compact so choose one that is around 10% of your body weight.
You can go a little extra weight but no more than 15% of your weight. The sweet spot for most people is between the 15- and 20- pound blankets.
Another way to look at it is the personal preference when it comes to the "huggable" test.
If you choose a lighter blanket, you will get a lighter hugging feeling.
On the other hand, a heavier blanket would give you a fuller "hug". Whatever kind of hug you want, you will never go wrong.