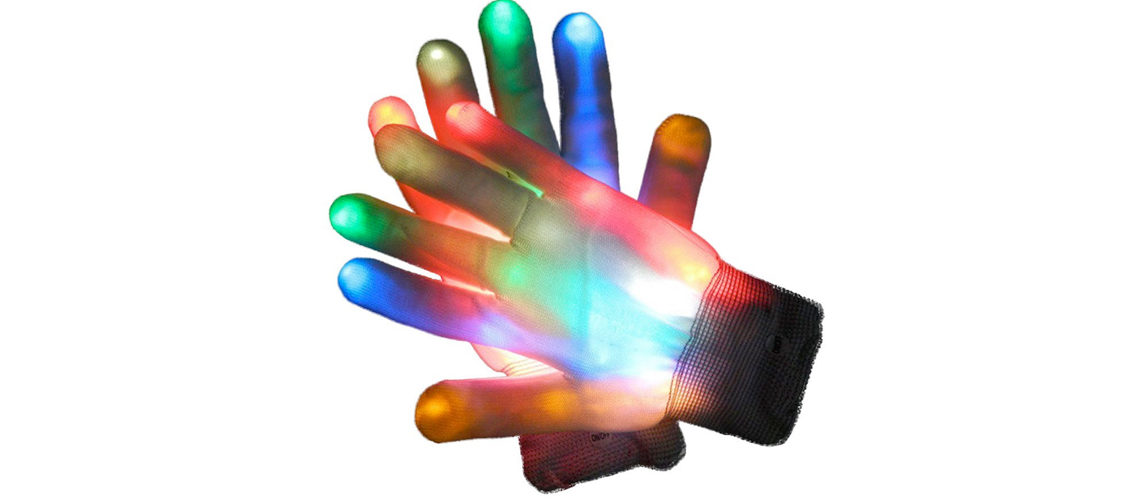 No matter how mature or sophisticated you think you are, you're going to turn your head and stop for a second when you see a shiny, bright, cool light display.
It's just a fact of life. People are attracted to cool things, and these light gloves are absolutely awesome – every single pair on this list quite literally shines. 
We've put together a fun collection of the best LED light gloves. These are super fun for kids, and adults will know that these can be a blast to take to parties, too.
These are also great for Halloween costumes, music festivals, and any other time that you'd like to have some engaging lights at your fingertips.
We've done a lot of very serious reviews of some very important types of gloves, ranging from professional athletic equipment to gloves that have medical uses, but this time around there's not a ton to focus on for each of these beyond the quality, and the pattern. 
Chances are you aren't looking for a pair that's going to last you forever, and as long as they look cool and work, what else is there to really worry about?
So, this is going to be less in-depth than most of our reviews, just check out the colors and patterns and see which ones you like. 
The first two pairs we're going to feature and serious business, and the last three pairs on this list fit more into the "toy" category.
The first two are for professional performers and dancers, or just people who want the best of the best and are taking this more seriously than a simple novelty. 
Here's the Best LED Light Gloves of 2023:
1. EmazingLights Elite Spectra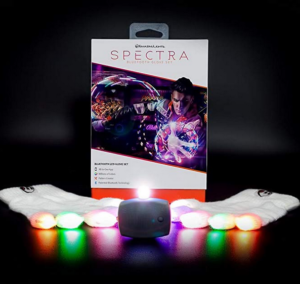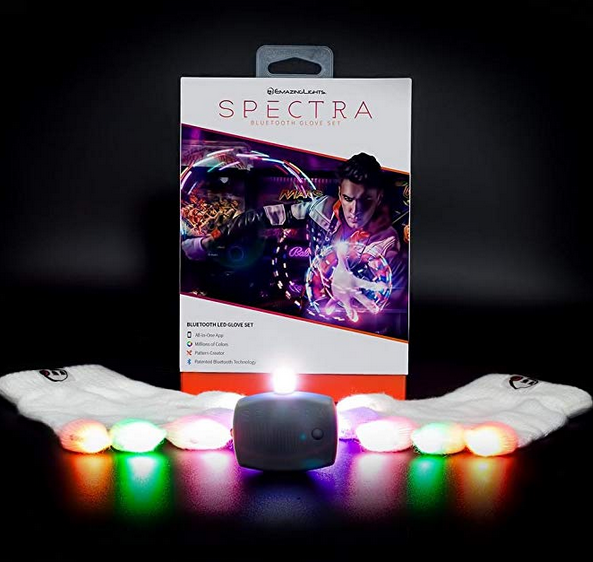 These are the best LED light gloves, full stop. If you want the best ones, it's these. But you're going to pay the price! Some of the other gloves we'll be featuring simply light up, maybe they'll flash a few built-in patterns, and that's about it… but these gloves right here? They practically have a mind of their own.
They can connect to your phone via Bluetooth, where you can program your own light shows, choose which colors they'll display, and customize the entire experience. It's honestly kind of amazing, it's no wonder these gloves are the highest rated, and simply the best. 
The lights in these gloves can react to your movements with an accelerometer (which is not included in this particular bundle, but you can add it on down the road, FYI.) This package includes the gloves, lights, smart hub, diffusers, and the ability to customize the entire experience from top to bottom to create a perfect light show to entertain and amaze those around you. 
It's all built into the app, including the custom patented software for creating your own show. These lights can display millions of colors, so you'll never run out of possibilities, if you have the imagination then you can make it happen. You can program in your entire routine, syncing the colors and patterns on the glove to the movements you're making. 
If you don't want to build it all from scratch, you can use pre-designed light shows, or even use the pre-designed ones as a starting point, from which you can customize your own displays without having to start from scratch. 
When it's all said and done, EmazingLights are just so awesome, and the Elite Spectra bundle steals the show no matter where you're showing them off. 
Key Features
Incredible Bluetooth app experience to program your own perfect shows and light displays

Very easy to use, with features you won't find anywhere else

Comes with everything you need except a cell phone device to run the application from

Customize the colors and the flashing patterns beyond your wildest dreams
Buy Here
2. GloFX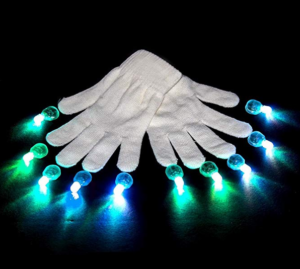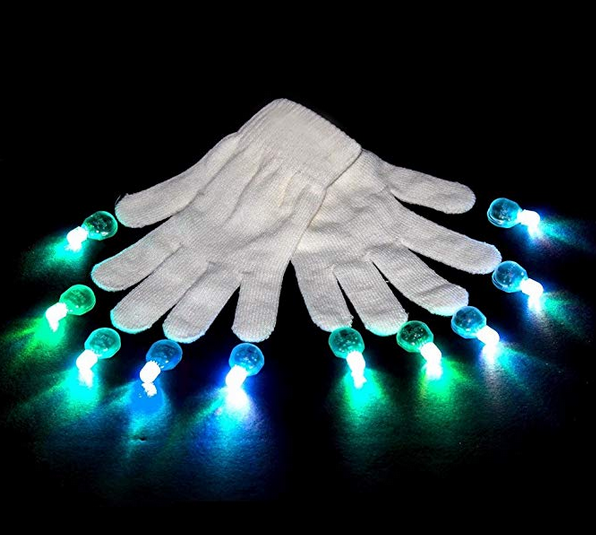 If the EmazingLights are a bit overkill for what you're looking for, but you still want something that stands head and shoulders above the entry level gloves that we're going to be looking at in positions three, four, and five on this list, then the GloFX is the perfect choice for you. 
These gloves are very popular in the EDM/rave community. All of the patterns are pre-programmed, with nine different styles of light show to choose from. The lights on these gloves are very bright, and they work excellently, but the overall design is still a bit on the primitive side, so you're going to have to put in a bit of work when you use these – but it's not a dealbreaker for us.
Key Features
Complete setup, there's no app or customization, but there are 9 pre-programmed modes

Press buttons to change the lightshow mode of each light

The lights come with non-slip gel casings to keep your fingers comfortable while you dance the night away
Buy Here
3. Tritechnox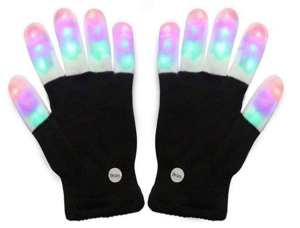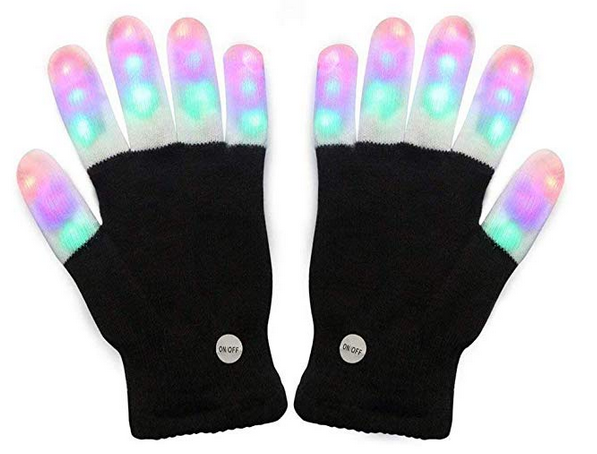 We've covered two performance/professional grade led light gloves, and now we're getting into the ones that are more casual. These can still put on a fun light show, of course, they're just simpler, they may not last as long, they won't be quite as well made… these are the ones to get if you're just looking for a fun new toy to play around with, not necessarily for getting deep into the hobby.
They have a handful of different light patterns and colors, but these offer far less customization than the Emazinglights gloves, as would be expected. It uses just a small watch battery and claims to last for a total of 12 hours, which is a bit optimistic, but you'll still get plenty of time out of it.
Key Features
Simple black gloves with fingertips that light up

A few different light patterns and colors, six in total
Buy Here
4. Neon Nightlife (Kids)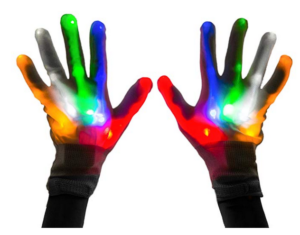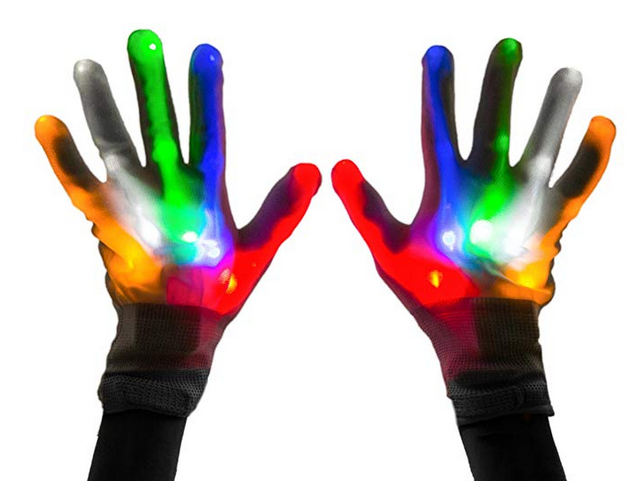 These are smaller gloves that are meant for kids. It uses two CR2016 batteries, and has six different settings that light up the entire hand in a number of different colors and patterns. You can also get gloves that come in solid colors of blue, green, or red by visiting the same listing.
This isn't the highest quality product in the world, but once again, it's not what you would be using to put on a light show at a festival or anything like that, this is just for kids to play around in the dark and have some fun. These gloves aren't going to last forever, and the price reflects that.
These claim to last a full 24 hours of use with a fresh set of batteries, which once again feels kind of optimistic, but we didn't time it. Replacement batteries are cheap enough, so keep an extra set on hand and you're all set
Key Features
Fun toy for kids, comes in youth size

Rainbow color patterns light up in the dark
Buy Here
5. WDCS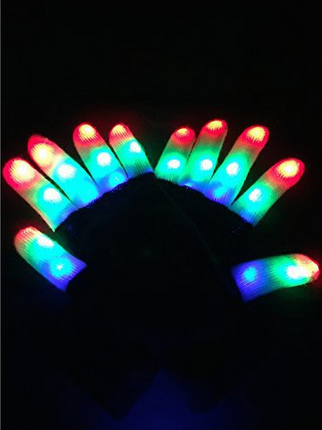 Finally, the simplest and cheapest gloves on the whole list, by WDCS. These can put on a fun show, even though they're pretty basic with just 6 modes including color strobe, morph, trailing, and more.
There's really not a ton more to say about these gloves, the last three pairs we're featuring are all pretty basic, and if you want something more serious and high-end, stick to either of the first two choices on this list, especially the very first option.
Key Features
Buy Here
Buyer's Guide for LED Light Gloves
There are high-end led light gloves, and cheaper ones, and it's really just a matter of finding the ones that meet your budget. The more expensive ones are absolutely better in every sense of the word, and they're worth the investment if you're interested in making your own dance and light routines, programming in your own sequences, or building off of pre-existing light patterns and colors. If you just want something that's going to make your hands light up, you can grab one of the cheap ones and you'll be happy with it. 
Voila, that's really all there is to say, so happy dancing and have a great night!