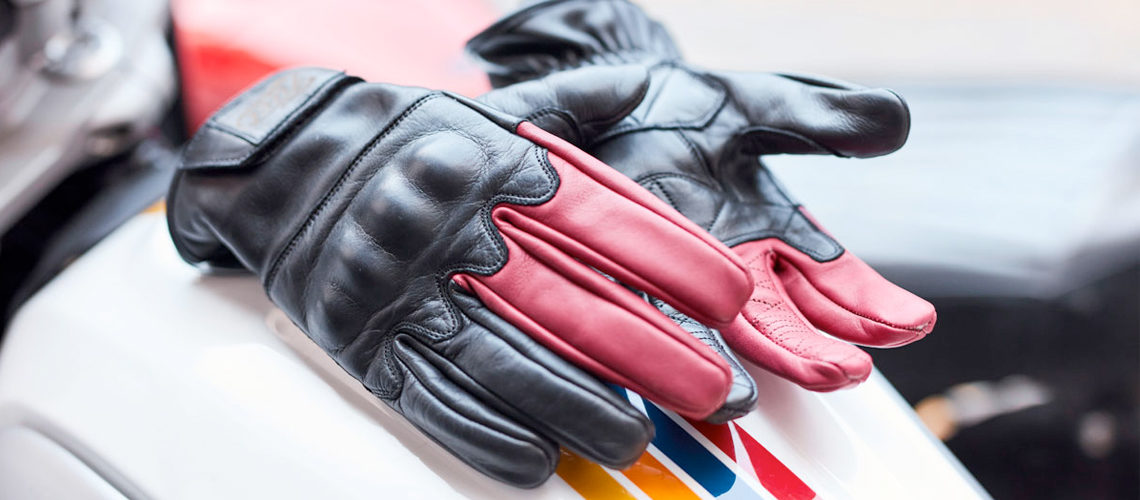 Motorcycle gloves aren't just for looks, the right pair will help protect your hands during a crash. There are different styles available, with some being more protective than others. With the variety of features and materials, it can be a challenge figuring out which pair of motorcycle gloves to buy. 
We've researched some of the most popular brands of motorcycle gloves and narrowed it down to our top five choices, so you can reach a decision faster and get back on the road. 
Once you've checked out our choices for best motorcycle gloves, look at our buyer's guide so you can learn more about them, including how to get over the awkward break-in period involved with buying a brand-new pair of motorcycle gloves. 
Here are 2023's Best Motorcycle Gloves Reviewed:
1. Seibertron SP-2
Seiberton SP-2 are high-quality motorcycle gloves at a budget-friendly price. Made using genuine leather, these sleek looking gloves offer exceptional knuckle protection, so you can feel confident that your hands are protected while on your bike. 
Along with looking good, these gloves are windproof and offer comfortable breathability, so you won't need to worry about sweaty hands. The long cuff length offers wrist support, an important feature if you tend to be on the road often for long periods of time.
Seiberton SP-2 motorcycle gloves are described as fitting comfortably and true-to-size with a short breaking-in period. You can purchase these gloves in sizes small to x-large. 
Key Features
Genuine leather

Knuckle protection 

Windproof

Breathable

Long cuff length 
Buy Here
2. Viking Cycle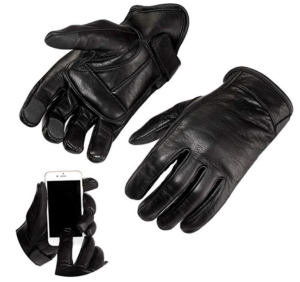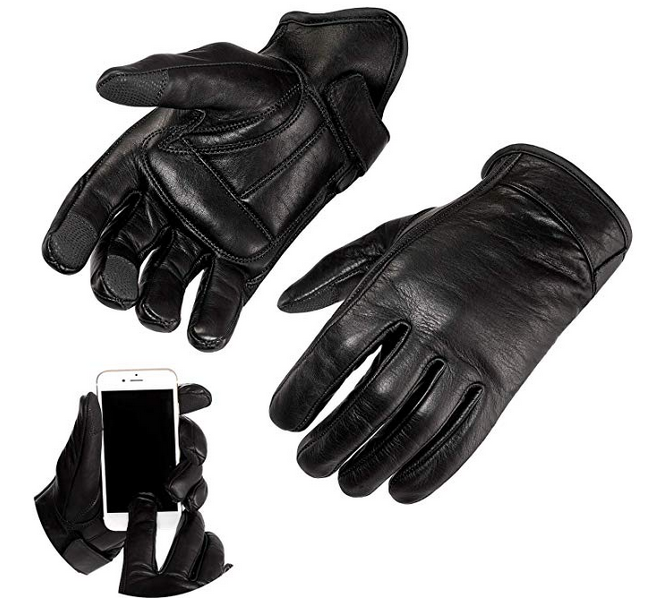 If you're used to motorcycle gloves feeling a bit stiff or uncomfortable, you should check out this option from Viking Cycle. With gel padding inserts in the palm, you will experience a more comfortable ride while having greater throttle control  on your motorcycle. 
The gloves are made using premium leather, so you can be sure you are getting a high-quality product. Additionally, the matte black appearance is stylish, so you'll always look slick while riding your motorcycle.
The Velcro wrist closure helps secure the gloves onto your hands, so you can safely ride your bike without worrying about your gloves shifting on your hands. The contour-fit helps ensure a snug fit that slides comfortably onto your hands.
Viking Cycle is priced well with its competitors and there are several sizes available between x-small and xx-large. The company offers a handy measuring guide in the product description. 
Key Features
Gel padded palm

Secure wrist closure

Premium leather

Contour-fit 

Stylish 
Buy Here
3. TitanOPS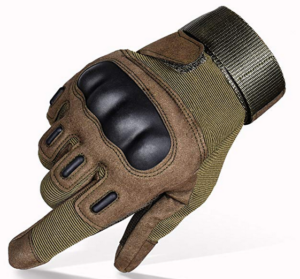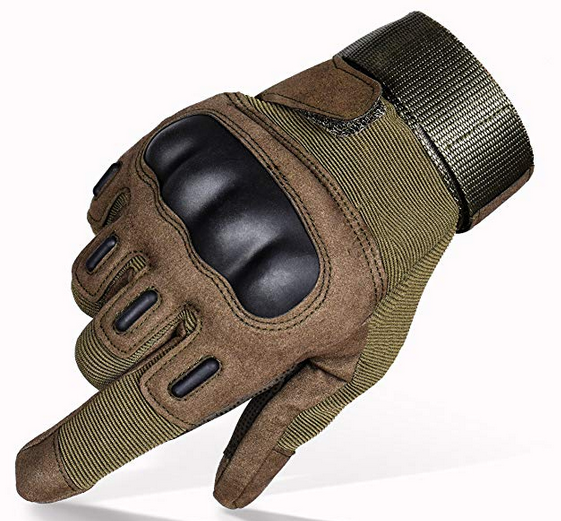 TitanOPS is a great multi-function if you are looking for something that can be used for  a variety of activities (hunting, tactical training, airsoft, and hiking) including riding your motorcycle. The full-finger model offers great knuckle protection and will help prevent most cuts or injuries. 
They are made using a blend of microfiber, leather lycra, and nylon. This is a quite different than the standard leather motorcycle glove, but it allows for a comfortable fit with enough breathability to keep your hands feeling comfortable. Extra stitching has been used to reinforce the gloves for durability, so you can be sure to use these gloves for awhile.
Maintenance is easy with Titan OPS motorcycle gloves because they are resistant to bacteria cutting down on the washing time. When it is time to wash, you can simply throw them into your regular load of laundry. Drying time is quick, so you'll be back on the road in no time at all.
Sizing is easy to determine using the handy measuring guide on the product page. They are available in sizes medium to xx-large. 
Key Features
Full-finger protection 

Comfortable fit 

Multi-function

Durable

Easy to maintain 
Buy Here
4. Alpinestars SP-8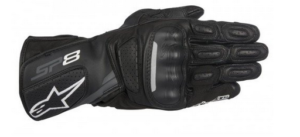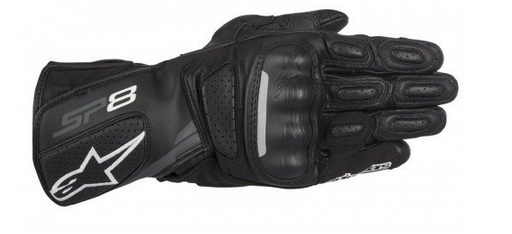 Alpinestars SP-8 motorcycle gloves are popular for their premium full-grain leather construction. Not only does it look and feel nice, but it offers superb durability and abrasion resistance too.
Strategically placed microfiber and polyurethane grips on the palm and thumb ensure you keep your grip and stay safe. For additional support and snug fit, the gloves are secured using Velcro hook-and-loop closures with an elasticized wrist. 
The perforated leather cuffs and finger-walls allow for more breathability than competing brands, so you'll never need to worry about sweaty and uncomfortable hands while on the road again. Knuckles are protected by over-molded polymer and there are EVA foam padding reinforcements on the thumb, wrist, finger, palm, and back of hand for additional comfort and protection. As a bonus, the index finger is touchscreen compatible, so you can still quickly scroll through your phone as needed (safely of course!) You can purchase Alpinestars SP-8 motorcycle gloves in sizes small to xxx-large. 
Key Features
Premium full-grain leather

Microfiber/polyurethane grip

Touchscreen friendly 

Secure fit

Perforated leather cuffs and fingers
Buy Here
5. SHIMA Caliber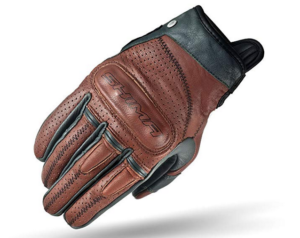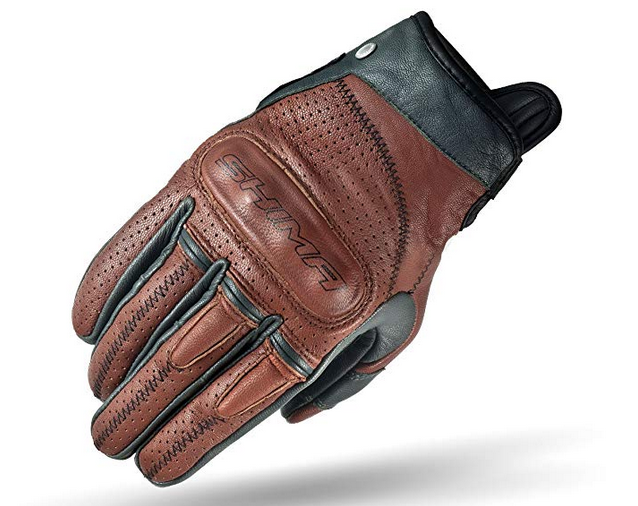 SHIMA Caliber motorcycle gloves promise to provide the highest level of protection against abrasions and tearing available by using high-quality goat leather in their design.  They look good too. The vintage style looks great, and you'll look great too wearing them. 
Most of the glove is padded with Tempra foam to help protect your hands. The scaphoid bone located in the wrist is protected by PORON XRD absorber, a material capable of absorbing up to 70% of power caused by impact. 
Most of the glove has been perforated to ensure outstanding ventilation, a great feature for hot summer days and nights. Another design feature is the GRIP+ system, allowing the sides of the glove to conform to the hand grip for superior control on the road. This ensures safety, comfort, and longevity is never compromised. 
Pulling motorcycle gloves on and off can be a challenge, but not when you use SHIMA Caliber's pulling strap. It allows for ease of use, even if you are already wearing one glove! 
SHIMA Caliber motorcycle gloves are available in three colors: white, brown, and black, and you can purchase them in sizes small to xx-large. 
Key Features
Tempra foam protection

Well-ventilated 

GRIP+ system

Pulling strap for ease of use

High-quality goat leather
Buy Here
Buyer's Guide
Do you need to wear motorcycle gloves?
Unlike helmets, you are not required by law to wear motorcycle gloves, but they are an important component of motorcycle gear that you should consider wearing. 
Why do you need motorcycle gloves? 
Motorcycle gloves help keep you safe while riding your motorcycle. They help protect your hands during a crash, and they protect them from the elements and weather too.  They reduce abrasion impacts in key areas of the hand like the knuckles and palm. Grip is improved substantially, and they prevent hand numbness during long rides. 
What is the best way to break in motorcycle gloves? 
Motorcycle gloves are usually made from genuine leather, so they can be a bit difficult to break in to that perfect, comfortable stage. Luckily, there are some things you can try to speed up the process. 
The most important thing you can do is try on different pairs of motorcycle gloves and choose a pair that feels comfortable from the beginning.  A pair of gloves that fits you properly is always easier to break in. Using leather conditioner is recommended because it helps with softening dry leather. 
Soaking is a popular method, it's quick but it can be a bit uncomfortable. To soak leather motorcycle gloves, you will need to put them in hot water until they become waterlogged. Next, you'll pull them out and allow them to cool a bit. Once cool, put the gloves on and wear them until they are completely dry. After this process, the gloves will be much easier to put on. 
Can you shrink motorcycle gloves?
Yes. You can shrink leather motorcycle gloves by getting them wet and drying them with heat. You can use a hair dryer for this process.