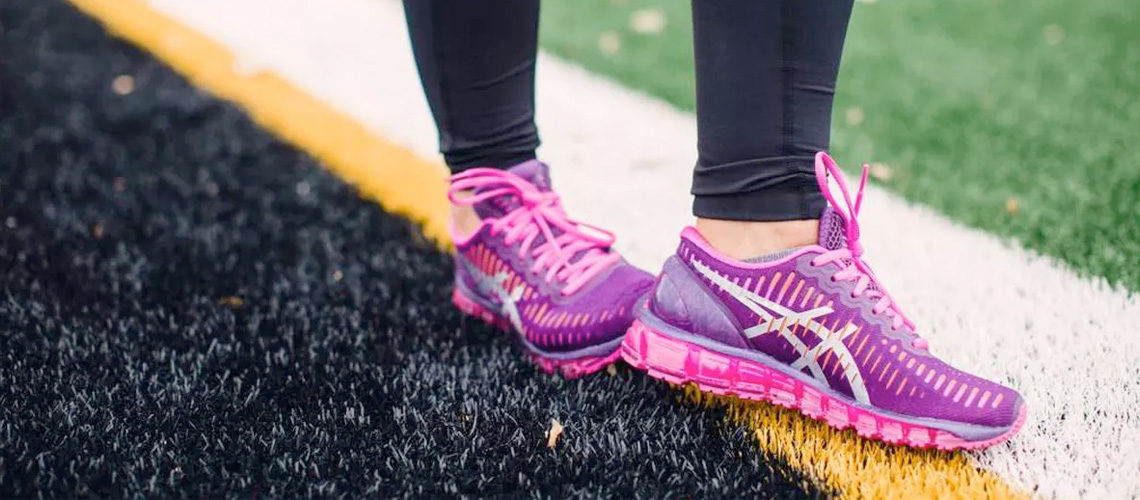 Whether it's a constant pain of the entire foot or an occasional sharp one that you feel under the heel, if you're into running, there's a big chance that you're experiencing plantar fasciitis.
But what exactly is this condition all about?
What parts of the foot does it affect?
The first thing that you need to know is there's actually the presence of a large tissue band which is found in the middle of the foot supporting the arch.
This band is called the plantar fascia.
This band can stretch in time as the constant force of striking the ground takes its toll.
There are times that there wouldn't be any issue that you'd feel with it but there would be times that it would become inflamed. 
When it inflames, you will start feeling pain in your heel whenever you run.
The pain would go away at times and when you have it, it will be a painful thing that you'll experience in the morning especially as you start running.
As your body warms and the blood starts flowing, you'll notice that the pain will just go away. But it will return in the next morning or when you start to run once again.
When this happens, the pain can be more painful depending on what you do on your rest days.
As other runners say, the pain of plantar fasciitis does not outweigh the pain of not running so they still run anyway.
But as the pain gets worse, the rush to find the fastest way to recovery starts. And one of the most effective and quickest ones is by choosing the right running shoes.
That is why it is important to choose the right shoes for your current condition.
The Benefits You'd Enjoy When You Choose the Right Running Shoe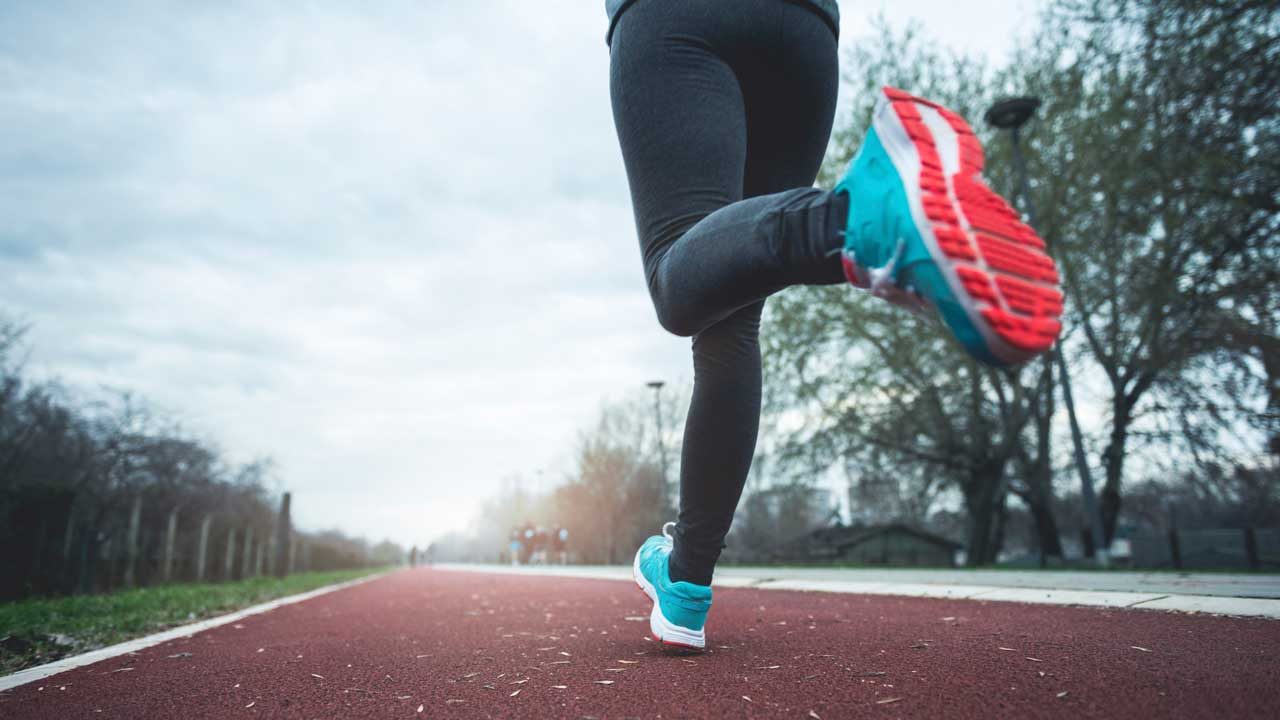 Before we discuss about the different benefits of wearing the shoe that will help treat plantar fasciitis, you will first need to realize that it is only one part of the whole picture.
The cause and treatment for this condition is highly influenced by two factors: the running shoes and your overall form.
Taking the wrong form or having a poor form has a strong link with plantar fasciitis.
If it's your form that's causing your plantar fasciitis then it's just going to worsen as you run further or as you run more times in each week.
For instance, heel striking has a harmful effect on your feet which often results in plantar fasciitis. But if you start doing a mid-foot strike, the injury will have a bigger chance of going away.
Learning to take the proper form is an essential part of the whole equation. But it's not as big as choosing the right running shoe.
You need to know how to choose the right running shoe for YOU.
In this guide, we're going to help you choose the perfect running shoe that will help tackle your plantar fasciitis.
One important thing: The right shoe can help prevent plantar fasciitis while the wrong one will create it.
This means that choosing the right show that can help prevent this condition has two main benefits.
First, it is able to fill in the void which poor form creates thereby eliminating the pain.
And second, if you're currently using the wrong shoe, switching to the right one effectively eliminates the cause.
With the right shoe on your feet, the troubles and pain that plantar fasciitis brings will be a thing of the past.
Sounds awesome right?
It's amazing how changing your shoe to the right one opens the door to finally putting a stop to plantar fasciitis.
While there are plenty of other factors that play a part in the overall equation, wearing the right shoe truly helps.
It's really a good idea to buy the right shoe that will help prevent or treat plantar fasciitis so now, let us look into the KEY features that you need to look for when choosing a shoe for this condition.
What You Need to Look For

When looking for a shoe to help with plantar fasciitis, there are five key factors that you need to consider.
They are stability, cushion, support, manufacturer, and reviews. I'll explain each one of them below:
Stability
The first thing that you need to consider is that the shoe needs to be stable and it must be one that is designed for your footstrike.
To help you in this aspect, you must know that there are three different categories of running shoes out there and they are:
Overpronation
Supination
Neutral
Overpronation is a foot condition where the person has little to no arch at all.
This results in an inward roll in every stride. Supination is the opposite. It is when a person has medium to high arches and the foot produces an outward roll in every stride.
The neutral footstrike, on the other hand, is somewhere between these two. Overpronation and supination are disorders that can result in misalignment's that will lead to injuries if not tackled the right way.
They're called overuse injuries and the common ones include runner's knee, Achilles tendonitis, IT band syndrome, and yes, plantar fasciitis.
If you're not sure what your footstrike is, I would suggest that you go to a running store near you to learn more.
Though not all stores can help with this, most of the popular shops will be able to help you with choosing the right size and style of shoes that will offer stability and comfort for the particular stride that you have. 
It is important to remember that using the wrong shoe can potentially cause plantar fasciitis and other foot problems and injuries while using the right one can put a stop to the resulting pain and even eliminate the problem.
So be sure to choose the shoe that truly stabilizes your foot strike.
Cushion
Dealing with plantar fasciitis isn't easy because of the pain that it brings. So if you're suffering from it, you will need a shoe that offers extra cushion.
Although this feature alone can't treat the cause of this injury, it is a very important one that the other components will not work as they should without it.
Cushion helps absorb and disperse the force in every foot strike against the ground which results in pain relief.
Support
It might not feel like it does a certain job but the foot arch actually works as a shock absorber for your foot. Yes! It is able to cushion against any impact whenever your foot hits the ground.
That is why it's very important to find a shoe that is able to support the arch that's suffering from plantar fasciitis.
It doesn't just offer relief from the pain on the heels but also prevents the things that cause it. So choose a shoe that offers good support for the arches.
Manufacturer
It is important to find a shoe that is made by a company who invest time and money in the development of their product. And there are only a few companies out there that do so.
So be sure to make these companies and their shoes your first option and eventually buy from them. They offer high-quality shoes that can help you in dealing with plantar fasciitis.
Below is a list of the shoes made by these companies.
Reviews
Lastly, it is important that you also consider what other customers say about the shoe that you want to buy. See if there are those who suffer from plantar fasciitis just like you who purchased the same brand and learn what they have to say about its performance. Did it help them eliminate the cause?
If there's a good number of users who have a great experience with the shoe then chances are it will do the same to you as well. The reviews section of every product is an important avenue for you to learn more about it and find the perfect pair!
Here's the Best Men and Women's Running Shoes for Plantar Fasciitis in 2023:
1. Asics Gel-Kayano – Best for Overpronation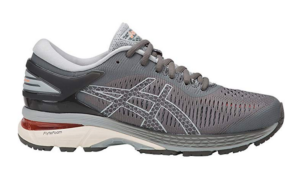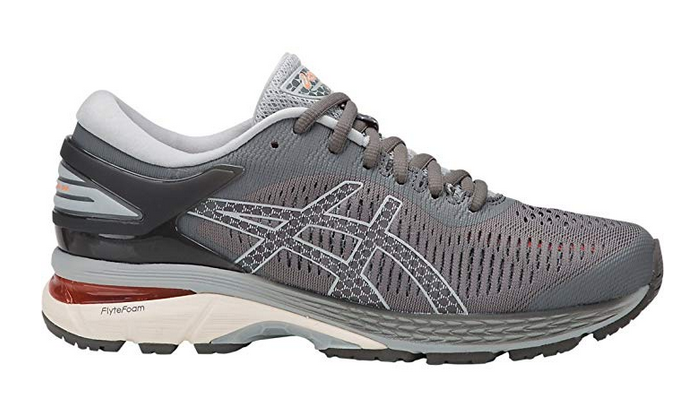 If you overpronate and you experience a severe case of plantar fasciitis then you will need the ASICS Gel-Kayano shoe.
Aside from being one of the top-selling shoes in the world, it is also recommended for patients who are having problems with foot pain.
It is equipped with the rearfoot Gel Technology Cushioning which gives it the kind of shock absorption to keep the heel safe and comfortable.
Users don't really love the cheap shoe inserts that it has but like the fact that it can be removed so it can be replaced by orthothic inserts.
They love it because of the heel support on it that is really structured.
Pros
Gel cushion adds the next level of shock absorption to protect the heel from unbalanced striking
Available in different color options to match the running outfits that you want to wear
Equipped with a guidance system designed for overpronators which prevent misalignment of the body
Made by ASICS, one of the best running shoe companies at present
Cons
Only designed for those who overpronate
Customers say its inserts are quite cheap
Buy Here
2. Brooks Addiction 12 – Best Shoes for Stability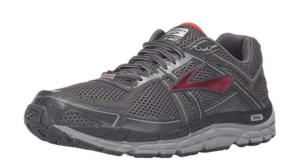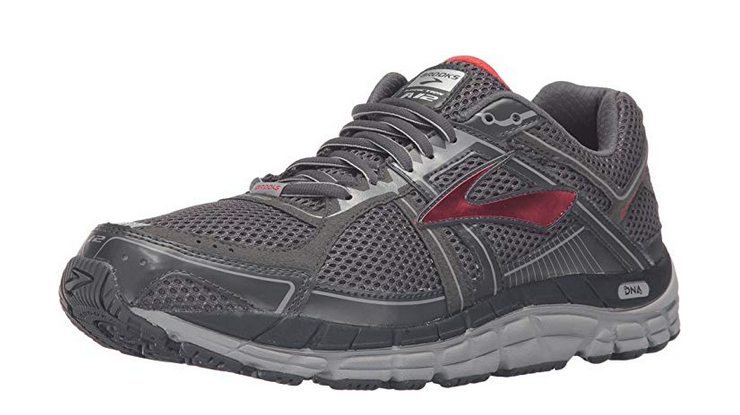 Runners who have flat feet would often have problems with overpronation.
And without the right support, this condition can lead to injury which includes plantar fasciitis. That is why it is important that you put on a shoe that is capable of supporting overpronation.
If you do so, preventing pain and even eliminating plantar fasciitis will be more of a possibility.
That's precisely what the Brooks Addiction 12 is aiming to do.
It will give the user the right cushioning and support especially for medium to severe overpronation. But because of these features, this shoe also comes with a higher price tag.
Don't worry because you will also get the Heel Segmented Crash Pad feature to aid in smoother landings and the Extended Progressive Diagonal Rollbar technology that guides in every gait cycle.
Now those are features that are not found in other shoes out there.
However, if you want something that is light and fast, this shoe isn't the perfect choice.
It is designed to be stable and durable for long runs and if that's what you want then don't hesitate to give it a try provided you have the budget of course.
Just remember that it runs smaller than other brands out there so order a half size ahead of your true size. Users praise its capability of helping the knees and heel.
Pros
Excellent, stable shoes for overpronators
Equipped with extra cushions for comfort in long-distance runs
Heel cushion provides perfect protection for those who heel strike
The material used wicks moisture keeping your feet dry for a lighter feeling
Cons
Color options are limited
Runs smaller than other brands (at least a half size)
Buy Here
3. ASICS Gel Venture 6 – Best Shoes for Running in Trails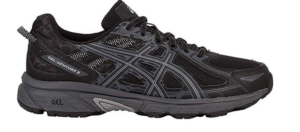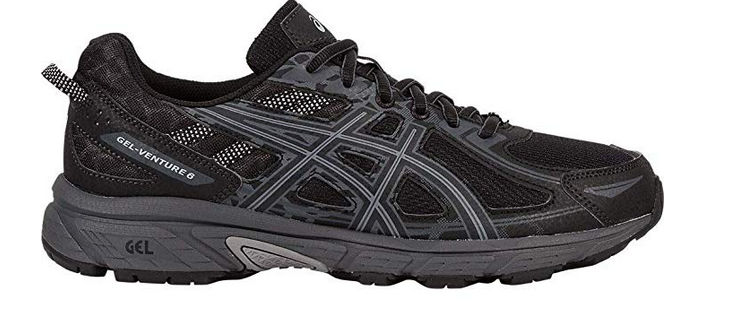 If you're fond of running in trails then the Asics Gel Venture 6 is going to be a perfect choice.
With it, you'll be able to enjoy running even on offroad situations and you can also hike with it.
It features treads that are ruggedly designed with lugs that are of a multi-directional pattern.
With it, you will be able to enjoy great traction whenever you're faced with outdoor challenges like technical dirt paths, narrow, and steep areas.
Whenever you run in technical trails, it is important that you have a shoe that is comfortable.
This is even more essential when you run on roots and rocks.
The shoe is a snug fit and gives the right comfort and protection that a runner with plantar fasciitis needs.
Users praise its design not being an extreme shoe design for trail running so it can also be used in roads and even at the gym.
Pros
Lower price but manufactured by a quality company
Reliable traction provided by its multi-directional lugs
Great sole material and good toe box space to give room to the toes to wiggle
Cons
Limited only to trail running, if you want to go running on the road then you will also need another pair of shoe designed for that use.
Users having a narrow type of feet didn't that it is 
Buy Here
4. New Balance 990v4 – Best Podiatrist Recommended Shoes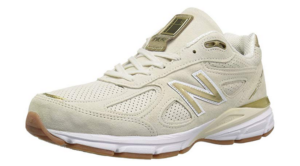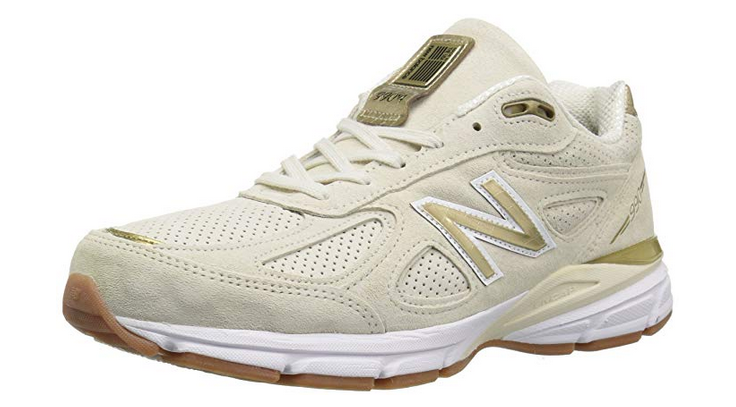 This might not look as stylish as the ones above but if you need a running shoe that offers great lateral support while providing unparalleled comfort then the New Balance 990v4 is perfect for you.
I can definitely recommend New Balance because I myself have been using it for hundreds, if not thousands of miles with it already and it still does a great job!
It is also the most recommended shoe by podiatrists especially to runners who have foot injuries like plantar fasciitis.
It features a Blown Rubber Outsole that works together with the Dual-Density Collar Foam for an added support.
The EVA Core found in its heel section with the ENCAP PU Ring provides comfort while ensuring that your shoe is durable and ready for some long-distance running.
Many users who have been having problems with heel pain has been rooting for this show for years.
Pros
Provides comfort and support for the heels and the foot as a whole to manage pain from plantar fasciitis
Podiatrists worldwide recommend this shoe because of its great performance
Made by a reliable company
Highly-durable construction that is great for long-term, long-distance running
Cons
Not very stylish design so you will need to consider another brand if you want a stylish look
Buy Here
5. Hoka One Bondi 5 – The Best Shoes for Long-Distance Running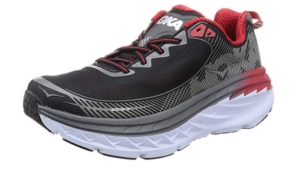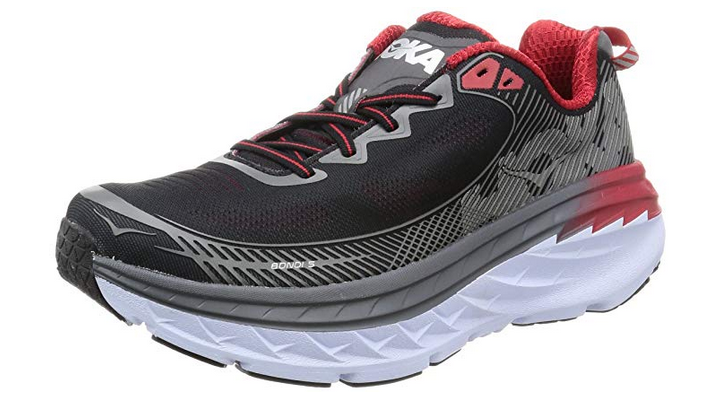 If it's trail and long-distance marathons that you are into then Hoka One One can provide you with a shoe that can go with you wherever, whenever!
The Hoka One One Bondi 5 shoe features a thick sole which trail runners need to shield their feet against the rough terrain.
With its extra cushioning inside, you will surely feel like running on clouds and not on rocks. While it's designed to be a neutral shoe that is perfect for use on roads, it can also grip through easy trails.
So if you are into ultra-marathon, you will find this shoe perfect as most of them are done in trails.
The shoe offers great support and comfort while you're busy covering miles and miles running.
It's not just the smooth and balanced stride that you'll love but also the smooth Open-Engineered mesh design and highly-supportive cushion that has been incorporated into the overall design.
It will definitely give your feet some comfort that it needs while still feeling light and cool even on hot summer days. Users like its unique style and construction as well as its roomy toy box.
Pros
Durable outsole material giving you extra miles while staying durable and intact
Equipped with superior-quality cushioning that is great for both off-road and pavement running scenarios
Thick but lightweight soles 
Nice breathable mesh for great cooling and extra comfort even for long-distance runs.
Cons
Not that great in terms of flexibility
Users say it's the complete opposite of a minimalist shoe
Buy Here
Treat Plantar Fasciitis Without Spending Too Much
As you have learned in this guide, plantar fasciitis can actually be caused by the wrong show and treated by the right one.
While there are plenty of possible treatments out there for this condition, one of the most inexpensive ones is choosing the best shoe for your kind of stride.
Once you have it and you start practicing the right form whenever you run, the pain of plantar fasciitis will slowly but surely start to fade.
Before you know it, you're already starting to enjoy running pain-free so you can cover more and more miles until you reach your target.
Have you used a different brand of shoe for your plantar fasciitis? What brand is it? How well did it work for your condition?
We'd like to hear from you.
Please feel free to share your experience in the comments section below.