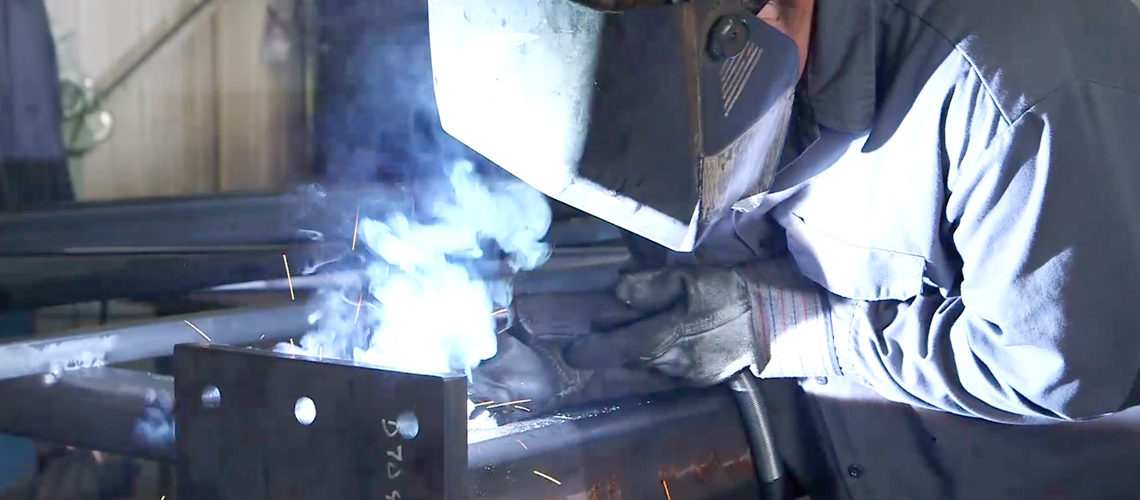 Welding can be a tough job, but it can also be very rewarding for anyone who is willing to learn to do it right.
Even if your welds are on point, you can't really be a master unless you're also practicing proper safety.
Safety is such an important part of it, and having the right safety equipment for welding is day one stuff.
This all goes without saying, so let's get right to the recommendations.
The best welding gloves for the job will depend on the specific type of welding you're doing, whether it's TIG, MIG, or whatever. 
Never use another type of gloves as a makeshift substitution, welding gloves are made differently and any other type of gloves won't be suitable.
With that in mind, here are your best options. 
Here's the Best Welding Gloves of 2023:
1. Caiman Kontour 1878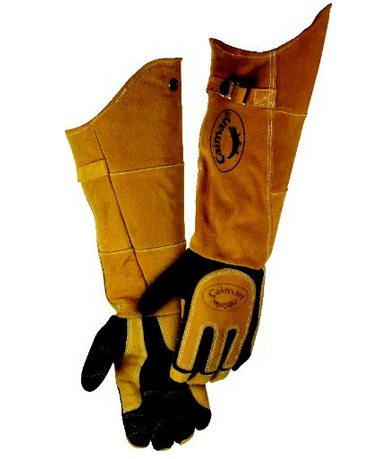 These heavy-duty welding gloves by Caiman are made from a handful of different leathers, and are even sewn with Kevlar thread so you know they'll stand up to the heat. These can be used for overhead welding, stick and plasma welding, and they offer tons of protection with their 21 inch length. 
Caiman did a great job with the fit on these gloves, they still give you tons of control to handle your tools safely, they never feel like they get in the way, due to how they've been crafted to fit the human hand, well, like a glove.
These are some of the longest welding gloves you'll come across, so they give a ton of extra protection to your wrists and arms, which is a big plus, especially for people who are newer to welding. They're flexible enough that you have enough control to maneuver as needed without being held back, and the extra length gives you the ability to maneuver even better around hot surfaces.
They're fire resistant, and made using Kevlar thread, so they'll last you for a very long time, unlike some gloves that are almost disposable after a few months or a year of use.
Key Features
Very heavy duty but still flexible and use to work with

Extra length gives you a lot more maneuverability without the risk of burning yourself

Great fit

Fire resistance and Kevlar thread
Buy Here
2. Miller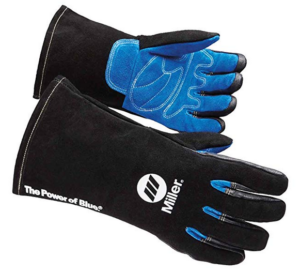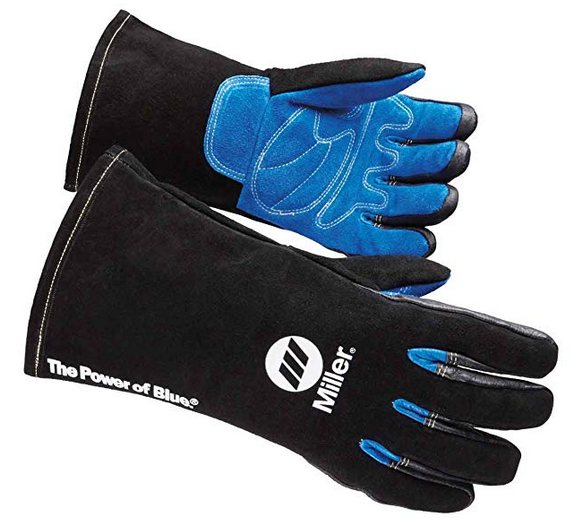 These Miller Arc Armor gloves were created with stick welders and MIG welding in mind. They're made using split cowhide leather, it's very thick and durable, and will keep the heat out when it matters most. There's also some pig skin for added protection.
In certain situations, the gloves will get a bit warm, so make sure you're using them for their intended purposes and don't try to push it, and you'll be just fine. The double-padding helps with this. The gauntlet extends just beyond the wrist, but they're not the longest gloves in the world. Again, this comes back to sticking to their intended purpose.
The fingers are pre-curved so you won't have to break them in as much before they contour your hands perfectly. Since they're a bit warmer, these are great for outdoor use, in colder climates and conditions, or even if they get a bit wet.
These gloves are an absolute workhorse, as soon as you see that famous blue color, you know you're in good hands with Miller.
Key Features
Warm for working in bad conditions

Very durable

Wrist-protecting gauntlet

Pre-curved fingers and great overall fit
Buy Here
3. Tillman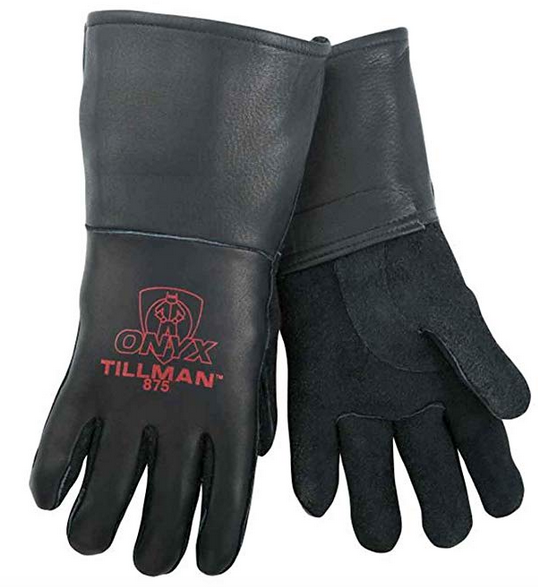 These are the go-to gloves for stick welders and vertical welding. Tillman is a great brand that truly understands what serious welders are demanding from their gloves.
These welding gloves are made from Elk leather, so they're incredibly durable beyond most others on this list or in general, and very heat resistant. They'll keep their shape, they won't shrink, and they'll keep your hands safe so you can focus on creating incredible welds. 
There's a lot of protection here, Tillman has gone the extra mile with these gloves to comfortably earn their spot on our top three. The palm is unlined, and these gloves are sewn using Kevlar thread which is always something to keep an eye out for when you have  the option.
They are lined with foam and cotton for padding and comfort, and they manage to do all of this while remaining relatively affordable. 
If you're looking at a quality vs price ratio, these gloves are in the sweet spot. You get a lot for your money here, without having to hammer open your piggy bank. 
Key Features
Elk skin construction is very durable

Added features for comfort so you can stay working for longer

Tons of protection
Buy Here
4. BSX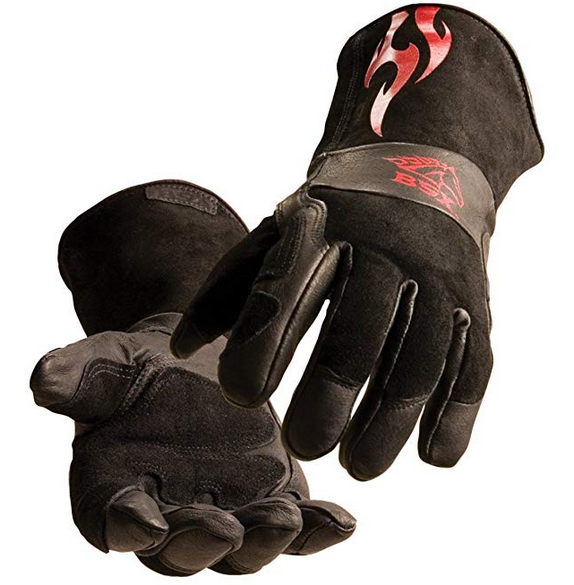 Here's an excellent pair of stick welding/MIG gloves by BSX. They offer a very precise fit, so you'll have optimal movement of your fingers. These are a medium sized glove, so give your hands a quick measure to make sure they'll fit you. They'll contour to your hands more over time as you use them and break them in, but even from the get-go they have a nice fit to them.
The design of these gloves makes them some of the best looking gloves on this list, not that this really matters much when you're at work and focused on getting the job done, it's a factory – not a fashion show, right? But still, it never hurts to have gloves that look a little more slick.
The cowhide is sewn in such a way as to make these gloves very ergonomic, you can keep working for longer and you can get more done without fussing around with your gloves. Some have warned that they're not ideal for overhead welding, as the gloves won't last as long as when you're doing other styles of welding. Just food for thought, but that applies to a lot of gloves.
Key Features
Stick welding gloves or MIG

Contoured fit for comfort and control

Cool looking
Buy Here
5. Lincoln Electric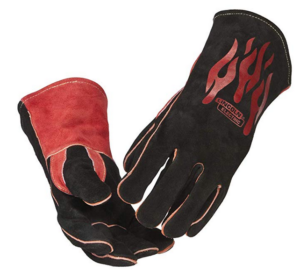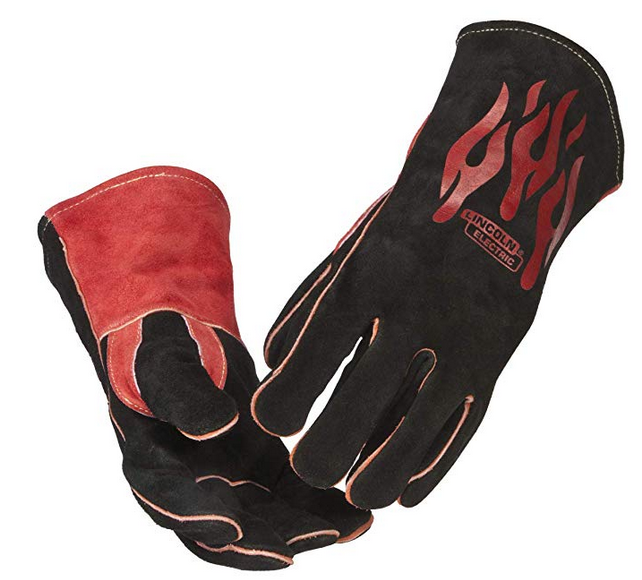 These gloves are designed to be multi-purpose, so they can be used for a number of different styles of welding and other high-heat activities. There's that old saying about being a Jack of all trades, but a master of none, but that's somewhat true in this case, but it's not the worst thing in the world…
If you need to do different types of welding on a regular basis, these gloves will really shine as a great choice, but if you're usually only doing one style, the versatility isn't as important, so you may want to find a pair that specializes instead.
These are made entirely of leather, with reinforced Kevlar. Despite their strength and protection, they have a cotton lining which keeps them comfortable. These gloves run a bit small, so keep that in mind when you're choosing a size. 
The split leather is heat and flame resistant, and these gloves should last you quite a while. The pricing is very reasonable, so even if you don't last forever, you'll still feel like you got your money's worth even after only using them a handful of times.
Key Features
Durable

Absorbs sweat with the lining

Flame resistant lining
Buy Here
Choosing The Right Welding Gloves
You need the right gloves for the type of welding you plan on doing, but there are also versatile gloves that can handle a bunch of different styles.
For stick welding:

These gloves require tons of protection, more than other types. If you have gloves that are meant for stick welding, you should be all good for most other work, too.

MIG welding:

MIG welding gloves need to protect you from splatters, sparks, etc. Heavier gloves are important here, and so are longer sleeves. 

TIG welding:

TIG welding gloves need to be precise, so they usually have a tighter fit and are more maneuverable. The downside is that you can't get that type of precision with thick gloves, which is another reason why different styles of welding need their own unique gear.
Instead of trying to find a glove that does everything, you can grab a few different pairs if you're someone that does a diverse type of welding. Most of the best welding gloves are still surprisingly inexpensive, so there's really no excuse to even think about welding without having the proper equipment. Safety needs to come first, if you've ever seen someone who has gotten hurt from welding, you'll know this. Don't learn it the hard way.