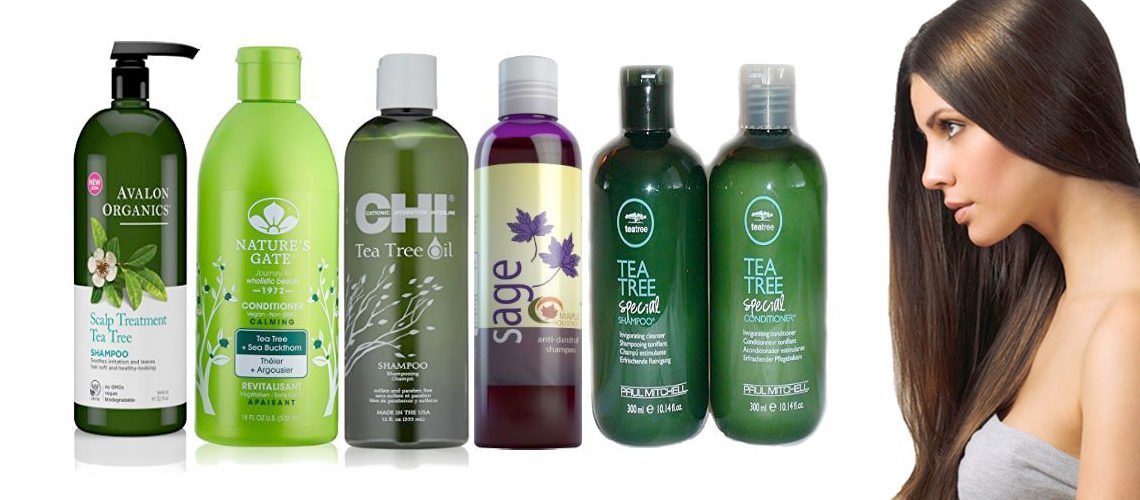 The head is one of the parts of the human body that is directly exposed to every element found in the environment.
And it also belongs to one of the first body parts that are noticed on a person.
Someone's personality can be judged quickly just by looking at how they groom their hair and how well they are taking care of it.
Let's be honest, we've all questioned someones personality just by looking at their oily hair or dandruff covered shoulders.
ou wonder if they are clean, organized, lazy, etc.
A person's hair and scalp are collectively called the "crowning glory" and just like the other body parts, it needs to be pampered to avoid problems that can turn into a bad impression about you.
One of the common problems that men and women suffer on their crowning glory is having an itchy scalp.
And because both hands can easily reach this area of the body, avoiding the urge to scratch it becomes really hard.
There can be different causes for this problem and one of them is having a dandruff problem.
For my case, I was given the recommendation by my dermatologist to start using tea tree shampoo when I was in my late teenage years – the time when I was having acne breakouts and I was taking a variety of meds to control it.
A dry and itchy scalp is one of the side effects of taking such types of medications and developing a habit of scratching the itch can produce flakes that are sometimes mistaken as dandruff.
And the worst fear of many is having the real thing itself – dandruff! I know how it feels to have such itching problem so I decided to research on the best tea tree shampoos out there that have worked wonders to different people having the same problem.
I picked 7 of the best brands out there and included a testimony from one satisfied user for each of the tea tree shampoos that I found to really work in combatting and defeating the itch!
Here's the Best Tea Tree Shampoos of 2023 reviewed:
1. Paul Mitchell Tea Tree Shampoo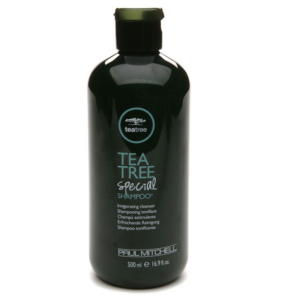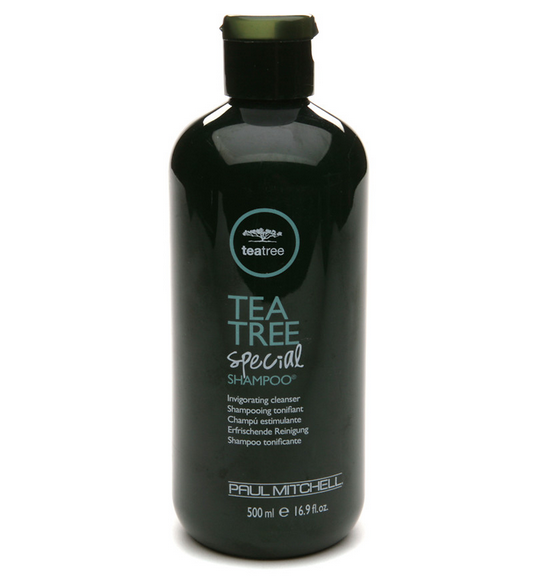 Finding the best brand sure wasn't easy but there's no better way of proving a product's efficacy than reading what users have to say about it.
If you're looking for a tea tree shampoo that has the right blend of natural and chemical ingredients to make it safe and effective then the Paul Mitchell Tea Tree Shampoo would be a perfect pick!
One user writes about it being a lifesaver and a sanity saver at the same time.
"I struggled for years with scalp dermatitis.
My hair was falling out, and I itched so bad I'd wake up in the middle of the night and shampoo my hair.
And shampoos… I must have tried dozens, and then rotated them. No help. My only caution is that you can use it too often because it will dry out your scalp. But just vary your schedule. You won't be sorry. The relief was amazing."
Judging from this review alone, the Paul Mitchell Tea Tree Shampoo is one of the brands out there that you really should try.
Pro: It provides quick results by drying the scalp and relieving the itch
Con: Quite pricey but you don't need to use a lot every shower so it will last longer.
Buy Here:
2. Brooklyn Botany – Tea Tree Oil Shampoo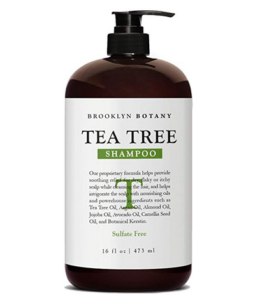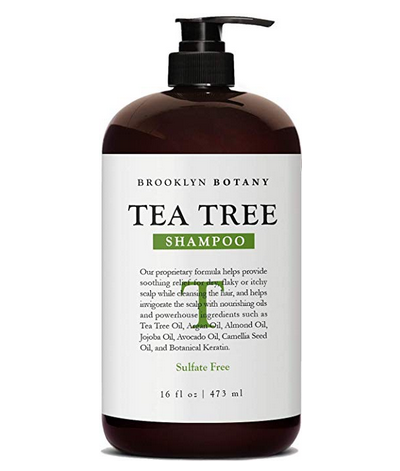 The makers of the Brooklyn Botany Tea Tree Shampoo has developed a proprietary formula that soothes the scalp and relieves the itch.
It also solves dry, flaky and itchy scalp while cleansing the hair at the same time. These along with the natural ingredients used in every bottle of this shampoo makes it popular to those who want to use natural-based products.
One customer has this to say about the brand;
"I bought this one in particular because it had "Brooklyn" in its name.
That seemed to be a good recommendation.
Will see how it works. It works GREAT! Dandruff and seborrhea that I've had for decades are gone in 2 1/2 weeks.
My barber is impressed! So am I. See what you can get from Brooklyn?"
Along with the natural ingredients that it has, this shampoo is also free from sulfate so you're sure that it only does wholesome care without the extra strings attached.
Pro: Promotes the healthy growth of the hair from its roots while relieving itch, dryness, and flakes from the scalp.
Con: Quite pricey
Buy Here:
3. Head & Shoulders Shampoo For Dandruff with Tea Tree and Peppermint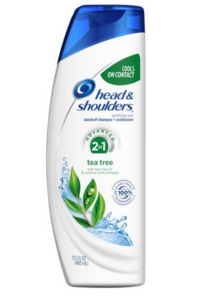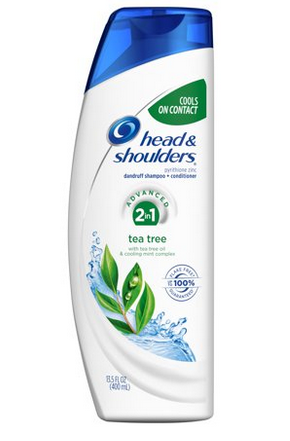 Just by looking at its name, you will know that it really has something in it that will help relieve the itch and flakes on your scalp.
Head & Shoulders is a popular global brand but it's not as natural as the others in this list. It contains synthetic ingredients that are common in shampoos and are generally safe to use except if you're the kind of person who only wants to use the natural stuff. This shampoo really works and it's relatively cheap when compared to other brands.
One user commented on how well it works for its price saying;
"Works well so far. Smells good. I was expecting a really strong cooling feeling given that it's tea tree oil, peppermint, and instant relief shampoo, however, I didn't feel that coldness on my scalp. It's still a great head and shoulders product nonetheless."
It's not to say that chemicals work better but I know some friends who tried the same shampoo and only have praises to say about how well it works!
Pro: It is relatively cheap compared to other brands and it clears dandruff effectively in just a few washes.
Con: There's a stigma circling around about Head & Shoulders and other synthetic-based shampoos
Buy Here:
4. OGX Hydrating Tea Tree Oil & Mint Shampoo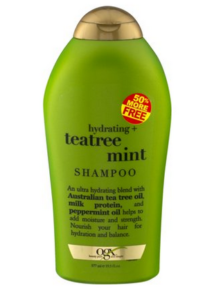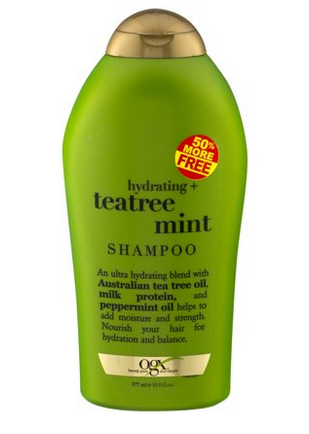 Another tea tree shampoo that mixes natural ingredients along with synthetic but safe ones.
The OGX Hydrating Tea Tree Oil & Mint Shampoo effectively hydrates the scalp promoting the healthy growth of the hair while preventing the other causes of itch.
One user shared the story of how it helped ease his dermatitis saying;
"I purchased this after being diagnosed with dermatitis on my scalp. I've been using prescription shampoo for dermatitis, however, it dries out my scalp terribly.
I put just a little of this on the dry areas and it works wonderfully.
Unlike other, much more expensive products I've ordered, the oily-residue is minimal so I can put this in multiple times a day (while at work, running errands, etc) and it doesn't look like my hair is wet or dirty. This was a great and very affordable find!"
Now that's one honest review that proves how well this shampoo works so if you've already tried everything and still failed then the OGX Hydrating Tea Tree Oil & Mint Shampoo is really worth testing.
Pro: Hydrates the scalp while leaving a great smell and keeps the hair soft and smooth
Con: Using too much of it can sometimes leave the hair flat
Buy Here:
5. Jason Normalizing Tea Tree Shampoo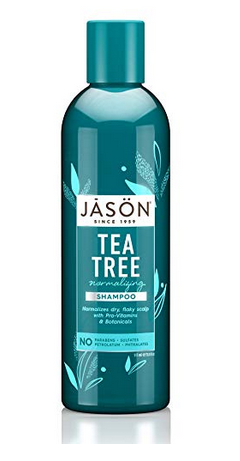 If you have a problem on your scalp that leaves it dry and flaky then this tea tree shampoo is going to be a brand that is worth testing.
It contains no parabens at all – a common ingredient in shampoo that is said to cause cancer. It is fortified with Pro-Vitamins and Botanical ingredients making it a good choice for those who feel guilty of using purely synthetic stuff.
Below is a testimony from one of its satisfied users;
"I have a scalp issue and this is the only product that seems to help at all. I like the fact that it doesn't have any of the bad chemicals that aren't good for our bodies and I like the smell also. Will definitely buy again."
One brand can work great for you and would not work as effectively on another user. If you've tried all the other brands in this list but still failed to obtain a good result then this one is worth a shot!
Pro: Relieves dry and itchy scalp and contains no parabens
Con: It can only be used 2 to 3 times a week
Buy Here:
6. ArtNaturals Tea Tree Shampoo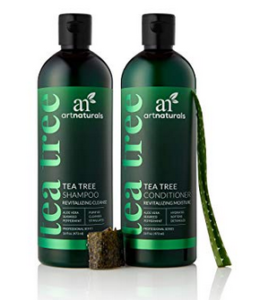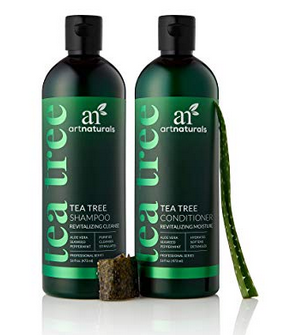 Dandruff itch often results in hair loss. Other conditions like scalp dermatitis also lead to the thinning of hair.
That's exactly what the ArtNaturals Tea Tree Shampoo is here for. It's got Aloe Vera, Seaweed, and Peppermint extracts that promote the healthy growth of hair while making it soft and well-hydrated.
One satisfied customer likes these about this Tea Tree shampoo brand;
"I have terrible dry scalp and have tried every dandruff shampoo and dry scalp shampoo out there, nothing really seems to do the trick. This stuff is a game-changer. I use it 3-4 times a week, and no more flakes, no more itching."
Dry and itchy scalp can worsen so it's best to address it right away as it starts. This shampoo is going to help you with that!
Pro: Sulfate-free and promotes the healthy growth of hair
Con: A bit pricey
Buy Here:
7. Clear Men 2 in 1 Shampoo + Conditioner Anti-Dandruff for Men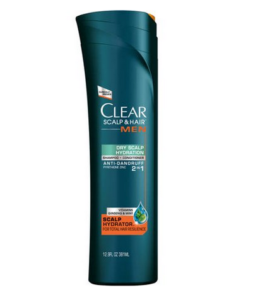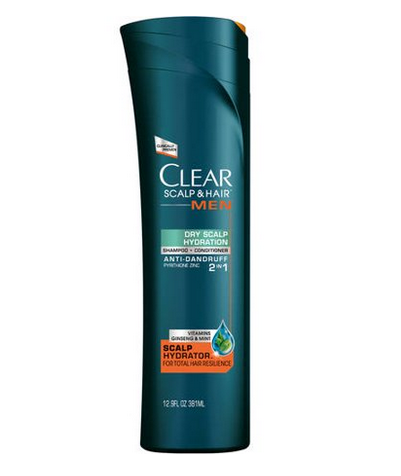 Lastly, the Clear Men Shampoo + Conditioner is another brand that is made mostly of synthetic-based ingredients. But many users love how it helped them combat dry and itchy scalp caused by dandruff. One user expressed his surprise of how well this shampoo works saying;
"I have had itchy scalp forever. It is very uncomfortable and it is hard to find good products to get some relief. After one use, my scalp felt free! Don't hesitate to buy."
You will know how good a product works if it's got some reviews that don't only praise the product for the miracles it worked on them but also recommends it to other customers in the end.
That's exactly what you'll find for the Clear Men 2 in 1 Shampoo!
Pro: Prevents dandruff and works effectively for men who are sporty
Con: None so far
Buy Here:
Solve Itchy Scalp Problems by Using the Right Shampoo
There could be lots of different reasons for an itchy scalp but no matter what causes it, finding a cure shouldn't be that hard.
And as you have seen in this list, there are plenty of tea tree shampoos out there that you can try. Just make sure that you're not mixing them thinking that they would work better when combined. 
You can try one brand after the other and see which one really works for you.
Or if you don't have the budget, you can start researching and reading what users have to say about the product itself. Remember, not all shampoos bring the same result for different users.
Research and testing (if you can) is the key to finding the right cure for your itching scalp problem.
Do you know of a tea tree shampoo brand that has worked well in solving the problem on your scalp? Please share it with us by writing in the comments section below.