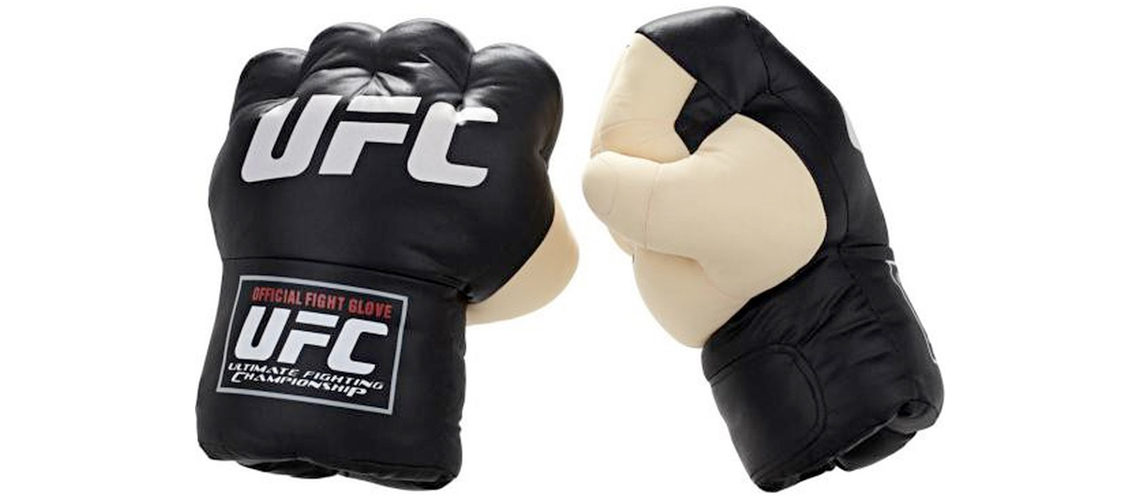 The UFC has an official pair of gloves that all of their fighters wear, all of these UFC gloves are the same except for the sizes, since some people have much larger hands than others.
If you're looking for gloves for training mixed martial arts, you're in the right place. 
We've put together a great selection of the best UFC gloves to help you train, whether you're just doing it for fitness, or you aspire to be a prizefighter. 
In any case, you still need a lot of the same things.
You need protection, a glove that's relatively similar to the ones you'd be using in the pros, and obviously a ton of heart. 
Let's get right into it, with gloves to suit just about any budget, while still offering you the protection that your hands need to train hard without any broken hand bones slowing you down.
Here's the Best UFC Gloves of 2023:
1. Hayabusa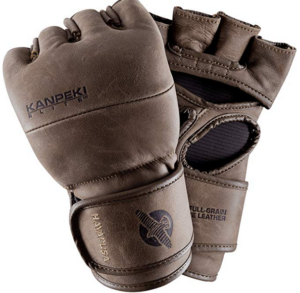 This same brand earned a high ranking on our list of the best boxing gloves, too. Simply put, Hayabusa makes great gear. They have some entry-level stuff, but these gloves earn the number one spot because they're professional-grade quality. These gloves can handle professional fighters, so you're in good hands if these are the ones you choose.
They're very well-made, very sturdy (yet still comfortable), they use top of the line materials to make them, the stitching is on-point… just everything that can be done right in a glove, they nailed it.
Looks-wise, these are our picks for the nicest looking gloves. They just look tough, strong, and not overly flashy. The wrist-support design is patented, it offers unique protection that you won't find in other gloves.
This is a premium product, and people who take their training very seriously will appreciate everything that is offered here. If you want something a little more basic, we've got some other options on this list but if you're looking for the best of the best, it doesn't get any better than this.
Key Features
Strong, real leather construction by skilled artisans 

Anti-microbial fabric to reduce odor

Great stability and form factor

All around, the best UFC gloves for training and fighting 
Buy Here
2. Venum Undisputed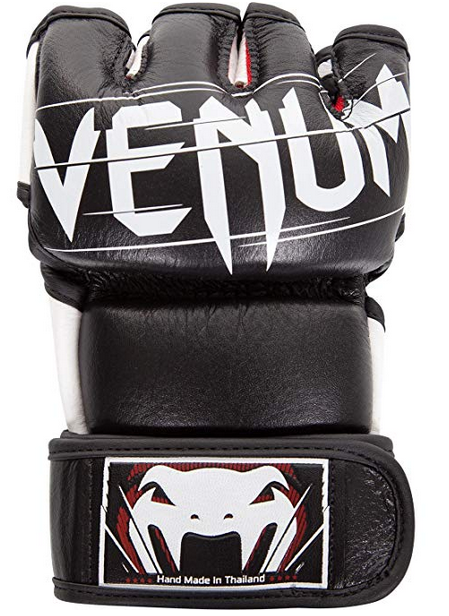 This is the updated, 2.0 version of the famous Venum Undisputed UFC gloves. These gloves are handmade in Thailand from Nappa leather. Thailand is a mecca for combat sports, where Muay Thai and other disciplines have very long and rich histories. 
These Venum MMA gloves come in a number of different colors and sizes so there's something for everyone that is looking to train, spar, or even compete. These gloves offer a Velcro wrist strap to secure them in place, which makes it super easy to take them on and off while still getting ample support and stability. 
These gloves have a lot of padding and protection around your knuckles, and a thumb that's tucked to help avoid silly things like eye-pokes. Nonetheless, you have enough control and movement for grappling, so it's not all about punching. 
Key Features
Versatile gloves that easily earn the 2nd spot on this list for their quality, and value

A great option for someone who doesn't want to spend a lot 

Battle-tested from a brand with a proven history in combat sports

Hand-made by skilled artisans with high-quality and durable leather 
Buy Here
3. RDX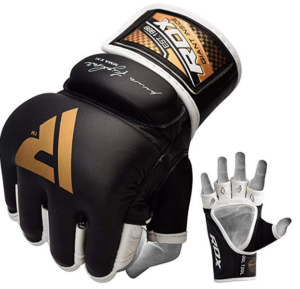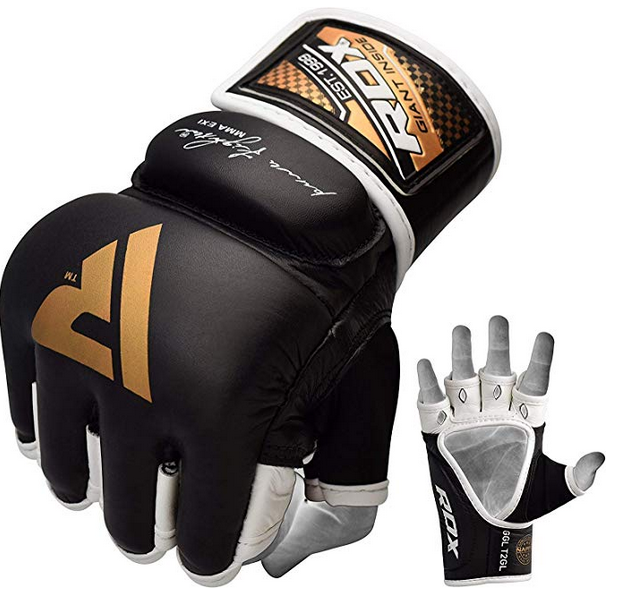 Here's a dark horse contender for the best MMA/UFC gloves. They come in two colorways, either all black or gold and black. These gloves have open palms, making them perfect for grappling. The extra thick foam also makes them great for striking. These are an all-around perfect option for anyone that wants to train, spar, and fight. 
It's hard to find any gloves that are comparable to these without spending a lot more. On the outside, they're made with full-grain leather, using reinforced stitching which will increase the live of these gloves considerably. On the inside, they're made with special synthetic fabrics that will help absorb sweat, and eliminate odors. 
These gloves use special shock dispersion technology to reduce the strain and impact on your wrist and knuckles, so you can hit harder without putting yourself at a greater risk of injury. Injuries are one of the biggest things that can slow down your progress, so staying healthy should always be a priority, and these gloves can help protect you. 
Key Features
Disperses impact very evenly to avoid breaking finger and hand bones

100% authentic full grain leather with reinforced stitching for supreme durability

Hook and loop closure for easy use but perfect stability 

Special gel to further help reduce impact shocks from striking
Buy Here
4. Fairtex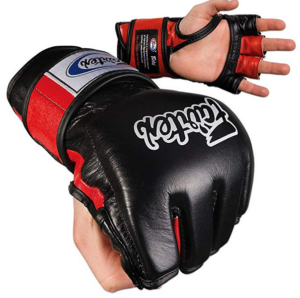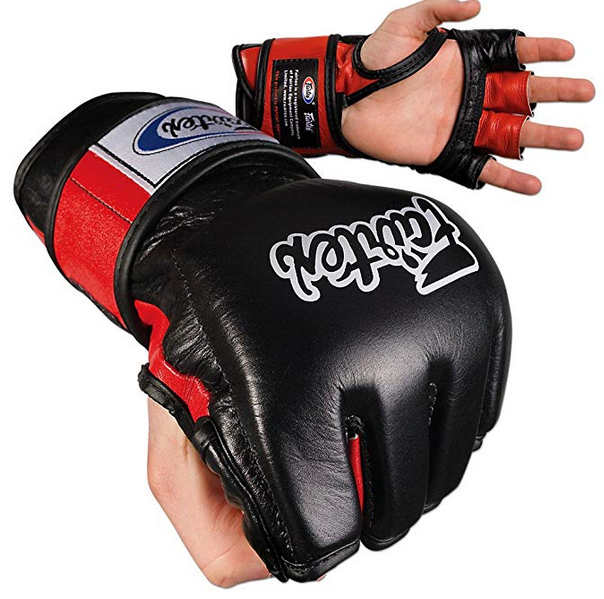 For all intents and purposes, this is a pretty solid pair of gloves. For the price, though, we'd take the RDX and others over these, but if you come across a pair, they're nothing to scoff at. Fairtex makes a very decent combat sports glove, but it's not perfect, which is why it isn't ranked higher. 
These gloves start off feeling quite rigid and stiff, which are some of the most common complaints you'll see. It's just a matter of breaking them in, and they'll loosen up and start to conform to your hand. 
Bottom line, if these are in your budget, and you're looking for a more old school/traditional type of UFC glove and aren't worried about all the latest tech like shock dissipating gel, this is a pretty good pair of gloves to choose. They're not the best in the world, but they're far from the worst, too. Give them a chance to break in, and you'll be happy. 
Key Features
Nothing fancy here, just a no frills pair of UFC gloves

Initial stiffness leads to a great fit after breaking them in

Open palm gives you tons of control for grappling
Buy Here
5. Everlast Pro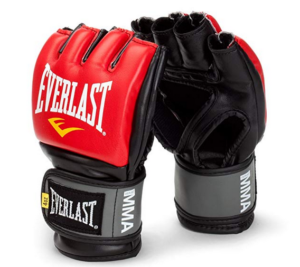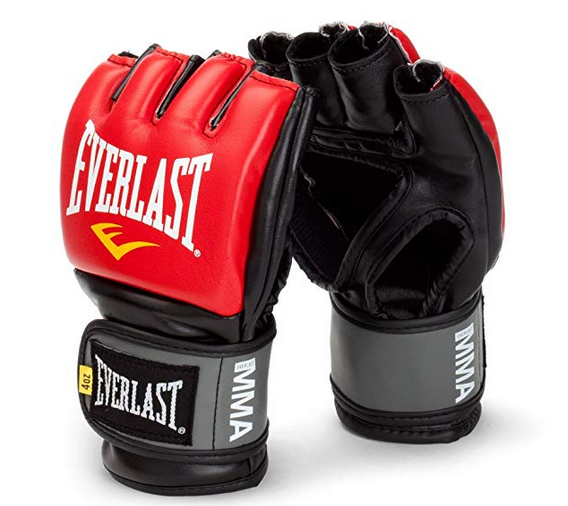 Despite the name, these aren't really the quality of glove you'd expect to see professionals wearing. Nonetheless, we're including them on this list because there is a time and place for them. These are very affordable gloves, and they're perfect for beginners, or people who just want to throw some punches here and there very casually without investing in a whole kit. 
These gloves aren't going to hold up to long hours in the gym, day after day, month after month year after year… but they're not meant to be that kind of glove. These are pretty basic, affordable, but still more than good enough for anyone who is still trying out the sport of mixed martial arts. If you're on a tight budget, you can still train. 
These gloves are made with synthetic leather, and are available in two different sizes, and two different colors (black, or red). There's an absorbent lining on the inside to help soak up any sweat, so that you're more comfortable while wearing there. There's a sturdy wrist strap, which is always important for protection/stability, and also the convenience of taking them on and off.
Key Features
EverDri technology keeps your hands dry

Full wrist wrap helps with fit and stability

Comfortable gloves

Synthetic leather keeps the cost down
Buy Here
UFC Gloves Buyer's Guide
These are also known as MMA gloves, since UFC is just one of the many promotions. They have their own branded gloves, but there are plenty of great alternatives to check out that are used in gyms all around the world. 
Some things to keep in mind when glove-shopping are the fit, the material its made from, the technology that's used, and how it looks. The style and appearance of the gloves matter a lot less than how well they're going to protect your hands from injury.
Remember, the gloves are there to protect the person wearing them, not the person being hit. Especially when it's time for training or sparring, it's all about longevity and protecting yourself, and the right pair of gloves makes that possible.
Can you buy UFC gloves without trying them on first? Absolutely. Just read the descriptions, make sure your measure your hands well to get the right fit, and understand that most gloves will loosen up a bit over time.