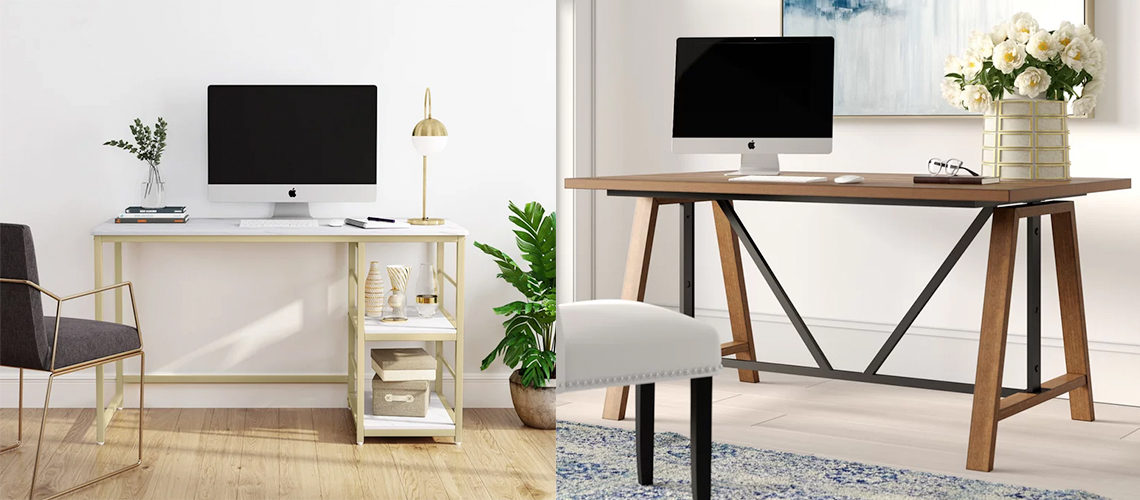 Types of Desks To Choose From (Complete Desk Guide)
For most of us, we've always had a desk growing up.
Those desks range from the colorful plastic ones where we put down our crayons when we were still learning to walk, to the bigger wooden ones where we made our first essay paper in grade school, and all the way even to the computer tables that could double as a game station/food pantry during our high school and/or college years.
In short, we have always loved desks and I would venture to assume that we still do and will continue to do so even after we "retire" from our regular day jobs.
Our desks are basically an extension of our current personality and lifestyle and therefore we must pick and choose the right one.
Picking the right desk is crucial because time flies when working, playing, finishing a hobby, or whatever else you do on something that feels very comfortable.
Every kind concentrates on a specific area of utilization, including note-taking or writing, secretary's table, computer setup, and even for executive-style desks.
You can't simply go to a store and buy whatever you see.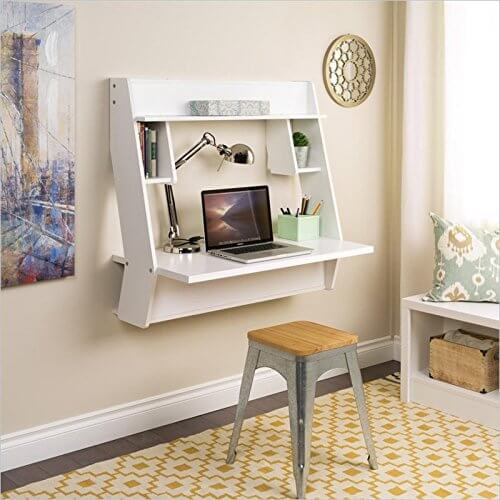 You have to make sure that the function and "look" go hand in hand since you will be spending a lot of time in it.
Through extensive research, we gathered detailed information and categorized the infinite selections so that somehow we might help you find the proverbial needle in the haystack.
We looked at the form factor (will it fit my bedroom or is it for an office?), style (does it look modern or classical?), and even potential function (work, play, hobby).
So whether you're looking for something for your "work from home" office or you simply need to upgrade your workspace, the choices seem so endless and downright overwhelming.
From the classical wooden frame to the minimalistic glass and aluminum frame, choosing a desk should not be a spontaneous decision.
We are here to help you simplify things and help you choose the right desk for you.
Here are 17 Types of Desks to choose from in this Complete Desk Guide (grouped by category)
Let's start with the category that answers the question of why you really need to buy a desk.
These desks can vary in style and size, from the room-filling wooden classical tables to the slender minimalist.
Of course, it's your decision which desk is the right for your use and purpose.
1. Executive  Desk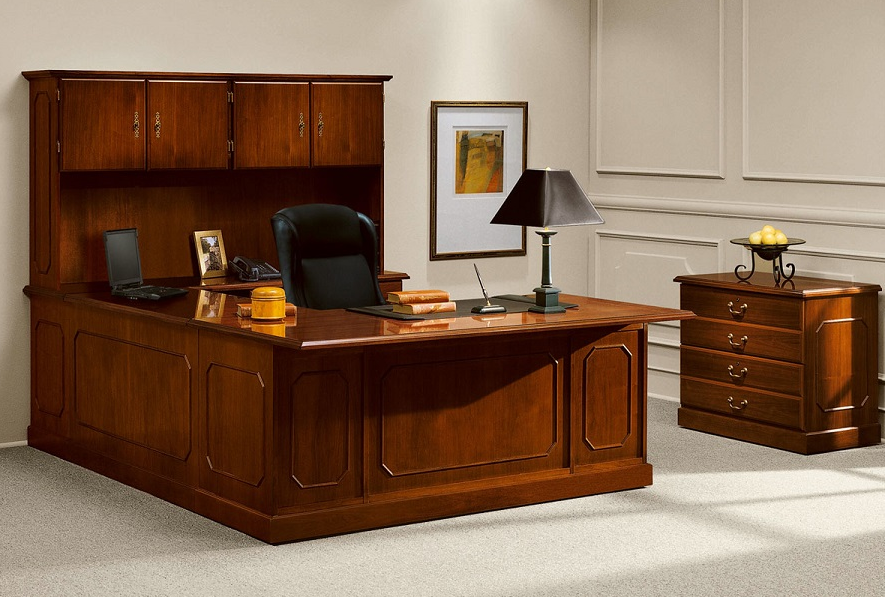 Let's start with the king of the desk world.
With almost limitless storage space, and drawers that can hide almost anything, this desk is not only perfect for those that have a lot of stuff to organize, this is also a statement.
The  executive  desk  can come in various styles and shapes, as well.
They include the traditional rectangle-shaped desk, the L-shaped desk, the"perfect for conference" U-shaped desk, and even a more massive desk system.
Just by looking at this desk, you can feel the aura of importance and dignity that should emanate from the one behind it.
This massive titan of a table sets itself apart from other desks simply by its sheer size and style.
2. Writing  Desk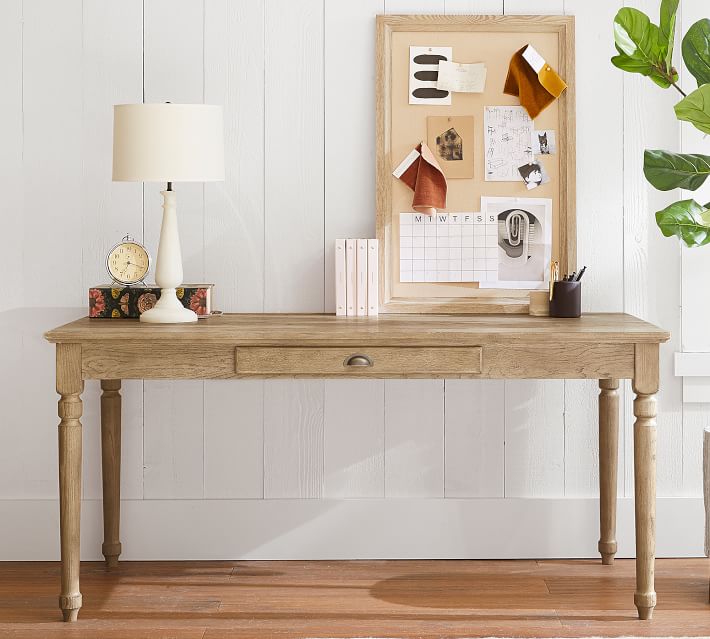 Probably the second-most typical reason to buy a desk is for writing and note-taking, especially for students and those whose profession includes a lot of writing.
As opposed to the giant executive desk, these are usually small and open desks with very minimal storage space. The biggest part of the desk is, of course, the space for writing.
And because they are smaller and lighter, they can be moved around quite easily and can be placed to fit in almost any wall.
These desks can even be used for those with laptops or small computers if you prefer the style and size of the  writing  desk  as compared to the computer desks.
Speaking of computer desks…
3. Computer  Desk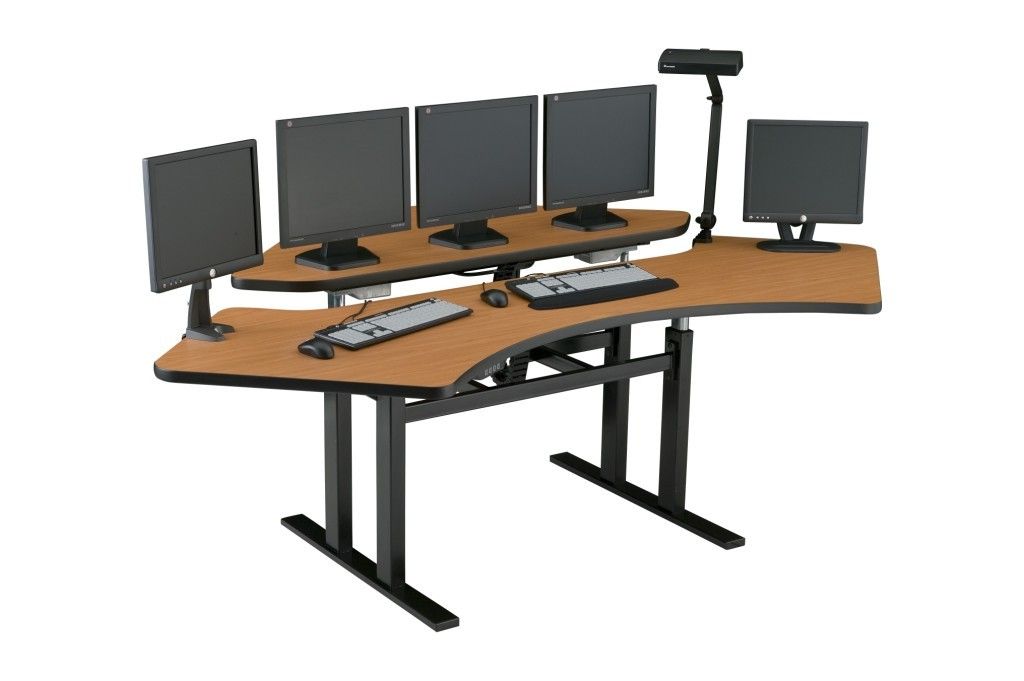 Similar to writing desks, a computer desk is constructed for a combination of practicality but usability; albeit with the added dynamic of extra space for the computer hardware parts.
Due to the pandemic, the computer has become an essential part of the home with many companies opting for the "work from home" strategy to maintain safety among the workers.
Computer desks make a great home office desk.
The typical computer desk setting can vary greatly depending on the preference of the owner.
It can range from a simple two-layer rectangle-shape workstation into an online gamers/online trader's dream setup with three external displays and so on.
Some computer desks are designed as a pedestal desk, giving you cabinets or stacked drawers on one or two sides.
It used to be that computer desks were supposed to be bulky because of the big computer towers (CPU), but because technology has become smaller and smaller, that is not necessarily the case anymore.
The same logic goes also applies to other accessories like keyboard, mouse, printer, as well as other essentials you might need.
Some computer desks come with a built in keyboard tray which is nice for saving workspace on the desk top.
As stated in the Writing Desks section, more and more people are switching to the laptop from the traditional big computers due to the portability and ease of usability.
However, there is still a big number of people who own the traditional-sized computers and therefore would choose the computer desk.
4. Standing or "Adjustable Height" Desks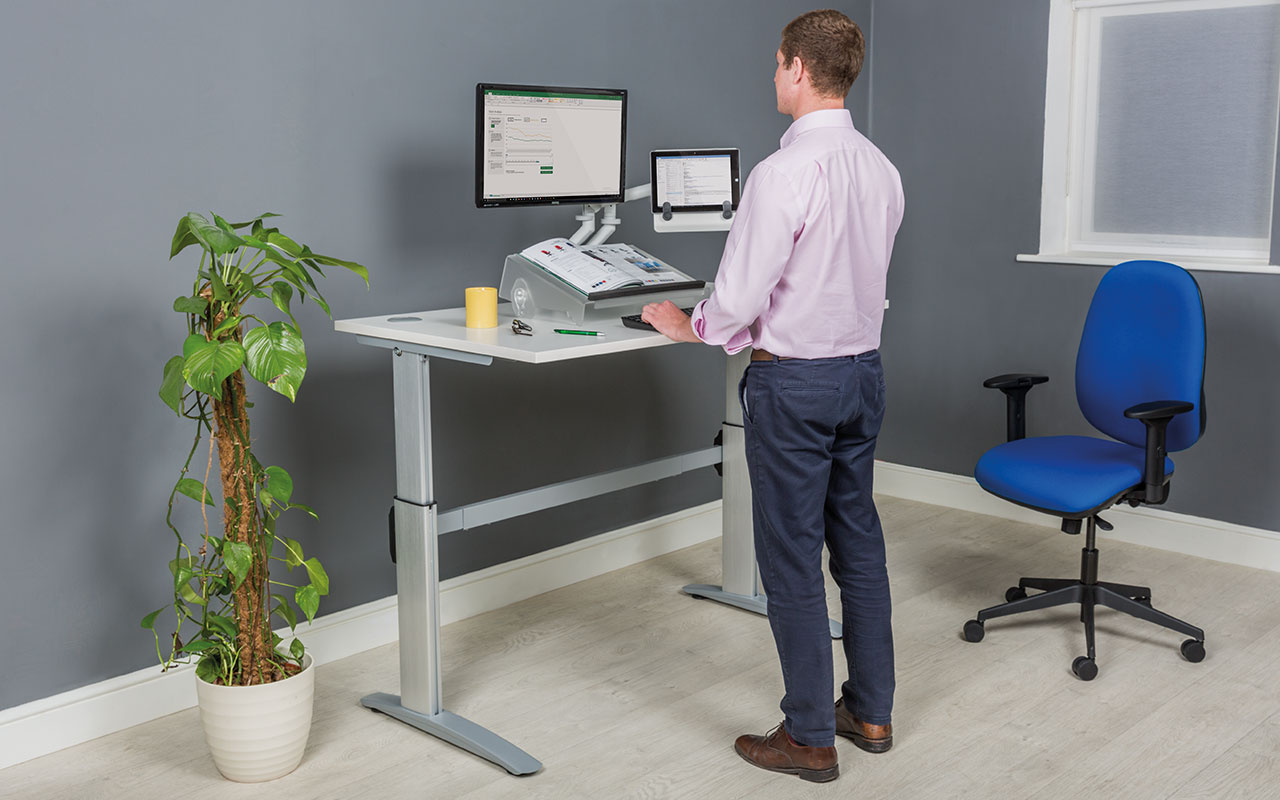 I purposely put this next to the computer desks because recently, this the standing desk has become more and more popular, especially with the modern, computer-dependent work offices.
Add to the fact that it is not always a good idea to be sitting down for hours at a time and the standing desk shoots to the top in the most practical category.
A standing desk is basically a desk that you can adjust how far your base platform is from the floor.
The three basic types of standing desks are:
It looks like a regular working desk but is simply higher or more elevated. This must be custom-made; but, unfortunately, it is not adjustable.
Another type is similar to the first one except that it is adjustable. Basically, the whole working desk can be lowered or raised depending on the need. The most popular kind is not necessarily a traditional working desk that can be adjusted to be a sit stand desk.
This is more of an accessory, usually metal and very heavily made. You can place your laptop or whatever else you may need for your work and then raise or lower the "desk" to your preference. These can either be manually adjusted or with the use of a mechanical motor. Here are some examples of these kinds of stand-up desks.
You can also purchase a standing desk converter to add to a regular desk and make it taller so that you can stand.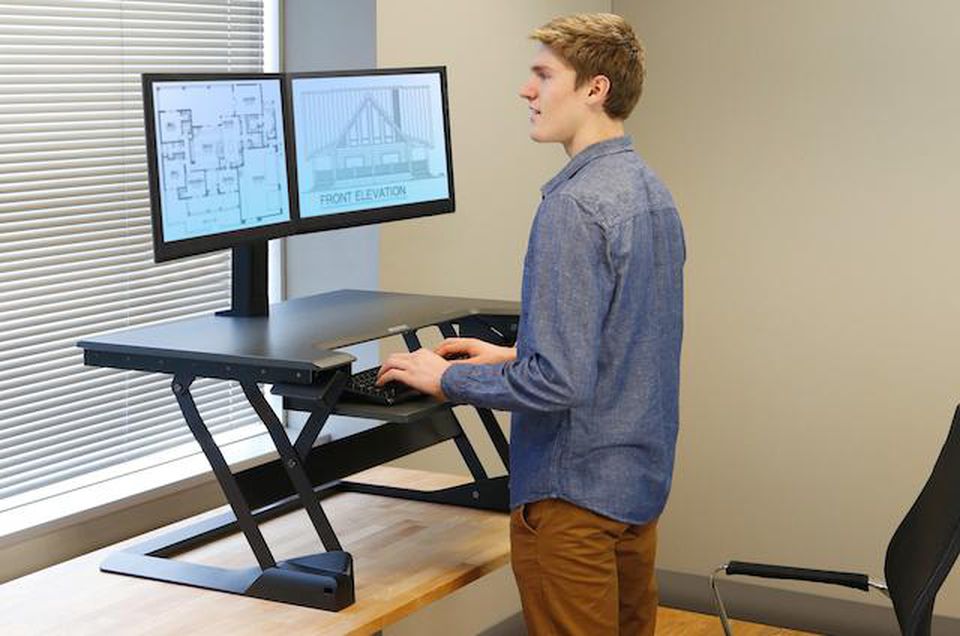 5. Secretary  Desk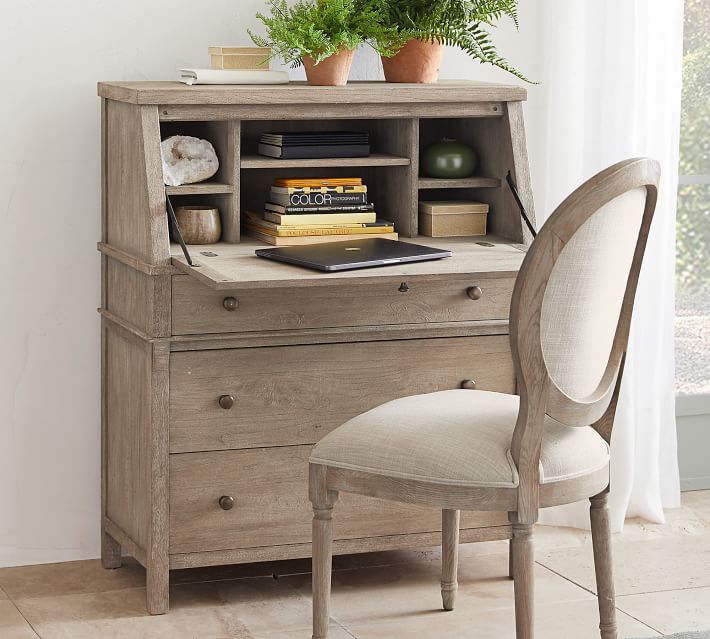 I'm pretty sure we've all seen a secretary desk if we've even been to a lawyer's office.
A secretary desk is usually plain and doesn't have a lot of frills, but simply to serve the purpose of organizing and putting all the files in their place.
These can also range from the simple single rectangle to the more elaborate one with large drawers and even a small bookshelf.
These types of desks are usually a semblance of what the executive desks look like inside the main office.
6. Roll-Top Desk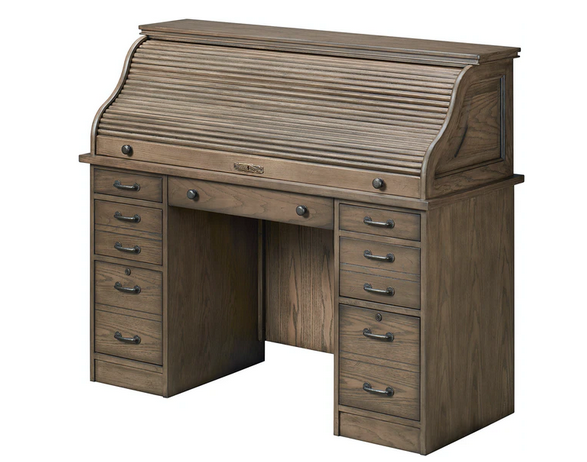 You may have seen these types of desks in antique shops because these were the desks of choice some time ago.
However, you don't need to go to old-school to find one.
There are a lot of modern-looking roll-top desks that you can find online and in physical stores.
Basically, roll-top desks are desks where there is a cover or a hood that "rolls" over the whole desk to hide the contents and the items placed on the desk.
Roll-top desks all have drawers and there are three arrangements for these: drawers on both sides, all drawers on the left side, or all drawers on the right side.
If you're thinking that this might not be the most space-efficient, then you are correct.
This might not be a good fit for those that are regularly using computers.
However, they are a very beautiful piece of furniture that can be installed anywhere in the house.
7. Credenza  Desk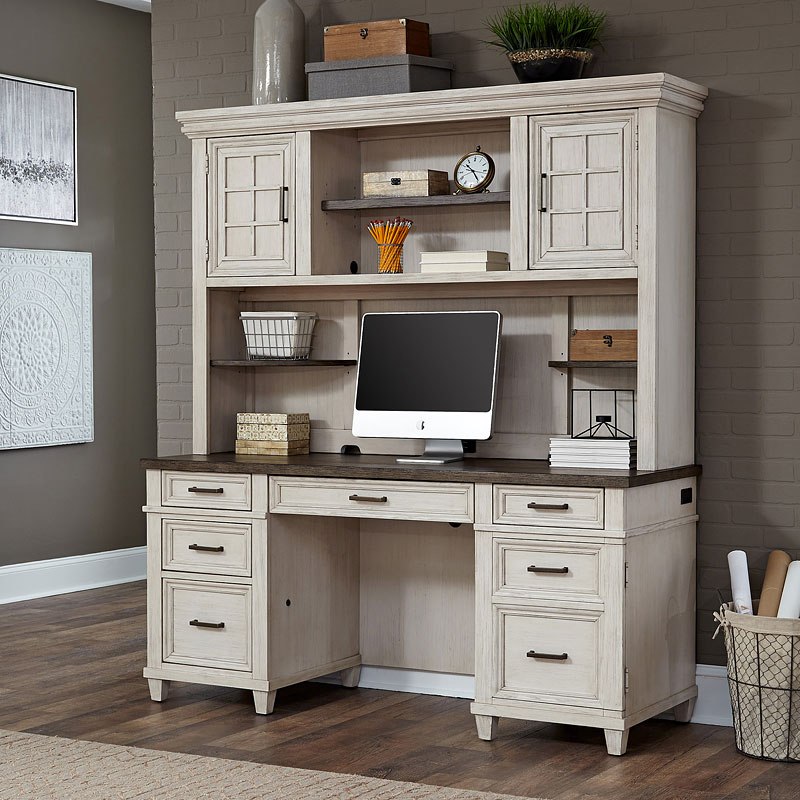 This type of desk is not normally found in small rooms or even in offices.
They are usually placed in living rooms or even dining rooms as they need big space to fit the whole desk.
The term credenza literally means "sideboard" or "cupboard" and this is placed alongside the desk that you are supposed to work or write on.
The credenza desk is mainly for fashion and style but can also be practical.
Similar to the Credenza Desk is the Armoire Desk which includes a writing or computer table built into a larger cabinet.
An Armoire desk can be closed completely.
8. Corner Desks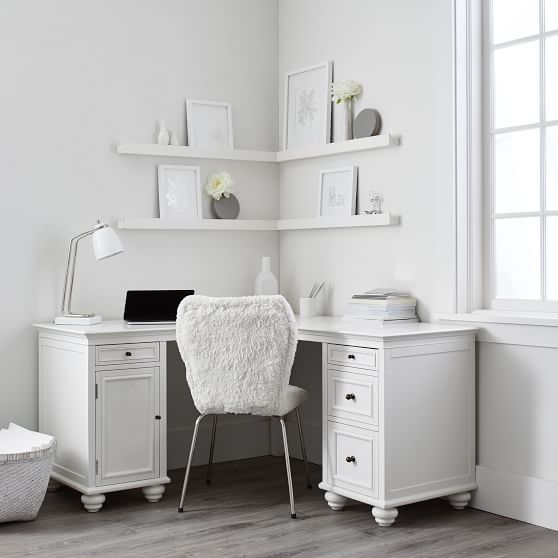 Corner desks are some of the more space-saving solutions for those that have smaller spaces but need a desk to work on.
And depending on your design and arrangement, you can create more space to set up your working area.
Plus the biggest benefit of a corner desk is the extra legroom that is automatically created because of the shape.
9. Floating  Desk or Wall  Desk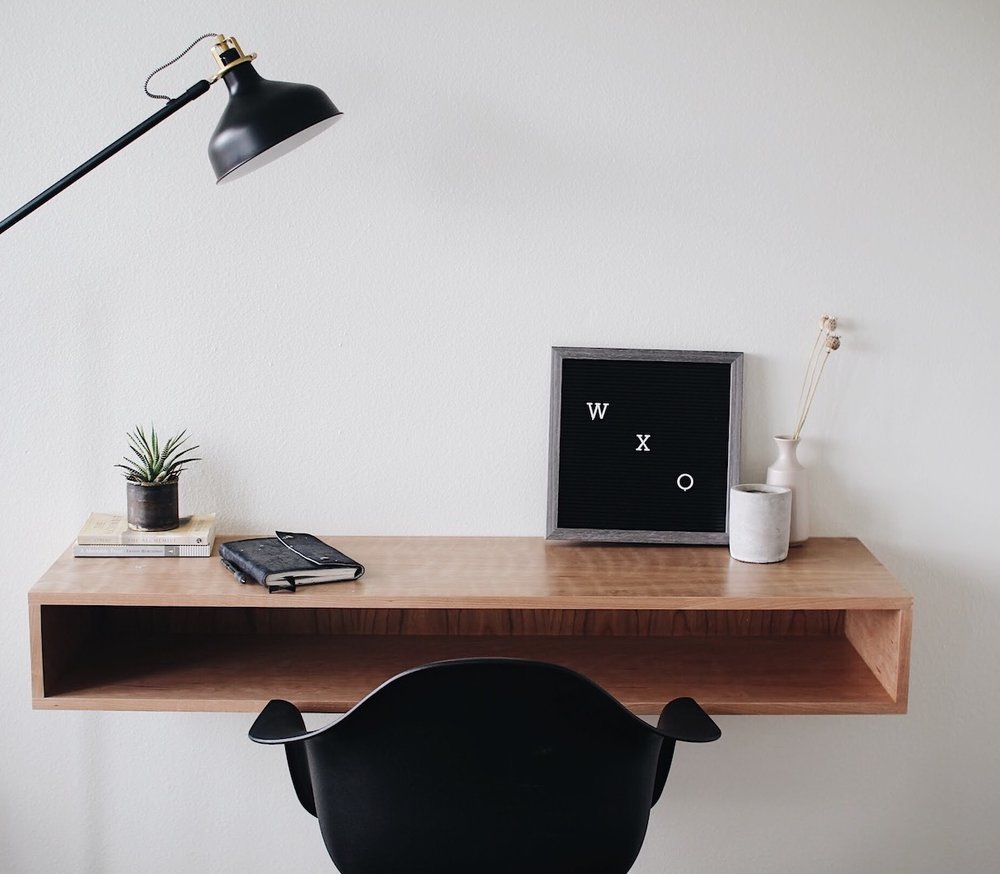 A floating desk is an excellent choice bedrooms or even dorms or places that require ingenuity in creating more space.
Somewhat similar to the corner desks, these create more legroom as well as generate more storage space by installing as many vertical frames as possible, as long as the walls hold.
These types of desks lean more towards the newer generation who value space more than style.
"Base Desktop" Material
This next category is basically the type of material that makes up the main desktop itself, and by "main desktop" we mean the area that you will use most of the time.
These desktops can vary from a simple wooden top to a more elaborate one that covers a drawer just below it.
The element that makes up the desktop is a big factor in determining the look and feel of the whole desk itself.
10. Wood Desk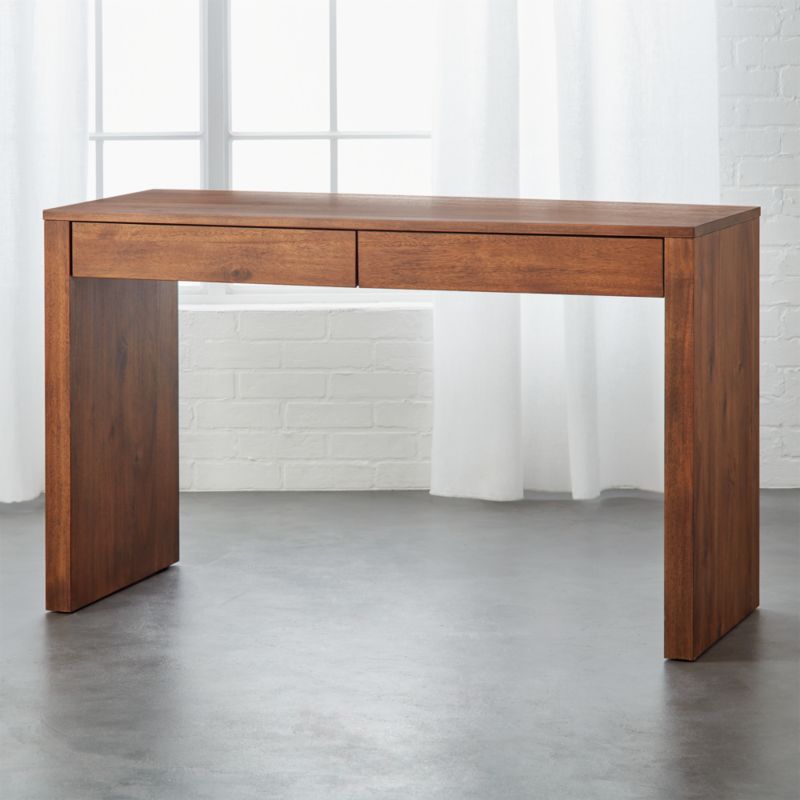 The most popular surface that desktops are created from are, of course, wood.
Traditionally, these were the ONLY desktops that were ever accepted until recent designers and companies started promoting other desktop materials.
Again, traditionally, the whole desk was made of wood but now with the fusion of traditional and modern, many wooden desktops are placed on top of other materials; most popularly on metal frameworks.
11. Metal Desk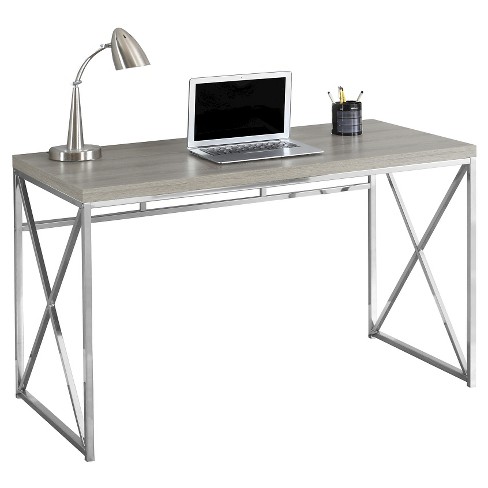 Speaking of metal framework, a metal desktop is, far and away, the most practical of all the types of desktops.
It can be invulnerable to stains and color blemishes, resistant to scuffs and scratches, and can even help laptops and computers keep their temperatures down because of the metal's natural cool temperature.
And similar to the wood desktop that can be merged with metal frames, consequently, this type of desktop can also be fused with a wood framework to bring out the natural contrast look of metal on wood.
12. Glass Desk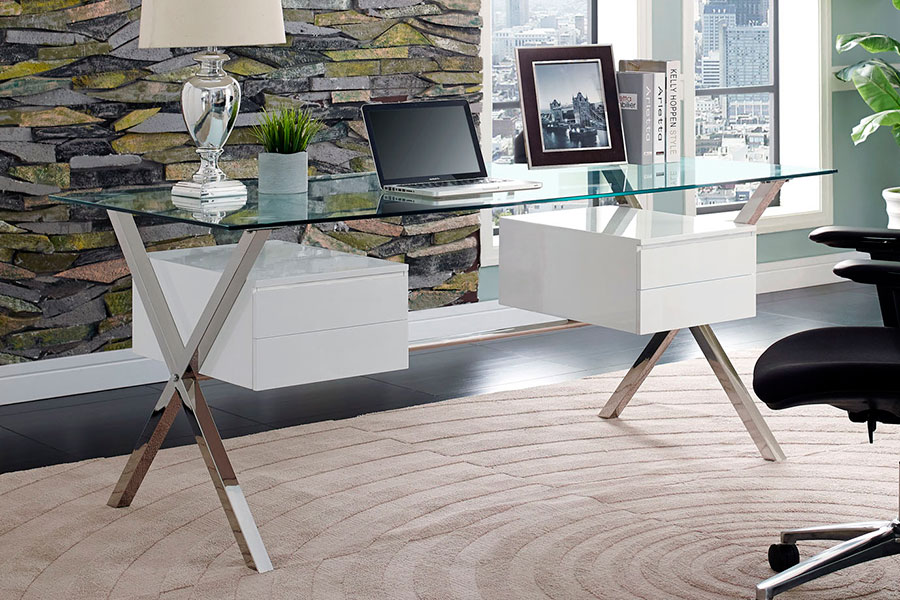 If you are looking for a very classy look, then glass desktops are for you.
The style of glass on top of either wood or metal framework creates a futuristic ambiance, especially when paired with modern-looking computers or laptops.
One of the more practical uses of glass desktops is that they are usually removable and therefore easier to clean and fix if needed.
Glass desktops are somewhat a more pricey selection than wood or metal but they are undoubtedly more stylish.
13. Laminate Desk
This is a fairly new kind of desktop that is becoming more and more popular.
Another protective material is put on top of or over the original desktop element (usually wood).
This material is usually some kind of synthetic plastic that is also fairly durable to withstand time and the occasional coffee spill.
These desktops are not the most stylish as they look fairly normal but if you are looking for practicality in removing them for cleaning and repairing or even the easiness of changing it altogether if broken, then this is the way to go.
Plus, this is probably the cheapest kind of desktop, in the long term.
Wood  Desk Finishes
As stated before, wood desks, as well as wood desktops, are the most popular kinds.
Here are the four most widely-used wood finishes that you can use to create a seamless transition with your other furniture.
14. Natural desks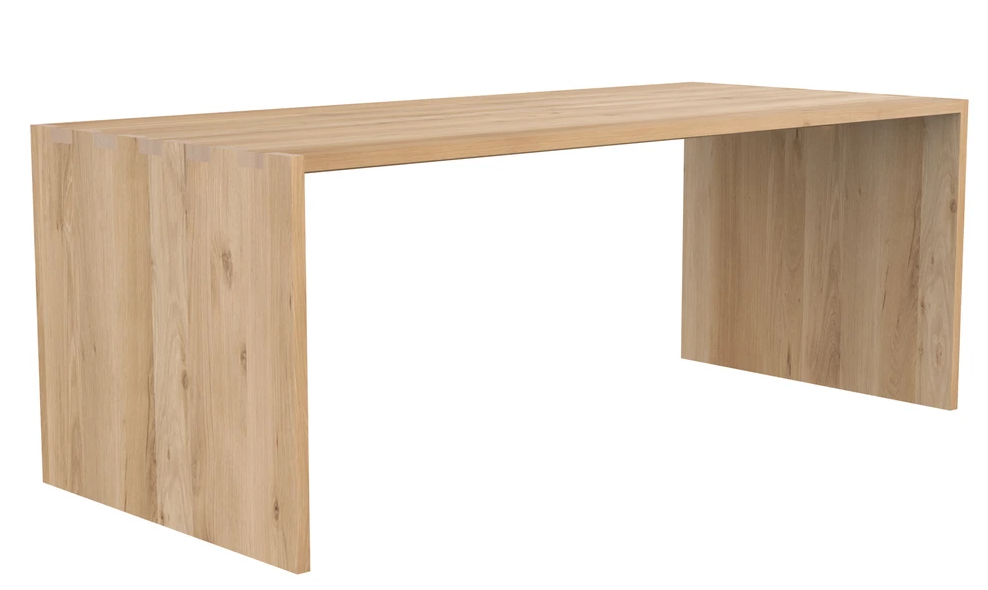 Of course, this comes as no surprise.
Some want their tone slightly darker and some lighter, but the natural wood tone is the most popular of all the desktop finishes.
The classic wood look symbolizes nature and maybe that's why it's still the most popular desk finish.
15. Black desks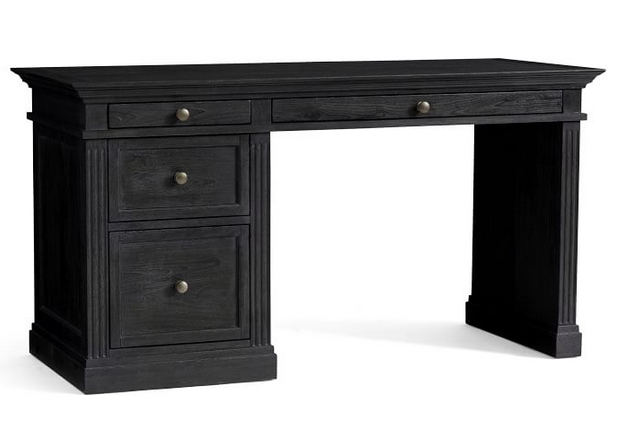 Although not as popular as the natural look, the black finish still holds a special place with desk owners because of its serious and usually sophisticated appearance.
A bit more modern than the natural look, the black finish blends well with almost every framework color and desktop material.
16. White desks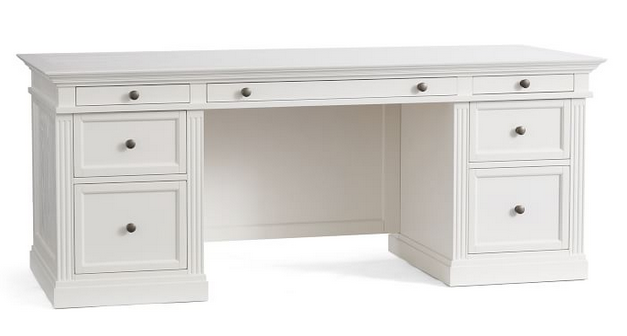 The white finish has gotten a lot of momentum lately. It is a well-known fact that white colors give the impression of a bigger space than what is actually there.
This makes a potential desk owner attracted to the relatively modern white finish.
17. Grey desks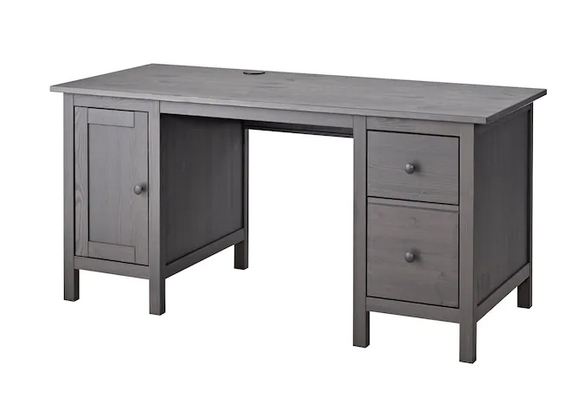 This finish is a compromise between the conventional, more heralded natural look and the serious monotony of the black finish.
The grey finish emanates a relaxed and neutral tone while emitting a modern quality.
The balance between classical and contemporary is clear cut.
FAQs (Frequently Asked Questions)
Is it OK to paint/repaint desks?
The short answer, yes but it can be very complicated and time-consuming.
As with any process of painting or repainting, the furniture needs to be sanded and primed extensively to remove the previous finish.
And after that, a high-quality coat of paint must be carefully chosen to make sure it doesn't clash with the current desk materials.
There are specialty paints that can help ease the difficulty but overall it is a difficult process to go through.
What are the preferred desk dimensions?
Typical desk dimensions are 24-26 inches in depth, 48-27 inches in width, and around 30 inches in height.
Of course, you can order desks with custom sizes although they might not be readily available.
The size of the desk may also differ depending on the purpose or use of the desk.
For example, an office desk would naturally be bigger than a bedroom desk for a grade student.
What are the popular desk shapes?
The runaway winner would be the rectangular shape which is most common in schools, offices, and even household desks.
Rectangle mainly because of the sturdiness and durability that is needed for its specific purpose.
Some offices and conference rooms use a U shaped desk so that participants in a meeting can see each other.
However, these are very rare cases and are found only in the bigger offices.
Other desk shapes include right desk, L shaped desk, and even a dual sided desk where there is a workspace on both sides of the desk.
Are desks reparable?
This depends on the type of damage to the desk.
If the frame needs repairs, then the process will be more challenging and sometimes might even require you to replace the whole frame itself.
To be fair, some damages are less complicated and require less money.
The more common problems usually are the legs that are either wobbly or have started to move unnaturally.
This could probably be fixed with a simple screwdriver. If you are not sure how to fix a certain issue, please call a specialist to avoid more damage to the desk.
What are the most common materials used for a desk?
Wood, metal, and plastic are the most typical materials used to make a desk.
The quantity of each element depends on many factors such as design, purpose, and practicality.
You might find oak wood in standard desks more than any other material simply because they are stronger and more durable.
Where do I buy used desks?
If you've ever done any online shopping, then the process is quite similar.
You can check out the most popular online stores for desks and they would probably have a large gallery of collections for you to choose from – Amazon and eBay to name a couple as well as Etsy, Craigslist, or offer up.
However, it is best to actually see the product first before buying it to avoid the hassle of returning it if you have second thoughts once it arrives at your doorstep.
Can we recycle desks?
The motive here is good but the answer is that it's not that easy to find desks with recyclable materials.
In fact, the only material that can be recycled is plastic and maybe some of the metal frames.