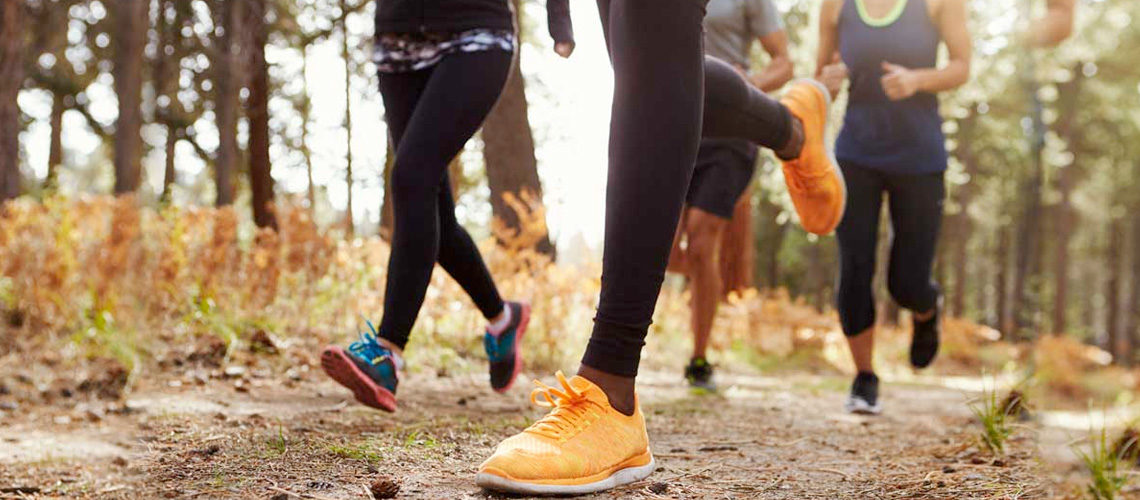 SHIN SPLINTS… Two words that are unfamiliar to some but to those who are into running, it's something that's dreadful to hear.
It's a problem that has the nasty habit of affecting runners in every skill level.
It accounts for 10 to 15 percent of all running-related injuries every single year. It has been causing pain to so many runners over the years.
Well, the name itself doesn't sound painful at all until you experience it first hand.
I've been there and I can assure you that the pain has the ability to stop you every time!
If you're now experiencing pain below your knees and just above your ankles whenever you run, you may start wondering what is actually going on.
You may even start looking for ways to lessen or even stop the pain.
That's the normal reaction for every person who's suffering and no one really wants to feel it when running.
In this article we will review the best shoes on the market for Shin Splints as well as learn more about shin splints and how to treat them.
2023's Best Shoes for Shin Spints:
1. Top Pick for Neutral Runners – Asics Gel Nimbus 20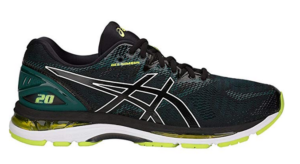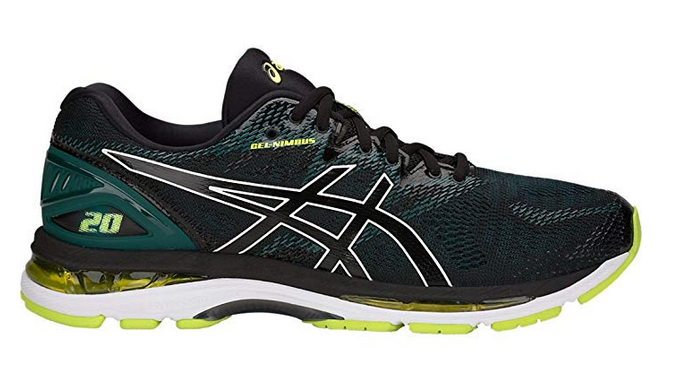 If you're a neutral runner who's suffering from pain emanating from shin splint, the Asics Gel Nimbus 20 is one of the most perfect support shoes for you.
It excels well in terms of absorbing shock which is a key element in eliminating pain from shin splints. Its cushion support is built closely into its name.
The word "GEL" in Gel Nimbus 20 is actually referring to the cushioning system that is found in its forefoot and rearfoot sections.
The GEL technology in the rearfoot is essential since most runners who have shin splint actually experience heel strike.
It provides all-around comfort too. Many users praise how it provides a smooth ride that feels really soft.
The Impact Guidance System which the shoe has really assist in keeping the body balanced and every stride inline.
It isn't a cheap running shoe too so if you're experiencing shin splints and you have a more neutral stride then it would a perfect choice and definitely worth your investment.
The value definitely exceeds its price and when you're done running with it for the first time, you'll definitely feel like you've been running on pillows just as what other users say.
Pros
Number one brand recommended by orthopedics. Now that says everything!
Users say that it really fits to size so you won't need to spend more time returning the one your ordered because it doesn't fit.
Breathable upper mesh material to bring more comfort while you run.
Features extra cushion which effectively counters shock so it can prevent injury more efficiently.
Cons
Runners with wide feet find it too narrow.
Quite pricey compared to other brands.
Buy Here
2. Favorite Brand by Long Distance Neutral Runners – Hoka One One Clifton 4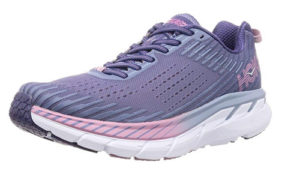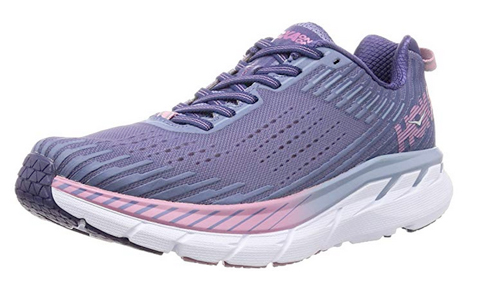 There are comfortable shoes out there that are heavier.
And if you got one like this, you are stuck with the idea of choosing between lightweight and fast or comfort and support.
But Hoka One One performs really well because it really is a comfortable support shoe which is lightweight at the same time.
That is the reason why many mountain runners and ultramarathon athletes use this brand of shoe in their most important runs.
In terms of cushion, the Hoka One One Clifton 4 sits on top of the rest. It is Hoka One One's top shoe in terms of cushioning.
Many long-distance runners (those who run 100-mile races) say that it's really comfortable and who are we to believe otherwise? If you're a neutral runner who is experiencing shin splint, this one is going to be a perfect support shoe.
Your running will surely move up to the next level with its 3D puff print frame, excess foam, and heel-to-toe drop feature.
The feeling of a soft and smooth ride will also be evident in an instant. Just take note that Hoka One One shoes tend to have a larger sole.
They will definitely take some time to get used to but once you master it, you will get nothing but an incredible running experience every time.
Pros
Provides great guarantee and return policy. Something that you really need to try.
The toe box is roomy and lets the toes breath providing enough room for expansion.
The soft upper mesh material makes it a very comfortable and breathable shoe to use.
Top-quality cushioning which is lightweight, comfortable and smooth. It really contributes much on a fast ride.
Stable and keeps your running posture in check. It also helps in maintaining good body balance to prevent every form of injury.
Cons
The soles are tall and will take time to get used to.
Buy Here
3. Best for Flat Feet Long Distance Runners – Asics Gel Kayano 25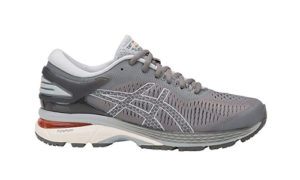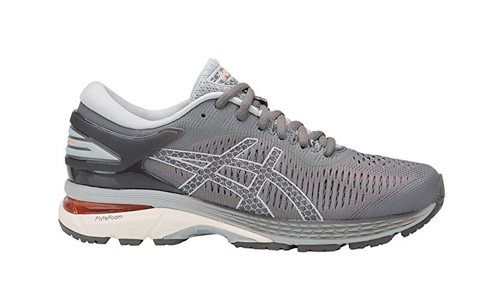 Overpronation is common to runners who have flat feet. If you have this condition then you also probably experience shin splints.
But worry no more because the Asics Gel Kayano 25 is going to help you with both problems.
It effectively compensates with your overpronation problem which then prevents shin splints providing the perfect starting point for healing.
The shoe offers Asics' very own GEL technology.
It is the same technology employed in the Gel Nimbus variant which means that this shoe also has superior shock-absorbing capabilities.
Adding to its benefits is the Impact Guidance System that helps tackle the problem with overpronation.
It is really the dream shoe for flat-footed long-distance runners like you.
It is very supportive that it will be your perfect shoe that can help you go through hundreds of long, long miles.
So whether it's an exercise shoe or one that you need for your upcoming race, this one will definitely be a great option.
 With it, you will be able to run much better with the right form which keeps injuries at bay.
Saying goodbye to runner's knee and shin splint injuries will be an easier task for you. Users around the world praise this shoe for the superior comfort that it provides and its long-lasting lifespan.
Pros
Highly-supportive with features that promote natural stride to prevent any injuries.
Excellent shoe for long-distance running (full and half marathons).
Lightweight but durable materials used so you can run faster without worrying about it getting damaged.
Top-quality cushioning which effectively absorbs shock for a better experience when running.
Cons
Quite pricey compared to other brands
Others say it's too firm
Buy Here
4. Top Choice for Stability – New Balance 940V3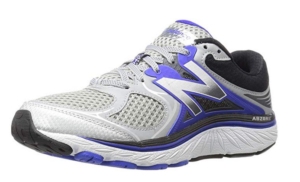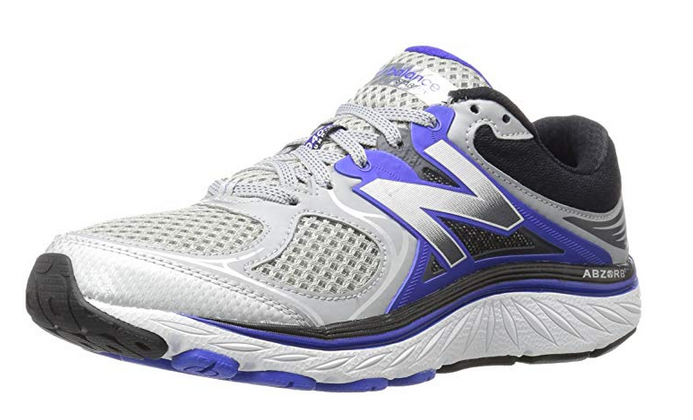 A running shoe that provides good stability prevents rolling on both feet which takes away the unnecessary pressure on your shins.
I think New Balance produces the best shoes out there in terms of stability.
So if it's a stable and cushioned ride that you're looking for then the New Balance 940V3 is going to be a perfect choice.
It is smooth and stable enough for runners who overpronate. It's one of the best shoes out there for long-distance running.
I have used this brand for many years now and I can say that it is top-notch in terms of quality!
They may not come with a long list of innovative technologies and features but they really perform well in getting the job done.
It's ABZORB cushioning is what I love most because it wraps each foot with superior cushion to provide great shock-absorbing properties.
Runners who are bigger love this shoe and those who have flat foot admire it for its ability to prevent injury efficiently.
Pros
Great price, excellent quality – a true value for money!
Made by a company that's one of the top manufacturers of running shoes.
Long lifespan, extremely durable and simple design.
Provides great control and promotes natural stride to runners who overpronate. Thanks to its unique medial post design.
Combines comfort and support with its ABZORB cushioning and T-Beam support working together to prevent injury.
Cons
The color option is limited.
Design is too simple for people who are looking for more features
Buy Here
5. Best Beginner Shoes – Saucony Cohesion 10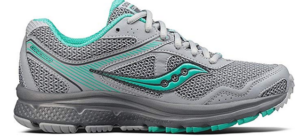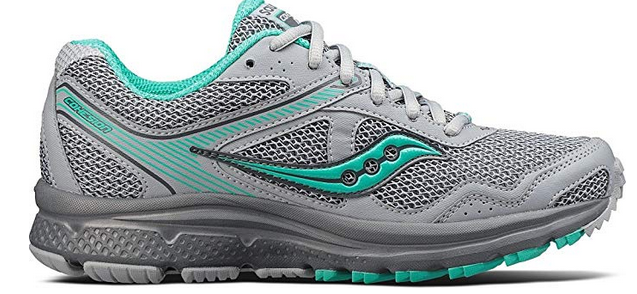 Saucony's Cohesion 10 shoes provide excellent cushion for neutral runners who are going on their first long-distance run.
And it also works great for the next runs after that. That is the reason why this shoe is very popular.
They're a top choice for runners who are just starting but are eyeing to advance and become a more experienced runner. 
So whether you put it on and run with it for your morning or afternoon jog or you use it at the gym, then use the same shoe for long runs, it will definitely take on the challenge gracefully.
I won't recommend them for marathon training though. New Balance, Brooks, and Asics make the best shoes for long marathons.
With their GRID technology and injection-molded EVA material, this running shoe is definitely one of the most comfortable and reliable shoes found in the market at present.
Many users praise it for the comfort that it provides while giving them the lightweight feel. Some even say that it helped them recover from pain on their lower leg.
Pros
Effectively redirects impact from the lower legs with its extra shock absorption.
Traction is great for a road shoe.
Great upper mesh breathability making it an excellent shoe for running on a hot summer day.
Provides superior running experience and comfort for runners of all sizes
Made by Saucony, a company that leads in the athletic market making the shoe highly-reliable.
Cons
Lacks style
Not for running marathons and long distances
Buy Here
Running Should Bring Enjoyment and Not Pain
Running is truly a challenge but it's also one of the most enjoyable activities one can do.
And for it to really produce great results, the element of pain should be taken out of the picture.
You would suffer at times and there's a certain level of pain every now and then but it should be bearable and should occur occasionally.
No runner should push through an injury because doing so can lead to bigger problems.
Thankfully, shin splints aren't that hard to correct or find support for.
With the right running shoe, you can prevent or even stop such condition.
In order to deal with shin splints more effectively, you will first need to have a good understanding of it and learn how it develops.
What Exactly are Shin Splints?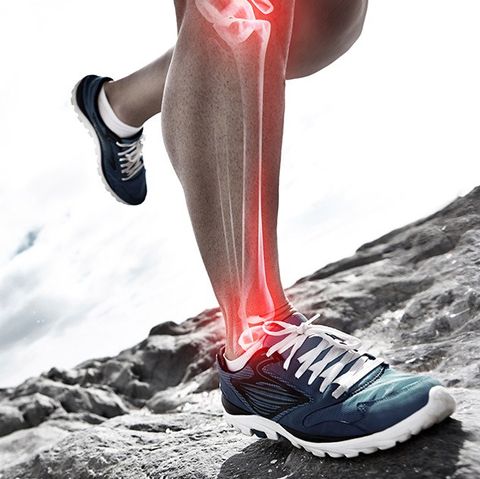 As we've already mentioned, a shin splint is actually a pain in the lower leg.
It occurs just below the knee and above the ankles. It is wrong to think that shin splint pain only occurs on the front of the leg but in truth, it actually occurs in the sides, outside and inside the leg.
It is pain that actually surrounds your shin bone from every angle.
The explanation isn't that hard to understand but correcting or stopping shin splint can require more involvement.
It can be a bit of a nuisance or it can cause your running career to stop.
That is why it's important to understand how to deal with this problem TODAY.
How Shin Splints Develop and What Can You Do About It?
Also known as the "too much too soon" injury, shin splints occur when you quickly build-up on mileage with a shoe that is not compatible with your footstrike.
It is caused by your eagerness to achieve progress at a pace that is too fast for your body to adapt especially with the stresses.
And you are doing so in a pair of shoe that isn't supporting the overall balance of your body.
You are putting too much pressure to one single side such as the side of the shins for instance.
It then results in a recurring pain instead of just occurring one time and then leads to you becoming a frustrated runner. You can't progress in your running hobby or career if every time you run longer or faster, a painful sting from shin splint will suddenly happen.
You just can't, especially if the more you run, the more your injury worsens.
It's just impossible and the worst part is if you keep on running with painful shins, it will lead to an even advanced injury such as a stress fracture for instance.
Now that's a quick way of putting yourself out of commission. Thankfully, finding support and solution to shin splint isn't that hard although it requires you to be more involved.
The progress can be a bit slow starting with a slow pace of not more than 10% of your first week's mileage then you can start doing the next couple steps below:
Step 1: Find a shoe that offers support for shin splint. One that compliments your foot strike.
Step 2: Start practicing good form when running.
Remember that practicing just one of these won't do anything well. But the good news is if you have the right shoes for shin splint correction, the job of compensating for your poor form becomes easier. Having the right shoe can help you work towards developing the right routines and running techniques that can help fix the problem.
Running on shoes that are designed for shin splint and footstrike compensation is the time when you're able to address the effects that this condition results in. So before choosing a shoe that can help tackle your problem with shin splint, it is important to know how standard shoes differ from those that are designed for your condition and running style. 
Shin Splint vs. Standard Running Shoes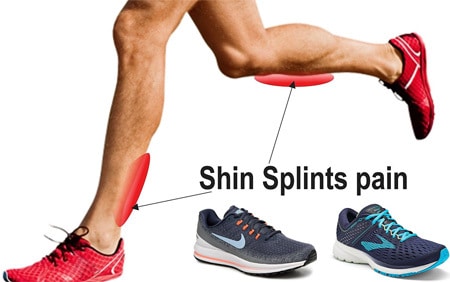 This may come as a surprise for you but let me tell you the fact straight, there aren't shin splint running shoes!
You heard it right, you will not find a shoe out there that is only designed for those who have this condition.
However, there are running shoes that are made with the purpose of offering assistance to people who suffer from such a condition.
Most of these shoes actually have cushion in them and a lot of it actually.
The extra cushion that it has will improve shock absorption whenever the feet hit the ground while running.
That counters the force which is supposed to hit your lower legs where the shins are found.
Next thing that you need remember is that shoes that help people experiencing shin splints are actually the supportive type.
That ensures that your body has a good balance and you're able to produce a natural stride every time which translates to a much-needed relief for your shins.
So it's important to find a shin splint supportive shoe which offers assistance for your footstrike while providing superior cushioning at the same time.
For example, if your feet are flat, you are most probably overpronating. This is going to cause an inward roll effect which puts more force to just one side of the leg.
When there's enough of this force on one of your legs, you will surely get injured and shin splint is one common injury that this results to. 
You will also experience pain on your knees so it's really important to buy a shoe that offers support for overpronators.
This helps rebalance your body as it effectively spreads the force throughout the legs.
And with the help of more cushioning for shock absorption, you will surely be on a clear way to running without experiencing any pain or injury.
One thing that you need to remember is that shoes are not capable of being standardized.
A particular one that has provided relief and comfort for your condition and running style may not work the same for another.
Below are the important considerations and factors that you need to remember whenever you're our looking for a running shoe that can help tackle your shin splint.
Find something that has an extra cushion on the heel to prevent pain and injury especially to those who experience heel strike.
The extra cushion is also needed for effective shock absorption.
The shoe must also have a supportive balance for the body.
It must have a snug fit so your foot does not move while the shoes are on.
Flexibility is also needed so you can freely stretch your shins whenever needed.
It must have a low heel drop to help relieve pressure on the shins.
It must have support for your arch to help in shock absorption.
An old shoe can also cause shin splint so be sure to buy a new model
It must be flexible to allow stretching of your shins
Now that you know the things that you need to look for when choosing a running shoe for shin splint correction, let's learn some of the benefits that you can get when you start using one.
Finding a cure to an injury that's been bothering you for so long definitely feels like crossing the finish line.
Once you find the right shoe that can help relieve the pain that shin splints bring, you will instantly experience a host of benefits. We've listed some of them below:
You can run faster. You heard it right! Nothing will hold you back because the shin pain is going to be normalized. You'll have more freedom and be more confident to let go of the brakes so you can run to your fullest potential.
You will achieve better form when running. Since you're using a shoe that matches your footstrike, your alignment and form will improve. This better form will help you focus more on finding solid techniques without being bothered by pain caused by shin splints.
Without any pain in your shins, you will have more flexibility and mobility in every stride. This will help keep injuries at bay.
Your shoes will last longer. When your foot evenly strikes the ground, your shoes will be able to preserve its form and premature wearing is going to be prevented. That translates to more money saved and more miles covered running.
It provides relief for those who have flat feet. Yes! Runners who have flat feet will not be susceptible to shin splints.
The added cushion in shoes for shin splints make it easier to run on hard surfaces.
An Important Thing That You Should Not Ignore
There you have it, everything you need to know about shin splints and what you can do to correct it.
Finding the right shoe is really an important task that every runner needs to do especially on conditions where shin splint, overpronation, and other injuries occur.
We hope that with this guide, you will be able to make a smarter choice on your next pair of shoes.
And if you have experience about the best shoe that helped you get free from running injuries like shin splint, please feel free to share your story in the comments section below.