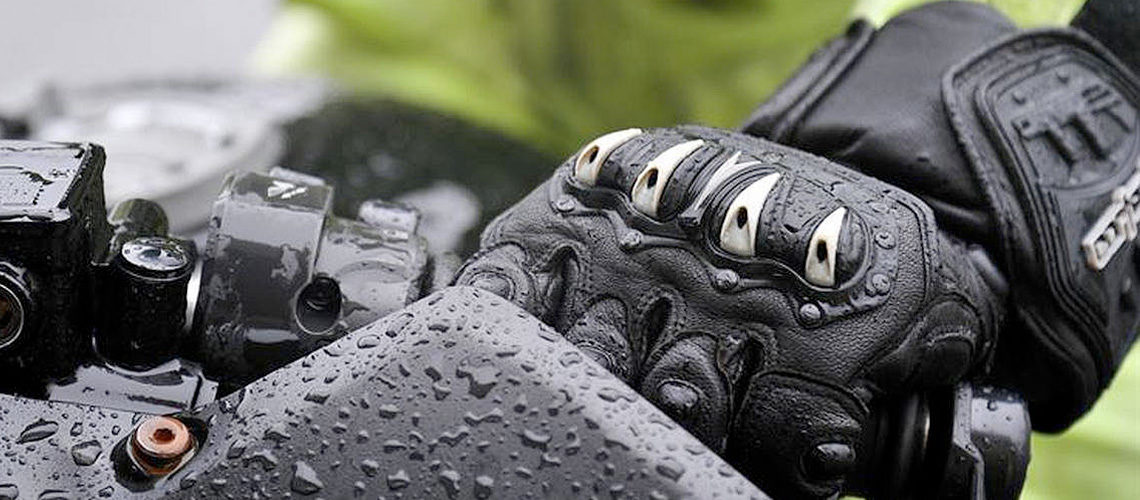 Raise your hand if you hate freezing cold winter weather, if your hand hasn't already frozen off, that is.
Winter gloves that have electronic heaters built into them kind of make you feel like you're part robot, part human… but most importantly, they keep your hands warm.
A lot of warmth can escape from your hands, so in a roundabout way, they keep the rest of your body warm, too. 
From sports and leisure, to work, to just getting into the car and waiting for it to warm up without your hands freezing off, there are a lot of reasons to wear these types of gloves, even when it's not the dead of winter time. Some people just have colder hands, too. 
There's no reason to have anything but the best heated gloves, even if you don't have a huge budget. We've done the heavy lifting to bring you some of the very best options, and here they are. 
Here is our List of the Best Heated Gloves on the Market for 2023:
1. Mount Tec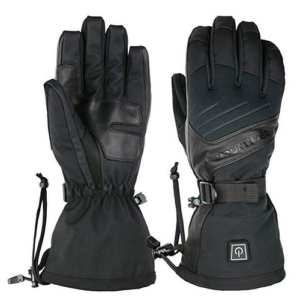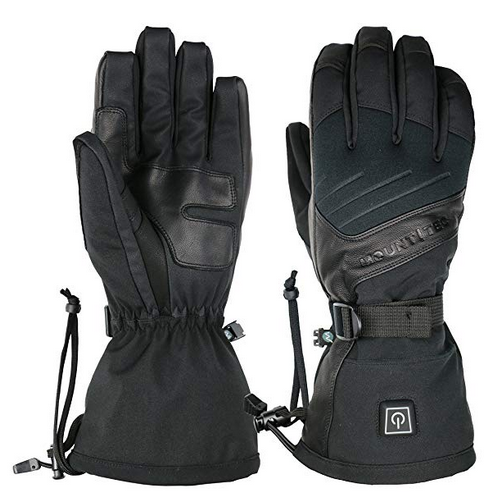 These heated winter gloves from Mount Tec take the number one spot on this list because they're some of the more affordable options that still meet the highest of standards without sacrificing quality, they work great, they have replaceable batteries, they're easy to use and charge, and they'll keep you very warm. 
If you're going to be dealing with extreme, extreme cold – these aren't quite up to par, you'll need to look at the next couple of pairs we're going to feature. We're talking like, extreme cold, though. These can still handle just about anything a typical winter can throw at them, even the colder days, but if you're going to be chilling at the North Pole, you'll want a bit more than these.
Using goatskin leather along with Scotchgard, these are waterproof on the exterior. The lining on the inside is made from a special silver, which helps to avoid bacteria building up, due to its antimicrobial nature.
Some people have had issues with the batteries, saying they don't hold a charge long enough after repeated use. It's a good idea to grab an extra set of batteries, then you don't really have to worry about it. There's always going to be a trade-off when it comes to battery size and life, heavier and larger batteries will last longer, but then you're stuck carrying those around in your hands all day.
Key Features
Replacement batteries with a special charger

Very comfortable, and still waterproof, with a soft inner lining

Antimicrobial fabrics kills sweat bacteria and odor 

Very warm!
Buy Here
2. Lucent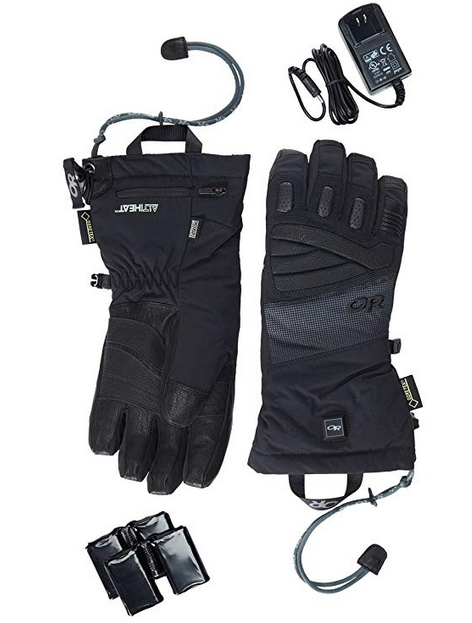 The Lucent line of gloves by Outdoor Research combines technology with tradition. They're everything you would expect from a high-grade pair of winter gloves meant for extreme cold conditions, with an added heating element to ensure your hands are always toasty warm.
These will be a bit overkill for day to day life in the city, most likely, but are great for sports, leisure, and really any outdoor activities that you may get up to. The shell of these gloves is made from 100% nylon fabric, the insulation is made from 100% polyester, and the palm itself is coated with goat leather for grip and durability.
These gloves are waterproof, and offer additional protection from the wind. Obviously, they also hold up under extreme cold conditions. These are a very warm pair of gloves without the batteries and electronics, so once you add that and turn them on, you're going to be toasty in just about any scenario.
The heating system, called ALTI Heat, uses rechargeable batteries, backed up by GORE-TEX. The inner fleece lining feels great. You can turn these on and off as needed to preserve battery life, and they can last for days and days between charges as long as you don't have them on 24/7. 
Key Features
Very high-end heated gloves for mountain climbing and other extreme conditions

From a Seattle-based brand that was founded in 1981

Made from quality materials for extreme durability
Buy Here
3. Seirus 1083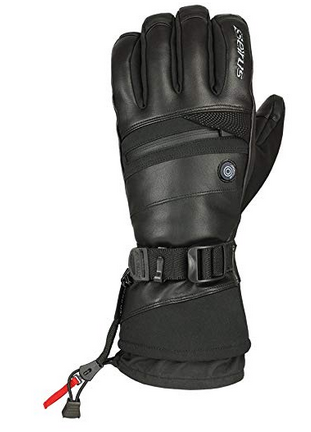 These gloves are absolute beasts. They probably deserve to be a bit higher up on this list, except that we're taking price into account as well, since these are very expensive. These are out of reach or just not practical for most people, so it's hard to give them the top rank, but if you're looking for the flat-out best winter heater gloves with no exceptions and not taking "value" into account, you'll love these.
They use 280g HeatLock technology to keep in the warmth and to keep out the cold. They're waterproof, but still breathable due to the DryHand technology. The shell is constructed using very high quality leather.
These gloves employ a lot of technology which brings up the cost, but for people who are attacking the cold in life and death types of situations, you can't really put a price on having the best heated gloves, in other words, it doesn't matter what they cost because they're worth it. Most people don't need gloves that are this extreme, but they still easily earn a slot in the top 3 for their quality, performance, and durability.
Key Features
Extremely high-end, top quality, best of the best

Made with beautiful leather that'll hold up to the test of time

Employs technology like HeatLock, DryHand, ToughTek, and Soundtouch

Flexible Fusion battery panels will surround your hands with heat
Buy Here
4. Savior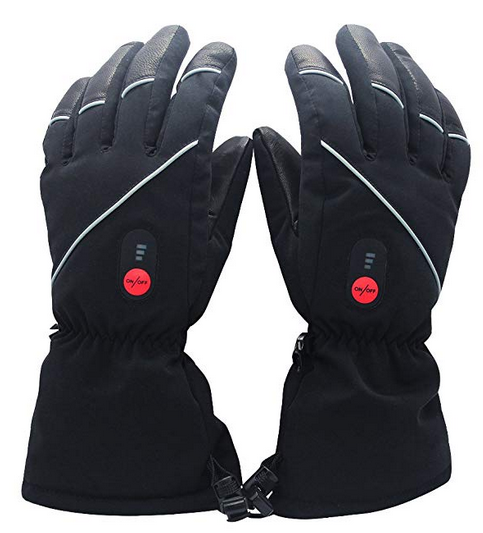 Here's another hard-working pair of heated gloves that won't break the bank. People like to use these for riding motorcycles, skiing, or just keeping warm on their way to the car. Whatever you plan to use them for, they'll definitely meet your expectations and you'll feel like they've pair for themselves after just one season. Can you put a price on not freezing your hands off? Yes, and it's pretty affordable, all things considered.
A great pair of winter gloves is already going to set you back a bit, so for not much more, you can get gloves like these that have heating elements included to keep you extra warm. The cuffs can close to help trap heat inside, too. They have easy-to-access on and off buttons so you can flip them on and off in a second to preserve batteries when you're warm enough, or to quick heat up when you're feeling cold. 
Key Features
Fast heating from the 2200mAh rechargeable batteries only takes about 30 seconds to warm up

Different heat settings so you can save battery when you don't need them on full blast

These gloves come with a full year warranty so you're guaranteed to get one full season out of them, but they should last a lot longer than that because they're very well-made
Buy Here
5. Volt Tatra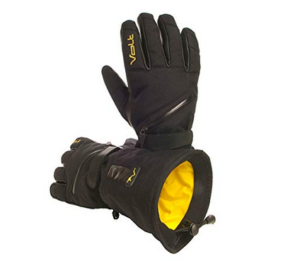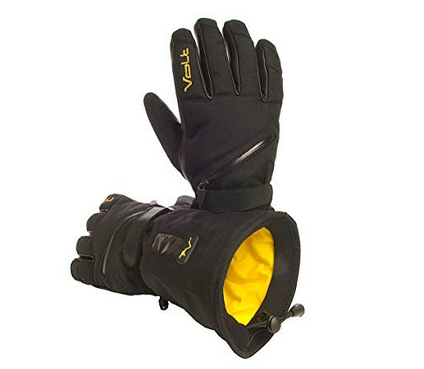 From the brand Volt Resistance comes the Tatra rechargeable electric gloves. We included these in the last spot not because they're necessarily the 5th best ones in the world, but because they're a more affordable option and we always like to include at least one like that. Not everybody needs to best-of-the-best, right? Even if you can afford $500 heated gloves without batting an eye, it doesn't mean you should, especially for more casual use.
Would we use this pair while scaling up a mountain in the dead of winter? No, probably not, but they're great for cross country skiing, riding a motorcycle, going for a walk, building a snowman, etc.
They have a bit of a natural curve to them, they heat the palms as well as the back of your hands, and have a rechargeable battery. 
Key Features
Comfortable, very warm, the best value option on our list

Not the absolute best pair, but they can definitely hold their own

Durable leather palm

Comes with two 7V batteries and a charger

Patented Zero Layer heat system
Buy Here
Heated Glove Buyer's Guide
The best heated gloves are the ones you can afford, that have a decent battery life, and meet the standards of whatever you plan to use them for. In other words, you don't need a top of the line pair if you live in the city and will only be wearing them for an hour here or there while going for walks or heating up your car or shoveling snow, but if you're going to scale mountains in storms and extreme stuff like that, you want to invest in a better pair. 
Other than that, it's just a matter of seeing which materials you're more comfortable with, and choosing the pair that fits your budget. Finding a glove that sells replacement batteries, or uses an existing standard of battery, is a big plus, otherwise you're kind of out of luck once your batteries no longer hold a charge. Thankfully, with modern battery technology, it can take quite a while for batteries to degrade to that point.